Website popups are a great way to grab your visitor's attention while browsing your site or just before they are about to leave. It's also a fantastic form of advertising if implemented correctly and can be used to get your audience to act. Remember, it's crucial not to be spammy; otherwise, you may chase your prospects away.
In most cases, popups either display the service or product you are offering, but sometimes it's used as a means to get the prospect's details. If a website popup does not feel spammy for the visitor, it can effectively add more people to your funnel.
Yeloni Exit Popup: Overview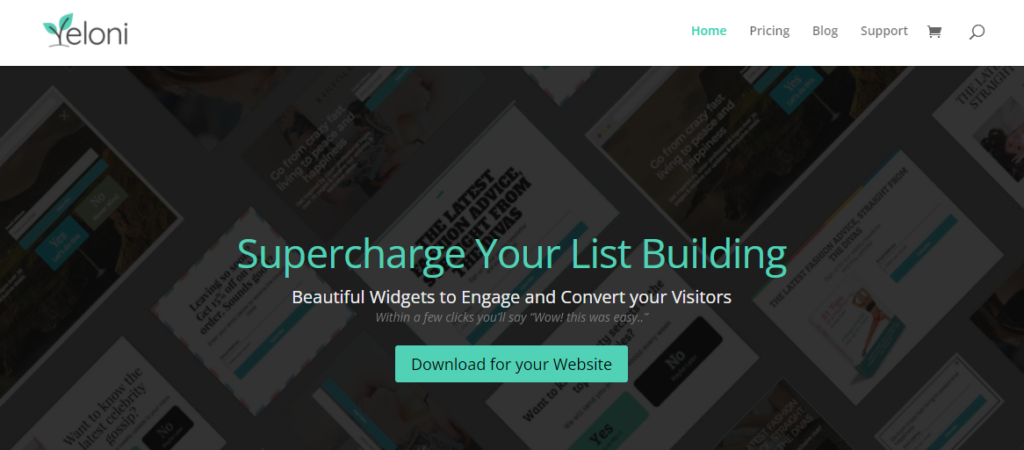 Yeloni is a WordPress widget created by Lead Capture Software and is used to engage your visitors and potentially convert them into sales or leads. The extension can help you highlight your brand through customized messaging, logos, gamified popups, and images.
It's good to note that Yeloni lets you create engaging, responsive landing pages and popups for your business, which essentially assists in converting more visitors.
Even though Yeloni is a fantastic WordPress widget that can help you gain more exposure for your business, it can cost quite a bit due to the monthly subscription. Some users may also find that the extension offered by Yeloni are slightly limited and may force them to search for another solution to handle audience engagement.
Yeloni Exit Popup Alternatives
Poptin is an excellent optimization platform that can help you convert more of your website visitors into leads or subscribers. It enables intelligent popups and forms to catch the user's attention before leaving the site.
You can use the widget to create overlays and beautiful popups within minutes because of its intuitive interface. Targeting options can capture qualified leads and grow your sales funnel. Poptin can show your popup message at the right time using a variety of advanced triggers.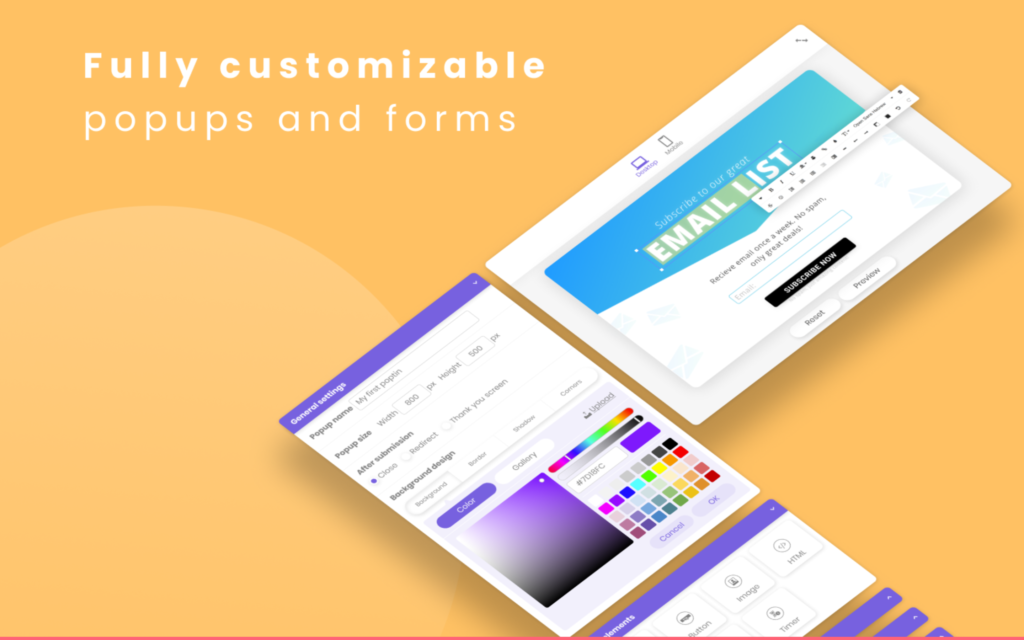 This WordPress plugin uses advanced features such as target by page, time delay, page scroll trigger, and exit intent trigger.
What's excellent about Poptin is that its user friendly, so even if you don't have experience creating landing pages or popups, you can quickly get the grasp of using this widget. Another awesome thing about the company is that it has a super-responsive customer support team that can help you at a moment's notice.
If there is any issue or you discover a bug, all you need to do is contact Poptin's support team to iron out the problem for you. The customer service crew is available Sunday to Friday, 9:00 am to 5:30 pm (UTC +3), and promptly answer any queries.
Poptin goes above and beyond what other software companies offer regarding customer care and the regular updating of its widget.
The widget has an extensive array of targeting options that can be used to tempt the site's visitors to click the CTA or insert their email address. You can even use advanced targeting solutions, such as js variables or cookies, to determine the right moment to deliver the popup to the user.
It's easy to customize the features in the advanced setting tab so that you can accurately time the popup more strategically in the hopes of delivering an excellent call to action. Remember, a well-thought-out and timed popup can mean the difference between a sale or the visitor leaving your website. For the list of complete features, click here.
You don't want to be overly pushy or spammy in your popup because that irritates your prospect and limits the chance of converting them.
What you are going to love about Poptin is that it's simple to implement and use, plus it has all the necessary integrations for the popup process to run smoothly. It has convenient email notification features built into the extension, giving you a competitive advantage when converting leads into customers.
With Poptin's user-friendly interface, you can create beautiful graphical elements to attract prospects and keep them engaged on your site.
Here's a quick Poptin review by Oveo.io and learn how they use it to grow their leads:
Unbounce
In Canada, Unbounce is a software company that develops landing pages for websites and hosts the yearly Call to Action Conference.
What's cool about Unbounce is its intuitive interface that allows anyone to create and publish their landing page. There is no need to hire a developer as the dashboard is based around a drag and drop builder for ease of use.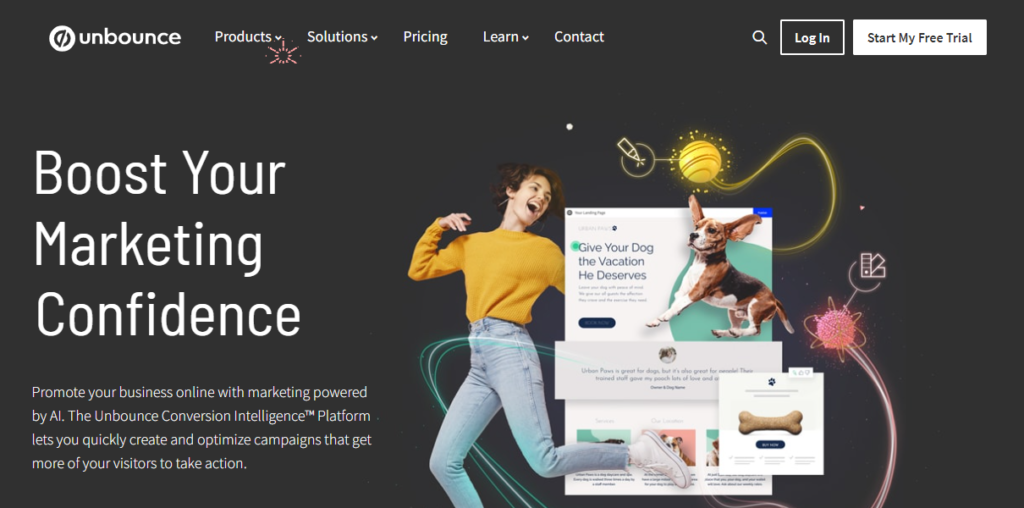 The company has excellent customer support that is responsive and helpful no matter what request or query you have.
A great selling point of Unbounce is that it integrates perfectly with software, such as Constant Contact or Mailchimp. This gives you an edge, especially when collecting email addresses to create a marketing campaign.
It is an all-in-one marketing solution that can help to create premium popups that are bound to convert your leads into clients.
Privy
If you have an eCommerce website and need to grow your sales or customer base, Privy may be the most suitable solution. It is a marketing platform used by online brands to save abandoned carts, send money-making emails, build an email list, and much more.
Its integration with Shopify is excellent, and it only takes one click to connect.
You can use the intuitive SMS and email manager when running a campaign or getting people into your funnel. The platform has many conversion tools, such as Spin to Win, Cross-Sell, and a Free Shipping Bar. These widgets are perfect to use on the website to draw your prospect's attention and keep them engaged.
Remember, the longer they spend on your site, the more chance you can make that sale.
Icegram
Icegram is one of the best plugins to create a call to action or beautiful popups targeted directly at your visitors. You can use the application to convert customers to fans without hiring a developer to set it up.
It takes a few minutes to set up Icegram, and you can start recording results immediately after the widget is installed. Icegram makes marketing automation easy by allowing you to send newsletters, business emails, automated follow-up emails, and much more.
The plugin does not slow down your site because it follows the best coding standards, and the company regularly updates its product to iron out bugs or issues.
With Icegram, you are guaranteed security and quality checks that prevent hackers and spammers from entering. The company believes its software should get the job done in a minimalistic yet powerful way without causing additional stress to the user.
Icegram has received awards for being one of the top five WordPress plugins for email marketing because of its notable features like a lead magnet and social integration. Even if you have never set up a popup or lead magnet before, Icegram makes it easy and simplistic due to its user-friendly interface.
OptinMonster
With OptinMonster, you can generate leads, deliver personalized messages, and grow your email list quickly. The widget monitors user behavior to maximize sales, conversions, and engagement without the assistance of a developer or marketing expert.
It allows you to create beautiful popup campaigns, sticky announcement bars, gamified spin wheels, email subscriptions forms, and much more. All it takes is a few minutes to navigate around the application, and you are going to be ready to create your first popup to draw the attention of your website's visitors.
One great thing about OptinMonster is that it offers mobile popups that look fantastic on all devices, including desktop, laptop, tablet, and mobile. The company understands the importance of speed in conversion optimization, marketing, and SEO, and this is why the OptinMonster popup builder is optimized for the server plus web performance.
If you wonder about customer care, you can expect only the best from OptinMonster as its team treats each client with dignity and respect. Support emails are responded to in a timeous manner, and any issues regarding the software are eliminated.
Key Takeaways
Adding popups to your website is one of the easiest ways to keep visitors engaged and on your site for longer. It can be used strategically to get the users to click your call to action or enter their email addresses.
With advanced targeting, you can track and identify prospects so that you can deliver the appropriate content to them.
No matter how you look at it, popup marketing can be wildly successful when you grow your email list or drive sales on your website. Choosing the right WordPress widget for this task is crucial if you look professional and deliver the message correctly.
Without suitable tools, you may struggle to get the job done right, so be aware of this before deciding which one to use.
Luckily, most of the above widgets are available as a trial version, so you can try out the software before signing up for a monthly subscription.
Conclusion
One of the best widgets on this list has to be Poptin! It is an intuitive and user-friendly marketing tool that allows people from all skills levels to add popups to their website.
Using Poptin can attract more customers and convert leads into clients within a few minutes. Sign up with Poptin today and experience popup advertising like you have never experienced.