Name: Yaniv Goldenberg
Age: 32
Role: Marketing Manager
Background: I'm a technical marketer focused on opportunities driven by user experience & data. I am responsible for creating, optimizing, and maintaining Elementor's traffic & conversion system with the goals of customer acquisition and revenue.
What is your company called: Pojo.me – Elementor
Founded: June 2016
How many people are on the team right now? 15
Where are you based? Tel Aviv, Israel
Did you raise money?
Yes, initially after the bootstrap period, we raised around 500k from private investors to keep growing as fast as we can.
Can you tell us what Elementor is and how you make money?
Elementor is a front-end drag & drop page builder for WordPress, allowing to create & design beautiful websites visually.
Elementor是一个免费的插件,它是一个完整的产品,有很多强大的功能(最近超过了20万的活跃安装)。Elementor Pro包括更全面的设计和营销功能。
虽然您可以使用免费版创建令人惊叹的网站,但许多用户需要更高级的功能,因此他们选择升级到Elementor pro。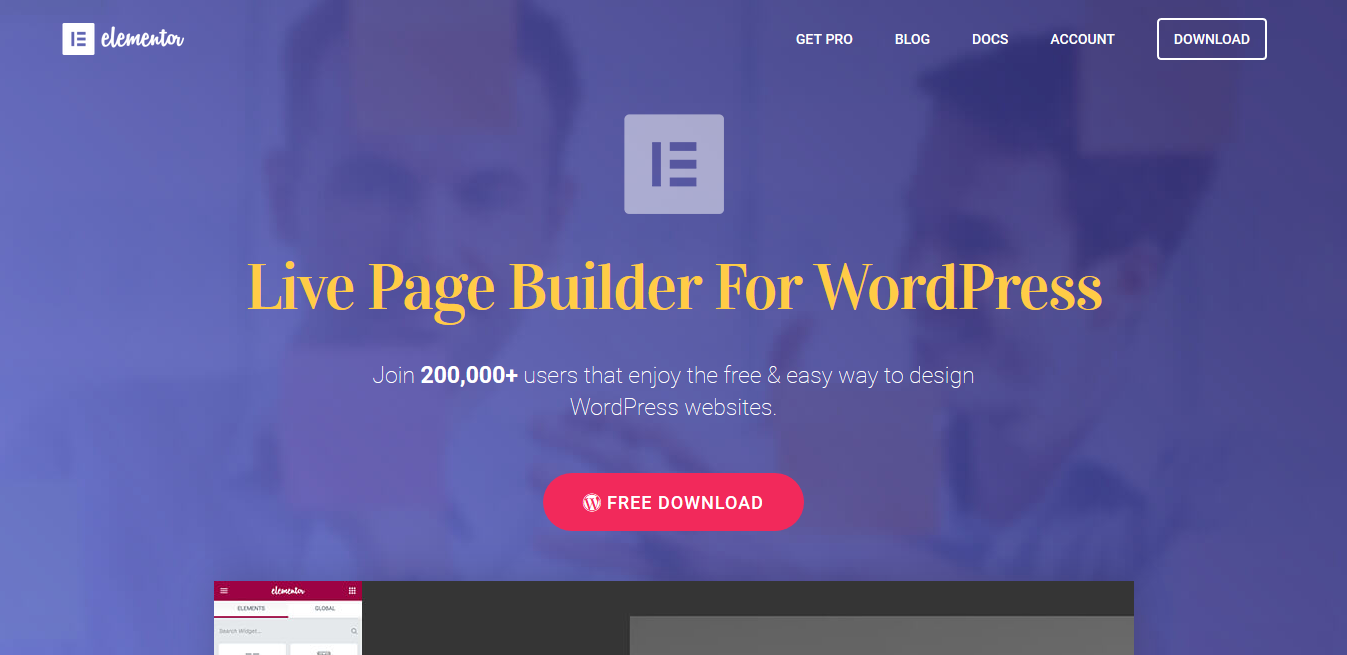 How did you get this idea?
When we began working on WordPress, we've seen recurring patterns. The customer were never truly satisfied, although our themes answered most of their needs. there was always one minor change they had to do, and they couldn't do it by themselves, that's when we understood the need and started working on Elementor, visual drag & drop page builder that works on any template and any theme.
How long did you work on it before you launched? When did you see your first dollar?
It took us one year to launch Elementor, and another 6 months to launch Elementor Pro (and earn our first dollar).
Who are your clients? What is your target market?
Most of our customers are web designers, freelancers and agencies, there are also many site owners & marketers. Those are the main segments that should benefit the most from Elementor.
Are you profitable? if not, when do you think you will get there?
Not yet, we never try to convince free users using a hard sell, we try to focus on solving a real pain for them & serve them better.
我们是一家快速成长的公司,目前我们主要专注于开发和开拓新市场,我们的主要目标是大规模增长。
我们认为我们很快就会达到这个目标,Elementor已经证明了它是许多专业设计师的宝贵工具。它可以解决WordPress上的设计问题,让我们的客户在一半的时间内创建更好的网站。
这就是为什么我们相信我们的客户增长速度会以周为单位不断加快的原因。
付费客户的数量。超过10 000名付费客户
免费用户数:200,000+活跃安装数
How did you get your first 100 customers?
Two weeks before the official launch of Elementor pro (during Black Friday), we ran a pre order email marketing campaign and got our first 100 paying customers in less than a day.
最适合你的2-3个主要分销渠道是什么?哪种渠道不适合你?
我们的主要渠道是WordPress Repo (WordPress插件目录),其他渠道对我们的作用很大。SEO,广告和Facebook。
我们曾短期尝试过其他程序化供应商,但效果不佳。
成长就是要决定你想要完成什么,了解什么是阻碍人们的因素,什么是真正的动力,这就是为什么我们更看重基于意图的目标定位。
Our growth strategy is simple:
– Get good data (if it doesn't exist)
– Create solid conversion funnels, break them down by sub-audiences
– Find a huge low hanging fruit (The biggest conversion drop)
– Attack it with a few innovative ideas.
每个渠道都有不同的目的,虽然分散资源可能有风险,但我们已经看到多渠道策略如何产生更高的投资回报率。
Tell us 2-3 growth challenges you encountered recently (and if you have a strategy how to solve them.)
We are always working on improving our product & messaging.
Everything can be a challenge, there are no silver bullets or one trick. You need to put in the work.
不要遵循任何人的"规则"。
或者至少,学会了它们,但又忘记了它们。你最终还是要用你的方式来做。
我们始终有紧迫感的心态,也从不自满,不断地在行动。
没有明确的方法来规划一个快乐的付费客户的路径,没有办法干净利落地归零在他们所经历的哈哈时刻,为他们打开开关。
我个人对我们的实验速度并不满意。我们测试的东西没有我们应该测试的那么多。
归因也是很棘手的,因为我们尊重用户的隐私,我们用其他所有的渠道来填补空白。
支持我们的免费用户也是一个挑战。由于我们发展的太快,很难跟上,但幸运的是,我们有一个了不起的Facebook小组(已经有超过6700名成员),我们已经收到了很多反馈和支持,从我们的社区,他们总是很乐意帮助其他成员在组。
创建高质量的内容总是一个挑战,但我们正在尽最大努力在我们的网站和Youtube上提供更深入的教程。
How we try to encounter most of those challenges – testing.
Our framework – having clear understanding of the hypothesis of the test, the metrics we need to monitor and ensuring that they're completely trackable.
在提出想法之前,你做的定性(和定量)研究越多,你找到成功变通的机会就越大。
Some of the tasks are not worth to do in-house. What do you outsource?
Everything is scalable until it's not, sometimes we outsource writing, mostly reaching out to other designers.
What are the 3 tools you and your team can't live without?
I'm probably the biggest tool geek you'll ever meet, but I think the tools don't matter as much as the philosophy and framework.
不会让任何人感到惊讶--Slack、Google Analytics、Google Sheets。
就个人而言,我最喜欢的工具是--Zest(内容),SuperMetrics(数据/分析)。IFTTT和Zappier(生产力)。
Tell us the biggest mistake you had through building and promoting your product and what you've learned from it.
We have our core values, being customer driven is at the top. At first we assumed marketing should not be our main emphasis, we focused most resources on development & support. Now we understand that it doesn't matter how great your product is, you won't be able to achieve massive growth without exceptional marketing, and always being skeptical regarding data, since mistakes are going to happen along the way you want to be absolutely sure about something before investing resources. That's why premature optimization or focusing on the wrong things at the wrong time is still a top killer for many startups.
If you had to start Elementor today, what would you do differently?
We always had customer-driven approach, but we should have done more.
Investing more on customer success & remarketing (bringing visitors back is key), eliminating channels that never saw traction and experimenting more at higher pace.
Where do you see Elementor in 5 years from now?
Offering a wide range of design & marketing solutions on WordPress.