The idea in the online business world is to attract as many visitors or potential customers as possible for a particular business to expand.
We can assume that this was much more difficult to do before the so-called pop-ups appeared on the market.
作为希望尽可能多地转化你的访客而出现的窗口,弹出式窗口如今是许多营销人员每天使用的主要工具。
无论你喜欢还是不喜欢,事实是,这些窗口正变得越来越普遍,今天有大量的弹出式应用程序。
So, as MailChimp is a popular platform that constantly helps small businesses by offering various tools and apps, we have selected the four best pop-up apps for Mailchimp that you can try out and see how useful they can be to your business goals.
让我们开始吧!
Poptin是一个高效的弹出式窗口工具,在其多功能的帮助下,可以帮助你轻松、快速地制作出优秀的弹出式窗口。
与所有弹出式应用程序一样,其最终目的是将尽可能多的访问者转化为客户。
除此之外,它可以帮助你获得更多的电子邮件订户,并减少购物车放弃。
通过使用Poptin,你可以。
创建惊人的MailChimp弹出窗口

为您的网站建立嵌入式表单

自动向您的订阅者发送电子邮件
You can easily create MailChimp popups with the help of an efficient drag-and-drop editor in a manner of minutes.
Here you can take advantage of various options like inserting images, logos, changing colors, fonts, and more to ultimately make your MailChimp pop up to your liking.
Poptin被每个人使用,从在线营销人员到博客,因为该应用程序是这样的,任何人都可以轻松管理它。
提供的功能。
拖放编辑器

触发选项

目标选择

A/B测试

分析

模板库

整合

伟大的客户支持
Explore all Poptin features here.
使用Poptin的优势
Poptin is very easy to use. You don't need any coding skills, so it is accessible to everyone. Integrating it with MailChimp is easy-peasy. 
With the many different features it offers, a phenomenal drag-and-drop editor stands out that allows you to make windows exactly the way you envisioned them.
它将帮助你收集更多的线索,获得更多的销售,增加订阅者的数量,以及更多。
它所提供的一些弹出式窗口的类型有:。
灯箱

滑动式

倒计时

全屏覆盖

社交小工具

顶尖的酒吧

底部条状物

Gamified popups (spin the wheel, scratch cards, pick a gift pop ups)
倒计时弹出
Video pop ups
观看这个视频,了解如何创建你自己的MailChimp弹出窗口的视觉指南。
Also, it has excellent customer support that will solve any doubts and is available by phone, live chat, or email.
模板库提供了许多漂亮的设计,你可以根据你的需要进行编辑,而且你可以在短短几分钟内完成这一切。
通过使用A/B测试选项,你将始终确定你的MailChimp弹出窗口的哪个版本是最好的,哪个版本对受众的效果最好,因此不会错过增加的销售。
Learn more about the Poptin <> MailChimp integration.
使用Poptin的缺点
For someone who is entirely new when it comes to monitoring analytics, it is best to turn to customer support, with which everything will become much more straightforward.
Poptin的定价
You can opt for a monthly and annual subscription. When it comes to packages, they start at $19 per month but they also offer you to try Poptin for free and make sure it's the right choice for you.
为什么说Poptin是一款适用于MailChimp的优秀弹出式应用?
Besides offering fantastic targeting options, Poptin also offers triggering options that will help you gain as many customers as possible because your MailChimp popups will appear at precisely the right time.
You will be amazed at how easy it is to use a drag-and-drop editor and how easily and quickly you can use customization options.
Using various templates lets you play with the design quickly and efficiently and make great windows for your website.
A/B testing lets you check each pop-up's success with your audience and what needs to be changed to make everything work even better.
Poptin作为MailChimp的一个弹出式应用的评价
他们在这里。
易用性。5
自定义级别:4
视觉吸引力。5
特点:5
整合。5
客户支持。5
定价。5
共计:4.9/5
想现在就开始吗?免费注册Poptin!
2.枢密院
Privy is a platform that can help you create attractive MailChimp popups, flyouts, banners, follow-up emails, and more.
It concentrates on collecting but retaining as many customers as possible, thus increasing sales.
It is especially intended for small businesses, but it can be used by anyone who deals with online companies and wants to take it to a higher level.
Privy主要帮助你更快地增长你的电子邮件列表,减少购物车放弃,并提高你的电子邮件活动的响应。
When it comes to creating pop-ups, Privy's editor is simple yet effective, and it helps you effortlessly customize your pop-up window according to your wishes.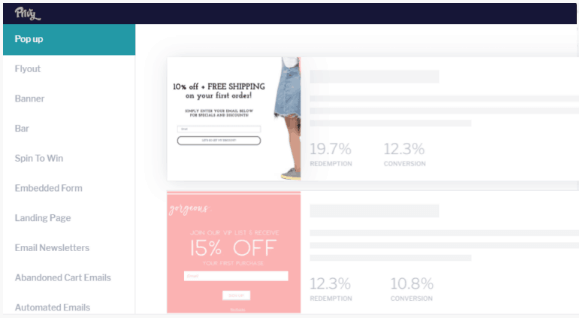 此外,你还可以为你的网站创建不同的条形图、旋转赢利、嵌入式表格和登陆页面。
With its advanced targeting options, you can choose the most suitable audience to show your relevant MailChimp popups to and thus increase the chances of buying.
提供的功能。
拖放编辑器

自定义选项

高级目标选项

退出意向活动

预建的活动

条幅和标语

转动到赢家

A/B测试
使用Privy的优势
Privy是吸引注意力的好帮手,但尤其是防止潜在客户在决定购买前离开你的网站。
It offers many different options, such as attractive pop-ups, flyouts, bars, banners, and other different onsite displays.
With Privy's help, you can offer additional products based on what the customer has already bought, which is another good way to increase sales.
It helps your online business with email marketing as it encourages the growth of your email list, for example, by sending coupon codes to those visitors who have subscribed.
Another thing that makes it easier to create different forms is the templates that are beautiful and easy to edit.
它既是移动的,也是桌面的响应。
使用Privy的缺点
Since it does not have certain features, the price is slightly higher than other tools.
如果有更多的选项来创建追加销售的电子邮件,那会更有效率。
缺少一些定制选项,如改变字体。
枢密院的定价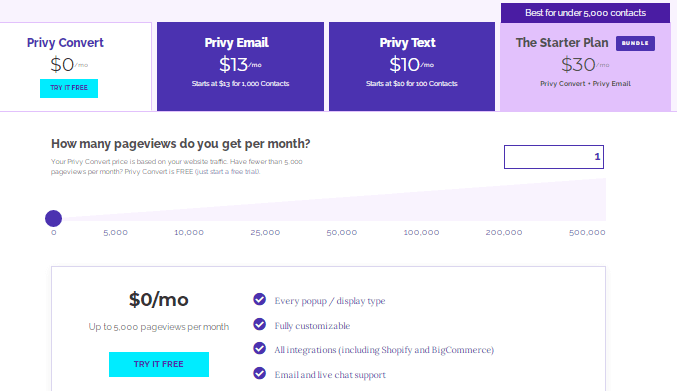 Privy has a free plan that includes up to 5000 pageviews, and paid packages start from $10 per month. Prices differ and depend on how many page views you get per month or the number of contacts, as we can see below.

为什么Privy是MailChimp的一个有趣的弹出式应用?
它的退出意向弹出式广告、条形广告、横幅广告和飞出式广告都是专门设计的,以吸引更多的访问者并增加你的销售额。
It is mobile-friendly, so customers can constantly access your business wherever they are.
Privy's pop ups are effortless to create, and its editor allows you to customize them and change their look according to your needs.
你可以使用目标选项来锁定特定的受众,并以你的现象级优惠为其带来惊喜。
通过使用A/B测试,你可以很容易地发现你的弹出式广告的表现,以及需要做哪些修改。
Privy的评级作为MailChimp的弹出式应用程序
这些是评级。
易用性。5
自定义级别:4
视觉吸引力。5
特点。4
整合。5
客户支持。5
定价。4
共计:4.6/5
3.智囊团
WisePops is one of the great tools for small and big businesses, online marketers, and e-commerce in general.
他们的智能弹出窗口简单而强大,除此之外,你还可以创建漂亮的条幅和横幅,以增加你的销售额。
It is straightforward to use, and you don't need coding or designing skills to make attractive pop-ups.
With the help of its simple and functional dashboard, you can customize everything and make great campaigns appropriate for your website.
WisePops views the creation of MailChimp popups as art and therefore allows you to use several different types of pop ups:
退出弹出式窗口

弹出式灯箱

电子邮件弹出窗口

视频弹出窗口

移动弹窗
说到响应性,它们都是既能响应移动又能响应桌面的。
With its targeting options and detailed reporting, you can track your visitors' behavior and see the best tactics for boosting your sales.
提供的功能。
拖放式建造器

自定义选项

目标选择

触发选项

整合

响应性

客户服务
使用WisePops的优势
如果你想以最小的努力和较高的速度制作高质量的MailChimp弹出窗口,请使用其预制模板。
It is very easy to use its highly customizable drag-and-drop editor and create various pop-up windows according to your every need.
With advanced targeting and triggering options, you can reach the right person at the right time with a unique offer.
由于WisePops弹出式广告是移动友好型的,您的客户在旅途中解决他们的购买问题将没有任何困难。
It also has customer support to help your customers resolve potential problems with dedication and efficiency.
使用WisePops的缺点
If you are a designer, customization options may not be to your taste ultimately.
对于不打算经常使用的人来说,高成本可能是一个问题。
WisePops的定价
WisePops offers a 14-day free trial, and after that, you can upgrade to some of the paid packages whose prices vary according to how many page views you get per month. Prices start at $29 per month, where you get 50.000 page views, and you can see prices for other packages on their website.

为什么WisePops是MailChimp的另一个好的弹出式应用?
With this pop-up app, you get to create unique MailChimp popups in just a few minutes, which leaves you room to dedicate to some other tasks.
Using its many templates, you can design your pop-up entirely according to your customers' wishes and present your business in the best way possible.
Various tracking options help you get a complete impression of how your business is going and whether people generally react positively.
它是移动和桌面响应的,并支持各种集成。
Wisepops作为MailChimp的一个弹出式应用程序的评级
让我们看看他们。
易用性。5
自定义级别:4
视觉吸引力。5
特点。4
整合。4
客户支持。5
定价。4
共计:4.5/5
4.掌握控制权
Getsitecontrol是另一个弹出窗口工具,除了提高转换率,还有助于建立对你的在线业务的全面控制。
You can develop your marketing strategy but at the same time actively work on bringing in as many visitors as possible without waiting for them to come to you first.
It helps attract your visitors' attention with proactive pop ups, collect feedback with contact forms, conduct surveys, and reduce cart abandonment.
You can also create personalized messages, which positively strengthen the relationship with your customers.
Their gallery contains various templates that you can use to tailor your MailChimp popups perfectly.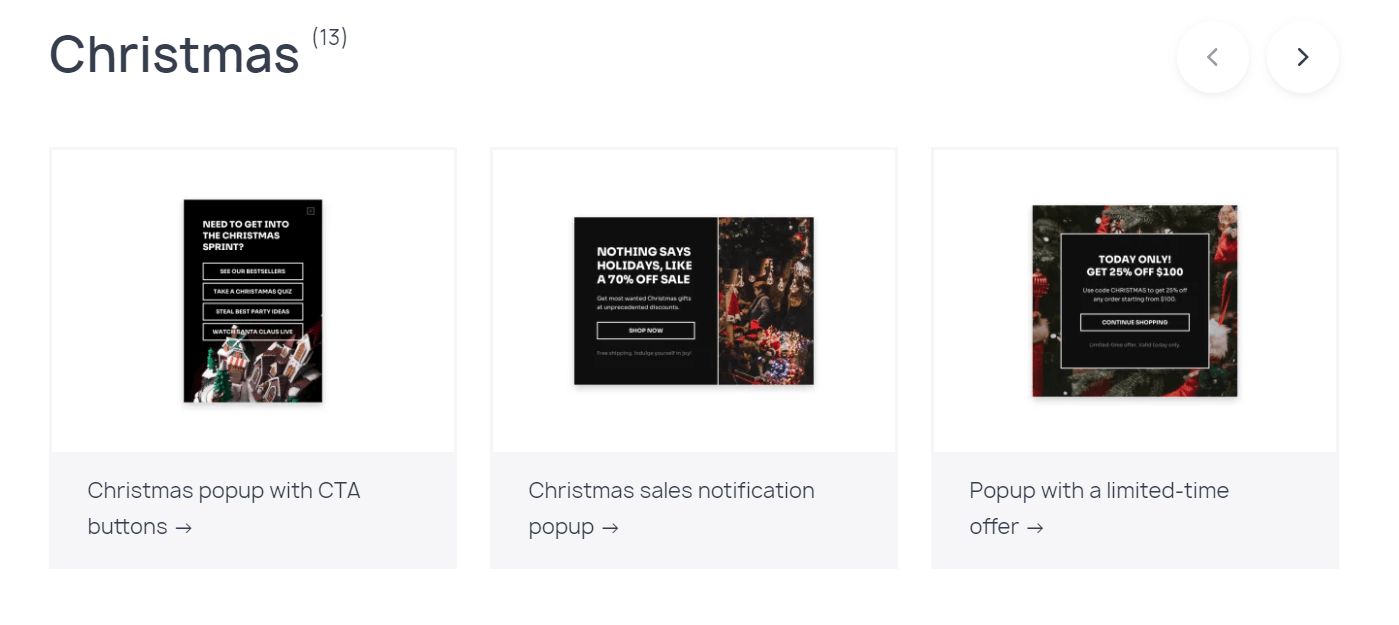 流行的弹出式窗口的一些类型是:。
例如,通过使用退出意向触发器,你可以减少购物车放弃率,因为你的弹出窗口会及时出现,防止访客离开你的网站。
提供的功能。
Templates Gallery

目标选择

触发选项

响应性

CSS编辑器

整合

多页小工具

A/B测试
使用Getsitecontrol的优势
它使你能够创建移动弹出式窗口,即使在较小的屏幕上也完全方便和完美无缺。
With targeting and triggering options, you will be able to accurately target a specific group and make your pop-ups appear just when you need them to.
A/B testing helps you determine which pop-up design your audience likes the most.
Getsitecontrol is very easy to use, and with the help of its CSS editor and clear interface, you can easily create and customize your MailChimp popups to fit into your brand.
谈到转化率,你可以使用各种分析方法,看看你的受众是如何表现的,也许是否需要改变什么。
使用Getsitecontrol的劣势
To use some of the features, you have to pay for the upgrade, which is a drawback.
定制选项本可以做得更好。
Getsitecontrol的定价作为MailChimp的一个弹出式应用程序
你可以开始免费试用,之后,你可以根据他们每月提供的小工具浏览量,升级到一些付费套餐。
为什么Getsitecontrol是另一个适合MailChimp的弹出式应用程序?
It offers you a multitude of exciting forms that you can use to activate your online business and gather as many customers as possible.
这个应用程序帮助你用许多弹出式表格和调查来吸引你的访客,并鼓励他们进行购买作为最终目标。
It helps you grow your email list by using subscription forms, and you can also personalize messages and stand out in that way.
It is fully responsive, and it offers many integrations.
Getsitecontrol作为MailChimp的一个弹出式应用的评级

这个应用程序的评级如下。
易用性。5
自定义级别:4
视觉吸引力。4
特点:5
整合。5
客户支持。5
定价。4
共计:4.6/5
底线
Although there is a vast number of different pop-up apps on the market, it is essential to choose the right one that will help you create the most amazing MailChimp popups.
If you are looking for an all-in-one solution for your online business, then Poptin's smart pop-ups are the unmistakable choice.
Take advantage of all the features these great apps offer you and convert your visitors into customers faster and easier than ever!
如果你想了解更多,这里有一些相关的文章让你去了解。