Shopify Popups and Inline Contact Forms
Increase sales, grow email list, and reduce cart abandonment with Shopify pop ups
Promote your products through smart popups, contact forms, and increase your brand exposure and sales!
Er zijn geen voorwaarden aan verbonden. Geen creditcard nodig.
Dit is wat Poptin voor u kan doen...
Great for eCommerce website owners on Shopify seeking to:
Increase visitors'
engagement
With Poptin, you can conduct surveys, get feedback, and offer visitors exciting discounts they will be interested in.
Krijg meer e-mailabonnees
Verbeter de abonnementskosten tot meerdere malen met behulp van poptins die op het juiste moment worden weergegeven.
Capture more leads
and sales
Show visitors relevant offers based on their unique behavior and substantially improve conversion rates.
Reduce shopping cart
abandonment
A potential customer is planning to ditch their shopping cart? Pop them an offer they can't refuse and drive more sales.
Pop Up Targeting Options For Shopify
Set up the right targeting rule to engage and convert the most qualified lead for your Shopify popup campaign.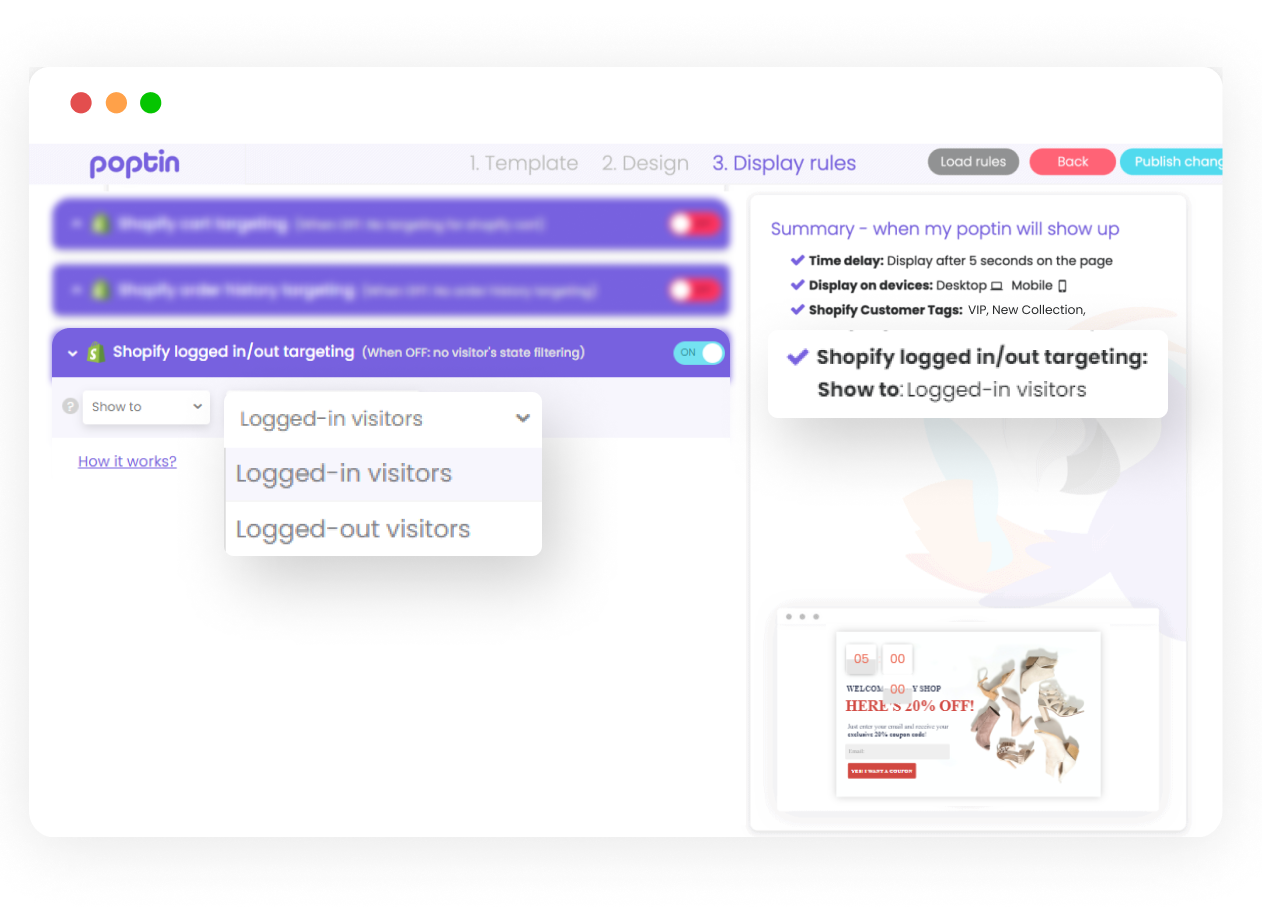 Show targeted Shopify pop ups to customers depending on their login status. For instance, you can encourage visitors to log into their Shopify account to successfully check out a 'For Sale' product. This ensures that only legit Shopify account users can take advantage of your offer. Otherwise, they need to sign up.
Shopify Order History Targeting
Create Shopify pop up campaigns and relevant offers based on your customer's order history. This features monitors your customers' total spends, previously products bought, status of payment, and more.
You have lots of possibilities to boost sales as you upsell, cross-sell, remind payment, and offer discounts to give more value to your customers.
Advanced Ecommerce Features For Shopify
Exclusively for Shopify users, Poptin has devised several advanced pop up features and tools to optimize your online store conversions.
Personalize your campaigns depending on the value filled out by shoppers. There are special Shopify tags that can reflect items, values or amounts in the cart.
Create a floating shipping bar on Poptin with the remaining amount needed to eligible for a promo.
Encourage shoppers to add more items to their cart to reach the minimum spend for the offer.
Shopify Gamified Discount and Coupon Pop Ups
Create gamified discount pop ups and coupon codes for your Shopify store and capture your visitor's attention instantly. Add and customize your Shopify coupon pop ups in the form of spin the wheel, scratch cards, or pick a gift using Poptin's gamified popup templates.
Poptins maken in Minuten met behulp van een Drag & Drop Editor
Geavanceerde Drag & Drop editor voor eenvoudige aanpassingen
Voldoende hoogwaardige, gebruiksklare sjablonen om uit te kiezen
Velden, afbeeldingen en elementen toevoegen of verwijderen uit elk sjabloon
Responsive design en weergave van poptins op mobiel
Geen codeervaardigheid vereist
Statistieken aan je vingertoppen
Gegevens verkrijgen voor bepaalde tijdsbestekken met betrekking tot het aantal bezoekers, de blootstelling en de conversiepercentages van de door u gemaakte poptins.
Grafische weergave voor eenvoudige analyse