If you're tired of spending hours on the computer sending emails that don't get opened, you probably need a better email marketing tool. There are plenty out there, but it's hard to decide the right one to use.
Ultimately, Pinpointe is a great option, and it's used by many to create and optimize email campaigns. You get an easy-to-use interface and can track the progress of the emails you send. There are two versions, but it's a little pricey.
Therefore, it might be a good idea to consider the Pinpointe alternatives. They may have better features or a lower price. We're going to discuss some of the best eight options.
1. GetResponse
GetResponse is one of the top Pinpointe alternatives because it's easy to use and offers robust features. You're going to appreciate the personalization options, and there's even 24/7 support for users.
सुविधाऐं
When you use GetResponse, you have access to professional templates. You can even change them to meet your specific needs.
Deliverability is a top priority, and the emails you send do have a better chance of getting opened. However, you can also create webinars that can benefit people. Some of them can be paid for by users, so you make money off of them.
पेशेवरों:
Free marketing courses

चिकना यूजर इंटरफेस

Can create various marketing funnels
विपक्ष:
Hard to navigate

Can take time to setup

Limited email templates
मूल्य निर्धारण
With GetResponse, there are four plans. Basic is $15 a month and includes unlimited landing pages, email marketing, and autoresponders. 
Plus is next at $49 and includes everything from Basic. You also get an automation builder, webinars, multiple sales funnels, and more.
The Professional level is $99 a month, and you receive everything from Plus. With that, you have unlimited sales funnels and webinar funnels. There's also an unlimited automation builder and many other perks.
Max is the last option, and it comes with customized pricing. You get every feature, including various accounts, transactional emails (as a paid add-on), and dedicated support.
यह किसके लिए है?
GetResponse guides you on creating a campaign, so it works for everyone. However, it can take time to get setup. You may also spend longer on your campaigns.
2. Sendloop
We feel that Sendloop offers full features and is suitable for many types of companies. You're going to appreciate the customizable automation platform. Plus, you get plenty of tools to help you with your journey.
सुविधाऐं
The feature-rich platform of Sendloop offers advanced tools and is easy to use. There's a drag-and-drop editor to help you out, and there are even HTML options without you having to code. 
With the premade templates, you're going to customize each message the way you want. Plus, you can even import already-made templates.

We like marketing automation. You can send the perfect message to the right client. This is going to help you boost sales!
पेशेवरों:
Cost-effective

उपयोग करने में आसान

Great integrations
विपक्ष:
रिपोर्ट के साथ मुद्दे 

कुछ प्रशिक्षण विकल्प
मूल्य निर्धारण
Sendloop is slightly different. The pricing structure is based on how many emails you send. If you send emails often, you pay $9 a month. 
For those who only send electronic mail occasionally, you only spend $10 for every 1,000 emails sent. However, this is based on 500 subscribers.
यह किसके लिए है?
Primarily, Sendloop markets itself for high-volume senders and digital marketing firms. However, it also works well for SMBs that don't require transactional emails.
3. Flashissue
Flashissue offers a full service of email marketing tools. You're going to get end-to-end solutions, and it works on any device. We like its streamlined approach and that it's easy to get started.
सुविधाऐं
When you use Flashissue, you've got email monitoring. This ensures that the emails you send have abetter chance of getting opened. Plus, it focuses on spam, so you're not going to get labeled as a bad company.
There's also easy list management, and the automation are quite great. You can create newsletters and emails without having to know to code. The drag-and-drop editor makes this effortless.
पेशेवरों:
Customized templates

Ability to create many lists

Great collaboration tools
विपक्ष:
Buggy system

Limited trial period
मूल्य निर्धारण
The prices for Flashissue are all over the place. The Starter plan only costs $9.99 for two years (one payment). With it, you can have 300 contracts and get 100 email credits to use. You also have reports, analytics, Gmail integration, and no branding.
Next, there's Small, which includes Starter and costs $79 (one-time payment) for two years. You also get unlimited contacts, 250 email credits, and five team members.
Medium includes Small and is a $129 one-time payment for two years. You also have 10 team members and 5,000 email credits.
Large costs $199 (one-time payment) and it lasts two years. You can have 50 team members and get 10,000 email credits.
यह किसके लिए है?
Primarily, Flashissue is designed for startups, but it also works for corporations that don't have complex needs.
4. SendGrid
You're going to like SendGrid as one of the best Pinpointe alternatives. It offers personalization and strong analytics. Plus, there's the amazing email editor. It also focuses on deliverability, so you can be sure the email you create is sent to the inbox instead of the spam folder.
सुविधाऐं
The features included with SendGrid are a mixed bag. We really like its email deliverability options, and you're sure to be impressed with the reporting and analytics. 
You also get a drag-and-drop editor that makes life much easier. However, segmentation, contact management, and autoresponders are lacking. 
पेशेवरों:
Excellent analytics

Personalize each email

Advanced deliverability functionality
विपक्ष:
Basic autoresponders

No segmentation options
मूल्य निर्धारण
With SendGrid, there is a forever-free plan. You can send 6,000 emails a month and have 2,000 contacts. You can have one teammate, automations, ticket support, and one signup form. You also get three testing credits, A/B testing, segmentation, and various design editors.
Basic 5K is next and offers 15,000 emails a month and 5,000 contacts. It only costs $15 a month, and you get everything from the Free plan. However, automation isn't available, though you do get 10 testing credits and five signup forms.
Advanced 10K costs $60 a month for 50,000 emails and 10,000 contacts. You also have access to a dedicated IP, automation, 1,000 teammates, chat support, 15 signup forms, and 60 testing credits.
यह किसके लिए है?
Primarily, SendGrid works well if deliverability is a concern. However, it's not a perfect email marketing solution because it lacks automations and segmentation.
5. Sendlane
Sendlane is an excellent email marketing platform that helps you personalize your interactions with clients at scale. You can automate email sending and use machine learning to determine when it's best to send emails.
सुविधाऐं
You're going to like the intuitive email marketing available. Segment audiences to make sure appropriate people see the promotions. There are even real-time reporting options to help you measure the success of the campaign.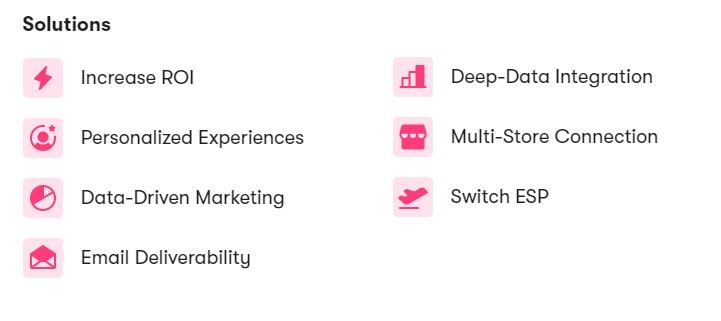 Full automation is also possible. It's all intuitive, so you just build the behavior-based tree and watch as the right people get your emails. Retargeting is also an option, and you're sure to appreciate that it does most of the work for you.
पेशेवरों:
Advanced automations

Great email editor and landing page editor

Modern design and feel
विपक्ष:
High cost

Fewer integrations
मूल्य निर्धारण
When you choose Sendlane over the other Pinpointe alternatives, you are going to be impressed with the payment options. The Starter Pack is the best choice. It's $497 (one-time payment), and you get six months of Growth membership. With that, you get training on email marketing tools and more.
You can get Growth yourself without the other features. It's $99 a month for 5,000 contacts. With it, you get all the features available, onboarding support, and live chat.
Professional is $249 a month for 10,000 contacts. You get unlimited credits for sending and unlimited CPM overage. There's also deliverability monitoring, program reviews, and more.
यह किसके लिए है?
Those with a big budget and complex needs are sure to appreciate Sendlane. However, it isn't ideal for SMBs, startups, freelancers, and creatives.
6. Drip
Drip isn't like any of the other Pinpointe alternatives shown here. It's designed with the right tools to focus on automation solely. Ultimately, it's going to help you do much more without a high price.
सुविधाऐं
With Drip, you get help creating more personalized messages. In fact, you can even tag users based on different categories. Email funnels are also an option, which ensures that you have an easy-to-use tool that's quick to follow.
As with other email marketing solutions, this one lets you track funnels and emails. You may also create a points system based on user action. This rates their lead strength and helps you figure out where they are in the sales journey.
पेशेवरों:
Specialty e-commerce CRM

Solid integrations

Strong automations
विपक्ष:
Better templates needed

Limited form builder
मूल्य निर्धारण
The pricing for Drip is easy and straightforward. You pay $19 a month for 500 contacts. With that, you can send texts in the workflows, have a visual email builder, and access to various automations and integrations.
You can also get 1,000 SMS messages for $15.00. This averages out to about $0.015 a message.
यह किसके लिए है?
Email marketing is essential for various marketers and small businesses. You are going to appreciate that Drip is designed for these types of companies.
7. Convertkit
ConvertKit works well if you're not interested in creating attractive emails. With a few templates and a basic editor, you're going to design emails that get the job done. This approach is unusual, but it can work.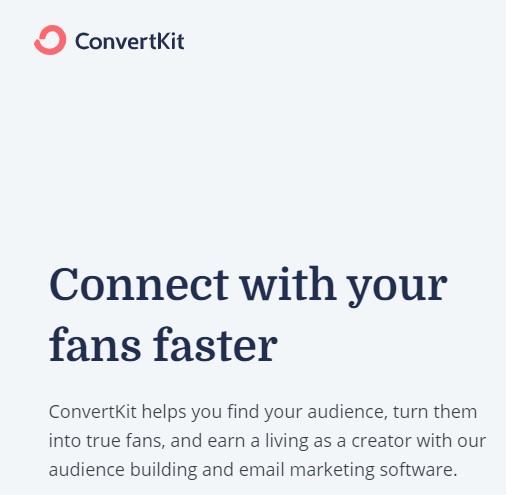 सुविधाऐं
You're going to appreciate ConvertKit's feature set. It has excellent form-building capabilities, autoresponders, and subscriber management tools. However, it does lack with the email editor.
There isn't a menu option to create your email. Instead, you can choose Broadcast (individual email) or Sequence (a string of related messages). We feel this is an oversight because you should be able to create an attractive-looking email with any of the Pinpointe alternatives. 
पेशेवरों:
Build landing pages

लाइव चैट समर्थन

Easy-to-use automation creator
विपक्ष:
कुछ टेम्पलेट्स

Basic editing
मूल्य निर्धारण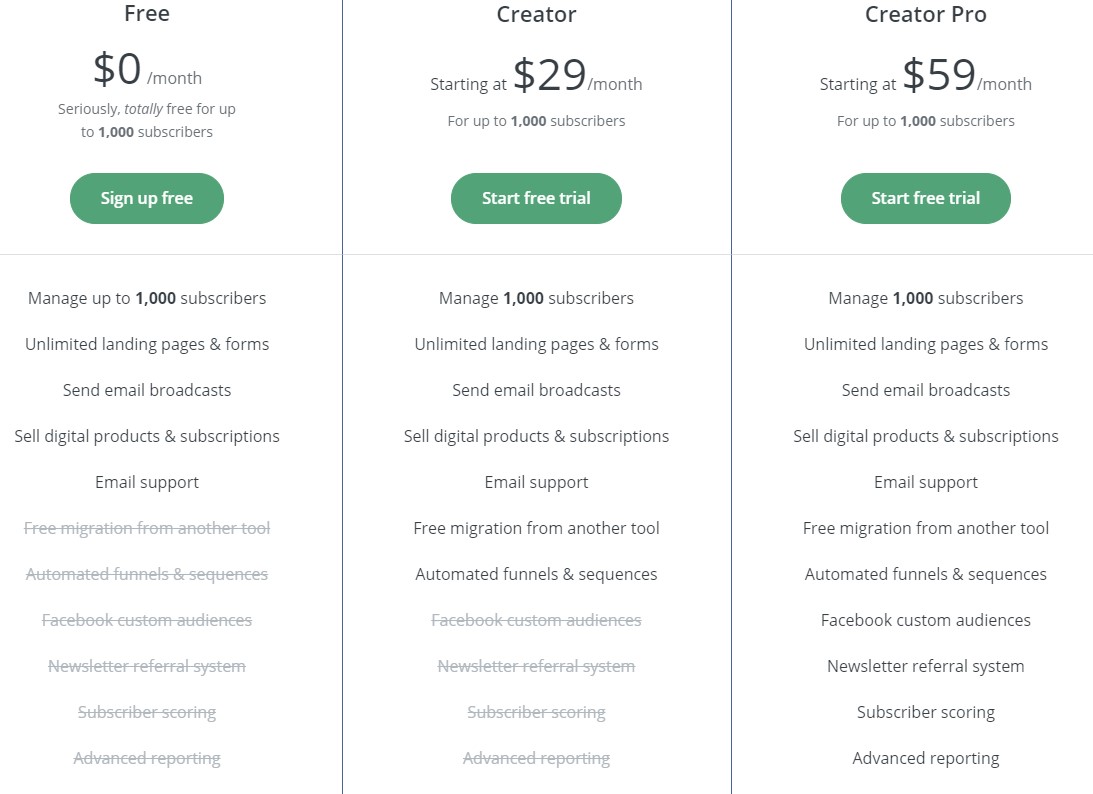 The forever-free plan with ConvertKit is great. You can have 1,000 subscribers and still get unlimited forms and landing pages. Email support is available, and you can sell subscriptions and digital products. 
Creator is next at $29 a month for 1,000 subscribers. With it, you get the same benefits from the forever-free plan. Plus, there's free migration and automated sequences and funnels.
Lastly, you have Creator Pro, which is $59 a month for 1,000 subscribers. Every feature is opened up, including advanced reports, subscriber scoring, newsletter referrals, and others.
यह किसके लिए है?
Typically, ConvertKit is aimed at those who sell e-commerce products and bloggers. If you don't have multiple audiences, this is the right email marketing tool for you.
8. Omnisend
Omnisend is a great tool and has many great reviews. With the free plan, it's easy to get started and see if it's right for you. Plus, there are many amazing features to enjoy.
सुविधाऐं
You're going to appreciate the omnichannel and multi-platform capabilities. Regardless of what channels you use to reach your audience, this email marketing tool can help. 
Social media, SMS, and email are the top options. Plus, the automations are exceptional, so you can create personalized messages every time!

पेशेवरों:
E-commerce centered

Automations

Ability to track sales
विपक्ष:
सीमित एकीकरण

No advanced tracking
मूल्य निर्धारण
With Omnisend, you have a forever-free plan. With it, you get basic email campaigns, reports, signup forms, and popups. Plus, you can send 15,000 emails each month.
Standard is next at $16 a month for 15,000 emails. With it, you get the Free benefits, but there's audience segmentation, automations, and more.
Pro costs $99 a month for 15,000 emails. You get Standard features, but there are also advanced reports, Facebook Custom Audiences, web push notifications, and others.
Enterprise is a custom price based on your needs. With it, you get unlimited emails, migration help, and others.
यह किसके लिए है?
Primarily, Omnisend is directed to e-commerce users.
निष्कर्ष
Everyone needs email marketing, but choosing the right product is essential. With any of these Pinpointe alternatives, you're sure to find something that meets your needs.
You've read about each email marketing tool showcased. Hopefully, you know a bit more and can decide. Consider the free trial (each one includes this) and test it out to make sure it's suitable. Then, you can start sending emails more efficiently and automate much of the process.