Maintaining a well-organized business operation is highly challenging but definitely possible.
Delegating tasks, meeting deadlines, and fulfilling other obligations become a routine that every entrepreneur cannot live without. Being hands on often result to faster business growth, however, doing all the tasks could be burdensome and might propose some serious consequences to you and your business.
If you want to achieve a high level of productivity and effectiveness without compromising the quality of your sleep and output, then it's time to start using tools that can help you to automate certain processes.
Especially if you have a wide range of meetings, it is much easier to use tools for scheduling than to write everything manually.
Your clients and prospects will be able to book meetings with only a couple of clicks which will result in saving time for both you and them.
Here are some of the 5 best online appointment scheduling software in today's market.
Thanks to Calendly, you don't need to send an e-mail to make an arrangement.
Just add your available dates and hours and share the scheduling link to your client or customer.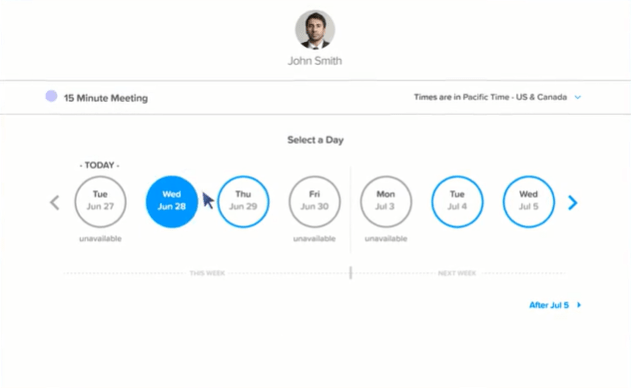 When they open it, they will be able to fix a meeting on a date of their choice and in one click the deal is done.
Your meeting will be added to all of your calendars automatically.
Before your meeting starts, Calendly will send you a reminder, so chances of you forgetting a meeting are near impossible.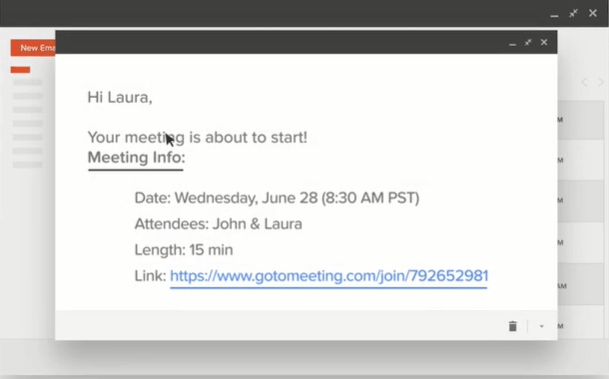 The reminder will have all the important information including date, meeting attendees, expected length, and a meeting link.
You just need to click on the link and your meeting is ready to start.
If you run a business website, paste code, and your scheduling link will be visible to the visitors that won't arrange a meeting with you or your team.
You can also include linking your e-mail campaigns. For example, if you want to promote an offer, service, tool, or anything else you sell, just add a link so that potential customers would be able to schedule a demo.
If you work in a team, you can choose one person from your team members who will get access to the link. You can either add some of them or you can add the whole team by clicking "Choose collective".
Calendly saves you time and offers you the ability to connect your account with CRM platforms that matter to you with only one click.
Calendly is a timed zone detective tool, which means that it will recognize if someone is in a different time zone than you are and prevent misunderstandings.
Caractéristiques offertes :
Time zone intelligence

Personnalisation

Round robin or collective availability

Notifications

Buffers

Daily limits

Metrics and reporting

Intégrations
Pricing:  Calendly offers a free Basic package, and paid plans start from $8 per user monthly.
Another great scheduling appointment platform is Setmore. You don't need more than a minute to set up an account.
It allows you to manage appointments, bookings, and payments all from one place.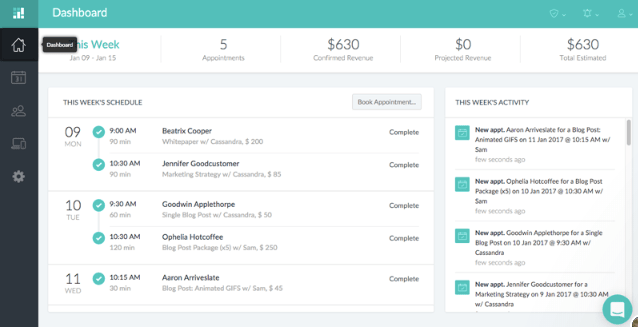 Setmore is available both for desktop and mobile devices.
You can connect your apps and CRMs with Setmore and create a seamless workflow.
Setmore is a great tool for many niches, especially for:
Health & beauty industry

Consulting

Sales

Entrepreneurs

Public sector

Contractors
Easily add all services that you provide and make it simpler for everyone, you, your staff and customers, to quickly schedule their appointment.
For every staff member, you can add image, contact number, working hours, and what are his or her specialties. This is a good practice if you aim to earn the trust of your customers.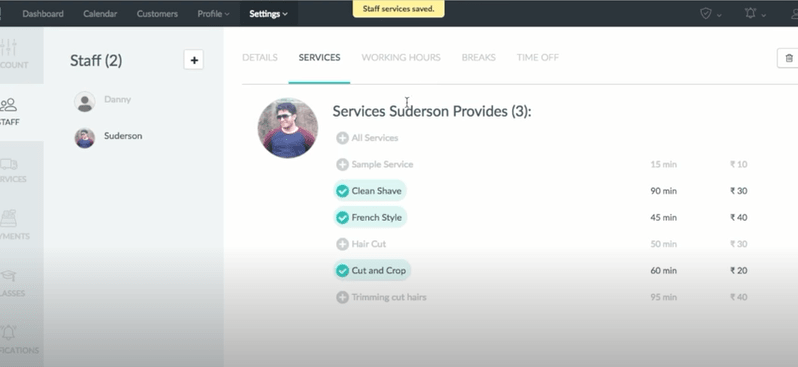 Include Setmore booking on your website or Facebook page so your visitors can easily choose what time suits them the best.
Set up a reminder, and your customer will receive an SMS with details about their appointment. There are also options for customizing the message.
Setmore integrates with Instagram, Facebook, Stripe, Square, WordPress, Joomla, and other important platforms.
Caractéristiques offertes :
Text reminders

E-mail reminders

Custom customer SMS

Staff information

Reviews

Website plugin

Intégrations
Pricing: Setmore also has a free plan and a Premium plan with a monthly subscription that costs $25.
Baluu is an excellent option for businesses of any type and category looking to accept bookings online.
You can create any kind of website you want, whether it's an e-commerce store, an experience website, a group booking website, or an appointment-based service. Or simply embed Baluu's tools on your existing website.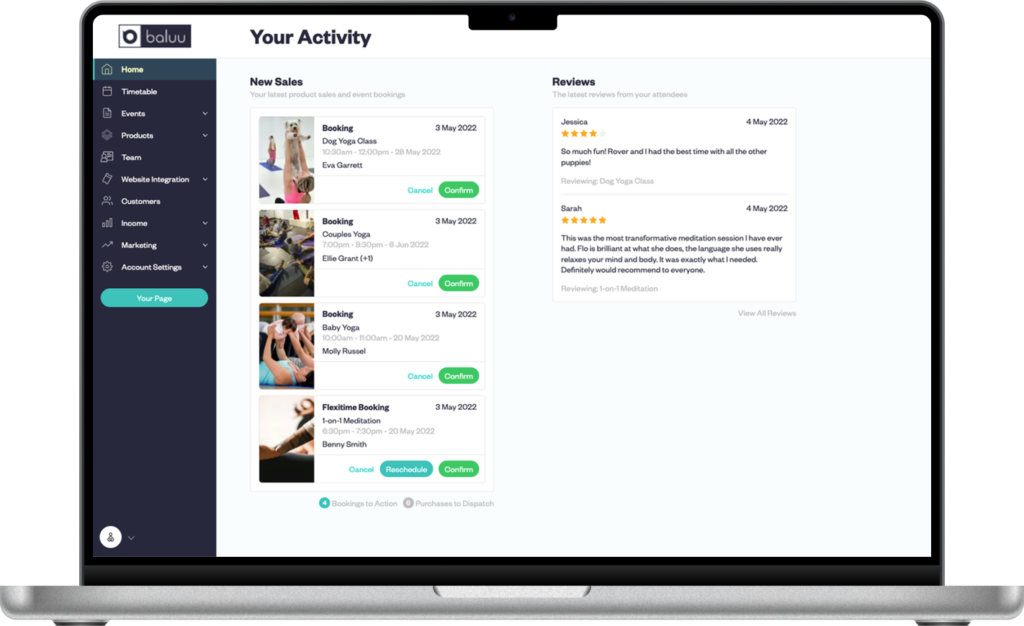 Once you create an account you can start building out your booking tools. Add a class, course, workshop, event or appointment type and add your available times and dates.
Customers can then visit your Baluu widget (a free website Baluu generates for you) to make a booking. Alternatively, you can embed a timetable layout directly into your existing website as an iframe and customers can book from there. 
Sync with your existing calendar like Google Calendar and all appointments will be automatically added there. 
All of your bookings will appear on your personalized Baluu dashboard, so it's easy to see which time slots are busy and which still have remaining slots. 
It's easy to reschedule bookings and automatic reminders will be sent to your customers, to let them know their booking has been rescheduled. 
Baluu was designed with group bookings in mind, so it's perfect if you run a business that hosts events or workshops or courses with multiple guests and dates. Features like multi-person bookings, on request bookings and private payment links make it a breeze. 
Baluu is not only a great scheduling tool, it can also act as your entire website out of the box. You can utilize Baluu's website builder to build your very own, branded bookings website. Complete with galleries, about pages and much more. With multiple layout options it's easy to create a stylish, modern looking website your customers will love. 
It can also work as an ecommerce platform, so if you also sell physical products, Baluu can facilitate product listings and payment processing so you can sell kits that go along with your course, event or workshops. 
With options for virtual events built in too, Baluu is an excellent all in one platform for anyone looking to schedule appointments for events of every kind. 
Caractéristiques offertes :
List unlimited bookings 

Your availability is automatically tracked and changed, which prevents double bookings in your timetable

Waiting list feature

Get access to insights, create accounting reports and grow your income

Robust, built in, customer relationship management (CRM) tool 

Supports multiple locations 

Supports virtual / hybrid event features 

Includes a website builder
Pricing:  Baluu offers a free plan (up to 50 bookings per month), Lite ($17 p/m), standard ($29 p/m) and Growth ($47 p/m)
Appointy
Appointy is another software that allows your customers to schedule appointments 24/7 without sending a bunch of e-mails and follow-ups.
You can use it no matter which niche your business belongs to.
Like in the previous scheduling software, you just need to add your services so that customers can choose what they need.
After they decide, a list of available and not available hours will show up, and with one click they can book their appointments.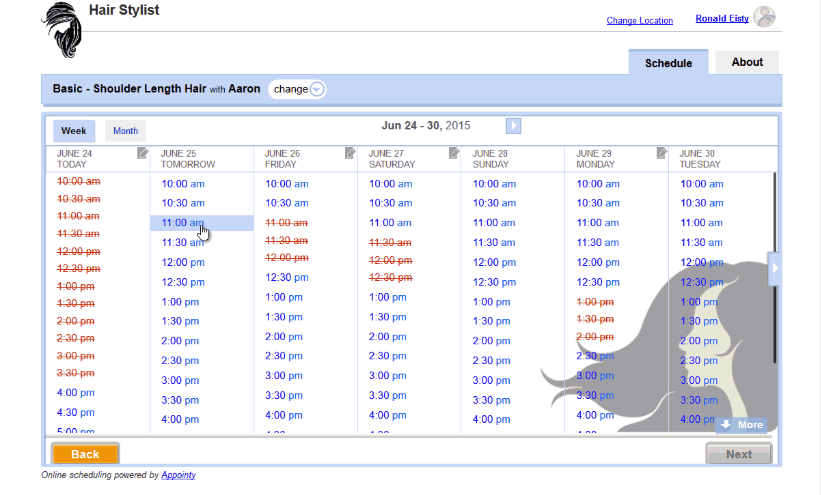 In case you don't have a website, Appointy will provide you with a unique sub-domain and your booking page will be created.
The great thing about this platform is that it supports more than 20 languages, so you don't have to worry if your customers don't understand what you're saying.
All of your customer data is saved and secure. You can export data at any time and with any package you choose no matter is it free or paid one.
If you have some questions and issues, you can contact their support via live chat or e-mail.
It also supports Google bookings, which is a new update.
Caractéristiques offertes :
Reminders and notifications

Client verifications

Google listing

Analysis reports

E-mail customization

SMS customization

Personalized calendar

Intégrations
Pricing: Appointy has a free package and three paid plans which start from $19.99 per month.
SimplyBook is an online booking system intended for all industries that include any type of service.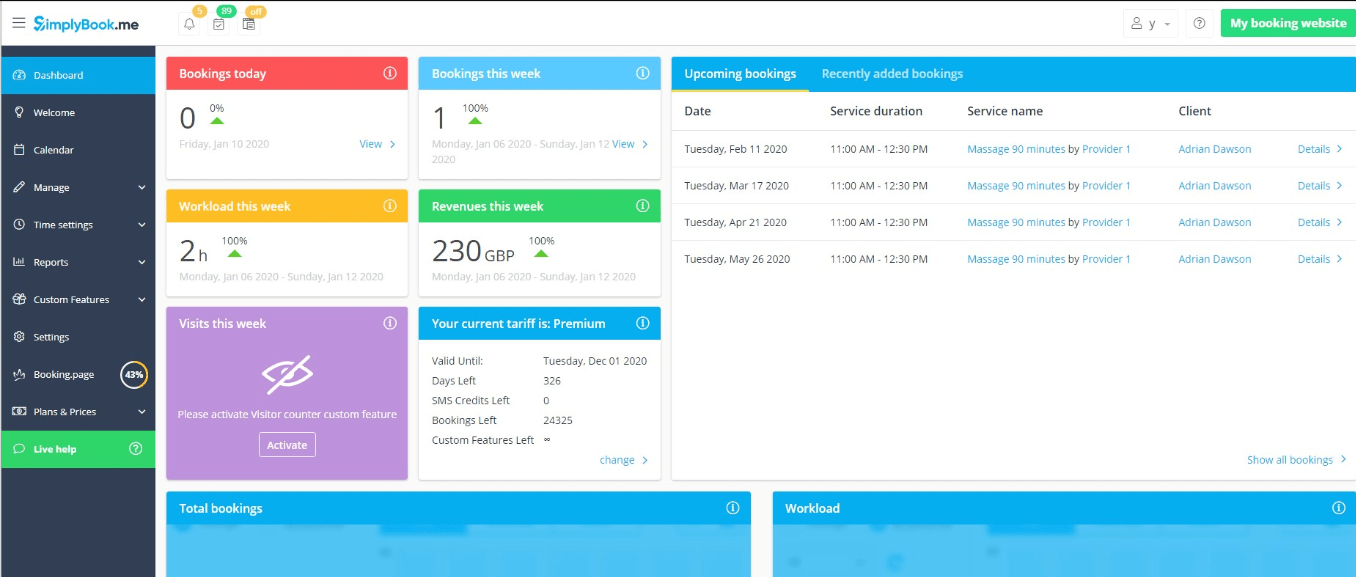 If you decide to use SimplyBook, you will be able to add a CTA button for booking on your website.
In case you don't have a website, this platform offers you a huge amount of templates to choose from and make your own booking page.
Templates are fully customizable. Simply change text, images, add the logo of your company, and offer services.
Customers can make bookings via your calendar, Facebook, Instagram, and Google Maps.
In order to prevent customers from not showing on their appointments, there are automatic e-mails and texts to remind them.
With SimplyBook, you can send marketing e-mails, discounts and promo codes, and more.
It also allows you to collect payments and deposits online.
SimplyBook has an Admin application that you can install on your mobile device.
All of your data is secured with privacy systems including HIPAA, SOAP, and others.
Caractéristiques offertes :
Intake forms

Modèles

Personnalisation

Admin app

Member subscriptions

Gift cards

Intégrations
Pricing: Choose between a free package and three paid plans starting from $9.99 per month.
Picktime helps you to schedule meetings, classes, appointments, interviews online, and also other important obligations that your business requires.
If you have staff members, with Picktime they can manage their appointments and easily print their daily schedule.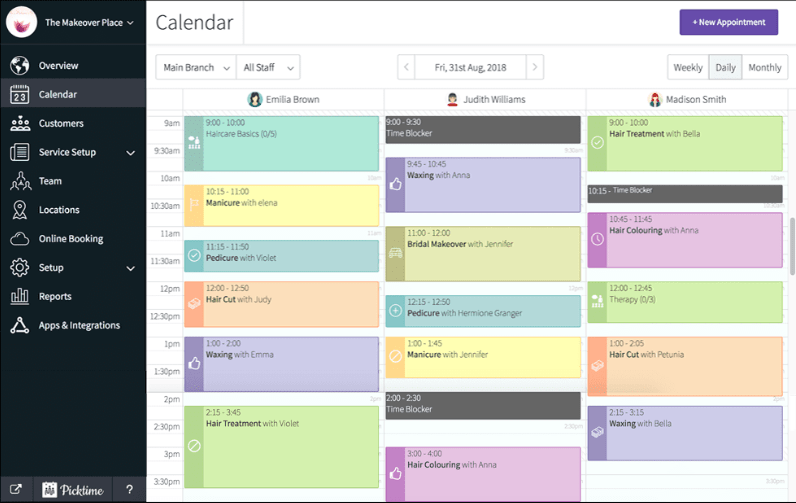 Thanks to automatic reminders, you will decrease missed appointments and no-shows.
You can sync the Picktime calendar with the personal calendar you use and prevent overlapping when it comes to your other obligations.
This platform can be used on tablets, mobile, and desktop devices so you can manage your appointments wherever you go.
You can access your bookings from any location, even if you are miles away from your business.
For those who don't have a website, Picktime offers the possibility of creating your booking page very quickly. When you finish it, just share your scheduling link and allow customers to easily book their appointment.
Caractéristiques offertes :
Calendar sync

SMS reminders

Booking page

Invoice generation

E-mail reports

Reviews

Print agenda

Intégrations
Pricing: Picktime is a free online appointment scheduling software.
Appointlet is a cloud-based appointment scheduling solution that helps businesses to connect with their prospects through emails, landing pages, and a sales funnel. Key features include individual or organization scheduling pages, automated reminders, multiple timezone support, and calendar integration.
Appointlet offers custom branding features that allow businesses to customize their emails and booking pages with their logo and colors. Users can also personalize their appointment schedule by setting the available hours for each day of the week. The scheduling page can be embedded on the company website or users can directly share it with customers via email.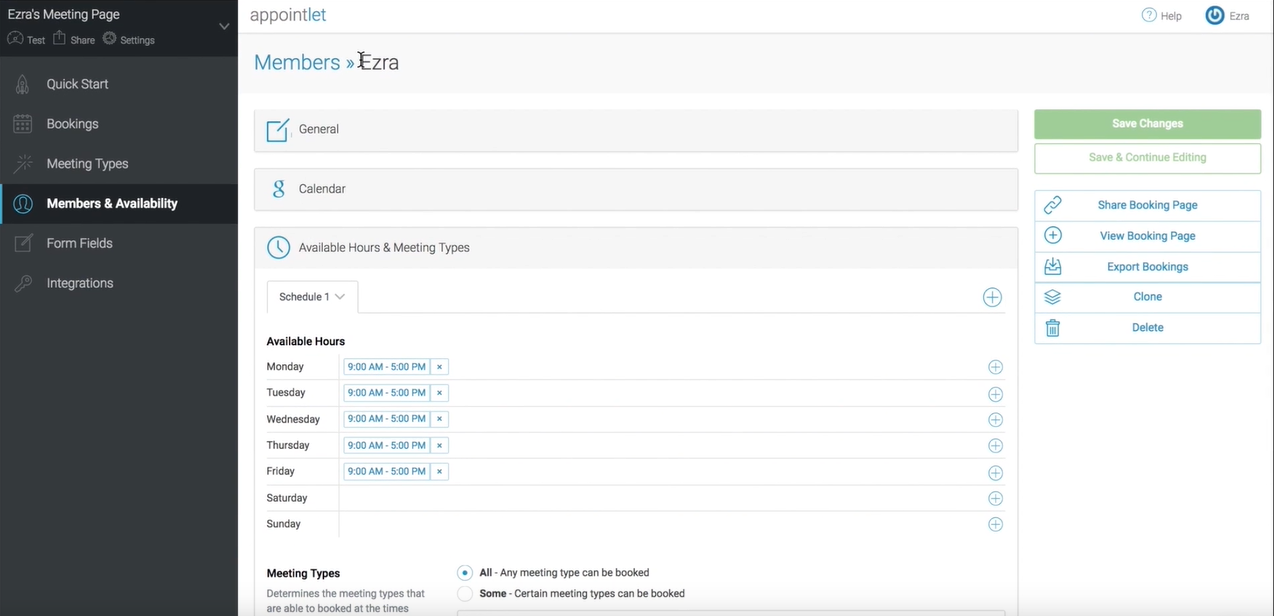 Appointlet displays the availability of all team members on a single page and allows clients to select the schedule of any team member to book an appointment. Members can further use their own scheduling page to accept an appointment. The solution offers integration with various third-party sources such as Google Calendar, Office 365, and Leadpages.
Services are available on a subscription basis with support offered via email, chat, and an online knowledge base.
Booksy is a platform mostly dedicated to the beauty & wellness industry, although it also finds customers in tutors, psychotherapists, and personal trainers.
As soon as you set up your profile, Booksy creates a dedicated page for your salon on your platform. You can also connect it with your Instagram, Google My Business, and Facebook profile to incorporate a "buy" button on your page.
The appointments are managed through a calendar application embedded into the platform. Booksy allows customers to make instant payments, as well as cancel their visits.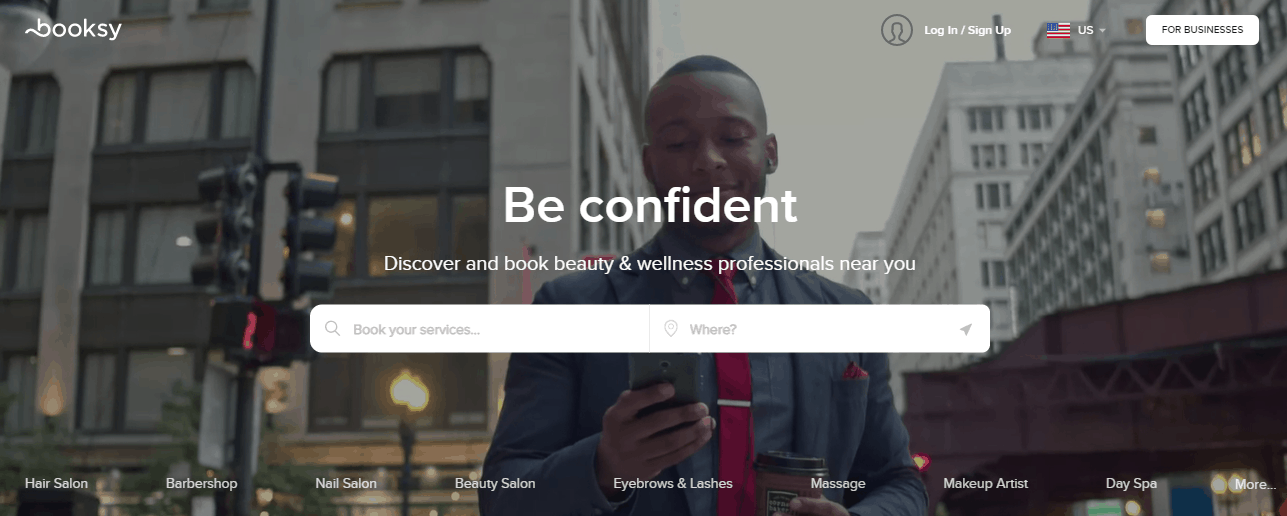 Features:
Online payments
Inventory, customer, and business management
Mobile application
Email marketing
Employee management
Appointment scheduling via a calendar
Google, Facebook, and Instagram integration
Point Of Sale
Sales reports
Gift card management
Pricing: the pricing starts at $29.99 per month.
If you're looking for a powerful but customizable scheduling solution, Sprintful is your best bet. With such in-built features as third-party integration, a self-booking tool, automated alerts, and online payment via Stripe, it pretty much covers all aspects that optimize your time and resource management.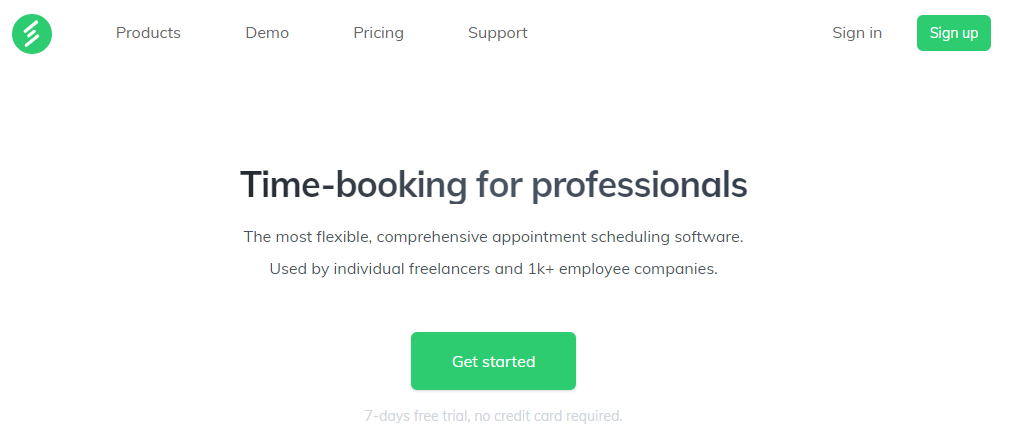 Your customer wants to skip the receptionist and self-book their appointment? Sprintful has you covered. Do they want meeting reminders or the option to reschedule? They can do so with a click. This scheduling app provides an effortless online experience. You can set your meetings through Sprintful and sync your Google Calendar with it, ensuring there is no confusion or clash later on. 
Use the software to share video conferencing links securely, inviting clients or colleagues through your social media page, Outlook, Google Meet or Zoom. Additionally, you can block time off your calendar if you're busy and add buffers between meetings per your needs. Such features give it a definite competitive edge over other apps in the market.  
Key Features
Easy calendar scheduling
Accurate calendar management
Real-time calendar sync
Convenient self-scheduling option
Complete customization per your brand 
Automated reminders and alerts
Custom notifications
Calendar embedding
Effortless team collaboration
Complete third-party integrations
Platform/s: Web 
Available Plans: Basic, Professional, Business 
Le résultat final

With these platforms, scheduling becomes much easier. 
They are pretty simple to use, so you don't even need too much time to understand how they function.
Your customers will be able to see your professionalism, which will surely bring you both the higher revenue and a higher number of appointments.
Scheduling software helps you to establish better staff management and become more productive as a company.
The ability to list all of your services in one place will reduce the enormous amount of informative calls from your customers saving you a lot of time.
As soon as you try out any of these platforms, there will be much more space for other important tasks that can help to develop your business faster than ever before.