Name: Yaniv Goldenberg
Age: 32
Role: Marketing Manager
Background: I'm a technical marketer focused on opportunities driven by user experience & data. I am responsible for creating, optimizing, and maintaining Elementor's traffic & conversion system with the goals of customer acquisition and revenue.
What is your company called: Pojo.me – Elementor
Founded: June 2016
How many people are on the team right now? 15
Where are you based? Tel Aviv, Israel
Did you raise money?
Yes, initially after the bootstrap period, we raised around 500k from private investors to keep growing as fast as we can.
Can you tell us what Elementor is and how you make money?
Elementor is a front-end drag & drop page builder for WordPress, allowing to create & design beautiful websites visually.
Elementor is een gratis plugin, het is een compleet product met vele geweldige functies (recentelijk zijn er 200.000 actieve installaties gepasseerd). Elementor Pro bevat meer uitgebreide ontwerp- en marketingmogelijkheden.
Hoewel je met de gratis versie prachtige websites kunt maken, vragen veel gebruikers om meer geavanceerde functies en kiezen ze daarom voor een upgrade naar Elementor pro.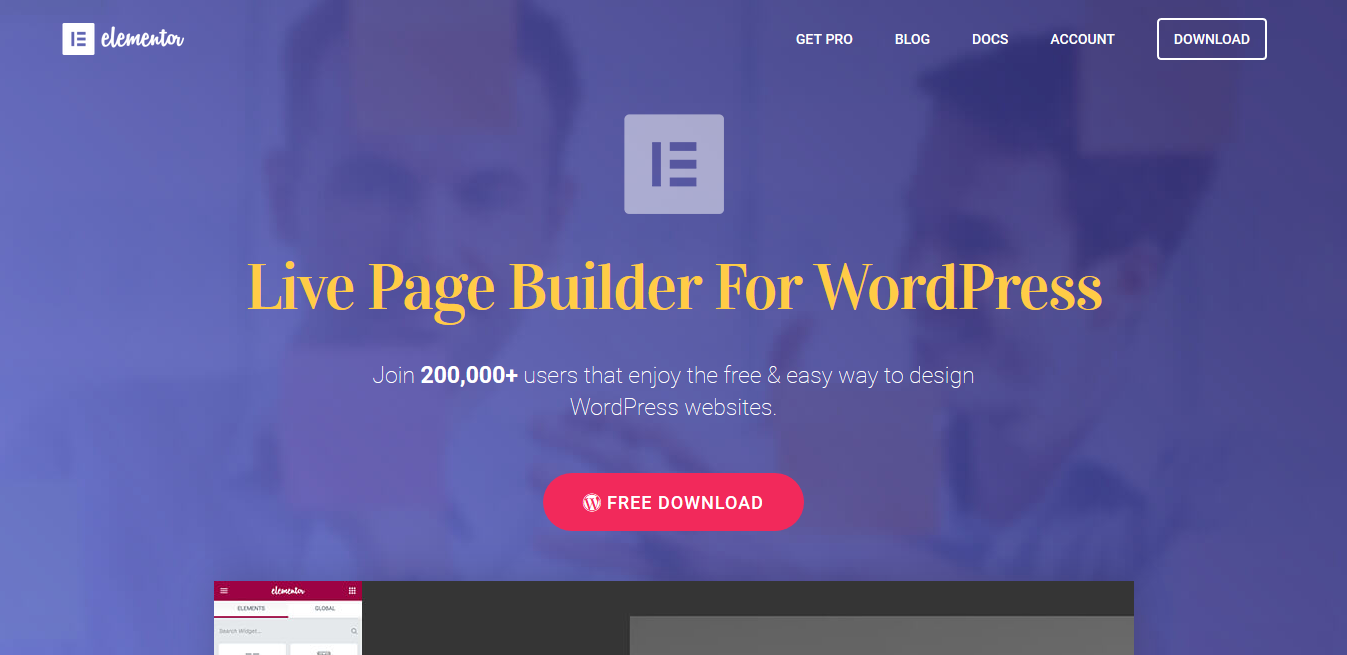 How did you get this idea?
When we began working on WordPress, we've seen recurring patterns. The customer were never truly satisfied, although our themes answered most of their needs. there was always one minor change they had to do, and they couldn't do it by themselves, that's when we understood the need and started working on Elementor, visual drag & drop page builder that works on any template and any theme.
How long did you work on it before you launched? When did you see your first dollar?
It took us one year to launch Elementor, and another 6 months to launch Elementor Pro (and earn our first dollar).
Who are your clients? What is your target market?
Most of our customers are web designers, freelancers and agencies, there are also many site owners & marketers. Those are the main segments that should benefit the most from Elementor.
Are you profitable? if not, when do you think you will get there?
Not yet, we never try to convince free users using a hard sell, we try to focus on solving a real pain for them & serve them better.
We zijn een snel groeiend bedrijf, op dit moment richten we ons vooral op ontwikkeling & het bereiken van nieuwe markten, ons belangrijkste doel is massale groei.
We denken dat we er snel zullen zijn, Elementor heeft al bewezen een onschatbaar hulpmiddel te zijn voor veel professionele ontwerpers. Het neemt de pijn weg van ontwerpproblemen op WordPress waardoor onze klanten in de helft van de tijd betere websites kunnen maken.
Daarom geloven we dat de groei van onze klanten wekelijks zal blijven versnellen.
Aantal betalende klanten: Meer dan 10.000 betalende klanten
Aantal gratis gebruikers: 200.000+ actieve installaties
How did you get your first 100 customers?
Two weeks before the official launch of Elementor pro (during Black Friday), we ran a pre order email marketing campaign and got our first 100 paying customers in less than a day.
Wat zijn de 2-3 belangrijkste distributiekanalen die voor u het beste werken? Welk kanaal werkte niet voor u?
Ons belangrijkste kanaal is WordPress Repo (WordPress plugin directory) andere kanalen die geweldig werken voor ons zijn: SEO, AdWords & Facebook.
We hebben een korte periode andere programmeurs geprobeerd, maar het werkte niet goed.
Groeien is beslissen wat je wilt bereiken, begrijpen wat mensen tegenhoudt en wat hen echt motiveert, daarom hechten we meer belang aan intent-based targeting.
Our growth strategy is simple:
– Get good data (if it doesn't exist)
– Create solid conversion funnels, break them down by sub-audiences
– Find a huge low hanging fruit (The biggest conversion drop)
– Attack it with a few innovative ideas.
Elk kanaal dient een ander doel, hoewel het verspreiden van middelen riskant kan zijn, hebben we gezien hoe multichannelstrategie een hogere ROI oplevert.
Tell us 2-3 growth challenges you encountered recently (and if you have a strategy how to solve them.)
We are always working on improving our product & messaging.
Everything can be a challenge, there are no silver bullets or one trick. You need to put in the work.
Volg niemands "regels".
Of op zijn minst, leer ze, maar vergeet ze dan. Je zult het uiteindelijk op jouw manier moeten doen.
We hebben altijd een mentaliteit van urgentie, en nooit zelfgenoegzaam zijn, voortdurend in beweging zijn.
Er is geen duidelijke manier om het pad van een gelukkige betalende klant uit te stippelen, geen manier om netjes in te stappen op het aha-moment dat ze ervaren dat de schakelaar voor hen wordt omgedraaid.
Persoonlijk ben ik niet tevreden met ons tempo van experimenteren. We testen bijna niet zoveel dingen als we zouden moeten doen.
Naamsvermelding kan ook lastig zijn, omdat we de privacy van onze gebruikers respecteren, gebruiken we alle andere kanalen om de blanco's in te vullen.
Het ondersteunen van onze gratis gebruikers kan ook een uitdaging zijn. Omdat we zo snel groeien is het moeilijk bij te houden, maar gelukkig hebben we een geweldige Facebook groep (al meer dan 6700 leden) die we zoveel feedback & steun hebben gekregen van onze community, en ze zijn altijd blij om andere leden in de groep te helpen.
Het creëren van inhoud van hoge kwaliteit is altijd een uitdaging, maar we doen ons best om meer diepgaande tutorials op onze website & Youtube aan te bieden.
How we try to encounter most of those challenges – testing.
Our framework – having clear understanding of the hypothesis of the test, the metrics we need to monitor and ensuring that they're completely trackable.
Hoe meer kwalitatief (en kwantitatief) onderzoek je doet voordat je met ideeën komt, hoe hoger je kansen zijn om een winnende variatie te vinden.
Some of the tasks are not worth to do in-house. What do you outsource?
Everything is scalable until it's not, sometimes we outsource writing, mostly reaching out to other designers.
What are the 3 tools you and your team can't live without?
I'm probably the biggest tool geek you'll ever meet, but I think the tools don't matter as much as the philosophy and framework.
Het zal niemand verbazen - Slack, Google Analytics, Google Sheets.
Persoonlijk zijn mijn favoriete tools - Zest (inhoud), SuperMetrics (Data/Analytics). IFTTT & Zappier (productiviteit).
Tell us the biggest mistake you had through building and promoting your product and what you've learned from it.
We have our core values, being customer driven is at the top. At first we assumed marketing should not be our main emphasis, we focused most resources on development & support. Now we understand that it doesn't matter how great your product is, you won't be able to achieve massive growth without exceptional marketing, and always being skeptical regarding data, since mistakes are going to happen along the way you want to be absolutely sure about something before investing resources. That's why premature optimization or focusing on the wrong things at the wrong time is still a top killer for many startups.
If you had to start Elementor today, what would you do differently?
We always had customer-driven approach, but we should have done more.
Investing more on customer success & remarketing (bringing visitors back is key), eliminating channels that never saw traction and experimenting more at higher pace.
Where do you see Elementor in 5 years from now?
Offering a wide range of design & marketing solutions on WordPress.