Every business finds it necessary to generate more leads, collect more email addresses, and get more sales.
That is completely understandable because all of us want to succeed and achieve more business targets.
The only question is how to achieve "more" without spending much time and money.
Fortunately, we have the answer and it's pretty simple – pop-up windows!
It may seem quite impossible, I agree, but wait until you realize and experience the potential of these high-converting windows in growing your sales.
You surely need a great design, effective copy, and an irresistible offer, but no need to worry since you don't need the whole team of designers and developers to create this kind of windows.
Today, we'll discuss the effective tools that can help you make amazing and creative pop-ups. 
One of which is Personizely. You have probably already heard about it and maybe tried it out before. 
Personizely is an effective tool, but if it doesn't meet your requirements, here are the 3 best Personizely alternatives you can start considering!
Personizely: Overview
Personizely is a marketing conversion toolkit that can help you to convert visitors into subscribers and customers.
With Personizely, you can make timed promotions that can interest your visitors and encourage them to take action.
Offered features:
Drag and drop builder

Targeting options

Triggering options

Display options

 

Analytics

 

Integrations
Pros and cons of Personizely
What are the pros?
Personizely's timed promotions and exit-intent pop-ups can grab visitors' attention and prevent them from exiting your website.
Personalized offers are also a great way to nurture relationships with visitors and convert them into future customers.
This tool allows you to display the same content in multiple ways depending on the specific targeting options.
What are the cons?
Personizely doesn't include A/B testing, which is a very important feature when it comes to the pop-up tools.
You won't be able to get an in-depth test of the most engaging and best performing pop-up windows.
Personizely Alternatives
Poptin is the best Personizely alternative and it is an all-in-one tool for creating amazing pop-ups.
It also includes embedded website forms and automatic emails.
Poptin has a simple drag and drop editor which will help you to design pop-ups in just a couple of minutes.
You can use already existing templates or make a pop-up from scratch.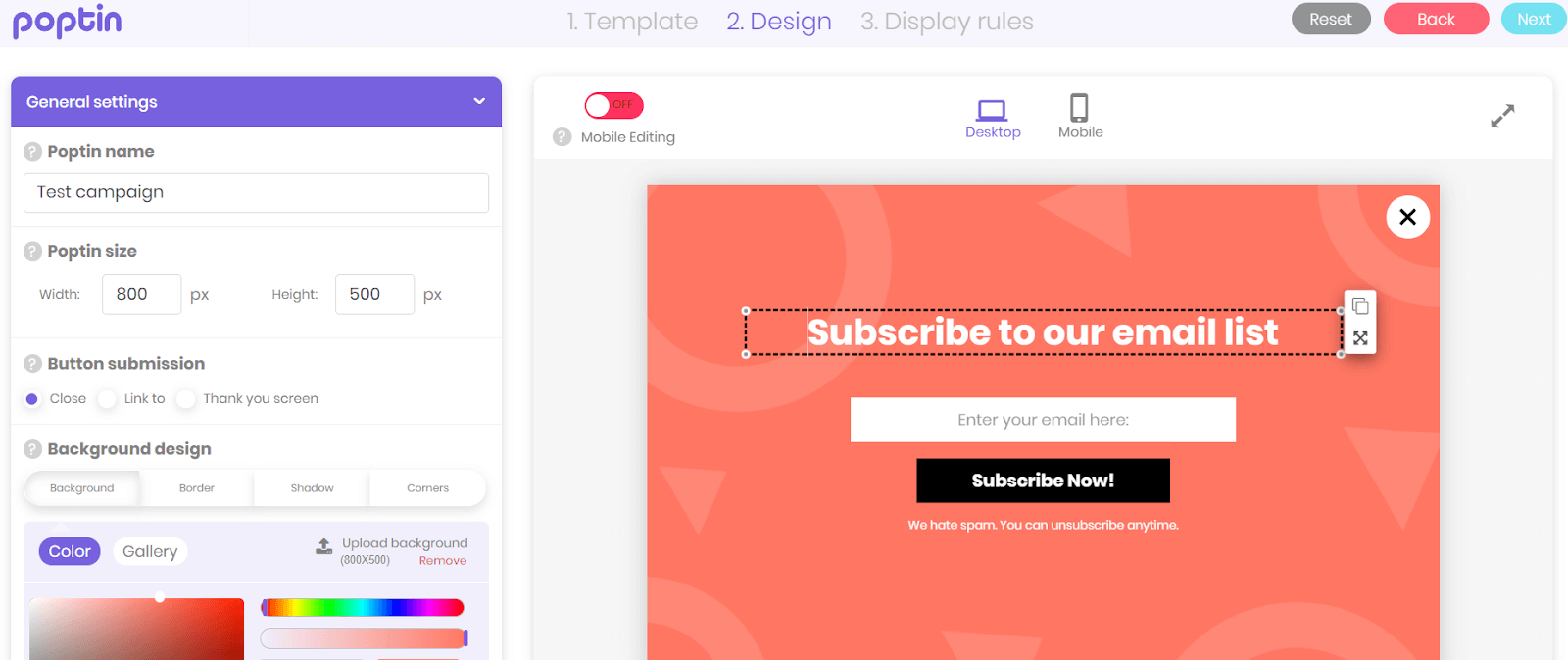 When you start creating your pop-up, you can choose which elements you want to add or remove, change the size of a window, choose background design, pick colours and effects.
Poptin's main features are:
Advanced drag and drop editor

Different types of pop-ups

Customization options

Library templates

A/B testing

Advanced triggering rules

Advanced targeting options

Automated emails

Embedded forms

Analytics

Integrations
Poptin is now installed on a few hundred thousand websites in 150+ countries.
The user community continues to grow by the minute.
So, when you subscribe to Poptin, you'll have access to a huge community with thousands of like-minded entrepreneurs from different industries.
Pros of Poptin
Poptin is a complete solution for making pop-ups and collecting insights about your target audience.
You can make different forms and customize them according to your needs because of a wide choice of different options.
Here are a couple of examples of how your pop-ups that are made with Poptin can look like: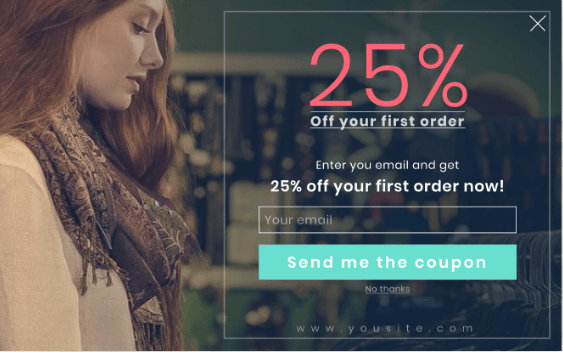 Making various windows is not the only thing that you can do. 
With Poptin, you will get access to a knowledge base and Facebook group where you can find more interesting information and get in contact with people with the same interests as yours.
Because of the importance of a seamless workflow, Poptin offers more than 50 native integrations and more than 1500 integrations via Zapier and Integromat.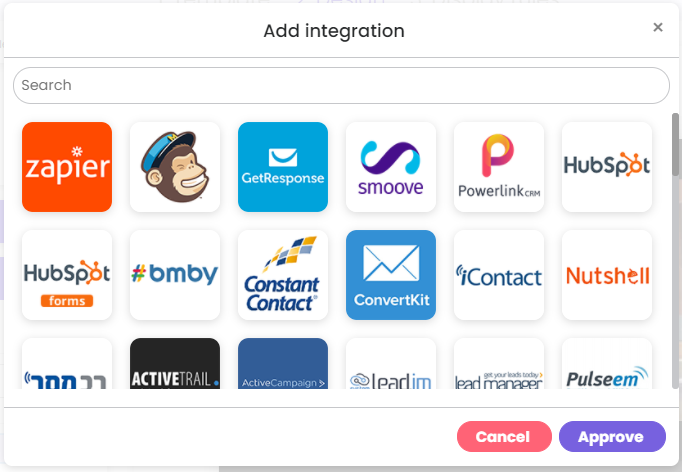 Everything you need to know about how to use the integrations is all in Poptin's knowledge base.
If you hit any roadblocks, you can also keep in touch right away with Poptin's customer support representative.
You can converse in a very comprehensive way as the person on the other side of the line is a real person, not a chatbot.
Cons of Poptin
Poptin offers a free package as well as a couple of paid ones.
If you choose a free package, you will be able to make an unlimited number of pop-ups, but you will be limited by the number of 1000 pop-up views per month.
Poptin's pricing
Based on the features you need, you can choose between a free package and three paid plans.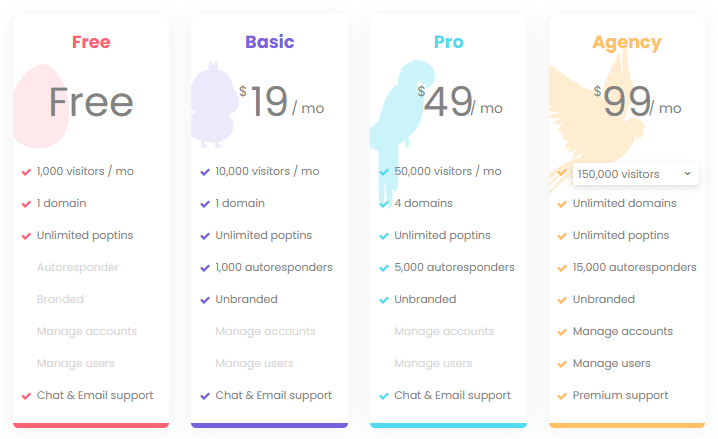 Why is Poptin the Personizely alternative that you definitely should try out?
Poptin allows you to create various types of pop-ups:
Lightboxes

Floating bars

Top and bottom bars

Full-screen overlays

Slide-in forms

Big sidebar

Social widgets
You can also make surveys and collect data from your visitors and use them in your advance.
By using advanced triggering and targeting options, you can easily set up when is the perfect time for your pop-up to appear.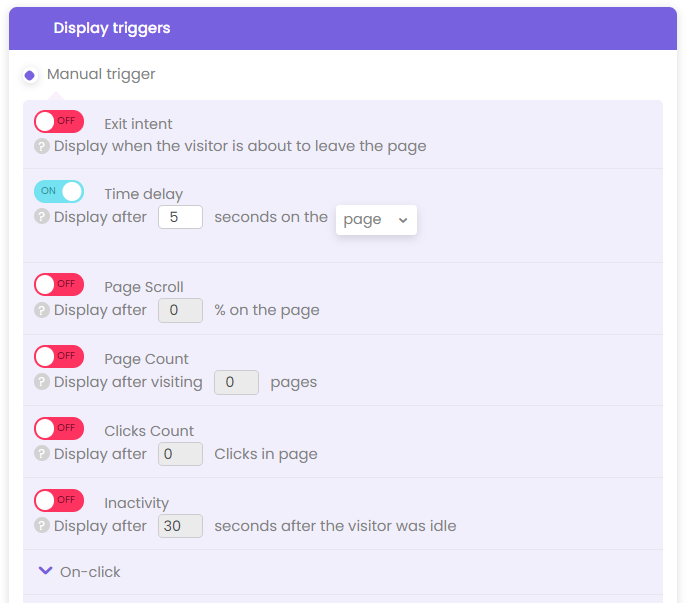 Every plan, including the free one, allows you to create an unlimited number of pop-ups and test campaigns through A/B testing.
Poptin's ratings 
Here is Poptin's chart:
Ease of use: 4
Customization level: 5
Visual appeal: 5
Features: 5
Integrations: 5
Customer support: 5
Pricing: 5
Total: 4.9/5
MailMunch
MailMunch, just like Poptin, is another Personizely alternative that captures leads and helps you to make them your customers.
It is specially intended to collect email addresses and grow your email list.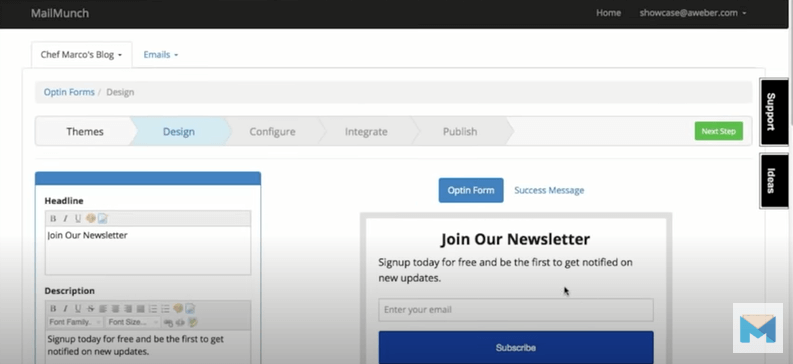 You can choose to make pop-up lightboxes, embedded opt-in forms, top bars, slide boxes, and landing pages.
Offered features:
Themes

Multiple form types

Page-level targeting

Built-in analytics

A/B split testing

Integrations
Advantages of using MailMunch
MailMunch is very easy to use and you don't need to have any coding or designer skills.
Every package, including the free one, offers the possibility to create pop-ups and forms, landing pages, and autoresponders.
Disadvantages of using MailMunch
Unfortunately, customer support is only available via emails, so you might wait a while before you get the desired answer.
MailMunch features are pretty basic ones, so it's great for beginners, but not quite much for someone who wants to bring their pop-ups to a higher level.
MailMunch's pricing
MailMunch offers one free and two paid packages to choose from.
Why is MailMunch a great Personizely alternative?
MailMunch is a user-friendly tool and a great option for beginners. It has different form types, so you can choose according to your needs. One of the MailMunch features is A/B split testing where you can monitor which pop-up is performing the best.
This tool integrates with AWeber, MailChimp, Constant Contact, and other platforms.
MailMunch's ratings
Let's see MailMunch's ratings by criteria.
Ease of use: 5
Customization level: 4
Visual appeal: 3
Features: 4
Integrations: 4
Customer support: 3
Pricing: 5
Total: 4/5
Privy
Privy is another pop-up tool that deserves to be mentioned on this list. It is great for reducing cart abandonment rates, nurturing leads through emails and text messages.
With Privy, you can create pop-ups, banners, flyouts, landing pages, spin-to-win forms, and other forms that will make your website more user-friendly and at the same time bring you more customers.
Offered features:
Drag and drop editor

Different types of forms

Customization options

Targeting options

A/B testing

Integrations
Advantages of using Privy
Privy gives you the opportunity to make and customize multiple pop-ups. Each of them can look different from the other ones.
Like Poptin, Privy also has ready-made templates so you don't need to make a completely new pop-up if you don't want to. There are many integrations with e-commerce platforms.
Disadvantages of using Privy
The billing method is a bit challenging because it depends on the expected number of monthly page views. It is important to mention that templates are pretty simple. However, if you want some extraordinary pop-ups, maybe Privy is not the right choice for you.
Privy's pricing
When it comes to Privy's pricing, you should decide what is an optimal number of views that your website can reach and Privy will show you the price for that kind of package.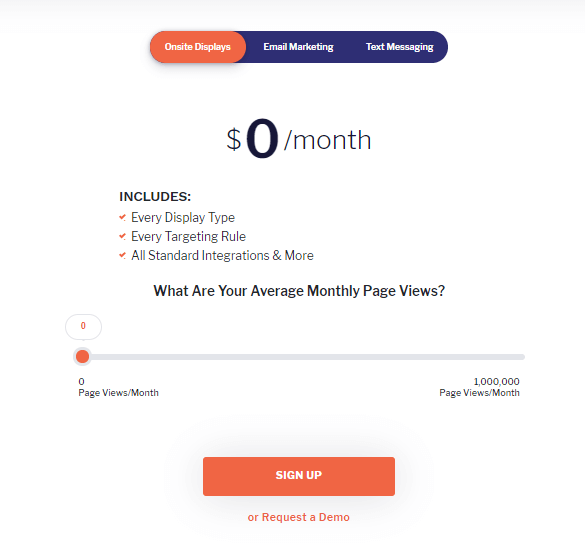 Why is Privy a good Personizely alternative?
Privy is easy to use and it offers quite a big choice of different forms. It can help you to grow your email list, as it is one of Privy's main focuses as well as reducing cart abandonment.
Privy is a pretty good solution if you run an e-commerce business because it integrates with Shopify, Klaviyo, Magento, and others.
Privy's ratings
For easier comparison, Privy also gets its marks based on certain criteria:
Ease of use: 5
Customization level: 4
Visual appeal: 3
Features: 5
Integrations: 5
Customer support: 5
Pricing: 3
Total: 4.3/5
The bottom line
Having in mind that running a business is a challenging job, you should use all the available and creative solutions you can in order to achieve success.
Pop-ups are the perfect way to show your target audience all those special things that you can offer them.
Whether you do it via email newsletter, discounts, sales, important announcements, or something else, it is the easiest way to get your visitors engaged.
If you are looking for an all-in-one pop-up solution, then Poptin is a perfect choice for you. 
Creating pop-ups requires several minutes and you can track visitors' behavior and what interests them most.
Show your visitors your sensational offers and earn their trust.