Given the fierce competition in the online world, most entrepreneurs know that they need an email service provider. It's easier to keep your business campaigns going and organize them all in one platform.
There are countless products on the market to help you, and many people initially turn to iContact. It's important to understand what it does and why people decide to switch.
In this article, we're going to dive deeper into the four iContact alternatives so that you can pick the ESP that meets all of your needs for the right price.
In fact, there are countless email service providers that offer many features. Some of them offer free trials or a forever-free plan, allowing you to try it first before deciding to commit to a paid plan.
What Does iContact Provide?
Before we talk about the alternatives to iContact, we wanted to focus on what it does and its strengths. If you've been using it, you may already know them, but those who haven't tried it can get a sense of why people use it.
For one, there is a simple user interface. Primarily, iContact caters to businesses that haven't used email marketing software before. Though many email service providers have simplified the interfaces in the last few years, iContact is one of the easiest to navigate and understand.
Many of the iContact users claim to have a good experience with customer service and support. There are also excellent learning sources, but human-powered support is also essential.
Most businesses are going to need integrations with email marketing and other programs, such as Salesforce. This helps you manage your customer base, so it's important that your ESP offers integration with various programs. Not all of them do, but iContact provides a smooth transition between it and other software.
Lastly, it doesn't cost as much as you might think, though others there cost less.
Why People Switch from iContact?
Since it sounds like iContact is so amazing, why are people switching from it to one of its alternatives? There can be many reasons.
While iContact offers unlimited emails, list management, and integration, it does lack storage space for images. Also, you can't import contacts from third-parties (including Gmail). The autoresponder situation isn't the best, either.
In a sense, you want email marketing software that delivers better performance without raising the price. We've created a list of four iContact alternatives that people find popular and beneficial. Let's take an in-depth look at them all.
1. Emma
Emma is primarily a cloud-based email marketing platform, and it's there to help users design various campaigns and review the performances. It was created in 2005 and provides an atypical focus. You find that it's pleasant and easy to use with a customer service department that wants to help you.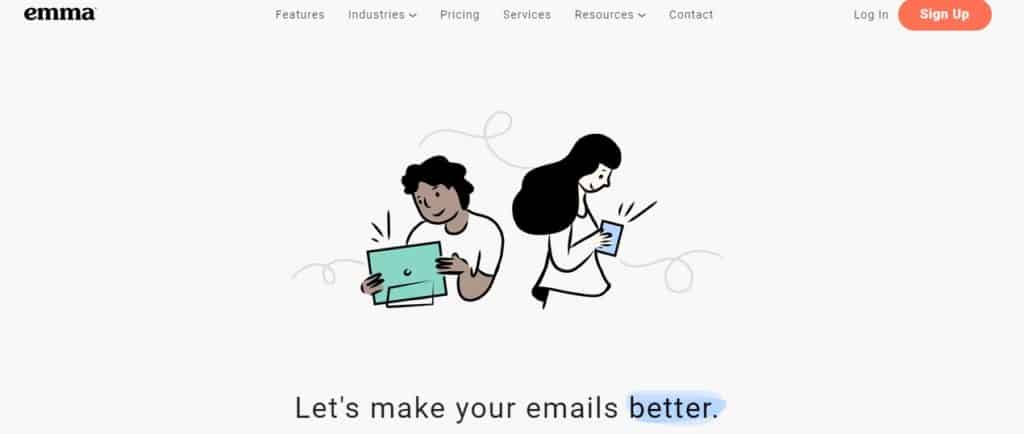 Features
Since it is web-based, you don't have to download anything to use it. However, you do require Google Chrome, Microsoft Edge, Mozilla Firefox, or Apple Safari. There are countless features available for small and medium businesses. 
Marketing automation is the top desire for most business owners. You can easily target your list with segmentation. Narrow things down to a birthday, Zip code, specifically purchased items, and more. It's also possible to search inside the segments.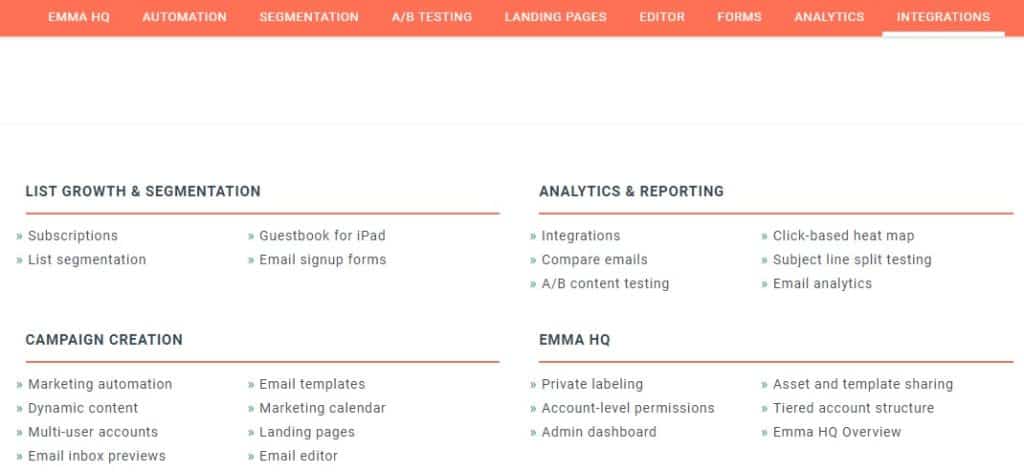 Branching logic is also available, giving you the option to message someone who meets specific criteria or clicks a particular link. If you integrate Emma with your site, you can send trigger messages to remind people they left something in the car or encourage upgrades.
Emma also integrates with various e-commerce, CRM, and analytical platforms. That way, it's possible to use the data from multiple technologies to create a more informed base. Reporting is also available through Emma, allowing you to determine shares, clicks, opens, and so much more. There are also visual feedback options, so you know what's going on at all times.
Pros:
Superb website design – very organized

Many templates available

Engaged and helpful customer service reps

Easy to use site
Cons:
Fewer integrations than other ESPs

Lacks functionality at times

Can have glitches within the system

Requires a year-long contract
Pricing
One thing that Emma does that other email service providers don't is to require you to sign an annual contract, locking you into a particular price, specific contact numbers, and various perks. You can't get out of the contract or upgrade to the next one without extensive work on your part.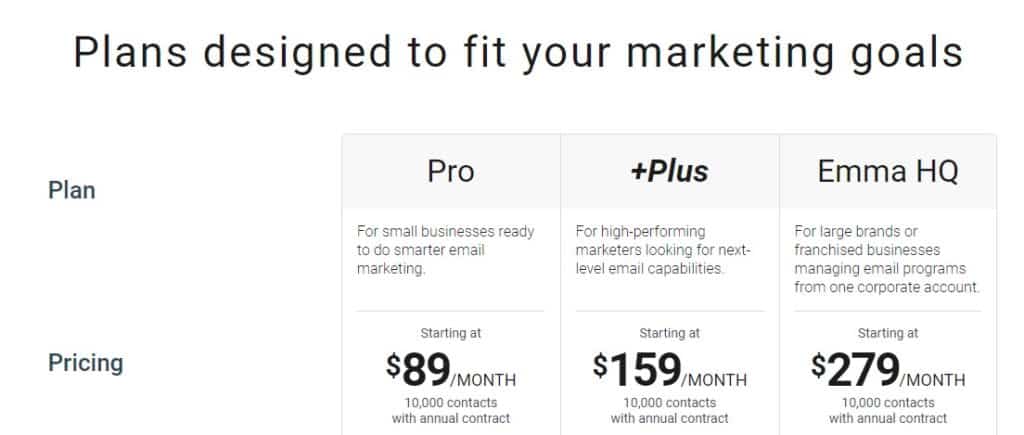 There are three plans (Pro, +Plus, and Emma HQ). The Pro plan is suitable for small companies that want to work smarter when it comes to email marketing. It costs $89 a month, but with the annual contract. You get plenty of features, such as the drag-and-drop editor, list importing, email templates, and A/B testing. However, it's only suitable for one user and one workflow. 
Next up, you have the +Plus plan. You get everything from the Pro option but with 10 users and unlimited workflows. This runs $159 per month with the annual contract and is suitable for medium-sized businesses.
The final plan is called Emma HQ, and it is for big companies that have a corporate account. You pay $279 a month with the annual contract and get user access controls, activity dashboards, and much more. It works with unlimited managers/accounts, as well.
Regardless of the plan you select, you only get 10,000 contacts and are charged a separate fee for every one you go over.
Who Is This For?
We feel that Emma is suitable for small and medium companies that know exactly what they need from an email service provider. It can get expensive if you're a corporation.
Those who don't know what they need might pick the wrong plan and be stuck in it for an entire year. Since customer support is so great, consider calling first to request advice on which service package is right for you.
2. Omnisend
Omnisend is considered an omnichannel marketing platform and is highly powerful. Many customers call it an all-in-one solution, and it works well for e-commerce marketers who require more than generic emailing tools. Roughly 50,000 merchants use Omnisend!
Features
You can utilize various channels to get your messages out there. Text messaging, push notifications, Facebook Messenger, and more are all available.
Plus, it's possible to sync Omnisend with Google, Instagram, and Facebook audiences to reach your customers at precisely the right time. Segmentation helps here so that you're providing the most relevant information throughout the system.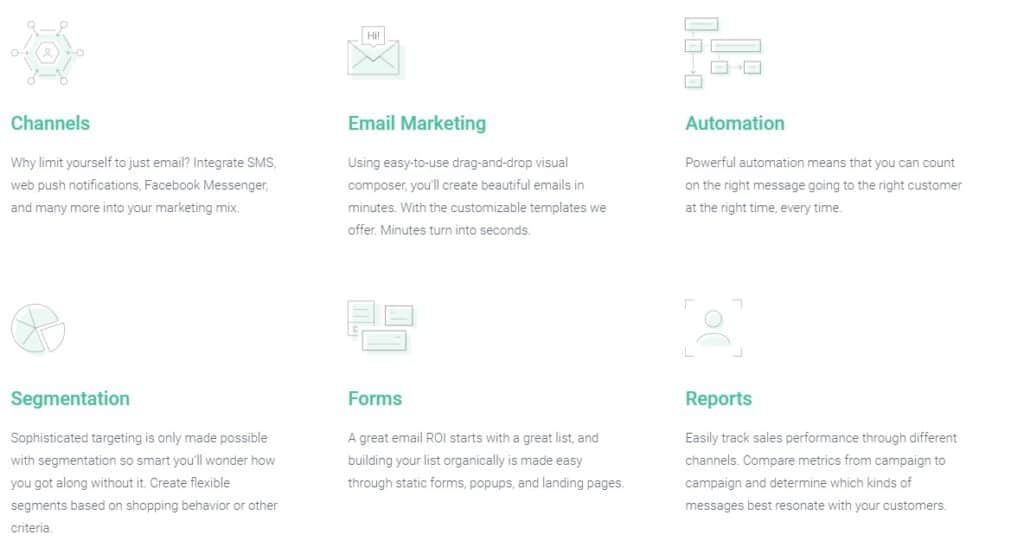 Automation is key, which requires you to send relevant and anticipated messages. You can choose from pre-built templates and send welcome, cart abandonment, and reactivation emails on time.
With the drag-and-drop newsletter editor, it's possible to quickly create and email newsletters. Reporting tools are also available at the high-end tiers to help you see how effective the campaigns are.
Pros:
Many communication channels

Excellent reporting features

Segmentation at the highest level
Cons:
The previewing feature could be better

More templates needed

No migration services
Pricing
The pricing tiers are based on how many contacts you have.
Therefore, if you only have 500 people to send emails to, you can expect to pay $16 per month for the Standard plan. It includes 15,000 emails per month and various perks.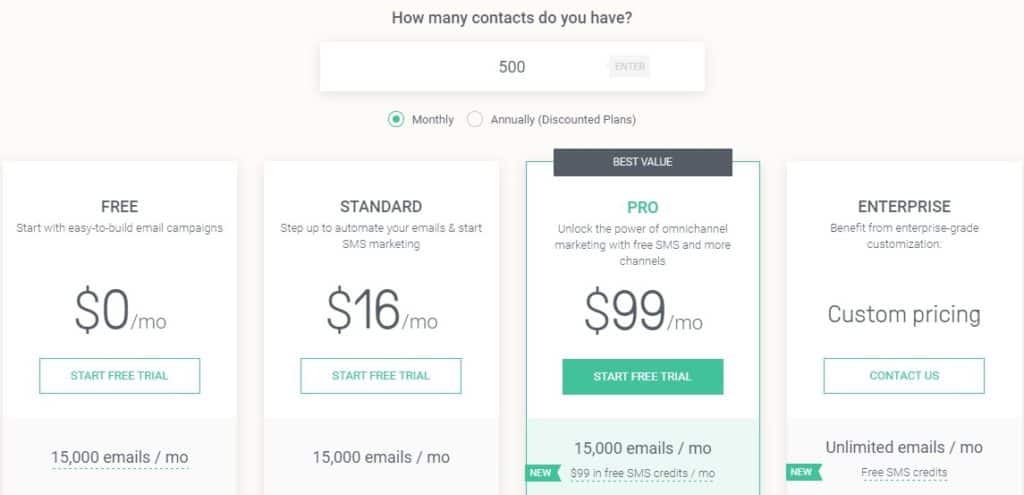 Next, you've got Pro, which is $99 per month and includes everything in Standard along with push notifications, priority support, and Google matching. Then, you have the Enterprise plan, offers all of that plus a custom IP address, account migration, and much more. 
Of course, there is a forever-free plan with basic reporting, sign up forms, and various email campaigns.
Who Is This For?
We think that Omnisend works well for high-growth e-commerce businesses because of its segmentation features and advanced workflow automation. However, if you're just starting out and have the budget, this ESP can take you through startup life and into a large empire.
3. Klaviyo
Klaviyo is a centralized, cloud-based email marketing system that's effective and easy to use. Create targeted and personalized emails while monitoring and optimizing your campaign. You no longer have to rely on traditional spreadsheets to segment, and it integrates with various e-commerce platforms.
Features
Segmentation is critical here, and you can use behavioral and transactional data to target the promotion to make it more effective. Segments can be updated in real-time, too. The software combines or excludes various parts to help you create the right lists.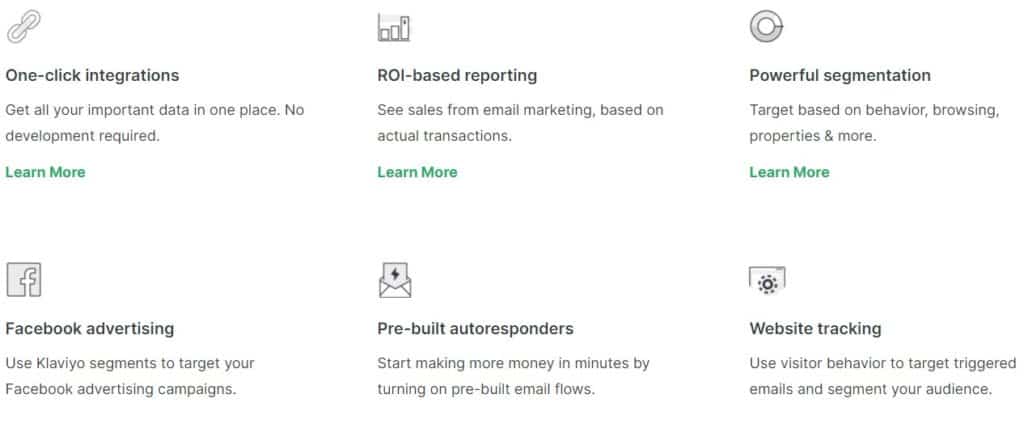 There's also a web-tracking system that finds the behaviors of those who click on the emails. These segments can then be used on Facebook Ads to personalize the experience even more. Reporting features round it all out so that you can see who has made a transaction based on the email campaign.
Integrations are plentiful and include popular software, such as Salesforce and Shopify. 
Pros:
Powerful segmentation

One-click integrations

Complete email lineup (newsletters, orders, popups, etc.)
Cons:
Plain user interface

Hard to learn, even with tutorials and resources
Pricing
The pricing here is straightforward. You tell Klaviyo how many email contacts you have. For example, 500 contacts cost $20 a month, and you get unlimited sending and all of the features it offers. If you want to add SMS messages, it's often best to link the accounts. It only costs $5.00 extra to send 500 text messages a month!
There is a free email tier. This allows you to create your account, import/sync data, customer emails, and templates, and use many features. You can get 250 contacts with 500 emails. Once you have depleted the emails, you must upgrade to a paid plan.
Who Is This For?
Primarily, we think that Klaviyo is suitable for e-commerce businesses. Most of the integrations focus on that, but it can still work well for creative needs. You may find that some of the templates are outdated, but it's still a great tool to grow your business, especially when you want to include SMS.
4. AWeber
AWeber has been around since 1998 and helps 100,000 companies and individuals. This email service provider allows you to create lists, send and design newsletters, provides automation, and so much more.

Features
Automation is the top feature here, and AWeber was the first to use autoresponders when no one knew they existed.
However, you may find that the innovation stopped there because it doesn't offer advanced automation. Yes, you can react to tags, opens, and clickthroughs, but there isn't much flexibility.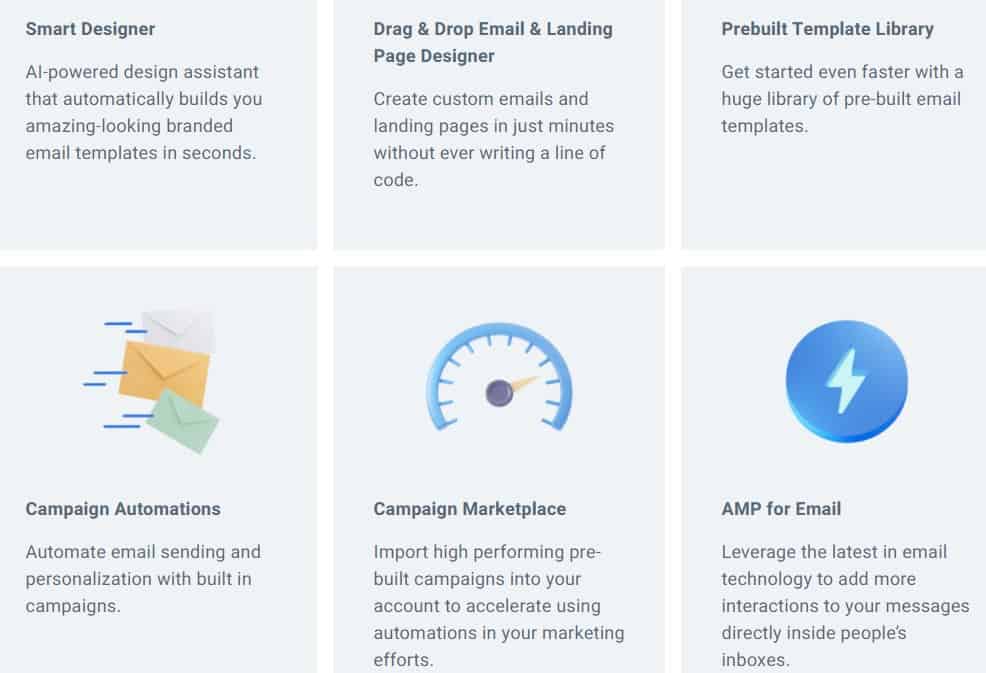 The website itself is quite easy to navigate and use. There are helpful videos to help with the learning curve, and you can always call support for help. Though directly importing your contact list isn't possible, it's possible to import from various types of files or copy/paste the rows manually.
You also get plenty of templates from which to choose, excellent and unique reporting features, and A/B split testing with the paid plan. 
Pros:
Easy to use

Great customer support

All features included in all plans

Unlimited emails

Integrations

Over 700 email templates
Cons:
No Google Analytics

Can't broadcast send to many segments

No resend button for unopened emails
Pricing
There is a forever-free plan for up to 500 subscribers. While you can only send 3,000 emails a month and have one list profile, it gives you a good idea of what's available. Also, you don't have access to split testing, behavior automation, and have to deal with branded emails.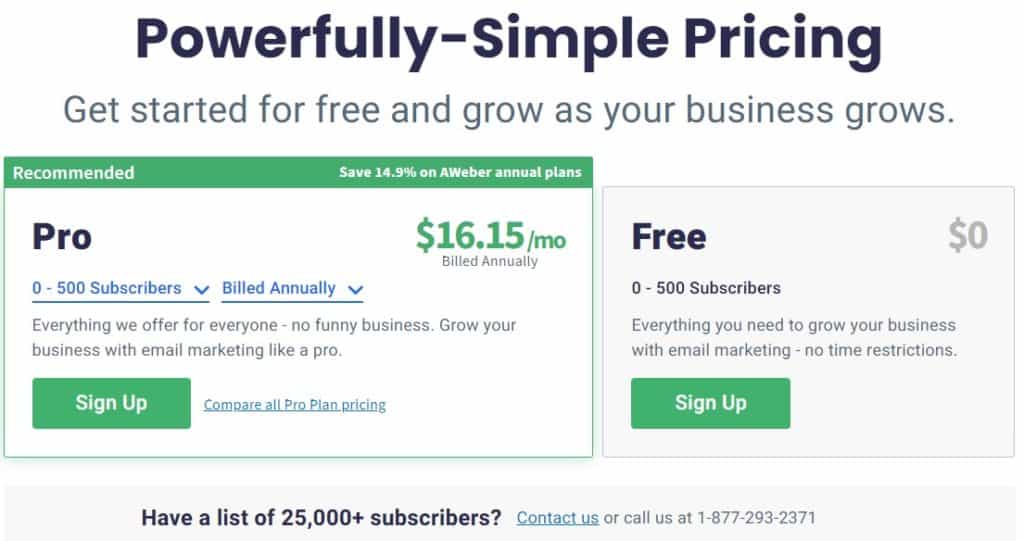 Upgrading is easy and is about $16 per month when billed annually. It costs $19 a month for up to 500 subscribers. With this plan, you get everything the company has to offer, making it a cost-effective choice.
Who Is This For?
We think that AWeber is great for almost everyone. Whether you're a blogger, e-commerce store owner, small or large, it is excellent. Plus, the cost is quite low, making it perfect for small budgets but still allows for growth.
Conclusion
With so many iContact alternatives on the market, you can create engaging emails that work for your budget. We talked about four different ESPs, giving you plenty to consider.
Whether you're an e-commerce company or you are small and don't think you're going to expand the business quickly, you've got choices.
Any of these ESPs can be beneficial, so pick one and see where it takes you.