You've already opened an online store on the world's most famous e-commerce platform but you still have a feeling that you can raise your sales to an even higher level?
Well, it is because you are absolutely right!
The sales cycle itself is not an easy process but, with the right tools, you can make it run more smoothly than you imagined.
There are many applications on the market today that are suitable for your online store, but it would probably take you forever to research them all and find the best ones.
That's why we did it for you.
We are introducing the 28 best Shopify apps that will boost your sales instantly. Let's start now!
1. Poptin (Freemium)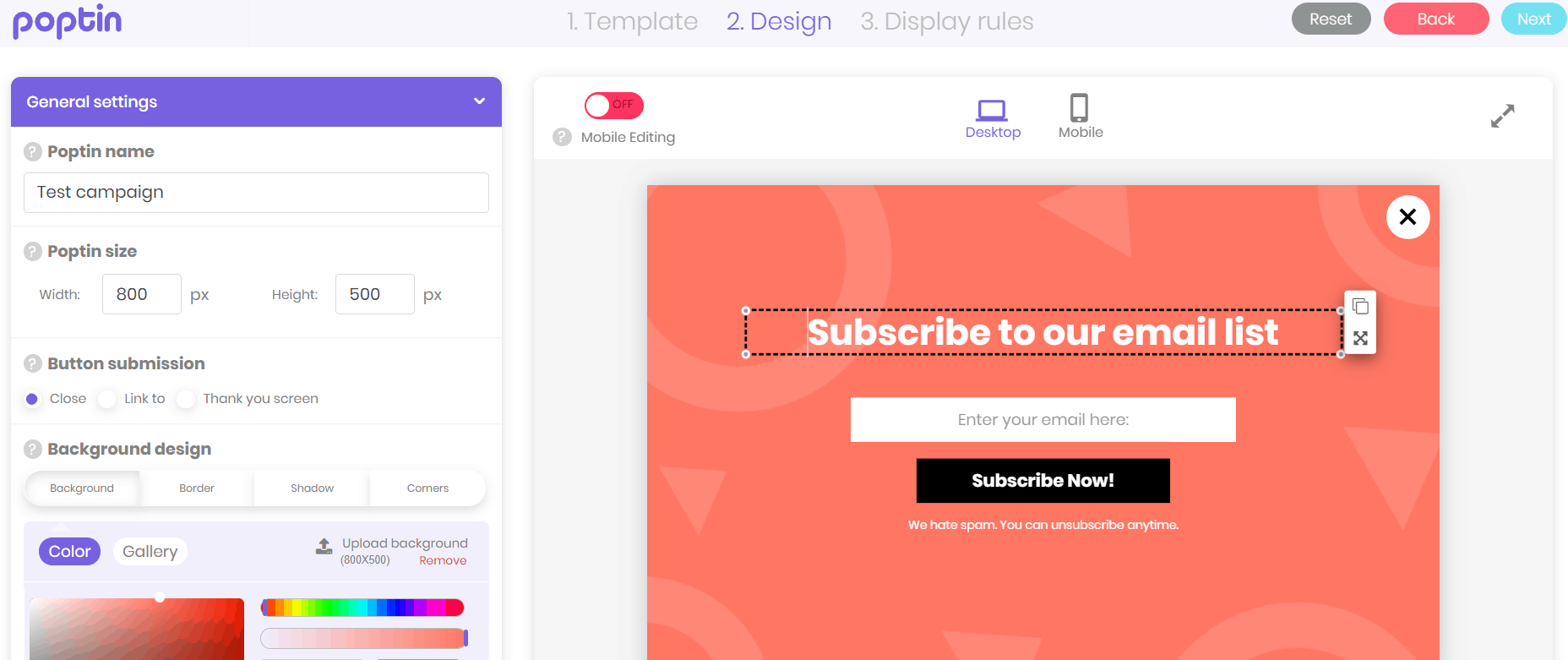 Poptin is a tool that offers:
Popups

Embedded forms

Email autoresponder
Popups are a particularly good option for highlighting certain items in your store that will grab the attention of your visitors.
With Poptin, you can build all types of pop-ups that are triggered by various user activities. For example, you can build exit-intent pop-ups with discount codes that are shown whenever someone tries to leave your website. Since they already considered leaving your website – you will have nothing to lose – just to get.
Thanks to drag & drop builder, it will take you just a few minutes to create engaging popups.
Pricing: You can create an unlimited number of popups for free, and paid plans start from $19 per month.
Collect, curate, customize and showcase social feeds from 18+ social platforms on your Shopify store with ease. To add beauty, boost engagement, increase social reach, display social proof, drive sales & conversions, and more for your business. Personalize the feed widget as per your style, moderate the content to maintain the quality of your store.
With custom CTA, add actionable or clickable links' buttons like the 'Buy Now' button to redirect visits to your product page and more.
3. Outfy (Freemium)
Outfy is one of the best Shopify apps because it allows you to share and promote your products across 12 different social media channels.
It also offers the Autopilot option so that your images are automatically uploaded to all the channels you want.
You can also use different templates and customize them to announce discounts and promotions.
Pricing: There is a free package, and prices in paid plans start at $4 per post.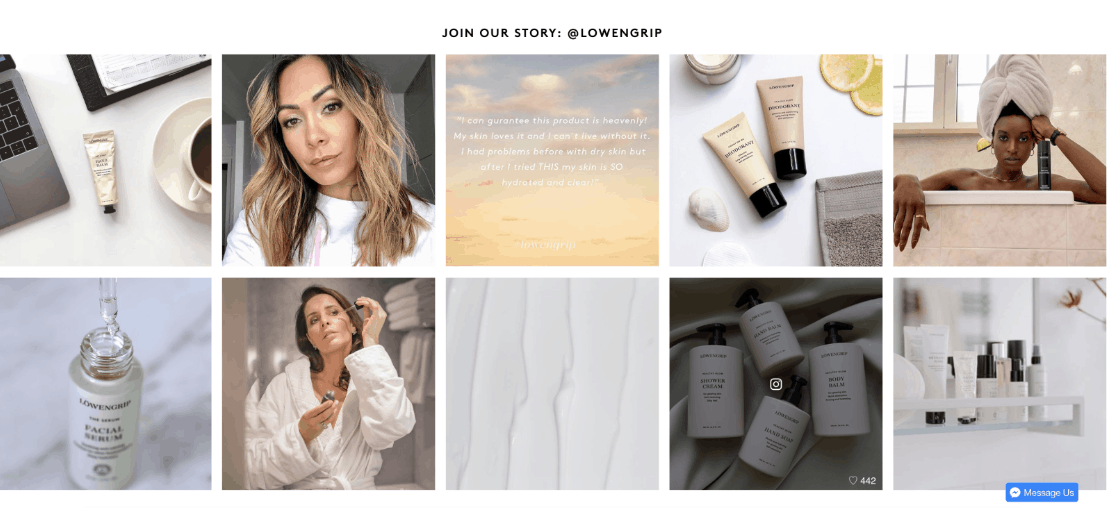 Use your Instagram content for your store. Thanks to this tool, you can simultaneously promote your Instagram to your store visitors and vice versa.
Pricing: You can choose a free option or some of the paid plans starting from $3.99 per month.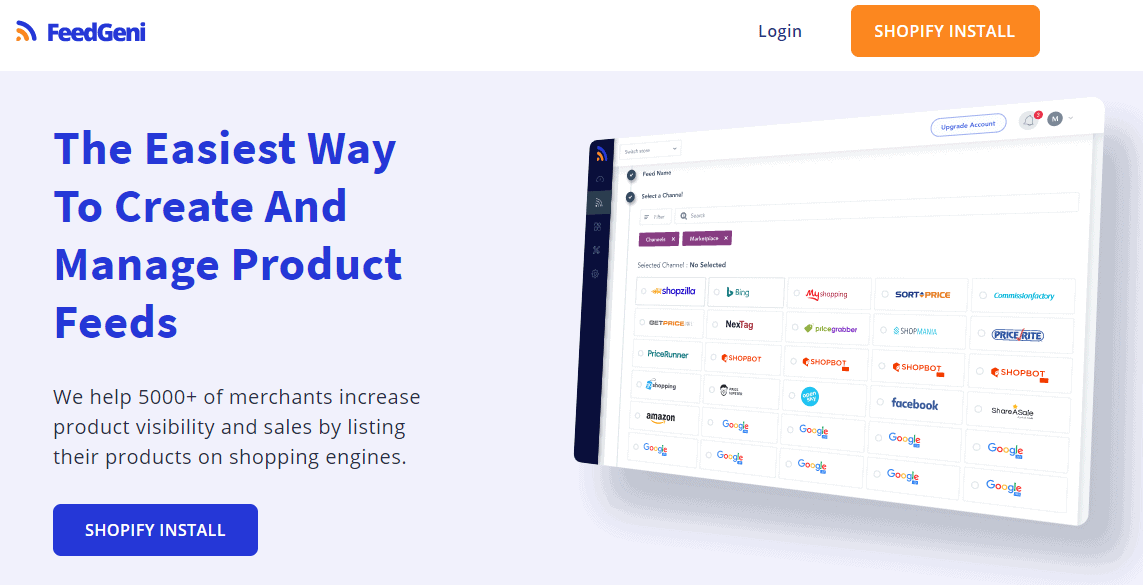 Free trial: For as long as you want.
Price: Free plan, Basic at $19.99, Pro at $49.99, and Enterprise at $99.99
Best Used For: Creating product feeds for shopping channels globally, for example, Google, Facebook, Instagram, Pinterest, Snapchat, WebGain, CJAffiliates, Stylight, etc. including private channels.
This app creates feeds in CSV, TXT, and XML file formats and with varying currencies. It also enables product filtering so you could choose which of your products to show in your feed and on your shopping channel.
You can also increase or decrease the price and sales price of products. With FeedGeni you'd be able to show the availability of your products as in stock and or less in quantity.
How can FeedGeni increase your Shopify conversion rate?
You'll be able to easily reach millions of potential buyers and grow your business by syncing your store with FeedGeni and connect to multiple shopping channels and comparison sites worldwide for ads and campaigns. With over 20 comparison shopping engines and marketplaces, store owners have the leverage to ultimately increase sales in their stores.

FeedGeni saves you a lot of time. You just need to create the feed only once and forget about it. It does all the work of keeping the feed updated at all times because it's in sync with your Shopify store. All inventory updates are automatically synced. No manual update required.

Zero coding required; takes a few minutes to set up.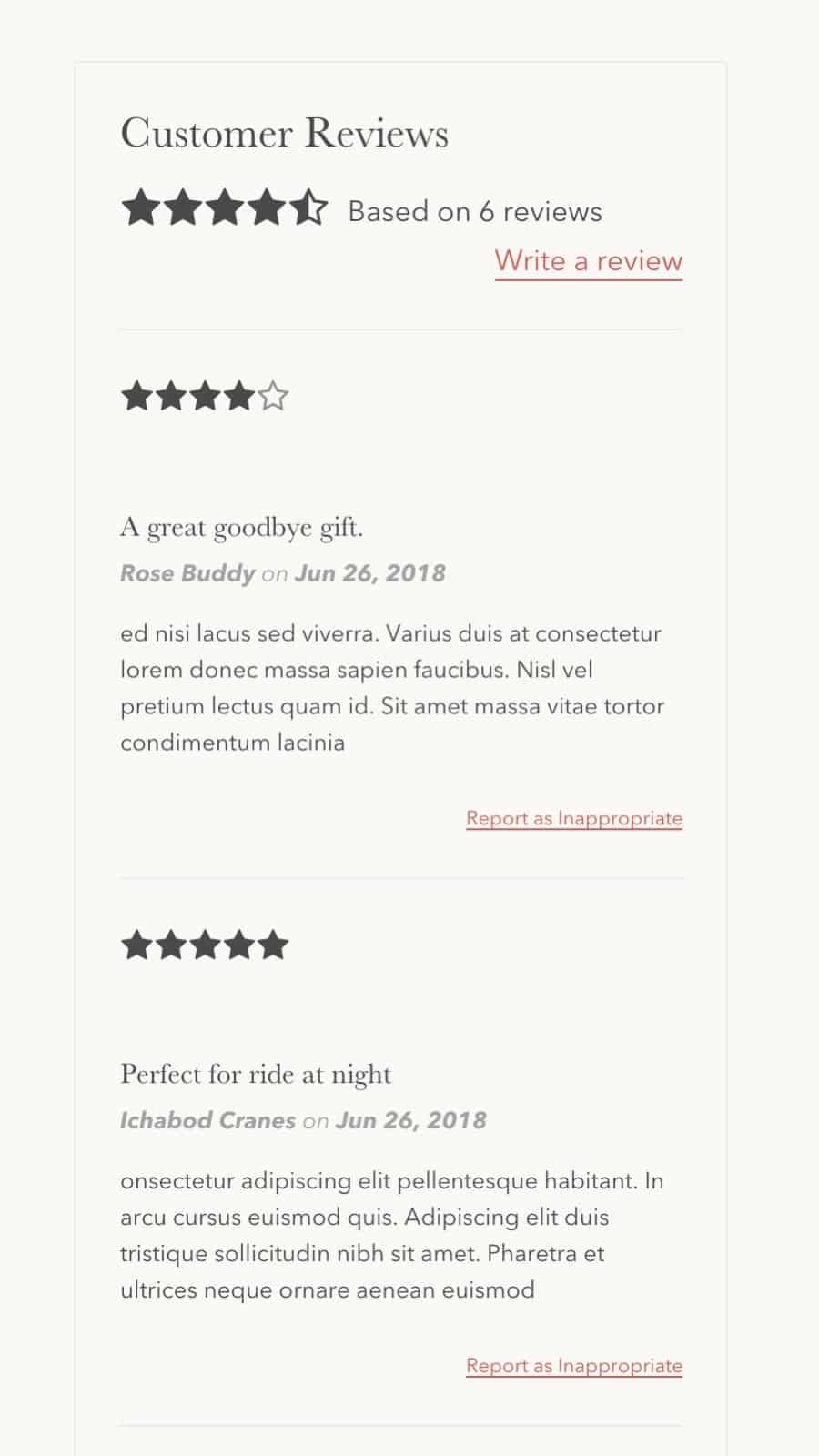 You can easily add reviews that will fit with the theme of your store.
The experiences of existing customers will make you seem even more trustworthy to new visitors and convert them to your new customers.
Pricing: This Shopify app is free.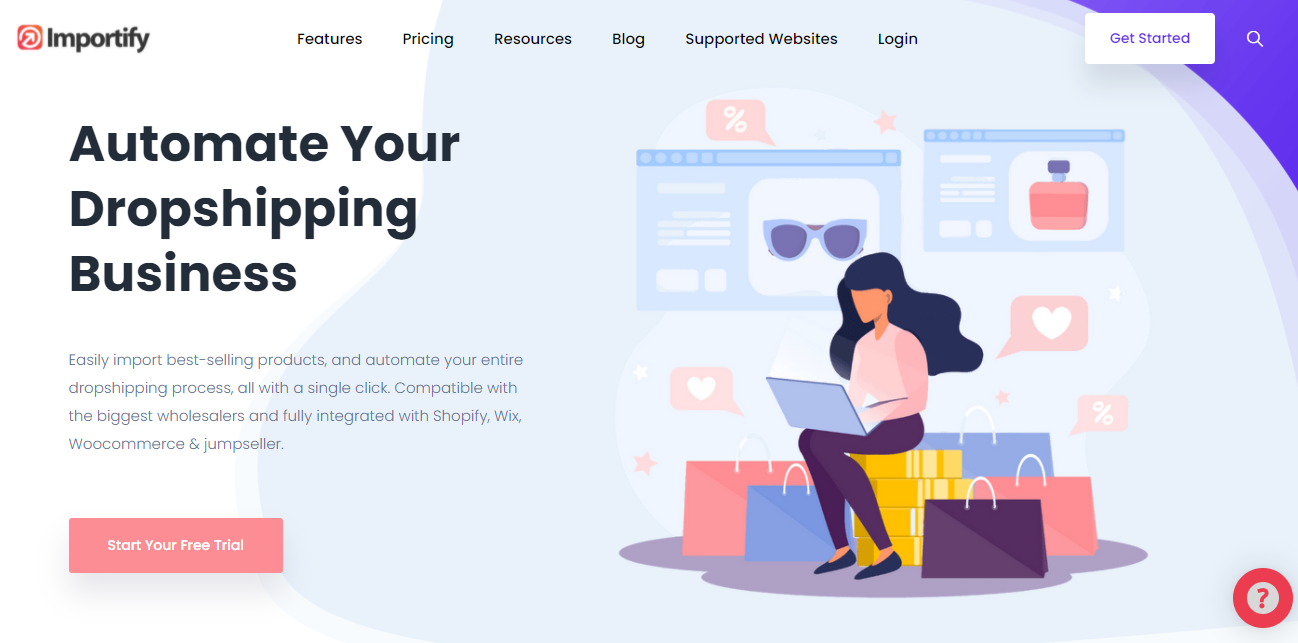 You can automate your whole dropshipping process and enhance customer's overall shopping experience with Importify.
This Shopify app even enables you to comprehensively do product research, product importing, and many more.
Pricing: Enjoy Importify's basic features for only $14.95 per month. For more advanced dropshipping technology, subscribe to its Gold plan for $37.95 a month.
8. Pocket (Freemium)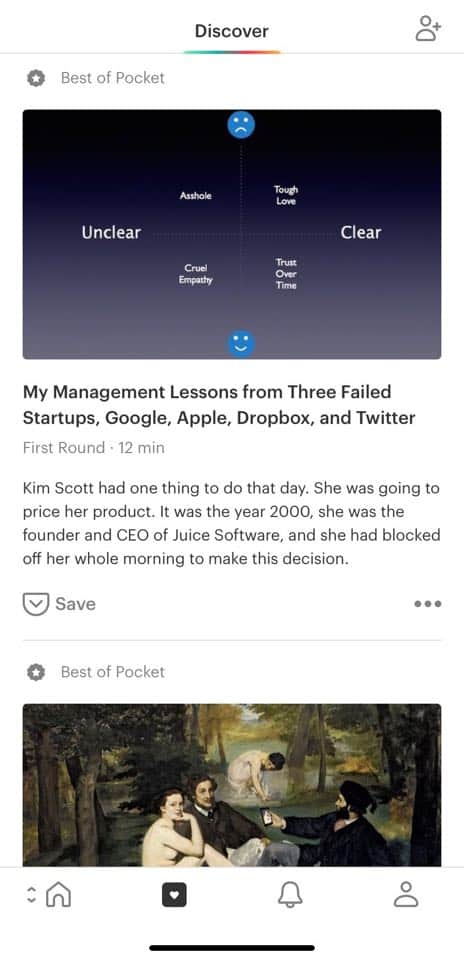 If you want to keep the inspirational ideas and tips you find on the Internet, use the Pocket app.
You can later use them for your store.
Pocket offers the ability to integrate with over 1500 other applications.
Pricing: You can use it for free or pay $4.99 monthly for more options.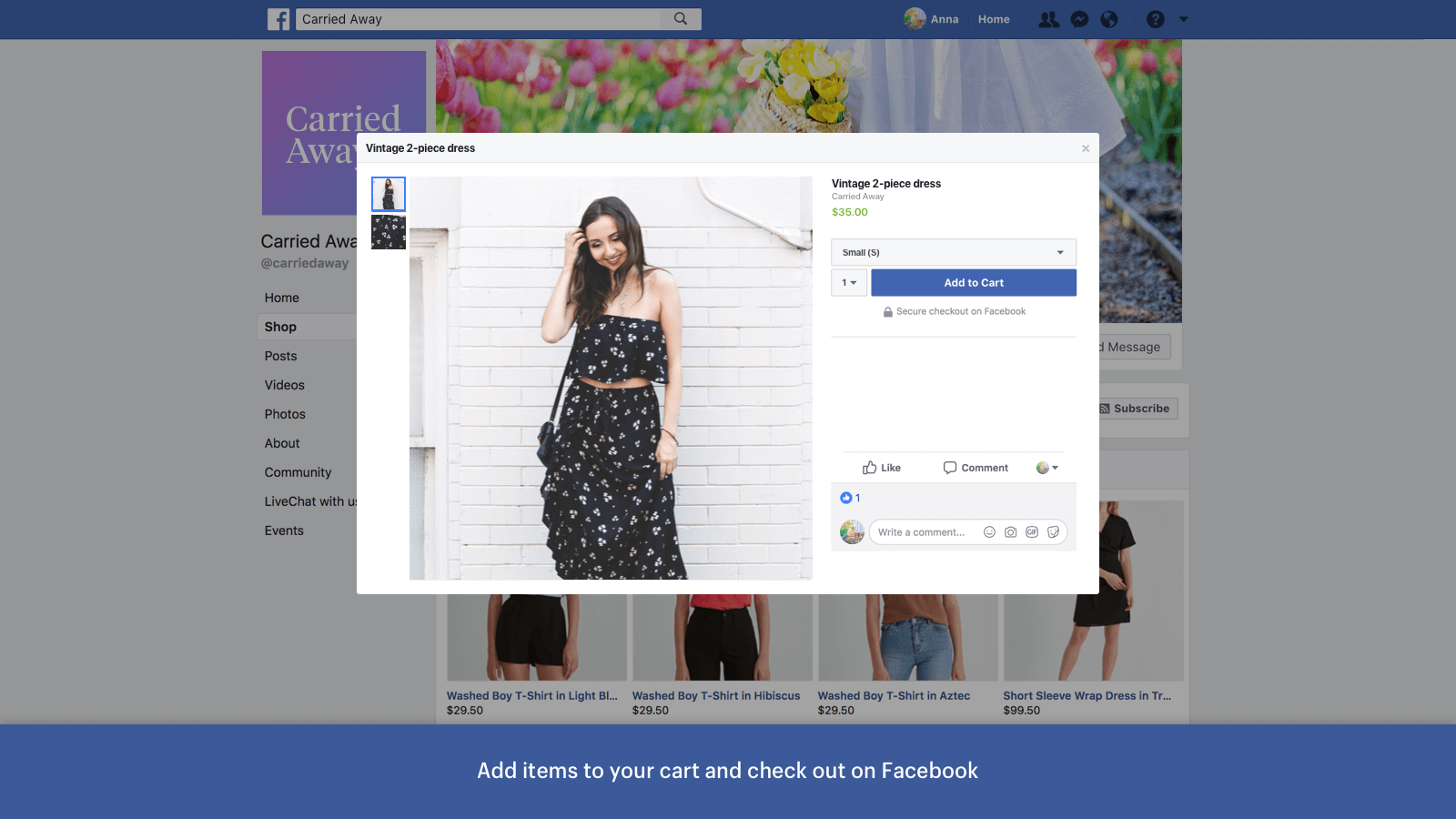 Social networks can help a lot to increase sales.
That's why the Facebook Shop channel is one of the best Shopify apps. You can sell products from your Facebook page and highlight them to improve their visibility.
Pricing: lt is a free Shopify app.
Many underestimate the potential of Facebook Messenger to promote and sell, and Messenger actually has open rates of up to 80%.
Send messages to your customers easily, and get more sales. This application is the successor to email platforms.
Pricing: This app is free.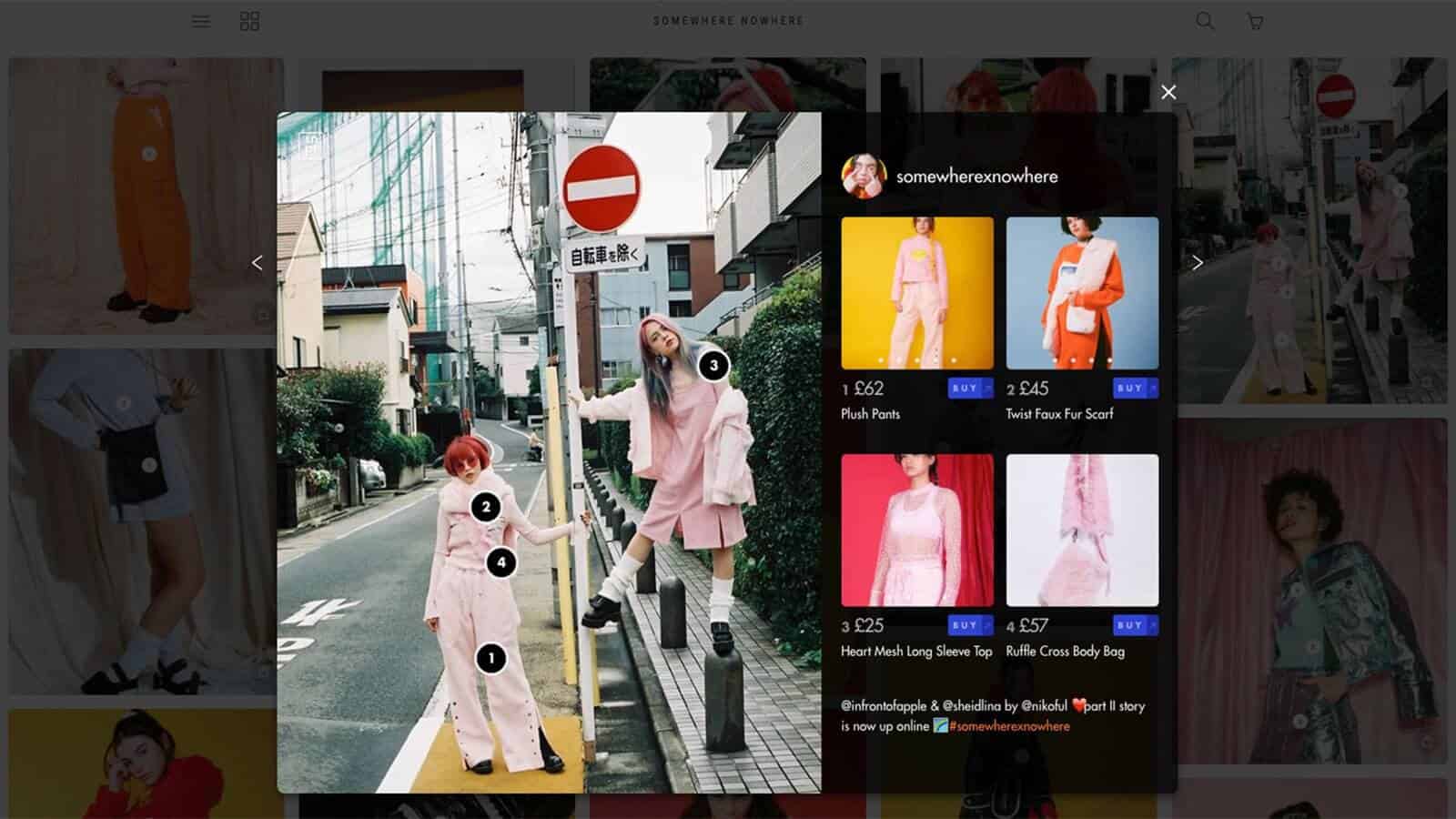 This app turns your Instagram into an Instagram Store as you can link your Instagram images with your products.
It also collects information about your conversions and customer engagement.
Pricing: This is another great free app.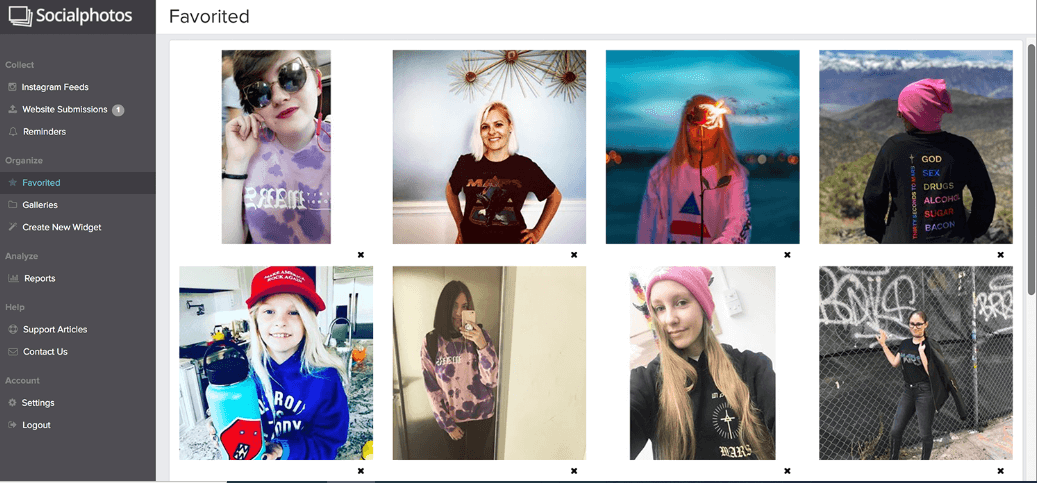 With this app, you can collect photos of your already existing customers to win new ones.
In this way, you build trust when it comes to potential customers.
Pricing: You can try a 30-day free trial, and paid plans start from $10 per month.
13. Klaviyo (Freemium)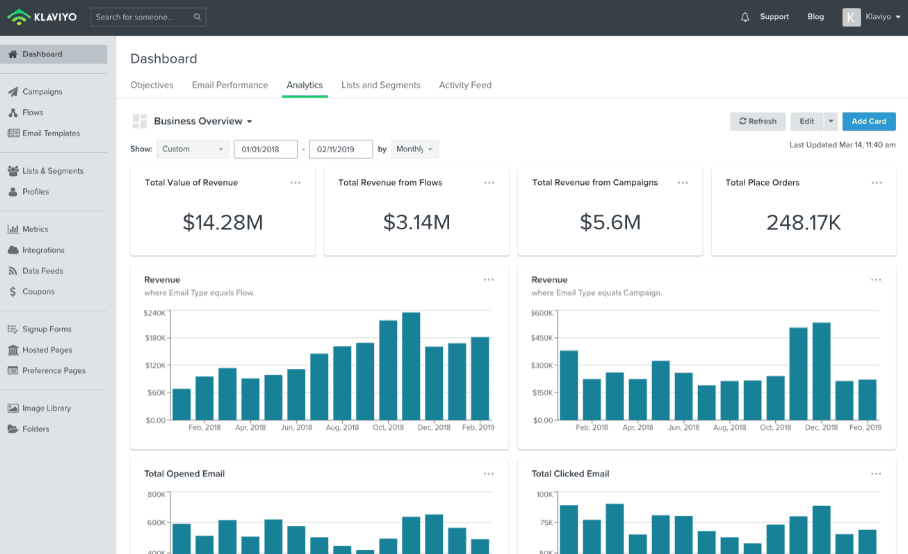 Klaviyo collects customer information thanks to over 100 integrations.
It allows you to collect contact information and create personalized email and social media messages and campaigns.
Pricing: Klaviyo is free to install and includes up to 250 email contacts and, if your business needs more contacts, you can switch to a paid plan.
14. PushOwl (Freemium)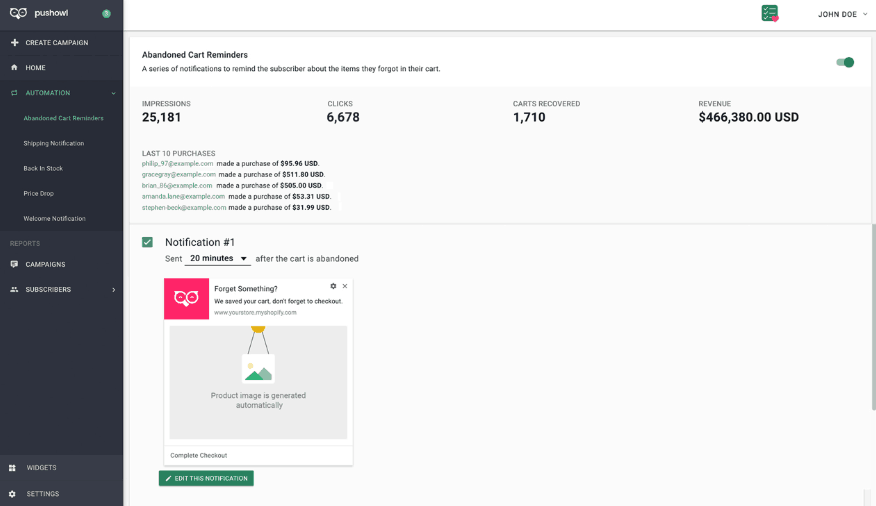 You have probably already noticed that a certain percentage of customers leave the cart.
However, with this app, you can send them to push notifications that will remind them to complete their purchase which will result in increased sales.
Pricing: It is free to install, paid plans start from $19 per month.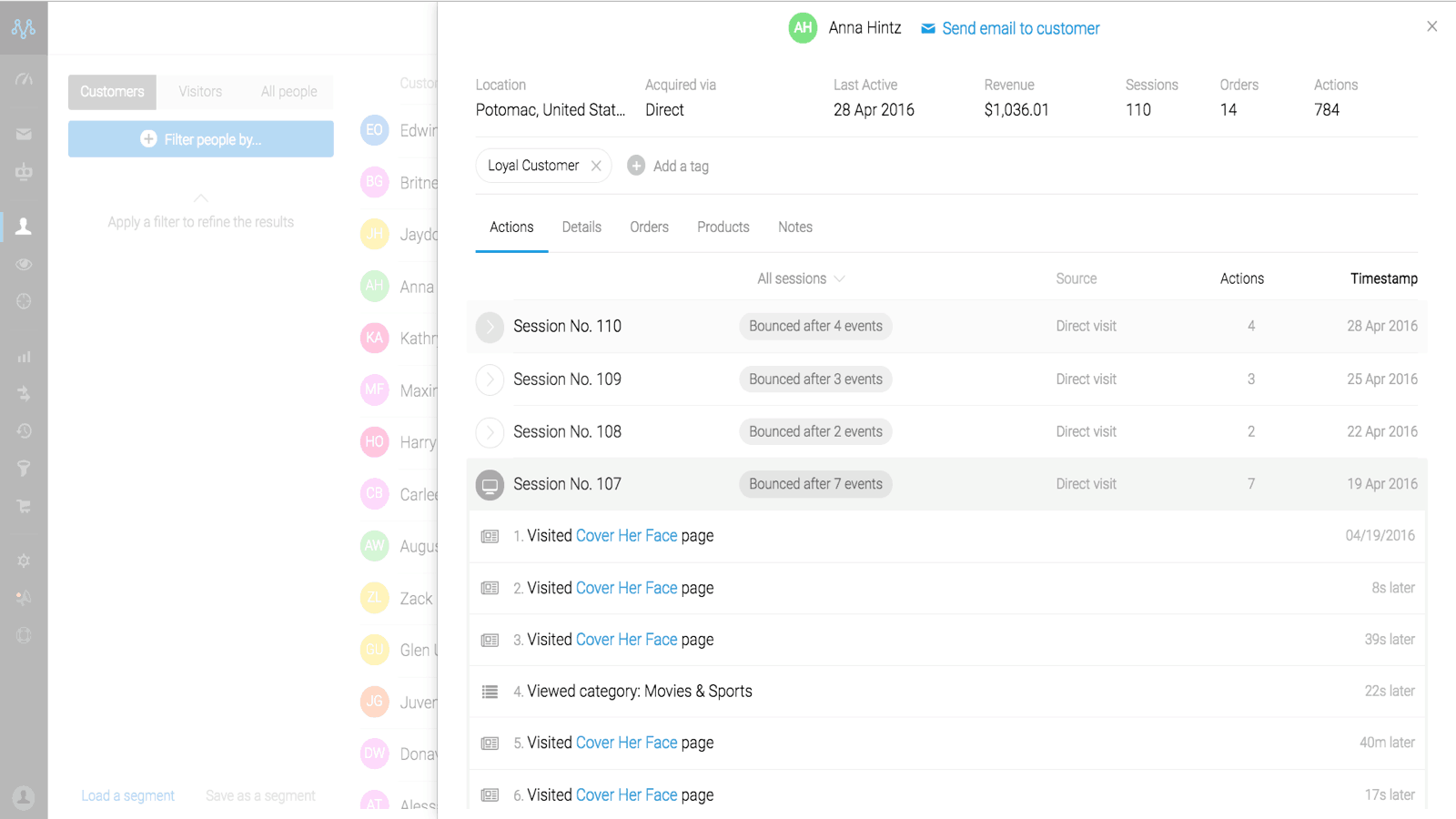 Meter cleverly uses collected customer data, but also information about product performances, sales, and revenues.
You can track the whole buyer journey and be able to improve it.
Pricing: It offers a 14-day free trial, and paid packages start from $199 monthly.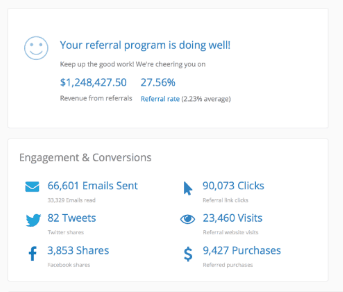 Customize your emails with this Shopify app. It also allows you to see all of your sales and shares.
You can choose how would you like to make referral awards for your customers.
Pricing: ReferralCandy has a 30-day free trial, and paid plans start at $49 per month.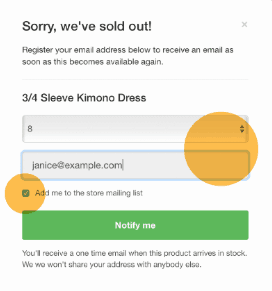 As the name implies, what makes this app one of the best Shopify apps is the ability to notify customers when a particular product is on offer again.
In this way, you remind them not to miss an opportunity and you increase your sales potential.
Pricing: It has a free plan and you can upgrade to paid plans starting from $19 per month.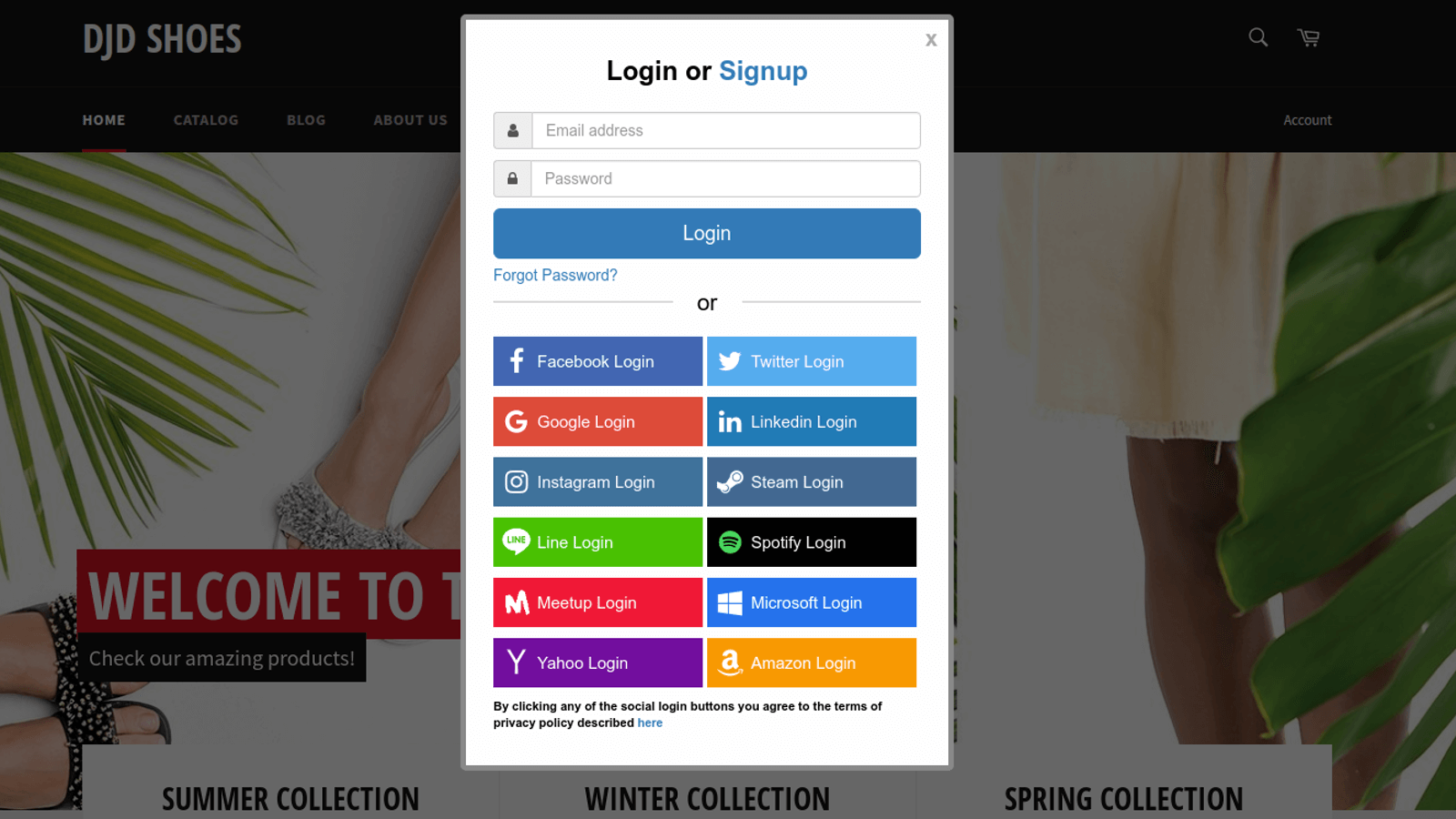 This app allows your customers to easily and quickly create their account on your Shopify store and to log in through one of their favourite social networks with just one click.
It offers integrations with Facebook, Twitter, Spotify, Amazon, and many more.
Pricing: Try a 15-day free trial, and then you can choose the paid plan you want starting from $0.19 monthly.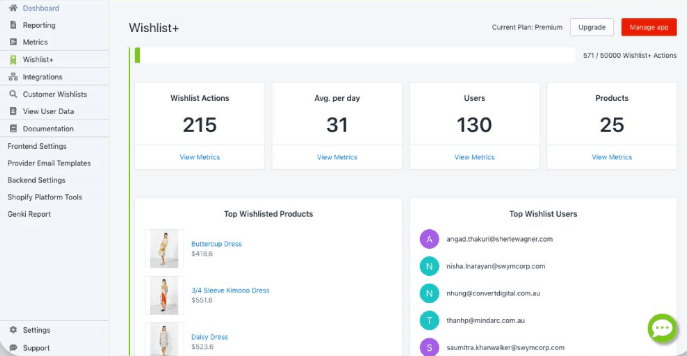 With Wishlist Plus, customers can choose their favourite products and come back to them when they decide that they want to buy them instead of looking for them again and wasting their time.
Wishlist can serve as a reminder.
You can customize it so it will match with your Shopify theme.
Pricing: It has a 30-day free trial, and also a free package. Paid plans start from $14.99 per month.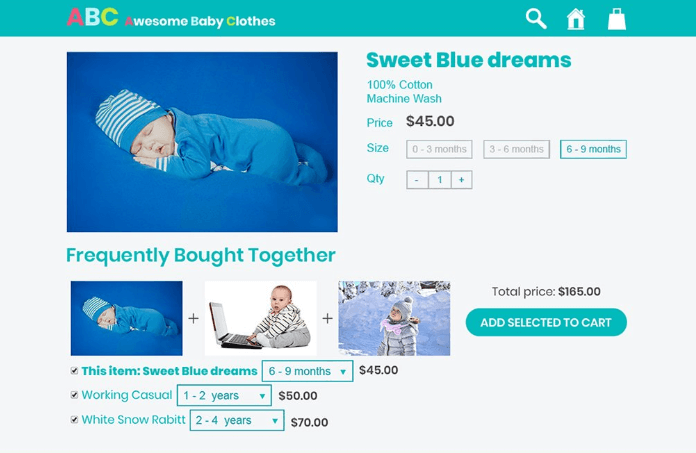 FBT is definitely one of the best Shopify apps because it greatly increases the possibilities of making more sales.
It will group products based on analytics and encourage customers to buy more products at once.
Pricing: It offers a 30-day free trial. Otherwise, the monthly usage costs $7.99.
Printful is a drop shipping, print-on-demand, and warehouse service provider. With Printful, you can customize a variety of white-label products like t-shirts, hoodies, and mugs and sell them under your brand on your Shopify store. 
Pricing: Printful is entirely free. There are no recurring fees or setup costs, and Printful only charges you for manufacturing and shipping.
This app displays customer orders as well as the time when they make them in the form of notifications.
It actually encourages your store visitors to take action and make a purchase.
Pricing: Try out a 14-day free trial, and then you can upgrade to a paid plan for $6.99 monthly.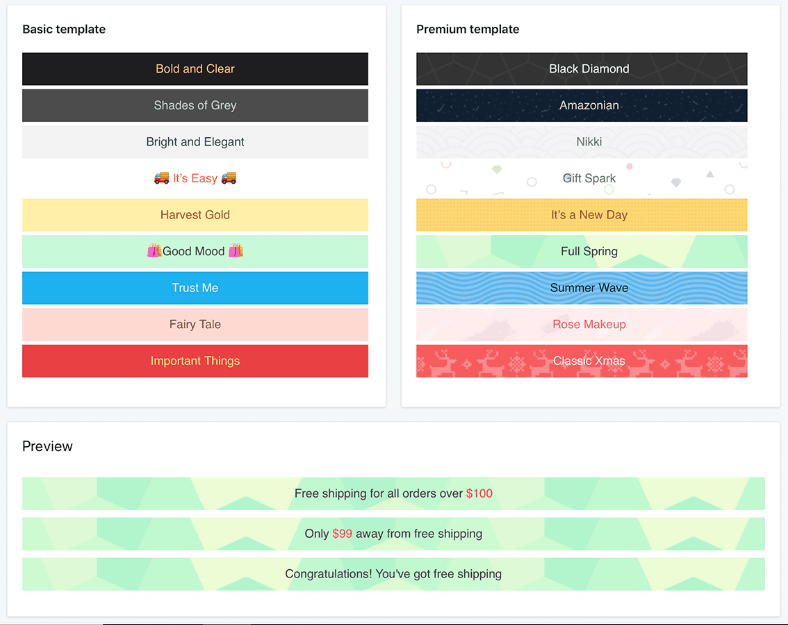 We all know that customers do not like to pay for shipping, so why not use this fact to your advantage?
With this app, you can create bars with free shipping notification, make progressive messages, and customize everything.
Pricing: Choose between a Free or Premium plan for $9.99 per month.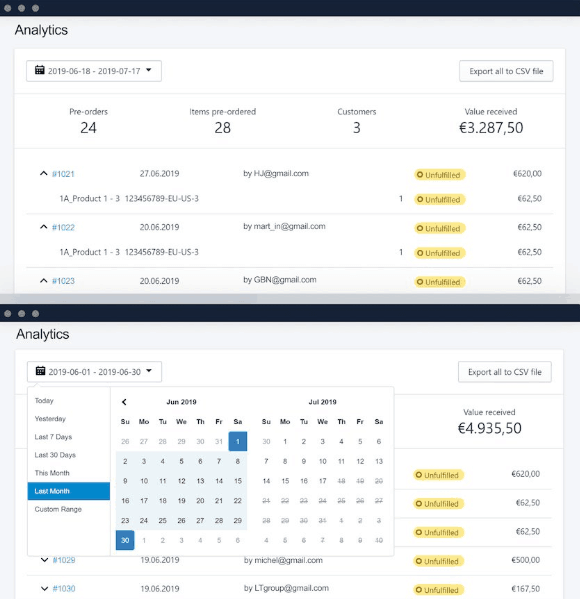 This app replaces the "Add To Cart" button with Pre-Order for products that are currently unavailable.
To prevent losing customers, they will immediately go through the purchase process, and as soon as the product is available again you will be able to send it to them.
Pricing: There is a free plan, and paid packages start from $24.95 monthly.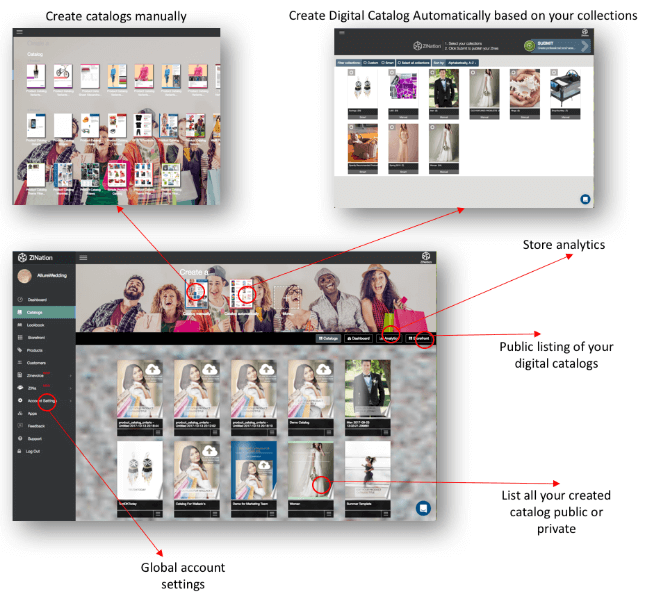 If you do not want to hire a designer, with this app, you will easily create a catalogue that will add that professional moment when it comes to your business and delight your customers.
You can customize your catalogue automatically or manually.
Pricing: Wholesale Catalog Maker has a 14-day free trial. The price per month starts at $25.
SEO Manager is, for good reason, one of the best Shopify apps.
Thanks to it, you will optimize your store and improve your position in Google search. This will make you more visible to a greater number of customers.
Pricing: It offers a 7-day trial, the paid plan costs $20 monthly.
Lucky Orange is like a spy for your Shopify store. It will show you exactly what your visitors see and do as they enter your store.
It records their every step and, because of that, you will be able to make a better user experience for them and increase sales instantly.
Pricing: You can see how it works with the 7-day trial. Paid plans start from $10 per month.
Prisync allows you to keep track of competitors' prices as well as the availability of their products in stocks.
You can use this information to create your own pricing strategies.
Pricing: Prisync has a 14-day free trial. Paid packages start from $129 per month.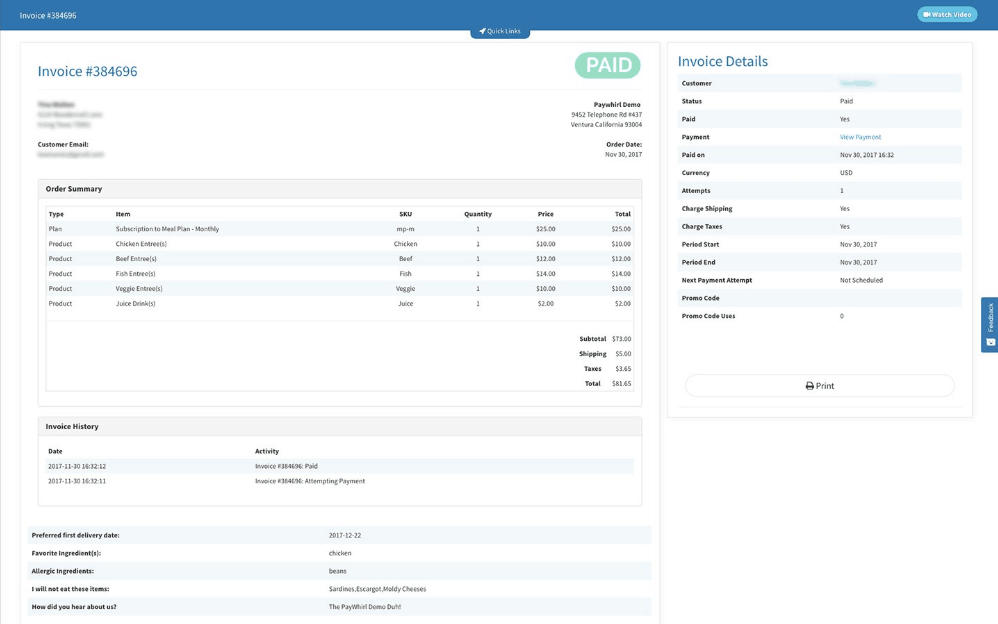 With this app, your customers can easily store their payment methods, buy subscriptions, review their billing history, and more.
You can also offer them pre-orders and discounts.
Pricing: There are a 14-day free trial and a free starter pack. Paid packages start from $49 per month.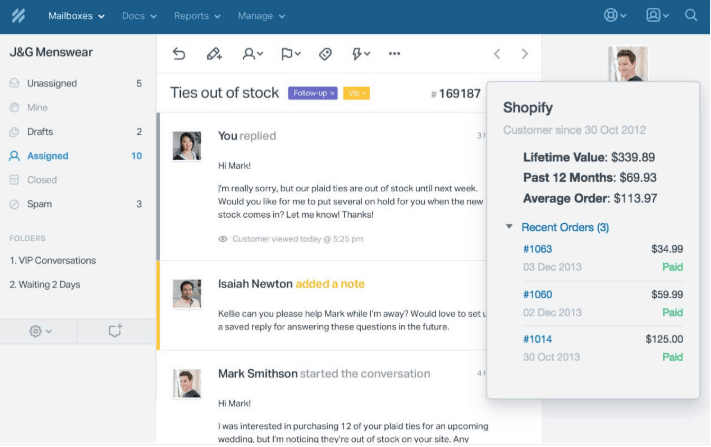 HelpScout is an application that will help you build reliable customer support for your buyers.
You can manage conversations and information all from one place.
Pricing: It offers a 15-day free trial, and paid plans start from $20 per month.
31. Truepush Shopify Plugin (free)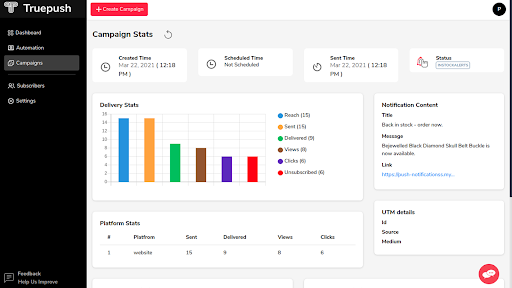 Truepush Shopify plugin is a perfect solution for sending push notifications to engage customers, build brand credibility and increase revenue.
It will simplify the process of pushing notifications about cart abandonments, in-stock alerts, shipping updates, and welcome notifications. The analytics dashboard provides all stats of campaigns.
Pricing: All the features are available for free plan
The bottom line
Finding the best Shopify apps for your store is a challenging job, so this list will help you with your business for sure.
Choose the ones that you currently need most in order to maximize your revenue.
Today there are many online stores, and more and more people are moving to online sales. Because of that, you need to keep customers in your store and grab their attention.
This will be the easiest thing to do if you use the potential of Poptin pop-up windows.
Being extremely visually appealing, they will certainly manage to interest your visitors.
Try out Poptin right away, and your sales will increase unexpectedly!