When it comes to online marketing, at first people mostly focus on showing their website visitors in all possible ways that their offer is exactly what they are searching for.
However, bidding and forcing is not really the key detail that decides a purchase. You need to convince your customers that they can trust you and your product or service.
Your customers will need the opinion of someone who used to be in their shoes and what is better than the opinion of an already existing user.
They can then get the feeling that they are agreeing to something that has been tested well previously and that they do not have to worry nor feel excluded.
Social proof is exactly what your business needs to reach that highest level.
Below, we will introduce you to some of the best social proof software tools in today's market that can help you upgrade your online marketing strategy.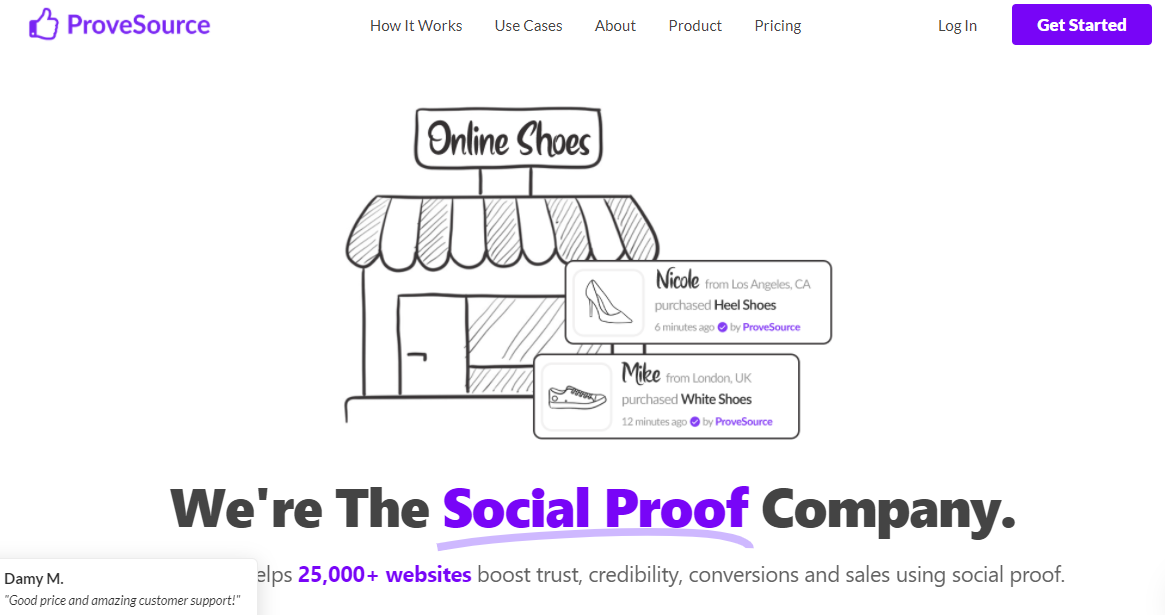 ProveSource is one of those social proof software tools that can help you increase your conversion rates by using a variety of comments, opinions, experiences, and other analytics in your advance.
You can add ProveSource to your website easily and quickly – create your account, copy your unique code, add it to it, and you are good to go. 
It has an easy-to-use interface and it also notifies you of the number of website page visits, sales, people who made a certain action.
Its analytics allow you to keep track of your conversion rates and to expand your customer base.
Besides being so easy to use, ProveSource helps you gain the trust of your customers and make them feel like they can relax because they chose the right product.
Your website visitors want to be informed about what they are buying, they usually want to see how many people have tried that product, and all that information makes them feel sure in their decision.
A social proof software tool like ProveSource exists so that you could make that type of connection in a faster and more efficient way.
With different options that this tool offers such as the option to allow your followers to see how many likes, subscribers, and more you have on your social profiles, you build trust over social media platforms, too.
It enables you to track everything automatically and always be up-to-date with your customers.
Customer service is available if you have any additional questions.
Offered features:
Mobile responsive

Page visits

Display rules

Customization

Auto-tracking

Integrations

Customer service
Pricing: It starts at $18 per month with 10k monthly unique visitors. They also offer a 14-day money-back guarantee.
Another social proof software tool that we will mention is Fomo.
Fomo is a user-friendly app that will make your website visitors feel at home.
It is very easy to set up and you don't even need any developer or coding skills.
What sets this tool apart from some others are the customization options – you can use a variety of templates and design everything according to your wishes.
It also offers the option to control everything that your visitors see. You can always have an insight into everything and change settings very easily.
Fomo translates to more than 20 languages, so having misunderstandings won't be a problem.
Building trust with your visitors and future customers unimaginably helps your business.
It makes your website more user-friendly, attracts more visitors and converts them into your customers, and eventually brings you more sales, which is an ultimate goal.
You don't have to be too aggressive to attract customers, you just need to remind them why so many people are happy with your service, and that should close the deal.
It is in the nature of people to follow what other people are doing so take advantage of that and attract as many visitors as possible by using this amazing tool.
A/B testing and analytics allow you to see exactly what updates you need to make and what repels your visitors and make them leave your website if that's the case.
Fomo has integrations with Zapier, Shopify, Hubspot, MailChimp, and many more.
Offered features:
Notification scheduling

A/B testing

Analytics

Geo-targeting options

Insights

Integrations
Pricing: Fomo offers a 14-day trial for free, and after that, you can upgrade to some of the paid plans which differ in the number of notifications.
Proof is a tool that can help you make your business website exactly the way it suits your visitors' needs.
You need to attract them and make them feel like they are in safe hands.
That way, they will be glad to make a purchase when they see how many people did the same thing.
This tool uses customers' experiences to boost your conversion rates and increase your sales.
You can personalize your website and make your visitors feel like they are special. Also, you can add or remove text, change images, or hide certain elements.
Without any coding or developer skills, you can set it up all by yourself.
With different tracking options, you will be able to follow your visitors' behavior and see what makes them take action and what makes them want to exit your website without making a purchase.
You can drag and drop certain items on your website, add CTAs, use beautiful templates.
It has always been important for online businesses to have a good reputation, so with Proof, you can build credibility and be valued.
With the recent activity option, this tool enables you to see everything that is happening on your website in real-time.
You can also customize notifications with the help of many options, for example, you can choose for how long you want your notification to show, on which pages exactly, and more.
Customer support is available 24/7 to help in any way possible.
Offered features:
Visual editor

Statistical analysis

A/B testing

Personalization

Beautiful templates

Integrations 
Pricing: Its costs start at $29 per month but you also get to try it out for free with its free trial.
The Bottom Line
If you need something to quickly and efficiently boost your sales and increase the number of your consumers, then social proof software tools are the perfect solution.
Opinions, experiences, recommendations are exactly what will decide when it comes to sales.
These tools that we mentioned are just some of the best ones in today's market that you can try out and then choose the most suitable one for your online business. 
In addition to these social proof tools, you can also use pop-up tools to create interesting pop-up windows and make your conversion rates even bigger.
One of these pop-up tools is Poptin, and you can install it very quickly and easily.
Poptin can help you to collect e-mail addresses from your visitors and, in that way, you can use them later to ask your subscribers what they think of your product or service, whether they would recommend it and why, and so on.
This knowledge will be of great use to you when you decide what you need to change or what you need to bring to the forefront so that you could promote your brand in the best way possible and close more sales.
The opinions of your customers are very important, maybe even more important than anything else.
So, try out these best social proof software tools and drive those sales through the roof!