Sales funnel is one of the central elements in the world of digital marketing.
It details your step-by-step process in ushering visitors into becoming paying customers.
If this is the first time you've heard of a sales funnel, it's like an inverted pyramid that includes stages of filtration, wherein a certain element is poured in and goes to a designated destination.
In real life, it often starts when visitors become aware of your brand, sign up, or enter your website. They will then embark on different journeys depending on buying personas, niche, and many other factors. The sad part is, not all of them will be able to reappear out from the other side.
Importance of Sales Funnel
Without a systematic sales funnel, it becomes tremendously harder for you to see leakages and acquire more revenue. The impact is really crazy.
The good news is, there are advanced tools that can help you to fully automate every stage until your prospect is ready to finalize the deal with you.
In this blog post, I'll explain to you how you can create a seamless sales funnel with Integromat that would make the whole process easy for you and your prospects.
Let's dive in!
What is Make (formerly Integromat)?
As its website says, Integromat is the glue of the internet. It's an advanced automation platform that enables you to connect your platforms and get faster results.
With Integromat, you won't need to manually input data. The platform will do the work for you at any time of the day.
Connect your Integromat with your favorite apps and achieve limitless possibilities on your sales funnel!
Just follow these quick and easy steps.
1. Sync your leads from your website to your CRM software
To have a successful sales funnel, you might want to look into your lead capture strategies as they greatly enrich the results of your business goals.
Your landing page or website must be equipped with beautiful pop-ups and forms where your visitors can leave their personal information and email addresses.
If you haven't implemented one, you can easily create your own with Poptin.
I created this pop-up in less than 2 minutes using one of their fully-responsive templates.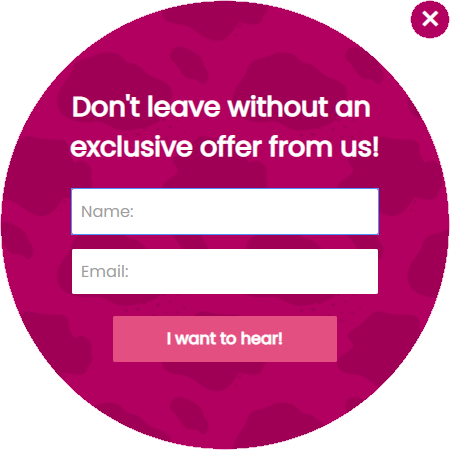 Website visitors who will subscribe from these pop-ups and forms will automatically go to your favorite CRM platform's mailing list such as MailChimp, Hubspot, Klaviyo, Pipedrive, Zoho CRM, and many others.
In that way, you save time as you won't need to manually input them one by one from a Google Sheet.
To do that, just choose among Poptin's list of integrations, and in just a few clicks, you can successfully sync your pop-ups with the software.
For a more seamless experience, integrate Poptin with Integromat so every time a new lead is created, the New Lead module in your Integromat scenario is triggered. Just check out the step-by-step guide on how to set it up.
Now that you have in your hands the contact information of your leads on your CRM, you can now proceed to the second step.
2. Generate an automatic proposal for your prospects
Of course, you want to win your leads and seal a deal with them.
To help them notice you without having to go through the hassle of writing every word, automate the process. This is the best option especially if we're talking about hundreds of leads to address.
An awesome tool that can help you generate automatic proposals is Prospero. It has a collection of well-written proposals that you can use according to your niche and goals.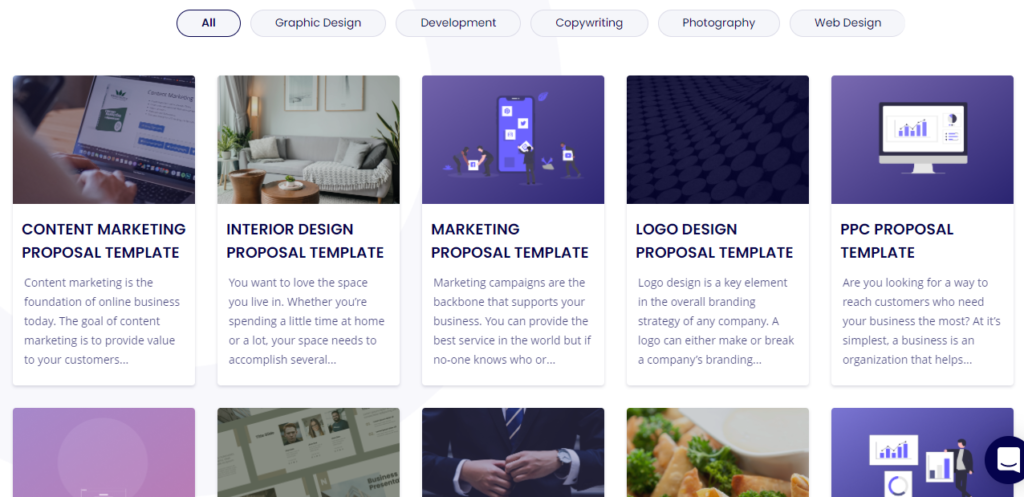 When you integrate Prospero with Integromat, you can automatically send your generated proposals to your new leads.
The steps are pretty easy.
On your Prospero account, go to the

Integrations page

and click the

Connect

button for Integromat.
Create a new

Scenario

. It should start with a Trigger and end with an Action.
The Trigger
For this article, we will use Pipedrive as our CRM.
We'll set New Person as the trigger. This means that whenever a new person is created/added, the scenario is triggered to begin.
In our case, it's when a new contact signs up through your pop-up and is directly sent to your CRM account.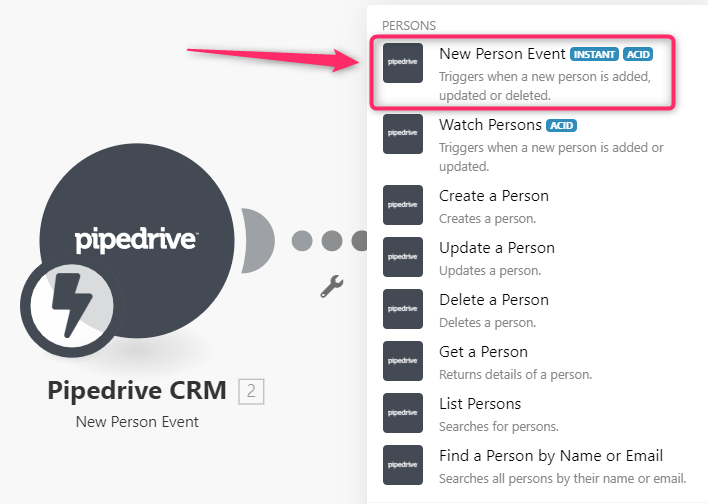 The Action
This is where Prospero comes into play.
To complete the scenario, we'll set Prospero to generate a proposal for us.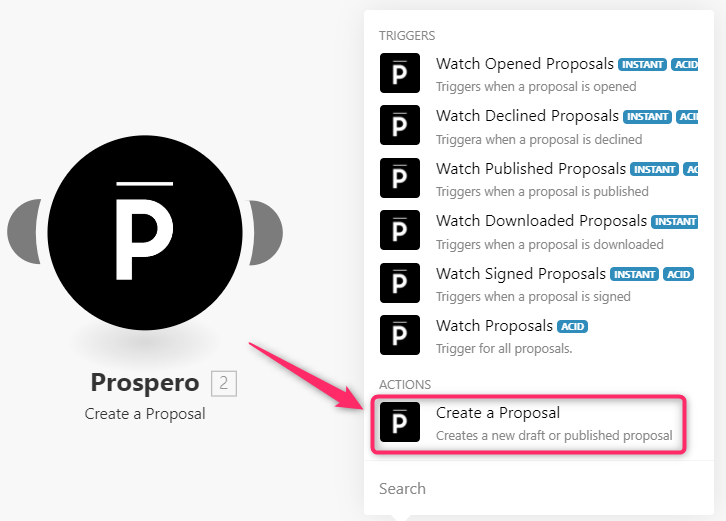 Just fill in the necessary details and you're good to go!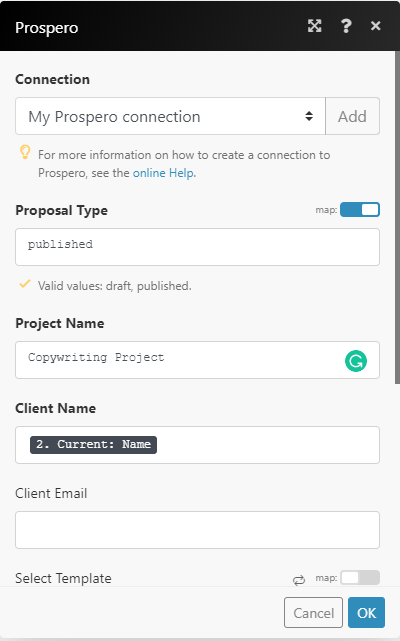 By the way, you can edit the sections of your proposal and even customize how you want your prices to appear.
Save the Scenario.
Now, when this exact whole scenario occurs in actual, voila! A newly generated proposal will appear on your Prospero dashboard.

3. Send your proposal via your favorite emailing platform
Now that you have the proposal on hand, what's next?
In this step, you'll be able to automatically send the generated proposal to your lead right away. You don't have to monitor this at all times. Integromat will do this process for you 24/7.
There are a lot of email platforms that you can use. Probably the most popular is Gmail.
If you already know the best platform to reach your prospects, set it up on your Integromat dashboard.
In this example, we will add Gmail as our third module. It will then be activated to send the proposals on your behalf.

Set Send an email as your action.
Once you click it, a customization form appears where you can fill in the relevant information, such as Sender, Recipient, Content (supports HTML tags), Attachments (images, files, links), among others.
Note: When you write your content, don't forget to put the link to your proposal so your prospects can just simply click on it.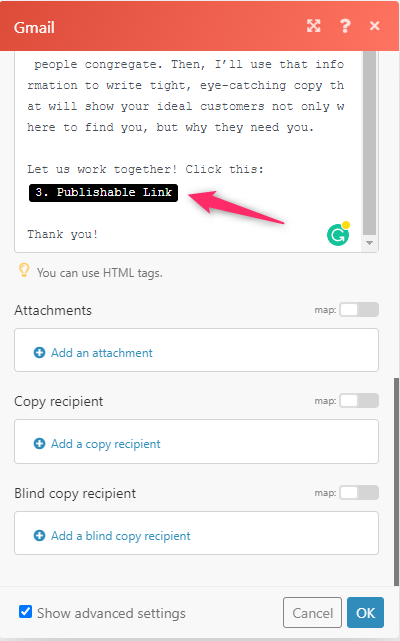 Moreover, you can put copy recipients and blind recipients directly via Integromat – perhaps all the necessary elements of an email are already there.
Test the whole process and wait on your Gmail account for the sample email.
Here's what it looks like when I tested mine. Since Integromat supports HTML tags, you can freely customize the text, create spaces, put other elements, and many others.

This is pretty much how your proposal would look like in actuality. Clients can read through and sign the proposals with so much ease.
4. Follow up unsigned proposals
Millions of emails are being sent every day. When you send proposals to clients, there's a slight possibility that they won't notice it at first glance, or won't even bother to look at it at all.
The current average open rate for email is 17.80%. And while this greatly varies on the subject, timing, and relevance, you have the power to increase your chances of getting approved.
Using Integromat, create a scenario where you can grab the attention of your prospects by following up on their response. It's one option that might turn out positively in the long run. Remember that nurtured leads have 47% larger purchases than non-nurtured leads.
You can consider this scenario:
This scenario lets you watch the emails you sent via Gmail, and when the client doesn't respond within your specified time, Integromat automatically asks Gmail to send another follow-up message.
To make sure that this scenario is activated to the right email, on the Trigger custom box, put the original message details, whether it's the same subject or a certain phrase.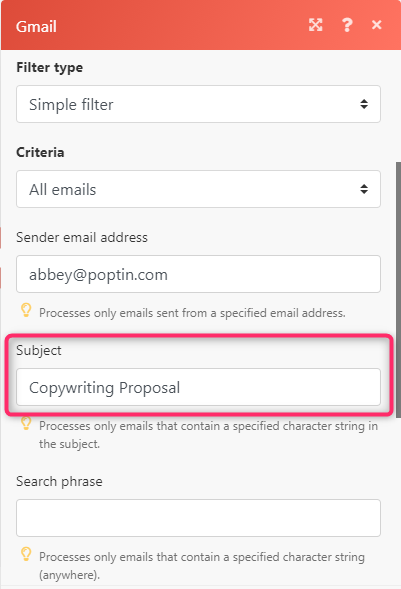 Meanwhile, for your Action, you can draft a new email message or attach related files.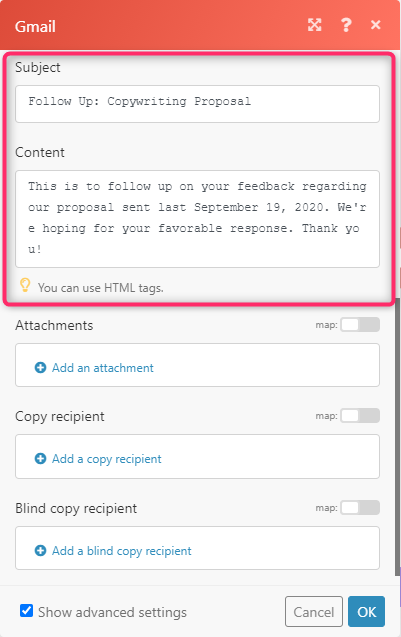 There are also a lot of ways to approach this. You can send random greetings, share content, or even send them some of the previous projects that you think are quite interesting for them.
Schedule this scenario based on your preferred time and you're good. I set it on the first two days after I sent my proposals. When prospects don't respond after two days, Integromat will then do its job.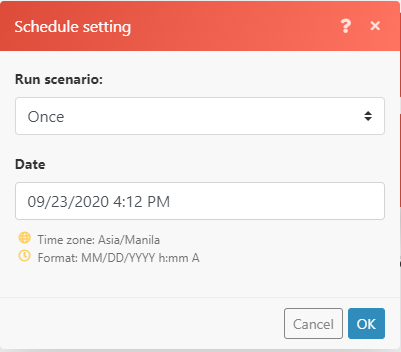 There are also other intervals ranging from minutes, days to weeks that you can set whenever needed. Know more about Integromat's scheduling settings here.
Sending follow-ups allows you to build relationships with prospects. It also helps you establish a good rapport with them as it makes you look very professional and serious about your craft.
5. Update deals on your CRM
When a client approves the deal, you can automatically sync it to your CRM account, allowing you to monitor it directly from there.
Here's an example:
On your Integromat dashboard, create a scenario that starts from Prospero and ends with your CRM platform. It should look something like this:
To give you a better understanding, I'll open the proposal link on the email and sign it from there.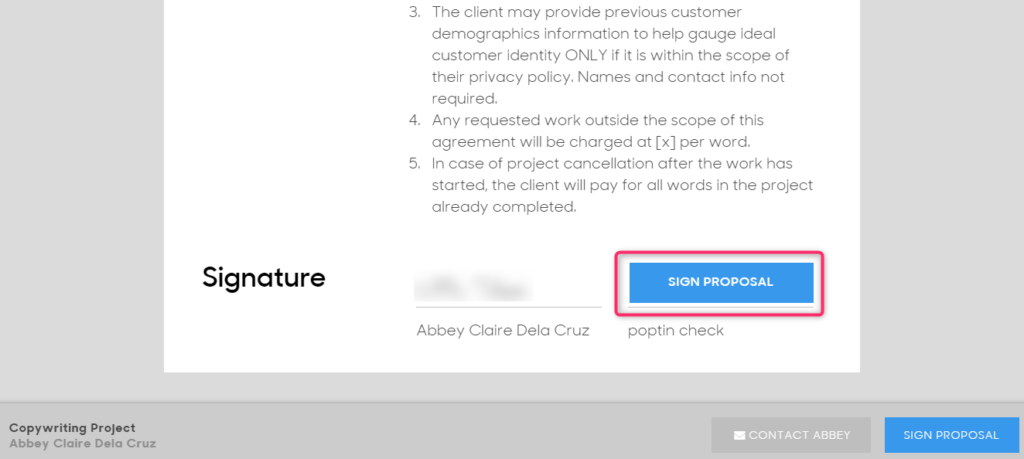 And, there you go! When I signed it, the deal on my CRM account is now categorized as "Won".

You can also use this process using other triggers whenever there are changes and updates on your specific deal, just like when the client opens or declines it.
6. Once signed, start sending out new tasks to your project management software
When you're notified that a client signs the proposal, you can now start working on your new projects and monitor progress efficiently via Trello or any other project management software.
To do that, set Watch Signed Proposal as your trigger.
And, create a New Card on Trello or any other software that you're currently using.
You can even connect your favorite messaging app, like Slack and FB Messenger, so you get notified on your mobile every time a new task is added.
Now, it's time to go to work and kick some ass!
Wrapping Up!
If you really like to convert more leads into customers, there's no better way to do that than to create a smooth sales funnel.
As we've learned from this article, it doesn't have to be a source of stress for business owners. With the right platform like Integromat, you can go beyond your usual manual processes and automate everything that you do on many apps for more business efficiency.
Creating a sales funnel has never been this smooth and easy. Though it might just take a while to master the technicalities of the software, it'll be all worth it once you're reaping the results.
It's also easier to connect with leads and build long-term relationships as you interact with them from time to time.
Bottom line is, you have the power to orchestrate the scenarios that would happen, leading visitors to successfully reemerge from the opposite side of your sales funnel.
Now is the perfect time to try what you've learned and start retaining, winning, and satisfying more customers as you conquer greater heights!
What's Next?
If you're in line with a different industry or probably want to achieve a specific set of tasks other than what we've illustrated, Integromat can still help you.
Its services and partner integrations are perfect for those industries inclined with social media, project management, banking, software development, time management, even personal day to day activities, and many others.
Check out Integromat and let their support team know if you hit any roadblocks.
Enjoy!