With all the popular customer engagement tools available, email marketing remains one of the most effective. It's mostly automated, saving tons of time and money for businesses of any size.
Als we het over CRM-platforms hebben, is het onvermijdelijk om Salesforce te missen. Het is geprezen als een van de leiders in het veld, wat blijkt uit een lange lijst van onderscheidingen onder zijn naam. 

Suppose you're already a member of its almost 2.3 million community of users or considering using Salesforce for your business. In that case, this article will help you grow your email list with this simple weapon – pop ups!
Waarom zijn pop ups effectief?
Pop-ups may have a reputation for being an interruption, but believe it or not, it's still considered effective tools in converting visitors into leads, subscribers, and sales.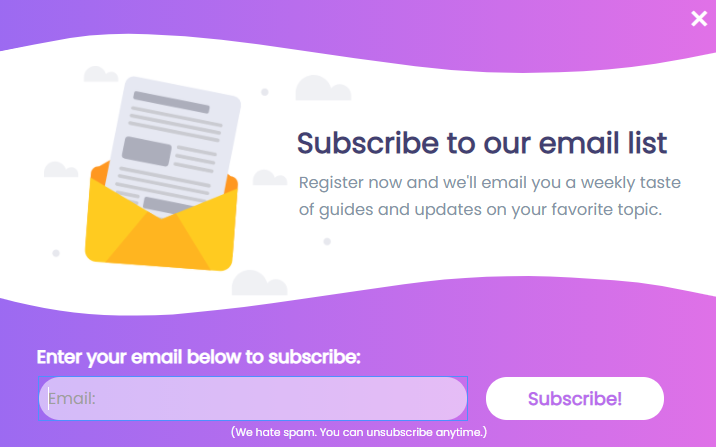 Hier zijn enkele feiten over pop ups:
Despite the negativities, visitors still engage with pop-ups, all the more when they're done right. Pop ups make coupons, free shipping vouchers, downloadable ebooks, discounts, and many other offerings accessible to them.
Dus als je nog niet bezig bent met pop-ups, kan dit het juiste moment zijn om dit gemakkelijke en betaalbare kanaal te gebruiken voor conversies. 
Hoe kunnen pop ups e-mail leads stimuleren?
Poptin has all the features for a successful lead capture strategy. Other than its wide array of customization options and engaging offerings, this allows you to integrate your pop ups and forms into your favorite CRM or email platform like Salesforce in just a few clicks.
Op deze manier gaan de gegevens van een bezoeker die zich via een pop-up aanmeldt, direct naar uw Salesforce-e-maildatabase. Het is naadloos, snel en efficiënt.
Dus, de volgende keer dat je een e-mailcampagne cascadeert, zal ook deze nieuwe bezoeker op de hoogte worden gebracht. U kunt de interesse vergroten en de interactie met uw merk koesteren.
Plus, you can't brush off the fact that satisfied customers are more likely to go back to your site and purchase again when they see something relevant to your newsletters. It's a win-win situation for everyone.
That's why instead of waiting for your visitors to see your website contact forms, why not use pop ups connected to Salesforce to surprise them, which can speed up your chances of conversions.
Laten we nu uw Salesforce-pop-ups maken!
Hoe maak je Salesforce-pop-ups met Poptin?
First of all, these are the essential things to note:
Je hebt geen voorafgaande kennis van codering nodig om popups te maken.

Dit duurt slechts 5 minuten of minder.

Als u nog geen Poptin-account heeft, kunt u

meld je nu gratis aan

.
Poptin uses the principle of a drag-and-drop system. This makes the designing process all the more convenient for users.
Hier zijn de soorten pop ups (allemaal mobiel-responsief) die je kunt maken:
Lichtbakken

Aftellen van popups

Volledig scherm overlays

Inschuifbare pop-ups

Boven- en onderstaven
Binnen de popupbouwer kunt u veel maatwerkopties zien die u kunt gebruiken.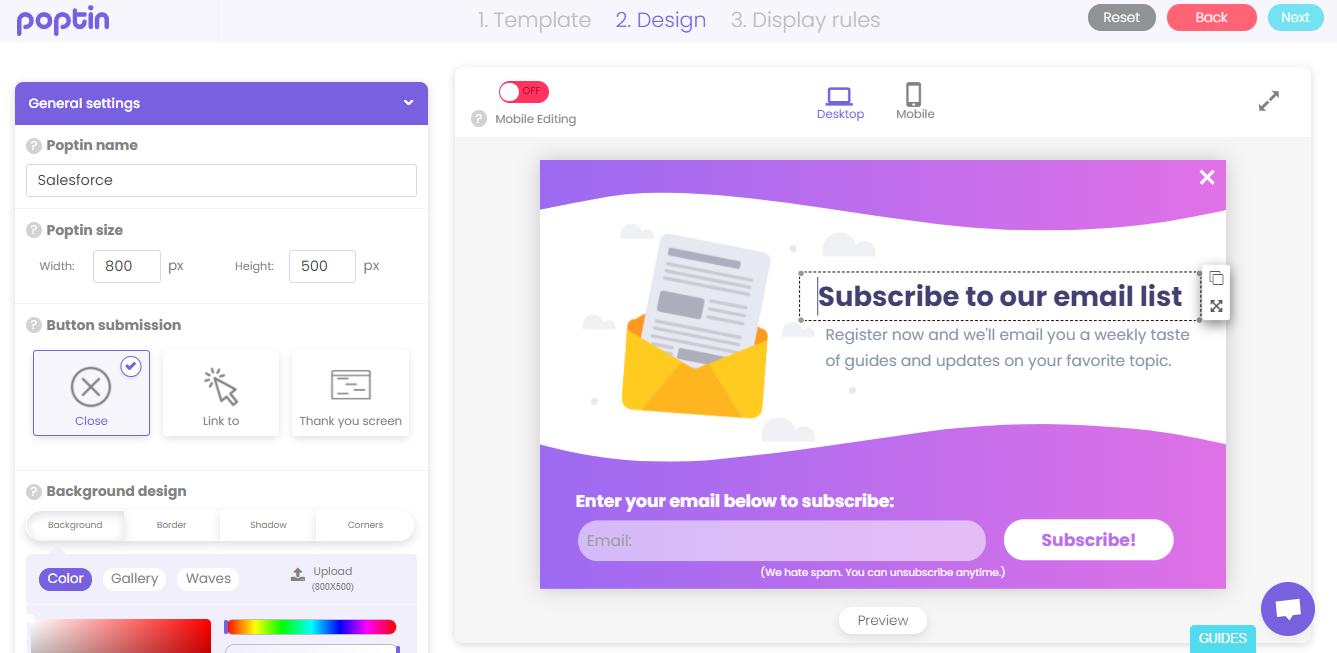 U kunt eenvoudig verschillende elementen toevoegen of verwijderen en de kleuren, afmetingen, lettertypen en meer wijzigen.
You can also add and customize particular elements like coupon codes, countdown timers, media files, and icons.
Once you're delighted with your design, you can move forward with the display rules. In this section, you can target the right customers (based on targeting rules) at the right time (based on user behavior) for more efficient lead capture.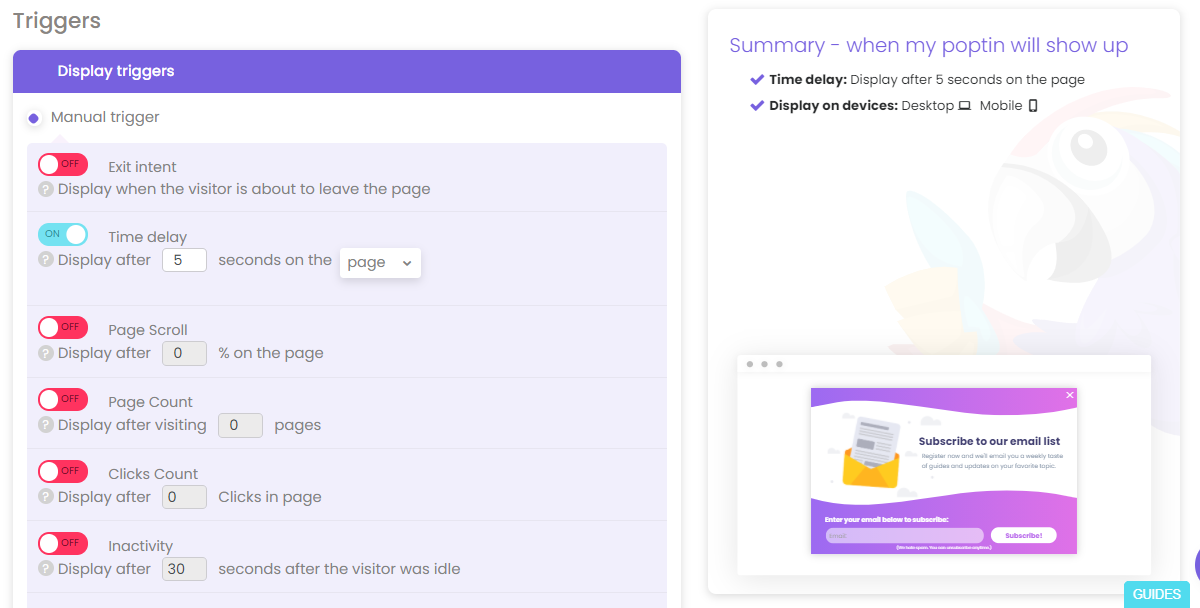 Triggerende opties - exit intent trigger, weergave na tijd doorgebracht op de website, scrollende trigger, weergave na X bezochte pagina's, weergave na X kliks, inactiviteitstrigger
Targeting rules – URL targeting (page-level on-site targeting), device targeting, geo-location (by country, including US states), OS & Browsers, IP block lists, days and hours, new vs. returning visitors (based on cookies), traffic source (Facebook, Google, Google Ads [Adwords] Youtube, Reddit, Ads, Twitter, Pinterest and any site you want), on-click popup display
Om de effectiviteit van uw popups verder te verbeteren, en om een dieper inzicht te krijgen in welk type popup het beste zou werken voor uw publiek, kunt u A/B-testen proberen. 
This way, you can reach the fullest potential of your pop ups and achieve better results faster.
See full list of Poptin features here.
Hoe integreer je pop ups met Salesforce?
Salesforce is consequent in het geven van baanbrekende innovatie aan zijn gebruikersgemeenschap. Het heeft de eerste kunstmatige intelligentie ingebouwd in uw CRM, die ook toegankelijk is via mobiele apparaten. 
Moreover, it also has a Lightning Platform that allows businesses to drive revenue and decrease costs faster. That's why you can forge a path to success with Salesforce when it comes to email marketing.
As Salesforce sends automated emails on your brand's behalf, you grow customer engagement. But the process starts when a visitor subscribes to your mailing list via Poptin's popup.
Hier heeft u de kracht van pop ups nodig om een naadloze e-mailmarketingintegratie te creëren.
Hier is hoe.
Login to your Poptin account. On the design page, scroll down to the customization options on the left. Click

email and integrations. Then click "Add integration."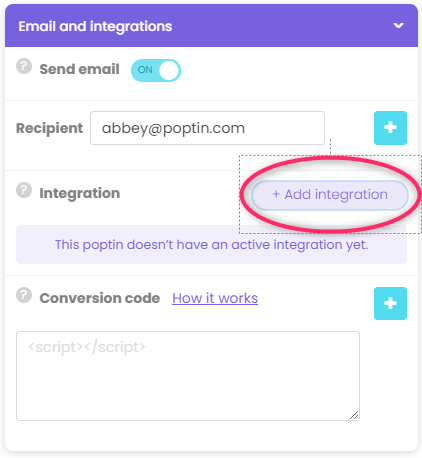 Er verschijnt een lijst met Poptin-integraties. Kies

Salesforce

.
Once you click

"Authenticate"

, it will autofill all the fields (except company email). This is because some Poptin integrations like Salesforce have

OAuth 2.0

, so the client doesn't have to hunt for tokens and other info. 
Als alles is ingevuld, klik je op "Goedkeuren"

.
En je bent klaar!
That's pretty easy. Everything will indeed become more manageable when you do it all the time.
Now that you have implemented a pop up connected to your Salesforce account, you've automated a huge chunk of work that could be tedious when done manually. 
What's left for you is how to engage more with visitors using high-quality content and offerings.
Inpakken!
Email marketing doesn't look easy, especially for beginners, but with the right tools, you can save time, energy, and money in the long run. You'll also experience lesser mistakes and more conversions for your business.
However, although the tools discussed help devise an excellent customer journey, note that the success of your business is also a collective effort. Do your best to give the best content, reliable customer service, and many other factors that can nurture brand-customer relationships.
To jumpstart your endeavor to skyrocket your Salesforce email list, sign up now with Poptin and experience a more robust email list in no time!