Everyone wants an email marketing solution that meets all of their needs. Vertical Response is a top choice among its client base, but why is that? Most people find it lacks features, such as basic segmentation and few email scheduling options.
Though annual pricing is great, it does run more than Vertical Response alternatives. Now, you don't have to figure all this out for yourself. We've compiled a list of the top email marketing platforms. Just read through it and make your decision much more accessible.
Sender is one of the most affordable email marketing tools in the market. Don't let the price fool you — it has tons of great features, including email & SMS automation, drag-and-drop email design builder, popups & forms, and much more!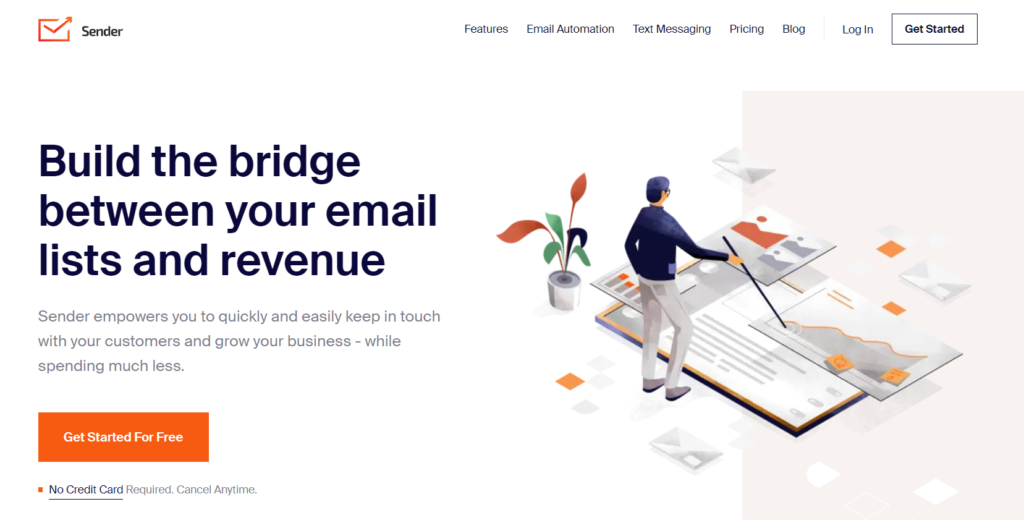 Features
Email & SMS campaigns, marketing automation workflows, premade templates, and easy-to-use design builder, popups & forms, smart segmentation & personalization — all you need for successful email and SMS marketing. Don't forget the analytics with in-depth reports and a heatmap.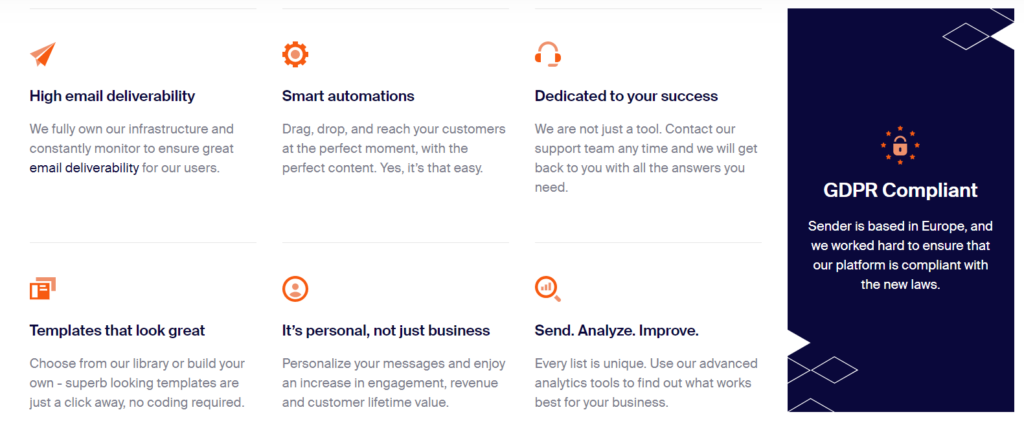 Pros:
User-friendly interface with high email deliverability.
Automated lead nurturing with email & SMS marketing workflows.
Advanced segmentation & personalization.
Cons:
No landing page builder.
No lifetime value metric.
Pricing
There's a Free forever plan available for up to 2500 subscribers and all features. Paid plans start at $8.
2. Mailjet
Mailjet is considered a midmarket solution because it gives enough functionality to make it viable. However, it doesn't really stand apart from the crowd. Still, when considering Vertical Response alternatives, it has more features and suitable pricing plans.

Features
The features included with Mailjet include email marketing and the API for developers. There's a helpful email builder that creates responsive emails with a few clicks.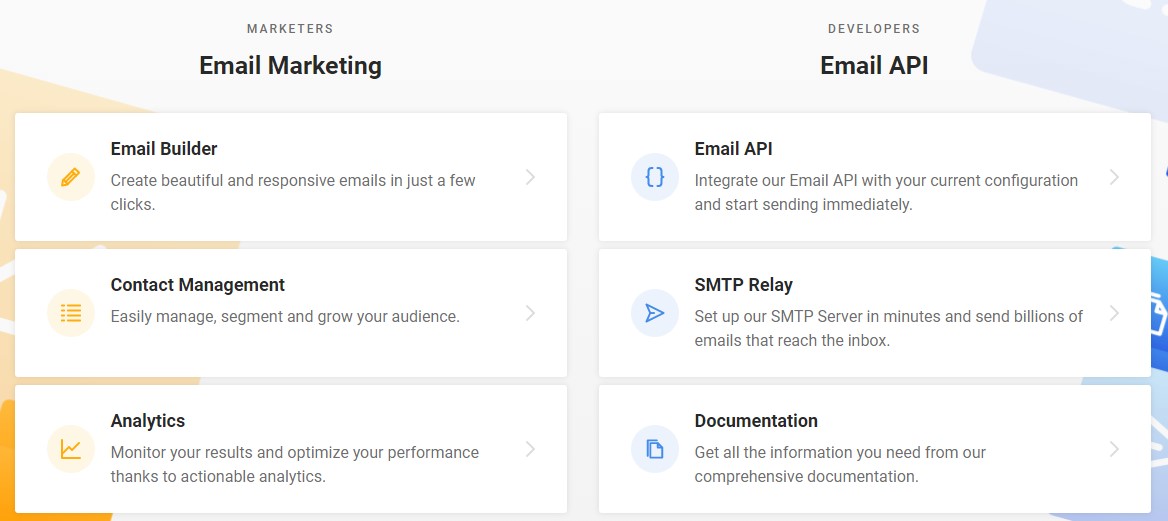 Analytics are also included, so you can figure out how well the campaign is doing. Plus, there are ways to optimize your performance from the actionable features.
Pros:
Helpful guide for setup

Transactional email templates

Collaborative editing for emails
Cons:
Few segmentation choices

Limited functionality for autoresponders
Pricing
Prices are based on the number of emails you want to send a month. For those with only 6,000 emails, it's forever free. You get unlimited contacts, advanced statistics, and an email editor.
The Basic plan is $9.65 a month for 30,000 emails without a daily sending limit. With it, you remove the Mailjet logo and get online support.
Next, you have Premium, which is $20.95 a month for 30,000 emails. You get all the Basic features, but there's also segmentation, multi-user collaboration, A/B testing, and marketing automation.
Lastly, Enterprise is available and is customized to meet your needs. You get every feature available, which includes help with deliverability, an SLA, and migration services.
Who Is This For?
Mailjet is one of those email marketing solutions that can work for anyone without stepping on the toes of other products. It doesn't offer advanced functionality that experienced marketers need, but small companies might find the pricing off-putting. Still, the free plan is suitable for those who are starting out.
3. Moosend
Moosend is another of the Vertical Response alternatives you should consider. This email marketing tool automates most repetitive tasks so you can focus more on building relationships. There are plenty of things to like about it!
Features
The features focus primarily on email marketing, so you can create engaging emails and newsletters to get conversions. With that, you're going to experience tons of marketing automation options to make life easier.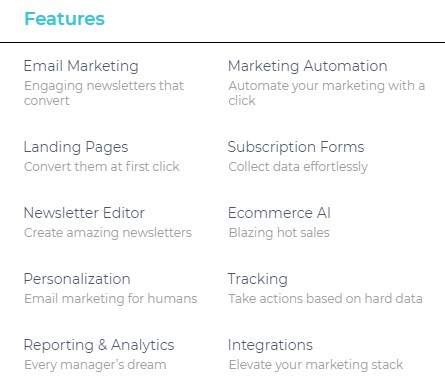 There's also an e-commerce function, which uses AI to boost sales. Ultimately, you can make landing pages, subscription forms, newsletters, and so much more. Plus, everything is personalized for your customer base.
Pros:
Advanced automation workflows

Tons of features available

Multiple support options
Cons:
Basic sign-up forms

Few native integrations
Pricing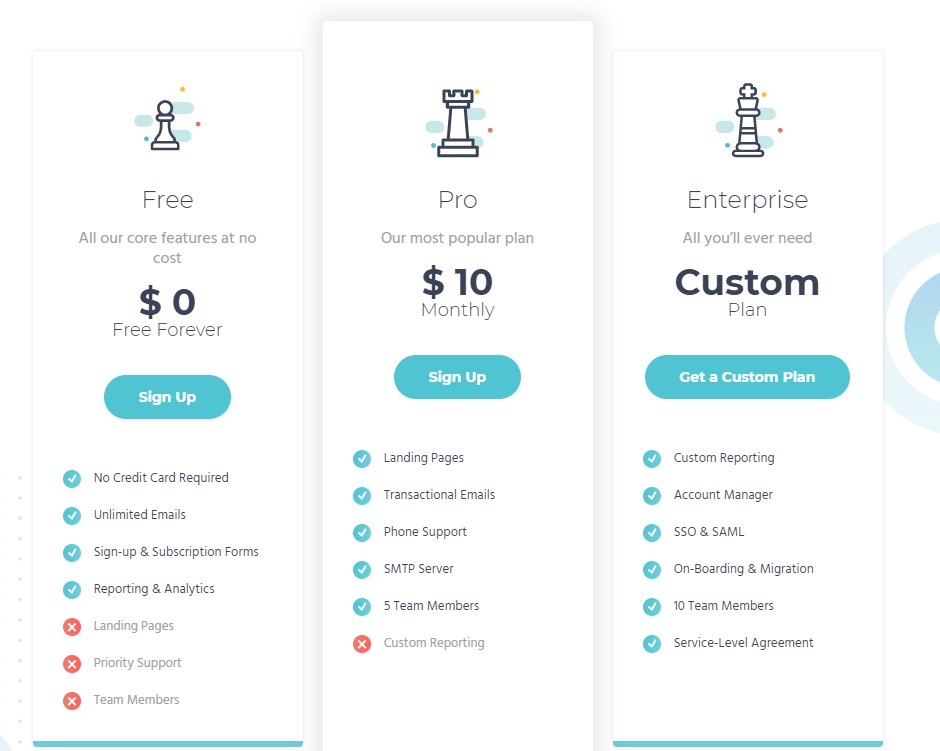 With Moosend, you get a forever-free plan. It's suitable for up to 1,000 subscribers, and you get the core features, such as analytics, reporting, unlimited emails, and subscription/sign-up forms.
Pro is next at $10 a month, and it allows you to have five team members, landing pages, transactional emails, and an SMTP service.
Enterprise is the last choice, and it's a custom price based on your contacts and other factors. With it, you can have 10 team members, an SLA, migration help, custom reporting features, and much more.
Who Is This For?
Those who prefer a powerful email marketing platform without a high price are sure to appreciate Moosend. It's ideal for entrepreneurs, content creators, and SMBs.
4. Omnisend
When it comes to Vertical Response alternatives, Omnisend has it all. It isn't just an email marketing platform, but it's a solution for everything. You can boost your sales without adding to your workload.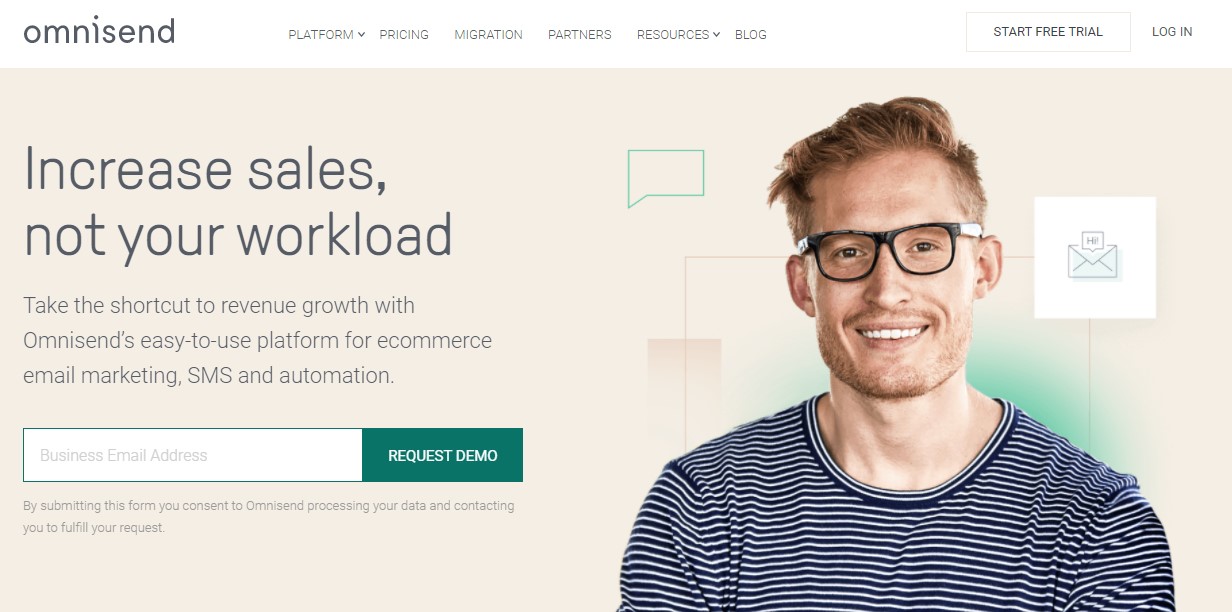 Features
There is full integration with other e-commerce platforms, and you also have pre-built automation flows. This means you can easily set things up and move on to other tasks while knowing that your emails are being sent appropriately.

You don't have to deal with codes, so editing is much easier. Plus, the ESP is intuitive, so it matches your every need without you having to get so far into the details.
Pros:
Automation workflows

Easy to use and get started
Cons:
Fewer integrations than with established ESPs

Could be more intuitive
Pricing
Pricing is quite easy to understand with Omnisend. The Forever-Free version allows you to send 15,000 emails each month with 500 contacts. Plus, you get reports, email campaigns, sign-up forms, and so much more.
Standard is the next choice, and it is $16 a month for 15,000 emails a day. You get email automation, segmentation, 24/7 support, and everything from the Free plan.
Next, you have Pro, which is $99 a month, and you also get $99 in SMS credits. Here, you have everything from Standard, and advanced reports, custom audiences from Facebook, and many other perks.
Enterprise is the last solution, and it features a customized price. With it, you get all the features available, such as migration help, deliverability support, and a custom IP address for your website.
Who Is This For?
If you're interested in an omnichannel marketing solution, Omnisend is right for you. It's focused primarily on e-commerce companies and offers push notifications, SMS, and many others.
5. Benchmark Email
Benchmark Email is a well-designed and intuitive ESP solution. You're going to get plenty of complex features, but they're easy to use because of the step-by-step approach the email marketing tool offers.

Features
As with other Vertical Response alternatives, Benchmark Email offers a drag-and-drop email editor. This makes it easy to create emails. You also get responsive templates to make it easier on yourself.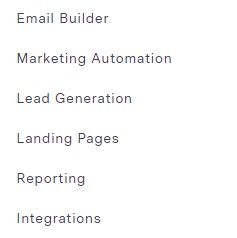 Basic segmentation is available, and you also have access to drip campaigns. Plus, list management and sign-up forms are also included.
Pros:
Organized navigation

24/7 chat support

Intuitive user interface
Cons:
No advanced segmentation

Basic functionality for sign-up and landing page forms
Pricing
The Forever-Free plan allows you to have 500 contacts and send 250 emails a month. With it, you get basic reporting, lead generation, some automation, and the editor.
Next, you have Pro, which is $13 a month, and you get to send unlimited emails. You also get advanced reporting and lead generation, as well as better automation and advanced editors.
Enterprise is the last choice, and it's a custom price based on your needs. Here, you have all the benefits of the other two plans, but with a dedicated IP and email white-labeling.
Who Is This For?
Benchmark Email is ideal for people who need advanced email marketing solutions and are slightly inexperienced. However, the free version is lacking in features, so make sure you've got the funds to get the plan you want.
6. Sendgrid
Sendgrid is yet another of the Vertical Response alternatives you should consider. It does offer more features, though advanced segmentation isn't one of them. However, if you want something that's easy to use, this is the right choice.

Features
There are plenty of things to like about Sendgrid. For example, email testing is a huge issue. You can send out two emails and figure out which one customer like most by the number of clicks, etc.
List management is also available, as well as email templates. Design the perfect message each time.

Pros:
Very detailed analytics

Advanced deliverability functionality

Can personalize each email
Cons:
Basic autoresponders

Few segmentation choices
Pricing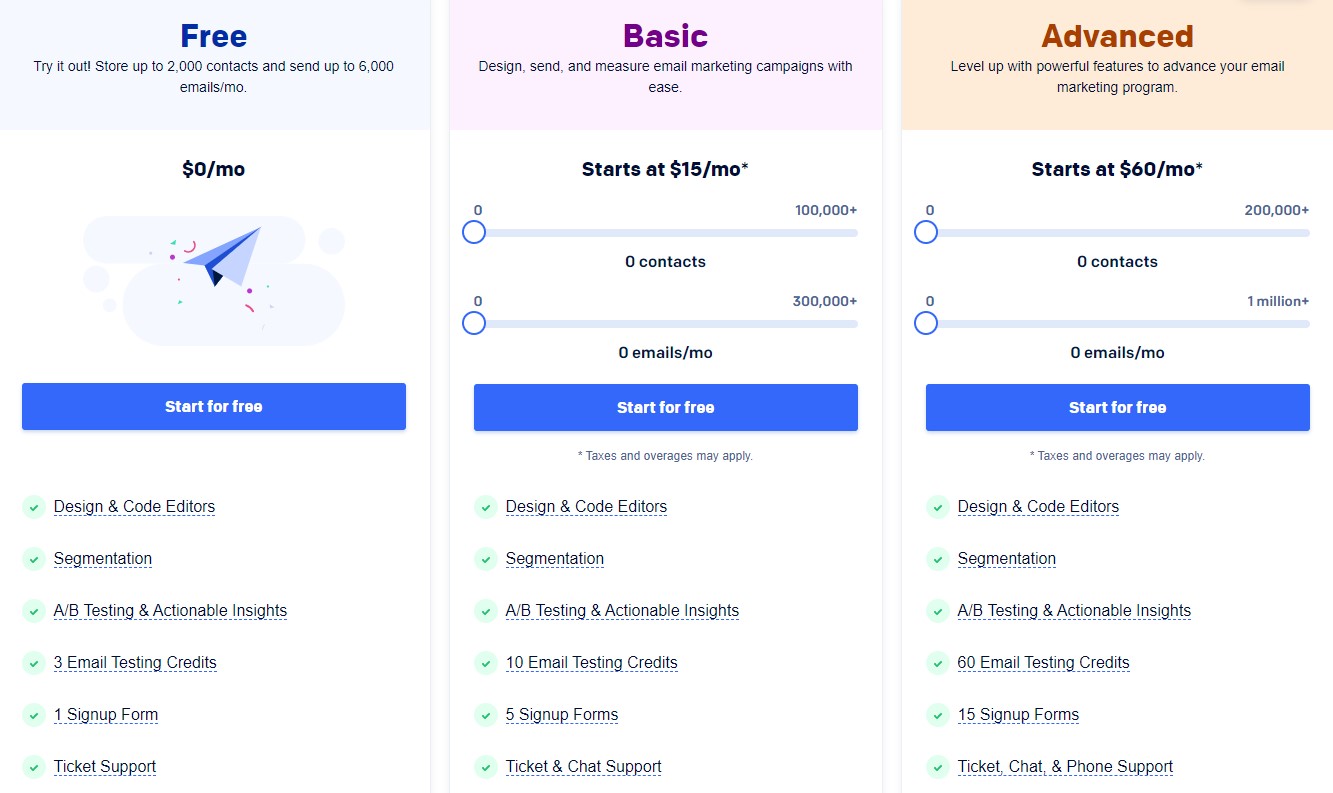 There is a Forever-Free plan with Sendgrid. You can send 6,000 emails a month and have 2,000 contacts. Plus, you get code/design editors, A/B testing, segmentation, actionable insights, and many other features.
Next, there is Basic, which is $15 a month. You get the same features as with the Free version, but you also have five sign-up forms, chat support, and there's no automation.
Advanced is the last option, and it's $60 a month. You can have up to 1,000 teammates, 15 sign-up forms, phone support, automation, and a dedicated IP.
Who Is This For?
Sendgrid is ideal for marketers who need better deliverability rates or those who require tons of integrations. However, it might not be suitable for those who need complex campaigns.
7. Email Octopus
Email Octopus is more innovative when it comes to email marketing. Emails can be sent through the Amazon SES. You have better deliverability and scalability even though you don't spend as much.

Features
Since Email Octopus focuses on marketers who have subscribers on Amazon SES. Therefore, you get a unique approach that's affordable and effective. Plus, it's easy to build your contact list and send beautifully crafted emails.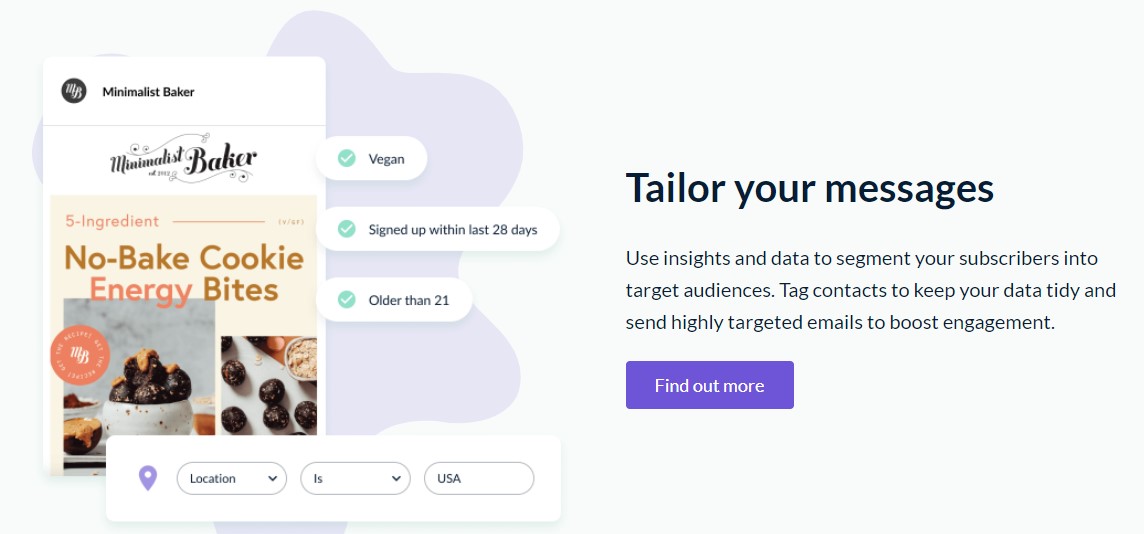 Pros:
Great send rates

Free trial

Can create campaigns easily
Cons:
Lacks on email templates

No live training
Pricing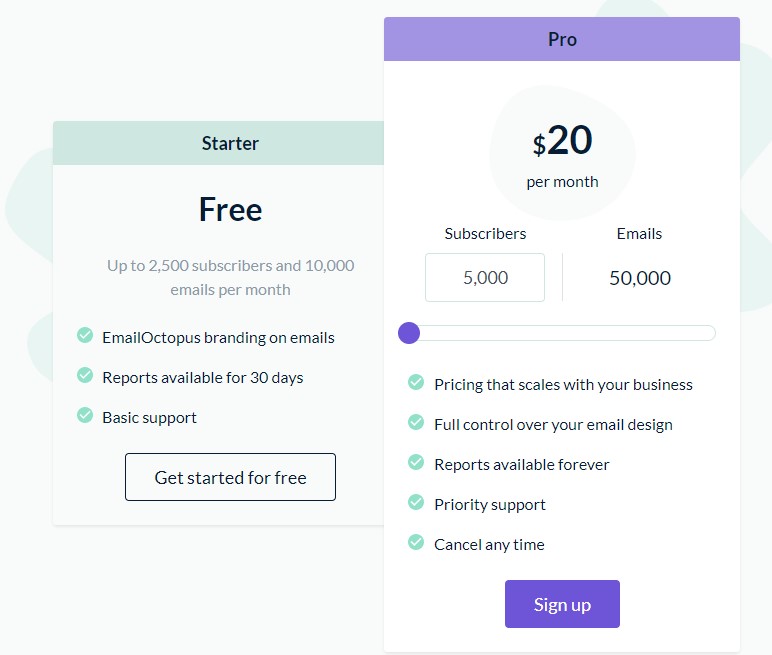 The Forever Free plan allows you to send 10,000 emails a month and have 2,500 subscribers. However, there's Email Octopus branding on the emails, you only get basic support, and reports are only available for a month.
With the Pro plan, you can send 50,000 emails a month and have 5,000 subscribers, and it only costs $20. The prices scale with your business, and you have full control over the designs of your emails. You also keep your reports forever, and there are no contracts.
Who Is This For?
Almost anyone can benefit from using Email Octopus. The prices work well for start-ups, and it's ideal for SMBs. Even enterprises can use it if they don't have complex campaign needs, though it's best to already use Amazon SES.
8. GetResponse
GetResponse is simple to use when it comes to email marketing software. Plus, it has powerful features, the user interface is customizable, and it's all intuitive.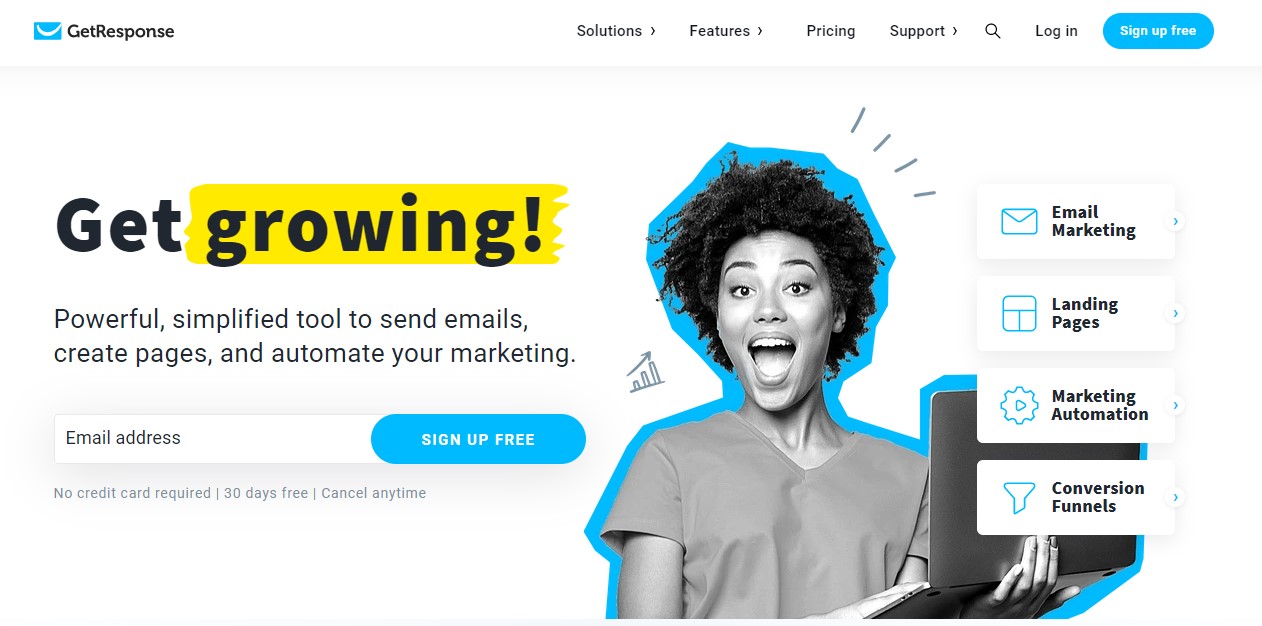 Features
There are tons of features available with GetResponse. For example, you can create webinars, paid ads, sign-up forms, and have marketing automation.
Landing pages can also be made, and there are various conversion funnels available.
Pros:
Excellent user interface

Free courses

Create marketing funnels
Cons:
Hard to navigate at times

Learning curve required
Pricing
The Basic plan is $15 a month for a list size of 1,000. You get one sales funnel, autoresponders, email marketing, automation templates, and much more.
Plus is next at $49 a month for 1,000 contacts. With it, you get everything from Basic plus five sales funnels, some webinar funnels, and automation builder with five workflows, and more.
Professional costs $99 a month, and Max offers custom pricing options. You get more features as you pay more.
Who Is This For?
GetResponse is suitable for novices and pros because it walks you through making a campaign. However, it's not a hurry-up-and-start type of solution. It takes time to get everything set up the way you want.
9. SendX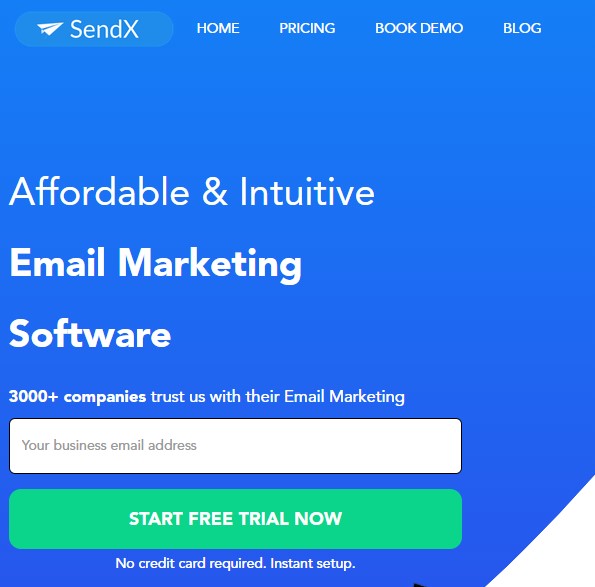 When you are searching for Vertical Response alternatives, SendX is a good choice. It has many features, is intuitive, and very affordable.
Features
The features offered by SendX are plentiful. You can send unlimited emails, upload email lists, send broadcast emails, and have access to reports.
Pros:
Many templates available

500,000 free stock photos to use

Cost-effective
Cons:
Can't handle complex automations

No forever-free option
Pricing
The prices you pay are solely based on how many subscribers. For 1,000 contacts, you pay $9.99, and then it goes up to $19.99 for 2,500 subscribers. You then pay $59.99 for 10,000 subscribers and $79.99 for 15,000 contacts.

Who Is This For?
SendX is ideal for SMBs and start-ups with a low budget who don't require complex campaigns.
10. Emma
Emma isn't your traditional ESP, but it has many features and can help you keep everything together.
Features
Features of Emma can include segmentation, subscriptions, integrations, A/B testing, and email analytics.
It's easy to create campaigns with market automation, templates, and so much more.

Pros:
Great customer service

Many templates

Easy to use
Cons:
Yearly contract

Few integrations
Pricing
All of the plans require an annual contract. You can pay $89 for Pro and get 10,000 contracts. Plus is available for $159 for 10,000 contacts, and Emma HQ is $279 for 10,000 contacts. Prices go up based on how many features you get.
Who Is This For?
Emma works best for those who are established and have high budgets.
Conclusion: Vertical Response Alternatives
When it comes to Vertical Response alternatives, these nine solutions might be best. Now that you've learned more about them, you can make your decision effortlessly.