Shopify is one of those gold mines online merchants don't want to miss out on. This platform is helping digital retailers boost their brand visibility and sales – but only if used correctly.
At peak times, this platform boasts $870K in sales per minute and nearly $11K worth of sales per minutes. During the Black Friday and Cyber Monday weekend sale, Shopify brought in a whopping $1.5 billion.
But this revenue is being split between more than 800,000 merchants.
If you're looking to make your online store stand out, then you need to integrate the best apps into your Shopify store.
Not sure which to choose? No worries – we're going to list some of the top ones you can use to boost your sales on Shopify.
1. Boost Sales

Beeketing.com
Ironically, there's an app called Boost Sales that's designed to help you do just that. This application works by leveraging various cross-selling strategies used by Amazon and other major brands.
With this tool, you can increase both your sales and conversions.
The way it works is by initiating a popup when a particular product is viewed or added to the cart. The popup shows another item that either complements or acts as an alternative to the product.
This encourages visitors to consider other items that are potentially better (but higher priced). They look at the product description and make a final decision. Then when they make the switch and check out, you earn extra money that you wouldn't have made otherwise.
What's also great about this tool is that it works on both desktop and mobile devices. Adding it to your Shopify site is also seamless and offers a great user experience.
2. Facebook Store
Chances are you're already on Facebook, so why not use it to your advantage to grow your sales on Shopify? With the Facebook Store app, you can add your Shopify store items to your Facebook Page.
This will enable your followers and others who come across your page to view and even purchase the items. And best of all, you can easily manage the orders, inventory, and products via Shopify.
Facebook Store was developed by Shopify so you can expect seamless integration with your Facebook business page.
3. Smile.io Rewards
Smile.io
Encouraging the loyalty of your customers is key if you're looking to improve your sales. It's found that repeat customers are more likely to continue shopping with you.
Once a customer purchases from you, there's a 27% chance they'll return to your shop. And about 40% of e-commerce stores' revenue stems from only 8% of their customer base.
This goes to show how important it is to nurture your customers into becoming loyal fans. If you can stay in their good praises, then the chances of them returning is high.
You can do this using the Smile.io Rewards app. This allows you to build a loyalty program via your Shopify store. For instance, you can give reward points to those who create an account, share products via social media, follow your social media page, and more.
And what's better is that you can access these features for free. However, you're able to upgrade to access more rewards customizations to suit your brand and its customers.
This typically starts at $50 monthly.
4. Better Coupon Box
This app is already used by more than 30K Shopify stores. This allows you to offer coupons to your site's visitors.
It works by showing a popup to visitors that asks them to subscribe to email newsletters in exchange for deals. Or if you want more followers on social media, then you can offer a coupon to those who follow your brand page.
It's one of the most popular free apps for Shopify because it helps to boost sales, as well as your email list or social media followers.
5. Poptin

Poptin.com
Having pop-ups show up at the perfect time is key to getting visitors to do what you want. You can think of them as CTAs you can show at any time.
Of course, it's ideal to use them at specific times, such as when they're trying to leave your Shopify store. With Poptin, you can do just that.
This platform allows you to easily create captivating popups using drag and drop features. And then you can set them up to display at different moments, such as when a visitor views a certain product page.
You can trigger popups when visitors are on a page for a certain amount of time or when they scroll to a certain point on the page. The popup should include an offer, such as a discount code they can use if they complete their order today.
Install Poptin on your Shopify store here!
6. Yotpo Reviews
Product reviews are a fueling source for global e-commerce. It can promote or deter consumers from buying a particular product from a specific online retailer.
Roughly 80% of consumers between 18 and 29 often or always look at online reviews before making a purchase. And it's the same with the older generation – about 65% of 60+ consumers often or always look at reviews before a purchase.
Needless to say, you need to promote your customers to leave product reviews. What better place to have these reviews than right on your Shopify store?
With the Yotpo Reviews app, you can easily generate them. There's a free and paid version for this application. With the more advanced features, you can add On-Site Trust Widgets and Social Integration.
This way, product reviews can be shared on Twitter and Facebook.
7. Aftership
Aftership.com
Consumers like to know when they can expect to receive the goods they purchase. Then if you're able to offer real-time tracking, then even better.
This is one of the reasons why Amazon does so well. With Aftership, you can give customers tracking numbers so they'll know exactly where their packages are on any given day.
This app supports over 335 couriers around the world. You can also integrate it into your Shopify store so customers can see it when they log in. Plus, the app sends notifications to customers for each stage of the delivery.
8. Quick Facebook Chat
Beeketing.com
Being able to talk to your customers in real-time (and in a way that's convenient for them) is critical to your online sales. If you can be there to answer their questions about products or policies, then you have a higher chance of convincing them to make the purchase.
With the Quick Facebook Chat app, you can chat with users in real time. It keeps track of all your chat history.
It's an excellent tool if you're not always able to be at your computer to answer messages. So you won't have to worry about your unread messages piling up.
Real-time chat is the future of online business so you need to have a strategy that incorporates live communications with your prospects and customers.
9. Bulk Discounts
You sell hundreds of products through your Shopify store. The idea of creating coupons one by one can be quite tedious.
With the Bulk Discounts app, you can create thousands of unique discount codes within seconds. Then you can choose whether they're one-time use, limited use, or an unlimited amount of codes.
One idea is to have a prefix for each code so you can easily track them. You can review the conversion rates to see which campaigns are performing the best.
Then if needed, you can delete sets of discounts and also import them in plain text.
10. Persistent Cart
Abandoned carts are a big concern for Shopify store owners. If you are struggling with this issue, then you should consider integrating the Persistent Cart app.
With this application, you can increase the chances of a visitor returning to complete their purchase. It does so by saving the items in the shopping cart (for signed in users). This way, when they log in again on a different computer, they won't have to re-add them to the cart.
Plus, it'll remind them that they had items in the cart already so they can complete their purchase.
11. Growave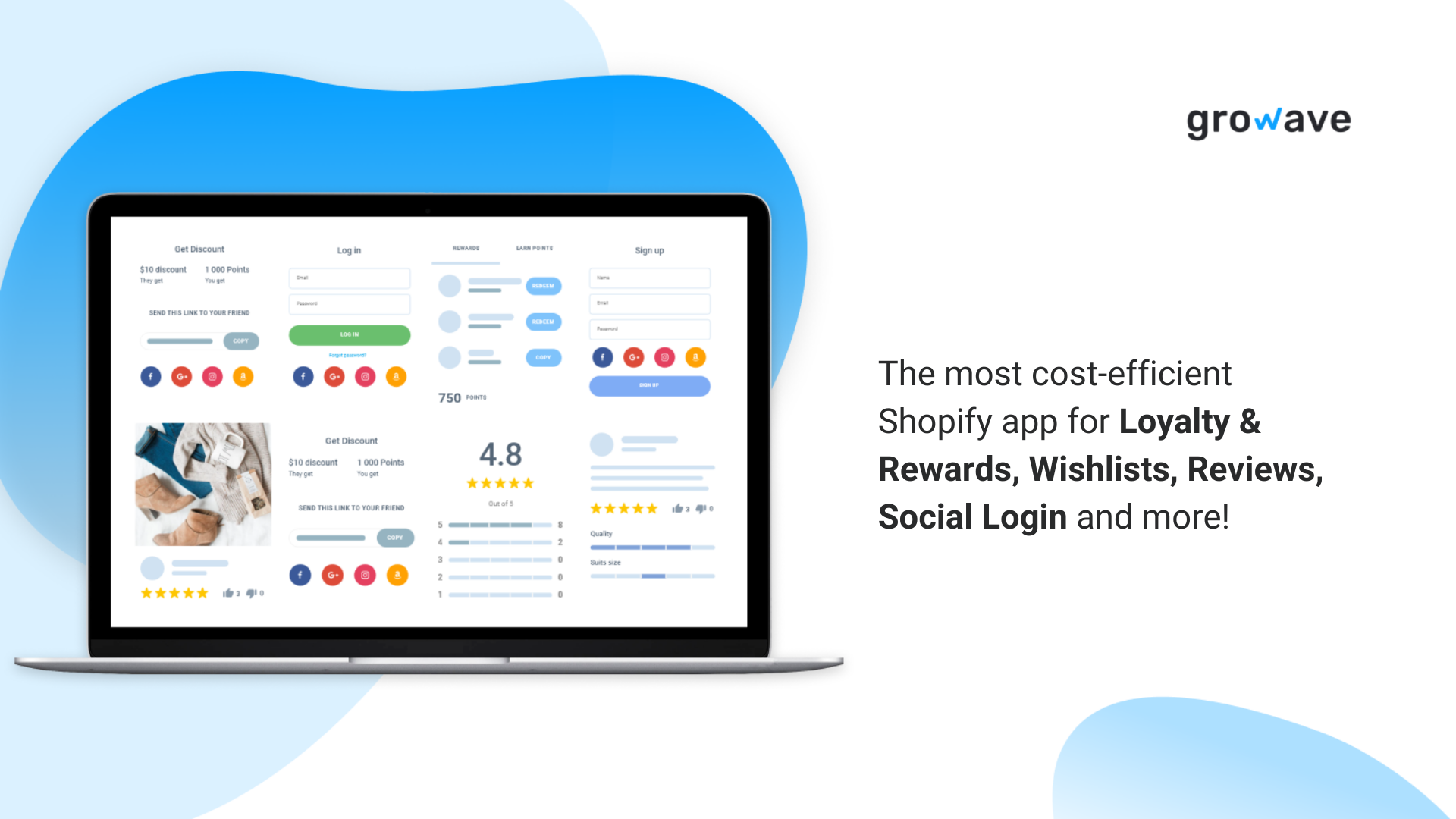 Growave is the all-in-one marketing platform that helps Shopify brands to reach, engage, and convert their customers with ease. It offers comprehensive e-commerce solutions designed with your audience in mind, such as Reviews, Wishlists, Loyalty programs, Social Login, Instagram galleries, and much more – all under one dashboard and for a great price.
With Growave, you can set up a top-notch loyalty program for your store and introduce VIP tiers to make your brand stand out. Growave's Reviews feature can help you collect more reviews with automated review request emails to generate social proof. The Wishlist feature creates an alternative CTA to help keep customers in your conversion funnel (even when they're not quite ready to buy). Rewards and Automated Emails allow you to further engage your customers after making their purchase, helping to increase your customer engagement, loyalty, and lifetime value as a result.
Start Boosting Your Shopify Sales!
It's never too late to improve the sales of your Shopify store. If you're battling with low sales or just want to grow and expand, then these apps should help.
And what's great about this list is that you can combine multiple applications together to amplify your results on multiple fronts.
So if you're ready to get started – download the free versions of these apps to see which work for you!