Choosing the right email marketing provider like ConvertKit is essential for your business. E-commerce websites must find innovative ways to connect with potentials and retarget their current customer base.
Many people consider ConvertKit, but you might want to consider the alternatives. The best choices are those with various features and help you automate the process of sending emails. Before we dive into the other options, we wanted to explain what ConvertKit is and why people switch or go with a different company.
What Does ConvertKit Provide?
ConverKit is an email marketing tool designed for online (e-commerce) businesses. To capitalize on your email campaigns, you require automation to get the best results. With ConvertKit, you've got various features to help you grow and expand, such as:
List segmentation and automation rules allow you to create a targeted marketing funnel to make things more efficient and faster.

The email designer enables you to create simple emails with images, HTML, and CTA buttons.

Integrations are plentiful with ConvertKit, which ensures that you can use other tools and apps to make your strategy even better.
Landing pages can be built (even without a website) to help develop the email list by collecting customer data.

Sign-up forms can be created to give the audience a chance to connect and engage with you.
Why People Switch from ConvertKit
Though ConvertKit works well for many companies, you may require a specific feature that it doesn't provide.
Ultimately, people switch to one of the alternatives listed below because they want something more cost-effective. Though it's streamlined with various features/tools, it doesn't have everything, and sometimes, the options aren't as accessible as with other ESPs.
5 ConvertKit Alternatives
1. MailJet
One of our ConvertKit alternatives is MailJet. It was founded in 2010 in France and is currently used by over 10,000 companies throughout the world. It's got a solid offering, especially when you factor in that it's affordable and offers collaboration tools.
Features
There is a full email template gallery available to make it easier to create emails. However, you can also use the drag-and-drop builder and create unique emails that display perfectly regardless of the device. 

With the collaboration option, you and your team can work together on the email design in real-time. You don't have to deal with the traditional back-and-forth because approvals and comments can be made right in the system. 
Of course, access to subscription forms ensures that you can grow your list of contacts with an attractive and functional layout. It also integrates well enough to use with your website.
Speaking of integrations, it works with many things and offers an open API, as well.
Pros:
Multi-user collaboration

Easy to use

High deliverability
Cons:
Limited segmentation

Non-user-friendly list management

Limited automation conditions
Pricing
The free plan never expires, and you can send 6,000 emails a month (200 a day). You get unlimited contacts, the API, and an advanced email editor.
From there, the Basic plan is $9.65 per month and gives you 30,000 emails a month without any daily limits. You get the free plan features, as well as sub-accounts and no branding on the emails.
Premium is next and costs $20.95 per month with the same features as the Basic plan. You also have access to A/B testing, segmentation, and collaboration features.
The Enterprise plan is customized to meet your particular needs, so you must talk to an expert to find out price quotes.
Who Is This For?
MailJet is suitable for startups that have multiple team members who work remotely because of the collaboration feature. Also, it offers plenty of integrations and works with almost any budget. However, it might not be suitable for inbound-only campaigns or for those who require excellent automation or segmentation.
Moosend was founded in 2011 and is an email marketing platform designed to be affordable and suitable for all types of businesses. The interface is easy to use and offers advanced segmentation and intuitive automation.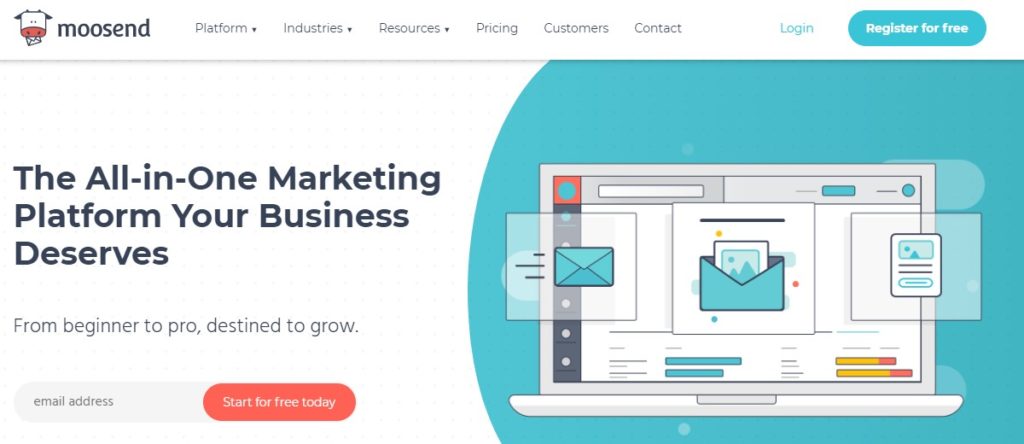 Features
It's easy to create campaigns, and the company offers a creation wizard to give you a step-by-step process to follow. There are about 40 templates from which to choose, which isn't much. However, you can create your own with the editor and change the templates to meet your needs.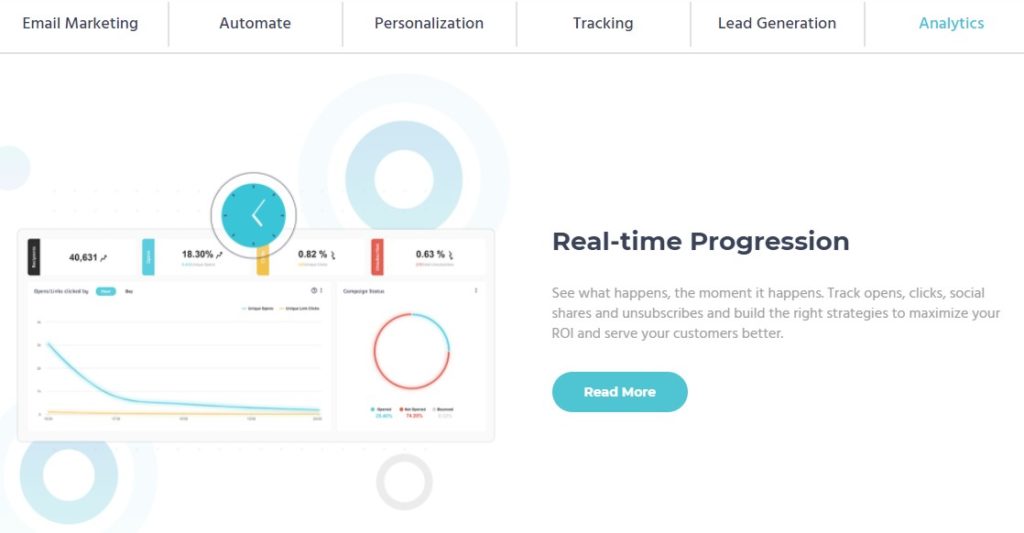 Countdown emails are quite popular because it instills in the FOMO (Fear of Missing Out) aspect for customers. You can easily create these and test them out first to make sure that they're going to be opened.
List management is also superb with various ways to upload contacts. Along with automation, you're on your way to creating engaging and powerful emails.
Pros:
Excellent support

Access to all features, regardless of plan choice

Advanced automation builder and templates
Cons:
Basic sign-up forms

No extra customization

Lacks native integrations
Pricing
The reason why Moosend is one of the low-cost ConvertKit alternatives is that it has a free plan. You can find a forever free plan that provides the core features, such as reporting, analytics, sign-up/subscription forms, and unlimited emails.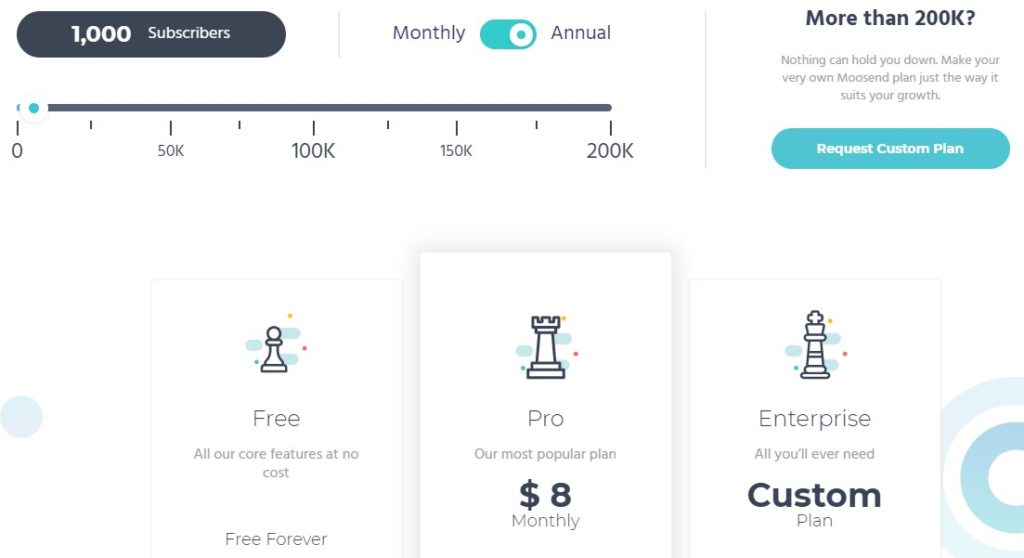 From there, consider the Pro plan at $8 a month to get all that plus phone support, landing pages, and transactional emails.
The Enterprise plan is customized to meet your needs, but it includes custom reports, SAML, an account manager, and free migration from another service.
Who Is This For?
Moosend might be the best choice for entrepreneurs and small businesses that need something cheap with appropriate email marketing features. However, it isn't a full suite, though you get traditional options, such as behavior-based automation, list segmentation, and more.
3.  SendX
SendX is a newer email marketing solution and was founded in 2016. While it isn't as elaborate as other options on the market, it makes up for it with personalized service and an easy-to-use interface. Like some of the ConvertKit alternatives, it focuses primarily on email marketing and doesn't include multiple channels and shouldn't be confused with CRMs.
Features
Contact management is available from the tool, which helps you import contacts (from CSV only) and create a mailing list. It also helps organize your contact information so that you get all the information in one spot. 
There is segmentation available, which is called targeting on the site. This helps you create personalized pop-up emails based on page scrolls, clicks, and more. 
It's possible to test the email to ensure deliverability. Is someone going to open or click the link? You get a better idea of what might happen. Basic reports are also available to help determine how successful the campaign was.
Pros:
Unlimited emails

Drag-and-drop editing

Various templates available

Plenty of royalty-free photos

Many integrations
Cons:
CSV imports only

Basic targeting and personalization

Automation isn't flexible
Pricing
There are technically two plans available from SendX. The Business plan costs $7.49 for up to 1,000 subscribers, and you get all of the features with unlimited emails. It rises from there based on how many subscribers you have between your lists. Therefore, if you have one subscriber in two lists, it counts as two. This can get a little tricky.
The Enterprise plan is customized based on your needs, so the price rises. With it, you get advanced training and an ROI review. 
Who Is This For?
Primarily, SendX is best for startups that just need email marketing and want it to be simple. You don't have many lists and don't require a lot of segmentation or advanced automation.
Many of its users have never utilized email marketing tools, so this helps them get a feel for such options.
4. Mad Mimi
Mad Mimi allows you to create and track email newsletter campaigns. It has helped over 40 million emails be sent and tracked. It started out as a music company but found that it didn't like the services available. That's why it created its own email campaigns. Soon, others wanted help, so it progressed from there.
Features
The interface is clean and offers a thoughtful approach. You aren't going to find outdated or cluttered layouts, and everything is streamlined to meet your needs. It's possible to save and clone your preferred styles so that you can go back to them often.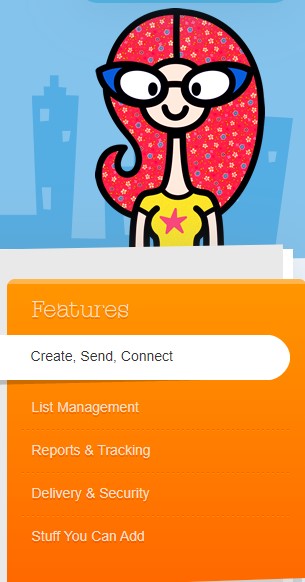 List management is available, though this is not so unique in our list of ConvertKit alternatives. This allows you to create segmentations and have multiple lists. It also allows you to track your progress and generate reports to help you see where things can be improved. 
Pros:
Drip campaigning available

Easy-to-use email templates

Offers autoresponders
Cons:
Outdated design (no behavioral automation)

Limited functionality

Fewer features than other options
Pricing
The Basic plan starts at $10 a month for 500 contacts and allows for emails to be sent at regular speeds. You get unlimited storage and emails.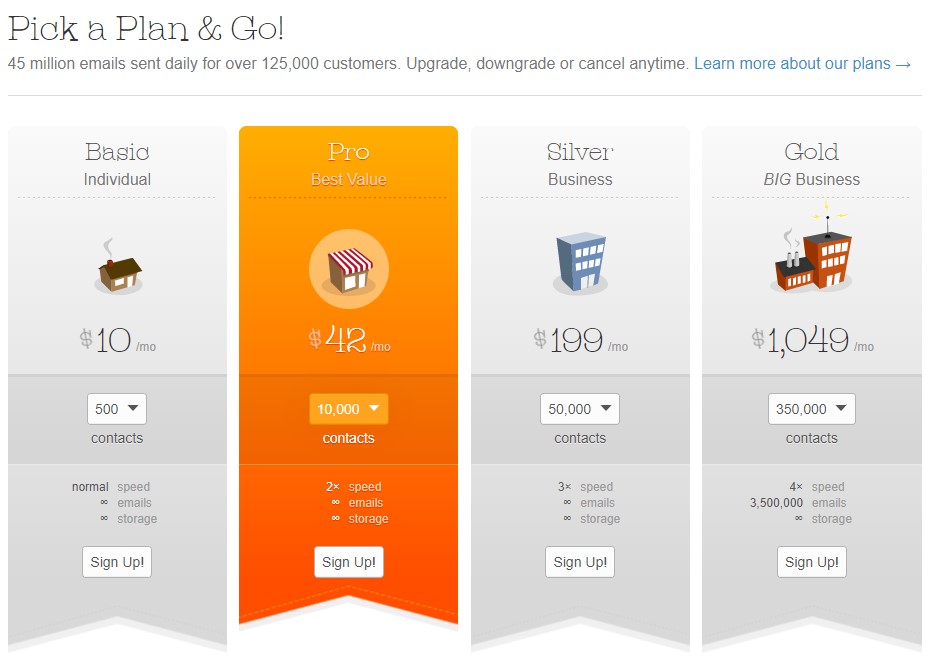 At Pro level, you get 10,000 contacts and can send emails twice as fast. It costs $42 per month.
With the Silver Business option, you get to send emails three times faster and can have 50,000 contacts. It only costs $199 per month. Then, the Gold option allows you to send over 3 million emails at quadruple the speed with 350,000 contacts. This is the highest tier level and runs $1,049 per month.
Who Is This For?
Though it markets itself to be used by large corporations, we think Mad Mimi is best suited for small startup companies. Mid-sized businesses might also use it, but the list management and designs aren't advanced. 
5. SendGrid
Twilio took over SendGrid in 2018 to help boost customer engagement and provide a marketing automation platform. Through it, you get the software with a focus on deliverability so that emails don't end up in the spam or junk folder.

Features
Email deliverability is the soul of SendGrid. It helps you improve sender reputation and understand what that means so that you don't end up on the blacklist. Such factors include bounce rate and who reports you as spam. The validation function detects any misspelled, nonexistent, and inactive email addresses and removes them from your list.

Of course, you get an email editor to help you create new emails or upgrade templates. It's possible to change colors, fonts, and text, as well as add buttons and images. 
The pre-built autoresponder helps you welcome new subscribers, but you can customize and create other series. There aren't many triggers available and only include unsubscribes, opens, clicks, and signing up for a newsletter.
Contact management is also available, though segmentation is limited. You can search for particular email addresses or create some custom fields to get more data from customers. It's possible to sort subscribes by demographics or when they opened an email.
Pros:
Detailed analytics

Personalize each email

Advanced deliverability features
Cons:
Few segmentation options

No live chat/phone support on free plans

Basic automation and autoresponders
Pricing
There is a free plan, which is available forever, but only allows 100 emails a day after the first 30 days. 
With the Essentials plan, you get delivery optimization, the template editor, and APIs for $14.95 a month. The Pro version offers all that and email validation, sub-user management, and a dedicated IP for $89.95 a month. All of these are based on how many emails you need to send. There's also a Premier account, which includes the same things as Pro but for more than 1.5 million emails.
Who Is This For?
If you're primarily interested in a free plan, SendGrid has what you need. You can use most of the features, which is perfect for a startup with no marketing budget. It can also handle migrations, so if you're already signed up with ConvertKit, you can make the switch effortlessly.
Also, it works well if you've had issues with spam emails in the past, need integrations, and want an overall solution to email marketing without the high price.
Conclusion
You desire the best email marketing options for your company, but there are many from which to choose. Before you decide which ConvertKit alternatives are good for you, consider these three factors:
The amount of contacts you have is going to boost the price and help you determine your plan.

Some plans don't have many features, so it's best to compare them carefully.

Integrations are essential to boost email performance, and many of these don't include it at all.
Consider your marketing plan and how email is going to benefit you. Whether you want multichannel solutions, social media integrations, or a simple, streamlined approach is up to you. However, scalability is also a concern; you want to use this ESP for many years to come.