What makes social media marketing a go-to for businesses and marketers? Well, who can ignore these platforms when there are nearly 3.2 billion people (and growing) using them?
It just wouldn't be smart not implementing social media into your digital marketing strategy. The key is finding the best platforms to use for your target audience.
So just because Facebook has the largest user base at 2.2 billion monthly active users, this doesn't mean it's the one and only network you should use.
But what's more important than numbers are results. About 71% of consumers say they're more likely to recommend a brand they have a good social media service experience with.
Another key finding is that in 2015, Facebook influenced 52% of online and offline consumer purchases.
In order to make the most of your social media marketing is to have a solid strategy in place. If you're not consistently posting valuable content, then you're going to be outdone by your competition.
But who has the time to plan and execute a social media marketing strategy? This is where social media management platforms come in handy.
Let's review 10 of the social media monitoring and managment tools you should be using today.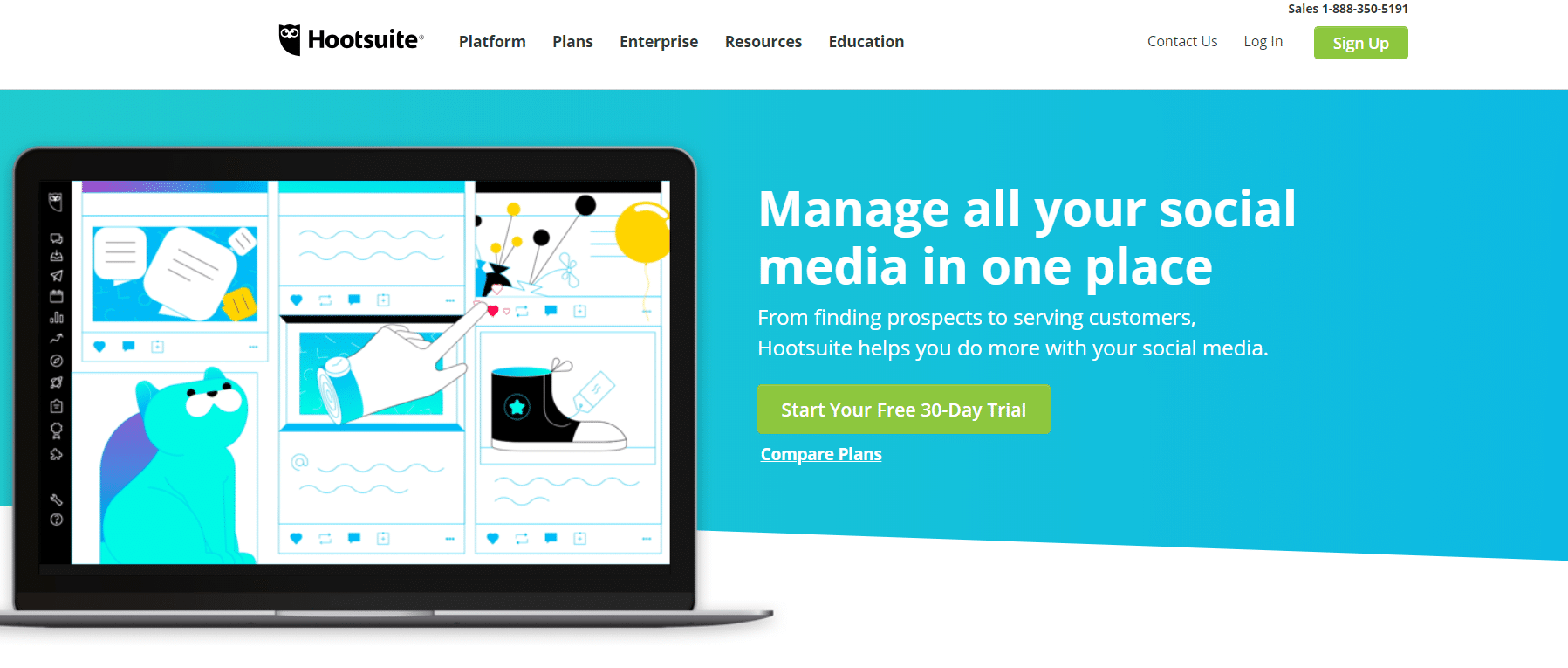 We can't create a list of the leading social media management tools without listing Hootsuite. This is one of the oldest platforms on the market (been around since 2008). However, it's still highly relevant in today's highly social world.
With this platform, you're able to do all the essential tasks needed to run an effective marketing campaign on social media. For instance, you're able to upload several posts at once across multiple platforms.
There's also an Auto Post feature to ensure your posts go out on time. One downside is that it doesn't have an auto recycle feature that reposts content for you.
There's also a social sweepstakes tool you can use to create social media contests. Then there are integrations for the RSS feature you can use to add tools like eClincher.
And since engagement is vital for any social media plan, Hootsuite comes with a Social Inbox that allows you to see all user engagement on content posted on all of your social media profiles.
This way, you can engage with users from one dashboard vs having to log in and check each social media account you have. You can use Hootsuite on platforms like Facebook, LinkedIn, WordPress, Twitter, YouTube, and Instagram.
The prices start at $19/mo for one user (10 profiles). You can upgrade to 3 users (20 profiles) for $99/mo and 5 users (35 profiles) for $599/yr. All come with unlimited posting.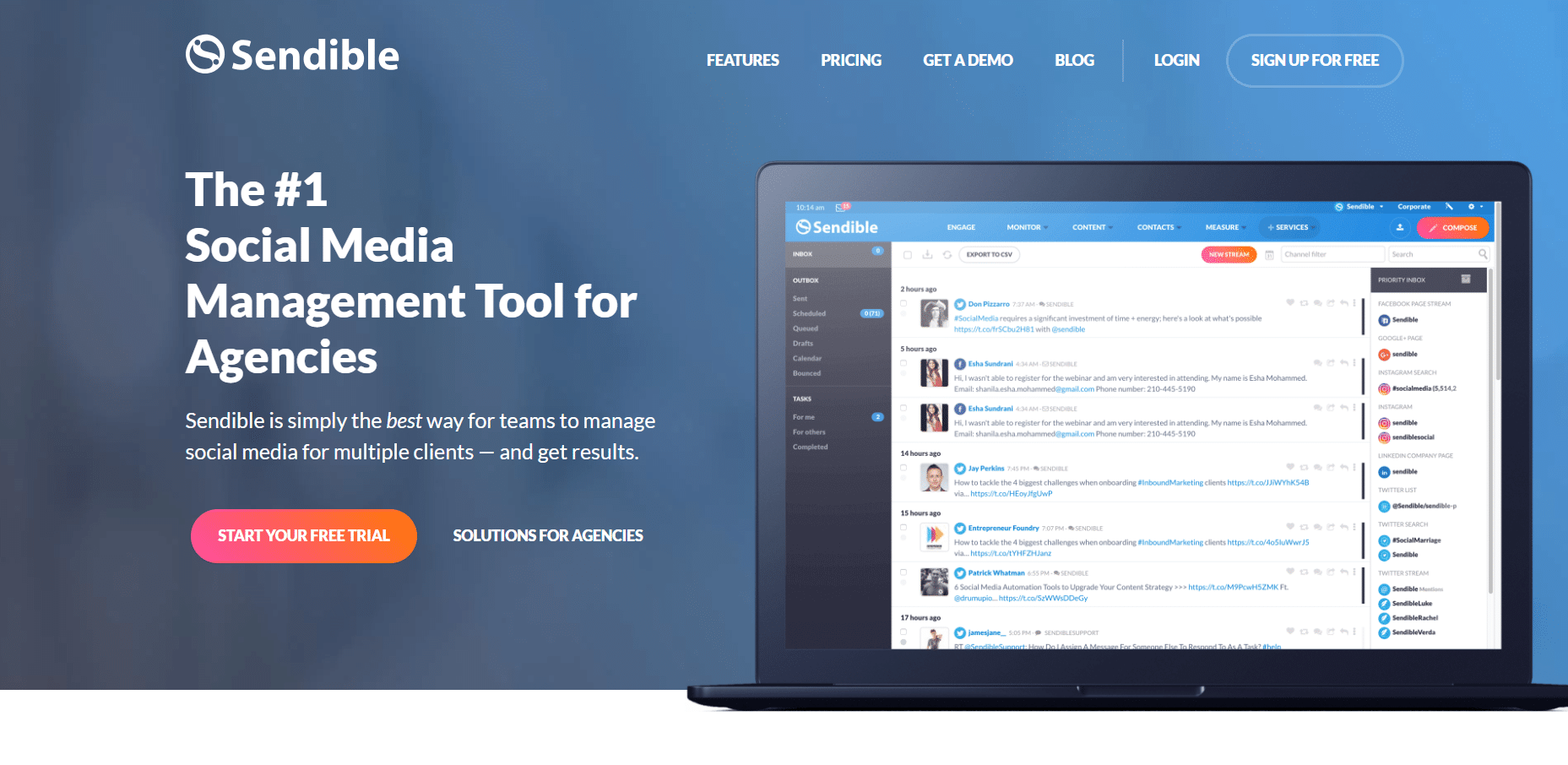 If you're running a marketing agency, then tools like Sendible is an excellent tool to have. This platform comes with several valuable features.
For instance, it comes with a CRM feature that works like eClincher and Sprout Social. One feature it has is a Smart Queue, which allows you to create automated posts. And unlike with Hootsuite, you're able to put certain posts on repeat/repost.
Then there's a recommendation tool that shows you the top-performing posts. These are the posts you want to recycle with the Smart Queue tool.
Although it doesn't have an influencer search tool, it does allow you to treat people you interact with as leads. You can view the conversation history and gather key details from them to insert into your CRM tool.
Its client management support is worthy of discussing because it comes with its own dashboard for each client. This platform supports multiple social media sites and tools, including Twitter, YouTube, Google Analytics, Google+, Facebook, and LinkedIn.
The pricing starts at $29/mo for 1 user (12 services and no reports), $99/mo for 3 users (48 services and 6 reports), $199/mo for 7 users (105 services, 35 reports, and unlimited scheduling), and $299/mo for 12 users (192 services, 60 reports, and unlimited scheduling).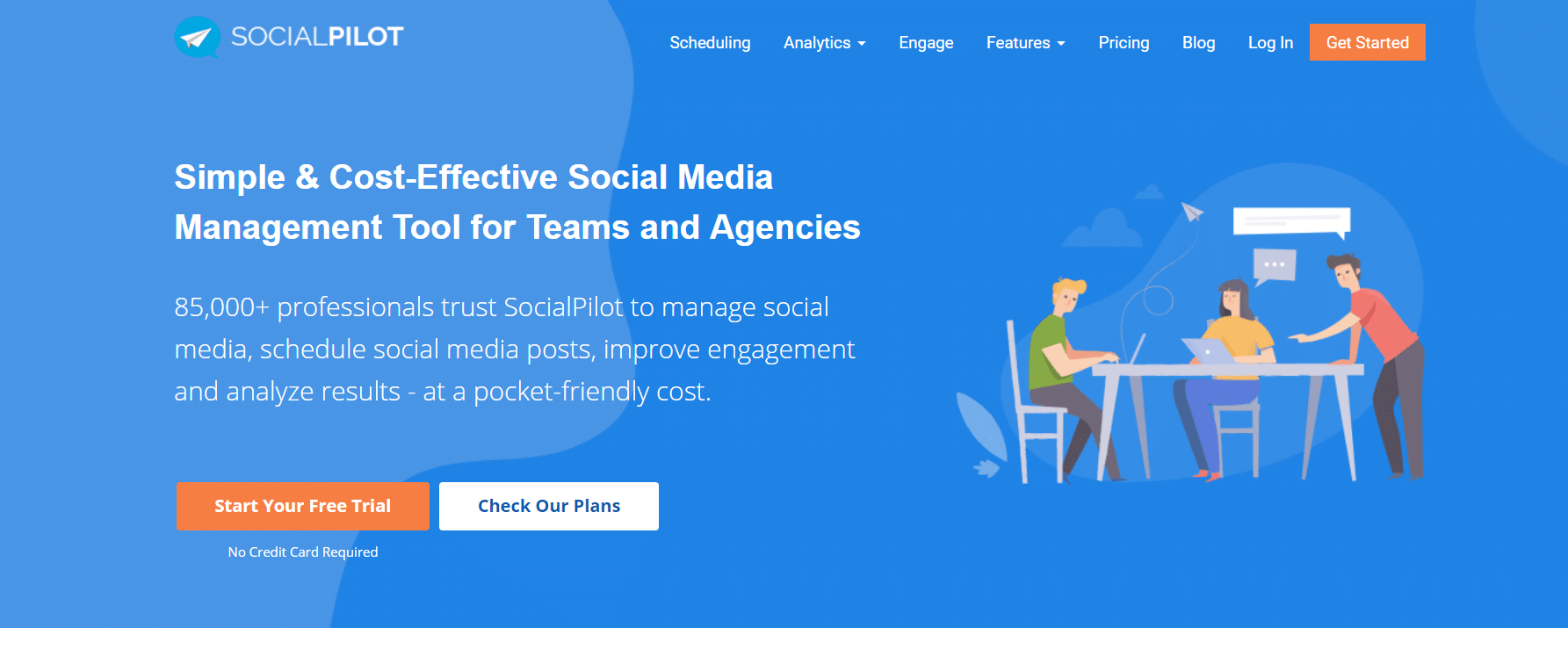 This platform comes with all the typical features that you'll find with social media management tools. For example, it has the bulk scheduling feature for multiple social media networks. Yet, it doesn't come with Smart Queue or Auto Post tools.
This may not be an issue if all you're looking for are auto-publishing and RSS integration features. The platform also has a social Inbox, which can make it easier to monitor your accounts for engagement.
Social Pilot does have content feeds, which you can use to look for content to garner ideas for future posts. Then if you're using this tool for clients, you'll be happy to know you can add them without needing their personal credentials.
You can schedule your posts and have them in the queue for approval. Each client does have their own dashboard, which is a plus.
You can use this tool for various social networks, including Tumblr, Pinterest, Instagram, Twitter, VK, Facebook, and Google+.
The prices start at $30/mo for 1 user (10 profiles @ 50 posts daily), $50/mo for 10 users (100 profiles @ 100 posts daily), and $100/mo for 20 users (200 profiles @ 200 posts daily).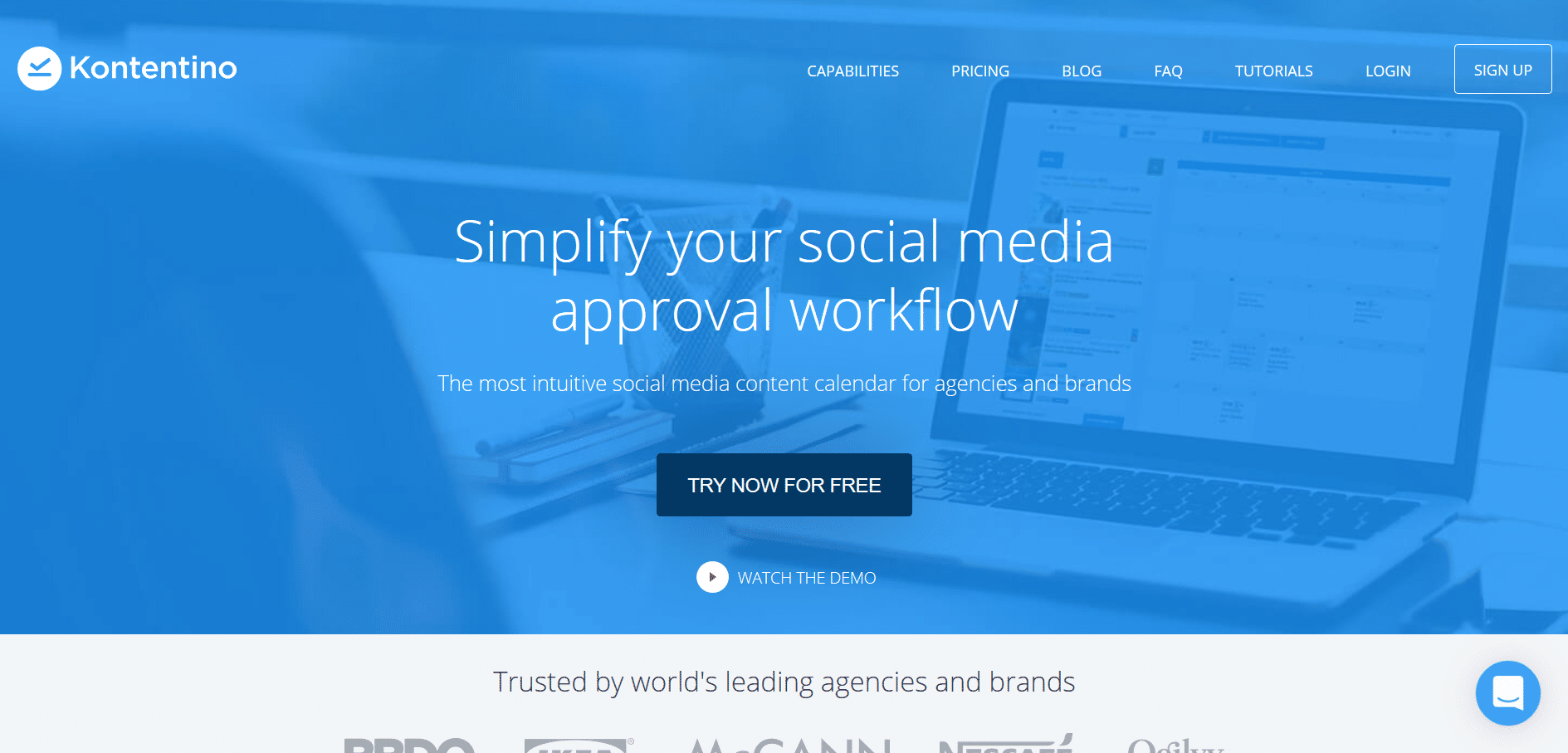 Kontentino is a great social media planning and collaboration tool. It enables advertising agencies, social media managers and their clients to seamlessly collaborate when creating and approving social media content and ads.
This most-human social media management tool, will manage your multiple profiles in one calendar, offer a live post preview and keep track of your boosts of Facebook posts all in one place; and if your team is super-creative and comes up with plenty of ideas, Kontentino will save them for later.As a significant result, the quality of content improves, mistakes or fails are avoided when publishing social content or ads and it saves you time on operational tasks. Moreover, the analytics section puts data in context so social media managers are able to better understand the performance of the posts/ads when reporting to clients.
The pricing starts at 9€/mo for Starter Package including 1 user, 3 social media profiles and unlimited posts; if you need a bigger package you can opt for XS (49€/mo 3 users, 10 social media profiles), Medium (189€/mo 20 users, unlimited social media profiles), Large (279€/mo 30 users, unlimited social media profiles) or Enterprise Package tailored to your particular needs.
5. ContentStudio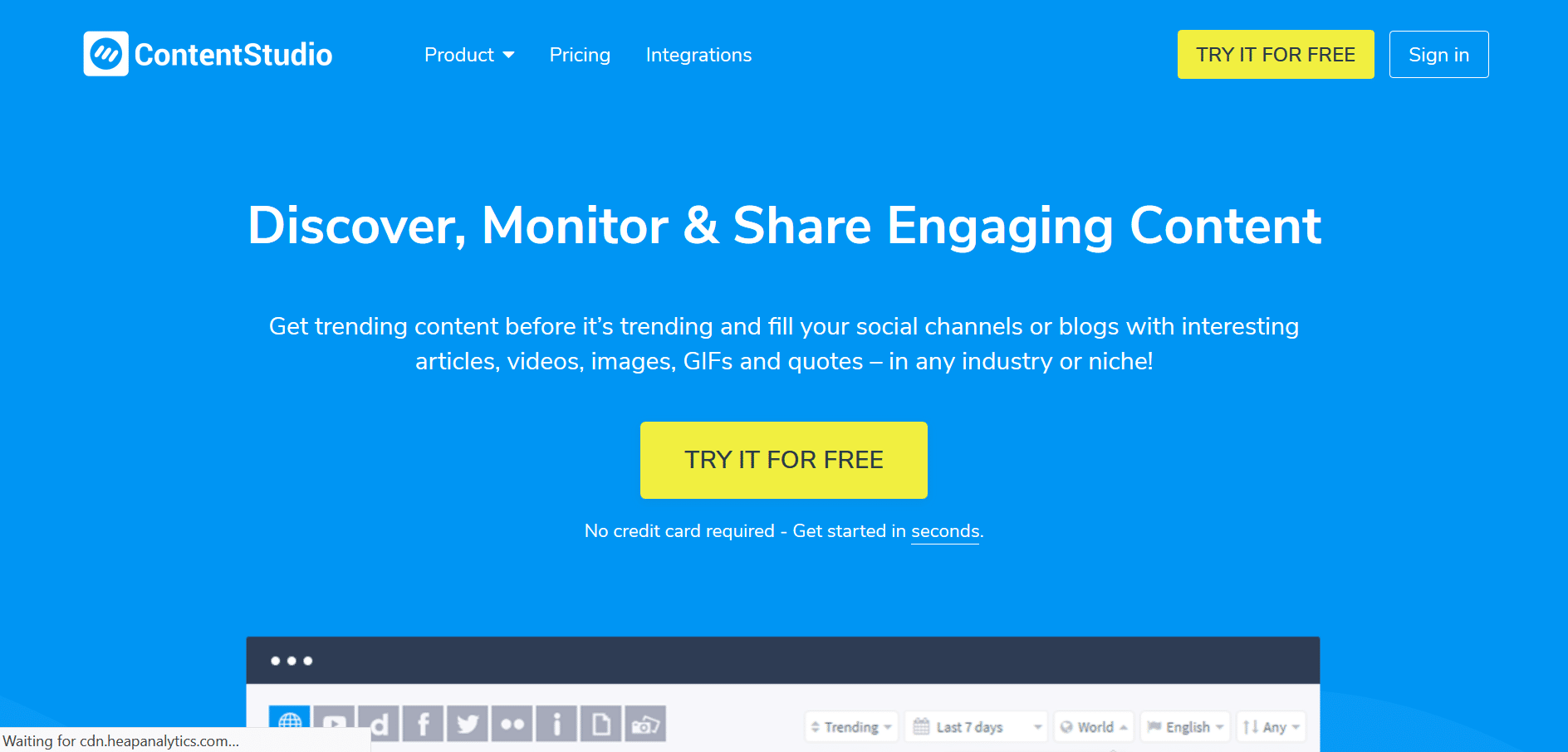 When it comes to sharing content on social media, you run out of ideas pretty soon and that's where ContentStudio's discovery tool helps you in finding engaging pieces of content in your industry and relevant to your topics of interest.It is not just a content discovery tool but a complete social media management tool that also enables you to plan, collaborate, schedule and analyze content for all of your social media and blogging channels.
If you are working with clients or internal teams, you can add team members and select their roles. The platforms supported by ContentStudio are Facebook, Twitter, Linkedin, Pinterest, Instagram, Tumblr, WordPress and Medium.The price starts at $49/mo (10 profiles, 3 blogs, 1 user). You can purchase higher packages at $99/mo (25 profiles, 10 blogs, 5 users) and $199/mo (50 profiles, 20 blogs, 10 users) and $299/mo (150 profiles, 50 blogs,  20 users). For plans higher than this, you can get a custom quote. All the plans include unlimited posts.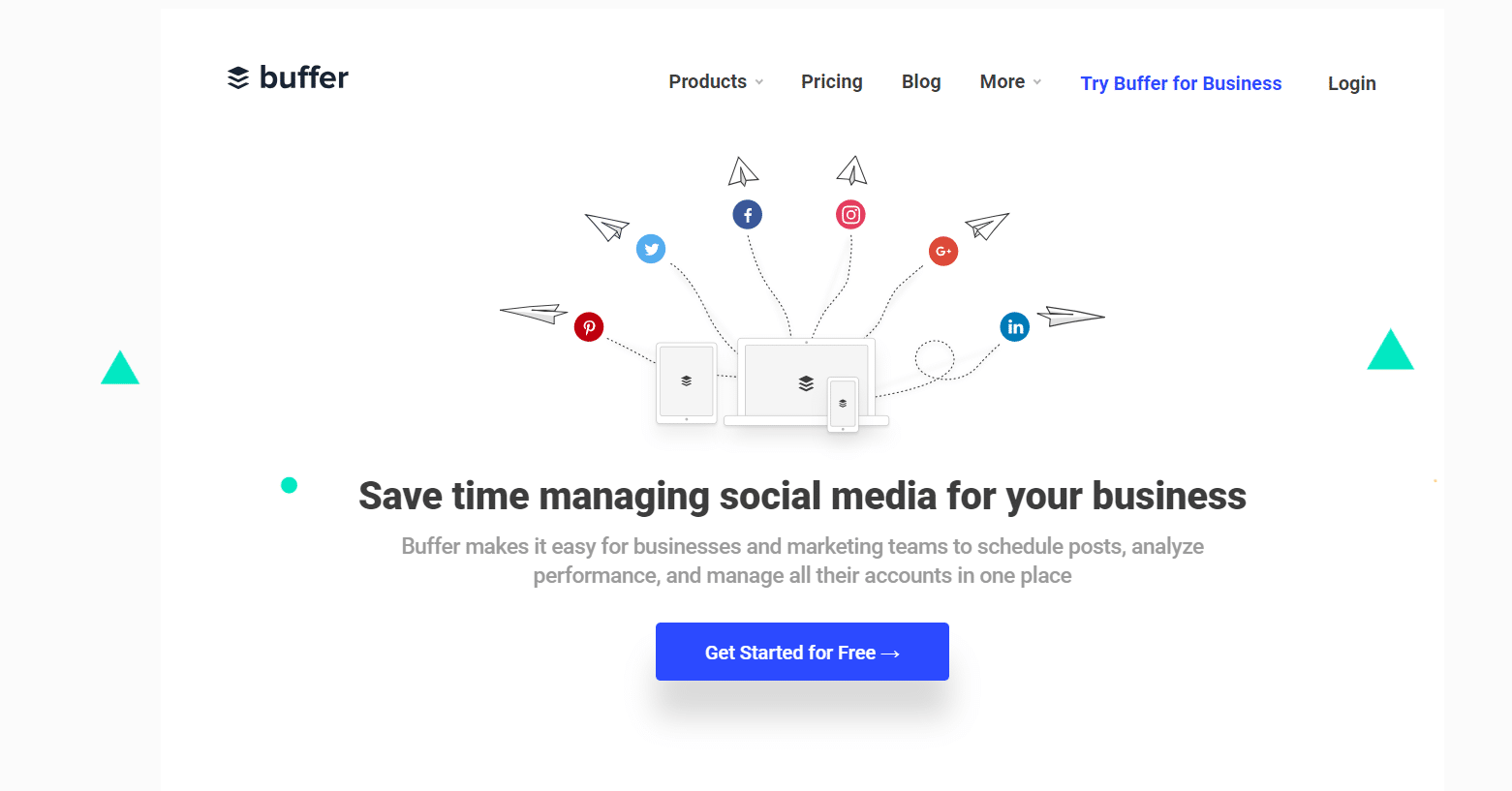 Here's another popular social media tool. Buffer has been around for a while and has earned its spot on this list. It comes with various great features.
Some of them include analytics tools, team features, engagement capabilities, a publishing queue, and more. When you have all of your posts ready to go, you can add them to the schedule and place them into the queue.
It's important to note that this platform isn't the best for topical news – it's better for evergreen content. This is because it'll automatically recycle your posts (unless you turn this feature off).
Then if you have content you'd like to share from blog posts, you can use the RSS feed tool.
As for engaging with social media users, it has a new tool called Reply. It works like eClincher's Social Inbox, yet it only works with Instagram, Twitter, and Facebook at the moment.
You can also expect to pay a pretty penny for it at $415/mo for 3 users and 15 profiles. And that's an addition to the monthly price you have to pay for Buffer.
If you're working with a team, you can add them to profiles and grant them certain permissions. The platforms compatible with Buffer include Google+, Facebook, Pinterest, Instagram, LinkedIn, and Twitter.
The prices start at $15/mo for one user (8 profiles @ 100 posts monthly per profile), $99/mo for 5 users (25 profiles @ 2K posts monthly per profile), $199/mo for 10 users (50 profiles @ 2K posts monthly per profile), and $399/mo for 25 users (150 profiles @ 2K posts monthly per profile).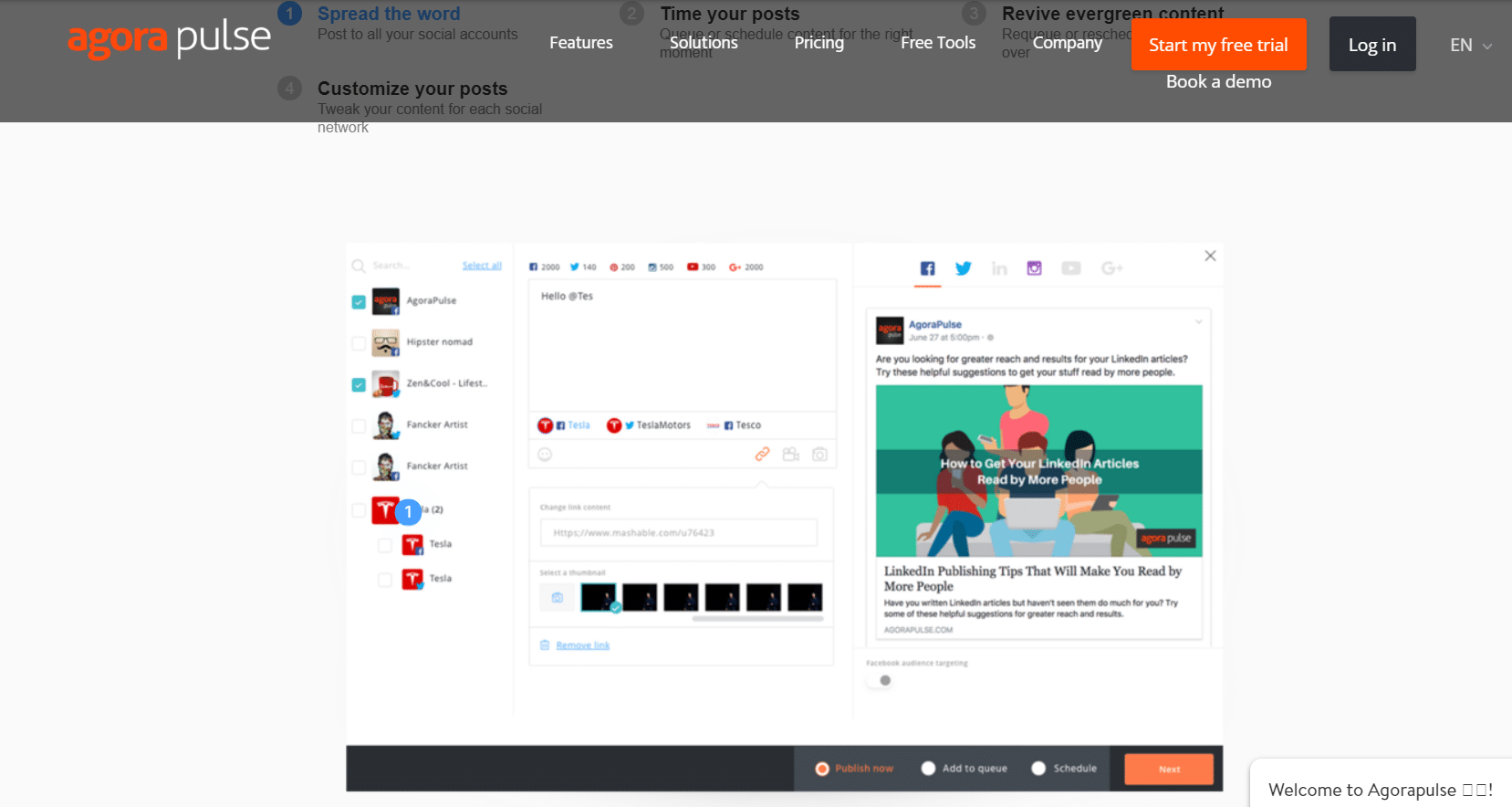 If you're looking for a tool that comes with tools for publishing, scheduling, listening, social engagement, team collaboration, and reports, then Agora Pulse is a good pick.
It comes with an Auto Post feature you can use to place evergreen content in a queue for future publishing. Then there are labels on each post that makes it easier to find them and analyze the data collected.
Then to ensure you're interacting with your followers, there are engagement tools that allow you to see and reply to all of your messages in one dashboard. Plus, you're able to assign messages to clients.
It's similar to eClincher in that it allows you to see each profile in its own dashboard.
Your clients or content managers are able to approve posts before they're scheduled to go out. The platforms supported include Instagram, Facebook, YouTube, Twitter, Google+, and LinkedIn.
The pricing is $39/mo for 1 user (3 profiles), $79/mo for 3 users (10 profiles), $159/mo for 6 users (25 profiles), and $239/mo for 12 users (40 profiles).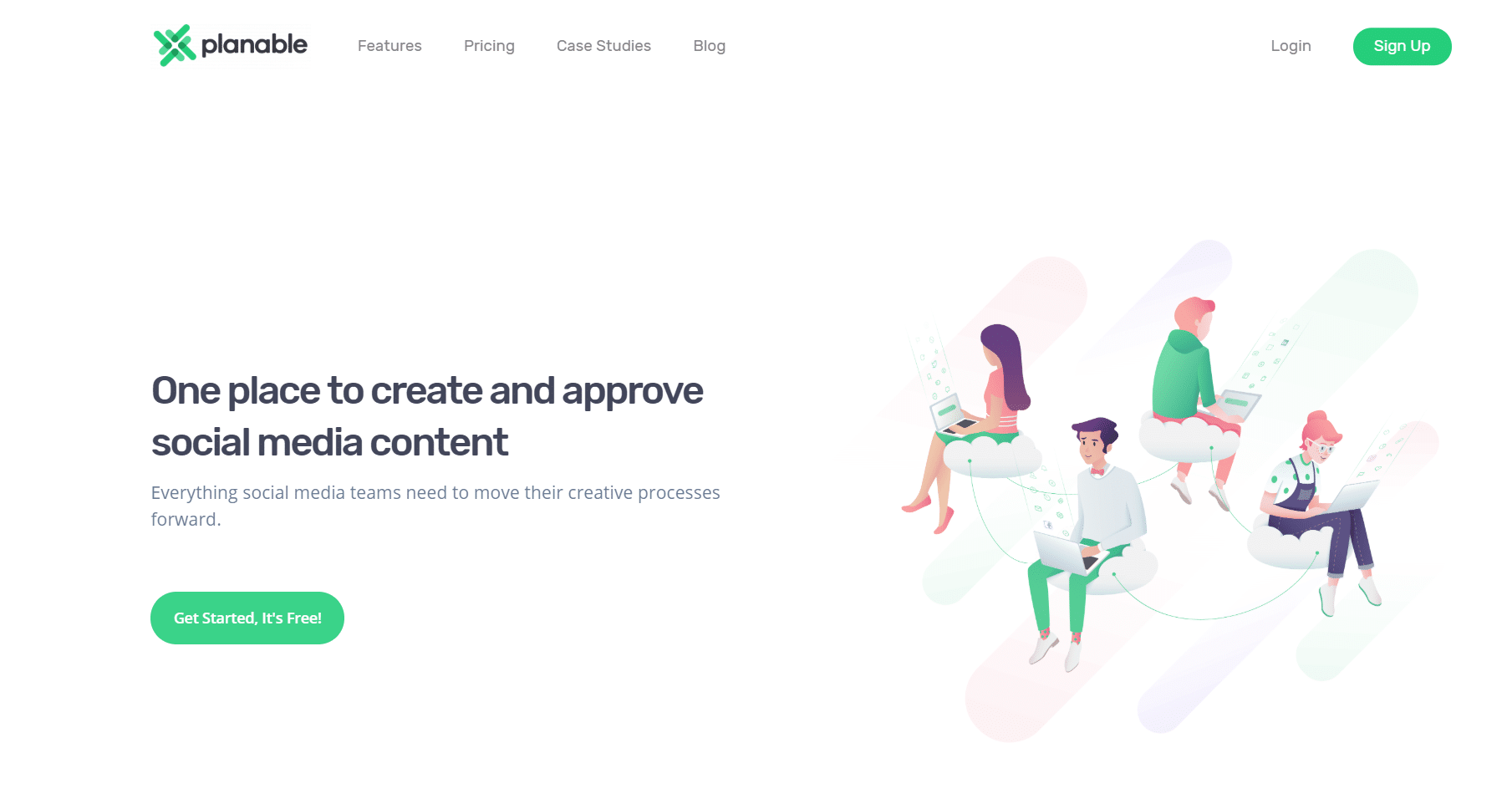 When you need to plan your social media content for the entire month (or more), then Planable is a great solution. This tool is compatible with all sorts of format types, including gif, link, album, photo, text, and carousel.
You're also able to create mock-ups and then view them live before you publish them. This removes the need for creating test pages for this purpose.
Most companies use spreadsheets to plan out their content needs. This is messy and clunky. With Planable, you can forego the use of spreadsheets and use the planning and scheduling features you and your entire team can use.
You're able to integrate emojis, hashtags, and a Giphy. The drag and drop feature also makes it a breeze to work with.
The pricing starts at $24/mo for 3 users (1 workspace), $99/mo for 7 users (5 workspaces), and a tailored quote for those needing more than 5 workspaces, more than 7 users, and advanced features via the Enterprise package.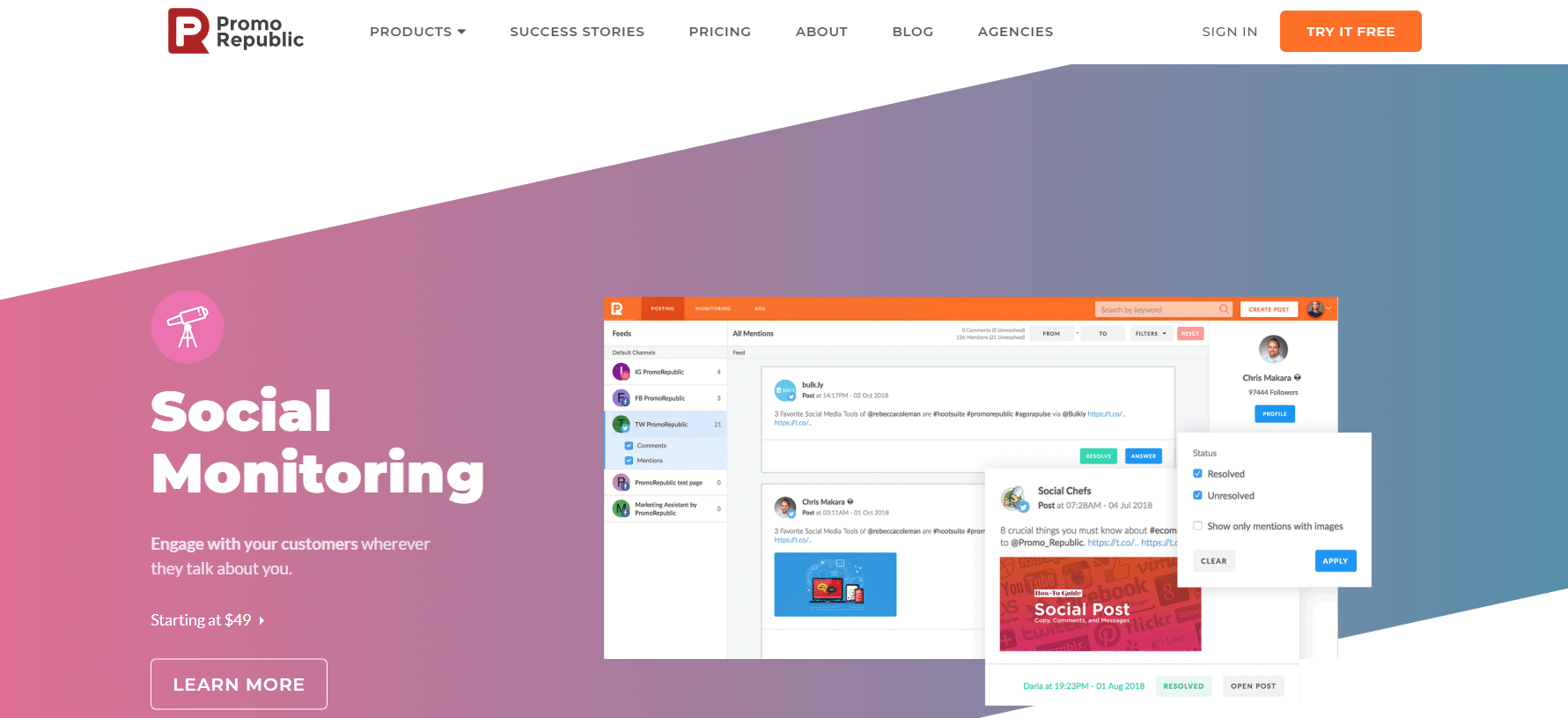 With PromoRepublic, it becomes a little easier to post content that goes viral. This is thanks to its incredible features that allow you to find trends, historical dates, celebrity events, and sporting events.
Then there are ready-made templates available you can use to create engaging posts outfitted with the visuals, mechanics, and text. You can search for templates for various industries so it better suits your brand and audience.
Some of the industries included are retail, travel, food & restaurant, health & beauty, education, and business.
Then it comes with several integrations with tools like Hootsuite, Yext, and HubSpot.
The available services are priced at $9/mo for smart posting, $49/mo for social monitoring, and $49/mo for intelligent ads.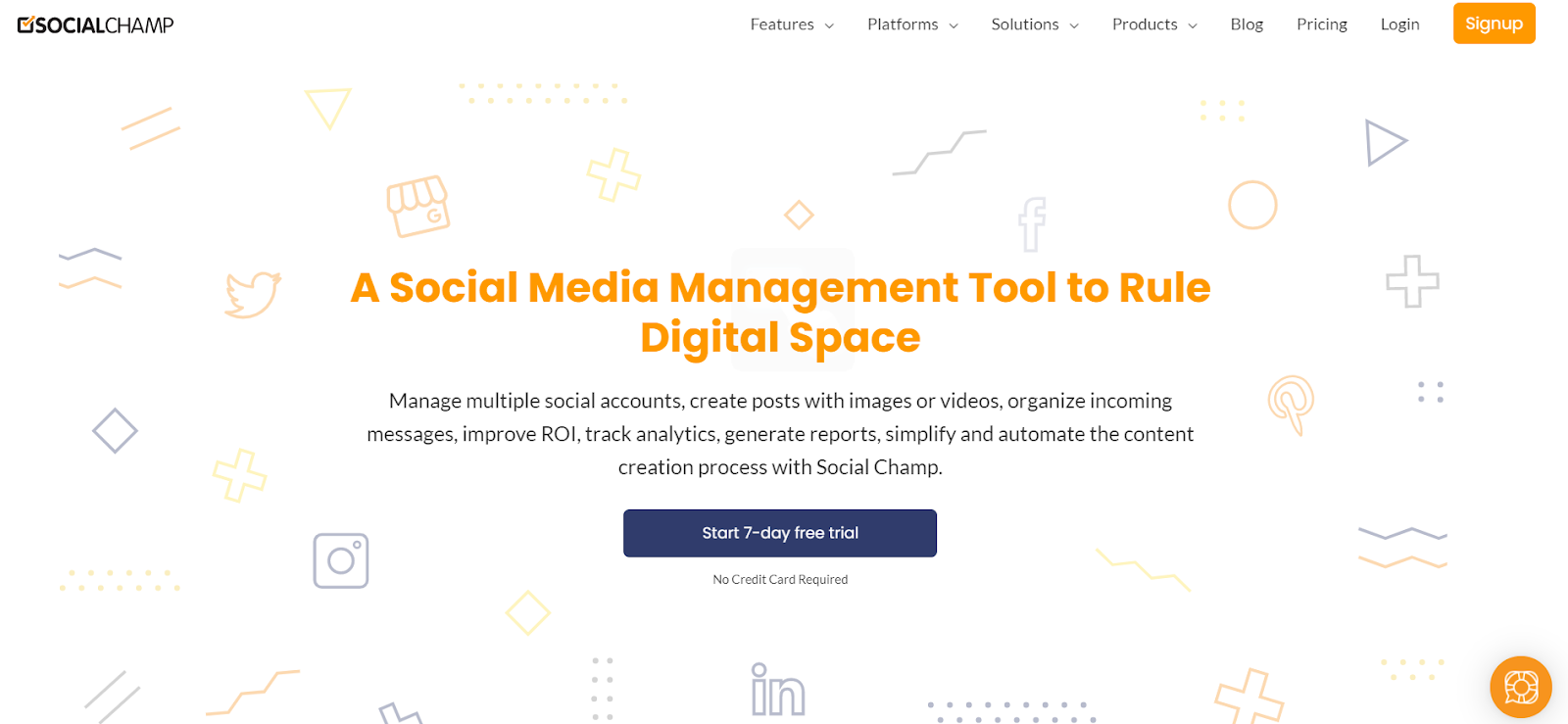 Social Champ is a social media management tool with an easy-to-use and clean dashboard that you can use to post and manage profiles, such as Facebook, Instagram, Twitter, Google My Business, LinkedIn, and Pinterest. With Social Champ, you can fully automate social media with next-level scheduling and management features.
Once you sign up for Social Champ, you can create and schedule content within the content composer using essential features, such as auto RSS Feed, recycle and repeat, queue, bulk upload, and others. 
Not only is Social Champ one of the easiest ways to keep your social profiles active, but it also provides you with detailed analytics and graphs for presentation-ready beautiful reports that you can export in the form of PDF files. Social Champ also offers a white labeling option to customize reports with logo and brand name. 
The social media calendar presents an overview of all scheduled and published posts in one tab with options to edit, delete, or reschedule content with drag/drop. 
With auto RSS feeds, your profiles shall always stay active with posts from your favorite blogs and websites. Lastly, what makes Social Champ super productive is that you can do everything from within the content composer. You can save hashtags, insert URLs, edit images, analyze sentiments, repeat posts, set frequency, and do much more. 
With four excellent and diverse pricing plans, you can start using Social Champ from as low as $10/ month. 
Start Building Your Social Media Management Toolbox
So which of these platforms appeal the most to you? To pinpoint the best solution, you have to consider the features and tools it comes with.
Think of how you'll manage your social media marketing to identify which of the features are actually necessary. Then reduce your list by looking at the prices, your team size, and the number of profiles you'll be managing.
Once you find the right tool for your business, come back and let us know in the comments how well it's working for your social media marketing!