ActiveCampaign is an effective email marketing tool that can help businesses of all sizes streamline their efforts and drive sales. However, like all email automation software, it will cost you.
Considering the many benefits this tool offers when paired with a popup generator like Poptin, it may just be one of the best investments you make. If you're wondering what an Active Campaign plan will cost and whether it's worth it, you've come to the right place.
In this article, you can learn more about ActiveCampaign's pricing to help you decide whether it's a worthwhile investment.
The Rise of Email Automation
A few years ago, email marketing meant having to manually forward emails to each customer. It's been around for over 40 years, so it's no surprise that software developers have found a way to streamline the process to make it easy for companies to reach their target audience without the need for hours of laborious email marketing.
The truth is that in today's digital landscape, companies are constantly looking for effective ways to streamline their marketing processes and engage with customers on a more personalized level.
Email automation is a comprehensive solution to this need. Since it's able to deliver customized and timely messages, email automation has seen a significant increase in popularity among marketers.
It doesn't just streamline your marketing efforts but can also free human resources to focus on more pertinent matters.
According to Statista, the email marketing industry is said to have brought in over $10 billion in the past year. That alone is enough to prove how effective it can be in growing a business's bottom line and attracting new customers through compelling, personalized email marketing strategies.
Which Active Campaign Plans Suit You?
If you're ready to tap into the potential of email marketing with an effective CRM and automation software like ActiveCampaign, you're probably wondering where to start. Which plan should you choose?
There are four main categories that you can choose from for your marketing campaign. They are as follows:
Marketing (Email & marketing automation)
Sales (CRM & sales engagement)
Bundles (A combination of sales and marketing)
Transactional email (API + SMTP for websites or apps)
The first step is determining which services you require. If you're looking for a straightforward email automation solution, then the first option would be preferable.
However, to take it a step forward, you can add CRM and sales engagement functionality to effectively manage leads and help you track and manage information pertaining to leads.
Suppose you need to send emails that customers can interact with and reply to. In that case, you will need to look at a transactional email plan.
At this point, you might be feeling a little overwhelmed by these categories and plans. Don't worry. You'll find a breakdown of each category and plan in the next section to ensure that you have a good understanding of what to expect from ActiveCampaign.
Breaking Down the Pricing Plans
One of ActiveCampaign's greatest strengths is its transparency with regard to pricing. What's more, there are no account setup fees, and you can try the software out for free, which is a plus. 
The section below will break down each ActiveCampaign category and give you an idea of what a plan in that category might cost you.
Marketing
This option gives you access to key marketing and automation features, such as modal forms, landing pages, predictive sending, and so much more. Here are the plans available in this category:
Plus
This plan is designed for small businesses trying to create good customer experiences. It supports three users and a number of key features, such as site and event tracking, inline, popup, and modal forms, Facebook custom audiences and lead advertisements, and API and webhooks. It costs $49 per month, billed annually.
Professional
If you're looking for more functionality, then this plan is for you. Enjoy access to many additional features for $149 per month, billed annually, such as salesforce integration, predictive sending using AI technology, attribution reporting, split automations, and more. This is in addition to Plus features.
Enterprise
Larger teams and those hoping to reach a broader audience can benefit from the Enterprise plan, which offers 10 users access to the platform.
You get everything in the Professional plan, plus other great functions such as custom objects, HIPAA support, unlimited email testing, custom reporting, and more.
Since this option is designed for large companies, pricing is tailored to each business's unique requirements.
Sales
One of the things many businesses like about ActiveCampaign is the fact that it doesn't just offer a simple email automation tool.
With intuitive CRM and sales tools, you can grow your business with features such as customer support and sales engagement automation to improve the overall customer experience. There are three plans to choose from.
Plus
You can get access to this plan for just $19 per month. With basic functions like lead scoring, sales automation, and task management and reporting, small businesses or marketing teams can effectively manage leads.
Professional
This plan gives businesses access to a number of great features, such as win probability analysis and sentiment analysis, that use artificial intelligence to help you prioritize customers that are more likely to reach the end of the sales funnel. This plan will cost you $49 per month.
Enterprise
Take it a step further with custom reporting, single sign-on, uptime SLA, and more. Prices are based on your business's needs.
Bundles
If you're looking for a combination of email marketing/automation and sales features, then you can opt for a bundle.
Plus ($96 per month) – Suitable for five users and up to 1,000 contacts.
Professional ($386 per month) – 10 users and 1,500 contacts.
Enterprise (custom) – 15 users and 2,500 contacts.
Transactional Email
You can gain access to transactional email features with prices ranging from $15 for 10,000 emails to $1,295 for 5,000,000 emails per month.
How to Choose the Right Plan
When deciding which option would be best suited to your business, it's important to assess your needs. First, think about the features that would be most beneficial to your company. If you don't need interactive emails but would like a good mix of email automation and sales features, you should go for a bundle.
Then, think about the size of your marketing team. Do you have an extensive marketing workforce that will need access to the system, or are there just a few people who will oversee your marketing campaign? This will help you determine which plan would be most suitable.
Another important consideration is cost. Because ActiveCampaign doesn't offer free plans, you will need to think about what would be feasible for your company when making your decision.
Keep in mind that email marketing remains one of the most effective tools for generating leads and making sales. It may be just what your business needs for a boost in sales, making it a worthwhile expense.
Automate Your Strategy with Popups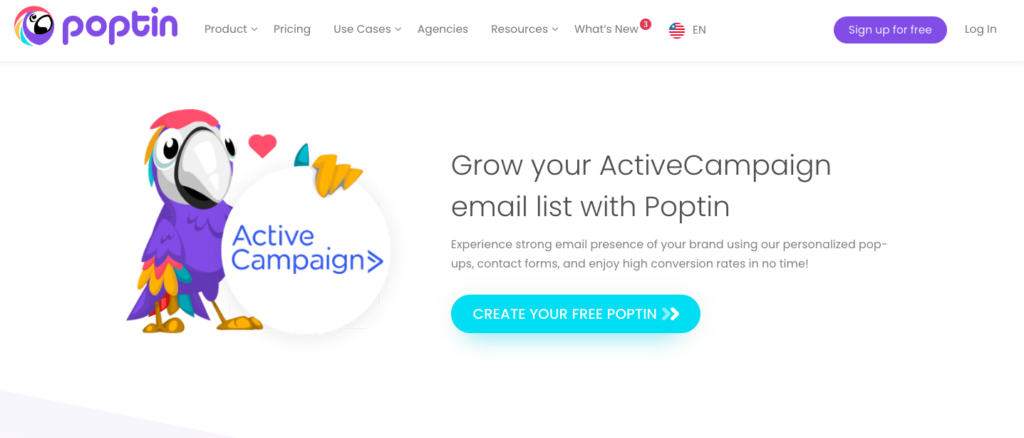 To ensure that you're getting the most out of your email marketing strategy with automation software, you should consider adding popups with a professional tool like Poptin. 
Poptin is a free lead-capturing tool that assists business owners, and marketers increase the number of website visitors who become customers, leads, and subscribers.
Whether it's an exit-intent pop-up, full-screen overlay, or floating bars, Poptin allows you to make your email marketing campaign more effective.
You can quickly and easily integrate your pop-ups with your ActiveCampaign account and send your subscribers coupon codes, flash sale deals, auto-responses, or just about anything you can think of!
Adding popups to your emails can be advantageous for a number of reasons. Although some people may find pop-ups intrusive, when used correctly, they can effectively catch the attention of website visitors and encourage them to join your email list.
Conclusion
ActiveCampaign offers a number of great features to make your email marketing campaign more effective. With several services at various price points, there's something for every business, regardless of its size.
It's a great option if you're looking for an integrated marketing platform that can help with multi-channel marketing. The user-friendly design makes it easy to use, and the drag-and-drop builder can make your job much easier.
Moreover, ActiveCampaign's email automation features are unmatched, giving you access to various templates for those days when you feel uninspired and unlimited freedom to create your own automations. When used with innovative add-ons like Poptin, you're sure to have a winning combo that will drive sales and grow your business through effective marketing.