Entrepreneurs everywhere know how important email is, but it's so time-consuming to create them and send them to potential and loyal subscribers.
That's why email marketing services were started. You can find countless options online, but we always wonder which one is better and why.
Today, we're going to focus on Mad Mimi to learn about its services and why people decide to switch from it to another. Then, we show you five alternatives.
What Does Mad Mimi Provide?
Mad Mimi was founded in 2007 by Gary Levitt and is a popular email marketing platform. Users can track, send, and create email campaigns with or without templates.
Though it started as a tool to help musicians create press kits, the idea grew to the email marketing service you can find today. It features a simple design and gives everyone a pleasant experience.
We like that the creator had no funding or marketing and started this company with only two other people.
Now there are over 250,000 customers, and it sends out more than 50 million emails each day.
Why People Switch from Mad Mimi
With the ease of use and so many people using Mad Mimi, you may wonder why some choose to switch to another email marketing service.
We've found that Mad Mimi doesn't provide you with as many design options as others. Plus, there are fewer interactive elements.
While you can customize templates, it's too difficult to do and is quite limited.
For example, you can only change the layout, color, and font. You're also limited as to how many emails you can schedule. There's no option for embedding videos, and the marketing automation isn't as intuitive as other programs.
Pricing can also become a nightmare. The Basic and Pro plans are relatively inexpensive, but Silver and Gold jump in price, and you don't get much more for what you pay.
5 Mad Mimi Alternatives
Mailjet
Mailjet offers quite a bit, especially when you realize how affordable it is. It was created in France in 2010, so it's only been around for a decade.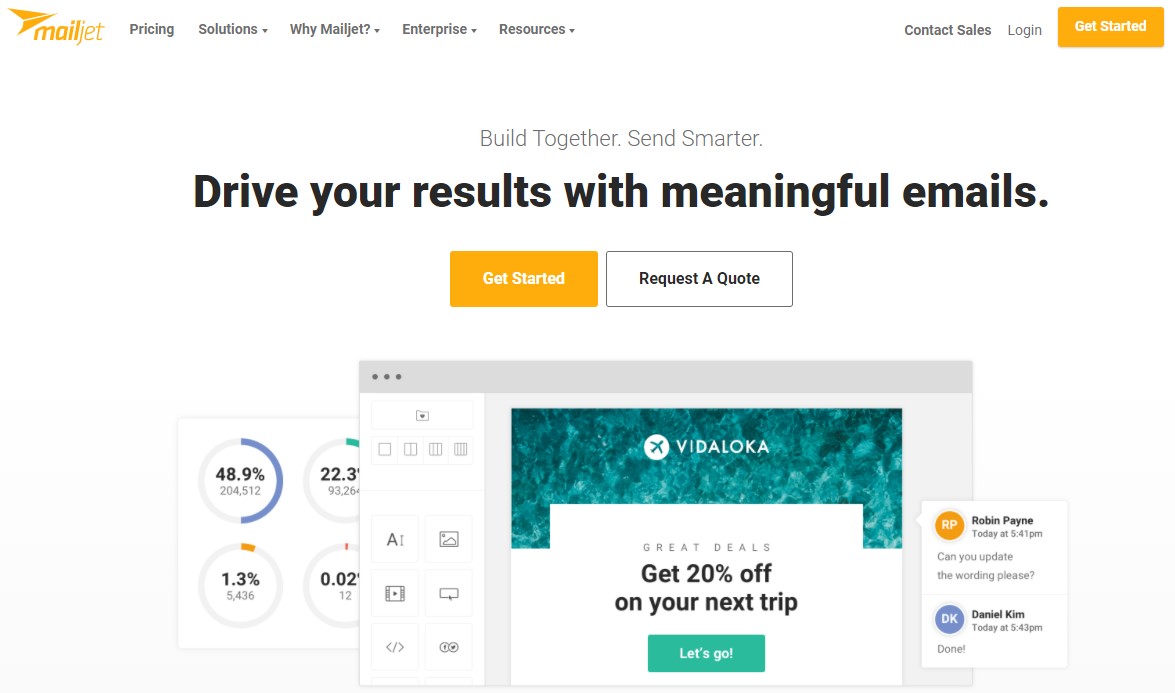 Still, thousands of companies use it every day to send emails to potential clients and loyal fans. Transactional emails are available through this tool, making it suitable for many types of entrepreneurs.
Features
The top feature for Mailjet is the collaboration tool. No other email marketing platform offers this service, though it's only available on the higher-tier pricing plans. You can work in real-time on the design and avoid the back-and-forth you often have.

You also have access to the template gallery, but you can use the drag-and-drop editor if you prefer to create your own emails.
We also like that you can segment and organize your contacts the way you want them to be. Plus, create targeted segments that help send relevant messages at the right time based on behaviors, interests, and other demographics.
Pros:
Multi-user collaboration
Easy to use
Affordable pricing plans
deliverability
Cons:
Limited automation
Non-user-friendly list management
Basic segmentation
Pricing
If you only need to send 6,000 emails a month, the forever free version is right for you. This gives you 200 emails each day, but you only get the advanced statistics, email editor, unlimited contacts, and the SMTP Relay, APIs, and Webhooks with it.
Then, you've got the Basic plan at $9.65 per month, allowing for 30,000 emails a month and no daily limits on sending. You get the forever-free features, plus online customer support. The Mailjet logo is also removed from the emails you send.
From there, you move to Premium, which allows for 30,000 emails a month at $20.95. There's no daily sending limit, and you get the Basic plan's features. With it, you also attain multi-user collaboration, A/B testing, marketing automation, and segmentation.
At Enterprise level, you can customize your solution based on higher email sending needs. With it, you get every feature available.
Who Is It For?
Mailjet is recommended for full-size email marketing teams. If you must collaborate with other members and design emails in real-time, this is the software for you. Those who need to integrate with other platforms, such as e-commerce businesses, may find Mailjet suitable because it includes 80 different integrations, including Facebook and CRMs.
MailerLite
Mailerlite is another email marketing service that's similar to Mad Mimi.
It's newer in the world of email marketing, but that also means you've got more innovative features and a better design. The modern and clean interface makes it easy to do what you've got to do.
Plus, we like that it's an international tool and comes in eight languages with support in almost all of them.
Features
With Mailerlite, you have the top email marketing features that can help build relationships and grow your subscriber base. You have access to the drag-and-drop editor to create professional newsletters yourself without needing HTML skills.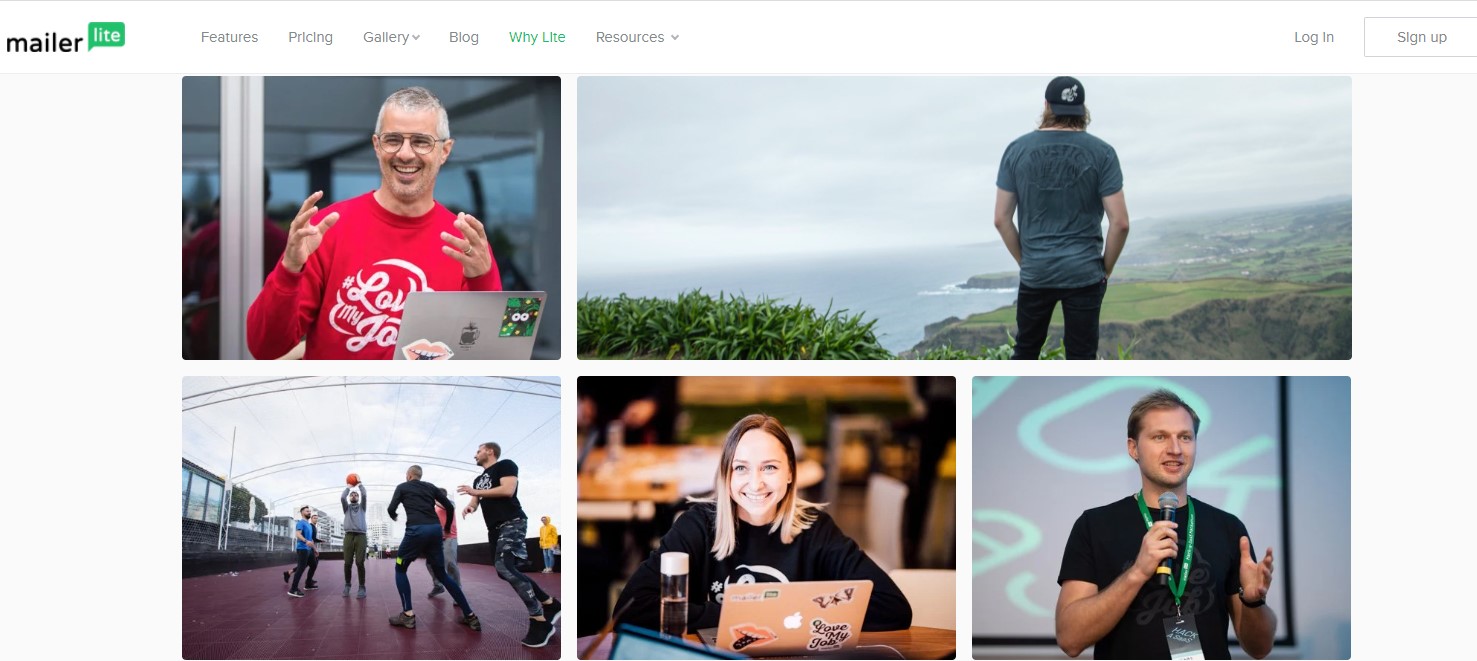 There's also a website builder that includes embedded forms, popups, and landing pages. You have all the tools you need to send emails and have a beautiful website.
With segmentation and email automation, you're always delivering the right message. It's easier to target the audience and personalize your campaign, and it's easy and fast to set up.
Pros:
Forever-free plan
Landing page editor
Easy to use interface
Cons:
No way to have full reporting features
Missing design and spam testing options
No advanced automation
Pricing
With the forever-free plan, you are permitted to send 12,000 emails per month and have 1,000 subscribers. You also have access to video tutorials, the knowledge base, and email support. The drag-and-drop editor is available, as well as mobile-friendly newsletters and built-in photo editing.
If you only have 1,000 contacts but need to send more than 12,000 emails a month, you only pay $10. You get the same features as with the forever-free plan.
The Premium plans start at $15 a month for unlimited emails and up to 2,500 subscribers. You move up to live chat support, have newsletter templates, and there's no MailerLite logo on the emails sent.
You also get custom domains, promotional popups, and the ability to auto-resend as needed.
Who Is It For?
We think that Mailerlite works well for complete beginners who have never used email marketing software before. Plus, it is ideal for creatives and bloggers because you can access video marketing, WordPress integrations, and more.
iContact
If you want an email marketing service with a strong core offering, iContact has you covered. It focuses on being easy to use, but this also means you have less customization and personalization features available for use. This ESP was founded in 2003 and is a key player in the industry because it is designed for small businesses that don't require complex automation.
Features
The drag-and-drop editor makes it easier to create emails quickly. You don't need coding experience to design a functional email.
We also like that it offers A/B split testing. This helps you know that you're sending appropriate content each time.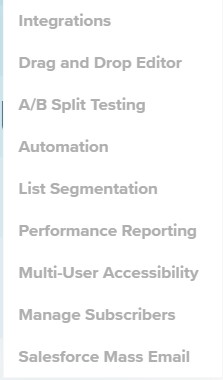 In fact, you can conduct tests with a few subscribers to see which content works best with a particular audience. Try different color schemes, email subject lines, and layouts.
You're going to appreciate that multiple users can access the ESP at the same time. Plus, integrations are plentiful, so you have a centralized hub and can easily take care of list management.
Pros:
Anti-spam controls
Useful metrics
Many appealing templates
Cons:
Limited image storage options
High cost jumps for more subscribers
Pricing
There are only two pricing plans available, which makes it easier to decide what you need. For 2,500 subscribers at the Base level, you pay $50.15 and have access to the drag-and-drop editor, stock image library, and welcome automation.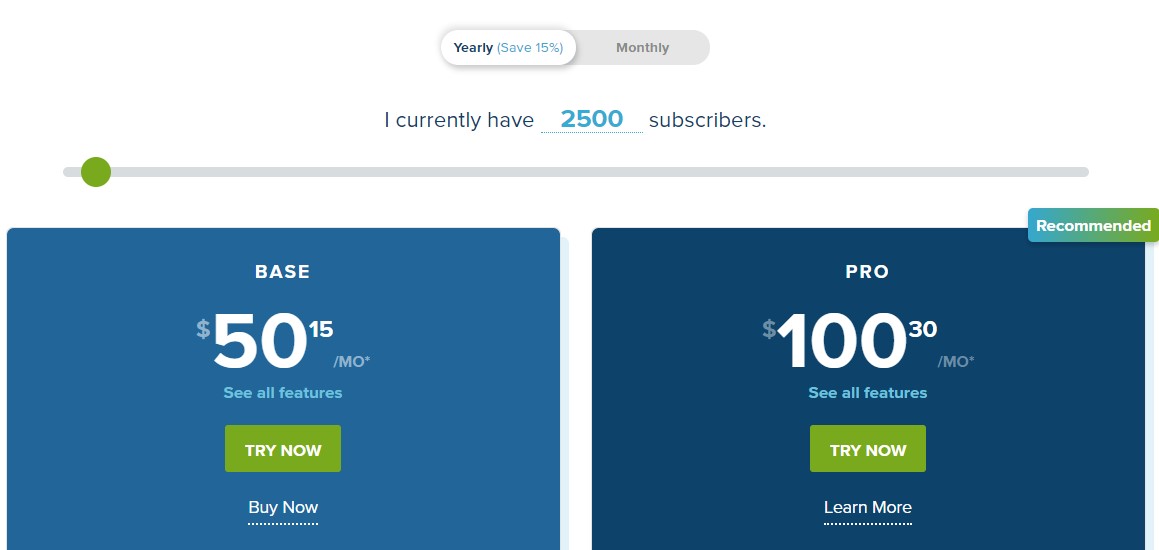 The Pro plan jumps up to $100.10 for 2,500 subscribers, and you get the features from Base. You also have access to non-opener segmentation, landing page creation, and various other automation.
Who Is It For?
We believe iContact is most suitable for first-time email marketers that require many emails sent per subscriber. While there are various types of emails you can send, we don't feel that this option is ideal for e-commerce sites or those who run non-profit organizations.
You aren't likely to see a return on your investment, even with the lower-priced plan.
Campaign Monitor
Campaign Monitor was created by web designers named David and Ben. They had been searching for email marketing tools and couldn't find what they wanted.
Therefore, they built Campaign Monitor in 2004 for themselves and then opened the service to other frustrated companies and designers. Now, it has over 120,000 customers, including top name brands.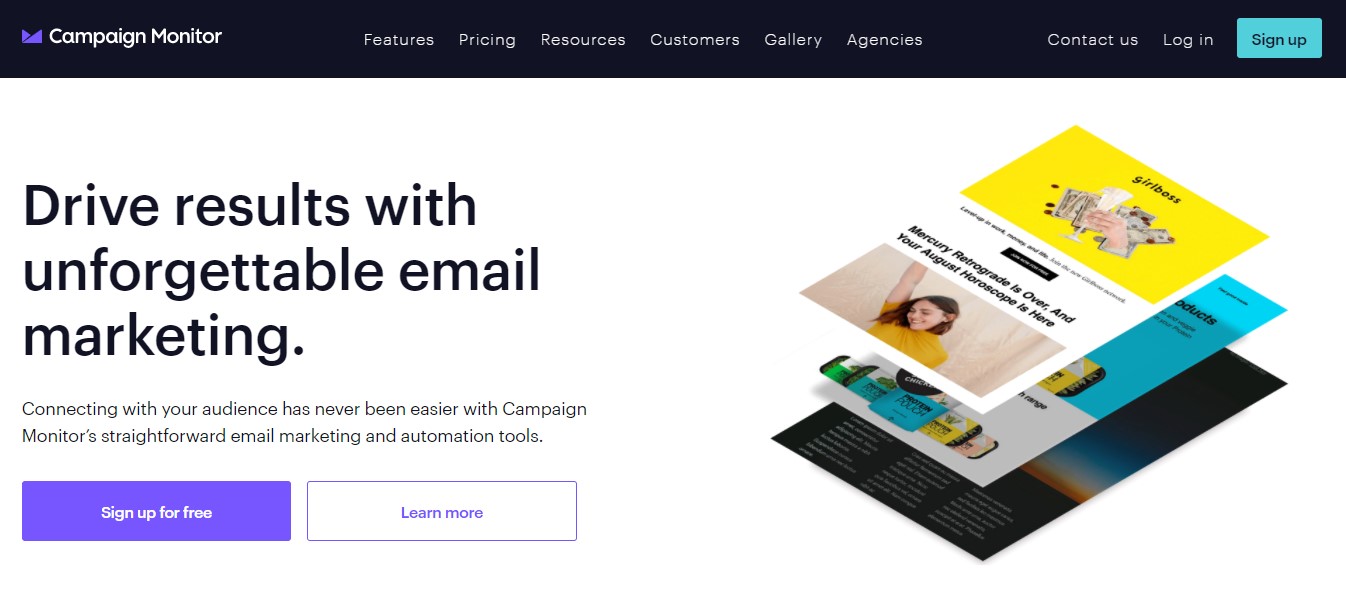 Features
You're going to like the drag-and-drop templates that help you create even better emails. Plus, you can import your HTML designs and preview the emails before they get sent to the recipients.
Campaign Monitor also offers surveys and forms, which can be added to the emails. This gives you feedback from the customers. If that wasn't enough, automation and split campaigns are available, as well.
Pros:
Advanced features available
Excellent customer service
Easy to use
Cons:
Limited integrations
Very complicated pricing plans
Pricing
At Campaign Monitor, there are three pricing plans. The Basic one gives you 500 contacts and 2,500 emails for $9 per month. You get email support and all of the core marketing features, as well as marketing automation and insight analytics.
The Unlimited Plan is $29 a month for unlimited emails and 500 contacts. You get email priority support and the other Basic features. Plus, there's also a countdown timer, time-zone sending, spam testing, and much more.
Lastly, Premier is available for $149 per month and provides unlimited emails for 500 contacts. You get the phone and email support, as well as the features from Unlimited. With that, you have access to section blocking, advanced link tracking, send-time optimization, and pre-built segmentations.
Who Is It For?
If you want something minimalistic, Campaign Monitor is for you. You're sure to find the tools you require to get the job done without a hard-to-use interface. However, if you need extra features, this might not be the best solution.
SendX
As one of the newest contenders, SendX was founded in 2016 to be a software solution. It doesn't focus primarily on email marketing or automation. With it, you have many integrations, and it's easy to use.
Features
This reliable automation solution was designed for simplicity. The platform offers various marketing tools that help with growth so that you focus on your company.
With it, you can create high-converting forms, call-to-action popups, and landing pages.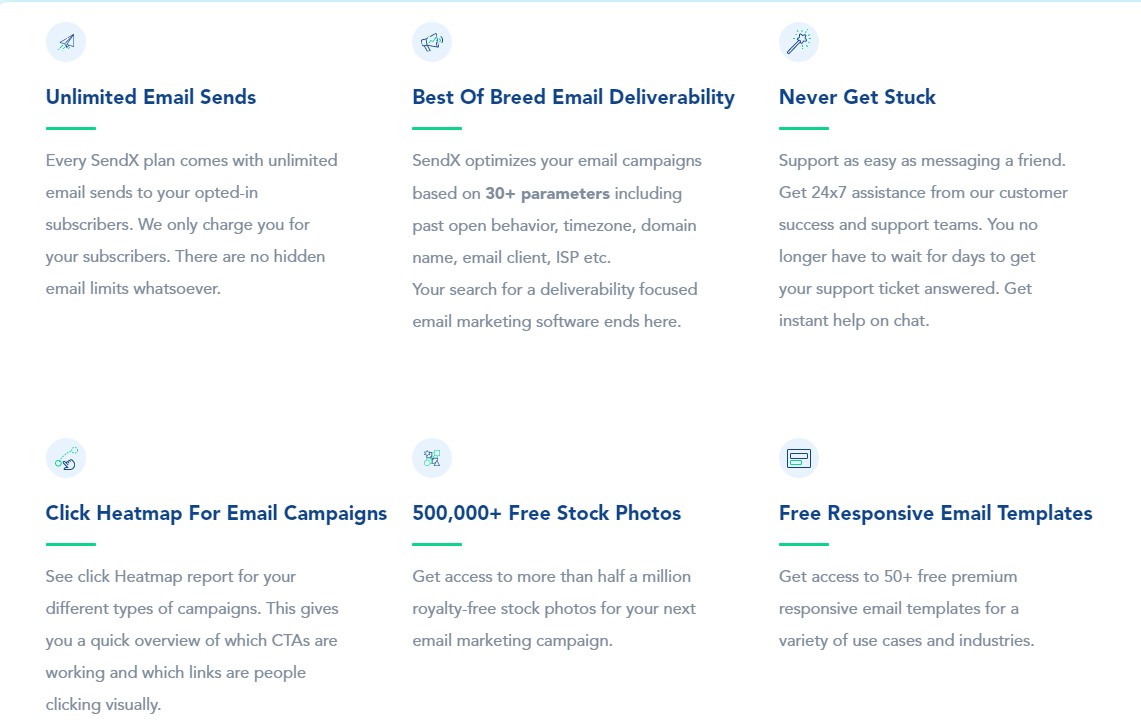 There are also ways to test widgets and see how they look on your website without having to leave the platform.
You're going to like the many email campaigns you can create, too. Whether you need an RSS, broadcast, or segmented campaign, you've got the tools to do it. Plus, you can customize scheduling and launch it when you feel it is going to work best.
Pros:
Unlimited emails
Intuitive and easy-to-use interface
Wide range of templates
Cons:
Can't handle complex automation
Basic targeting and personalization capabilities
Pricing
The pricing structure for SendX is a little different than other email marketing services. You get every feature available and unlimited emails per month. Expect to pay $7.49 for up to 1,000 subscribers. Prices go up to $10 with the more subscribers you have.
There's also an Enterprise plan. The pricing is customized based on the subscribers. With it, you get advanced training and an ROI review.
Who Is It For?
As a startup, you're sure to appreciate SendX and its abilities. Everything is easy to use, and you've got the basic organization and grouping features. However, it might not grow with you as you become more advanced, so you may have to switch later.
Conclusion
Choosing the best email service provider can be a challenge since there are so many options.
However, if you've been thinking of trying Mad Mimi, it might be a good idea to wait and research the above-listed alternatives first.
That way, you know what each one offers, what it's going to cost, and can make a more informed decision.
We've done most of the work for you. Just read our helpful reviews to quickly learn what you need to know about Mad Mimi alternatives.
That way, you pick the most appropriate email marketing platform that works for you now and in the future.