Companies use email extensively, though most people don't realize just how much. Though you may use it to talk to others in the company, you can also send electronic mail to your customers and potential customers.
It's important to let them know what's going on, such as through promotions and transactional emails. However, doing this all on your own is a challenge. Email marketing services can help you grow your company quickly because it streamlines the process and automates much of your work.
While EmailOctopus is a great option, it might not be the best choice. Focus on these EmailOctopus alternatives to help you make the right decision.
What Does EmailOctopus Provide?
It's important to know what EmailOctopus offers so that you can compare it with the EmailOctopus alternatives we're going to give you.
EmailOctopus is quite powerful and offers a variety of features and benefits. Though it doesn't offer as many integrations as people want, it does what it does beautifully. It keeps costs low, but it also removes a few of the top features that you may need. 
For example, there are few email templates available, so you've always got to create the email yourself. While this is simple to do, it does take more work. We weren't impressed with the mobile responsiveness, either. The email doesn't show as well on smartphones as it does on laptops and tablets.
Why People Switch from EmailOctopus
Most people consider EmailOctopus alternatives because this product is hard to set up and get going. Others have issues with deliverability, citing that EmailOctopus puts most of their emails into the spam folder. This isn't ideal if you want to get more conversions and leads.
1. Mailjet
Those who want a midmarket solution to their email marketing woes might need to consider Mailjet. It provides enough functionality so that it's viable, but it doesn't really stand out with great features or value. Those who need quick and easy solutions may find it a great start, but it might not compare well with some of the other EmailOctopus alternatives.
Features
On the higher-priced plans, you can collaborate with a team, making email marketing a team effort. We like that it's easy to create emails that are responsive on all fronts. Plus, you can send transactional and marketing emails with the intuitive drag-and-drop editor feature.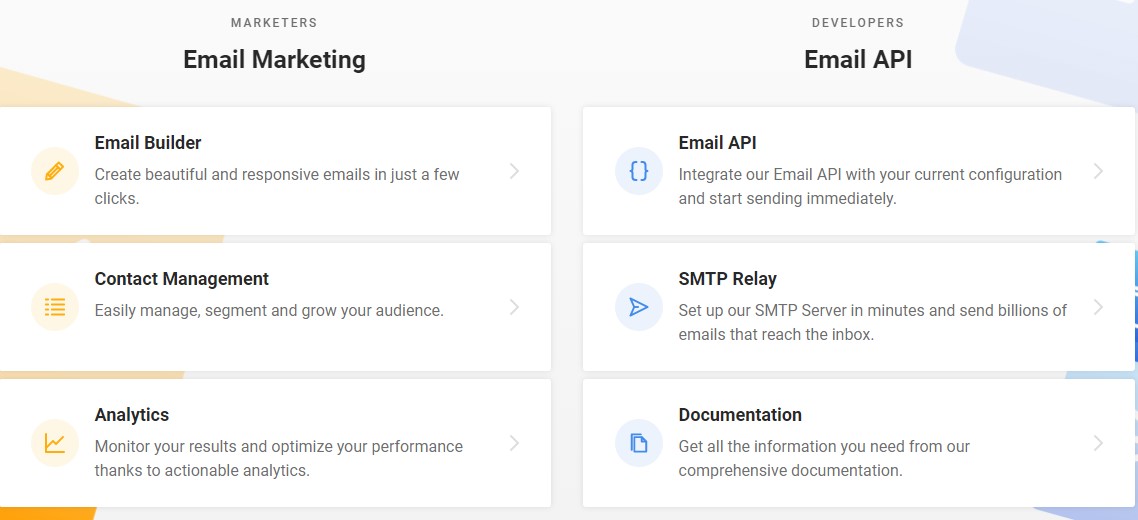 It's possible to collect various data on your customers to create targeted segments. That way, you're sending customized messages to the right people. This is based on their interests, behaviors, identity, and demographics.
Pros:
Setup guide included

Transactional email templates available

Collaborative email editing
Cons:
Limited autoresponder options

Few segmentation choices
Pricing
When you choose Mailjet, you get a forever-free account option. With it, you can send 200 emails a day and 6,000 emails a month. You can have unlimited contacts, and have access to advanced statistics, standard email marketing tools, and advanced email editor, and APIs.
Next, you've got Basic, which is $9.65 a month. There's no daily sending limit, and you get 30,000 emails per month. With it, you get all the Free plan features, as well as online support. Plus, the company branding is removed and can be replaced with your own.
Premium comes after that and costs $20.95 per month for 30,000 emails a month with no daily limit on sending. You get all the Basic plan features. Plus, you get A/B testing, segmentation, multi-user collaboration, and marketing automation.
Last, you've got Enterprise, which is customized based on your needs. You get every feature available, which includes deliverability services, account managers, and so much more.
Who Is It For?
Mailjet isn't designed for a specific type of entrepreneur. However, we do believe that experienced marketers may find that it lacks too much advanced functionality to be useful for long. Therefore, it may be better suited for SMBs.
2. Constant Contact
Constant Contact offers an impressive blend of usability and functionality. You can get going quickly with it, and it provides a more tailored approach to email marketing. Therefore, it works for a variety of companies and entrepreneurs. However, there are a few areas it lacks in, and the price can be a little steep.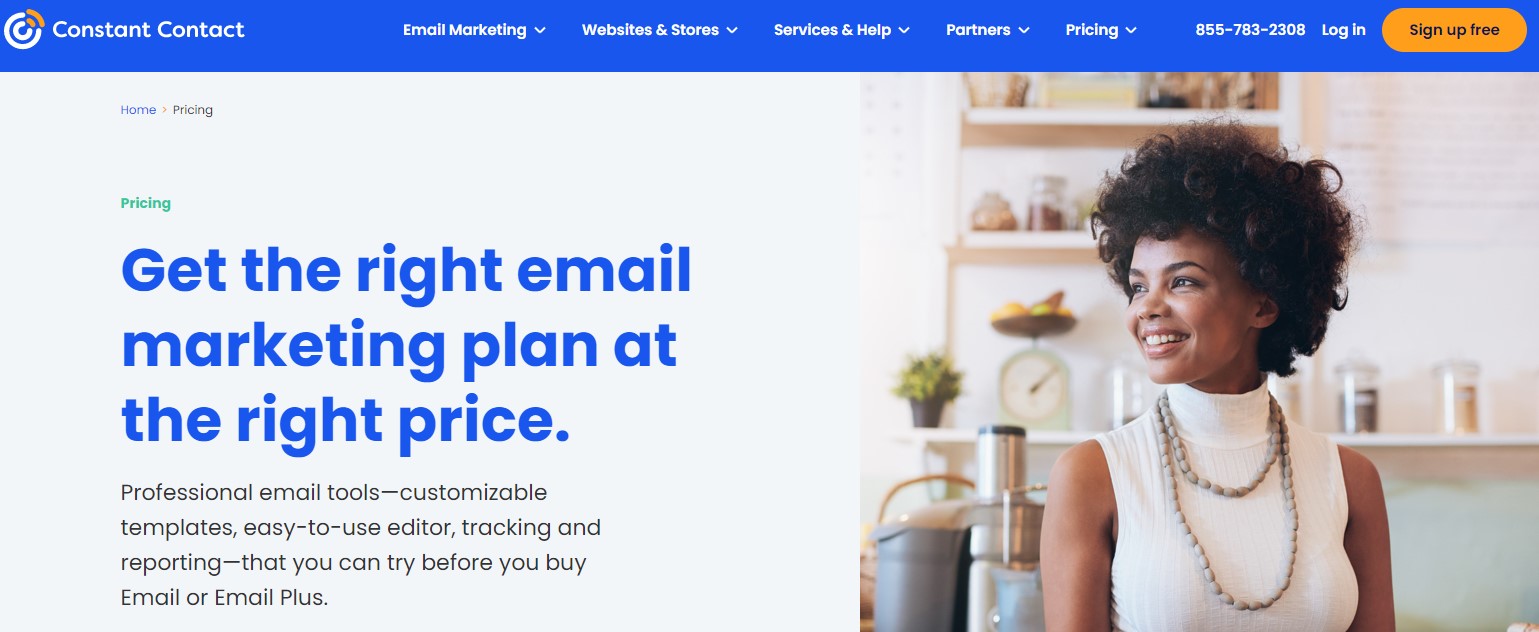 Features
With Constant Contact, you have access to various templates and marketing automation. Segmentation and e-Commerce marketing is also available. 
We also like that there are advanced reporting features. That way, you can see how well your campaign does based on the type of email. Compare various metrics side by side in one graph.
It's possible to create impressive emails that beg to be opened. You can also segment your contacts to improve engagement metrics, optimize contacts, and track the metrics to meet your goals.
You're going to go deep into your email's performance factors to determine what's working. Plus, it's all visual and can help you improve your skills and abilities.
Pros:
Community support

Advanced contact management

Intuitive user interface
Cons:
Basic landing pages

Few segmentation options
Pricing
Constant Contact offers an easy pricing structure. The Email version costs $20 a month, and the price is based on how many contacts you have. With it, you get eCommerce marketing, A/B testing for subject lines, automated resent for non-openers, and much more.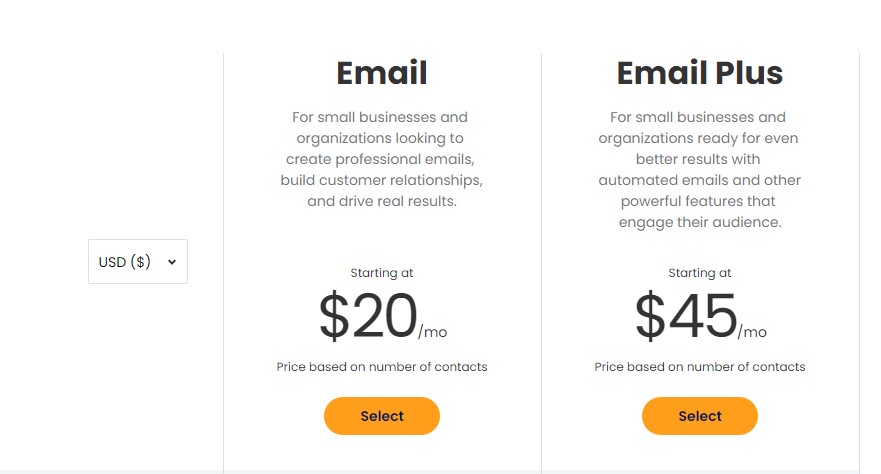 At the next level is Email Plus, and it costs $45 a month based on the number of contacts you've got. You get everything from the Email plan, as well as surveys, polls, automated behavioral automation, welcome series automation, and so much more.
There's also Pro, which costs $195 based on the number of contacts. It has all the features possible, including smart subject lines, segmentation, integrations, and others.
Who Is It For?
We believe that Constant Contact offers significantly advanced features without the high price. Contact management, reporting, and automation are at the top of this list. Therefore, it works for creatives, e-Commerce websites, and SMBs. However, the cost is a little steeper than other EmailOctopus alternatives.
3. SendX
SendX is a top email marketing solution because it's affordable, full of great features, and intuitive. The simple software is made for the busy marketer and business owner to help with email marketing and efficiency.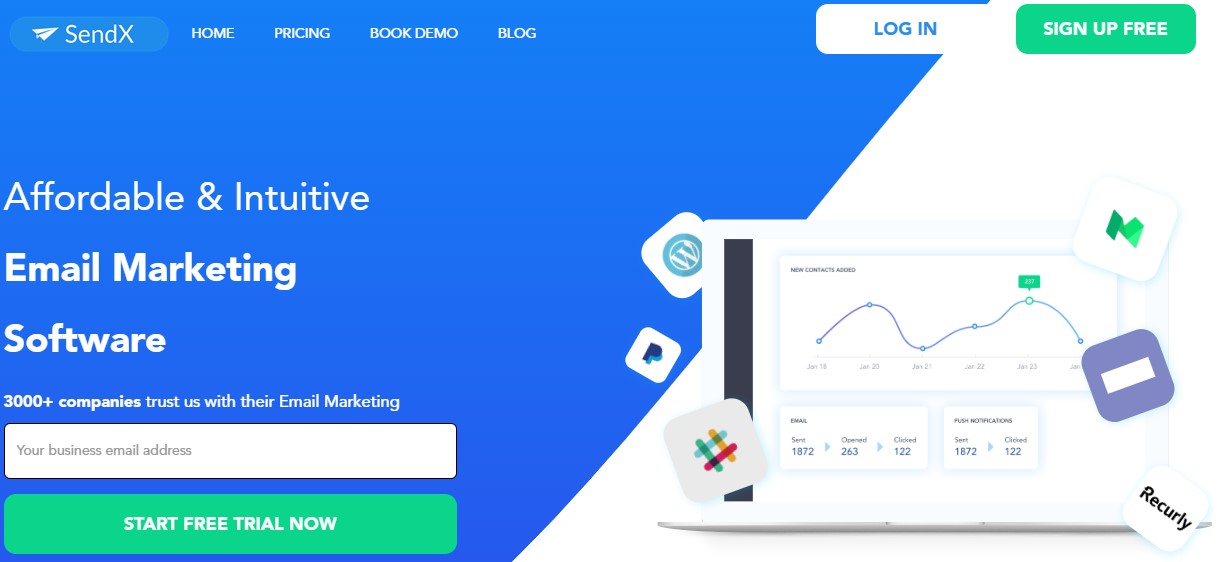 Features
With SendX, you have access to reliable features. You're sure to appreciate the email templates and drip campaigns. It makes it so much easier to send what you want.
We like the newsletter option because it makes it easier to send emails when someone subscribes. They're automatically added to the list, which means less work for you.
That's not all, though. You also get lead capture forms and popups. If someone visits the website, these things pop up and make it easier to grab leads as they visit the site.
You're going to be creating high-converting forms, call to action popups, landing pages, and much more. Plus, it's never been easier to send an email based on specific situations. For example, send a welcome email or newsletter when someone subscribes or a thank-you email when they buy something.
Pros:
Intuitive user interface

Drag-and-drop editing options

Easy to customize emails
Cons:
Not flexible for complex automation needs

Basic targeting and personalization capabilities

No forever-free plan
Pricing
Regardless of the plan you require, you get all the features and can send unlimited emails each month. The price you pay is based on how many subscribers you have. 
With up to 1,000 subscribers, you pay $9.99. From there, you can have 2,500 and pay $19.99. Then, you pay $39.99 for up to 5,000 contacts. At $59.99, you can have up to 10,000 contacts, and it jumps to $79.99 for 15,000 contacts.
Who Is It For?
We believe that SendX is an excellent tool for small and medium-sized companies, professional bloggers, and course creators. However, it might not be ideal for e-Commerce companies or very large corporations that require advanced settings.
4. Emma
Emma is still a new contender in the email marketing sector. It's only been around since 2005, and the creators wanted to make something that did a lot. Therefore, along with email marketing tools, you also have a CRM-style setup that helps you organize everything and keep lists straight.

Features
While email marketing is the top feature here, you can't really do that well without segmentation and list growth options. Therefore, you can create lists and add people based on specific needs or areas. Plus, there are email signup forms and a guestbook for those on the iPad.
Analytics and reporting are essential for any email campaign. With Emma, you get split testing for subject lines, click-based maps, integrations, and can compare emails.
You're also going to appreciate the dynamic content, marketing automation, templates, and email editor available.
Pros:
Many templates available

Great customer service

Easy-to-use format
Cons:
Yearly contract required

Few integrations
Pricing
Emma has a simple payment structure, but the one caveat here is that you have to sign an annual contract. 
With Pro, you spend $89 a month for 10,000 contacts. You get the drag-and-drop editor, email templates, real-time analytics/reporting, list importing, dynamic content, and segmentation tools. Plus, you can use A/B testing and code-your-own emails.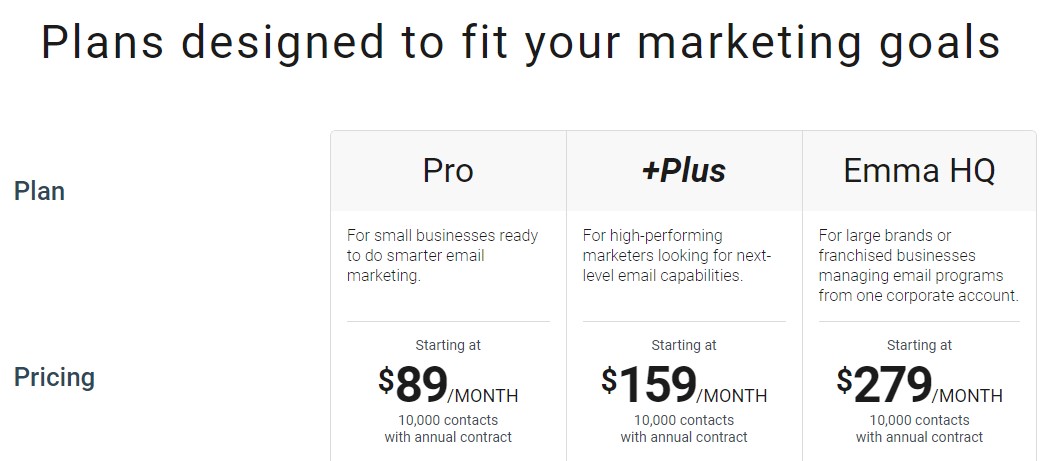 Plus is the next plan, and it costs $159 a month for 10,000 contacts. You get everything from Pro, as well as 10 users, unlimited workflows, and a landing page builder. With that are custom event automation and inbox preview.
Lastly, you have Emma HQ, which costs $279 a month for 10,000 contacts. Every feature is available, which includes an activity dashboard, template locking, private branding, and user/account permissions.
Who Is It For?
We believe Emma works well for entrepreneurs with long-term goals. Though we aren't happy with the year-long contract, this is one of the top EmailOctopus alternatives because of the many features it offers.
5. AWeber
As far as EmailOctopus alternatives go, AWeber might be the best overall choice. It's the top email marketing solution and is very well-known. The easy-to-use, solid, and affordable software are suitable for nearly everyone.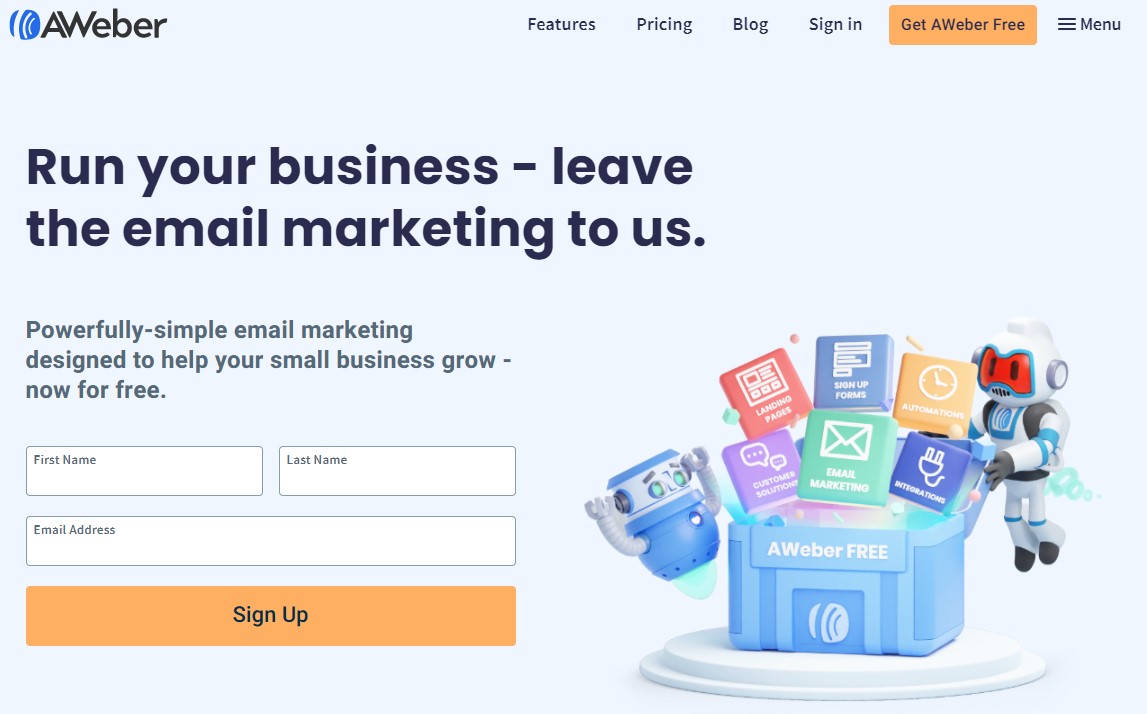 Features
Those who want a ton of features without a high price are sure to appreciate AWeber. It has the ability to upload contacts or add them manually. Plus, you can customize all the fields based on gender, favorite color, and so much more. 
There are also countless ways to create emails. You can spend significant amounts of time to create something completely unique. However, there are various templates available to send out emails in seconds. We like the drag-and-drop feature so you can add information to the template and customize it.
Automation is essential, and you can create your own workflows with AWeber. Plus, it helps you trigger campaigns based on whatever criteria you want.
Pros:
Advanced analytics

Automation builder available

Contact management options
Cons:
No way to preview emails

Easier navigation needed
Pricing
With AWeber, you get a forever-free option for up to 500 subscribers. You can send 3,000 emails a month and have one list. With it, you can create/send newsletters, use the drag-and-drop editor, and have email automation. However, emails are branded with the AWeber logo.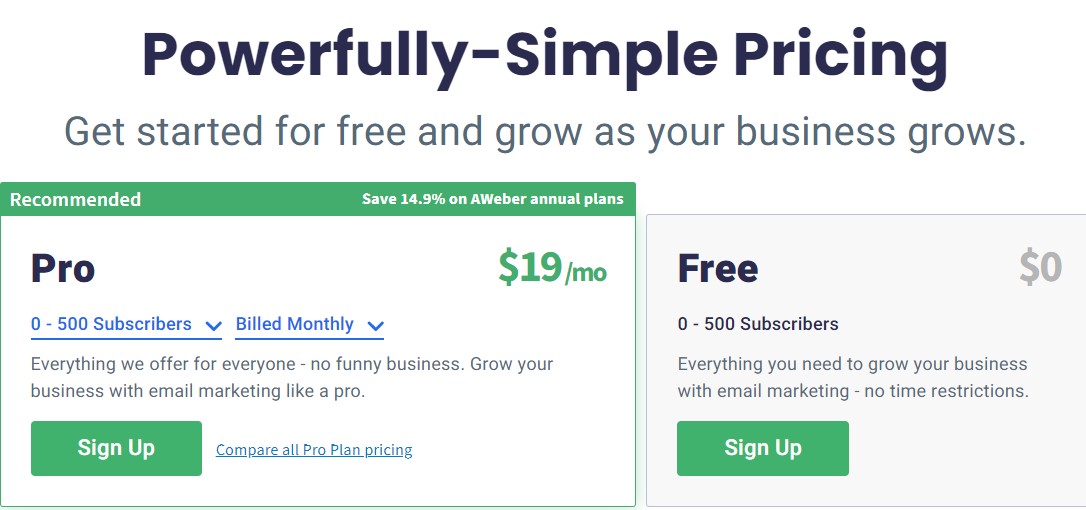 The Pro plan is $19 a month for 500 subscribers, and you get unlimited lists and email sends. Everything from Free is included, but you get so much more. For example, split testing and behavioral automation are available now. Plus, AWeber branding is removed.
Who Is It For?
AWeber is ideal for everyone. It's easy to use, but sometimes the features can be confusing. Still, inexperienced marketers can get through it. Experienced marketers are sure to find that it has plenty of advanced features.
Conclusion
Owning a business ultimately means sending emails to your customers and hopefuls. Though you can do it without an email marketing tool, it's going to take more time and be tedious work. 
ESPs can help you automate the process and provide segmentation so that you send emails to the right people. It's important to know about the best EmailOctopus alternatives out there so that you can make the right choice.
Though EmailOctopus has much going for it, we think that these five EmailOctopus alternatives might be better for your needs. Regardless, you've got the information needed to make an informed choice.