Generating leads is one of the most important tasks that any business faces. Whether you are just starting a business or it has been around for many years, lead generation is something that never ends.
What is important is that you regularly update your strategy according to market innovations. In other words, if tools that can help you make that lead generation tactic more effective are available, why not use them right away?
Pop-up and live chat tools can be extremely effective when it comes to this. They retain visitors to your website and stimulate their interest.
Getsitecontrol is just one of such tools. But, in case you want to try some more alternatives, keep reading this amazing article.
In it, we will cover the 3 best Getsitecontrol alternatives:
We will move on to their introduction shortly, but before that, we will give a brief overview of the positives and negatives of using Getsitecontrol.
Getsitecontrol: Overview
Getsitecontrol is a tool that you can use no matter how big or small your business is.
It includes:
Pop-ups

Live chats

Surveys

Social share widgets
Source: Shopify App Store
You don't need coding or designing skills to use Getsitecontrol. You can make custom forms, but you can also choose templates from the gallery that will suit your needs properly.
Getsitecontrol's features:
Template gallery

A/B testing

CSS editor

Multipage widgets

Triggering and targeting options

Autoresponder

Integrations
Getsitecontrol: Advantages and disadvantages
In principle, each tool may have something that does not suit someone and vice versa, but here we will show some general advantages and disadvantages of using Getsitecontrol.
What are the advantages of Getsitecontrol?
The main advantage is that it includes different solutions as we have already mentioned in the overview section. It also has enough features that can cover most users' needs.
Getsitecontrol has an easy implementation and you don't need much effort to customize pop-ups.
What are the disadvantages of Getsitecontrol? 
Customization has its own limits. There could be a much greater number of options for making more visually appealing pop-ups and widgets.
This can really affect the overall effectiveness when it comes to a lead generation strategy.
Now, let's see which Getsitecontrol alternatives can be the best pick for you and your needs.

Poptin is the perfect Getsitecontol alternative for making pop-ups. This is a tool focused on creating:
Pop-ups

Embedded forms

Automatic emails

You can choose between lightbox pop-ups, countdown pop-ups, full-screen overlays, and more.
It is very easy to use, and the dashboard has numerous options for customizing your engaging forms.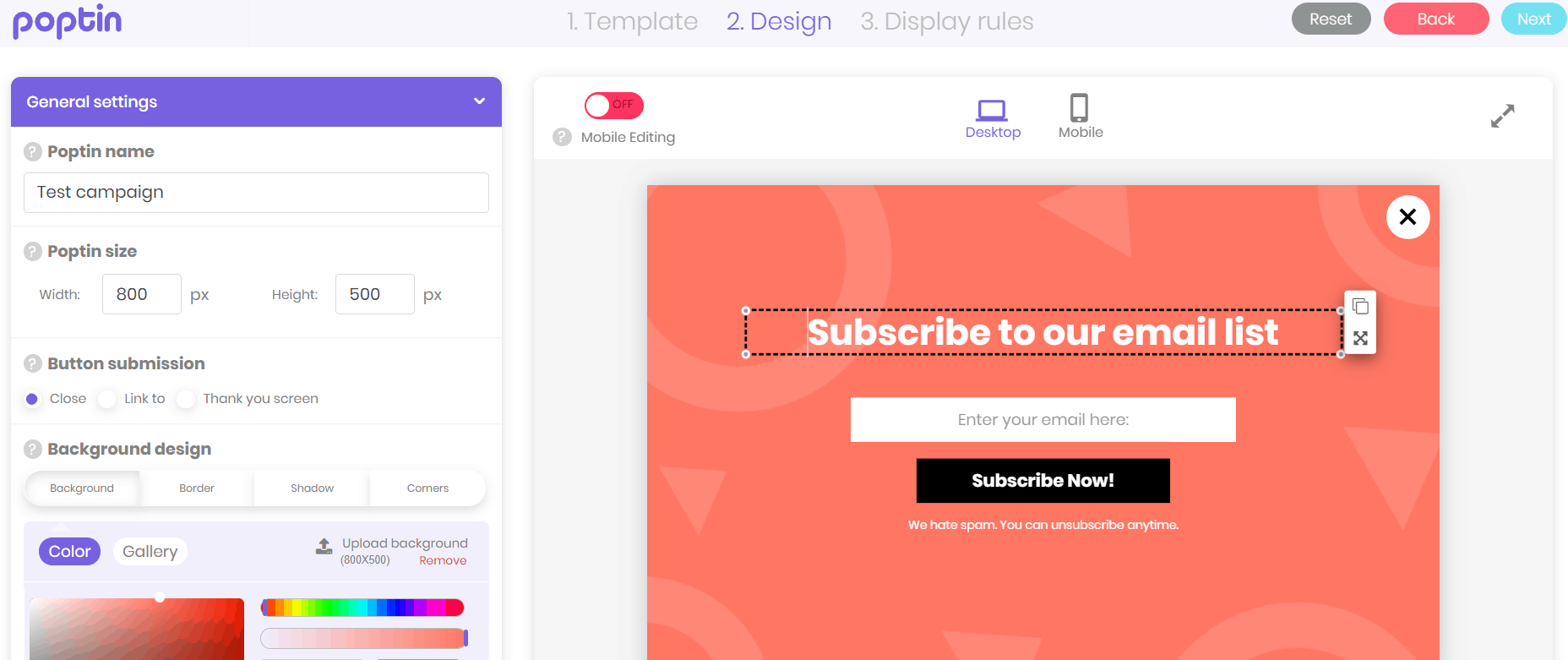 Thanks to the drag & drop system, you can easily move and add fields and elements until you get the pop-up look you envisioned.
You may also add several elements like a countdown timer that may speed up conversions, media files for visually appealing popups, and more.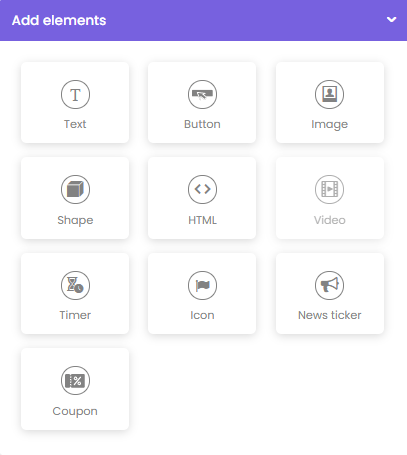 Poptin's features:
Templates library

Customization

Drag & drop editor

A/B testing

Advanced triggering options

Advanced targeting options

Analytics

Integrations
Advantages of Poptin
In just a few minutes, you can set up a pop-up and implement it on your website. You can also use split tests to see to which pop-up window your target audience responds best. To monitor your performance, you may rely on Poptin's built-in analytics.

Numerous integrations will make it easy for you to connect with the most important platforms such as Zapier, HubSpot, MailChimp, GetResponse, EmailOctopus, Klaviyo, and many more.
Smart Exit-Intent technology will recognize which one of your visitors are planning to leave your website and grab their attention with your best special offer.
Poptin is completely mobile responsive, too.
Disadvantages of Poptin
Poptin has great analytics that covers your visitors' actions in-depth, but if you are a starter, you may encounter some difficulties trying to understand them completely.
This type of situation is often solved by contacting support.

Poptin's pricing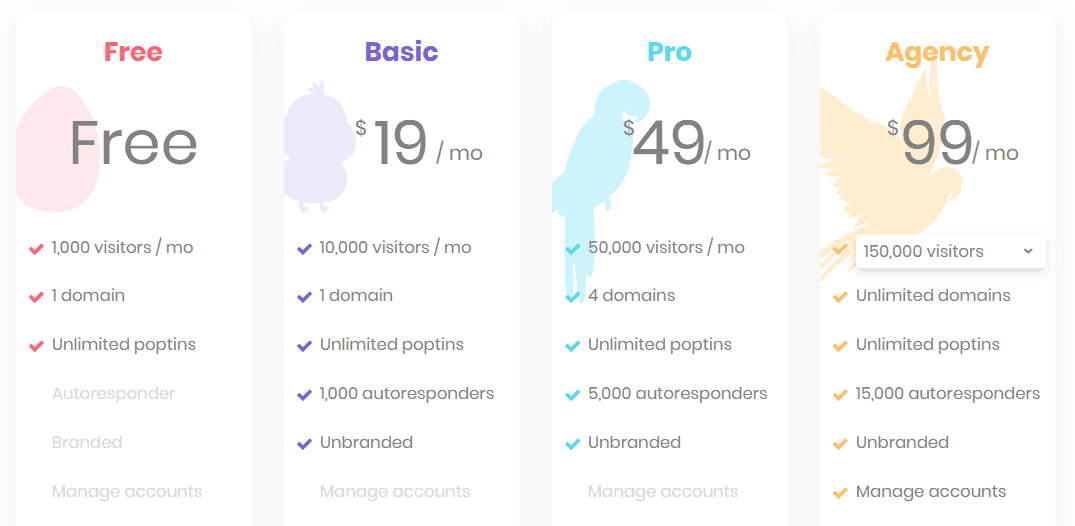 Poptin has several packages. A free package offers an unlimited number of poptins, which is more than satisfactory. 
Why is Poptin the Getsitecontrol alternative you must try out?
Poptin offers many features that can make your lead generation strategy very successful. Pop-ups are visually appealing, which is of utmost importance for attracting attention and keeping people on the website.
It has advanced triggering options which allows you to set pop-ups to appear exactly at the right moment. Some of the triggers are:
Exit intent

Time delay

Scrolling

On-click
Another important item is the complete customer support that is ready to help at any time to make the most of pop-ups and convert as many visitors into customers as possible.
With this in mind, Poptin is a really cost-effective tool.
Tawk.io
Tawk.io is a great Getsitecontrol alternative for using live chat. Keeping in touch with your visitors is another important part of the lead generation strategy.
When they come to your website, visitors usually have a bunch of questions and with Tawk.io, they will no longer have to wait for answers.
And, with the help of a dashboard, you will have an exact insight into various details such as:
Number of visitors

Answered chats

Missed chats

Historical analytics

Pageviews

Reporting

With Tawk.io, you can choose between 27 different languages and it also has Geo IP tracking.
Tawk.io's features:
Real-time monitoring

Native mobile apps

Customizable widgets

Canned shortcuts

Analytics

Integrations
Advantages of Tawk.io
Tawk.io is very easy to use and it is also free, so if you are just starting a business and do not have big budgets, this is a great tool for you.
The analytics provided by this tool is extremely important in order for you to see what is happening on your website and how many visitors want to interact with you.
You can send group messages and transfer files.
It also allows you to chat via your mobile device.

Disadvantages of Tawk.io

Sometimes smaller errors can occur, so you need to refresh the page.

Although Tawk.io tries to prevent spam messages, there may be omissions when it comes to this feature.
It may also happen that an email notification notifying you of a missed chat arrives later.
Tawk.io's pricing
Another significant benefit when it comes to Tawk.io is the fact that a live chat is free to use, and if you wish, you can hire an agent for $1 per hour.
Why is Tawk.io one of the best Getsitecontrol alternatives?
Good communication between you and your visitors is a must if you want to show them that you are there for them and prove yourself trustworthy. Tawk.io is a tool that will give you just that, plus with the help of its various features, you can take communication to an even higher level.
Thanks to different languages, you can localize greetings and messages in a language you choose.
It has integrations with the most important website platforms such as WordPress, Joomla, Magento, and others.
If you want to respond quickly to your potential customers, you can do so with the Redefined Shortcut feature.

Sleeknote
Behind this Getsitecontrol alternative is a team of marketers who, knowing their own needs, have created a tool designed for marketers primarily.
Sleeknote is especially recommended for e-commerce websites.
You can customize each campaign you run so that it fits in with your store without having to hire developers or designers.
Source: Capterra
With the help of Getsitecontrol, you can create pop-ups that will highlight special offers, discounts, and more.
Sleeknote features:
Customization

Mobile editor

Analytics

Split testing

Product recommendations

Radio buttons

Triggering options
Advantages of Sleeknote
Sleeknote triggers allow potential buyers to be attracted at the right time.
There are many features that can be very useful, and one of them is the Multistep Campaigns feature.
If you want more information about your visitors, multiple campaigns will reduce the possibility of your questions being boring to them and they will make sure you get more sign-ups.

Disadvantages of Sleeknote
In order to stand out in the market, sellers need as many options as possible to help them achieve that. In that regard, Sleeknote doesn't provide many product options, which is a real shame.
Compared to other pop-up tools Getsitecontrol definitely belongs to the more expensive side, since the Basic package starts at $49 a month.
Sleeknote's pricing

The price is based on the number of sessions.
Why is Sleeknote another great Getsitecontrol alternative?
Sleeknote is really easy to set up and get started.
It includes features that will help you to:
Collect visitors' email addresses

Increase sales with pop-ups

Advise visitors via on-site messages

Guide visitors with a personalized digital assistant
With its analytics, you will be able to track how your campaigns are performing and achieve the desired goals.
The bottom line
Lead generation is a complicated task, but in order to run a really successful business, you need to turn it into realization.
Appropriate tooling can make this whole process of getting new customers easier and less challenging.
If you want to target your audience the right way, get their attention, and convince them that what you are offering is exactly what they need, then Poptin is the right choice for you.
Pop-ups that you can create with this Getsitecontrol alternative will make your website look more interesting and create a special user-friendly experience for all your visitors.
With the help of analytics, find out how they respond to your offer and you will immediately see what your next steps are.
Don't waste your time, hurry up with converting leads into real loyal buyers!