People looking forward to growing their email list have many resources available for them.
One of those resources is website pop ups. Using them is not only helpful for email marketing but also everything related to eCommerce. Therefore, it's an excellent alternative for you if you want to expand your business and get more leads.
As their name suggests, these ads pop up on the user's screen when they get to your website. Many things can trigger pop-ups, and you can use those triggers for different uses and design pop-ups to achieve various goals. Nonetheless, designing pop-ups is not easy at all, so some people use apps to make things easier for them.
Outgrow is one of the most popular ones on the market, but that doesn't it's the only one available to users. There are many Outgrow alternatives out there for you, so take some time to study them all and choose the one you like best!
Outgrow: Overview
Many people find it difficult to say what Outgrow is since it represents more than one thing. People could say it's a tool that focuses on increasing website traffic, growing email lists, and helping people understand more about digital marketing. Therefore, it includes many features and even eBooks to help people understand more about the matter.
This website offers many features to anyone who signs up for an account, and that includes a pop-up builder with many templates available for you. Outgrow has helped people boost online conversions by more than 30%, making it a highly reliable app.
Outgrow's educational sources are one of the things that make this software appealing to people. The reason for it is it helps anyone who doesn't know that much about digital marketing learn all the basics of it. However, people, who already know everything there is to know about it may not need those resources.
What Are the Best Outgrow Alternatives?
We are here to help you find the best Outgrow alternatives for you, so read on if you are interested in them! You can find five of these apps on this page, and each of them allows you to create pop-ups, edit them, and other features related to digital marketing.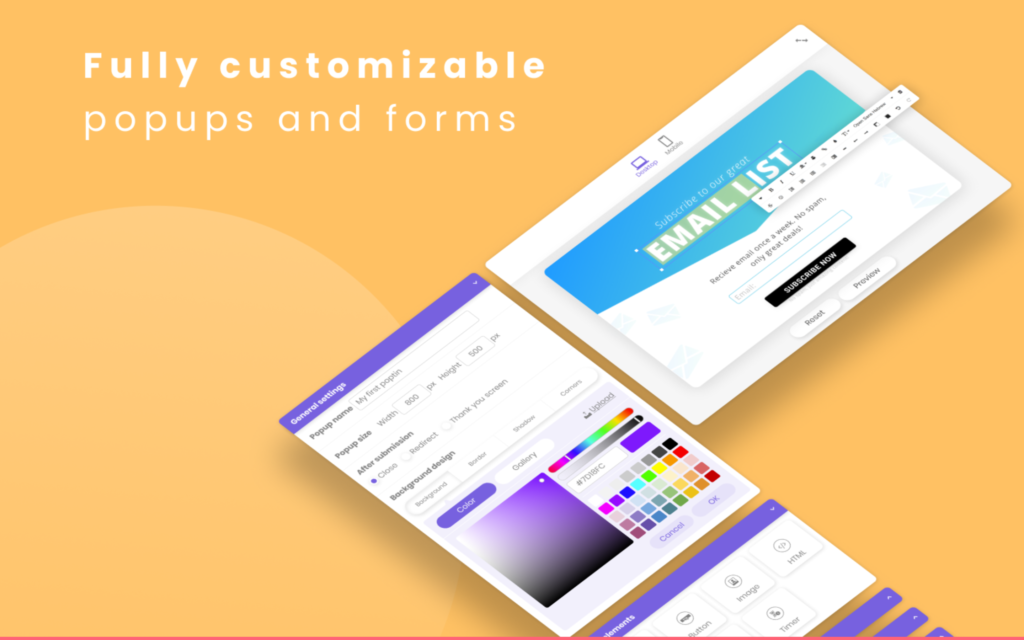 Pros
Integrations
Targeting
Smart triggers
Excellent customer support
Beginner-friendly interface
Reports on how your pop-ups are doing
Reasonable pricing
Cons
It may have some minor glitches
Poptin is one of the most popular pop-up builders on the market, and that's due to its quality. This company's main goal is to help you get more leads and prospects in the run, so all its features work together to get closer to that goal.
Poptin's Features
Email marketing is not left out, so many Poptin features help you get more readers and subscribers through your emails. You can create any kind of pop-up, website contact form, or email form with this app. One of the reasons people find this app that appealing is how much you can customize and edit each pop-up.
Most programs only let you create different pop-ups for your company and then change them a little if you feel like it. However, the strong point about Poptin is it focuses on making those changes, and its IA and analytics feature tells you what you need to improve about your pop-ups.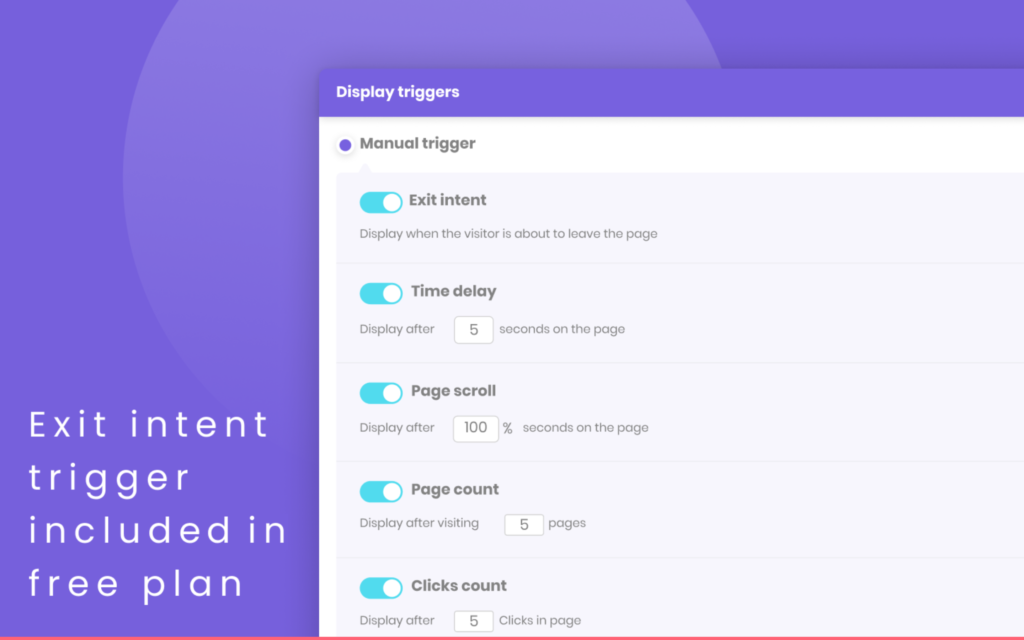 You don't need to be a professional designer o programmer to use Poptin, so don't worry about that if you are a beginner at digital marketing. Poptin's interface is highly intuitive, and it's almost impossible to get lost along the process.
Emailing coupons to your customers is also easy with Poptin since you just have to make a few clicks to do it with gamified popups. The same applies to email links, thank you emails, and cold emails. Poptin allows you to create exit pop-ups, welcome pop-ups, time-tracking pop-ups, and even use a CRO tool.
A/B testing is also within the app's range, but it's more complex to understand and use than other features, so we only recommend you use it if you know a thing or two about email marketing. You can analyze your pop-ups and see what you need to improve about them with its statistics feature.
View complete features here.
Integrations
Don't worry about integrations, either! Poptin has more than 50 integrations available for you, so you don't have to say goodbye to your favorite tools while using Poptin.
You can use this app on any platform. Creating your first Poptin only takes a few minutes, so try it up and see if you like it! Poptin includes four plans: the free one, the basic one for $25/mo, the pro one for $59/mo, and the agency one for $119/mo. 
Check out this quick Poptin review by the CEO of Shapewear Wholesale and learn how the company uses it for effective lead and sales generation:
#2 Proof Factor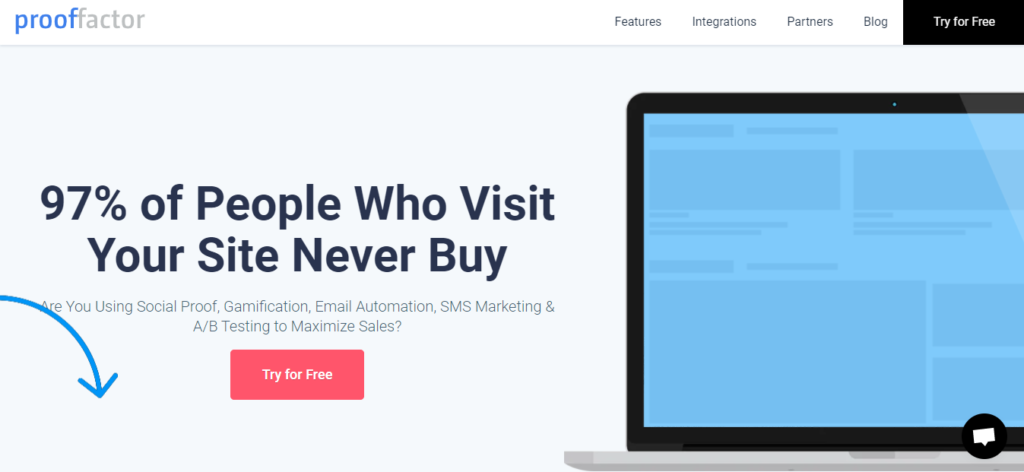 Pros
It has a wide variety of features
It has decent pop-up templates
Cons
Customer support takes some time to answer
There are many apps to increase your conversions on the market, but not all of them give you what programs like Proof Factor have to offer. Whether you want social proof, gamification, SMS marketing, or email automation, this app has it.
Exit intent triggers are one of the pop-ups you can get with this app, but it also includes interactive game pop-ups, time-tracking pop-ups, and even welcome video pop-ups. Features such as live visitor counts are also available for you if you pay for these services.
Speaking about paying, pricing is one of the most important parts of every service or product for sale. Like most products on the market, Proof Factor has a free version that includes unlimited contacts, gamification, and pop-ups templates.
The app's small business plan is $29/mo, and it offers other features such as sales notification, five active campaigns, and success managers. If you want to expand your business like never before, you can choose the high-traffic site, which is $79/mo.
Finally, Proof Factor's last plan that costs $179/mo, but it's mostly suitable for big companies.
#3 Convert Pro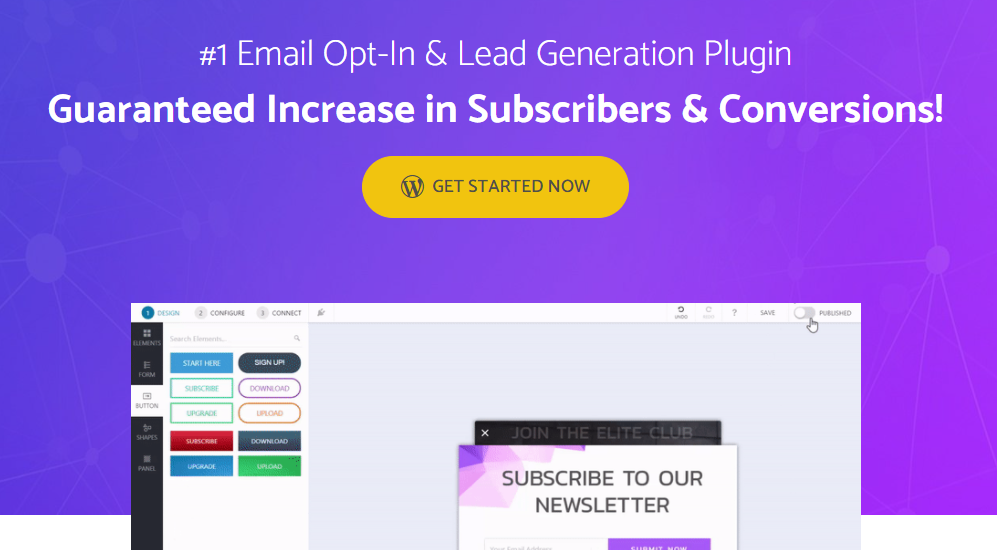 Pros
It makes generating leads easier than ever
It has a drag and drop builder
Cons
It's one of the most expensive programs on the market
Many users say that generating leads had never been easier before Convert Pro. Overall, this app can help you in many ways since it's an easy-to-use program.
The first thing you need to know about Convert Pro is that it's 100% compatible with smartphones, so using it is not a problem for anyone regardless of the devices they have. Using this app is smooth and fast due to its super-fast loading feature that ensures you don't have to wait more time than needed.

Like other apps, you can use its drag and drop editor to change your pop-ups in no time. The primary downside of this app is its price. Convert Pro doesn't offer a free trial, and its most affordable plan is $86/mo. Apart from that, people only have one other option that costs $249/mo, which can be really expensive for some.
#4 Bloom
Pros
It focuses on growing your email list
Cons
It doesn't offer any other significant features
You need an Elegant Themes membership to use it
Bloom is not as popular as the other apps on this list, but it's a decent Outgrow alternative. The best and worst thing about this app is that it focuses on growing your email list. Therefore, you are not going to find any other additional or special feature in this software.
However, its features are decently optimized, so you are not going to have any trouble using it or trying out any features you like. Things change a little when talking about Bloom's pricing, and the reason for that is paying for it is way different than with other products or services.
If you have an Elegant Themes membership, you can have Bloom for free. You can buy Bloom without the membership, but it would still require you to pay for an annual license.
#5 Popconvert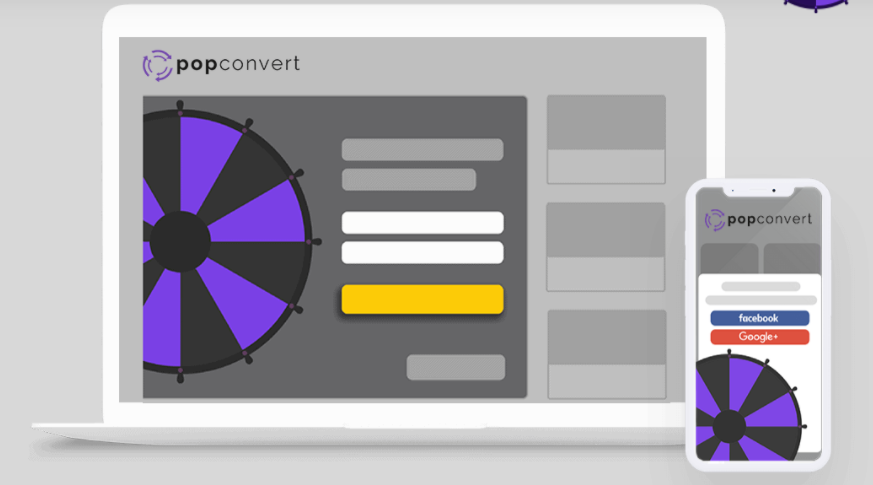 Pros
It's easy to use
It has excellent customer support
Cons
It only lets you make pop-ups
Popconvert is similar to the previous plugin since it only works for one thing, and that is making pop-ups. The good thing about the app is that it can create pop-ups within a few minutes, so it doesn't take any time for you to make creative and innovative ads.
Its customer support is fast, which means you can address all your questions with no problem. Keep in mind this app is entirely free of charge, which may be excellent news to those who are looking for something to make pop-ups only.
#6 Growmatik
Pros
It offers eCommerce automation
You can start for free and pay as you grow
Cons
The last product on this list is Growmatik, which despite not being that popular, offers excellent features to its users. This app works like the first ones on this list, so it gives you full digital marketing automation to help you improve your sales and leads in the shortest term possible.
Growmatik allows you to start for free, and you may only pay if you grow as a company, which is helpful for smaller businesses.
Wrapping Up
You can choose from many Outgrow alternatives online since each one of them offers different benefits and uniquely helps your company. Poptin is the best option on the list, so we recommend you sign up for a Poptin account as soon as you can. Click here to go directly to Poptin's website!