Mother's Day is a popular holiday. The eCommerce industry uses it to boost store conversions and drive revenue. In 2020, about $25 billion was spent on moms, with the average buyer paying $200 for this day alone!
The top-selling gifts include clothing, jewelry, flowers, gift cards, and consumer electronics. However, every industry can get involved.
It's essential to have seasonal promotions, but the timing is crucial. About 27 percent of buyers buy gifts during the week of Mother's Day, but 19 percent do it in late April, and 26 percent purchase items in early May.
With so many opportunities to sell, it's crucial to have website popups to steer people to buy your items. Mother's Day pop ups are so important, and Poptin is an affordable and easy-to-use marketing tool to help you be a success during seasonal promotions!
Mother's Day Pop Up Ideas
There are so many ways to use pop-ups for Mother's Day. If you're having some trouble thinking of options, here are the top ideas out there:
1. Discount pop ups to make the day more special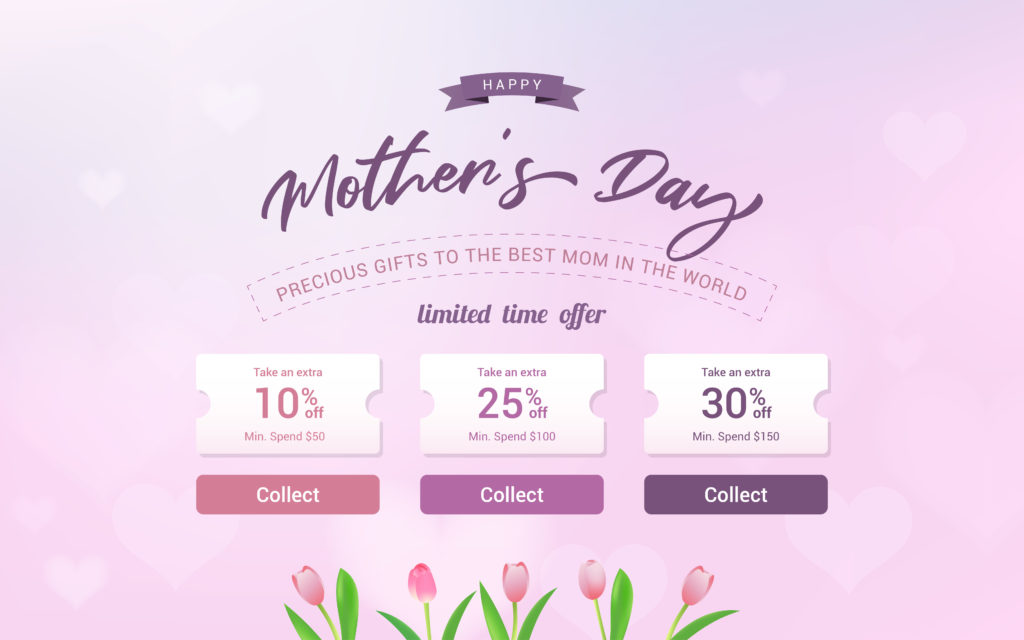 Everyone loves a discount. Even if someone isn't shopping for their mother, they can still sign up for your newsletter or receive a discount. This makes them want to buy your items now, which boosts sales.
However, discount pop ups can make Mother's day even more special. Help people save money (and possibly buy more from you).
2. Exit-intent pop ups to avoid abandoned carts on this special occassion
Many people add things to their carts online and then worry about the expense, so they close the page and do something else.
Creating exit-intent popups avoids that issue. As they're about to close the page, they see an enticing offer. They click the link, and the code is automatically inserted into their cart!
It's a win-win for everyone!
You can even use exit-intent pop ups to boost your email list and gain more sales in the future if they're not ready to buy just yet.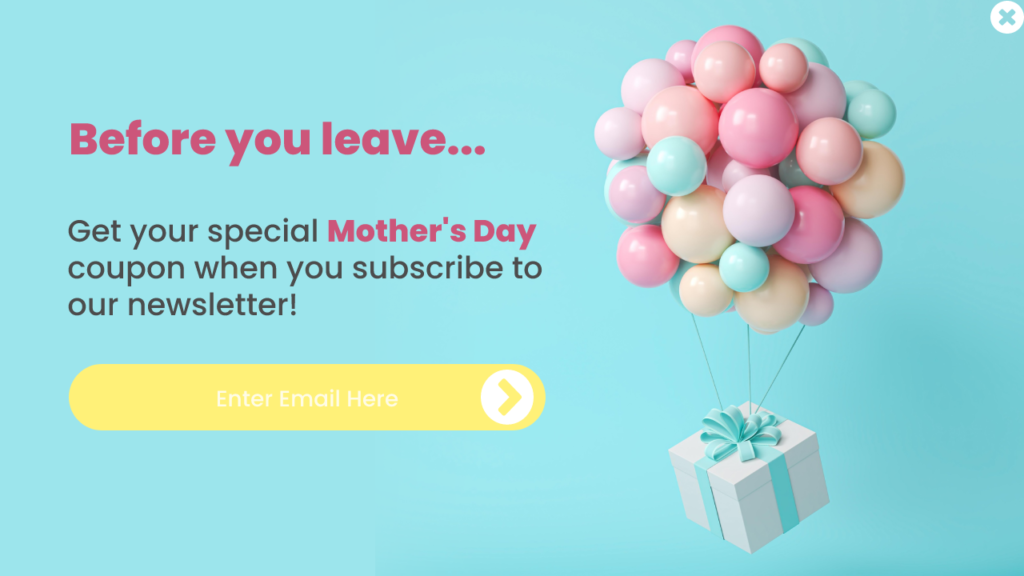 3. Countdown popups to lure customers to purchase gifts for moms
People are busy, and it's easy to forget holidays, especially when gifts are considered customary. With countdown popups, you create a sense of urgency.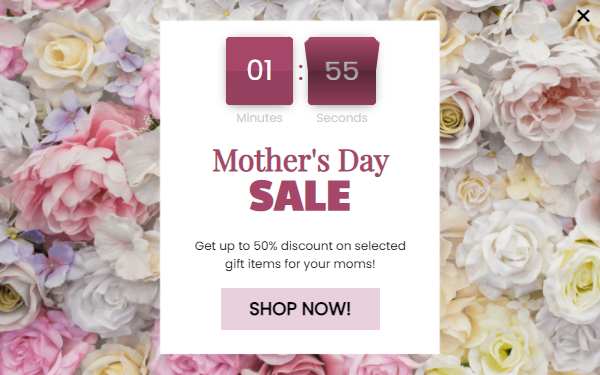 If your special deal is only available for a few days (or hours), it adds more to the fear of missing out. Pop-ups are a great way to let others know how long they have to use the deal you offer.
4. Make gamified pop ups to boost email signups
Gamified pop-ups let people play a special game to "win" a discount. While you could put those pop ups directly on the website, you can also request the person's email before they can play.
This form of email popups ensures that you get an email address. That way, you can market to them all year long.
5. Offer exclusive coupon codes
Most companies use Mother's Day pop ups to provide exclusive coupons. It's a great incentive and can help you boost conversions, get email addresses, and find loyal customers. I used one of Poptin's customizable templates to create this design below:
6. Show Yes/No pop ups to drive engagement
While many pop-ups are designed to create an action, yes/no pop ups can also drive engagement. The person is interacting with you, either on social media or on the website. This helps you see if they're interested, allowing you to try to grab their email address later.
7. Unlock Mother's Day content via email popups
Email popups in the form of lightboxes come from the top of the website page and darken everything behind them. Put one of them on your site, promising special Mother's Day content if the person enters an email address or performs a specific action.
How to Create Mother's Day Pop Ups
Poptin is a user-friendly pop up builder that offers a lot of customizable templates for free. You can design your targeted pop ups in minutes, without the hassle of coding. It's also packed with amazing features that allows you to optimize your Mother's Day pop ups for maximum conversions.
Whether you want to implement lightboxes, overlays, bars, widgets, and email forms, Poptin can provide you with all the needed tools to reduce cart abandonment, boost email signups, improve engagement, increase sales, and more this Mother's Day season.
All you have to do is to create an account with Poptin and you're good to go!
Here's a quick tutorial on how to create your first ever pop up:
Wrap Up
Pop ups are used by companies every day, and there are plenty of ways to do it. However, when a big international holiday comes around, it's even more important to have things ready to go. Mother's Day popups are only available for a short time.
Consider adding discount pop-ups to sweeten the deal, countdown popups to create a fear of missing out, and exit-intent popups to reduce abandoned cart issues for this occasion.
It's also possible to use gamified pop ups to encourage email signups, which means you get more chances to market to those people. With so many ways to use Mother's Day popups, you're sure to see more revenue and higher conversion rates.
Explore more Poptin features here.
What's Next?
While pop ups are a great choice, and they can be highly beneficial for your eCommerce store, they aren't the only way to promote your brand. Don't forget about other low-cost marketing ideas, such as redesigning the homepage, posting relevant content on social media platforms, and having a newsletter.
Pop-ups can still be used on those things, and you need an easy way to do it.
Now is the time to create Mother's Day popups with Poptin for free! Sign up now!