Email marketing software is designed to help you get more deliverability with your emails. You can also create surveys and offer integration with social media.
However, there are countless options on the market, making it tough to find the right software.
Though you like having the choice, you also have to weed through those that don't meet your current needs.
What Does Campaign Monitor Provide?
Campaign Monitor attracts many marketers because it offers unique and essential features that they need to build and launch email marketing campaigns.
However, most people want something that grows with them.
Your needs are going to change with time, which means you need software that does that, too.
Instead, Campaign Monitor gives you everything upfront and doesn't allow you to grow.
It works well for many small companies and those that are never going to get much bigger. It can also be worthwhile when you're learning about email marketing.
Still, we think some alternatives could be better.
The Chicago-based automation tool has helped over 90,000 customers. However, you may be surprised that these people send fewer emails but get better results. It's always about quality; sending more emails doesn't necessarily give you more chances to sell. You've got to be selective, and with this platform, that's possible.

Features
ActiveCampaign provides pretty much everything necessary to be an effective marketing tool. You also get advanced automations, which aren't available with Campaign Monitor. These automations include autoresponders, but you also get automation with list and contact management, as well as deals. The Deals section is unique to the platform and helps you add notes, set appointments, and send direct messages to specific contacts.
At first glance, you may feel that the dashboard is very busy and complicated. Still, it's useful that all the information is at your fingertips, and it doesn't take long to learn the system.
Pros:
Powerful automation that's easy to use
Thorough reporting features (click-maps, page visits, geo-tracking)
Free migrations
Great deliverability
Cons:
Overwhelming features at times
Takes time to learn/understand
Pricing
Pricing fluctuates based on the number of contacts, how you want to get billed, and what you require. For example, if you've only got 500 contacts, the Lite version costs $9 per month, but you pay a lump sum annually. It costs $15 a month if you pay each month.
Of course, the Lite plan doesn't come with much. You get more with the Plus, Professional, and Enterprise versions. It can be challenging to pick the right plan. However, you can always upgrade to the next if you find something you need and don't have.
Who Is This For?
ActiveCampaign is great for businesses that are serious about automation and require an integrated marketing and sales platform. The built-in CRM is invaluable here. It is also fitting for those who need multi-channel marketing.
However, if you want something that's low maintenance or offers a quick way to send a couple of emails, this platform might not be the best choice. However, consider growing pains; you may not need all these things now but might in the future.
ConvertKit is actually newer in the market, but the product has become popular. It primarily targets bloggers, but it also is geared toward YouTubers, podcasters, and other creators. We have to admit that the pricing is a bit higher than others to start out, but the amount of features you get quickly makes up for that.
Features
There is a free plan, which can be a great feature if you're starting out and want to test an email marketing solution. Plus, the system is quite easy to use.
It's also difficult to add grouped images and CTA buttons. However, there is automation, such as autoresponders and landing page options. Plus, you get A/B testing for the subject lines and plenty of personalization.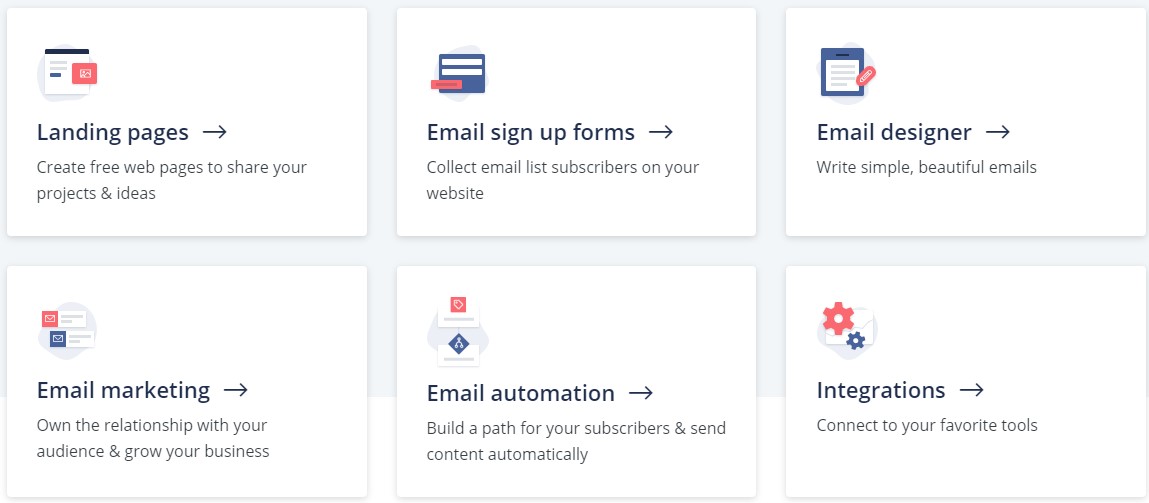 Email sequences are allowed, and you get workflow visuals. Once a user triggers the event (subscribes or clicks a link), it's possible to customize communications by adding various actions. This is helpful for adding tags and subscribing them to a particular sequence.
Pros:
Responsive support
Flexible management of users and subscriptions
Landing page editor
Cons:
Fairly expensive
Few design/template options
No in-depth reporting
Pricing
There is only one real pricing plan here. You do get access to a forever-free version of the product. This means you can build an audience with unlimited traffic and landing pages, customize your domain, and tag subscribers. It works for up to 1,000 subscribers.
However, it is limited, as you don't get integrations and automation. Therefore, you may want to purchase the Complete plan, which is only $29 per month to start, depending on how many subscribers.
There's also a free 14-day trial, giving you access to everything to test it all. If that wasn't enough, it helps you migrate from your current email marketing tool to this one.
Who Is This For?
This software is primarily for people who require very targeted campaigns. There are segmentation and tagging with plenty of flexibility. This means you can run more focused and automated campaigns and send them to tailored contact groups. The built-in editor for landing pages ensures that you can manage it all with one tool.
However, if you desire to send more visual emails, you may be limited. There are only three templates (text-based). It also costs more, so you need to have a bigger marketing budget.
SendX isn't as well-known as some of the others on the list, but it is quite affordable and comes with many features. Its goals are to give marketers a simple UI. You've got access to 24/7 support (live), various emails, and the best deliverability. More than 3,000 companies use this for their email marketing tool.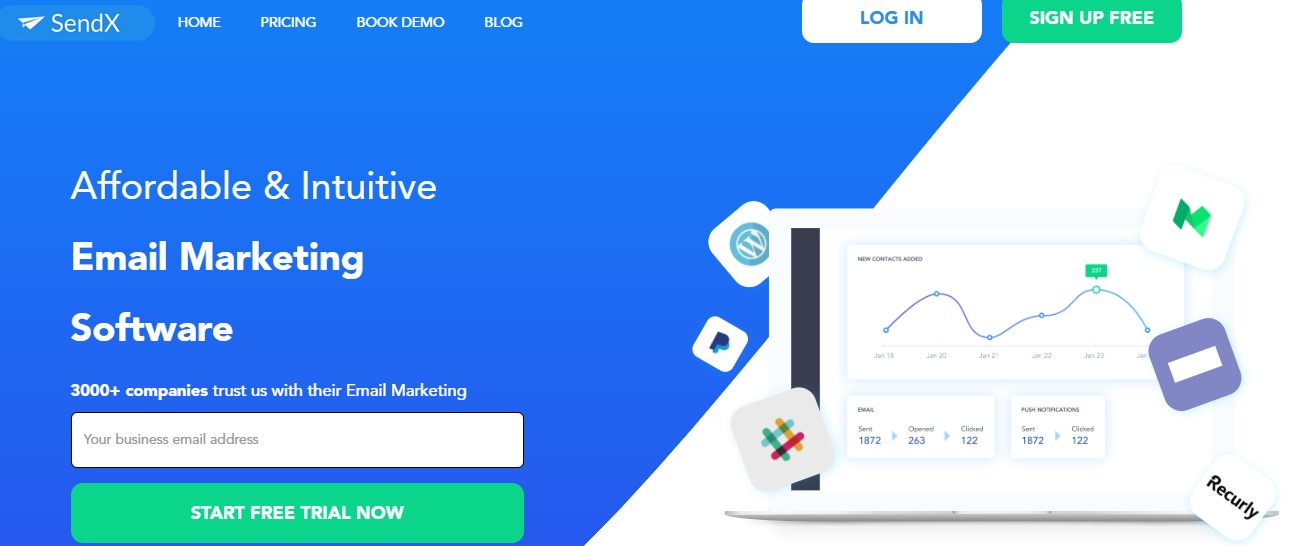 Features
With the product, you can send unlimited email campaigns. This is important if you have many subscribers or prefer to send emails constantly. You can also build up the email list you prefer using pop-ups and forms.
There are significantly powerful automation tools at your disposal, and you also get an email editor with drag-and-drop features. This is helpful when you're in a rush and want to get information into the form quickly. Plus, there's no coding knowledge required.
SendX calls it the best of breed deliverability, which means your emails go to the primary inbox instead of the spam or promotion folder. This means they have a better chance of getting read and not just deleted.
Plus, if you're already using an email marketing tool, you get free migration to SendX from the old account.
Pros:
Integrations
Mobile previews
A/B testing and basic reporting
Cons:
Can be glitchy
Not mobile-friendly, but you can change it for mobile requirements
Less editing options
Pricing
The prices are straightforward with SendX. For 1,000 subscribers, you spend $7.49 for the Business Plan and get all the features with unlimited emails each month. The only things you don't get on the Business Plan are advanced training and an Executive ROI review. This is, however, available with the Enterprise Plan. Prices are unavailable; you must call or email to request a quote.
Who Is This For?
Primarily, SendX claims it is suitable for business owners and marketers. We feel that this is accurate, as it allows for automation, is easy to use, and has quite a few templates. Plus, the prices are comparable to others, especially Campaign Monitor. However, if you require a lot of integrations or want something that grows with you, this could have limitations. Also, we're not sure that anyone is going to need the Enterprise plan because the system isn't that hard to use.
GetResponse claims that it is an easy tool to use and offers many professional features. It's a Polish-based company and has more than 1 billion clients in 182 countries. Let's take a look at the features to get to know it better.

Features
Feature-wise, it has a lot more options than other marketing tools we have reviewed. There is A/B testing, as well as comprehensive design options, video email marketing, and custom landing pages.
We especially like the landing page feature because it offers Conversion Funnel, a newer feature that helps with traffic generation and even offers online store features.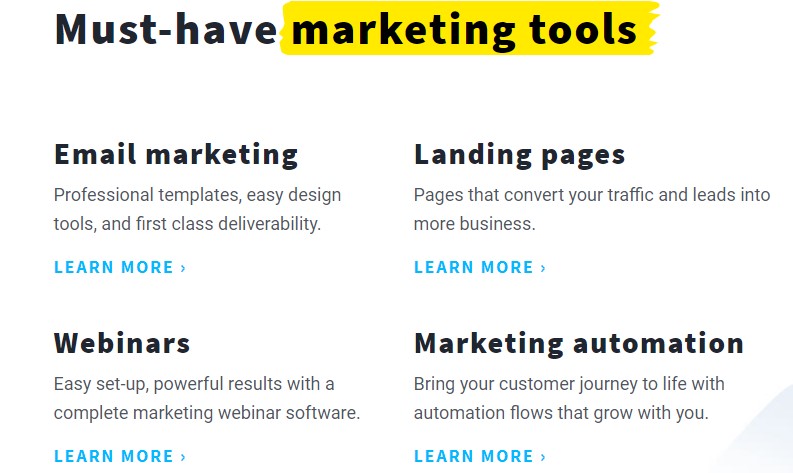 Automation is also popular because you can create advanced campaigns based on various conditions and triggers (location and sales being the most popular).
With higher-tier price plans, you get webinars and CRM options, which aren't usually provided on email marketing tools.
Pros:
Spam and design testing
Landing pages and conversion funnel feature
Intelligent list automation
Cons:
Deliverability issues
No free-forever plan
Pricing
There are four available plans, and they all offer a 30-day trial. With the Basic plan, you get autoresponders, unlimited templates and landing pages, one sales funnel, and the ability to sell e-products.
The Plus version has all that plus webinars, automation builders, more sales funnels, and more. Then, you move to the Professional option with everything in Basic and Plus, as well as more webinars, unlimited funnels, and on-demand webinars. From there, you go to Max, which is custom pricing and has everything already listed plus consulting, SSO, and help with deliverability.
Who Is This For?
We recommend GetResponse if you want to capture more customer leads, you own an e-commerce website, and you need more automation sophistication. However, if deliverability is a primary concern for you, this might not be the best choice. This can change, so we hope that GetResponse can improve on this issue in the near future. Also, there is no free-forever plan, and 30 days might not be enough to get used to the system and use it to its full potential.
If you're thinking of trying a newcomer to the market, SendinBlue has you covered. It started off as a digital agency and is now helping companies automate email marketing while on a budget.
Features
It offers comprehensive features, including marketing automation, CRM, SMS, transactional emails, Facebook Ads, and landing pages. Even with the free-forever plan, you have access to many premium features. Advanced options can include lead scoring and web tracking, as well. Plus, this company charges based on how many emails are sent instead of the number of contacts in your list.

Pros:
Low-cost plans
SMS marketing
Landing page editor
Solid email automation
Deliverability
Cons:
Fewer integrations
Sending limit on free plan
Pricing
The free plan allows you to have unlimited contacts and send 300 emails each day. This isn't much, but it can help you see if the system is right for you.
Then, you move to Lite, which allows for 100,000 emails and doesn't have a sending limit. Plus, there is support and various add-ons (for a higher price).
With Premium, you get everything in Lite, Plus, the add-ons, and more. Enterprise is for marketers who require even more than that, and you're going to be impressed.
Who Is This For?
SendinBlue is suitable for one-on-one campaigns and e-commerce sites. However, it might not be the best decision if you require many logins and various access levels for users.
Sendlane is cloud-based and offers various features that you are sure to like, such as performance tracking and email automation.
Features
You can create more personalized emails, sending targeted segments, too. The tracking ability collects information and clicks, analyzing them to give you excellent reports. There are also third-party integrations you're sure to like.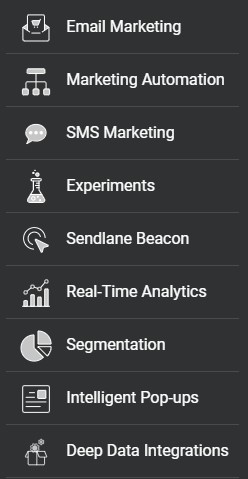 Pros:
Very flexible
Specific flows and journeys based on various factors
Easy to use
Cons:
Look isn't modern or clean
Can have glitches; make sure to save
Pricing
Pricing is straightforward. For 5000 subscribers, you can choose between the Growth and Pro plan. There is also a trial option that provides you with all of the features for 14 days free.
Currently, there's a starter package for a one-time payment. It comes with everything in Growth and live chat support.
Who Is This For?
Primarily, Sendlane is suitable for digital marketers, content creators, and e-commerce companies.
Conclusion
With so many options available, it's hard to pick an email campaign tool. While Campaign Monitor offers many things, it might not be the right solution. We provide you with six other options, and many of them can be tested for free. Of course, any of them can be workable, but some might be better than others.