Digital marketing has long since become the main business generating tool for organizations of any size, shape or form. Plenty of man hours and large budgets are allocated towards branding, raising awareness and luring in visitors to brochure websites and E-commerce sites alike. Efficient Investment in SEO allows, over time, conquering high rankings in Google search results, a lively Facebook business page with many followers is also an important asset, participating in discussions on relevant forums may help increase trust and interest in products or services. A great way to achieve fast results is running PPC campaigns on Google, Facebook, Linkedin, Youtube and other platforms.
In order for a PPC campaign to succeed potential customers must be directed to a landing page which converts as high a percentage of them as possible into ones who go ahead and make a purchase or at least contact us (requests for further information are called "leads"). There is a lot to be said about designing landing pages which yield high conversion rates, we've discussed this issue at length in a previous post – 11 Simple Steps For Creating a High CR Landing Page.
Expenses of running an advertising campaign include creating the campaign, managing it and paying for clicks or exposures (for instance to Google or Facebook), all of these combined must cost less than the revenue the campaign generates.
It Is No Longer Necessary To Design and Builds Landing Pages From Scratch
In the past anyone running a web-based advertising campaign had to deal with creating the campaign's landing pages independently, nowadays there are online systems that offer to land page generation services. Such platforms offer a choice between a variety of pre-designed templates which can be altered to suit our needs, the landing page performance can be monitored (including A/B testing), automatic Email responses (to visitors who take predefined actions, filling a contact form for instance), such systems allow for interface with your website, activity on social networks and much more.
There are many advantages to using landing page generating systems (as opposed to building our own landing pages). Taking advantage of such systems' many features will ensure that your landing pages adhere to the most modern, fashionable design principles as well as utilize cutting edge technology. In this post, we bring you brief reviews of seven advanced and easy to use landing page generators.
You'll find information about the quality of the templates they feature and how they can be altered to fit your needs, ways to monitor and improve your landing pages' performance (conversion rate in particular), other features (such as A/B testing, interfacing with your website or Facebook page), how good is the support and how much they cost to use.
This system's name does indeed reveal its true nature. Many find it extremely easy to use, it allows creating good landing pages extremely quickly. No prior knowledge is required for using Instapage, practically anyone can create their first landing page within ten minutes.
There are over a hundred templates to choose from, conveniently organized by categories. All templates are 100% responsive, an essential feature in an age where an ever growing percentage of searches are made using mobile devices.
Customizing templates is easy, most elements can be dragged and dropped. Instapage's support leaves something to be desired, guidance and help with making the most of the system is offered only to premium package users.
There is no limit on the number of pages you can create no matter what package you choose to purchase, costly packages allow use of more advanced features (for instance, the basic package does not include A/B testing capabilities). Basic packages go for 29$ a month, pro packages for 55$ and the premium package will run you 127$ a month.
A system offering an excellent overall solution for experienced marketers. All landing pages generated are 100% responsive, the user interface allows plenty of template redesign options. Unbounce allows for interface with plenty of platforms such as Google analytics, Salesforce, Zoho, Campaign Monitor and others.
Unbounce features a wide variety of templates but choosing among them is cumbersome, you can begin with a blank page and add elements as you wish. There are templates you must pay extra to use.
There's a 30 day free trial. Basic packages go for 49$ a month and do not include dynamic text features. The most advanced, all included, package costs 199$ per month.
LanderApp
The greatest advantage of LanderApp is its well designed templates. There's not that great a variety but the high quality more than compensates for this. There are no unique templates available for an extra charge and some features found on other systems are lacking (such as dynamic text- inserting text according to the search term a visitor used). The support offered is good and includes accompaniment from an assigned representative from stage one.
A basic package costs 22$ a month and will limit the number of visitors to your landing pages to 3,000 a month (all landing pages' URLs will be under one domain name). An advanced package costs 74$ a month and allows up to 25,000 visitors to an unlimited number of landing pages which can be stored under up to 50 different domains. Unique packages can be custom tailored and there's a free trial period of 14 days.
An advanced and relatively complicated system making it more suitable for those with prior web developing skills and an ability to quickly grasp complex interfaces. This platform offers more than just landing page generation, you can design lead capture tools to incorporate into your website, send text messages, use your contact lists and much more.
With LeadPages you can not only choose between readymade templates but also upload ones of your own. Text and graphic design tools are advanced and you will need to gain experience in order to make the best of them.
The system allows of interface with mass Email services, webinar conducting platforms, use of pop-ups and more. Data regarding average conversion rates for different templates is provided. It is important to take into account that use of some templates involves extra charges.
Leader Pages do not offer a free trial period. A basic package costs 25$ a month, a pro package 49$ and the most advanced package 199$ a month. There is good support and even an instructional webinar you can attend.
Pagewiz
Starting at 2011, Pagewiz is one of the most popular landing page generating systems, suitable for both novices as well as seasoned web marketers.Pagewiz interface is easy to handle and it comes with all the features you can expect from a leading landing page generator, including A/B testing, SEO plugins, real-time data analysis and more. Template-wise, Pagewiz leads the industry with high-quality 100′ unique templates, which are not just very in-depth and beautiful – but also made with conversion-focused designed to help you convert more leads. With all these advantages, Pagewiz maintaining very affordable pricing plans, starting from 29$. plus, you can start with a 30-day free trial (no credit card needed).
Landingi
A relatively new platform which enjoys growing popularity. True to the end of 2016 there were only 3,000 registered Landingi users but the number was growing rapidly.
As can be expected from a modern, top quality landing page generator landingi features all that users may wish for. All templates are 100% responsive, they can be easily customized (including using your own fonts and images), easy interface with social networks and your website, a remarketing pixel, lead management, real time data analysis, A/B testing and much more.
Pricing is not according to predefined packages but rather derived from the number of visitors to your landing pages, up to 3,000 visitors- 29$ a month, 3,000-10,000 visitors for 59$ a month etc. No account is limited with regards to a number of pages, domain names, users or features (all features are available to all users). There's a free trial period of 14 days.
Hubspot
Hubspot offers a variety of marketing and sale increasing tools, including a CRM system which we elaborated on in a previous post about which CRM system is best for your business.
Hubspot's landing page generator is very well known, it suits web marketers of all shapes and sizes. There's a choice from a large number of attractive templates which can be easily customized. You can check to see how landing pages you create look on different size screens. There are advanced features such as dynamic text, forms, call to action ideally timed pop-ups and more.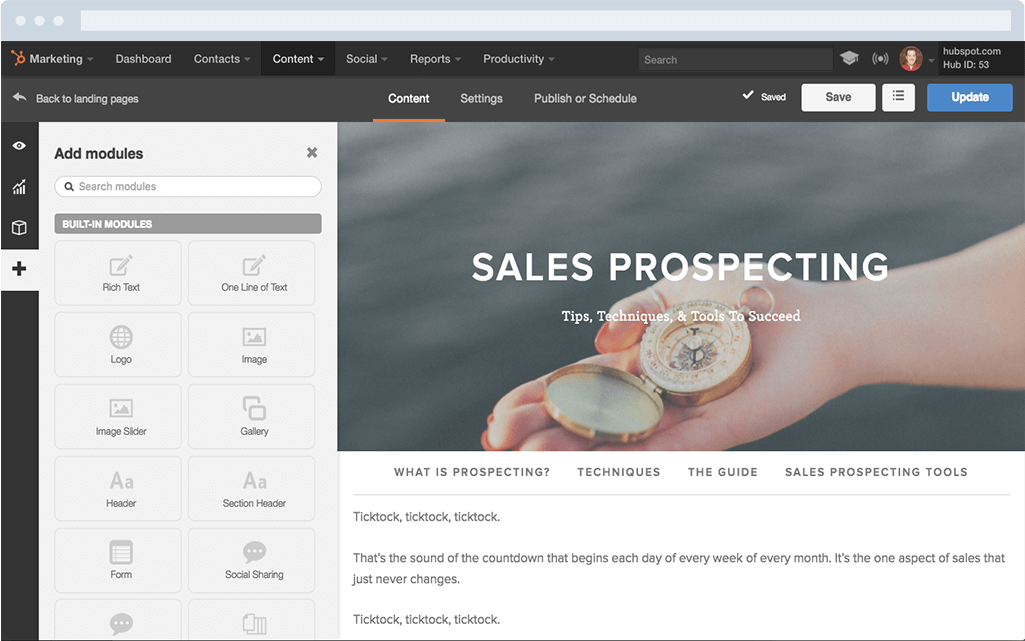 Hubspot's user interface is straightforward but needs a bit of familiarization due to the many features such as A/B testing (for titles, images, CTA etc.).
Hubspot offers an array of marketing tools and so their landing page generating system is best suited for those who need such an array and wish for it to be all under one umbrella. A basic package allowing use of all Hubspot tools, including the landing page generator, costs 200$ a month (they charge 3 months in advance), a premium package will cost 800$ a month, for advertising agencies and marketing teams the 2,400$ a month package may be the way to go.
Excellent landing pages which yield high conversion rates are a must for every web marketing campaign. It is therefore crucial to choose a landing page generating system which best suits your needs. It is important to remember that building a good landing page is only the tip of the iceberg, in order to maximize a marketing campaign's ROI it is necessary to closely monitor its landing pages' performance, making changes accord to data gathered, testing different versions, incorporating advanced CR optimization tools (such as pop-ups, dynamic text, customized call to action etc.). The systems we've described in this post will do all this for you and more.