Running a business is a lot like learning how to do 500 things simultaneously and feeling like you never quite make it. Yes, it's hard to do it all well, but that's why you've got to delegate. You've got managers and CEOs and all the rest, but you also have tools to help.
Email marketing is a huge part of your company, and if it isn't yet, it should be! It helps you reach potential customers who visit the website and want to know more, and it allows you to send messages to those who might be interested now or in the future.
Finding the right email marketing tool is essential, and many people have chosen Benchmark Email. However, there are other Benchmark Email alternatives that you should know about. Let's learn more about it.
What Does Benchmark Email Provide
Benchmark offers a powerfully simple tool to use and has a revamped interface to make life easier. We think it's done a great job with the features provided and the user experience. Plus, when you need help, the customer service is friendly and fast. Most of the features are included without paying, which does limit you slightly as to what you can do.
Why People Switch from Benchmark Email
With so many things going for it, why should you consider one of the Benchmark email alternatives listed below?
Well, for one thing, it has significant deliverability issues. Most of the emails you send get flagged as spam, so your reputation is bad, and no one receives the messages.
The company also charges you to store your files. Though there is very limited image storage for free, you're going to need the upgrade. It might be better if it just included it as part of the prices for the plans available.
5 Benchmark Email Alternatives
1. SendinBlue
SendinBlue is an easy-to-use email marketing tool that creates powerful and effective campaigns.
It's rated best for new users, but it still has advanced options for those who are more experienced. Plus, you get an intuitive user experience and interface, making it a great choice for everyone who wants to send emails quickly and efficiently.
Features
There are plenty of features to like about SendinBlue.
For example, you can create customizable newsletters, make templates, and use the rich text editor. While the metrics aren't that great, you do have basic marketing metrics, including clicks, opens, and delivery rates. 

It's considered to be a full CRM and offers transactional emails. Plus, you can also send SMS messages, making it one of the best Benchmark email alternatives.
Pros:
Automated A/B testing options

Advanced attribution functionality

Customizable and intuitive interface
Cons:
No live chat help

No transactional metrics

A/B testing not included with a free plan
Pricing
There are four plan options with SendinBlue. The first one is free and allows you to have unlimited contacts and send 300 emails each day. You get the very basic features, and that's all.
Next, you've got Lite, which costs $25 per month for 10,000 emails, and the sending limit is revoked. Plus, you get email support and the basic features. However, to get advanced statistics and A/B testing and to remove the logo, you've got to pay extra.
Premium is the third plan, which costs $65 per month for 20,000 emails. You get everything from the Lite version, as well as phone support, landing pages, multi-user access, and marketing automation.
From there, you can get a quote for Enterprise, which gives you everything from Premium, priority support, over 20 landing pages, and a customized volume of emails. 
Who Is It For?
Ultimately, SendinBlue is suitable for companies that don't have the funds to create complex campaigns and don't need them. However, it can grow with you as you expand because it offers advanced functionality.
2. MailerLite
If you're looking for Benchmark Email alternatives, you've got to check out MailerLite. This solid email marketing platform doesn't look all that pretty, but it puts you in control and gets your personalized campaigns created quickly and effortlessly.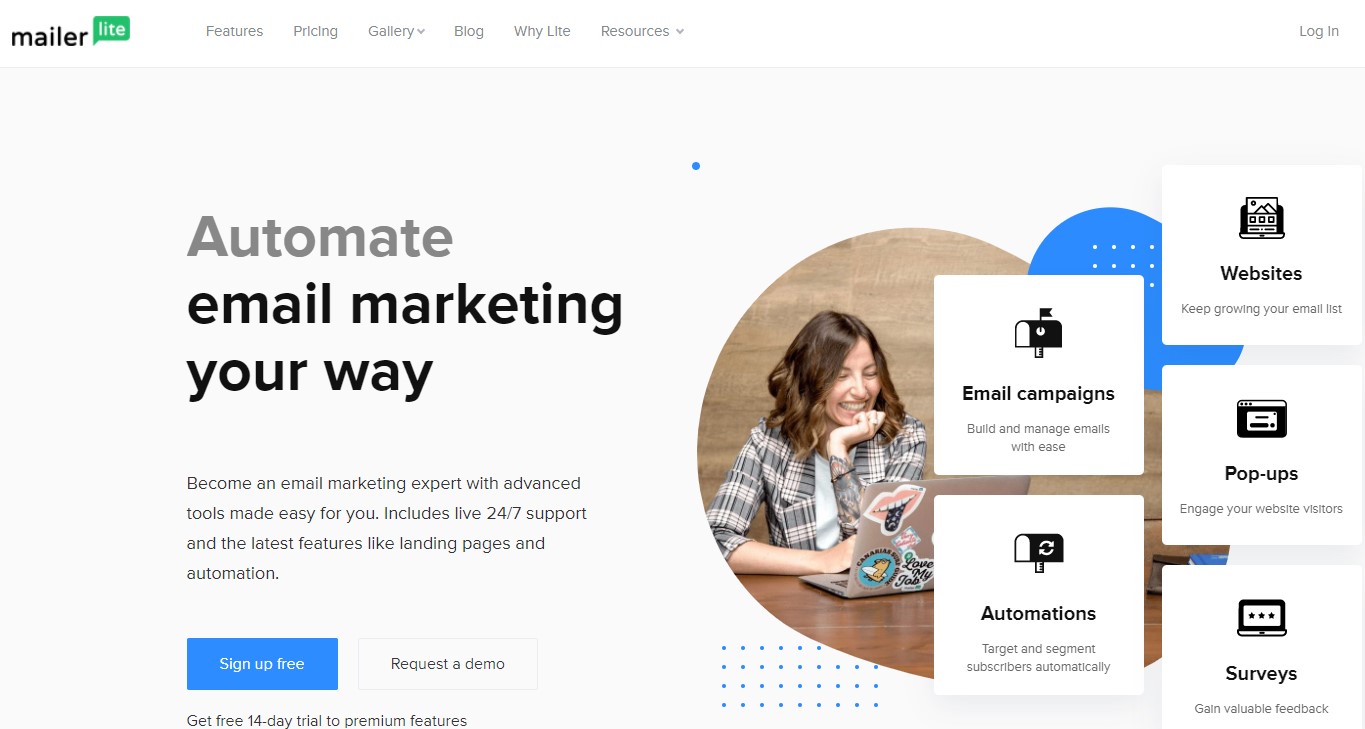 Though you must be approved first, the in-app tips are so helpful to get you going. Plus, the navigation is well-organized so that you can benefit from all the features.
Features
We like that the campaigns are easy to set up. You get regular campaigns, but you can also choose A/B split testing to test out how different emails compare to each other based on the recipient's preferences.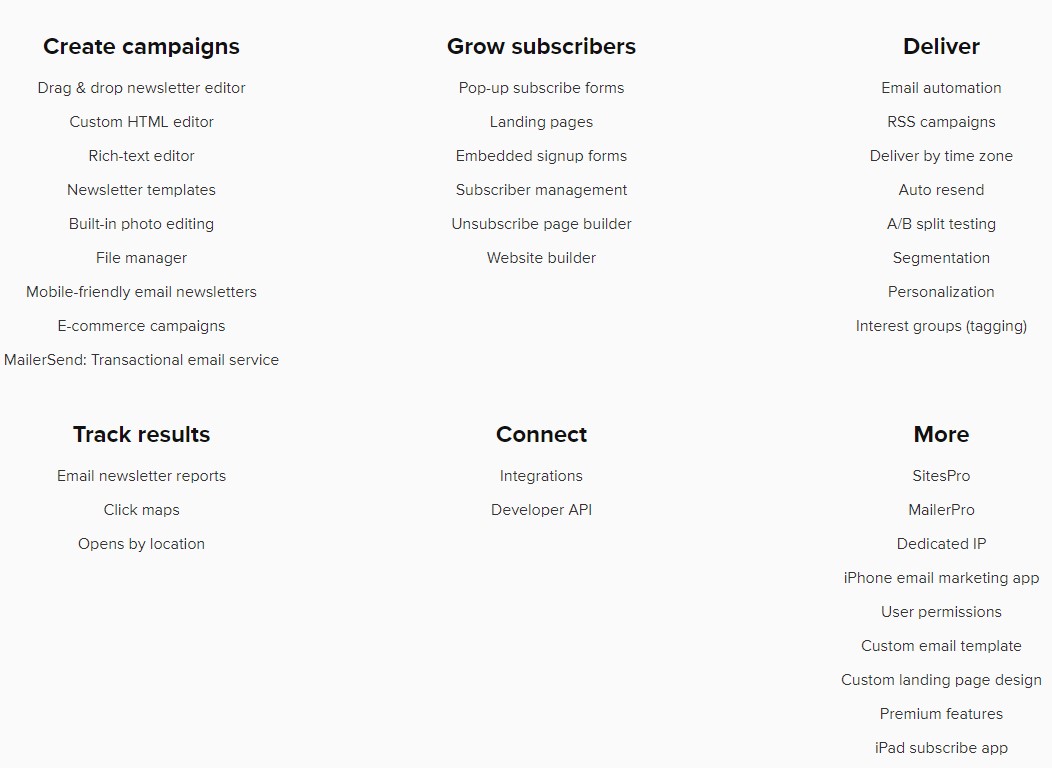 Auto-resend is a great tool because you don't have to remember to send out another message to someone who didn't respond. Plus, it automatically changes the subject line for you. If that weren't enough, you can add new content and reminders. 
You can also manage your subscribers and choose advanced segmentation options to send your message to particular groups. This is based on various criteria, allowing you to filter everything to your needs.
Pros:
Well-organized navigation

One-sentence explanations of the advanced features

Granular segmentation
Cons:
Confusing approval process

Dated interface

Few email templates
Pricing

The pricing structure of MailerLite is quite simple. If you've got 1,000 or fewer subscribers and only want to send 12,000 emails each month, it's free, and you get to use every feature provided.
Those who need unlimited email sends a month with 1,000 or fewer subscribers only have to pay $10. If you've got between 1,001 and 2,500 subscribers, expect to pay $15. For those with 5,000 or less, you can spend $30, and so on.
With the free plan, you get email support, video tutorials, and a knowledge base. Plus, the basic features are included. When you choose any of the premium plans, you can get the MailerLite logo removed from the emails, an HTML editor, and newsletter templates. Plus, promotional popups can be created and used, too.
Who Is It For?
MailerLite offers a guided approach to email marketing, so if you're brand-new, you're going to benefit from the one-line explanations of the features. Therefore, it's most suitable for novices who still need advanced features and want to spend time on their email campaigns.
3. iContact
When it all comes down to it, many Benchmark email alternatives are better, and iContact could be one of them.

It has a great range of features, though it might not be the best. However, you're going to appreciate the straightforward approach it takes so that you get up and going fast.
If you don't want to spend tons of time creating/managing your email marketing campaigns, this is the option for you.
Features
iContact offers many solid features, so it's good, but not altogether great. You get a reliable email editor, some basic segmentation options, and can send autoresponder messages, though they are basic, too.

There's also a landing page builder and some contact management functionality. You also have a form builder, but we find the autoresponder functionality is difficult to use and basic than similar solutions.
Pros:
Various support options

Personalized user interface

Easy-to-follow navigation
Cons:
Slow loading speed for pages

No email scheduling options

Basic segmentation
Pricing
At first, it's a little confusing to figure out how much you're going to pay with iContact. There are Base and Pro plans.
The Base version includes the stock image library, customizable templates, and welcome series automation.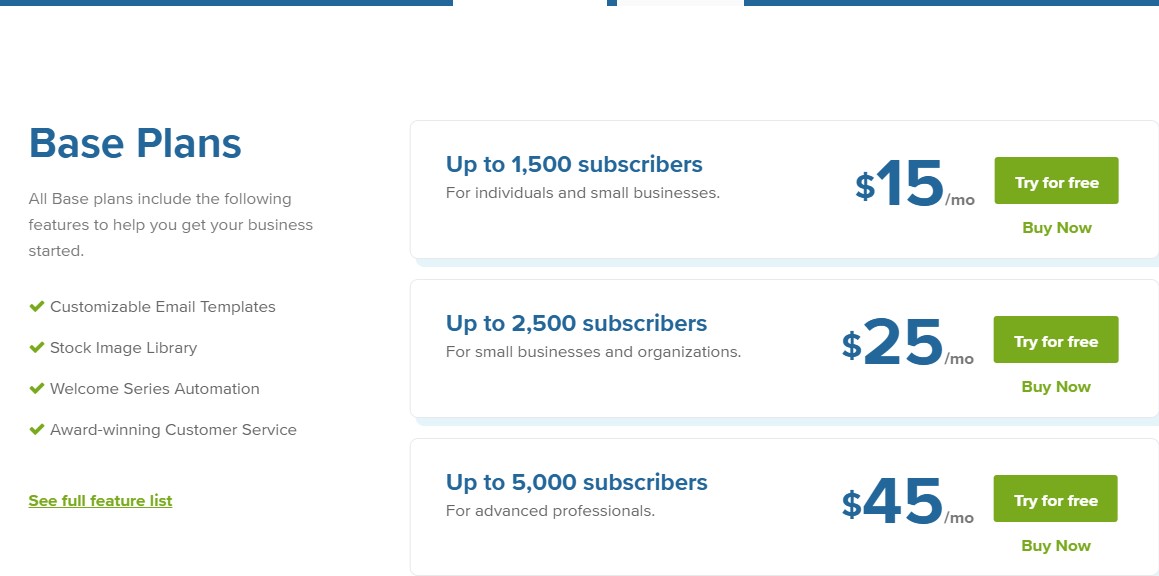 Prices go up based on how many subscribers you have. For example, it starts at $15 for 1,500 contacts, goes to $25 for 2,500, and then tops out at $45 for 5,000 subscribers.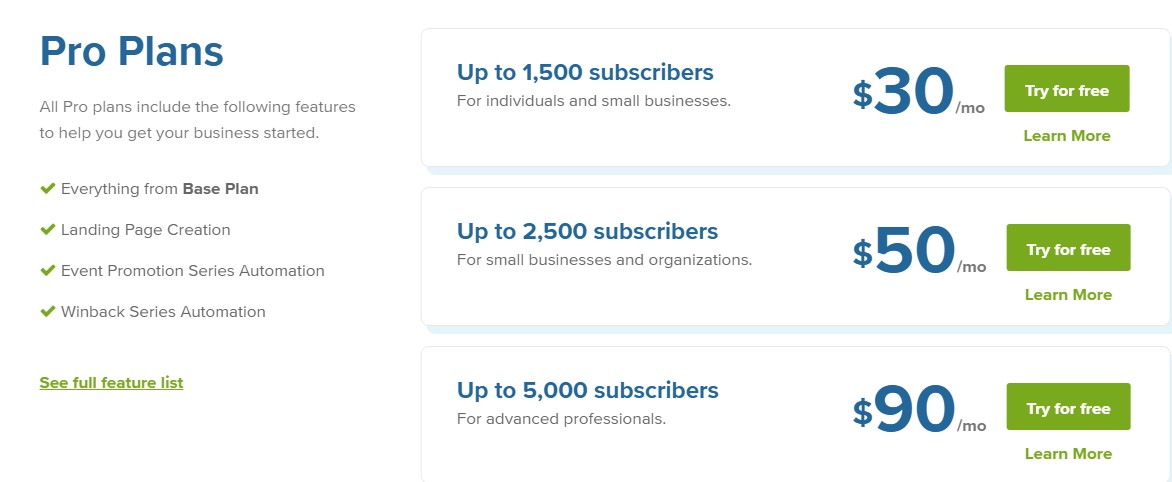 Pro plans give you everything from the Base plan, but you also get the win-back series automation, landing page creation, and event promotion series automation. The pricing starts at $30 for $1,500, goes to $50 for 2,500 contacts, and finishes at $90 for 5,000 subscribers.
Who Is It For?
Primarily, iContact is suitable for people who don't want to learn to use complex marketing tools and don't need elaborate campaigns. Spend less time working on the campaigns, but don't expect a lot of growth opportunity as you expand.
4. Elastic Email
When it comes to Benchmark email alternatives, you may not have heard of Elastic Email, but that doesn't mean it's no good.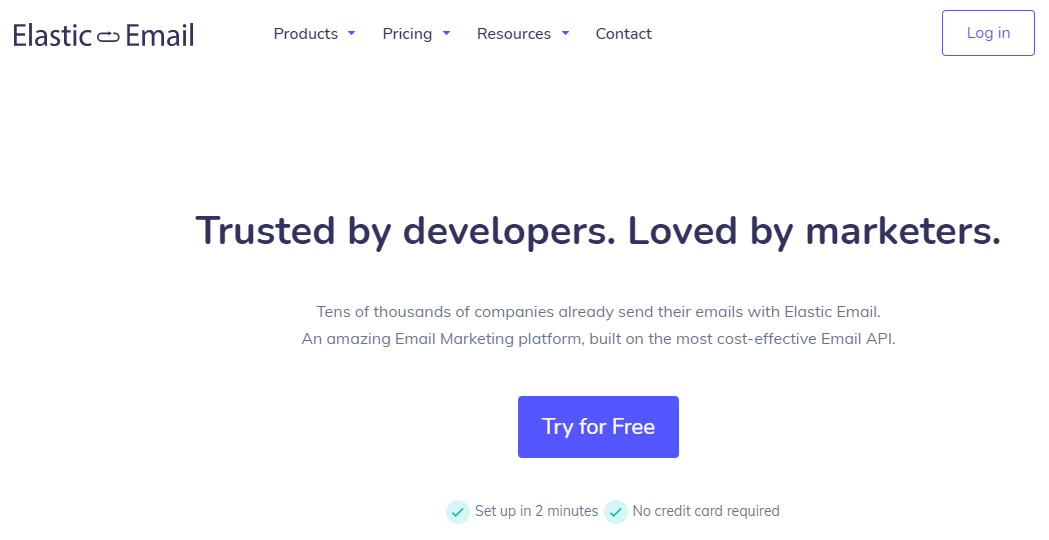 This popular option works well for experienced markets who want to switch things up.
With the attractive design and intuitive interface, you're going to find everything you need. However, give yourself plenty of time to get the most out of the email marketing software.
Features
There are plenty of features to like about Elastic Email, and they include all the key areas for email marketing. You're going to like the email editor, and you can set up different segments and use the autoresponders.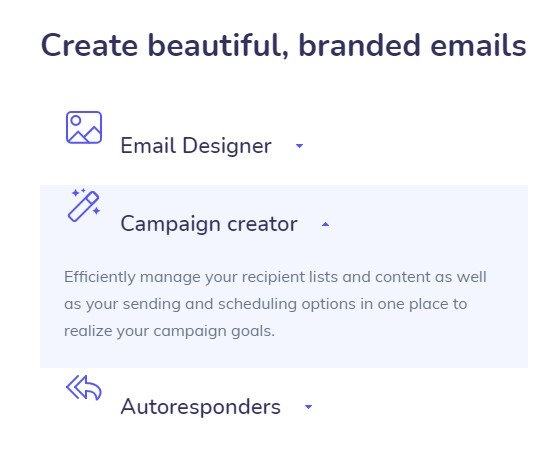 While there's nothing unique or spectacular with Elastic Emil, you can create your campaigns and get them sent quickly and efficiently. Plus, it is frequently adding new features that you can try.
Pros:
Easily import data

Excellent analytics and visualization features

Advanced email sending options
Cons:
Significant learning curve

Basic features are missing

Confusing user experience
Pricing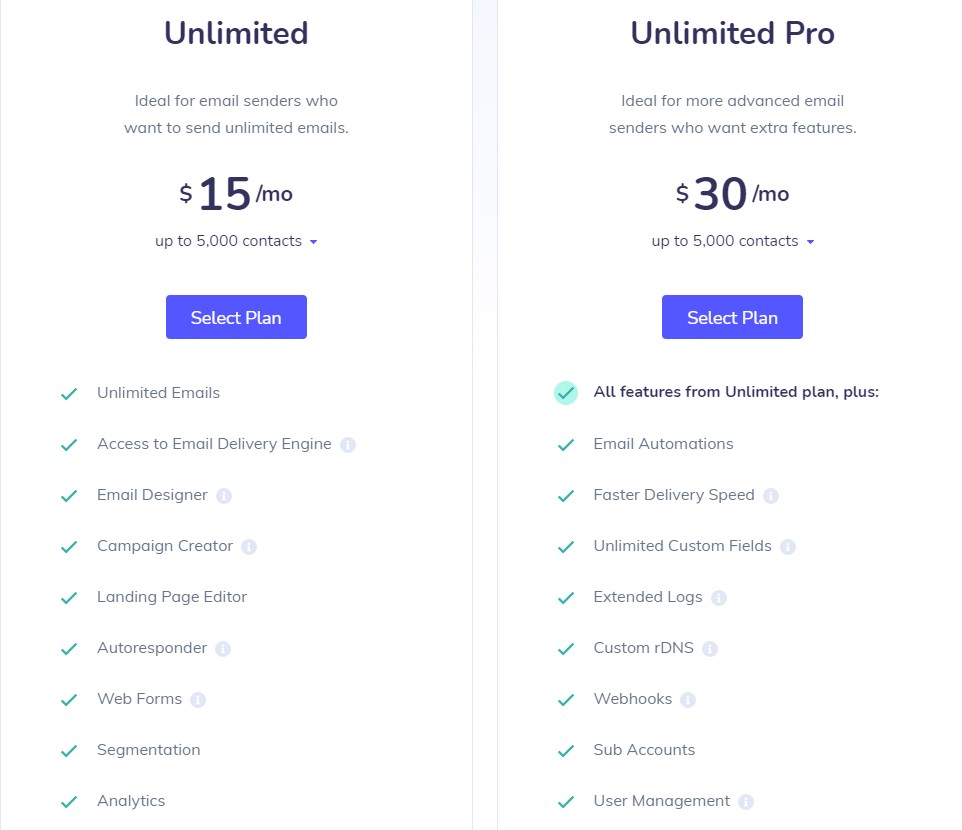 There's no free version with Elastic Email, but Unlimited is only $15 per month for up to 5,000 contacts. You get unlimited emails, an email designer, the delivery engine, and a campaign creator.
If that wasn't enough, there's also autoresponders, a landing page editor, web forms, segmentation, and analytics.
Next, you've got Unlimited Pro, which is $30 a month for 5,000 contacts. Here, you get all the Unlimited features, as well as reseller features, sub-accounts, user management capabilities, and unlimited custom fields. Plus, emails send faster, and there is better automation.
Who Is It For?
As far as Benchmark email alternatives go, Elastic Email is suitable for small business and advanced email marketers. Though it has a wide learning curve, you can expect to spend time getting to know it, but it can grow with you.
5. MailChimp
MailChimp is an ideal option for novices and experienced email marketers, making it one of the greatest Benchmark Email alternatives.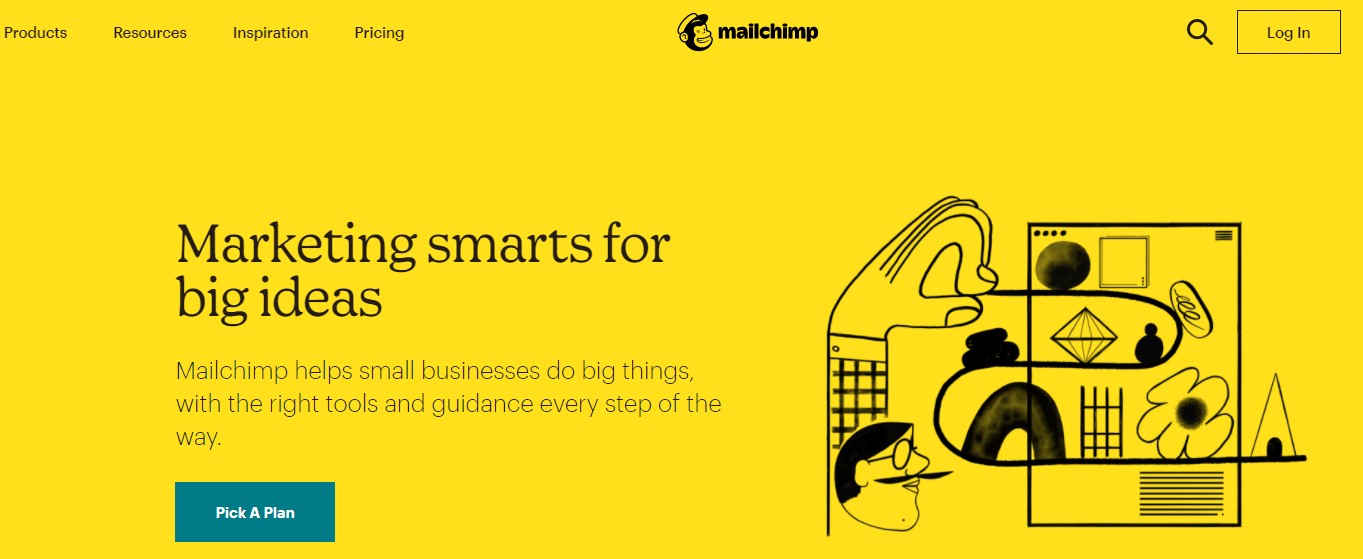 This market leader has many advanced features and an organized user interface, so it's quick to get started. Plus, you can read helpful tips to get more from the system and improve your skills as an email marketer.
Features
There are countless features to enjoy with MailChimp. For example, it's easy to create an email campaign, and all the steps you require are provided upfront. However, you do have to fill in the details, so the workflow isn't ideal for some people.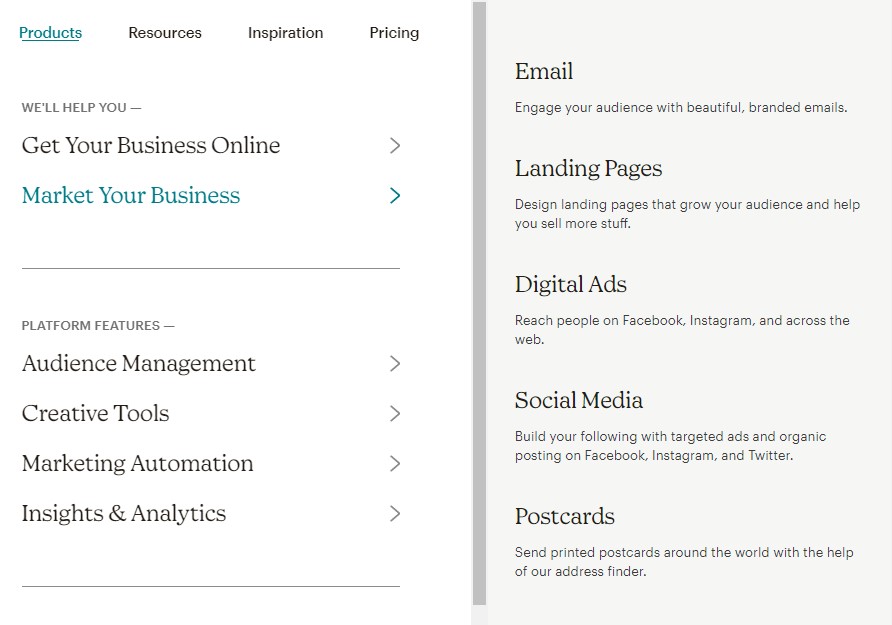 Instead of a traditional CRM system, you have 'audiences.' You can create different groups or audiences and focus on segmentation. Though advanced capabilities are only offered on high-priced plans, it's a step in the right direction for later.
Pros:
Helpful support tools and in-app tips

Automated email responders and templates

Advanced analytics and reporting
Cons:
More expensive than others

Occasional issues with navigation

Limited support at lower-priced tiers
Pricing
The pricing structure of MailChimp is easy to understand compared to other MailChimp alternatives. There is a forever free account, but you only get one audience and 2,000 contacts. With it, you have access to the creative assistant, a MailChimp domain, website builder, marketing CRM, and various landing/form pages.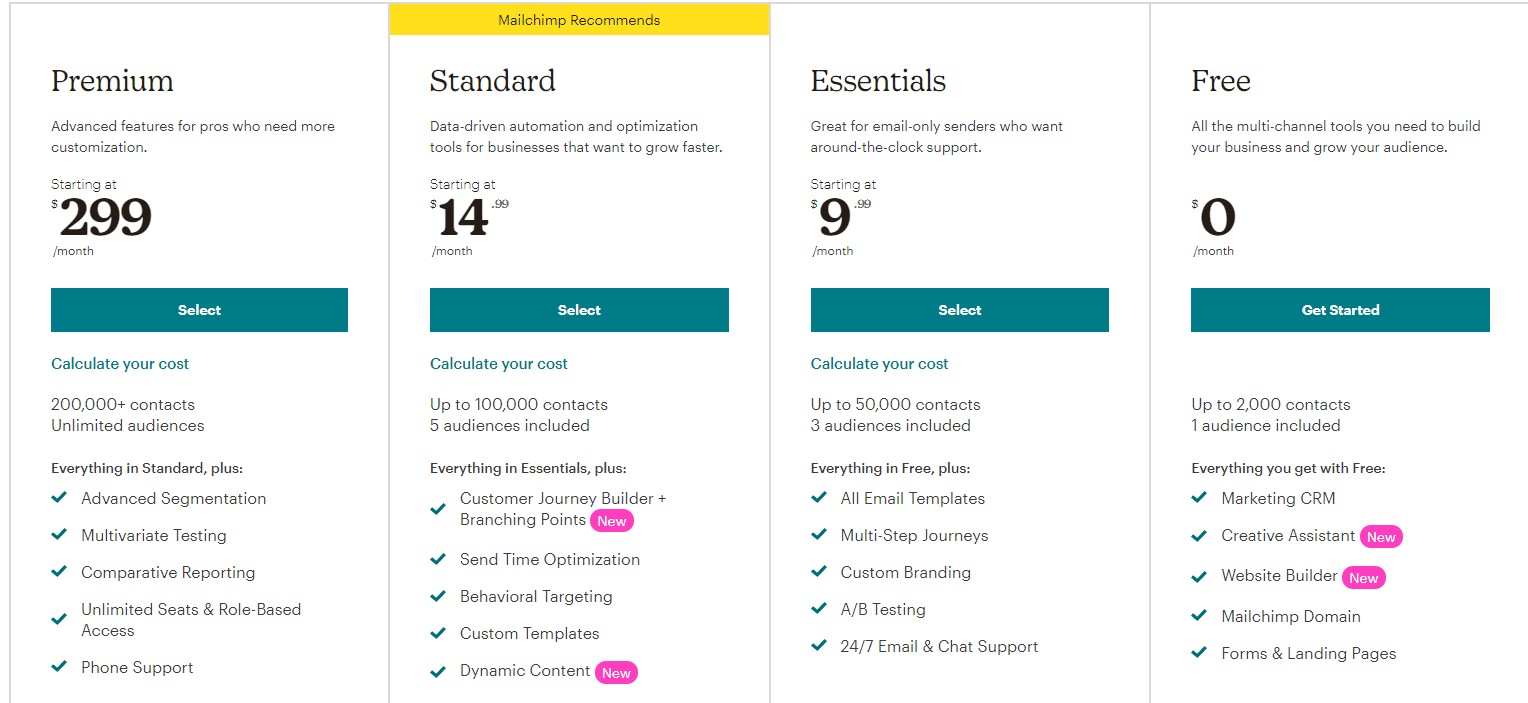 The Essentials package costs $9.99 a month and gives you three audiences and up to 50,000 contacts. You get all the perks of the Free account, but you also have access to A/B testing, multi-step journeys, all the email templates, and custom branding.
Standard is the most popular choice, and it's $14.99 a month for five audiences and 100,000 contacts. You receive everything from the first two packages, but you can also use send-time optimization, get dynamic content, custom templates, and behavioral targeting.
Lastly, there's Premium at $299 a month with unlimited audiences and up to 200,000 contacts. Advanced segmentation, comparative reporting, and multivariate testing are some of the perks here.
Who Is It For?
MailChimp is suitable for every marketer, so if you have no experience and haven't used such software before, there's no issue. Since it focuses heavily on analytic and actionable insights, it's perfect for those who want a data-driven approach or want to track metrics.
Conclusion
When choosing Benchmark Email alternatives, you need to know what the others offer and compare them all.
We've provided you with five different options and explain more about each one. That way, you can rest easy knowing that you've got an email marketing solution that meets all of your needs and then some.