As a business owner or content creator, you've got to send emails to potential clients. This helps you connect with them and understand what they need from you. It's impossible to do this alone, and many people spend countless hours sending emails at all hours of the day before learning about ESPs.
Automation is essential, and you can do this with an email marketing provider. Still, there are many options available, making it tough to decide. We're going to look at Emma and offer alternatives that might save more time and money.
What Does Emma Provide?
Emma uses an atypical focus as opposed to other ESPs. The product is easy to use and has a team of staff members who want to help you.
However, great customer support experience comes with a few drawbacks.
Why People Switch from Emma
Emma is quite expensive when compared to other ESPs, even on the basic plan. The one issue we have is that you must sign up for a one-year contract and can't get out of it. Plus, there are glitches that you've got to deal with, which leads to frustration and stress.
Emma Alternatives
Mad Mimi
Mad Mimi is a newer email marketing platform, but it does allow you to track and create various newsletter campaigns. It boasts that it helps its clients send more than 40 million emails around the world. Though Mad Mimi started as a music business, it couldn't find an appropriate email marketing service, so it decided to switch gears.

Features
We like that Mad Mimi's interface is clean and uses a more thoughtful approach. The layouts aren't excessive, cluttered, or outdated. Plus, the whole site is streamlined to make it easier to create your emails. You can then save your favorite styles and clone them to use them over and over!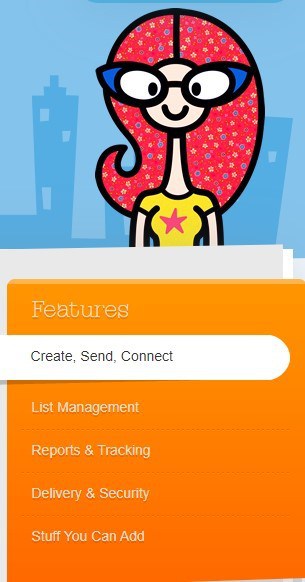 You have access to list management features, allowing you to have multiple listings and segmentations. Plus, you can always track the progress of your campaign and generate reports to get a better idea of what's going on.
Pros:
Autoresponders available
Easy-to-use templates
Drip campaigning offered
Cons:
Fewer features available
More limited functionality
No behavioral automation
Pricing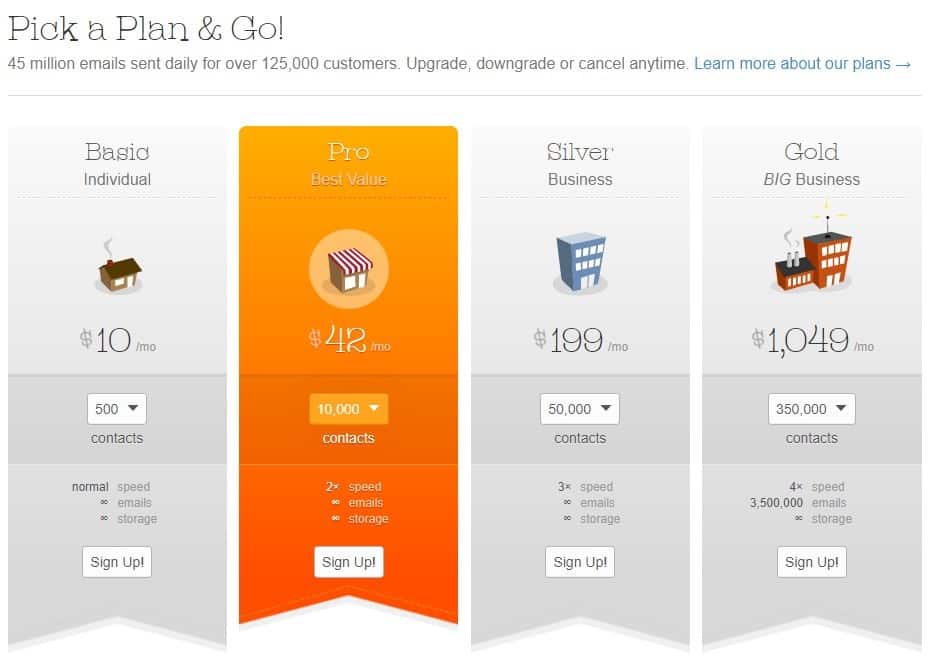 With the Basic plan, you get 500 contacts at $10 a month. All emails are sent at the traditional speed, but you can send unlimited emails and have an infinite storage capacity.
Then, you've got Pro, which sends emails twice as quickly and offers 10,000 contacts for $42 per month.
Silver costs $199 a month and allows you to have 50,000 contacts. Emails also send about three times faster here.
At Gold level, you spend $1049 a month, have 350,000 contacts, and send more than 3 million emails a month at four times the normal speed.
Who Is It For?
While Mad Mimi markets itself to large corporations, we think it works best for startup companies and small-sized businesses. Likewise, mid-sized companies can benefit from it if they don't require advanced designs and lists.
Sendloop
If you require customizable automation from your email service provider, consider Sendloop. You've got access to many integrations and plugins.

Plus, there are advanced tools that help with every type of campaign. Though this contender is quite new, it's still popular and has the features you crave.
Features
When you choose Sendloop, you've got various ways to target your audiences. We like the email slicer, drag-and-drop editor, and the ability to access over 80 email templates.
Are you tech-savvy? Most people aren't, which limits them as to what they can do with the ESP. However, Sendloop makes it easy to create emails, even when using the HTML editor. The templates can be customized and changed, and they're all responsive.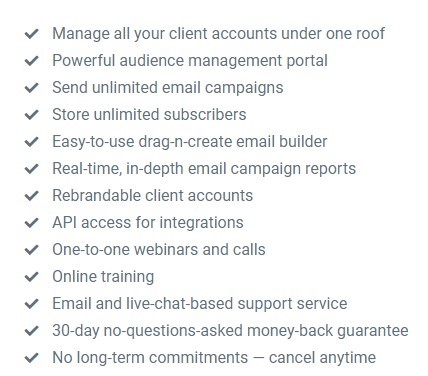 Social media sharing and transactional emails are available. Plus, you can use Facebook ads. If that weren't enough, the fast-subscriber import option makes it easier to input information and gather it.
We like that you can use pre-made templates. Just type what you need in the boxes and send them out. Those who need a little more can use automation to their advantage.
You're sending the messages to the recipient at just the right time. Target the people who leave their carts or remind people of specific product sales who have bought in the past. These things are all available with Sendloop.
Pros:
Target the right audience
Reliable
Cost flexibility
Simple-to-use interface
Cons:
Some bugs
Requires better integrations
Basic reporting features and automation
Pricing
There are two plans available with Sendloop, and they're both easy to understand. It's broken down by how often you send emails. Regardless, you get all of the features available.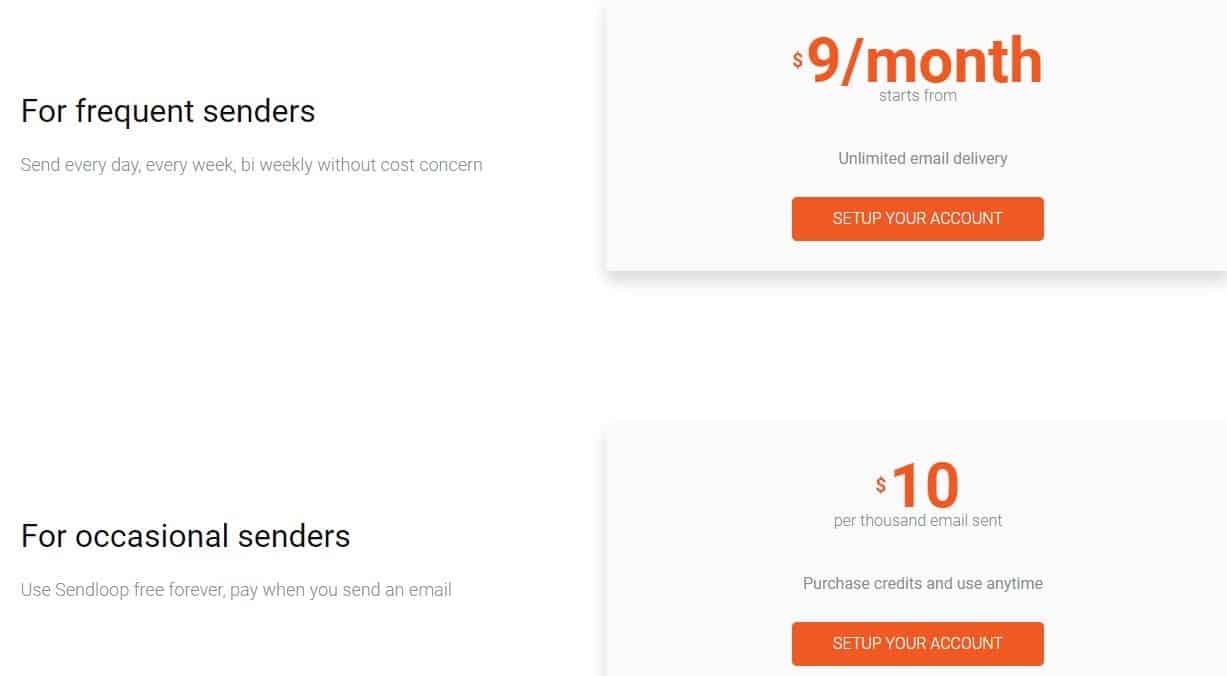 Those who send emails frequently can expect to pay $9. You get unlimited emails and can choose how often to send them. This price is for 500 subscribers, and the price goes up as you gain more contacts.
If you only send emails occasionally, you get charged per 1,000 emails and pay $10 when you hit that mark.
Who Is It For?
Sendloop is suitable for a variety of people. E-commerce companies find that it works for them (transactional emails), but it focuses primarily on digital services (content creators, marketers, and the like).
Smoove
Do you want to maintain your connections with current customers and cultivate and grow to help your potential ones? If so, Smoove might be right for you. This SAAS ESP offers various targeted options for marketing that help you be more effective and relevant in your industry.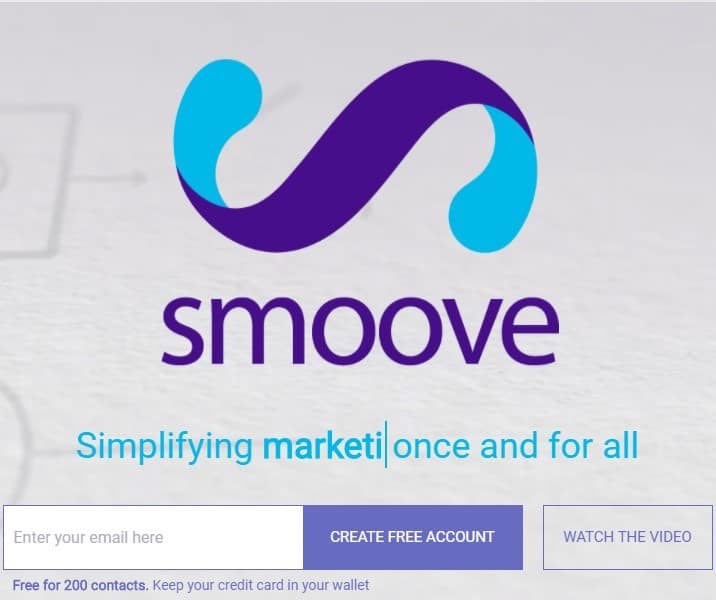 Features
You've got countless features available when you use Smoove. With any ESP, email marketing is essential, and you don't need much experience to create beautiful and customized emails. Data metrics, mobile responsiveness, and A/B testing are all included. Plus, the list management option is superb, and you get smart designs from pre-made templates.
You've got the option to send automatic messages at the right time. Plus, the drag-and-drop editor works well. Everything is targeted to your specific needs for each email campaign. This ensures that you're sending relevant emails to the right people.
Automated responses are also available, so you can quickly respond when a customer opens it.
Many companies use landing pages frequently. Smoove lets you connect your current tools through integration. Customizable web forms are also available and capture data swiftly.
Pros:
Easy to use
Drip campaigns
Segmentation
Cons:
No tracking for website visitors
Little sales intelligence
No social marketing
Pricing
There's a forever-free plan available with Smoove. It's possible to send 2,000 emails each day and have 200 contacts. With it, you get real-time analytics, smart segmentation, email campaigns, and A/B testing. A few other features are included to help you decide if this is the right ESP for you.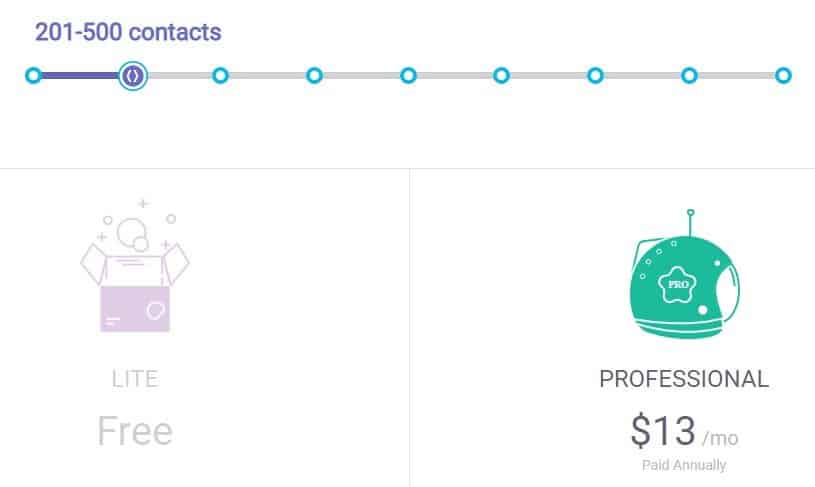 Those with up to 500 contacts can pay $15 per month, and you're allowed to send unlimited emails. Everything from the Free version is included. Zapier integrations, mobile wizards, and landing pages are also available. You then pay $15 extra as you gain another 500 contacts.
Who Is It For?
Smoove is designed primarily for bloggers, SAAS companies, startup businesses, and self-employed people.
Mailjet
Mailjet is just 10 years old, as it was founded in 2010. Various companies choose it because it's affordable and provides clients with collaboration tools at the higher-priced levels. Most platforms don't currently offer this.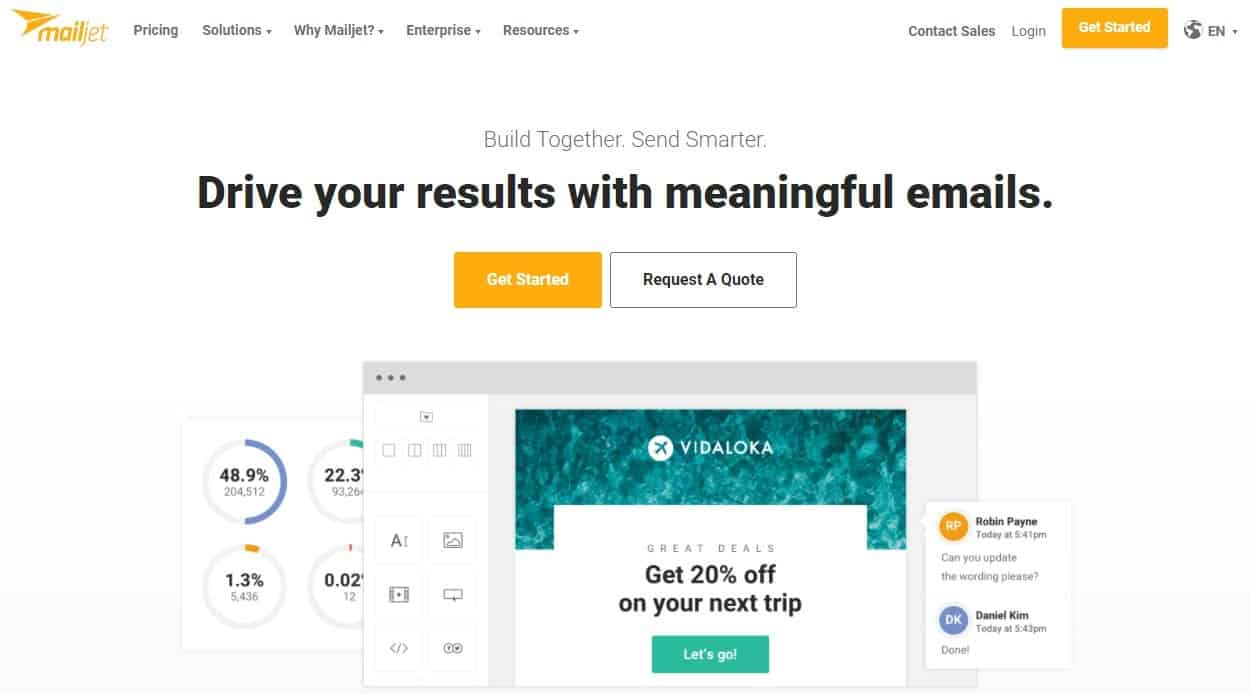 Features
Those who want a dedicated workspace for their team are sure to like Mailjet. It allows you to change roles and permissions to control what each person has access to. With it, the entire group works in real-time on the email's design. This can cut the time it requires to complete the task and reduce stress for all involved.

You've got countless email templates available in the gallery, but those who want to make them from scratch can use the drag-and-drop editor. It doesn't matter what device your customers use to access the emails, as they are all going to display properly. We like that you can also create and send transactional emails.
Pros:
Low prices
High deliverability ratings
Multi-user collaboration
Easy to use
Cons:
Not user-friendly in regards to list management
Very limited automation
Limited segmentation
Pricing
It can seem complicated to get the right price at first. The forever free version gives you the option of sending 6,000 emails per month and 200 a day. You get charged based on the email count rather than how many contacts you have. This plan also offers various APIs, an email editor, advanced statistics, and unlimited subscribers.
The Basic plan is next and doesn't have a sending limit while allowing you to send up to 30,000 emails a month. It costs $9.65 and provides the features from the forever-free version, as well as online support. Plus, you're not required to keep the Mailjet logo on all of the emails you send.
Premium is the next plan, and it costs $20.95 each month to send 30,000 emails. Everything from Basic is available, but you've also got segmentation, multi-user collaboration, marketing automation, and A/B testing.
If you send out 900,000 or more emails a month, Enterprise is the best choice and requires a custom price. Every feature offered by Mailjet is available, including migration services and more.
Who Is It For?
Companies that often work together on email creation are sure to like Mailjet. With various integrations, e-commerce sites and medium-sized businesses might find it useful. However, if you need advanced segmentation and automation, it might not be ideal.
ActiveTrail
ActiveTrail is a highly intuitive email marketing platform designed for digital marketers. You can easily send SMS messages, automate emails, create online surveys, and more. It offers comprehensive services and features, which we are going to discuss now.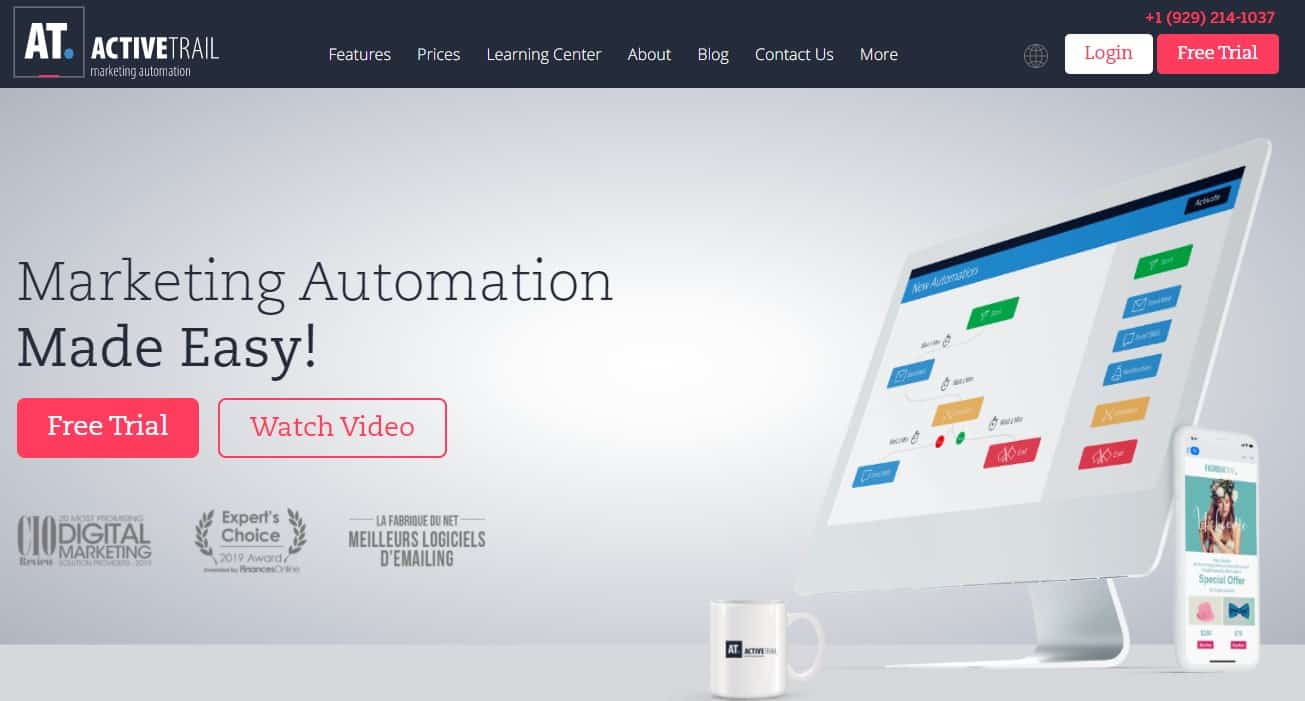 Features
Most ESPs don't include a CRM system, but this one does. Here, you can build new forms for sign-up, create/manage groups, view import history, and edit group listings. It's also possible to add new contacts, add filters, create customized fields, and search for contacts.
Marketing automation is essential so that you can engage with your customers. You don't have to deal with repetition as much. With nine templates, you can account for many of the common triggers where you want to email someone.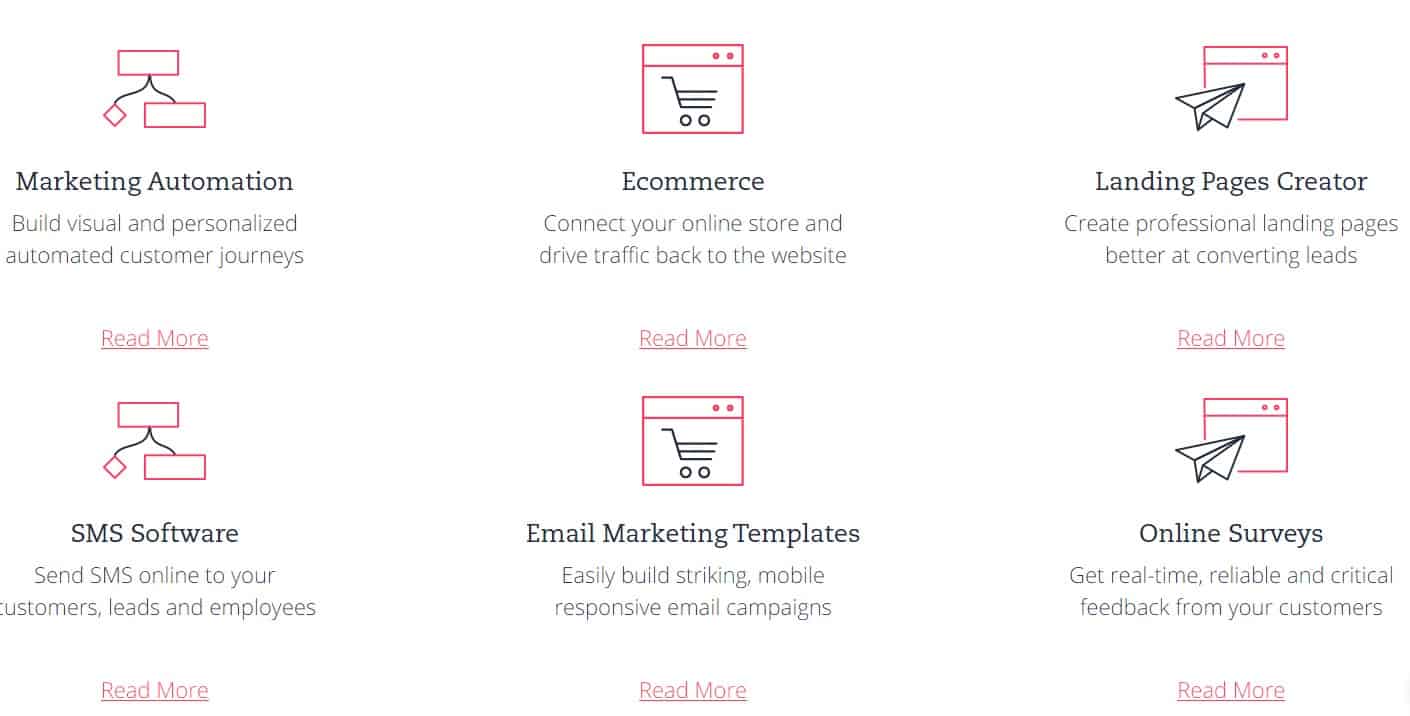 We like that you can create surveys, which isn't always possible from an ESP. Learn more about the clients and demographics by designing a professional survey and publishing it on your website. Just select the questions and fill in the details.
SMS campaigns are also available here, allowing you to text contacts. This gives you one more way to communicate with subscribers.
Pros:
Navigable and affordable
Various optimization and testing features
Relevant integrations
Cons:
Must use an API for e-Commerce workflows
No 24/7 support
No help to connect outside APIs and check for bugs
Pricing
ActiveTrail offers three pricing plans to meet everyone's needs. Basic costs $9 a month for 500 contacts and includes Zapier integration, A/B testing, API integration, surveys, reporting/analytics, automation, landing pages, and much more.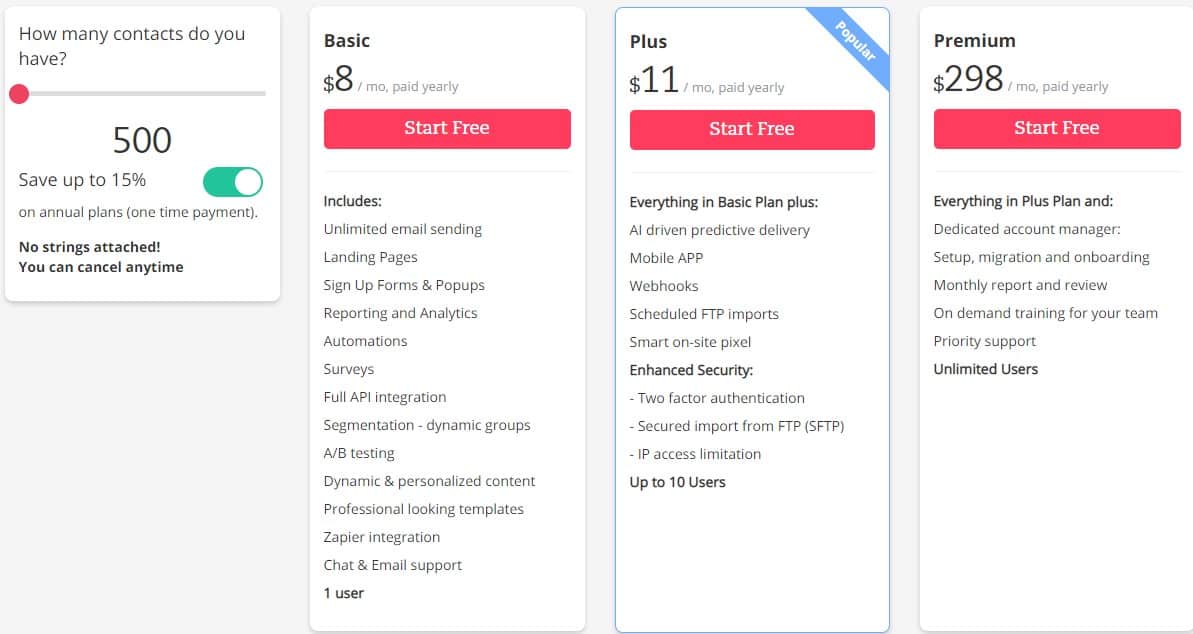 Next, you have Plus, which is $14 a month for 500 contacts. You have access to the Basic features, as well as enhanced security options and AI predictive delivery. It's possible to have 10 users, as well.
The Premium plan is $351 a month for 500 contacts. You get every feature available, including unlimited users, a dedicated account manager, priority support, and much more.
Who Is It For?
ActiveTrail is primarily designed for digital marketing professionals. The biggest reason to use it is for the timed email delivery, which automatically sends the email at the best time.
 Conclusion
Though Emma is an up-and-coming ESP, we don't think that it's suitable for most entrepreneurs and digital marketers. While it's streamlined and easy to use, there are glitches, very few integrations, and it costs a lot.
Instead, you might want to consider any of the five Emma alternatives we reviewed. They all have good and bad points, but it's now possible to compare them all together to find the one that meets your needs.
When searching for an email marketing provider, make sure that you think about the future and what you might require then. That way, you've got an ESP that grows with you as you expand the company or have more subscribers.