Social media and viral marketing are trending; every marketer wants a piece of the pie. However, email marketing remains the oldest and arguably, most effective form of online marketing.
It might be a lot more complex than other forms of digital marketing, but once you crack the code, it can be the easiest way to increase your conversions. According to research, at least 306 billion emails are sent and received daily, and about 4 billion people open their email accounts at least once daily. Even better, research also shows that every dollar spent on an email marketing campaign generates 36 dollars in revenue. This translates to a whopping 3,600% return on investment!
At the heart of every effective newsletter campaign is an email subscriber list of people interested in your business. But building that email list is not as easy as you think. To help you grow your subscriber list, we've put together a guide of tried and tested tips that will help you expand your audience in no time.
Craft a Compelling Offer
The quickest and most effective way to grow your email subscriber list is to offer your potential subscribers something they can't refuse.
With the ever-increasing cyber issues and email spamming, very few people share email addresses online without a good reason. And if they do, it might be one they barely use, which will significantly affect your open email rate.
To ensure that you capture the subscriber's attention from the get-go, offer them something they find valuable in exchange for their email address. To do that, you must fully understand what your target audience wants.
Take your time and do research. You can test out a few deals to see which works the best. Alternatively, you can run a poll with your existing subscribers and get their opinion on what offer they would like to get.
For example, if you run a dental clinic, you can use software to send patients appointment reminder emails that also include a promo code for their next visit.
Make It As Easy as Possible To Opt-In to Your Email List
There are tons of distractions online, and your potential subscribers have a brief attention span. They don't need something that will take too much of their time, so ensure your opt-in process is as seamless as possible.
Recently, there have been two conflicting opinions in the marketing industry. One side argues that an effective opt-in process requires the subscriber to provide a first name and email address — which helps with content personalization.
The other side argues that just an email address is sufficient. The reasoning is that it makes it more likely for a site visitor to subscribe since it looks like less work on their part.
Here is an example:

If you want to grow your email list quickly, make your opt-in process as easy as possible. Consider removing everything else except the email address – this will make subscribing more efficient for your audience.
Encourage Sharing of Your Email/Newsletter
As outdated as it might seem, word of mouth is the quickest way to increase your brand's visibility and what you have to offer. If you have great email content that intrigues your audience, encourage existing subscribers to share it with their friends and family. This is the fastest way to get people interested in your content to sign up for your email list.
But remember that for this method to be successful, you must have two things in place. First, include a way for the new people to sign up directly from the email or a link to your signup button. Second, ensure that once they receive the forwarded email, they can't unsubscribe from the mailing list. If they do, they will remove the original subscriber, not themselves.
If you have these two things figured out, you can sit back and watch your mailing grow and your sales increase.
Use Multiple Signup Forms
Most brands use only one newsletter signup form in their sidebar, but if you want more subscribers, you should have multiple signup forms in different sections of your site. This gives your visitors more chances to sign up if they missed the initial form.
A good way is to supplement the sidebar signup form with an eye-catching popup. Popups are highly effective because they make you more noticeable, encouraging your visitors to sign up.
You can use Poptin's popup display settings to set the triggers or a timer so that the popups show at the right time. For example, you can trigger a popup when the visitor scrolls to the end of a page or 30 seconds after they open it.
Here is a good example of an opt-in popup I found while browsing Business.com.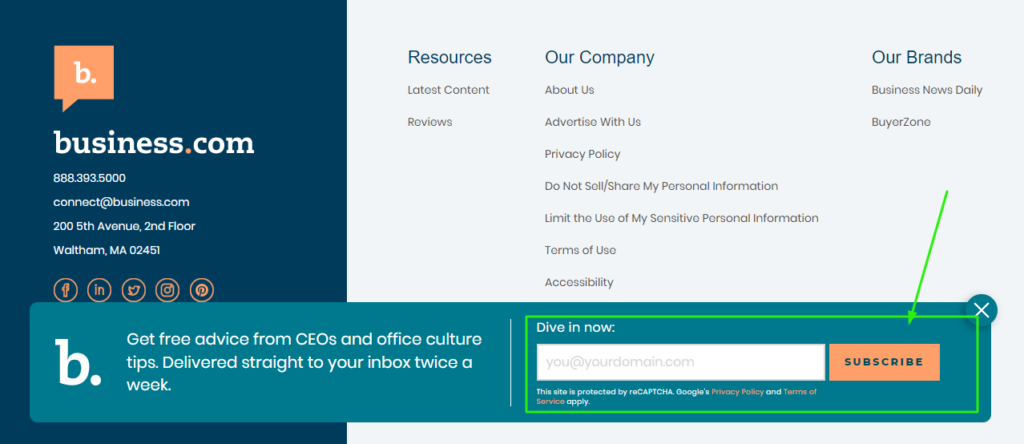 One way to create email pop ups and email forms is through Poptin. It has various customizable templates and conversion features to drive more email signups and offer enticing promos to generate leads.
Engage New Subscribers Immediately
One of the most underrated tricks to maintaining subscribers on your mailing list is engaging them as soon as they hit the subscribe button. When you do that, you immediately create a relationship with them. Better still, you increase the chances of converting them into customers.
For example, you can have a thank-you or confirmation page where subscribers land after subscribing. Also, strategically placing an offer or a discount on this page could encourage the subscriber to stay on the email list or even make a purchase.
To make it even more effective, you could turn your thank-you page into a lead generation page. You can do that by offering irresistible incentives for people who get someone to subscribe to your email list. For example, you can promise a freebie for subscribers who share your content on social media and get someone to sign up for your list.
Encourage Engagement and Give Your Audience Control Over the Content
To gain email list growth, you first need to maintain your existing list and ensure that people don't unsubscribe. If people unsubscribing from your email list are equal to the people subscribing, your efforts will amount to nothing.
Studies show that one of the main reasons people unsubscribe from email lists is they feel uninterested and overwhelmed. There's already tons of content on the web today, most of which feels robotic. Your subscribers don't want to receive more emails that feel automated and impersonal.
So keep your audience engaged and ask for their opinion as often as possible. You can encourage them to interact with your content by providing polls or surveys or simply commenting and sharing it. For example, you can run a poll asking for their opinions on recent events or even have them choose what topics they want to read about in the following emails.
Engagement builds trust, and the best way to keep subscribers on your list is to have them trust you.
Establish Your Brand as an Industry Thought Leader and Subject Matter Expert
People tend to trust authority and enjoy being associated with it. If your brand is authoritative in your industry, people will talk about it, and visitors will be more inclined to subscribe to your mailing list.
As a thought leader, the readers treat you as the go-to resource for industry news, opinions, and other helpful information, which will boost your brand's identity and recognition. A recent thought leadership impact study shows that at least 51% of B2B decision-makers rely on thought leadership to make critical purchase decisions. Holding this position in your industry will not only help your email list grow exponentially, but it will also help increase your conversions and profits.
Offer Segmented Email Lists
People have different needs and preferences, and potential subscribers might skip subscribing to your mailing list if the content doesn't match their specific preferences. Thus, one of the most effective ways to grow and maintain an email list is to offer varying email subscription options that deliver targeted content based on different needs. For example, if you run a content marketing blog, you can have segmented email lists for content creation, SEO, WordPress optimization, etc. This way, a subscriber interested in receiving emails about SEO can subscribe to this email list and won't have to get tons of emails about WordPress optimization if this topic doesn't interest them.
When you offer multiple subscription options, you increase the chances that a visitor will subscribe to one of the lists. It will also help improve your email click-through rates and, consequently, your revenue.
Here is an example of a segmented email list that allows subscribers to choose their preferred list.
Use Social Proof To Encourage More Sign-Ups
Humans are like a pack of animals. No matter who or what, they are always looking for social acceptance. In today's modern world, people look at other people's purchasing behavior before buying anything.
For example, consider how often you have purchased something because someone recommended it. Or the number of times you went digging online for reviews before buying something. If you have done any of this, you have been influenced by the social proof you received before making the purchase. You decided to buy because a real person convinced you and not some marketing copy from the company.
Therefore, you should take advantage of this to grow your email list. Even numbers show that social proof is a powerful tool to help you expand your mailing list and profits. According to a recent study, at least 91% of 18-34-year-olds look for social proof reviews and personal recommendations from someone close to them before they make a purchasing decision.
You can easily show social proof by displaying your subscriber count or reviews from satisfied customers on your site. Here is an example:

Offer Special Deals, Giveaways, and Organize Contests
People like freebies; it's human nature to want to benefit from something for free.
Another good way to quickly expand your mailing list is to offer an incentive for signing up. You could offer a discount on your product or service or freebies such as an e-book or a free course.
The idea is to offer something that your target audience finds valuable.
For example, if you run a bakery, you can offer a discount on a coupon that people can redeem at your stores on specific days of the week.
Here is another good example: HubSpot offers free e-books to people subscribing to their mailing lists.
This is also not limited to your website only. You can use all your company documents to promote these offers. For instance, you can look for invoice templates with sections that include discounts and other offers for future purchases. 
Conclusion
A quality email list is the bread and butter of an effective email marketing campaign. Once you have successfully cracked the code and established a valuable list, you can get your marketing message in front of the right audience and increase conversions.
We have listed several handy ways to expand your email list, make your email marketing efforts more effective, and see your revenue grow exponentially. Pick what works for your brand and run with it. You also don't have to stick to only one method; you can combine several or all of them for maximum results.