Email engagement is a crucial aspect, especially when running email marketing campaigns.
The reality is that engagement is not an easy thing to incorporate in your emails since you need to take much of your time and research on how to do it.
Everybody likes to read an interactive email without considering the sender.
Researchers have stated that 82% of consumers open and respond to engaging emails. This is a clear indication that there is power in crafting emails that are engaging in nature.
The good thing is that you can adequately use interactive elements to generate engaging emails. This sounds pretty good, right?
All you need to do is learn how this is done and adopt it on your emails to attain your email marketing goals. It is obvious that this is not the first time you have heard about interactive elements.
The problem is how to apply these features in your daily emails and align them to your target market.
This article aims to help you learn to enhance email engagement using interactive elements. Let's walk together!
Apply Short and Entertaining Videos
Adding short videos in your emails is an incredible way of enhancing engagement.
Many people do not have the time to read through plain content that is boring in nature. You can engage such individuals by creating informative and entertaining videos regarding your business brand.
Also, a video is a good feature when you intend to create different types of content discussing more about a particular aspect.
You can opt to create an entertaining video that focuses much on the trends within your industry of specialization.
On the flip side, you can compose videos that promote your products and services and enlighten your target market more about your brand.
You can easily achieve this by sending the videos through your email marketing campaigns. Post the video in a manner that customers can click on the video and access the content directly.
Ensure that the videos are not too long since consumers do not have the whole day to watch the video attached to your email.
You can make the video about two minutes long and cover every aspect you intend to pass to your customers.
You can enhance user engagement by including the word video in your subject line. This is meant to alert the reader that there is a video attached to the mail.
Also, you can display a short description of the content in the video. By including the word video on the subject, you increase the opening rate of the email.
Remember that the video aims to diversify your business brand across a specific market audience.
Once you have increased the opening rate of the emails, you are on a better side since your content gets to a broad audience which impacts the success of your business.
Incorporate Accordion Menus
Creating an interactive email is not a walk in the park. However, the use of Accordion Menus has made it easier to ensure that you create interactive emails for your target audience.
Accordions give you room to compile lots of information just in a single email.
The most exciting thing about this feature is that you can create lots of content and present it in an orderly manner. Readers can easily peruse through the mail without any form of contradiction and getting every part of the information displayed in the mail.
The Accordion menu gives you a chance to categorize the content in your emails in the form tabs that you can easily open and expand. This feature improves the general experience of your subscribers, especially for those using their mobile devices.
Proper arranging of the accordions increases conversions among those readers using their mobile devices to access the content inside the email.
Accordions give you a competitive advantage since they increase conversion, which is the ultimate goal of marketing campaigns.
Note that most emails are opened using mobile devices. This means that accordions have a significant impact on enhancing the conversion rate using email campaigns.
Also, you can use this feature to measure the clicks inside the content and the tabs to understand the areas generating significant results.
You can use the data generated from the click analysis to make proper changes that impact the success of your email campaigns.
Keep in mind that the goal is to secure more customers and create a broad market for your products and services.
Make Use of GIFs
GIFs are an incredible way of creating engaging emails that persuades your audience.
This feature is fantastic, especially when attracting your audience's attention and convincing them to read through the email content.
Even though GIFs are simple, they make your email content stand out.
Note that this feature is mainly used to enhance the level of interactivity in your content.
However, you don't have to neglect interactivity in your emails since it creates a solid connection between your content and the target market.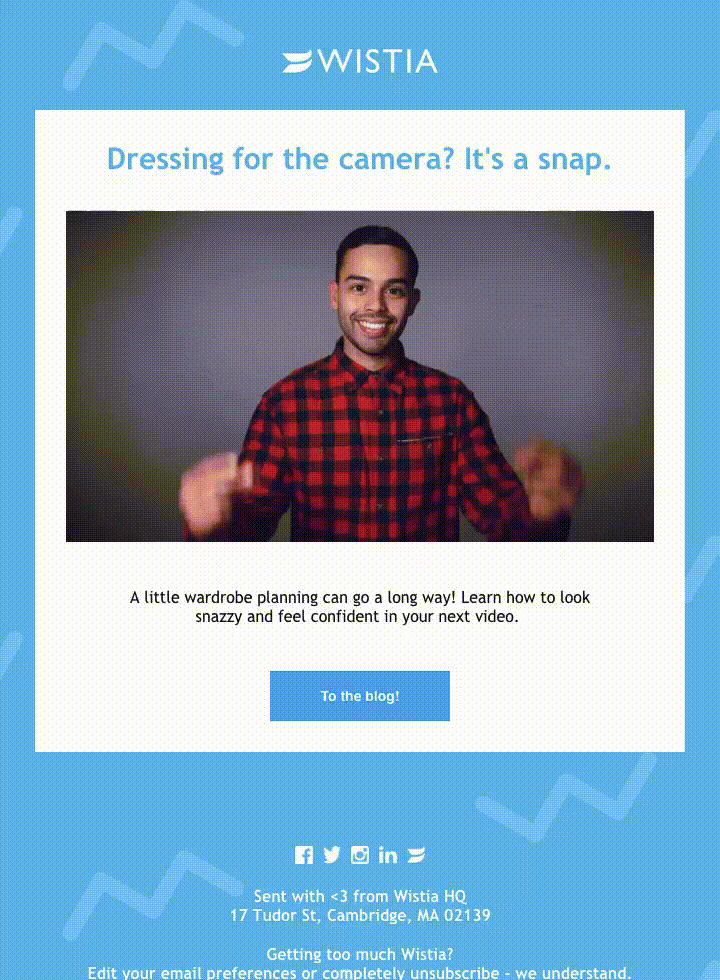 Once you have managed to gain the trust of your customers, they are most likely to open and read through your email content.
Interactive emails give you the freedom to talk to your audience less formally and conversationally. This increases the level of human touch in your business brand, giving you a competitive advantage.
When prospects realize that your brand has a remarkable rate of human touch, they get it easier to connect with your business promoting your operations. You can also customize your GIFs depending on the nature of your business brand.
However, ensure that the GIFs you use are aligned with the content and your business operations.
Also, place the GIFs in appropriate places within the content to attract your readers' attention and pass the information in a more precise manner.
Include Compelling Sliders
Sliders play a critical role, especially in creating highly engaging content when running email campaigns.
This feature aids in reducing the length of your email and ensuring that the email incorporates all the intended information. It helps to ensure that clients don't waste much of their time reading through long emails.
Sliders keep your readers engaged when reading your email, giving you a better position in the industry. Sliders come with extra tabs that you can click and open more information displayed in the next slide. This means you can portray lots of information by just sending a single email to your target audience.
Note that Sliders can also increase curiosity and the conversion rate in your marketing campaigns.
Besides, it is a good feature that can reveal the information bit by bit. Even though Sliders guarantees better results, you need to learn how to use them in your marketing campaigns.
In addition, marketers need to understand that sliders are good when they have lots of content to deliver through your email marketing campaigns.
All you have to do is to create order in your emails to ensure that readers can easily peruse through the slides one after the other to get more information.
Make Use of Surveys and Reviews
Email surveys and reviews are incredible interactive elements that you can incorporate in your emails to enhance engagement.
Ensure that the surveys are closely related to the content you create and meaningful to your target market.
Using polls and surveys gives you an expansive room to gather important information revolving around your products and services.
Also, the surveys can turn out to be entertaining to your customers, thus enhancing the conversion rate.
You can show survey results in email using different kind of infographics or visualization such as Likert scale chart, Dot plot maker, Donut charts or even a simple bar chart.
Also, this is an excellent method to show your customers that you care for them and you are doing everything possible to keep them Updated about your business progress. It is also an excellent way to show consumers that their views are heard and considered by the business.
This is an excellent way to build a loyal audience and increase the conversion rate through email marketing campaigns.
By increasing the conversion rate, your business stands a chance to secure a better position across the industry.
Gamify Your Emails
Email gamification is the least exploited method of enhancing email engagement among all the interactive elements.
Let's face reality; many people enjoy playing games at some point. You can make this feature part of the content in your emails.
It is evident that a significant part of your target audience enjoys playing games.
Incorporate a particular form of gamification in your emails to make them more entertaining and keep your audience engaged.
However, you can opt to analyze your audience before gamifying your email campaigns.
The analysis will help you understand the best type of game you can feature in your email content that many will love.
This will help you convert a boring email into an exciting piece of content that will persuade your audience.
Wrapping Up
Using interactive elements in your email campaigns can increase the conversion rate by 30%.
This indicates that the interactive features transform the engagement rate in the emails, impacting the conversion rate.
Author Bio:

I have more than 12 years of experience in the field of Digital Marketing and Data Analysis, currently working as a Digital Marketing Specialist at ChartExpo.