When it comes to improving your communication on your WordPress website, there are many options to try out to bridge the gap between your customers and your business.
So many plugins exist to make this possible, some of which include chat apps, contact forms, live chat apps, or social media plugins.
A popular option that has helped many WordPress websites is Chaty, a simple and user-friendly chat app that streamlines communication easily.
In this blog post, we'll be reviewing the Chaty plugin and determining if the Chaty Pro plans make it a worthy option for improving communication on your WordPress websites.
Chaty Pro is an intuitive chat app that lets you connect with your customers on social and communication channels, all from a single chat widget. It offers 20+ social channels including WhatsApp, Facebook Messenger, Telegram, Viber, Skype, Line, Instagram, Twitter, WeChat, Snapchat, and TikTok.
With these apps, you can consolidate your customer's interactions and tailor their chat experience to their specific needs or preferences with any of the available options.
Chaty offers an affordable pricing structure and a free plan that get you started with communication quickly. Let's take a look at these features.
What's in Chaty's Free Plan?
Display all Channels
A major feature that extolls the benefits of this chat app is its ability to display 20+ social and communication channels like Facebook Messenger, WhatsApp, Telegram, Viber, Instagram, LinkedIn, X(Twitter), Line, and Slack.
Users often have their preferred messaging platforms when communicating. By integrating multiple channels into your website via a chat widget, you provide convenience by allowing them to communicate through the platform they are most comfortable with.
The free plan isn't just limited to these channels, as you can add custom channels to increase your communication options.
Also, if you offer other forms of support, you can add a click-to-call button, SMS, or even maps to give directions to your physical store directly on the chat widget.
Set Display Triggers
Setting up display triggers for your chat widget is a crucial step that can enhance user engagement and experience. You can show your chat widget after a few seconds on the page, on page scroll, or use an exit intent trigger to get your visitor's attention
These triggers can prompt responses or actions at crucial points in the user journey. For instance, when a user spends a certain amount of time on a page or displays exit intent, a trigger can prompt a helpful message or offer assistance before they leave the site. This can greatly boost your chances of lead generation.
Attention Effects
Another great feature in the free plan is the ability to use attention effects to draw focus to the chat widget as it sits on the website page, potentially increasing the chances of it being clicked.
Different types of attention effects can be used on Chaty including bounce, waggle, sheen, spin, fade, shockwave, blink, and pulse.
As an addition, you can add a pending messages icon on your chat widget to get your user's attention and let them know that you're ready and available to provide assistance.
Customize the Chat Widget
The free plan also offers basic customization options for your chat widgets. You can customize the colors, icon, widget position and size. This enhances the user experience by making the app visually appealing and more comfortable for users to engage with.
WhatsApp Popup
This feature allows you to show a WhatsApp chat popup directly on your chat widget with a CTA that offers help, assistance or more information on your products and services.
Show different channels on mobile & desktop
Another amazing feature on the free plan is the option to create chat widgets and show them on mobile or desktop. What does this mean for you? You can show the same widgets on mobile and desktop or you can show different widgets on mobile and a completely different one on your desktop devices. For example, users who access your WordPress website on mobile will see a Facebook Messenger icon, while visitors who use a desktop will see a WhatsApp button.
Now that we've highlighted the features in the free plan, let's move on to the paid plans.
Chaty Pro Plans
Chaty Pro plans are divided into three options which are paid for on a yearly subscription model. The prices are as follows:
Basic – $49
Plus – $109
Agency – $179
Breakdown of Chaty Pro Features
In addition to the features available on the free plan, Chaty Pro plans also offer the following features:
Show Widgets in Chat View
You can display your popup message on the chat widget either in a simple view or the chat view.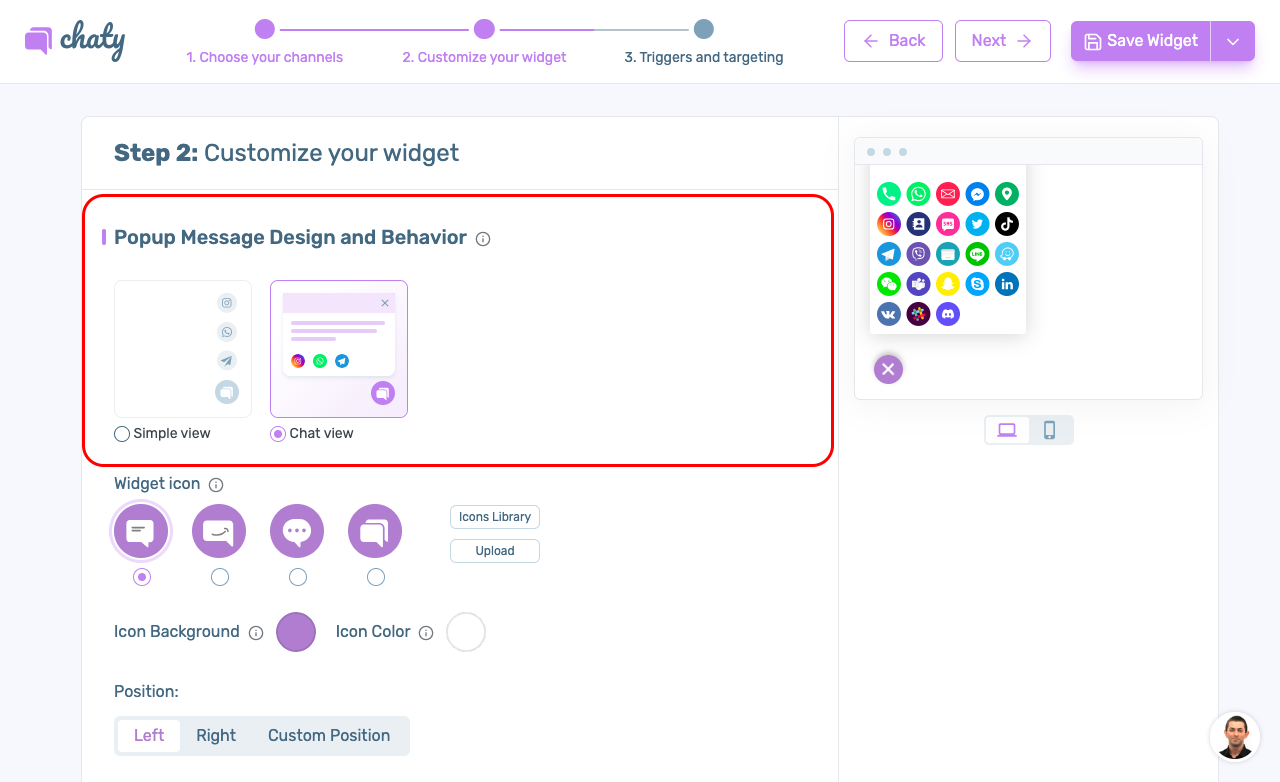 What's more interesting about the chat view is that you use merge tags like page title, URL, and WooCommerce tags like product name to personalize the chat pop up for an an improved user experience on your website.
Chat Agents
Add multiple agents to manage your chat channels and increase the quality of your support experience.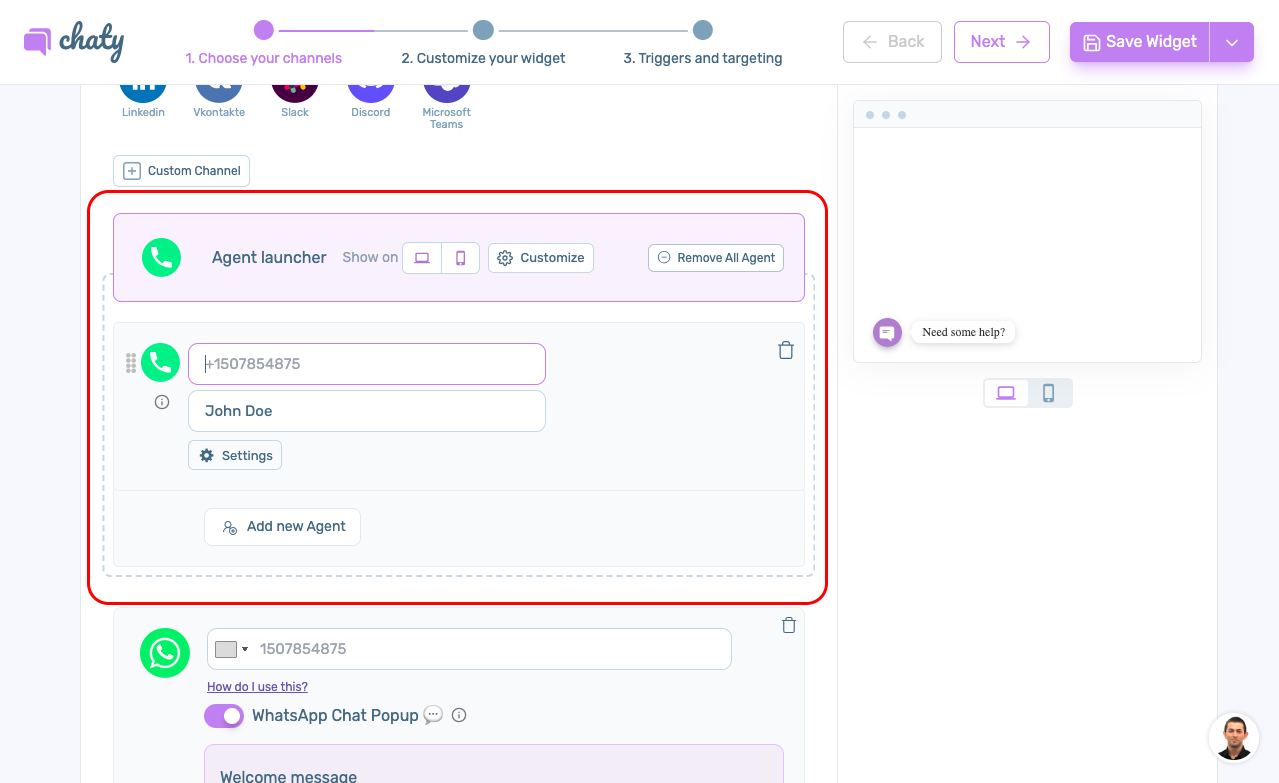 For instance, you can add multiple agents to offer multilingual support, or add multiple agents from various departments to offer specialised support – billing, sales, technical support.
More Customization Options for Chat Widget
Get more than just basic customisation options for your chat widget on any of the pro plans. For instance, you can customize the chat button widget color with HEX code. You can also change the location of the chat button to be places on any part of the screen.
Traffic Source Targeting
This feature allows you to show the chat channels only to visitors who come from specific traffic sources including direct traffic, social networks, search engines, Google Ads, or any other traffic source.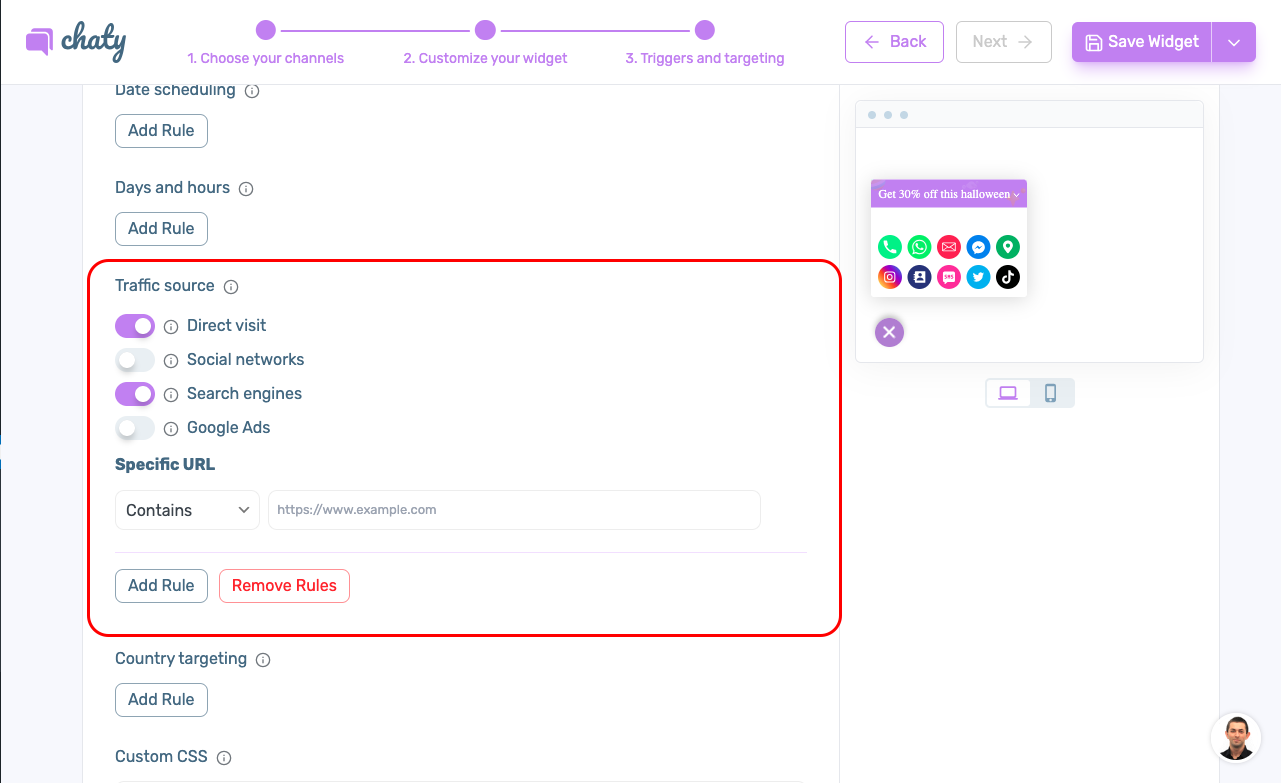 For instance, you can show a Twitter icon to visitors who come from Google, and Facebook Messenger to visitors from Facebook.
Duplicate Widget Settings
With a Chaty Pro plan, you can easily duplicate your existing widget settings to for similar pages on your website. This saves you ample time that may have been spent editing the widget.
Contact Form Leads
With a Chaty Pro plan, you have the option to send contact form leads to your emails.
Targeting Based On Hours & Days
You can also set your widget to show at certain hours or days. For instance, you can set your widget to show a contact form after business hours and show a WhatsApp icon during your office hours. You can also set targeting rules based on specific dates. E.g show the widget only on special holiday sales like Christmas, Halloween or Black Friday.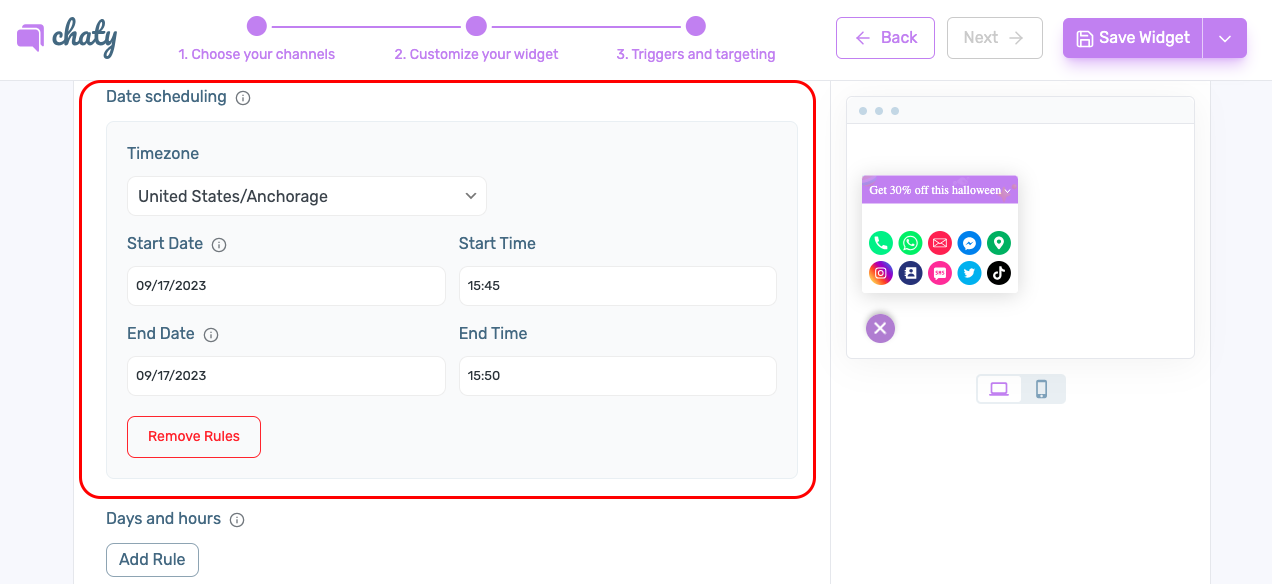 What Can Chaty Pro Features Can Do For Your WordPress Website?
Centralized Communication
With these features, you can centralize communication on your website, reducing the need to switch between different apps when communicating with your website visitors. They can simply choose the available options on your chat widget and start communicating.
Improve Customer Satisfaction
Some users might prefer WhatsApp for quick queries, while others might favour Facebook Messenger. Catering to these preferences can improve response times and overall customer satisfaction.
Personalized Experience
Chaty allows for interaction and response to users' queries. This communication ensures that individual needs are addressed promptly. Whether it's answering questions, providing guidance, or resolving issues, the response helps create a more personalized interaction compared to delayed or automated email responses.
Multilingual Support
With the ability to converse with multiple agents in multiple languages, businesses can cater to a wider audience, irrespective of their geographical location or language proficiency. This inclusivity can lead to increased engagement and a broader reach for the website.
Also, when users can interact in their preferred language, they are more likely to feel comfortable and confident in engaging with the business. This increased comfort level can positively impact conversion rates and lead to better outcomes in terms of sales or inquiries.
Feedback & Improvement
Chat plugins enable direct and real-time communication between visitors and website administrators or support staff. Users can share their thoughts, opinions, suggestions, or concerns instantly while browsing the site.
Visitors might provide feedback on various aspects such as the site's usability, content relevance, design, or any issues they encounter. They could highlight what they like, what they find confusing, or areas that need improvement.
Final Verdict
While choosing the "best" WordPress chat plugin depends on specific needs and preferences, Chaty stands out as a robust and versatile option for website owners seeking seamless communication. Its features and functionalities make it a strong contender for enhancing user interaction and support.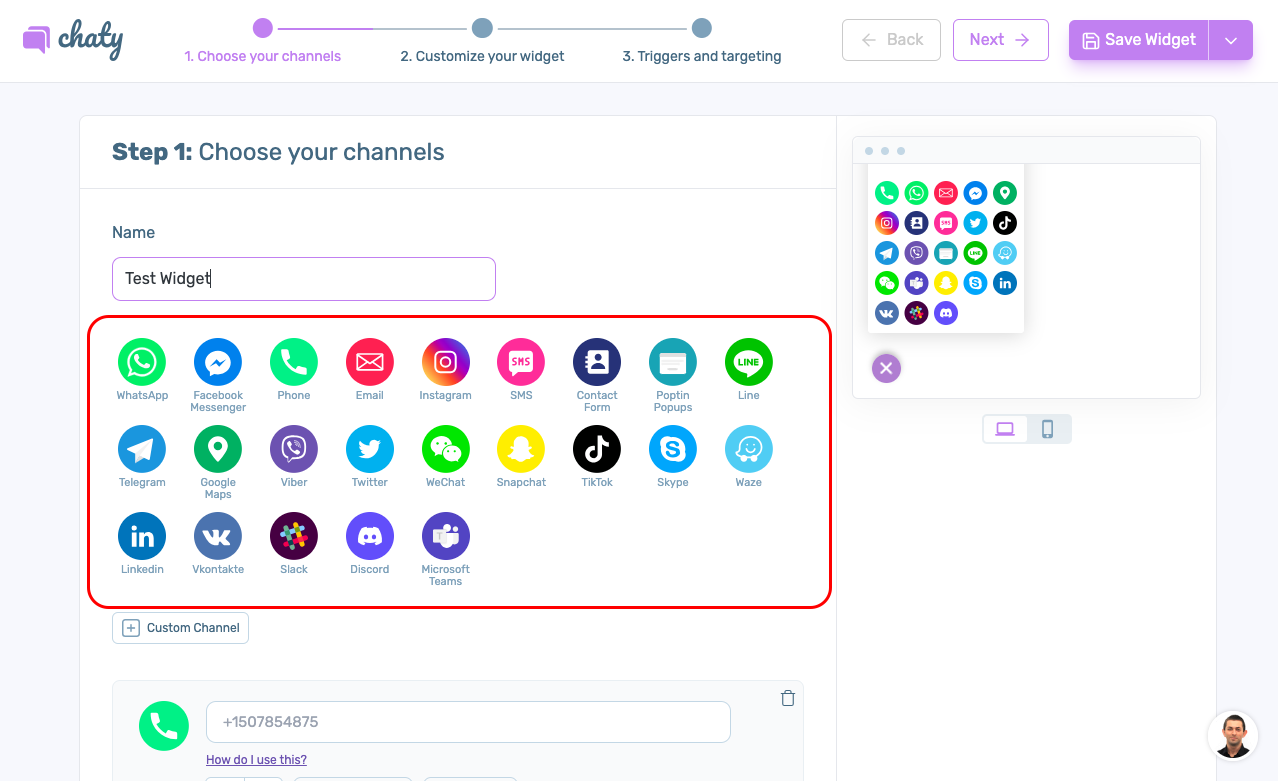 Moreso, Chaty Pro plans emerge as an excellent choice for WordPress users seeking a feature-rich, versatile, and easily customizable chat plugin. Its ability to integrate multiple chat platforms into one streamlined interface, coupled with its user-friendly design, makes it a strong contender for those prioritizing enhanced user engagement and support options.
Ultimately, whether Chaty Pro is the best WordPress chat plugin for you depends on your specific requirements and budget. If its features align with your goals and you're comfortable with the pricing structure, Chaty Pro could be an excellent choice to enrich your website's communication capabilities.
Even on a tight budget, we'd strongly advise against installing a nulled or cracked version of Chaty Pro or even using a GPL file which is typically obtained from unauthorized sources and distributed without proper licensing.
Why Nulled Chaty Pro is Not Worth the Risk
You run the high risk of being a victim of any of the following:
Getting your website hacked. It could lead to website instability, crashes, or conflicts.
Downloading malicious codes that might include backdoors, malware, or other security threats that could compromise the website's security.
No access to customer and development support when you run into issues with the nulled or cracked version.
No access to updates which are crucial for patching security vulnerabilities, fixing bugs, and ensuring compatibility
Legal action or penalties for unethical and unauthorised use of nulled apps
Also, nulled versions of Chaty Pro can inject ransomware into your website, a type of malicious software that encrypts a victim's files or locks them out of their system, demanding a ransom payment in exchange for restoring access.
For most of these ransomware attackers, Bitcoin has become the preferred method of payment for ransomware attacks due to its perceived anonymity and ease of transactions. Cybercriminals can get paid with Bitcoin without giving away their name because transactions are anonymous. This makes it hard for law enforcement to track them.
Instead of going through the high-risk and stressful encounter of using a nulled version of Chaty Pro, you can enjoy its basic features for free by getting started here.