Email marketing is one of the most effective ways to reach your customers and grow your small business. It allows you to connect with your audience on a personal level, build relationships, and promote your products or services.
Low-cost but effective email marketing tools can help a small business grow quickly. The big problem for small businesses is that not using the right tools will not only make it harder for their marketing efforts to convert into sales, but it could also derail their efforts entirely. 
But with so many email marketing tools on the market, it can be tough to know which one is right for you. That's why we've put together this list of the top 10 email marketing tools for small businesses in 2023.
These tools offer a variety of features, from simple email creation, sending, and growth to more advanced marketing automation and analytics. So whether you're just starting out with email marketing or you're looking for a more powerful tool, there's something on this list for everyone.
1. Poptin – Best for Growing Email Lists
Most of the other options on the list are full email marketing suites. Poptin fits perfectly to complement the email marketing efforts that most companies are putting forth. 
How? Poptin is a popup builder that lets you create beautiful popups which can be added anywhere on your website. These popups can be used to show enticing offers that'll draw in your website visitors and convert them into email subscribers.
Adding some of these popups to the company website can be the best way to get people to sign up for the email list.
The software has plenty of great-looking templates that are easy to edit to create different kinds of popups, including email popups, slide-ins, on-scroll popups, lightbox popups, gamified popups, spin the wheel popups and exit-intent popups.
You can also set triggers, and edit the different movements, appearance and timing of the popup to suit your preferences.
More so, you can connect your popups to your favourite email marketing automation platform and send an email to a new subscriber every time they interact with your popup.
There's a free version of the software available, but that only allows 1000 visitors to view the pop-up. Prices for the basic plan start at $25 on the monthly plan. This is a great add-on to larger email marketing tools that a company may already use.
Check out this: Email Popups: 6 Creative Offers You Can Use To Help You Grow Your Email List
2. Google Forms – Creating Surveys For Email Subscribers
This is one of the best email marketing tools to conduct surveys with. It's an app that's hosted on the Google Suite, so businesses that already do plenty of work on Google Drive will be familiar with how Forms works. While Google doesn't offer a ton of creative elements to add to these surveys, many companies use them.
That means that the visitors to the site won't look at surveys on these templates and feel like they're going to be scammed. It's one of the cheapest email marketing tools out there as well.
There's a pretty extensive free version and a paid version that costs $12 a month, granting the company further access to other Google Suite apps.
3. Constant Contact – Email marketing campaigns
Constant Contact is one of the large-scale email marketing platforms on the market. It offers users the option to run surveys and different types of tests with emails within their user base. If there's one thing it may be lacking, it could be the creative elements.
While there are many constant contact alternatives on the market, there are two main reasons, though, why it's growing in popularity. It's become a platform that's always looking to provide training to its users and features one of the best customer service departments on the market. Companies can get a marketing CRM, drag-and-drop builder for only about $12 a month on the cheapest plan.
It could be a good idea to still use apps like Photoshop or Canva for some of the creative elements since the platform doesn't feature that many interesting templates. At that price range and with such a good customer service team, it's certainly one of the larger platforms that are worth a look.
4. Amazon SES (Simple Email Service)
This is one of those email marketing tools that's going to be a must-have for businesses that get a lot of Amazon sales. It's a pay-as-you-go service that charges based on the volume of emails sent.
In essence, it's the service that's going to facilitate the emails that need to go out to clients when they buy a product on the Amazon platform. That way, it can make tracking these products easier for clients.
The downside is that it wouldn't make much sense for a company that doesn't sell much on Amazon to implement it. It's also not a completely free service, as some people may have guessed. The free service lasts up to the first year of use and allows customers to receive up to 3,000 message charges free each month after they start using SES.
The paid pricing model that the platform charges will depend on the number of emails that the company gets through the platform.
Regardless, it can be a great option for businesses that are run on AWS platforms.
5. SendPulse – Email Creation and Automation
SendPulse is a multi-channel marketing automation platform that offers a variety of tools to help businesses of all sizes grow their audience and sales.
It is a popular choice for small businesses because it is affordable and easy to use. It also offers a variety of features that are essential for growing a business, such as email automation and segmentation.
It is easy to create and send email campaigns, import, manage and segment email lists, and create automated workflows with this platform. Any comapny can get started with the core features on the free plan that permits up to 15,000 emails per month.
6. Nutshell – Combine Email Marketing with Sales & CRM
Nutshell is another one of these platforms that goes beyond the email marketing features. It can be a great CRM for small businesses to work with. Primarily because it allows users to migrate or directly integrate data from apps such as Slack or even software from the Google Suite.
The main focus of Nutshell is those integration capabilities. It does have an email marketing branch as part of the software, but it may not feature as many templates and design options as other apps that are already on the list.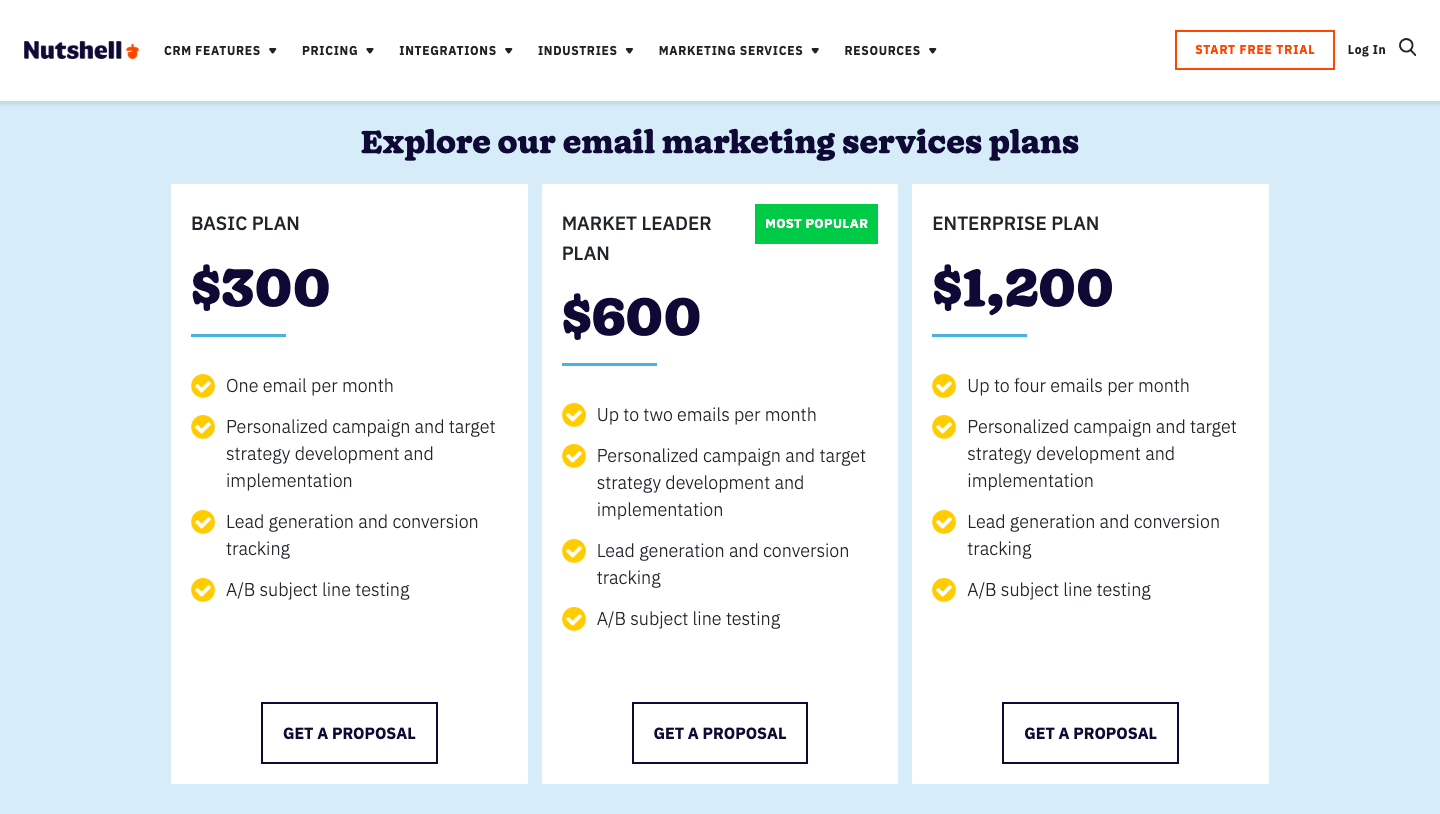 However, for businesses that are looking to streamline their sales process, from awareness to conversion, it might be worth the price tag. Otherwise, $300 might be too steep for email marketing services for much smaller businesses looking for a budget-friendly option.
7. Drip – Email engagement and marketing
Drip is an email marketing platform that offers segmentation, email creation and automation capabilities. People can design what they want to send out for the day and use the platform directly to send it to the people on their list.
It's easier to use than many other options. Companies that are looking for email marketing tools with a good design suite can benefit from Drip. It costs $39 a month to send emails to up to 2500 users.
8. Mailchimp – Email Segmentation and Marketing
Mailchimp is a long-standing email marketing platform that has become a popular choice over time. A lot of people know and trust this software because of its extensive suite of tools that make email marketing such a breeze.
It provides pre-built email templates, automation, integrations, email scheduling, a/b testing capabilities, segmentation and more recently, generative AI features.
The free version is pretty extensive, but it includes the Mailchimp branding on the emails and is limited to 1000 monthly emails sends and 1 seat.
Companies that are looking to implement their own design should switch to the basic option, which costs $13 a month.
9. Flodesk
Flodesk is a Mailchimp alternative that's design-oriented. The interface looks more like what people would expect from Canva. Its image editor is pretty easy to use, allowing anyone with limited design experience to create decent-looking emails.
The 38-dollar-a-month version allows users to send unlimited emails, add embedded forms and create workflow automation. That's a great deal that a small business could benefit from.
What could be holding this platform back a bit is its data collection methods. They're not as extensive as they are in other apps.
Conclusion
Some of these email marketing tools can complement one another, while others are full CRM suites or marketing platforms. That's why some of the price comparisons are a bit unfair. Other options could be a nice add-on for companies that are starting to build decent website traffic.
It might seem odd that a pop-up builder is on this list but it plays an important role in email marketing that gets users from simply browsing through your website to interacting with your emails.
It is one of the best ways to generate leads for companies in the current digital marketing landscape. What's best about those leads is that they are people who've already come into contact with the company through its website.