When we say your leads become your customers, that sounds very simple. However, the reality is that lead generation is a very complex task considering that only 4% of website visitors are ready to buy.
Fortunately, however, there are tools that can help you implement faster and more efficient lead generation processes.
In addition, they help in increasing the number of people who will decide to take action and become our customers.
Justuno is one of the tools that help sales conversion increase.
But, in case it did not live up to your expectations, here are some of the best Justuno alternatives that can work wonders for your business: 
Poptin

Privy

Unbounce

Avochato
After a brief analysis of the Justuno platform itself, we will move on to introducing these tools!
Justuno: Overview
Justuno is a platform that works on the principle of Artificial Intelligence (AI) technology.

This is especially recommended for e-commerce websites, Saas (Software as a Service) industry, and publishing purposes.
It helps you to create different types of pop-ups, sign-up bars, banners, push-up notifications, and more.
Offered features:
Pop-ups

Push-up notifications

Design canvas

Templates

Targeting options

Analytics

A/B testing

Integrations
Justuno: Pros & Cons
To do a more detailed analysis, we will outline the main strengths and weaknesses of using Justuno.
What are the pros?
Justuno offers many features that can help you with running your business.
They also constantly make improvements and updates, which is great.
Each promotion you create, you can customize separately so it looks exactly how you envisioned it.
There are lots of integrations such as AWeber, Shopify, Benchmark, ActiveCampaign, BigCommerce, and more.
What are the cons?
You may initially have difficulty understanding the Justuno interface. Since it is intended for e-commerce websites, there should be an affiliation with Shopify Collections. 
Pop-ups may also occur when the time for that is unexpected, which can affect the visitor experience.
Justunos' Ratings
Ease of use: 5
Customization level: 5
Visual appeal: 5
Features: 4
Integrations: 5
Customer support: 4
Pricing: 4
Total: 4.6/5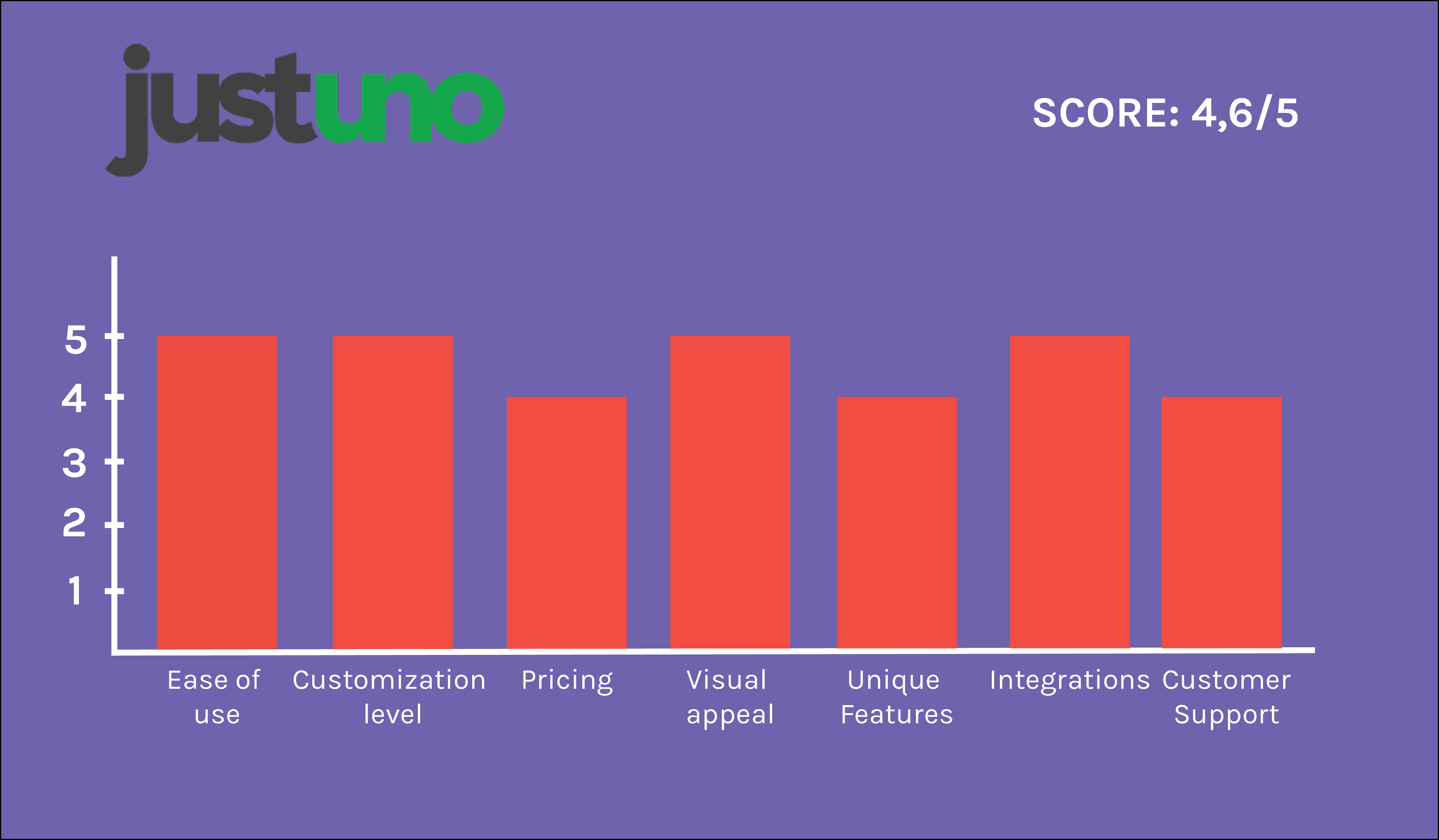 Poptin – Justuno Alternative For Better Conversion Rates
Poptin is a powerful Justuno alternative aimed primarily at marketers and digital agencies, eCommerce websites, and other types of websites.
It is designed to convert more visitors into leads, subscribers, and customers with the help of pop ups and forms. They're easy to create so you don't have to worry about the hassle of coding,
With Poptin, you can engage with visitors, recover abandoned carts, decrease bounce rates, and retain customers.
It allows you to offer amazing discounts based on user demographics and behavior. Plus, Poptin gives you the ability to interact in a way that's in favor of the visitor.
This tool allows you to:
Create eye-catching pop-ups

Build embedded website forms

Send coupons and automated emails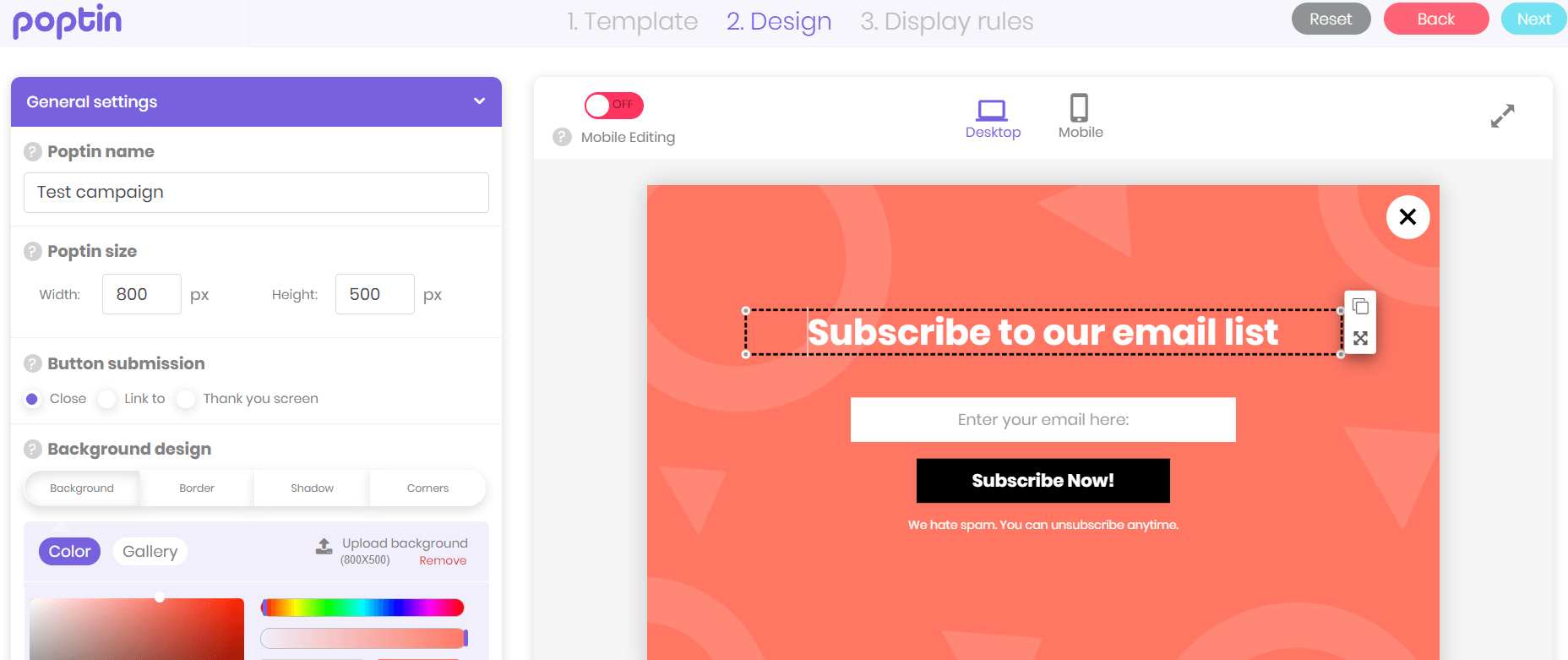 You can easily customize pop-ups according to your wishes and needs, remove and add fields, pictures, and logos. Therefore, it is recommended for anyone who manages websites like bloggers, developers, and the like.
It is also noteworthy that you do not need any prior design or coding skills to use Poptin.
Offered features:
Customization

Templates library

Analytics and graphic data display

Advanced triggering options

Advanced targeting options

A/B testing

Integrations

Live and chat support
Advantages of using Poptin
Poptin has a long array of well-developed customization options, and since they need to be effective and noticeable, this will make the whole lead generation process easier for you.
You can add important elements that can increase your chances of conversions, such as coupons, countdown timer, videos, images, and more.
Poptin smart triggers and targeting rules also are beneficial when it comes to designing the best pop up for the right customers. It allows you to show the right message to the right people at the right time accurately.
And even if you think you're missing out on something, you don't have to worry since A/B testing is your friend. You can test every design so you have the power to improve until you reach the best version that works for your audience.
And even if you happen to get stuck anywhere, you will be able to get in touch with the customer support in several ways:
Phone support

Email support

Priority customer support

Facebook group
Poptin also has its knowledge-base available to you as its user.
It has over 50+ native integrations, including leaders in the industry like MailChimp, Zapier, Hubspot, ConvertKit, Zoho CRM, and more.
Disadvantages of using Poptin
If you are someone who isn't familiar with the interpretation of analytics, you may need help to fully understand it as well as your visitors' behavior.
In this case, you can contact Poptin customer care who will be happy to assist you.
Poptin's pricing
You can try Poptin free version and use it constantly, but you can also choose from some paid plans that include better features. It all depends on what you need.
There is also a monthly and annual subscription.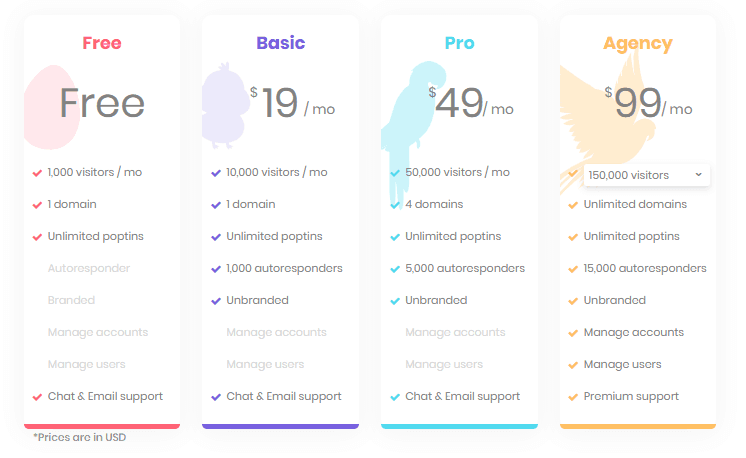 Why is Poptin an excellent Justuno alternative?
Poptin offers in-depth analytics that will allow you to get to know your target audience better and then respond to its behavior accordingly. This way, you will also find out which of your offers would be most tempting to your visitors.
You can also use pop-ups with special offers to reduce cart abandonment rates.
Using this tool will help you collect feedback from your visitors that will serve as a guide more easily.
Accessing the Facebook group and knowledge-base can be very important for you to gather new information.

Justunos' Ratings
Ease of use: 5
Customization level: 5
Visual appeal: 5
Features: 4
Integrations: 5
Customer support: 5
Pricing: 5
Total: 4.9/5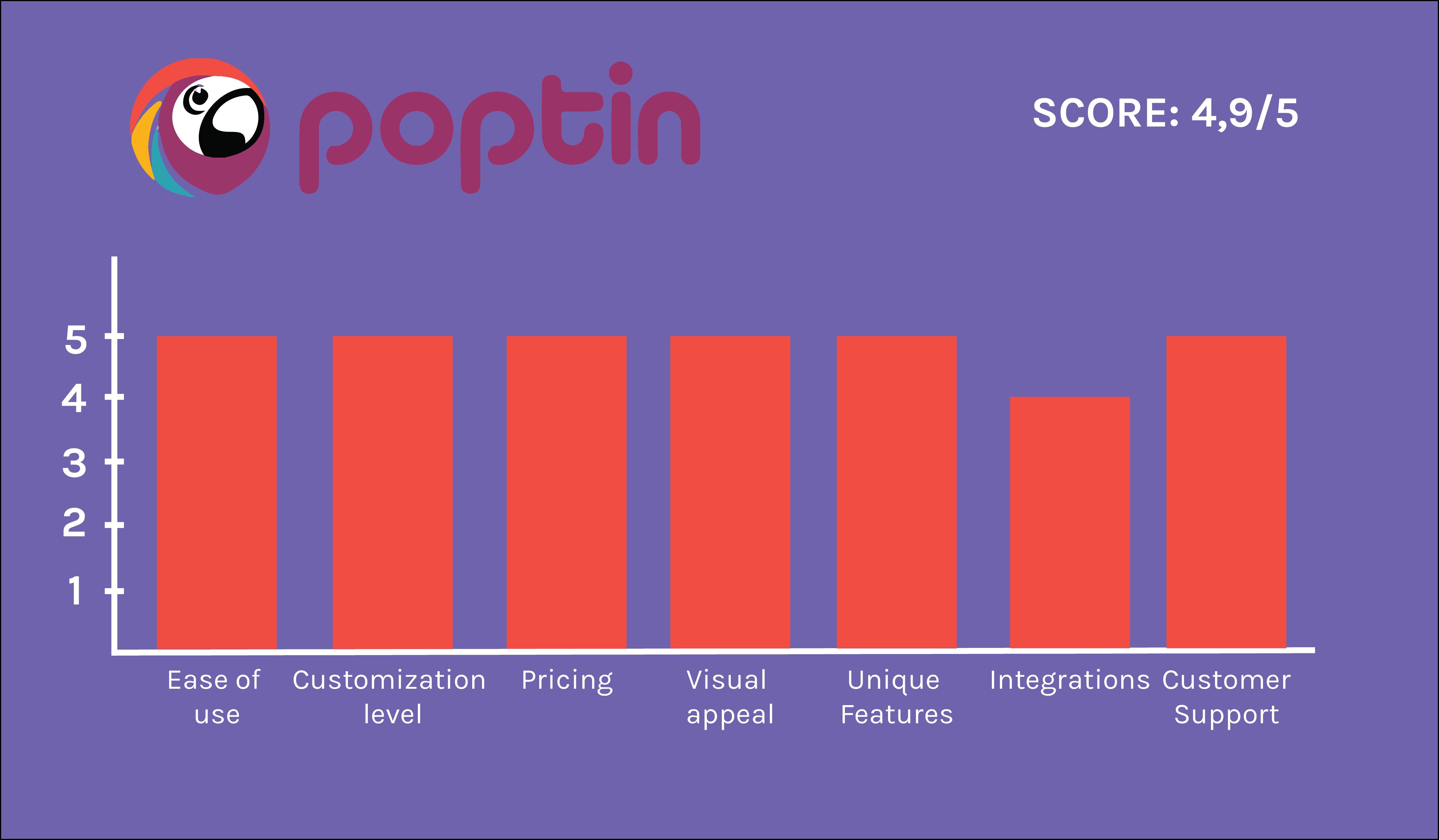 Privy – Justuno alternative for e-commerce
Privy is another tool that serves to expand the email list and increase sales.
You will find banners, pop-ups, automated emails, and more in its offer.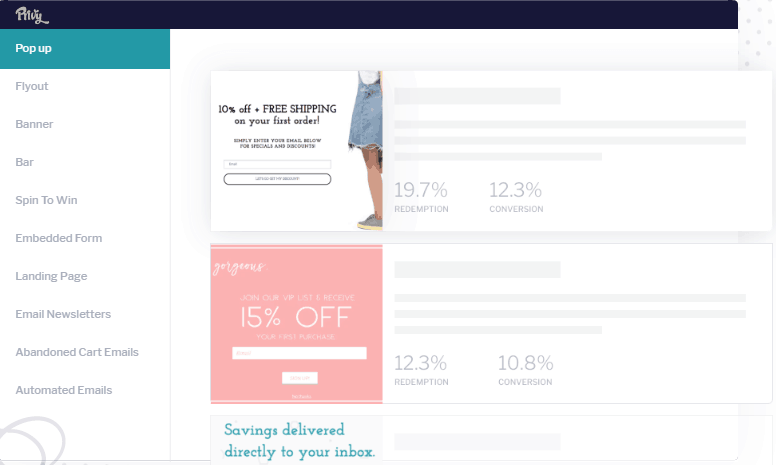 Regardless of your previous experience in marketing tools like this, Privy is simple and easy to use.
Offered features:
Drag and drop designer

Customization

Audience targeting rules

A/B testing

Integrations
Advantages of using Privy

With Privy, you can create really beautiful designs for your pop-ups and banners.
Spin to win displays will help you gamify your website easily and make it more fun for your visitors.
Triggering and targeting options allow you to send the right message at the perfect time.
Disadvantages of using Privy
Privy has a bit different than standardized pricing options. They can be confusing for starters and also for startups that are not able to calculate their expenses with ease.
Having more customization options would also be great.
Privy's pricing
You can try a free trial and then upgrade for a paid plan. The price depends on what you want to achieve.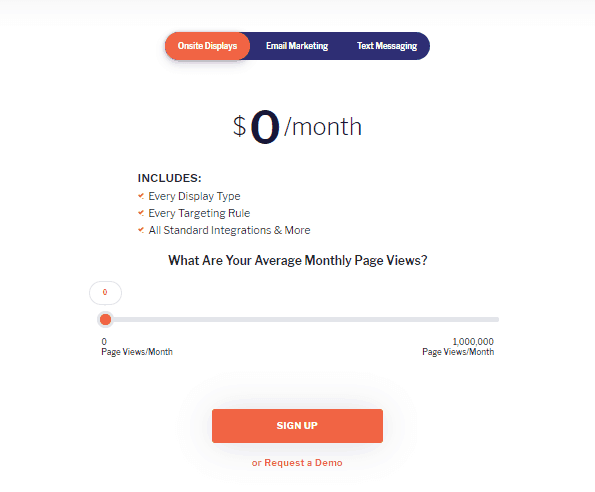 Why is Privy a great Justuno alternative?
Privy is a great Justuno alternative because it is easy to use and it has very interesting features such as spin wheel and flyouts.
It also has many useful targeting options.
Privy timed displays will help you create an urgent effect that will encourage visitors to take action.

Justunos' Ratings
Ease of use: 5
Customization level: 5
Visual appeal: 5
Features: 4
Integrations: 4
Customer support: 5
Pricing: 4
Total: 4.6/5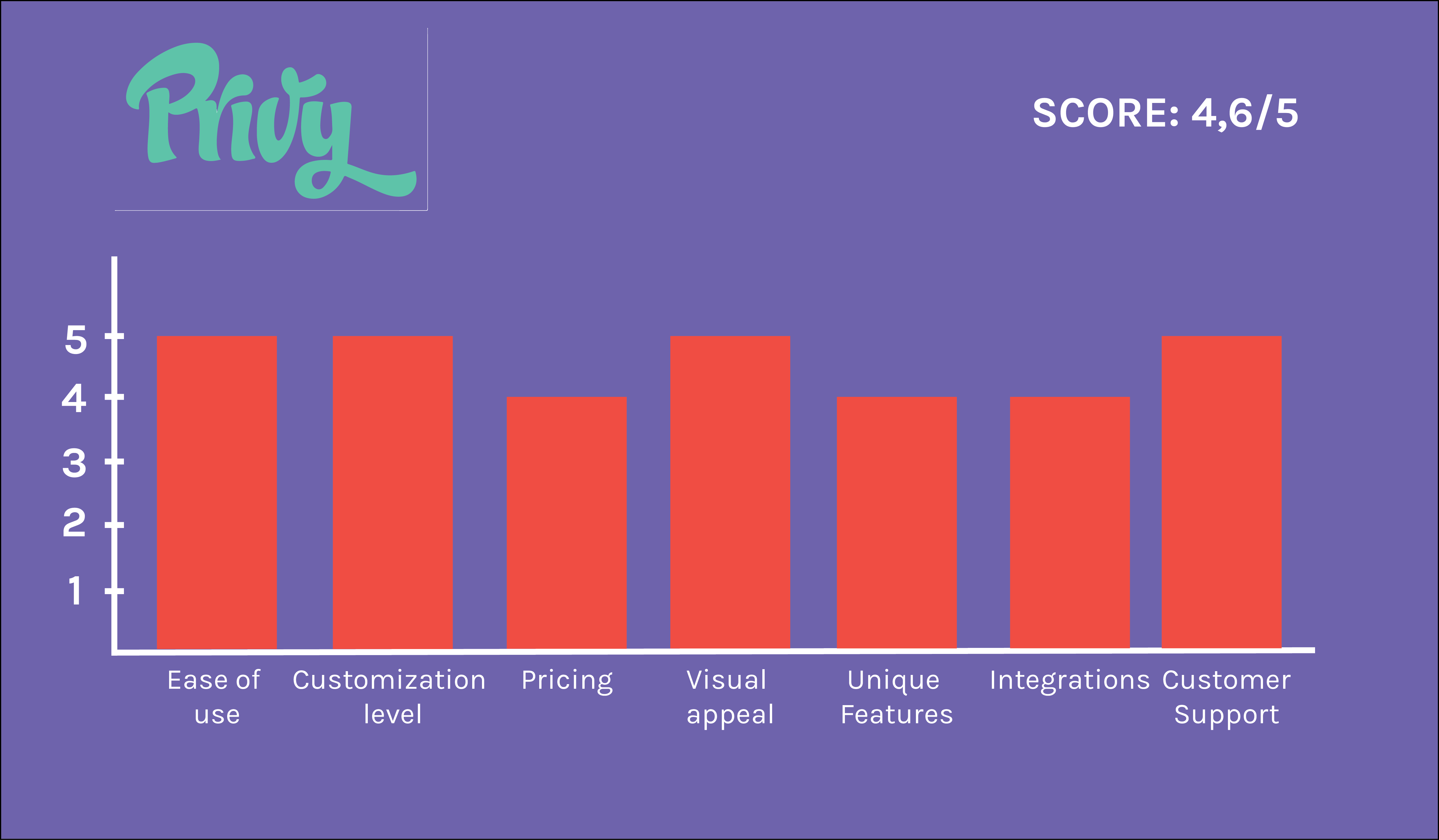 Unbounce – Landing Page Oriented Justuno Alternative
With Unbounce, you can create landing pages as well as pop-ups and sticky bars that will fit with your website perfectly.
Unbounce has an easy drag and drop builder that will save you time when it comes to creating different forms.
Offered features:
Drag and drop builder

Customization

Templates

Targeting and triggering options

A/B testing

Integrations
Advantages of using Unbounce
Unbounce has great A/B testing features so you can see what forms are better ranked by the audience.
You can assemble already made elements as needed, so you don't have to design them from scratch.
To place a created pop-up on your website, you just need to copy the code and your pop-up window will go live.

Disadvantages of using Unbounce
Unbounce support can sometimes be slow which can become an obstacle when it comes to using this tool.
Depending on what you want to achieve, you may have difficulty adjusting fonts and similar items.
Unless you have coding experience, you will need help to use the full potential that Unbounce has to offer. But if you're looking for the easy user-feedback tool that will help you to prioritize your design changes – you can always use some of the aha.io alternatives.
It should also be noted that there is no free version, and paid plans are on the more expensive side for this category of tools.

Unbounce's pricing
Unbounce offers a free trial and a couple of paid packages.


Why is Unbounce an interesting Justuno alternative?
With testing options, you can perform a detailed analysis of what forms are most engaging for your visitors and convert them into real buyers easily.
Also, with the scheduling option, it is easier to set your campaigns to run automatically by the time and date you specified.
There are many different integrations including ActiveCampaign, AWeber, Google Analytics, Gmail, and many more.

Unbounces' Ratings
Ease of use: 4
Customization level: 5
Visual appeal: 5
Features: 5
Integrations: 4
Customer support: 5
Pricing: 4
Total: 4.6/5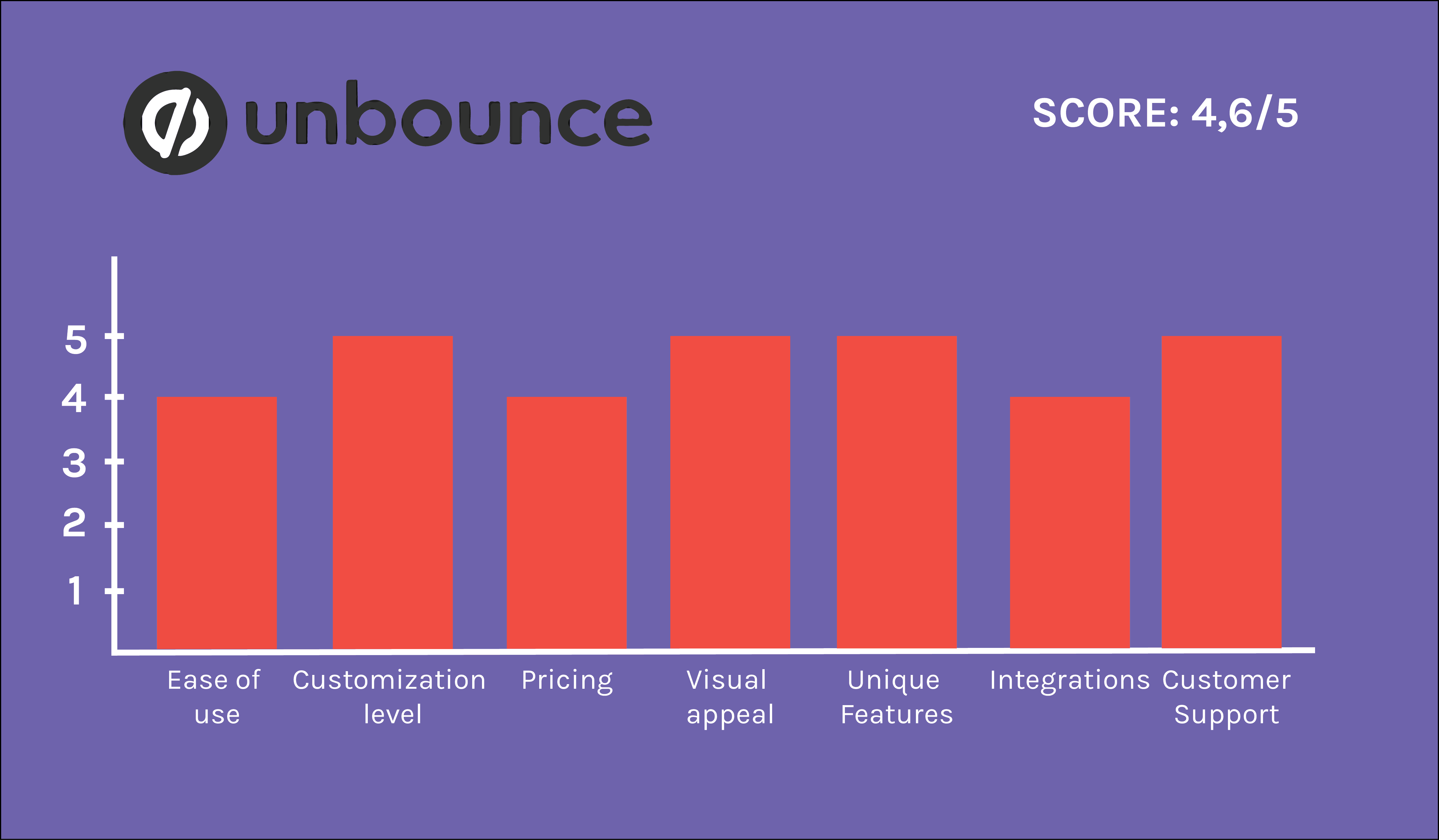 Avochato – A/B Testing Oriented Justuno Alternative
Avochato is a mobile messaging CRM system. Keeping in touch is very important to the lead generation process, and this tool allows you to communicate with customers as well as with the rest of the team.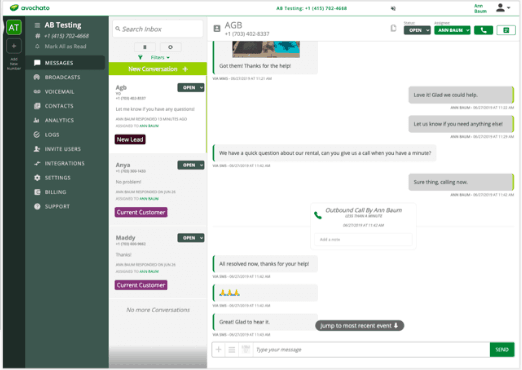 Thanks to the effectiveness of this tool. You can maintain multiple conversations simultaneously. Although it is intended for conversations via messaging, just from the dashboard itself you can call your prospective buyer if necessary and conclude the sale much faster.
Offered features:
SMS texting

MMS

Phone calls

Shared inbox

Live inbox

Surveys

Templated messages

Integrations
Advantages of using Avochato
Avochato integrates communication via SMS, MMS, and phone calls, making it much easier to communicate with both customers and employees.
With this app, you can add live chat on your website and allow people to get in touch with you in a shorter time while their attention is still at a high level.
The Avochato support team is organized and reliable, so it will help you with everything you need.
Disadvantages of using Avochato
Nowadays, emojis are used a lot in conversations, for which the price is quite high in Avochato since they cost as much as a few ordinary messages.
Another thing they could pay more attention to is automation.
It would also help many teams if calls could be transcribed as text. This would make it possible to save a large amount of time.
Avochato's pricing
Avochato offers 50 free messages for starters, and when it comes to paid plans you can choose from three different packages.


Why is Avochato a useful Justuno alternative?
Avochato is a very useful Justuno alternative because it will elevate your communication with customers and allow you to interact with them in real-time.
Conversational tools are of great importance for both lead generation and lead nurturing.
Justunos' Ratings
Ease of use: 4
Customization level: 4
Visual appeal: 4
Features: 4
Integrations: 5
Customer support: 5
Pricing: 3
Total: 4.1/5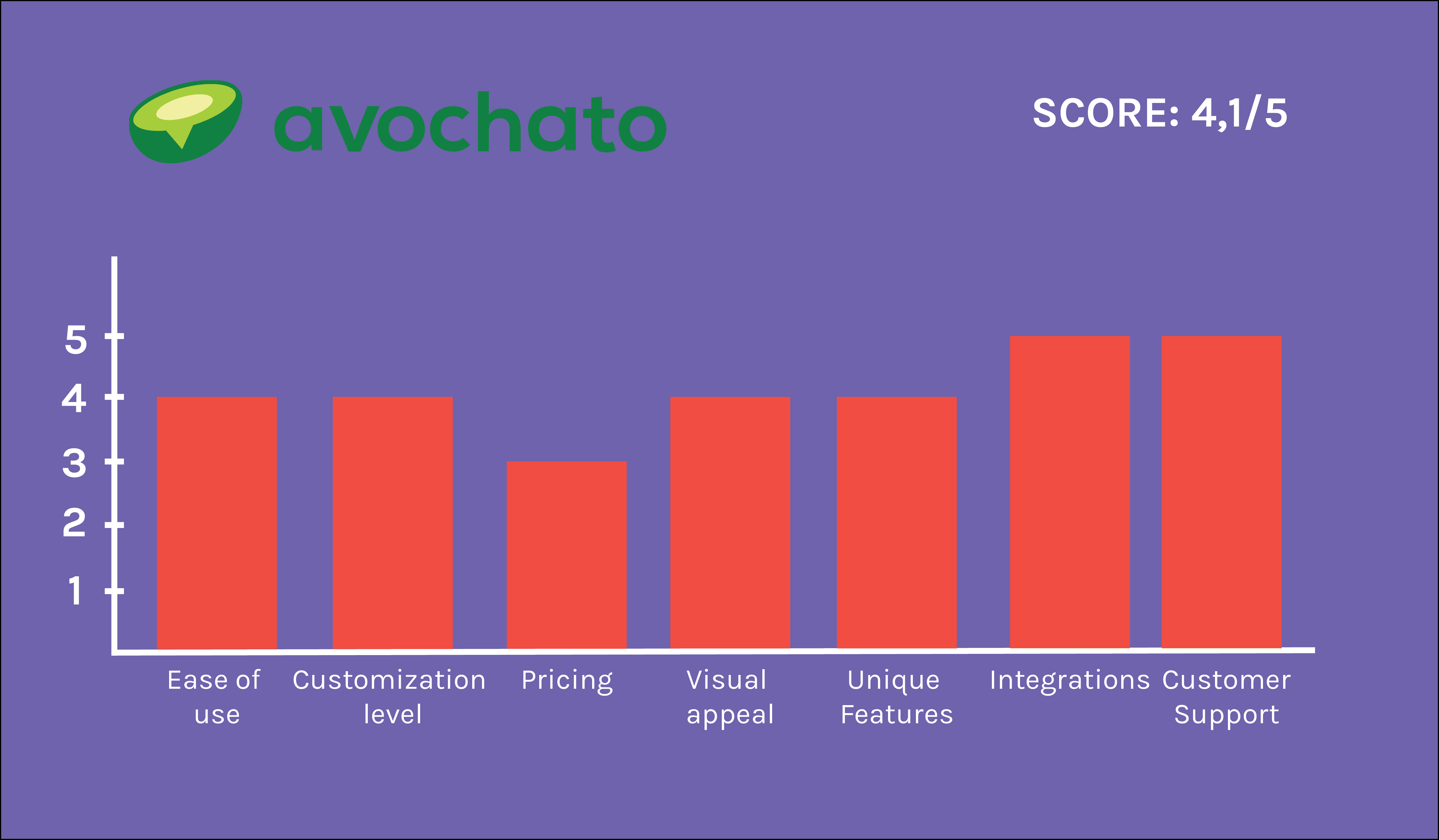 The bottom line
As you can see from the abovementioned tools, you are not completely alone in this challenging task of generating leads.
Of course, you have to make your strategy to be ready when it comes to taking the next step, so why not use the power and potential these tools give you?
If you're looking for the Justuno alternative for building better landing pages – then Unbounce is for you.
If you're looking for the Justuno alternative with better A/B testing capabilities, then Avochato is for you.
If you're looking for the alternative that more suitable to e-commerce – then try Privy
If you want to increase your conversion rates and encourage people to take certain actions such as newsletter subscriptions or to complete surveys and leave feedback, then we recommend Poptin.
With Poptin, you can easily create amazing pop-ups that will be a great plus towards achieving your business goals!