Email marketing is at the heart of all business functions. It's a great way to communicate with potential customers and current ones. Whether you're sending invoices, receipts, or showcasing a new product, email can do it all. Still, it's important to have the right tools to help you streamline the process.
Email marketing platforms are everywhere, and some of them are free, while others have advanced features. We're going to discuss Omnisend a little more and then explain why people switch. Then, you can learn about four different advanced platforms that might be better or more suitable for your needs.
What Does Omnisend Provide?
Omnisend is an advanced marketing tool that offers automation and integrations. It primarily helps sales-driven marketers who have e-commerce companies. 
The all-in-one platform is omnichannel, which means it does much more than send emails. You can set up social media messages and many other things. Of course, it works with various e-commerce platforms, such as Magento, Shopify, WooCommerce, and others. 
Founded in 2014, it's still a newcomer in the world of email marketing. However, it's been a top contender for such platforms. 
Why People Switch from Omnisend
Though Omnisend offers almost everything you could ever want in an email marketing tool, some people dislike it for various reasons. Top on the list is that the Standard plan is only $16 per month and offers many options.
However, if you want omnichannel marketing and SMS, the price jumps to $99 a month. Then, if you want email migration (from one platform to this one), you've got to go with Enterprise, which is a customized price based on your specific needs. 
Those who have more than 500 contacts are going to pay even more initially. This can be quite expensive, though the goal is to attract established e-commerce companies. However, that often means that these businesses require help at times, which is available but not as intuitive as it could be. 
Now, let's discuss some of the other email marketing platforms that give Omnisend a run for its money.
4 Omnisend Alternatives
Sendlane
As a cloud-based email marketing option, Sendlane works well for various industries. It primarily focuses on digital marketers because its key features can include performance tracking, email automation, analytics, email retargeting, and real-time reporting. 
The creators are all internet entrepreneurs, and they weren't satisfied with what was currently available. In a sense, they wanted a comprehensive platform that managed their digital marketing businesses. They realized that others were experiencing the same drawbacks, so Sendlane was born.
Features
There are numerous features of Sendlane, and many of them are what e-commerce and digital marketers require.
A landing page creator is a separate tool. While many other email marketing platforms bundle the landing pages in with the rest of it, this one is separate, though included on every pricing plan. There are over 50 templates available and many designs to help you connect with the audience. Plus, you can choose to add countdown timers, videos, and pop-ups to your website.
With the drag-and-drop email editor, the process is streamlined. There isn't any lag nor odd layout problems. All of your elements are accessible from the menu, and you've got control over everything. 
Reporting and analytics are essential for any email marketing campaign. While they are basic here, you do get the essentials, such as:
Link clicks

Bounces

Open rates

Click rates

Most active subscribers

Unsubscribes 
Pros:
Advanced workflows (automation)

Modern, intuitive design

Great learning tools (tutorials)

Smooth editors (landing pages and emails)
Cons:
Cost

Few integrations

No instant migration option
Pricing
While there is no free plan, you can get a free trial to test out any of the packages. With the Growth plan, you have access to pre-built templates and automation funnels. You can also export and import contacts and have access to the template library.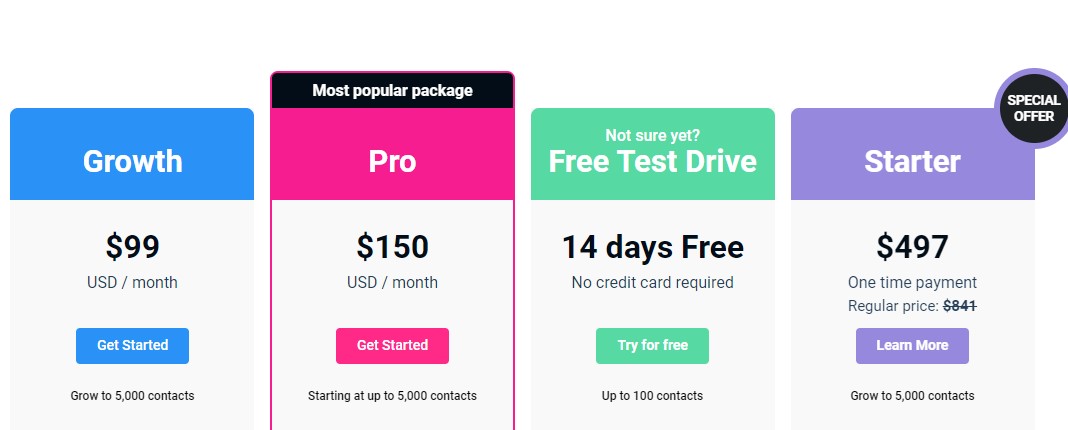 There's also a real-time HTML builder, but you can still use the drag-and-drop option. It costs $99 per month.
Then, you have the Pro plan, which is $150 per month and includes everything in the Growth Package. You also gain multi-user access and get $10 in credits for SMS automation marketing needs. Onboarding support and VIP migration are also included, as well as others.
There's also the Starter plan, which costs $497 as a one-time payment. You get everything from the Growth plan for a full six months and live chat support 24/7. With that, there are eight hours of training and various video lessons to help you understand the system.
Who Is It For?
Sendlane is primarily an email marketing platform designed for digital marketers. Those who want a fully customized system are sure to appreciate what they can do with this tool. It can also work for e-commerce companies and content creators.
ActiveCampaign
ActiveCampaign is based in Chicago and has 90,000 customers. Its goal is to help you send fewer emails but achieve better results. Of course, it has plenty of integrations and features, as well as support when you need it.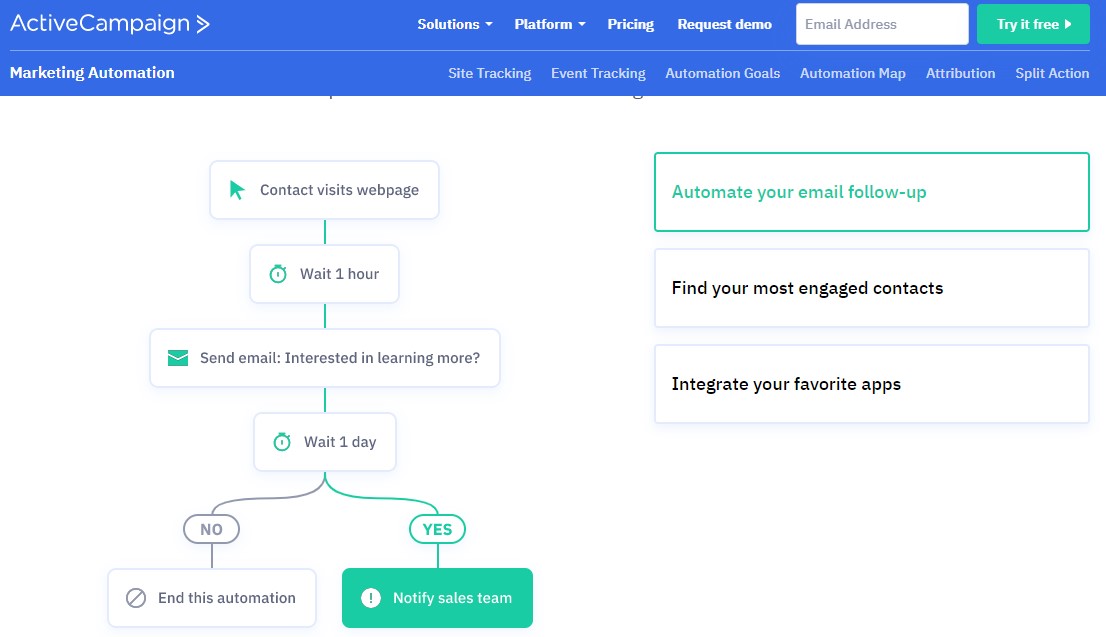 The goal of ActiveCampaign is to be a full-service tool that helps build a better customer experience. This spans the channels and goes beyond email to your website, social media platforms, and more.
Features
Primarily, the most important feature for an email marketing tool is automation. With ActiveCampaign, you get autoresponders for various conditions, but you can also automate list and contact management. It also includes a CRM system, making it more suitable for larger companies. 
The CRM is called "Deals" and lets you add notes, send direct messages to particular contacts, and set appointments. 
There is also a customer message feature, which helps you send targeted messages to website visitors. You can clearly see that this is an omnichannel marketing tool.
Pros:
Thorough reporting features

Free migrations

Powerful automation

Great deliverability results
Cons:
Overwhelming list of features

Might not be suitable for beginners

No free plan and limited trial
Pricing
The Lite plan is $15 per month for 500 contacts. You have unlimited sending capabilities, email marketing, and the ability to send newsletters. Three people can use the platform, and marketing automation is included.

With the Plus plan, you pay $70 per month for 500 contacts and gain everything from the Lite version. You also have access to landing pages, integrations, lead/contact scoring, and a CRM for sales automation. Up to 25 people can use the same plan, and you can customize permissions for each user. 
Then, we jump to the Professional plan, which costs $159 for 500 contacts. You get everything from Plus, along with predictive sending and content, conversion reports, site messages, split automation, and can have up to 50 users. With that, you have access to one-on-one training sessions.
The final plan is Enterprise, and it is $279 per month for 500 contacts. You get all the features from its Professional package, and phone support, free design services, a custom domain, and customized reporting options. Along with that, there are unlimited users and more.
Who Is It For?
Digital marketers and e-commerce companies that require an integrated marketing and sales platform are sure to like ActiveCampaign. It helps you act fast with features like social data and lead scoring. However, those are only available on the higher-tier plans, so expect to pay more to gain access to what you need.
Klaviyo
Where email marketing tools are concerned, Klaviyo has it all to help you build more powerful campaigns. Those who require a reliable option to connect with their audiences on a deeper and more meaningful level are sure to appreciate Klaviyo.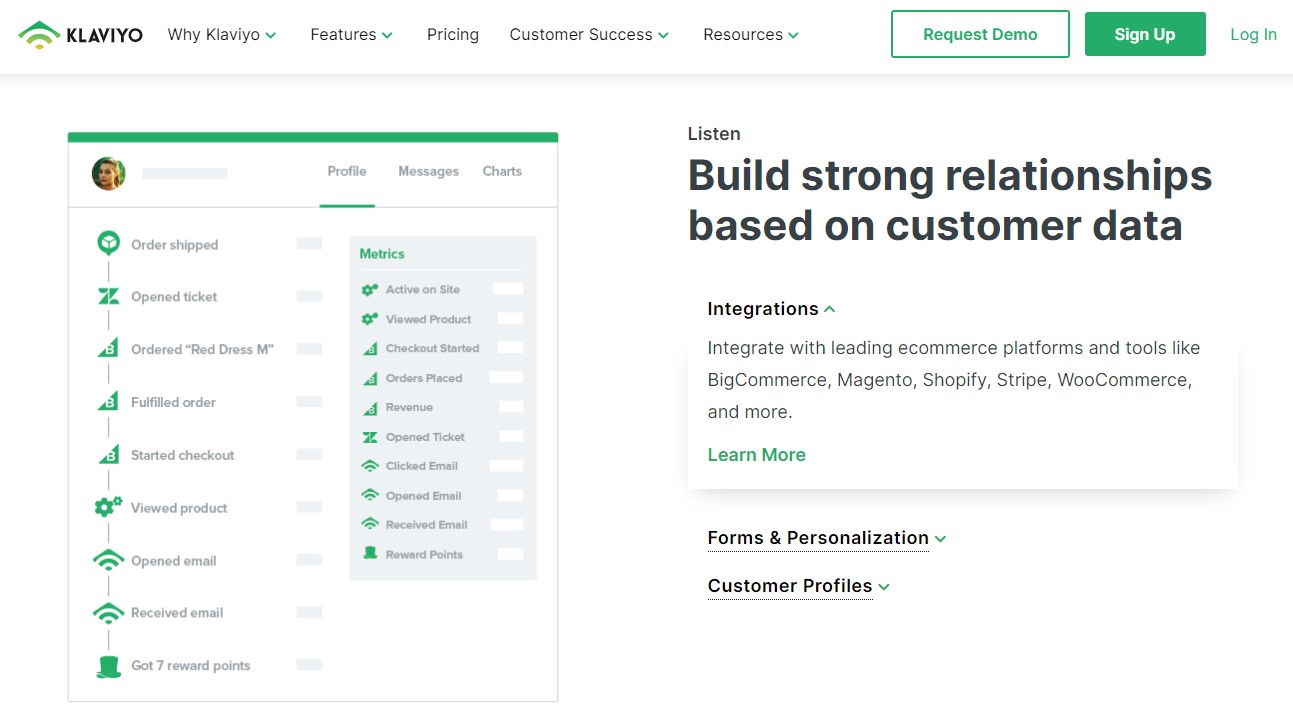 It offers tons of features to help you make life easier, though, at its core, it's a drag-and-drop email composer. This means you can do more with it than just sending perfect emails.
Features
Automation is the key here, and Klaviyo offers tons of workflows. These can include personalized product recommendations, segmentation based on various factors, post-purchase follow-ups, abandoned cart flows, and so much more.
You're going to like that it has the basic essentials of any email automation tool, such as a drag-and-drop builder. It also offers content blocks so that you don't have formatting mistakes.
There are plenty of templates available, as well. This allows you to customize everything to make your emails shine.
It's nearly impossible to have an email automation tool without integrations. The primary one here is Shopify, but there are others. Even the reports (of which there are many) integrate with your e-commerce tools. That way, you can determine what's working and how well.
Pros:
Drag-and-drop feature with tons of templates

Segmentation options based on many factors

Integrate with Facebook custom audiences

Personalized product recommendations
Cons:
Limited guidance and support

Complicated interface

High pricing structure
Pricing
The Klaviyo pricing structure is straightforward; you pay for the contacts you have and get access to every feature available. This includes personalization and segmentation, pre-built automation, A/B testing, ROI-based reporting, one-click integrations, and more.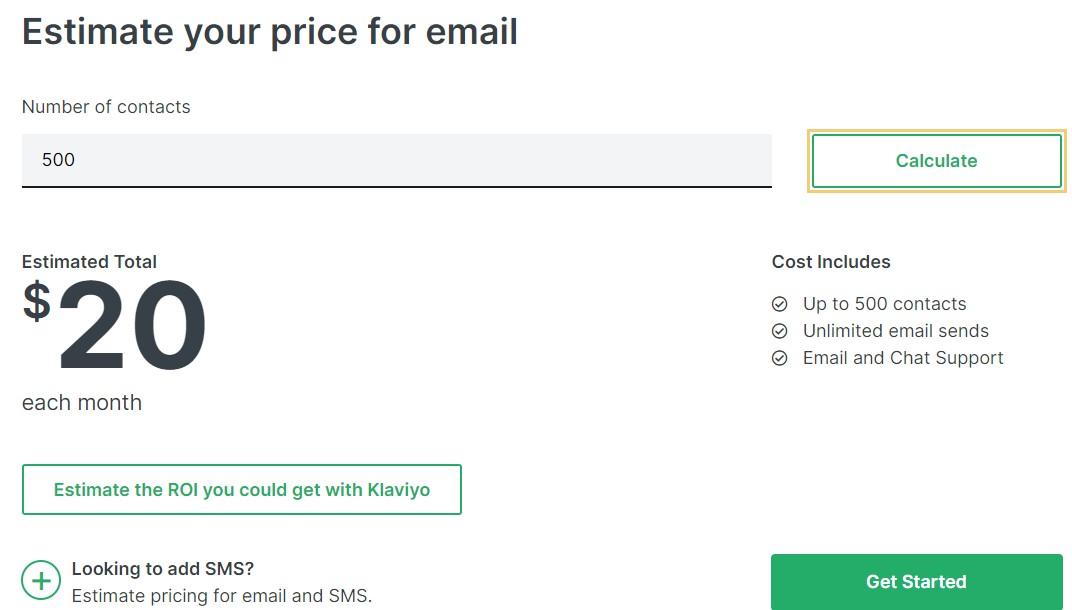 For 500 contacts, expect to pay $20 a month. At 1,000 contacts, you're paying $300, while you can expect to pay $60 for 2,000 contacts. 
You can also add SMS messages and pay $5 for 500 messages a month. However, it is possible to choose the SMS and email plan and pay for everything at once.
Who Is It For?
Klaviyo is primarily designed for those who are very familiar with email marketing, use it often, and want something better than beginner options. Enterprise users are sure to enjoy using it, though it does take time to set up and learn about it. If you require an advanced solution to email marketing and want to invest in it, Klaviyo is an excellent choice.
Campaign Monitor
Campaign Monitor is an excellent email marketing tool and is more straightforward than some of the others. Marketers can send personalized and elegant emails to create a fan-base of subscribers who are loyal to the brand.
Features
There are countless features available, but we think the subscriber management option is excellent. It's so easy to add new subscribers to the list. Plus, you're allowed to import them from other tools to make it easier to migrate. 
Autoresponders are a big advantage and required for all email marketing platforms. Campaign Monitor calls its autoresponders 'journeys,' and it builds them for you by asking you questions. This is helpful for those who are new to the system. 

We also like that transactional emails are available, so Campaign Monitor covers a wide range of needs. Those who sell products online are sure to appreciate that they can test, design, and monitor these types of emails, just as they do with products and newsletters.
Pros:
Easy to use interface

Solid analytics and insights

Customized autoresponders

Versatile templates
Cons:
No direct online support

Challenging to import contacts

No landing page builder
Pricing
With the Basic plan, you can send 2,500 emails per month and have 500 contacts. There is access to insights analytics tools and marketing automation. The price is just $9 per month, and you've got the option to use the trial period.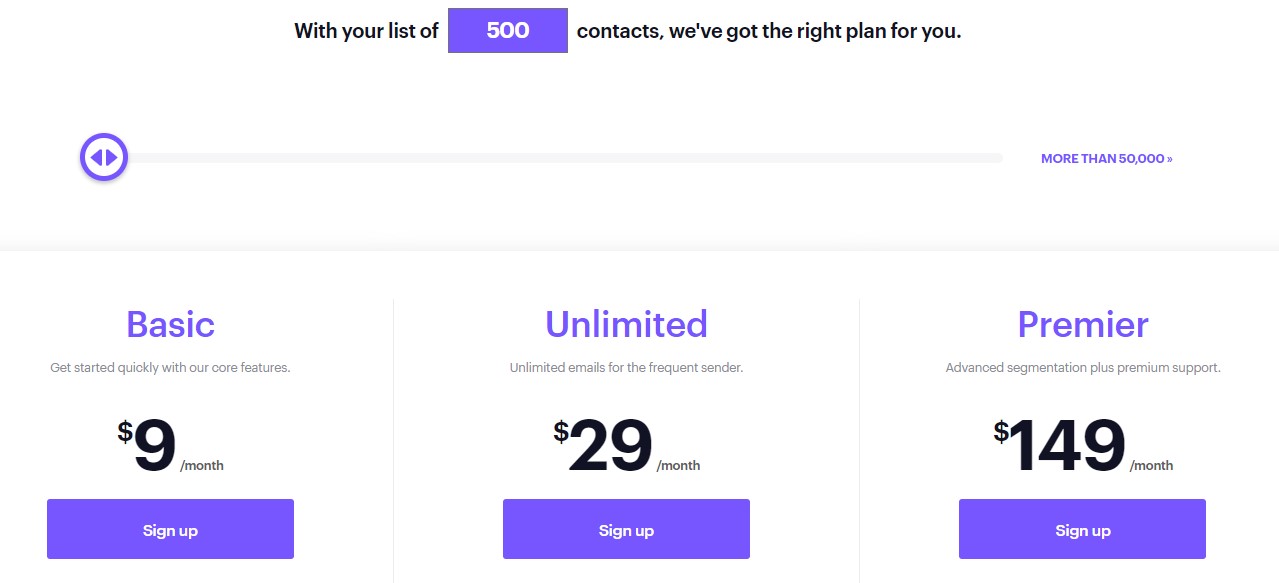 Then, there is the Unlimited plan with 500 contacts and unlimited email sending for $29 per month. You get everything from Basic, as well as spam testing, time-zone sending, and inbox previews, as well as a countdown timer.
Last, we have the Premier plan at $149 for 500 contacts and unlimited sending of emails. With this option, you get phone support and everything from the Unlimited package. You also have access to advanced link tracking, pre-built segmentation, and send-time optimization.
Who Is It For?
Campaign Monitor works well for all types of marketers, even if you've never made a campaign before or have significantly complex ones.
With a wide range of features, it's a solid choice. You're sure to enjoy the autoresponder functionality and how easy it is to use. However, the interface isn't modern and is slightly dated compared to others, but that doesn't stop you from creating amazing campaigns.
Conclusion
Choosing an email marketing platform can be tough. Those who like Omnisend may want to consider other options, as well. You shouldn't jump in and use an email marketing tool without knowing about the alternatives.
We've talked about four different Omnisend alternatives that all offer advanced features. With higher prices and more ways to personalize emails, you're on your way to growing your business.