With the right tools, you can achieve more than you have ever expected.
Pop-up tools can help you to fulfil the different goals of your business:
Grow your e-mail list

Show irresistible offers

Reduce cart abandonment

Increase sales
As you can see, there are very important benefits that you can get with this type of window.
Today, there are many pop-up tools to choose from and one of them is Zotabox. 
If you want to see what other Zotabox alternatives are, just keep reading and find out which one might be your perfect fit!
Zotabox: Overview
As soon as you enter the Zotabox website, you will see the numerous options for creating different forms.
When you choose to create a pop-up, this is the dashboard you will see: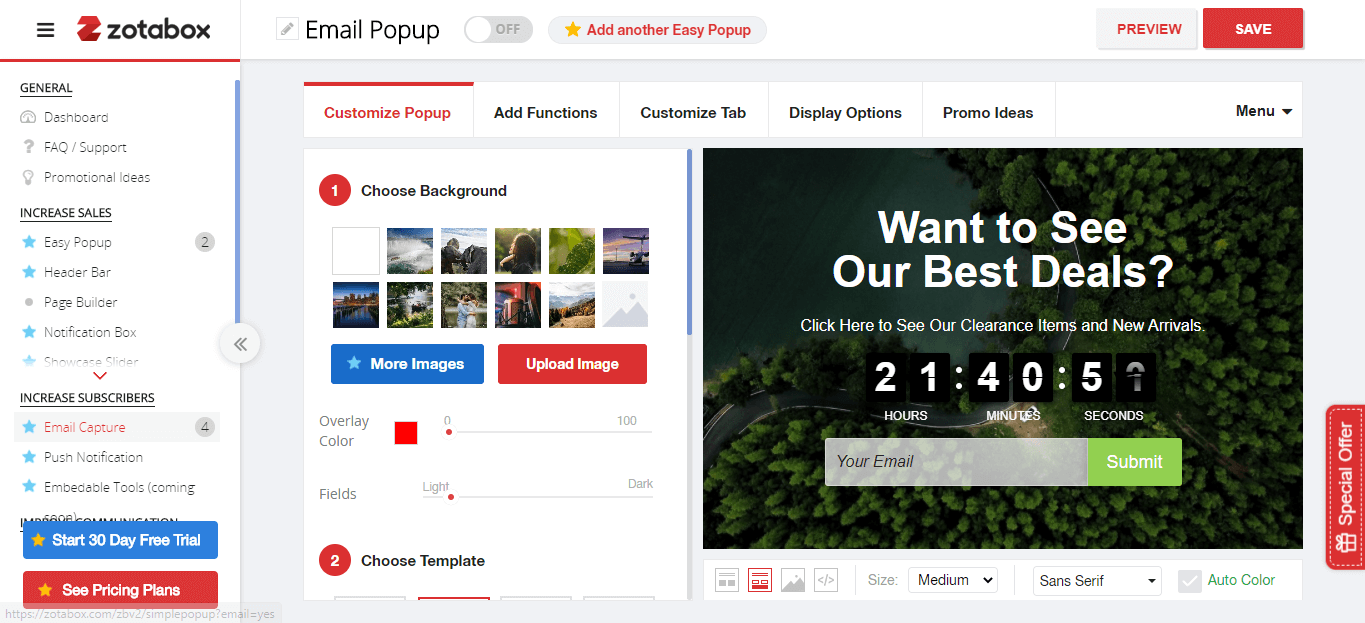 Use different options for customizing pop-ups, add different functions, and get ideas for inspiration.
Offered features:
Dashboard

Customization

Display options

Promo ideas

Integrations
What are the advantages?
Zotabox is easy to use and it offers many different forms to create straight from your dashboard.
It also helps you to improve communication with your visitors by using contact forms and Facebook live chat.
Also, there are options for creating social buttons, testimonials, social reviews, and more.
What are the disadvantages?
Zotabox might seem overwhelming with all of these options showed all at once. For a beginner, it can be difficult to find out what should be used first.
Zotabox is not extremely focused on analytics, which can be a problem when you want to understand visitors' behaviour.
And now let's see Zotabox alternatives.
Poptin is a user-friendly lead capture platform that has pretty much everything that you need for an effective lead generation tactic.
You can see this app installed on a few hundred thousand websites in 150+ countries. This number continues to grow in size as the Poptin global community reaches more and more businesses around the world. That's why when you use Poptin, you'll be welcomed by a huge family of users in different industries.
Speaking of what Poptin can do, it's a software that will allow you to create the following:
Pop-ups

Embedded website forms

Automatic e-mails

From pop ups to autoresponders, Poptin ensures that you'll have a seamless lead capture process that can also be connected with your favorite CRM or emailing platform.
In this article, we will focus on creating visually appealing pop-up windows.
Poptin has a simple drag and drop editor with many customizing options. This gives you the liberty to choose the size of a window, colours, fields, background design, effects, and more.
In just a few minutes, you can achieve a well-designed pop ups since Poptin has a long list of beautiful and responsive templates. However, if you're not a fan of ready-made pop ups, you can still enjoy designing your own using Poptin intuitive builder.
Adding elements in Poptin is as easy as ABC. In the photo below, you can add essential elements to your design in a few simple clicks.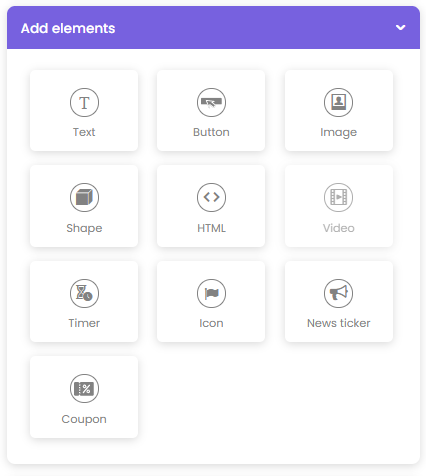 You'll have the ability to add a countdown timer, which is one of the most effective ways to elicit a sense of urgency. You can also add media files such as videos, images and many more.
Offered features:
Drag and drop editor

Various types of pop-ups

Customization

A/B testing

Advanced triggering options

Advanced targeting options

Analytics

Integrations
Advantages of Poptin
With Poptin, you don't need a designer or a developer because designing is user-friendly even for beginners. You don't even need knowledge of coding. You can do everything with ease.
It includes many features that will help you to use the full potential of your pop-ups and engage with your visitors. If you happen to hit any roadblocks, you can seek help right away with Poptin's customer support. You'll be able to communicate with a real person, not AI chatbots and the like.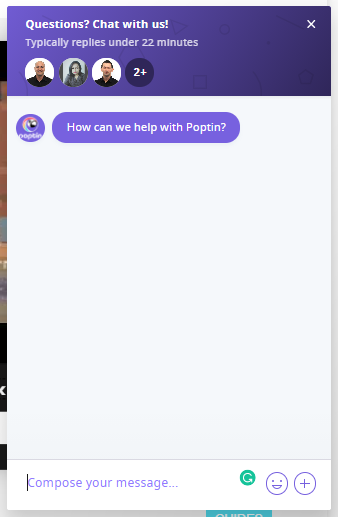 This Zotabox alternative offers more than 40 native integrations and over 1500 integrations via Zapier.
Plus, Poptin is free to use forever.
Shortcomings of Poptin
If you haven't been introduced to analyzing analytics before, you might have a problem understanding it completely.
However, you can always keep in touch with our support team for help.
As also stated earlier, Poptin has a huge knowledge base and an awesome community of users too. This ensures that you'll have a reliable support group through and through.
Poptin's pricing
Poptin has a free plan but there are also a couple of paid plans. Based on your needs, you can choose the right plan for your business.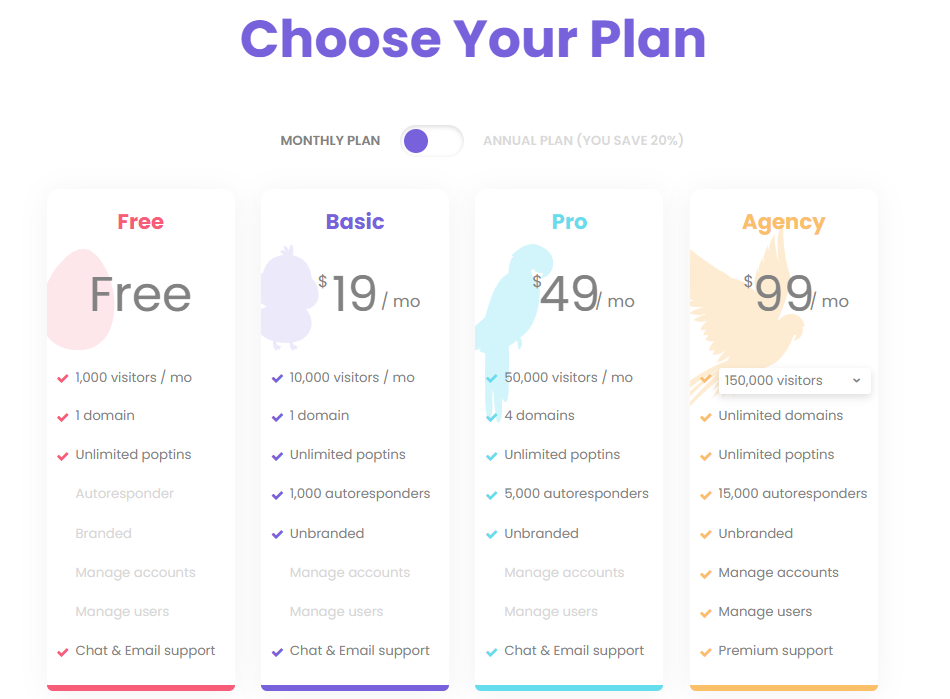 Why is Poptin the best Zotabox alternative?
Poptin allows you to create different types of pop-ups including lightboxes, countdowns, and slide-in pop-ups.
You can use more than one form to make your website especially interesting for your visitors.
By using A/B testing, you will be able to see which of these pop-ups performs best and use them in your campaigns.
Poptin also has a really high level of customization which is very important when you want your windows to be engaging and effective.
Poptin's ratings as the Zotabox alternative
Let's see how Poptin proved itself based on certain criteria:
Ease of use: 4
Customization level: 5
Visual appeal: 5
Features: 5
Integrations: 5
Customer support: 5
Pricing: 5
Total: 4.9/5
Exit Monitor
Exit Monitor monitors users' behaviour on your website and shows the pop-ups based on that information.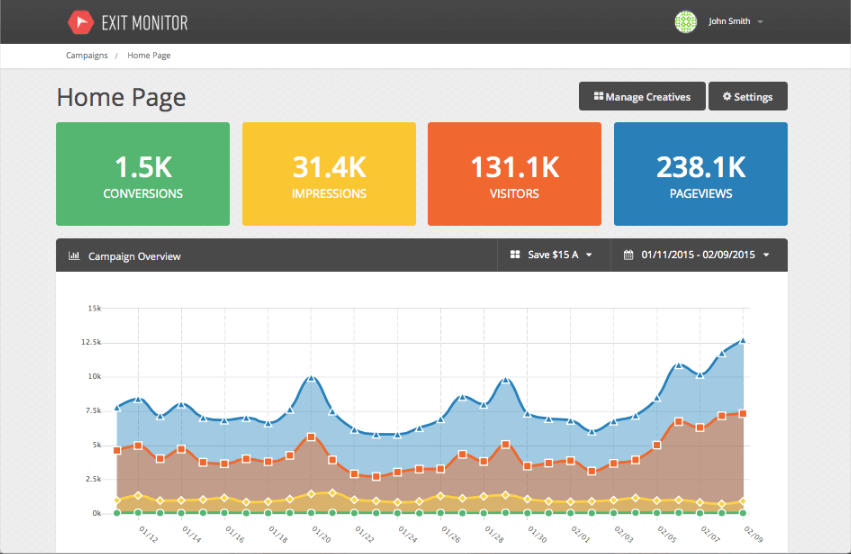 This tool has the ability to track visitor's computer mouse movements and it knows exactly where on your website the visitor is.
Offered features:
Exit-intent technology

A/B testing

Analytics

Triggering options

Campaign filters

Integrations
What are the advantages?
Exit Monitor collects leads by gathering visitors' data.
It has a high level of security so all of your information will be safe.
It has a campaign filter that can help you to make more effective and successful campaigns.
What are the disadvantages?
It can be difficult for you to understand the software and find out how it actually works.
Exit Monitor is a tool a bit on the pricey side, so if you are just starting your own business and have to watch out on every cost, this may not be the perfect solution for you.
Exit Monitor's pricing
Every package has a free trial and after you try it out, you can choose which paid plan is the right solution for you.
Why is Exit Monitor a good Zotabox alternative?
Exit Monitor includes A/B testing and real-time reporting.
This tool can help you to grow your e-mail list, increase social media following, and more.
You can make coupon codes and increase sales thus reducing shopping cart abandonment.
Exit Monitor's rating as the Zotabox alternative
Here are the Exit Monitor's ratings:
Ease of use: 3
Customization level: 4
Visual appeal: 4
Features: 5
Integrations: 5
Customer support: 5
Pricing: 4
Total: 4.3/5
Hello Bar
Hello Bar is another Zotabox alternative. By using this tool you can create:
Modals

Sliders

Alert Bells

Page Takeovers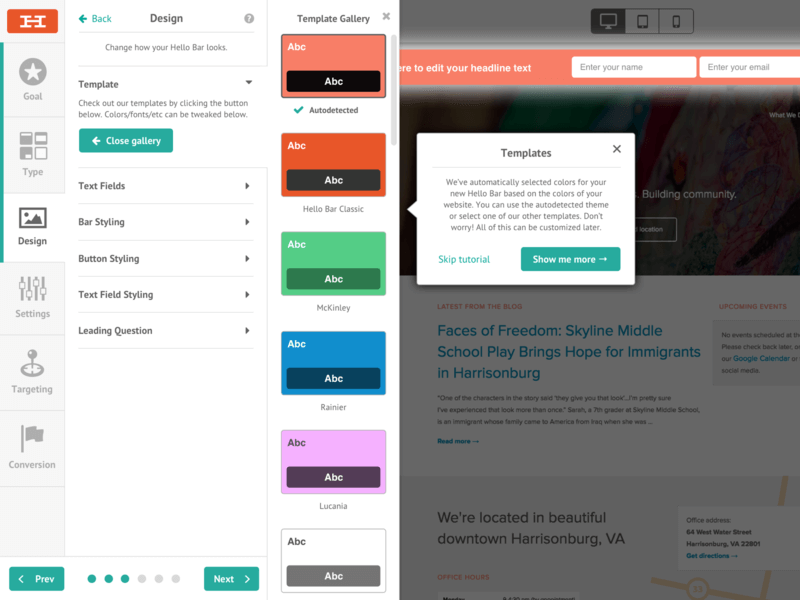 Source: Dribbble
When creating forms, you can choose a template from the gallery and customize it further in accordance with your needs.
Offered features:
Dashboard

Converting headlines

Customization

A/B testing

Smart targeting

GDPR & Google SEO compliance
What are the advantages?
With Hello Bar, you can use content from copywriters if you need any help with the textual part of your pop-ups.
Smart targeting helps you to show pop-ups at the right time to the right people and maximize the opportunity to achieve certain goals.
This tool is completely in accordance with the GDPR and Google SEO rules.
What are the disadvantages?
If you have some issues and try to contact the customer support, you may wait a long time before you get your answer.

Hello Bar's pricing
Hello Bar has a free plan that you can try out. You can also upgrade to some of the paid plans with more important features.
Why is Hello Bar another good Zotabox alternative?
Neil Patel stands behind this tool which means that using it can be really beneficial for your business.
Same as Poptin, Hello Bar offers an A/B testing for analyzing your pop-up performances.
You can customize forms using different options and grab your visitors' attention.
Hello Bar's ratings as Zotabox alternative
Here are the ratings of Hello Bar app:
Ease of use: 5
Customization level: 5
Visual appeal: 4
Features: 4
Integrations: 5
Customer support: 4
Pricing: 4
Total: 4.4/5
The Bottom Line
Running a business is a complex task. Keeping that in mind, it is important to use proper tools and help yourself by saving time, money, and energy.
Pop-up tools are pretty innovative and they offer great possibilities.
If you are searching for the right solution for your business then you should try out Poptin right away.
Easily create visually appealing windows that will help you to generate more leads and skyrocket your conversion rates!