With the development of the e-commerce industry, new tools are emerging that improve the operation of online stores and bring convenience to users.
Buyers want to shop quickly and conveniently, so those merchants who are not interested in new solutions are left behind.
One tool worth looking at is PIM (Product Information Management).
How can applications that effectively manage product information contribute to a store's success? What are the benefits of sound PIM systems?
Let's discuss these questions in this article.
What is a PIM system?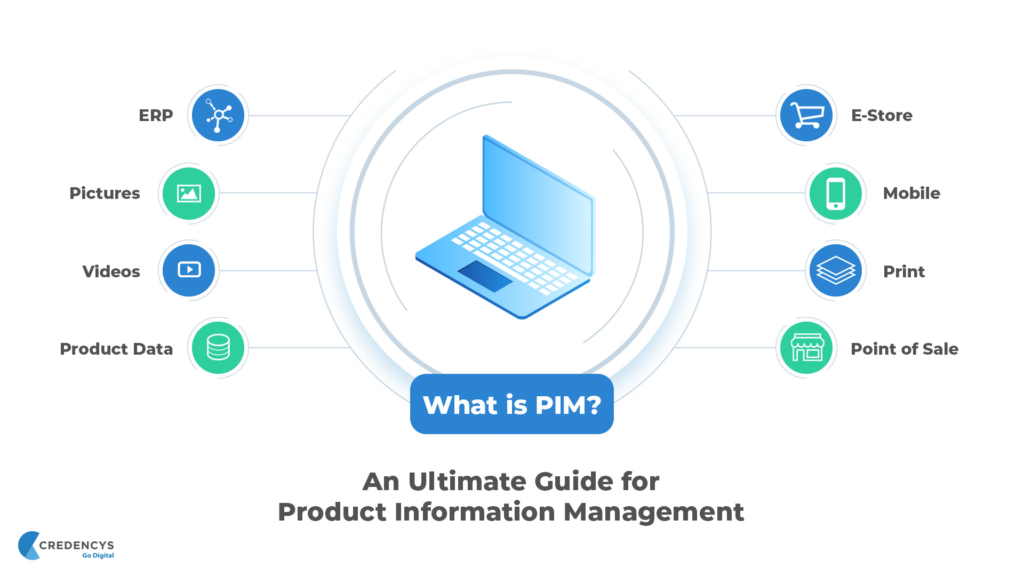 PIM is a product information management system.
Simply put, the development of PIM systems makes it very easy and efficient for retailers to control data on all products in the assortment.
Various information such as product name, photos, video, price, shipping options, inventory, description, specifications, color, or dimensions are gathered in one place.
Thanks to PIM, you can automatically export them in real-time to different sales channels (an online store website, external platforms such as Amazon, product blogs, catalogs, or apps).
This way, you don't have to manually make the necessary changes for each channel. This saves a lot of time, but not only that.
Entering such information should not be very time-consuming and burdensome with a small assortment and multiple sales channels. In the case of stores offering thousands of products, it becomes a severe problem. This often leads to errors that can confuse customers.
By using a PIM system in your online store, you as a seller can ensure that product information is consistent across all of the sales channels you use.
No matter where a customer comes into contact with your product, they will receive the same information.
Is product information crucial?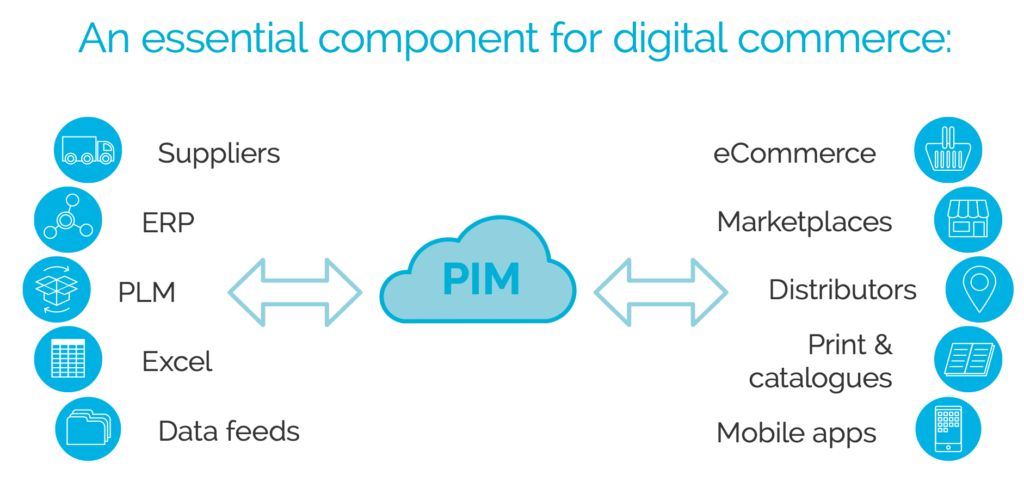 While today's technology is making it easier for us to shop online, some obstacles still seem impossible. Yes, AR and VR technologies bring the online shopping experience closer to traditional shopping.
Still, the fact remains that the online store user cannot touch the product before making a purchase. Therefore he bases his knowledge of the product on photos, descriptions, and technical specifications provided by the seller on the store's website.
From this point of view, information about products is simply necessary, and the more detailed the description of the product, the better.
It turns out that if the product is not presented correctly, the site has no information about technical data or dimensions, the description is too laconic and does not contain essential details, or there is no information about the method of delivery, customers often refuse to buy and return to the competition. Even if the price is less favorable. 
It also works the other way around. If a customer has no problem finding all the information they are interested in, they are more likely to purchase.
Is it worth losing potential customers because of simple troubles in product information? Of course not.
Implementing a Product Information Management System makes it easier to monitor and manage product information across all sales channels.
For whom is the PIM system a good solution?
PIM is an excellent solution, especially for large online retailers, distributors, and wholesalers. It can also be used by all internet retailers who want to control the flow of information and ensure that product information is consistent and error-free.
Online store owners who sell through different channels should consider implementing product information management so the data is in different places.
If they have a diverse assortment, and the products come in many variations, they also should consider the PIM system.
The system will also work well when information about the assortment comes from different sources, which is not uncommon.
For example, if you get product descriptions from suppliers or copywriters provide them, and graphic designers are responsible for providing photos.
PIM is also helpful when sales are also in foreign markets, and therefore, there is a need to prepare descriptions in other languages.
PIM solution will also be suitable in the case of complex descriptions and when descriptions frequently change, for example, due to promotions.
Thus, if the current system in charge of data consistency is not working, for example, it is very time-consuming, it is worth considering a PIM implementation.
What are the 5 benefits of good product information management?
There are many advantages of PIM systems. Below you can find five of the most important.
1. PIM system saves time and reduces costs
Entering product data manually, especially for multiple products, variants, and sales channels, is usually time-consuming.
With PIM, you can automate tasks. You enter information only once, and you can spend time and energy in a different, more helpful way and focus on developing your online store.
One efficient PIM platform eliminates the need to maintain various databases, and by providing accurate product information, you reduce the number of customer requests.
2. PIM system provides consistent communication, effective management, and control of product information
Once a customer is exposed to a product on a website, they need to know what characterizes it, what makes it different, and how it compares to competing products from the same segment.
With a PIM system, you can quickly expand on this information and effectively identify any errors in product cards that could affect the loss of trust.
When you use PIM, the error rate is typically reduced. By providing reliable, truthful, and consistent information, you can influence customer buying decisions.
So, implementing PIM allows you to achieve consistent communication across all sales channels and modify or tailor information as needed for a particular channel.
Different product data is collected in one place, making it easier to monitor and manage.
Keep in mind that this affects the quality of product information.
3. PIM system increases sales, reduces returns, and contributes to greater customer trust
Customer trust is the foundation of sales. Especially if you care about high lifetime customer value or incremental sales.
To create these e-commerce elements, online customers must believe that your offer truly represents the highest quality and stands out in the marketplace. This trust also translates into a recommendation system.
Not only in terms of ratings and product reviews on the page but also in conversations with friends, which is usually a critical factor in making the final decision.
According to SemRush, 90% of people are much more likely to trust a recommended brand (even from strangers). At the same time, 23% of people talk about their favorite products with friends and family every day. This statistic shows how much customer trust can affect the growth of e-commerce.
Meanwhile, PIM increases customer trust in your assortment, which, after all, is crucial when shopping online.
The customer journey and the corresponding user experience is one thing, but satisfaction with the products purchased is another. Its quality is essential here, and transparency and extensive information about the product. This is what a sound PIM system provides.
So, by including quality and detailed product descriptions in your store, you can convince the customer to make a purchase, thereby increasing the conversion rate.
Remember that the customer cannot touch the product, so you must compensate them in other ways.
In addition, the more accurate and better the information processed, the lower the risk of return – the customer gets exactly what he or she expected.
Using a PIM system helps eliminate errors that are easy to make when entering information manually on different platforms.
4. Easier and faster entry of new assortment
Online stores are usually based on a very regular range of products. New products and models of individual products appear every now and then.
When it is crucial to present them quickly and efficiently in the store, a product information management system comes in handy.
Using standardization and comparison processes will be very helpful when introducing a new assortment.
Even if the goods are significantly different from those in stock (for example, another manufacturer), thanks to PIM, it's easy to introduce a new standardization for an additional category of goods.
Synchronizing the offer with all sales channels will undoubtedly be a big plus. It makes it much easier to control the store's offerings in different locations.
So, PIM optimizes the work related to the management of products already in the store and the introduction of a new assortment.
The PIM system can be integrated with external databases so that the introduction of even a few dozen new products does not have to be a tedious and time-consuming task.
5. Simplifying sales in multiple markets
Dynamic sales across multiple markets is every entrepreneur's dream working on the Internet. Suppose you've been thinking about scaling your business from the beginning and see its potential to be implemented abroad.
In that case, a PIM system can be a tool that will greatly facilitate this process.
How? Most of these systems offer the ability to manage translations. All information is standardized and categorized.
Because of this, adding new language versions of the product is not a big problem. At the same time, thanks to Product Information Management, you avoid the problem of multiple iterations and multiple changes in different channels.
With centralized management, data export capabilities, and easy integration, you only need to make changes in PIM and then quickly implement them in other sales channels.
Conclusion
Will PIM prove to be an indispensable tool for every company? Absolutely not.
In the case of small online stores, the functionality of PIM is minimal.
However, a vast e-commerce business operating in many sales areas, with a rapidly growing assortment, can effectively use product information management to increase profits in the long run.