Looking for POWr alternatives?
Creating pop-ups seems very easy, but when you realize that they should look effective and be designed to amaze your visitors, things start to look a little bit more complicated.
But don't worry, today there are some great pop-up tools that can help you with that.
POWr is one of those pop-up tools, but if you are searching for its alternatives, you're in the right place.
Keep reading, and you will find your perfect POWr alternatives, surely.
POWr: Overview
POWr is a pop-up tool that includes customizable forms, media galleries, social streams, and more.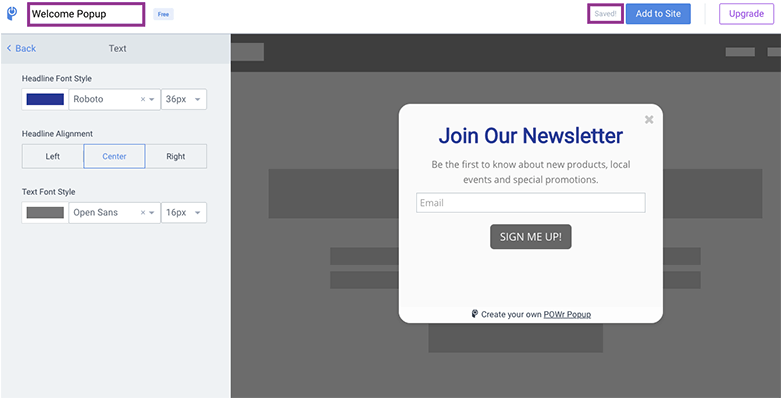 As you can see, there is a pretty simple dashboard with options to customize the pop-up.
Offered features:
Dashboard

Customization options

Website plugins

Templates

Targeting options

Triggering options

A/B testing

Analytics
What are the pros of POWr?
POWr offers access to more than 50 website plugins that work with many website builders such as WordPress, Wix, Weebly, and more.
It also helps you to collect leads and close sales.
POWr team works on updates constantly.
What are the cons of POWr?
There should be more customization options given that pop-ups need to be visually appealing.
Also, there is a possibility that you'll run into some technical problems, and if you need help with them, customer support may be hard to reach.
Here are some of the best POWr Alternatives you should try:
If you're looking for a tech slack that has almost everything that you need for effective pop-up implementation, look no further.
Poptin is one of the best POWr alternatives because of the great number of its pop-up features.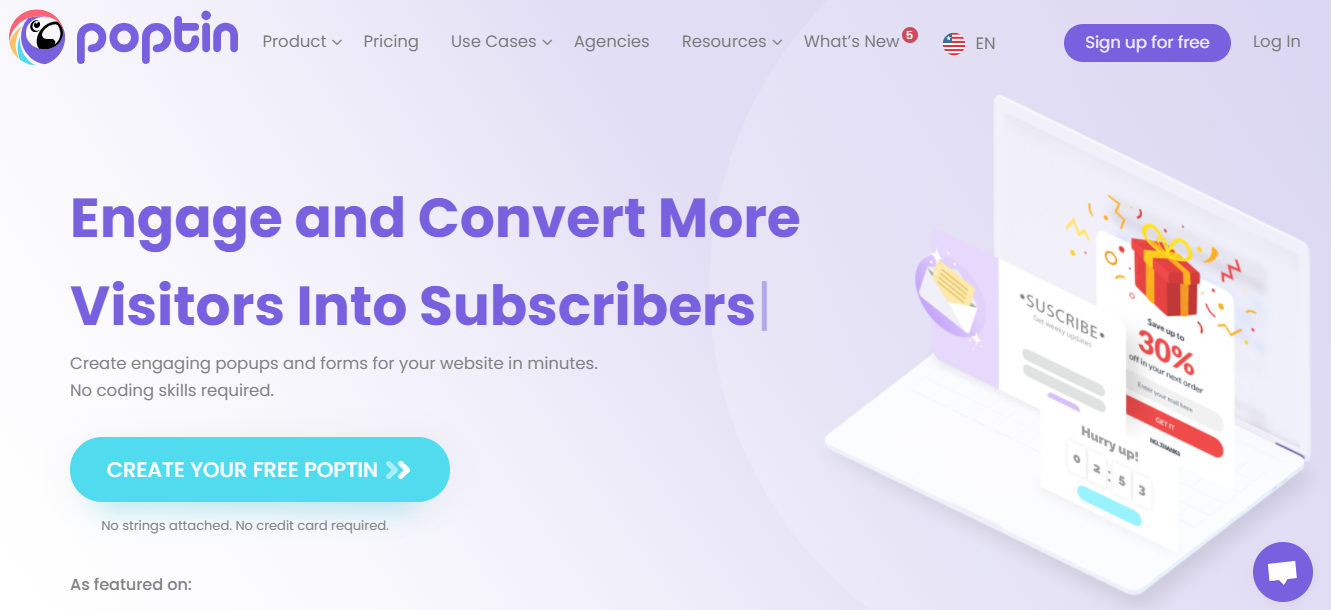 Poptin users always enjoy the luxury of not having to go through serious coding and designing skills to come up with a nice outcome. This comes with access to 40+ readymade templates that are all highly customizable. With just a few tweaks, you're able to personalize a pop up according to your brand or website theme.
Since these pop-ups are visually appealing, they are intended to grab the attention of your website visitors. In no time, you can convert more visitors without so much hassle on your part. 

Pop ups come in many forms. They are completely unique from each other and have different uses. Some of the offered pop-up types are:
Lightboxes

Countdown pop-ups

Full-screen overlays

Slide-in pop-ups

Social widgets

Top and bottom bars
You can freely customize them as you want. Easily change color, background, fonts, effects, add fields, and more.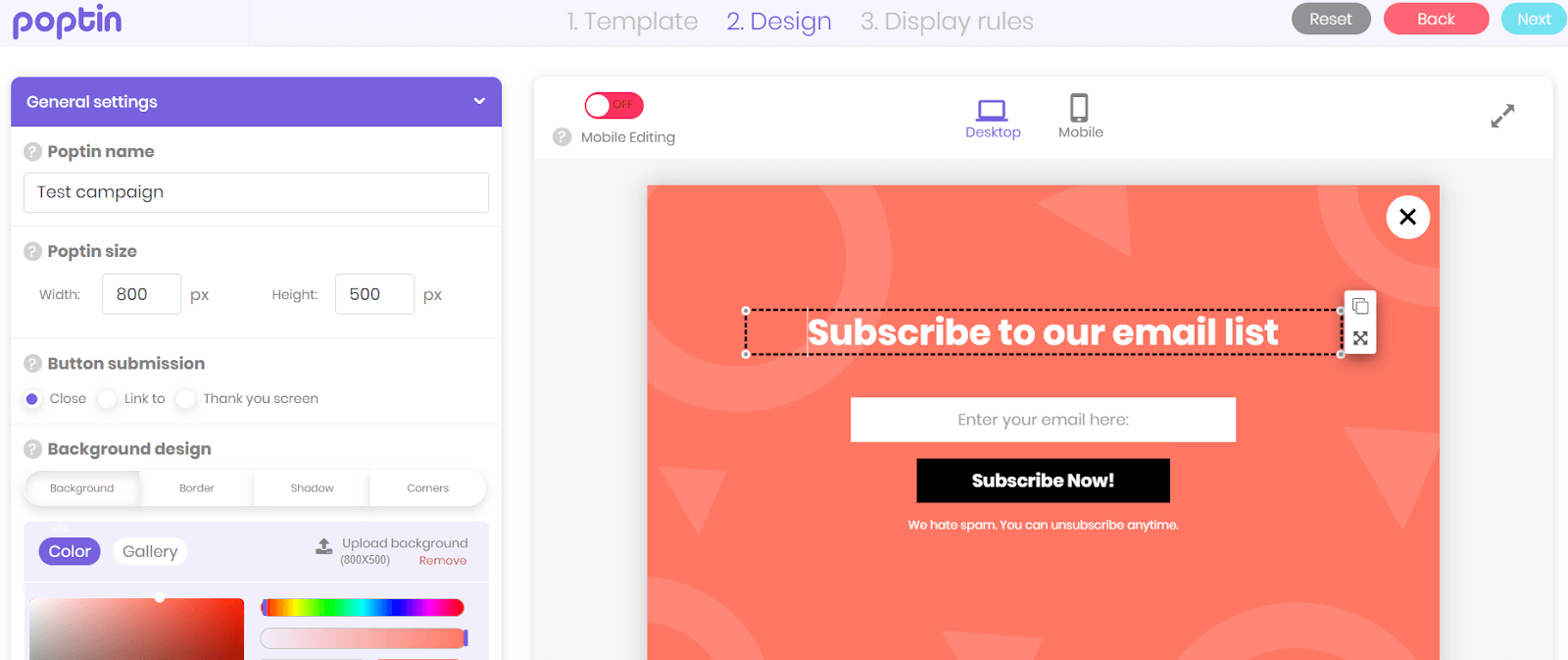 Poptin has an advanced dashboard with many customizing options to choose from.
Offered features:
Drag and drop builder

Templates library

Different types of pop-ups

Advanced targeting rules

Advanced triggering rules

Cookie targeting

A/B testing

Statistics

Integrations
Advantages
You will need only a couple of minutes to create your amazing pop-up window.
Different customizing possibilities enable you to create windows that will be in accordance with the visual identity of your brand.
If there are any questions or misunderstandings, you can contact reliable chat support and ask for advice. They will gladly help you.
Shortcomings
Detailed analytics is definitely a plus, but if you aren't familiar with it, you may need help to understand it completely.

Pricing
Poptin offers a free package as well as the paid plans starting from $19 per month.
Why is Poptin the best POWr alternative?
This user-friendly platform allows you to try it for free, which is great if you want to find out if this alternative is the perfect solution for you.
A high level of customization helps you to create pop-ups exactly as you envisioned them.
You don't need to create pop-ups from scratch. 
It has a great choice of high-quality templates to choose from and you can also change them if you want to.
With more than 50 native integrations and over 1500 integrations via Zapier and Integromat, this tool helps you to connect with any platform you want.
Poptin's ratings as one of the POWr alternatives
And finally, let's see the Poptin's ratings:
Ease of use: 4
Customization level: 5
Visual appeal: 5
Features: 5
Integrations: 5
Customer support: 5
Pricing: 5
Total: 4.9/5
Sleeknote
Sleeknote is one of POWr alternatives suited for marketers mostly. 
With Sleeknote's pop-ups, you can increase sales by promoting your products and collect e-mail addresses from your most qualified leads.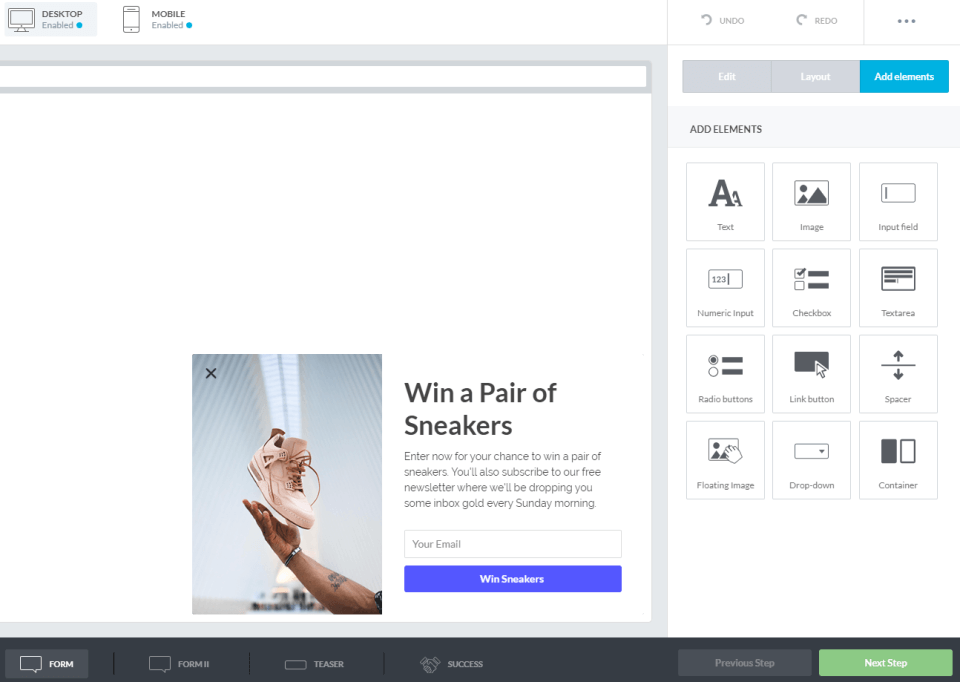 Source: Capterra
When you start creating a pop-up, you will see a dashboard with different customization options on the right side.
Pop-ups made with Sleeknote are suitable for both mobile and desktop devices.
Offered features:
Advantages of Sleeknote
If you decide to use Sleeknote, you don't need to have any coding skills. It is a user-friendly tool so it's very easy to use.
Use smart triggering options to show your pop-ups at the right time.
Thanks to the mobile editor, you can create mobile-friendly messages that don't violate any rules.
Shortcomings of Sleeknote
There are not enough product options and features, which is a problem when you know that this tool is intended for marketers primarily.
Sleeknote's pricing
Sleeknote has a free 7-day trial. Afterward, you can upgrade to some of the paid packages.
You should know that price depends on the number of sessions.
Why is Sleeknote a POWr alternative worth your attention?
It is easy to use even if you are a beginner when it comes to creating this type of windows.
Sleeknote offers adding dynamic product recommendations and helps you to create a personalized experience for your customers.
You can connect Sleeknote with other platforms you use in order to create a seamless workflow.
Sleeknote's ratings as one of POWr alternatives
Here are the Sleeknote ratings:
Ease of use: 5
Customization level: 4
Visual appeal: 4
Features: 4
Integrations: 5
Customer support: 5
Pricing: 4
Total: 4.4/5
Sumo
Sumo is a simple pop-up tool with e-mail and e-commerce features.
It includes discount codes and e-commerce design templates that you can use according to your wishes.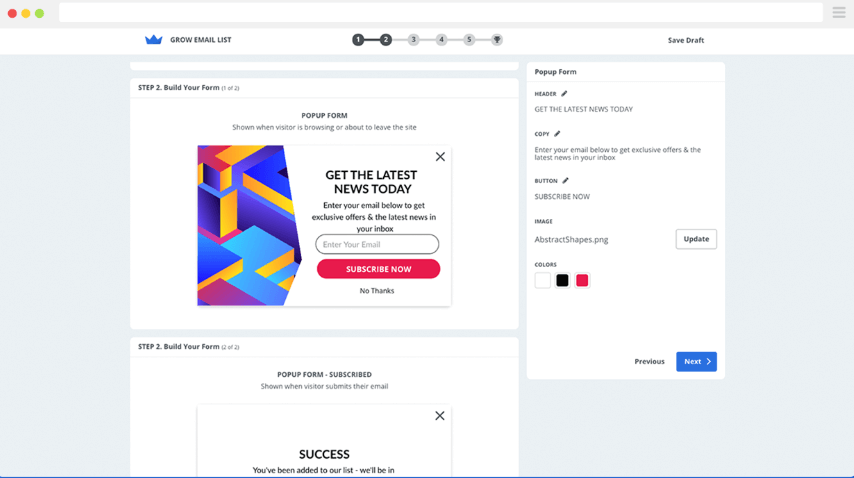 Setting up Sumo requires less than a minute, which is a great time-saver.
It also has great customer support which will help you if there happen to be any potential problems when using this tool.
Offered features:
Customizable design

A/B testing

Social media sharing

Analytics

Heat Maps
Advantages of Sumo
Sumo sends an automated e-mail when a lead becomes an e-mail subscriber and, in that way, nurture your leads.
Social share buttons help you to spread your content through social media from your official website.
Disadvantages of Sumo
All important features are available only in a paid plan.
There are not many platform integrations, which can be difficult if you want to connect all the important tools that you use for your business.
Sumo's pricing
Sumo has a really simple pricing plan.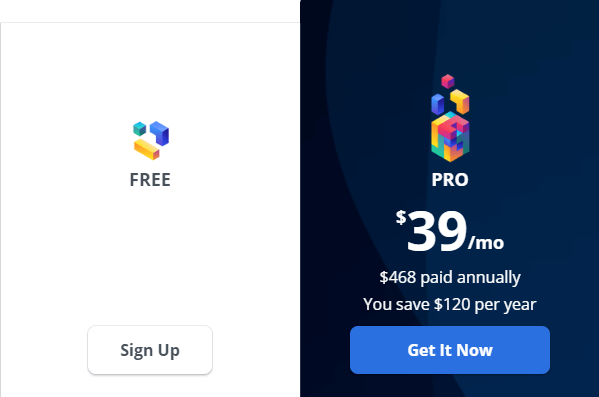 Why is Sumo a great POWr alternative?
Sumo is a very simple tool when it comes to setting pop-ups and choosing desired themes.
Pretty much everything is about simplicity, so pricing also has just two options to choose from.
You can track analytics on the dashboard and use it in your advance.
A/B testing helps you to find out which pop-up windows have the best performances so you can decide which ones are best to use in your practice.
Sumo's ratings as the POWr alternative
To get a good overview, take a look at these ratings:

Ease of use: 5
Customization level: 4
Visual appeal: 5
Features: 4
Integrations: 3
Customer support: 5
Pricing: 4
Total: 4.3/5
The bottom line
All the abovementioned POWr alternatives have their own great and not so great sides.
When we compare them all, you can see which one deserves your special attention.
If you still don't know which one to choose, try out free plans and see what each of them can do for you.
The perfect tool should help you to amaze your visitors and help you to achieve the desired goals.
To create engaging pop-ups and easily grab the attention of your target audience, try out Poptin right away.
You can also access the knowledge base and make the most of what it offers to take your business on a higher level.