Black Friday is fast approaching.
It's one of the most anticipated events for shoppers as it informally signals the start of the holiday shopping season.
For businesses, it's like a peak period where everyone has the potential to experience a surge in sales, web traffic, order rates, and more. Most experienced eCommerce businesses have surely started their own email marketing campaigns and social media tactics earlier to take advantage of all the yearly commerce events (Cyber Monday, Giving Tuesday, etc.) that will happen from Thanksgiving to Christmas. Because, why not?
In fact, online shoppers spent a whopping $138.65 billion during the 2019 holiday season alone, a record that is 13.6% higher than the previous year. According to the U.S. Department of Commerce, eCommerce is credited for over 60% of all retail gains for that period.
Considering all the benefits Black Friday Sale has to offer, the question is, have you already prepared for it?
To better equip your eCommerce store for Black Friday 2022, we're giving you a list of best practices on how you can skyrocket sales through this not-so-secret weapon, pop ups.
Pop ups are easy to integrate within your sales strategy which can help you achieve reduced cart abandonment, boost in sales and email list, and better user experience.
Let's start!
1. Entry pop ups: Usher visitors to your Black Friday Deals page
Soon as the day starts, online visitors have their devices ready even while they're at work. Since most Black Friday shoppers would probably be in a rush for exclusive deals, expect that they would continuously hop from one online store to another and would hardly stay in a single site.
To avoid unnecessary bounce rates, show them an entry pop up that would automatically lead them to your Black Friday Deals page upon clicking. Not telling them right away would decrease your chances of converting them into paying customers.
Using Poptin, I created this simple Black Friday pop up. In just one click, you have successfully helped your visitors see the offers you have for them.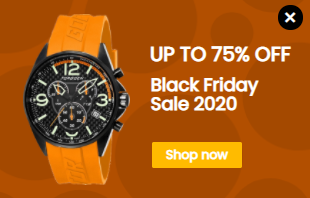 Bonus Tip: Show this entry pop up the moment they land on your page with at least a few seconds delay. Plus, make sure that you have set up an easy close button if ever they're on your site for other reasons.
2. First-time visitor pop ups: Give your best shot to create a lasting impression
The holiday season is the time where everyone is so excited pretty much about everything. Some are thrilled to buy that Nike shoes they've been wanting to get for the longest time, purchase the latest collection of Marvel Mac lipsticks, or upgrade to the newest version of iPhone available in the market.
Black Friday Sale is the best time to show all shoppers what you've got. It's the perfect time to attract new visitors and build a good relationship with them.
To achieve that, show your first-time visitors an enticing pop up that showcases a deal that's so hard to refuse. This is definitely a busy season so once you miss it, it would be hard for you to get that second chance to create a lasting impression.
You can offer them better discounts, freebies, or coupon codes for their first purchase compared to what others could get from you. Check out this sample pop up design:
This helps you to create a good rapport with new clients and establish brand affinity especially during this season of giving. Plus, it gives them the thought that they're important to you and you want them to have a nice and memorable shopping experience.
Bonus Tip: Always make it clear on your pop up the benefit that they would get once they purchase an item from you. Also, emphasize that they successfully got this additional discount or freebie during the checkout process.
Meanwhile, this is also applicable to repeat purchases. You can also give them powerful deals resulting in a more nurtured relationship with the consumers.
3. Exit-intent pop ups: Rescue abandoned carts and boost sales
As you know it, the holiday season is also the time when employees get their bonuses for working so hard the entire year. Of course, it's understandable why shoppers are so meticulous to seal the best deal and get their money's worth.
Experienced eCommerce shops can testify that a boost in abandoned carts is inevitable during this time. Since all of the stores have their own set of promos to attract customers, it's one heck of a challenge to keep up with this fierce competition now that everyone is comparing prices and deals.
The good news is that you have a chance to overcome this obstacle by using exit-intent pop ups.
They are triggered once your visitor is about to leave your website interface. By using exit-intent pop ups, you can encourage them to take a second look again, provide additional discounts, or any other attractive offerings.
Bonus Tip: You can also use exit-intent pop ups to get their email address (like the image above) or gather additional social media following in exchange for the special offer. By getting their email addresses, you have another way to communicate and retarget them soon.
4. Countdown pop ups: Elicit urgency and excitement with time-limited offers
Psychologically speaking, people tend to value things more when they know that it's limited rather when it's always available.
One proven effective way is by showing a sense of urgency and excitement. This can help you convert more website visitors without any further distractions within a specified period of time.
As everyone's in a rush right now, it is also hard for them to refuse a deal when they find it fits their standards already. For eCommerce marketers, this is the perfect time to create time-limited, targeted offers.
To do that, include a countdown timer on your pop up to prompt prospects to decide immediately. Make it more visual by putting an image of the item and highlighting a clear and upfront offer.
This is a sample countdown pop up using the Poptin builder: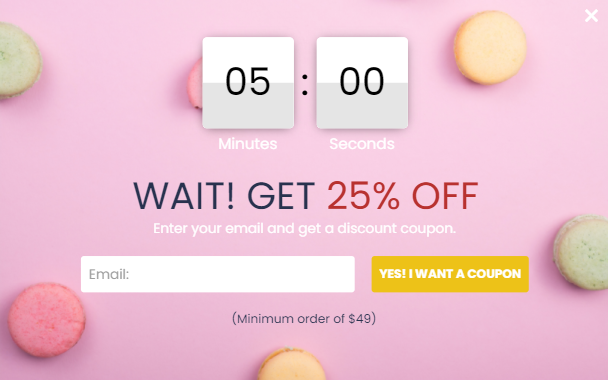 These offers can be a channel to promote time-limited sales and discounts. You may also utilize this to tell them about limited slots, stocks, or sizes.
Bonus Tip: Please make sure that when you show a time-limited offer, it is true and precise. Don't use a countdown timer just to create panic and get more sales. You'll end up losing more if you continue this practice.
5. Coupon pop ups: Promote in advance by giving away Black Friday coupons beforehand
Black Friday Sale is jam-packed with different varieties of online deals in every corner. Not to mention the fierce competition this may cause.
Do you know that you can swerve from the panic while still ensuring an increase in revenue?
That's where coupon pop ups come into play.
With this, you give them advanced coupons way ahead of schedule which they can use during the actual Black Friday Sale. This ensures you have high traffic and a high possibility of sales on the day of the event.
Here's an example:
You can also leverage on giving away reservation slots for your high-demand or time-limited products in exchange for their email addresses.
Bonus Tip: Another way to promote your participation in the Black Friday Sale 2022 is to offer discount coupons (probably much lower discounts) as early as October.
Wrap Up!
Now that you have with you a list of 5 best pop up practices for Black Friday 2022, it's now time to talk with your team on how you can better execute everything.
During this busy shopping season, pop ups might be your best friend in helping you achieve your desired sales results. Give it a try and check out the results yourself. Remember that this holiday season is just around the corner and the clock is fast ticking!
If you're looking for a pop up builder that can help you achieve better results, check out Poptin. You can play around with all its advanced features: user-friendly interface, beautiful premade templates, targeting options, smart triggers, A/B testing, and more. Perhaps, it has all that you need for effective Black Friday pop ups that convert.
May you have the best Black Friday experience to date this 2022!