Do you regularly send emails to prospective customers and loyal fans?
Whether you're a digital marketer, the e-commerce site owner, or creative, you need to send electronic mail. It's the best way to reach people and get them the information they want.
However, it's hard to do that all by yourself. You need an email service provider to assist you, and there are many out there.
Activetrail is just one of them, so let's learn about it and what alternatives there are that might be better.
What Does Activetrail Provide?
Activetrail is dubbed an all-in-one email marketing solution because it offers digital marketing and email marketing services.
You get marketing automation, mobile email templates, a landing page builder, SMS sender, signup form creator, optimization tools, and a sales booster. Plus, it supports many languages and offers advanced reporting features.
Why People Look for Activetrail Alternatives
Since it does so much, you may wonder if it's right for you. We think it's a great tool to have, but it's still quite new in the industry. Therefore, it has a few bugs and issues.
While the prices start out nice and low, they jump significantly to get all of the features it offers. As with most other ESPs, you pay based on the number of contacts. When you get more customers, that list grows, and you spend more.
There are other low-cost Activetrail alternatives out there that still give you many of the same features, so let's talk about them now.
1. Campaign Monitor
Campaign Monitor is ideal for both experienced and beginner marketers. It utilizes a well-organized interface to make it highly functional and easy to use. As one of the best Activetrail alternatives, this straightforward solution has a wide range of features.
Features
There are various email templates available for different needs, such as welcoming new members, re-engagement, product launches, and more. You also get a drag-and-drop editor, making it easy to add new elements or change the design.
Subscriber management is key here, and this Activetrail alternative helps you create lists and add contacts. It's also possible to customize your signup process and change various elements.
Pros:
Help with creating autoresponders
Well-organized and easy to navigate
Transactional emails
Cons:
No landing page builder
Just basic, simple segmentation options
Pricing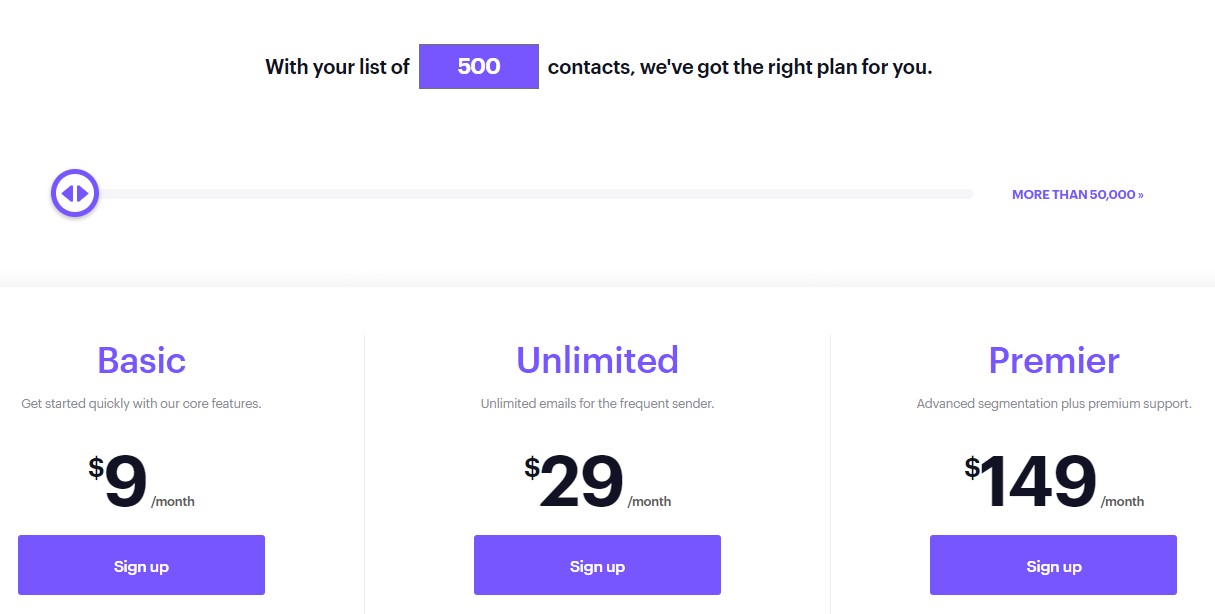 With Campaign Monitor, you've got three pricing plans, all for 500 contacts. At the Basic level, you pay $9 a month and get core email marketing options, marketing automation, and analytics. There's email support, and you can send 2,500 emails a month.
If you want to send as many emails as you want, the Unlimited package is next at $29 a month. You get everything from Basic, as well as time-zone sending, inbox previews, a countdown timer, and spam testing. Plus, you get priority support through email.
Lastly, you've got Premier at $149 a month. It includes all of the features you could want, such as advanced link tracking, send-time optimization, and pre-built segments. You also get phone support.
Who Is This For?
Campaign Monitor is an excellent choice for every type of marketer. Whether you've created a campaign before or not, you can use it. Plus, it works well for creatives, e-commerce sites, and experienced digital marketers.
2. ActiveCampaign
ActiveCampaign is an all-in-one marketing solution, so it's suitable for all types of companies and individuals. However, it doesn't help you through the process as much as other Activetrail alternatives. If you already know what you're doing and can get yourself up and running, this is an excellent option.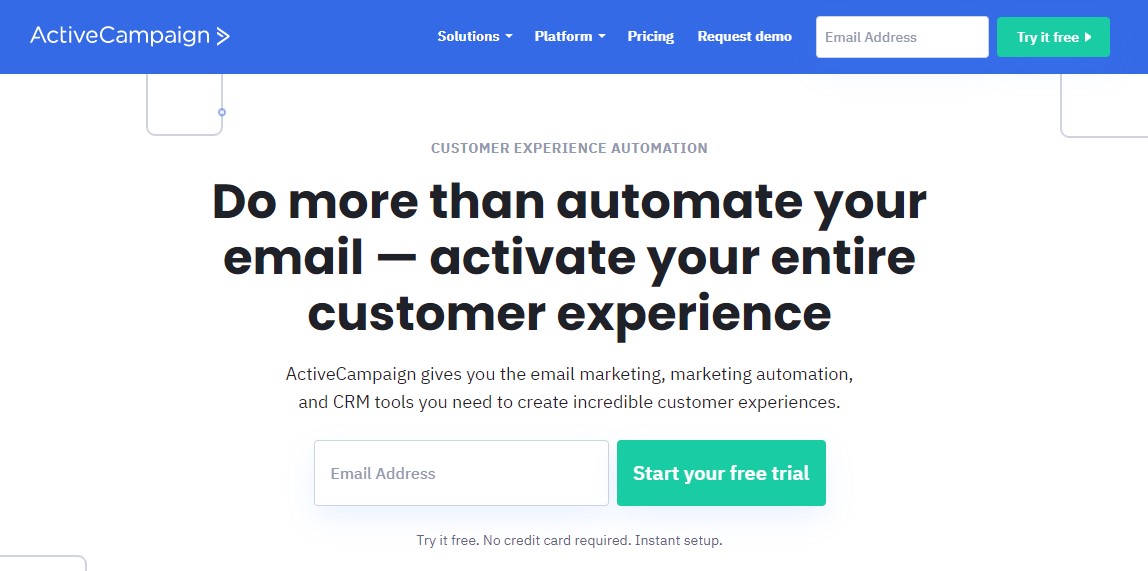 Features
Since ActiveCampaign isn't just an email marketing solution, you also have access to lead management, CRM, and sales management.
It's easy to create campaigns because it uses the list format. You do have to go through the steps, which can limit the user's experience slightly.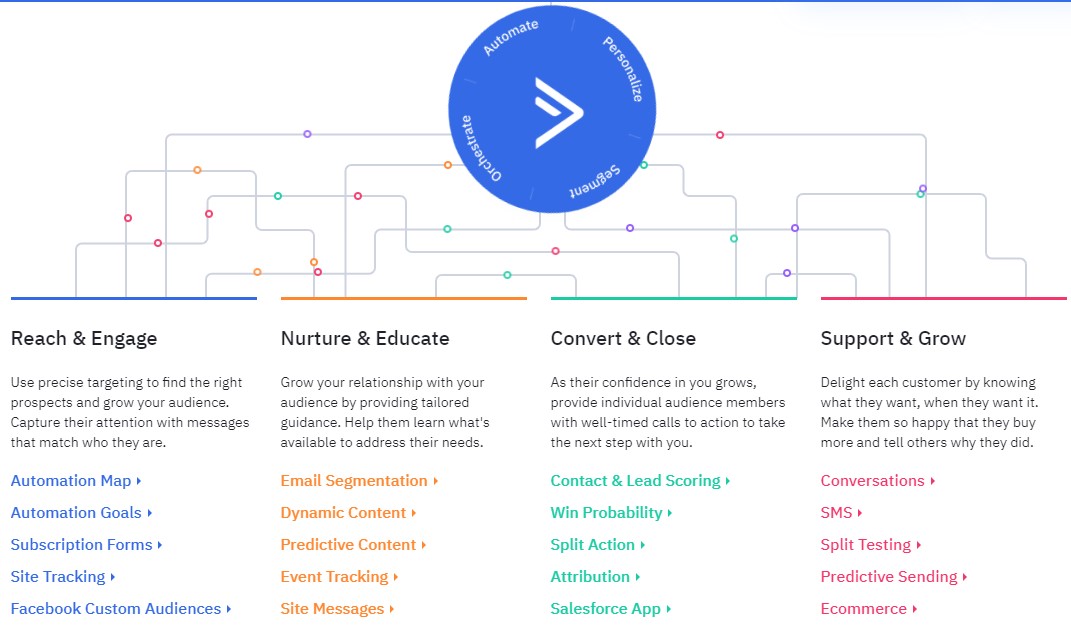 Still, you can target your emails, and it includes an amazing drag-and-drop editor. With it, you can test the email to see how it's going to look from different email accounts, both on desktops and mobile.
Pros:
Sticky help button
Advanced segmentation
Dynamic personalization features
Cons:
Limited email scheduling options
Must go in order of listed tasks to complete a campaign
Pricing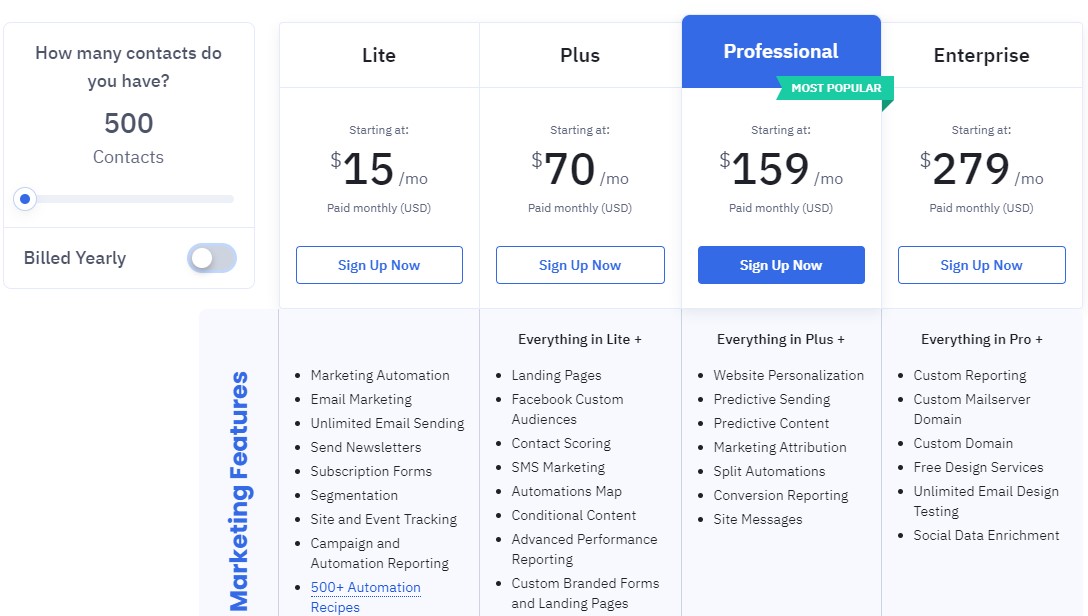 You get four plans with ActiveCampaign, and the prices are all listed for 500 contacts.
The Lite plan is $15 a month and offers you marketing automation, unlimited sends, newsletter creation, and segmentation. You also get different automation recipes, reporting, and site/event tracking.
Plus is next at $70 a month. Everything from Lite is included, but you also get landing pages, advanced reporting, automation maps, contact scoring, and conditional content.
From there, you move to Professional at $159 a month. With it, you get all the perks of Plus, and site messages, conversion reports, marketing attribution, split automations, and predictive content/sending.
Enterprise is the final option, and it's $279 a month. All the features available are included. These consist of unlimited design tests, custom domain, custom reporting, and social data enrichment, among others.
Who Is This For?
ActiveCampaign works well for experienced marketers, including B2C and B2B. If you're already familiar with such software and need an advanced solution, this could be it.
3. Klaviyo
Klaviyo is considered a hybrid email marketing solution because you can create email campaigns and send SMS (text) messages. This real-time personalized engagement solution is one of Activetrail alternatives that includes many top integrations, so it's possible to use different e-commerce platforms and connect both services.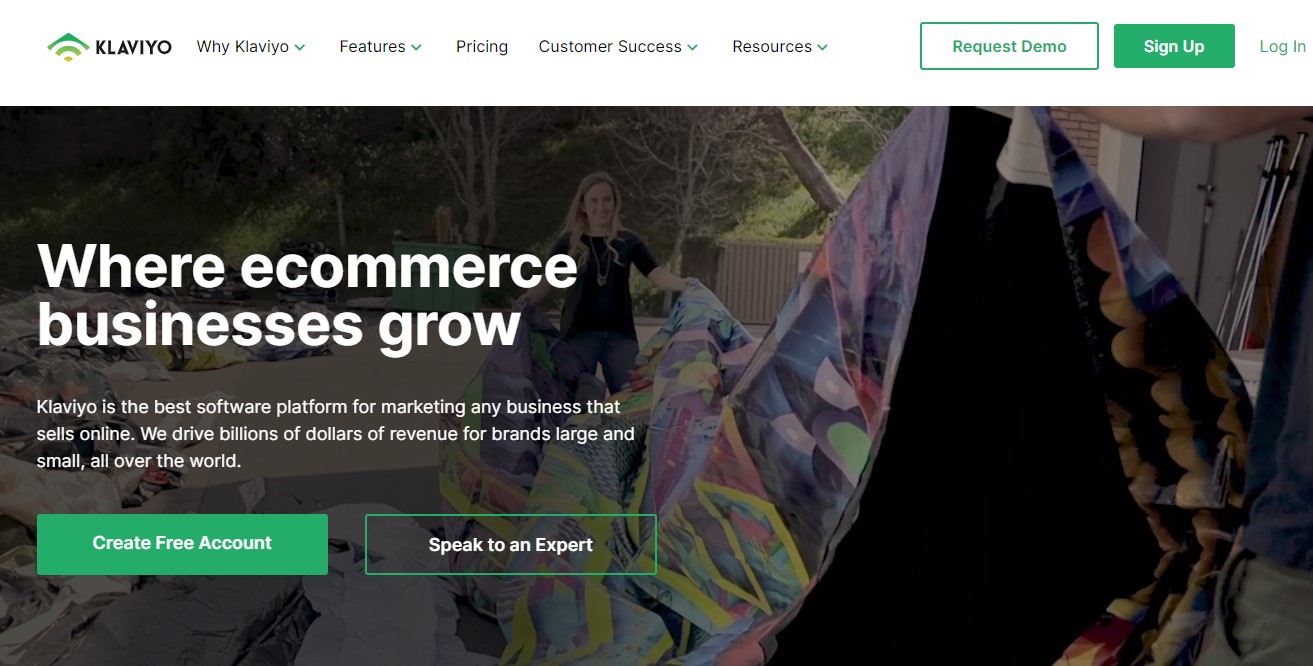 Features
The key features of Klaviyo include the marketing engagement components, significant integrations list, personalization, advanced segmentation options, detailed reports, and workflow automations.
With Klaviyo, you can create email campaigns, SMS message campaigns, and even handle your social advertising. It also allows you to notify customers in your app and include on-site popups as needed.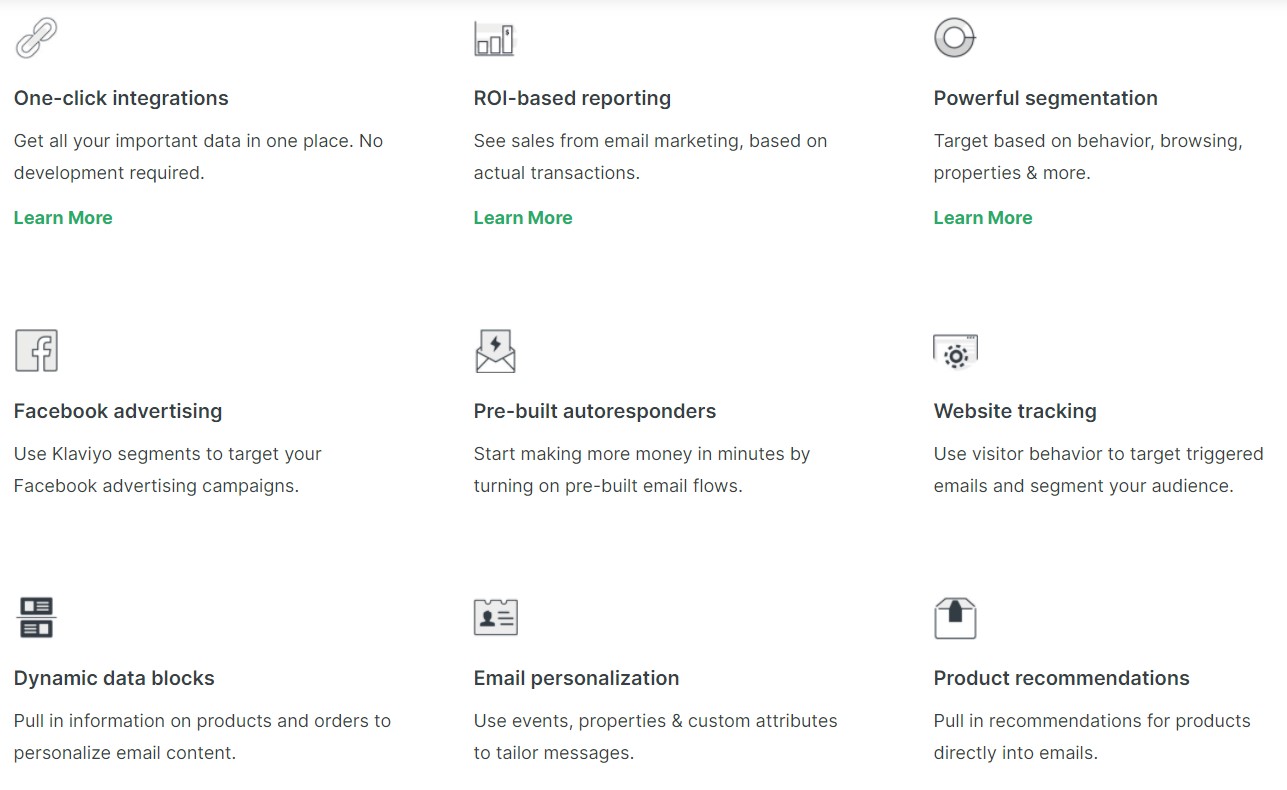 There are countless pre-built templates available to make it easier for you. Just upload the logo and font colors you like, and the system puts them into your workflows and messages automatically.
You're going to appreciate the programmable and one-off capabilities, which allow you to launch a true multi-channel campaign.
Pros:
Robust and time-saving tools
Easy to use
Powerful integrations
Cons:
Rigid templates
No workflows for advanced automation
Pricing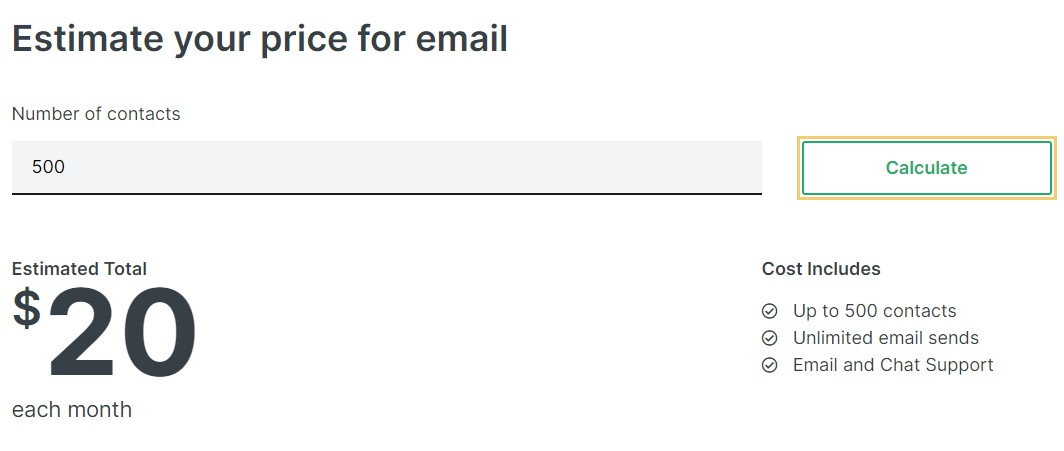 With Klaviyo, the pricing structure is a bit different. You get every feature available and pay based on how many contacts you've got. For 500 subscribers, it costs $20 a month. This includes unlimited sends.
You can also send SMS through Klaviyo. It's roughly $5.00 to send 500 texts, but you can bundle SMS and email together so that you don't have two separate bills.
Who Is This For?
Klaviyo works well for online companies, such as service providers and retailers. Those who sell many products or rely on data tracking are sure to appreciate this ESP's features.
4. Omnisend
Omnisend is an all-in-one solution for your automation and email marketing needs. It's designed for marketers and online businesses. Here, you don't need a ton of experience to use it and make it work for you.
Features
Omnisend offers numerous features, but automation is one of the top options. With it, you can build workflows to send messages automatically. This eliminates the need for a scheduler.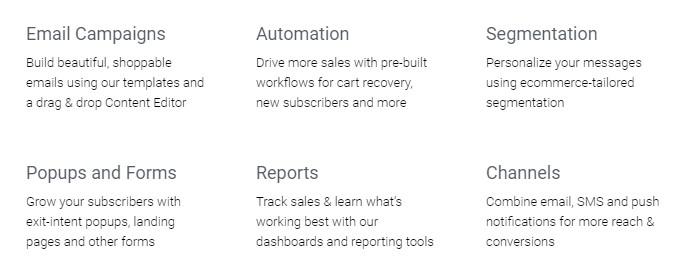 Since you can create SMS and email campaigns, it can boost your conversion rates and provides a multi-channel strategy. Plus, the segmentation is excellent. You can easily target customers based on various things.
Pros:
Easy to use
Simple design
Includes segmentation and automation functionalities
Cons:
Very limited forever-free plan
Can have glitches
Pricing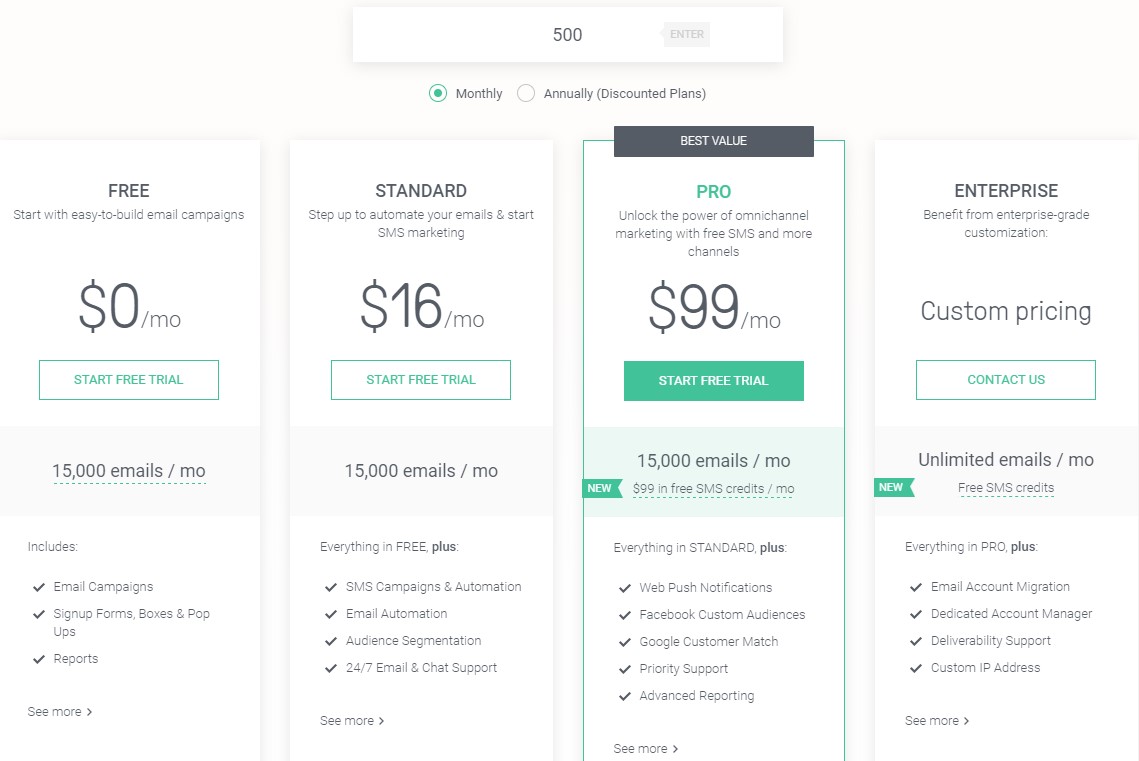 Among the Activetrail alternatives, with Omnisend, you get to choose from four plans, and the pricing is for 500 contacts.
The Forever-free plan allows you to send 15,000 emails a month. With it, you get reporting, signup forms, popups, and email campaigns.
Standard is next at $16 a month for 15,000 emails each month. You get all the Free features, as well as audience segmentation, SMS automation and campaigns, and email automation.
With the Pro plan, you get omnichannel marketing aspects for $99 a month. This gives you 15,000 emails each month and everything from Standard. You also have access to advanced reports, priority support, Facebook Custom Audiences, web push notifications, and Google Customer Match.
Lastly, Enterprise is available for a custom price and allows for unlimited emails each month. All the features are unlocked, including deliverability support, email account migration, and a custom IP address.
Who Is This For?
Omnisend is ideal for people who send general marketing emails, such as a weekly newsletter. Those with online or e-commerce stores are sure to enjoy it with all the e-commerce integrations.
5. Mad Mimi
Mad Mimi adds a touch of playfulness to using email marketing software. It is quite easy to learn, has a great design, and offers many features. Many people claim it's an enjoyable and sensible email marketing solution.
Features
With Mad Mimi, you have access to an easy-to-use email editor. Instead of regular templates, you choose from a list of message options and then customize it. There are plenty of stock images, banners, and so much more, allowing for significant personalization.
Autoresponders are available, though they're tough to find. Though there isn't any A/B testing, it does have a tool that mimics that functionality.
Pros:
Easy to use
Superb list management
Clean interface
Cons:
Few segmentations
Limited template options
Pricing
Mad Mimi starts with the Basic package, which is $10 a month for 500 contacts. You get unlimited storage and emails, but they send at a regular speed. All features are included with every plan.
Pro is the next option, and it's $42 a month for 10,000 contacts. You get unlimited email sends and storage, and they send at 2x the speed.
Silver is considered the Business plan, and it costs $199 a month for 50,000 contacts. With it, you get emails sent at 3x the speed, as well as unlimited storage and sends.
Last is the Gold plan at $1,049 a month for 350,000 contacts. You get unlimited storage, emails send at 4x the speed, and you can send over three million emails a month.
Who Is This For?
If you require Activetrail alternatives that are cheap and don't need many features, Mad Mimi could be right for you. We think it works better for small businesses and self-employed individuals who don't need reporting and autoresponders.
6. MailChimp
One of the biggest Activetrail alternatives is MailChimp. It is suitable for novices and experienced marketers. It includes a blend of features to become your go-to, all-in-one marketing solution.

Features
You can get started by building your website and creating content. Then, it walks you through the steps to create your email campaign.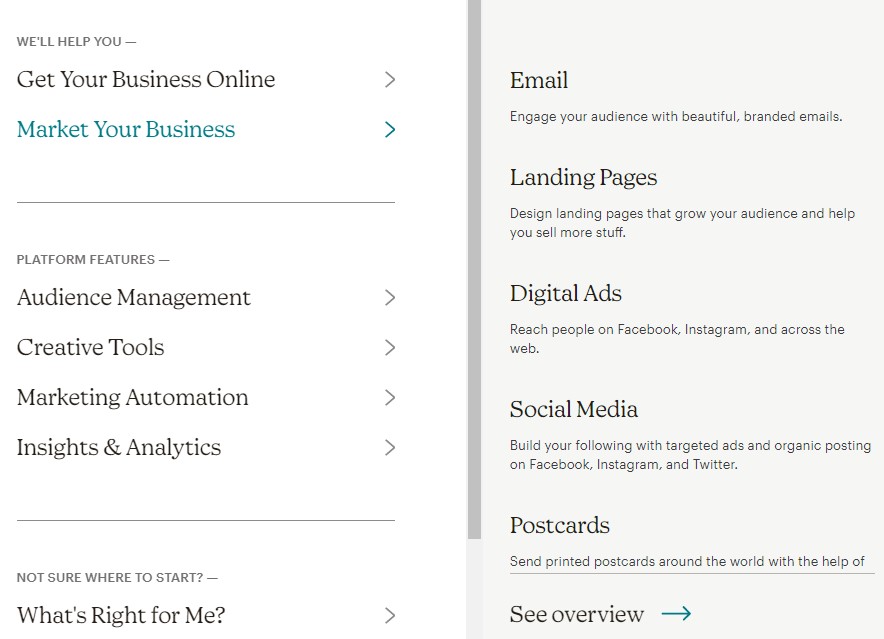 There are countless predesigned templates to help you say almost anything. Plus, you can get feedback on email subject lines and learn which ones get the most clicks.
Pros:
Helpful tips in-app
Templates for automated email responders
Advanced reporting features and analytics
Cons:
Little support at low-tier price levels
Possible navigational issues
Pricing
The pricing list is a little backward, but there is a forever-free plan included. You get one audience and 2,000 contacts. It offers the creative assistant, website builder, landing pages, forms, and marketing CRM.
Essentials is next at $9.99 a month for three audiences and 50,000 contacts. With it, you receive all the Free plan perks. It also opens up custom branding, multi-step journeys, all the email templates, and A/B testing.
From there, you have Standard, which is $14.99 a month for five audiences and 100,000 contacts. You get all the perks from the Essentials package, as well as dynamic content, behavioral targeting, send-time optimization, and custom templates.
Last is the Premium plan, which includes every feature and costs $299 a month for unlimited audiences and over 200,000 contacts. Things like comparative reporting, advanced segmentation, and multivariate testing are included.
Who Is This For?
MailChimp is ideal for every type of marketer, even those with little to no experience. It's easy to use and focuses heavily on actionable insights and analytics, so if you need to track metrics and get data, this is the tool for you.
Conclusion
Though Activetrail is highly versatile and comes with countless features, it's designed primarily for those who are learning and those with a high budget for marketing.
It can work for some people and is designed for all types of SMBs and larger companies. We've also focused on six Activetrail alternatives that do similar things and might have better price points.
Regardless of the one you pick to use, you now have options and know a bit more about them. It's easier than ever to send emails to your prospects and current customers.