Being able to save time is vital to many businesses, especially with so much competition nowadays, both offline and online.
Email triggers are a great way of utilizing time and using automated technology to allow processes to happen without a person having to be there to press the send button.
In this article, we'll be discussing all there is to know about triggers, how they're beneficial as a tool to use and why. Are they better than the usually scheduled marketing emails you're currently sending?
After understanding triggers, we'll share some of the best practices when implementing them into everyday work processes.
What is an Email Automation Trigger?
What is an email automation trigger? Well, for those who are unaware of this fantastic technology, a trigger email is an automated email.

Marketers send this email to the customer to provide more information in regards to the brand whether that's the customer subscribing to the newsletter for the first time or sharing important information that the individual would find helpful.
An email automation trigger is an automatic reaction to that subscriber's actions and behavioral pattern.
According to the data from Email Marketing & Marketing Automation Excellence 2018 report, "the most impactful benefit of email automation is its ability to save you time."
And when time is essential, it makes sense to utilize email automation within your business.
Why Are Triggers Used?
When it comes to regularly scheduled emails, they tend to promote a product or service.
Whereas with triggered emails, it's all about the information and giving the customer reassurance that a process has been started or finished.
Following a lead's journey is crucial because there are often enough customers that go straight to hitting the checkout button and others remain stuck somewhat down that sales funnel.
Triggered emails work well because they are timed at the right moment, and most of the time, the customer is expecting that email to arrive in their inbox.
Again, with triggered emails, it's not about the product or the release of a product, or even company news.
Email automation triggers work so well because it's an email that a customer often wants to confirm whatever it is they've done.
The more focus that can be put on the lead's journey the more you'll get out of that customer relationship.
You must be able to maximize the potential that each lead could bring you, and triggers are a great way to guide that lead along in the hopes of being a customer.
Cold emails are often hit or miss when it comes to the effectiveness of their delivery. Some may get read, while others don't even get opened and deleted immediately.
Triggered emails are better than cold emails because they've subscribed to the email for a reason.
Subscribers of your email are likely to engage and convert more than non-subscribers or those that are inactive. In marketing, a lot of effort can be spent on scheduling emails to encourage leads to engage with what you send them.
So that effort is something that you don't want to waste, and it's why email automation triggers are becoming a popular method to use.
What Are The Best Email Trigger Tools For 2021?
There are lots of email trigger tools out there, but what's reigning supreme in 2021?
Here are some of the best tools out there for when you're looking to use this marketing method for your business.
Engagebay
Engagebay is described as an all-in-one marketing, sales, and support CRM. As part of their services, they offer marketing automation that includes sending emails.
It's a trusted company that boasts an impressive 28,000 customers ranging from Webnova to Cybersprout as their previous clients.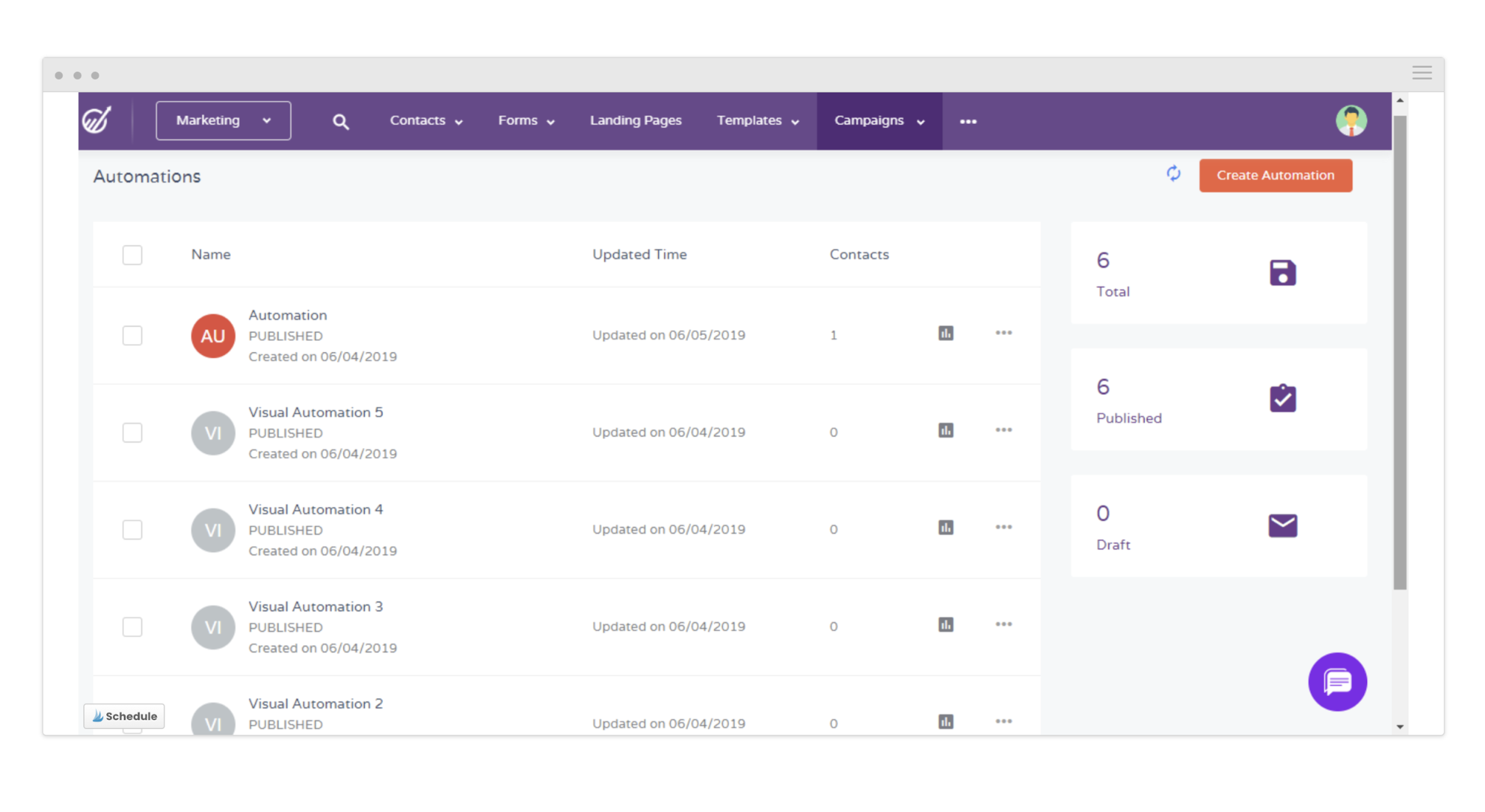 Pros
The software is beneficial for those who have new businesses.
Very responsive customer service for those who need it.
Helps to organize a variety of contacts.
Cons
More interactive guides might be helpful for simple troubleshooting.
Not possible to program post-social, only to monitor profiles.
The pricing of the tool has a range of options available. For those with tight budgets, there's a free but limited version available.
There are paid subscriptions ranging from $8.99 to $47.99 depending on your requirements and the number of users you have that need it.
Sendpulse
A multi-channel marketing automation platform, it's built for sending emails and generating correspondence for SMS and chatbots via Facebook and Telegram. Sendpulse helps to nurture leads with trigger flows via email and event-triggered emails too.
Pros
A variety of trigger email options to choose from.
It uses software called Automation 360, so not just an add-on service.
Offers visual statistics from the automation flow.
Cons
More simplified pricing is a common request from existing users.
Lack of integration opportunities with other tools.
There's a basic plan that's free to use, but it's limited to 500 subscribers. So this would ideally be suited for tiny businesses. The prices then go up from standard, pro, and enterprise.
CampaignMonitor
CampaignMonitor provides email marketing for over 250,000 businesses worldwide. Its impressive client list includes Sephora, Broadway.com, and Nissan, to name but a few.
There's a lot of information available without having to sign up to learn more about how their current and previous clients use the automation services to its leverage.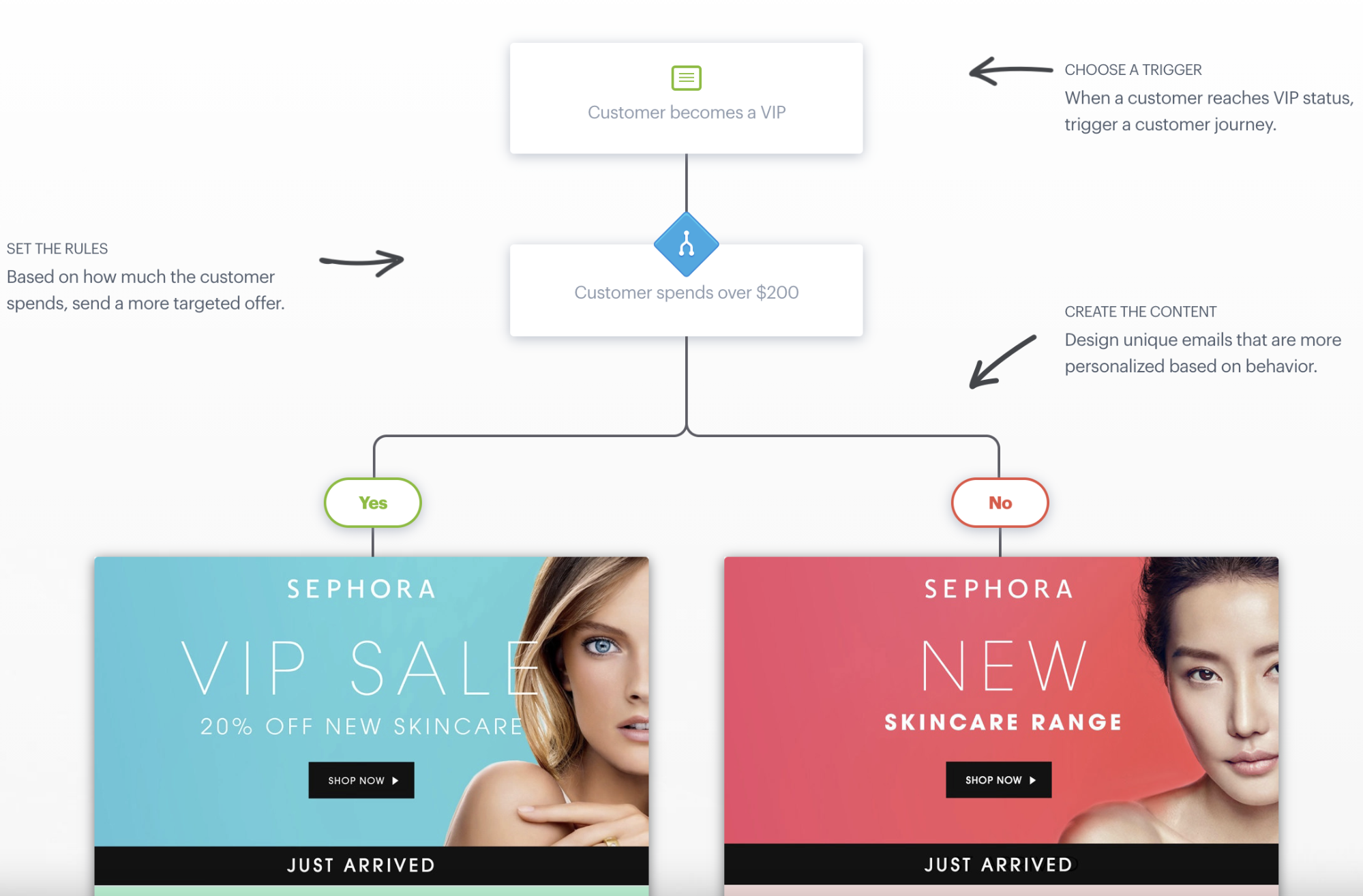 Pros:
Used by many big businesses and corporations around the world.
Easy to use and well-priced.
Cons:
More automation options may be needed for basic package users.
The basic plan is $9 a month, $29 a month for the unlimited plan, and $149 for the premier plan.
Outfunnel
Outfunnel provides marketing integration into your existing CRM. It helps highlight those leads that are ready to make a sale and gives you plenty of insights into how your marketing campaigns translate into revenue.
Pros
It comes with Pipedrive and Mailchimp integration which seems to be popular for many existing Outfunnel customers.
Cons
Not as feature-full as some other solutions out there.
Best Practices: Understanding Personas
It's important to understand both buyer and seller persona's concepts to implement this email marketing method. Buyer personas are the semi-fictional representations of your target audience.
These are usually based on research that you've done through analytics and the available data, whilst also having a certain degree of speculation added to the mix.
With seller personas, it's all about trying to match the right selling pitch with the right buyers. It means that the approach towards the customer may need to differ.
Again, this can be done by looking at their behavioral analytics and any CRM sales-focused analytics to understand how to approach them.
It's essential to pay attention to how your brand is presented to the customer and that it might be beneficial to re-brand or develop your brand's niche to help cater to the specific, individualized customer personas you have.
When it comes to visuals, the email marketing images that you use in your email campaigns need to match your brand, everything from the color scheme to your brand's mission statement and aesthetic.
Trigger Basics
For setting up a trigger, the typical workflow starts by choosing a starting condition. So this may be a form that they've submitted to a smart list being triggered.
Then it's all about working on the sequence of actions that are taken to initiate the workflow. This could be sending an email or adding a contact to your mailing list, or removing them from it.
Time delays are significant to add to the trigger's workflow, and that way, you don't need to worry about who needs to receive what on particular days.
Finally, you'll be able to tweak and modify the settings of this workflow to refine how it operates to take advantage of it for your requirements fully.
Classic Automation Triggers
Some classic automation triggers are simple and do not require too much complexity. These are ideal for new businesses and those who are just starting to introduce triggers to email marketing.
Time-based triggers are ones that you set to go off at certain times, and these might be time delays that you set.
There are also sign-up triggers where an email is sent when the lead signs up to the newsletter or to receive emails from you.
Welcome Emails
When it comes to welcome emails, "65% of marketers had adopted 'Welcome' campaigns in Q1 2016, which grew by 7% over the last year."
A couple of examples for welcome emails could be an email that welcomes a subscriber to the company or brand, giving a brief introductory description.
Another example could be a 'thank you' email where you're simply thanking the lead for subscribing.
Nurturing Emails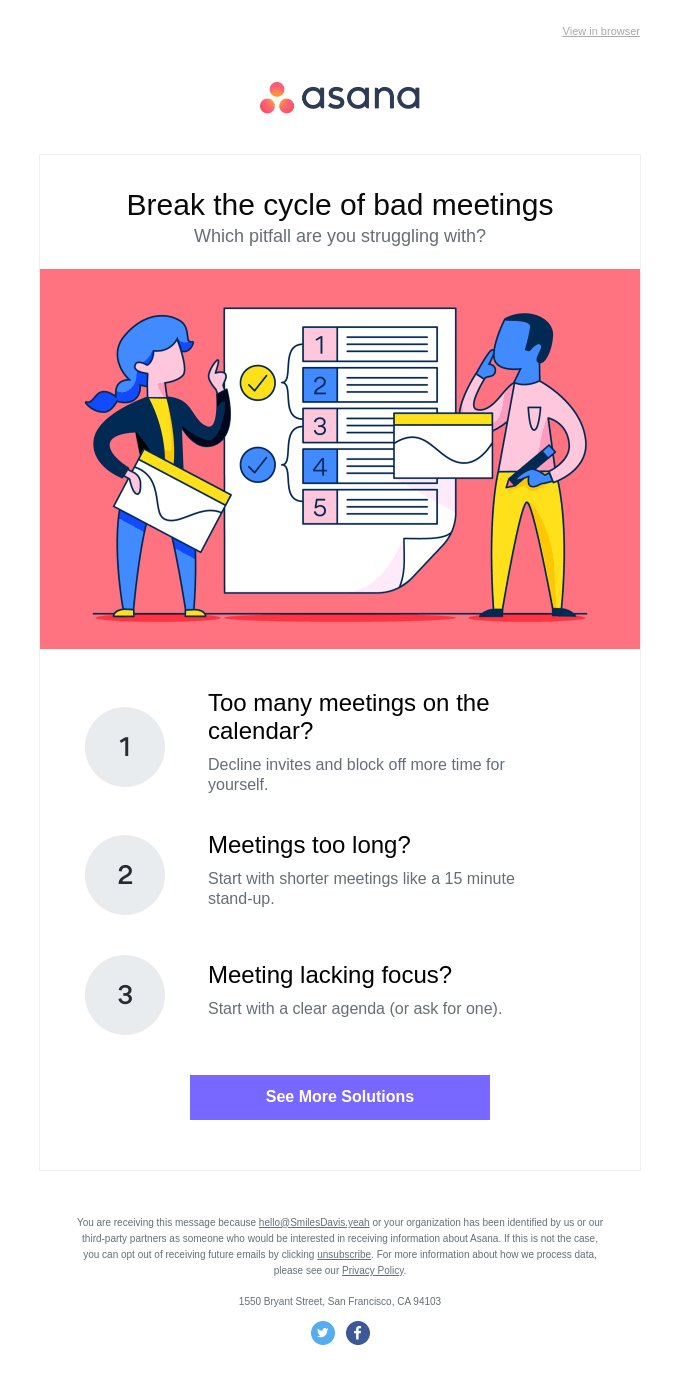 Lead nurturing is important for pushing them further down the sales funnel. It could be an email of how to use the product or service in action.
Or it could be an opportunity for them to share more information in the form of data collection for you. That way, you can get a better understanding of who they are.
Retention Emails

There are some great examples of retention emails to send out for those customers that may be in limbo mode.
It could be a classic 'you've abandoned your cart' email or a promotional offer that's been exclusively offered for that individual lead to take advantage of.
For example, GetResponse suggests to :
Present them with a final offer, e.g., with an additional 10% discount if they decide within the next 24 hours
Or ask them to answer a few questions about the product, what went well, what went wrong, what they'd like more.
Special Occasion Emails
For special occasion emails, these will be triggered emails that happen perhaps only once. This could be a birthday email, maybe even offering discounts or exclusives. It could also be an order confirmation email when purchasing through your site.
Product Update Emails
When products are added to your site, or there's a revamp or stock replenish, these are just a few examples of product update emails. It's keeping your customers informed of stock and products that they might be interested in knowing about.
More Advanced Triggers
Beyond the fundamental triggers, some more advanced options are worth knowing about. There are advanced sequences and transactional emails that have more in-depth analytics.
For example, if you have a video or interactive elements within the email, you'd be able to see the level of engagement it has.
Emails with videos might be 'how-to' tutorials or perhaps the latest promotional campaign advertisement you want to share with your customers.
Interactive elements can further entertain your customers. Perhaps GIFs are worth utilizing as an example.
Drip email campaigns might also be helpful, and these are often customized messages sent to the customer over some time.
There are free main uses for this, including onboarding emails, the abandoned carts, and lead nurturing.
Onboarding Emails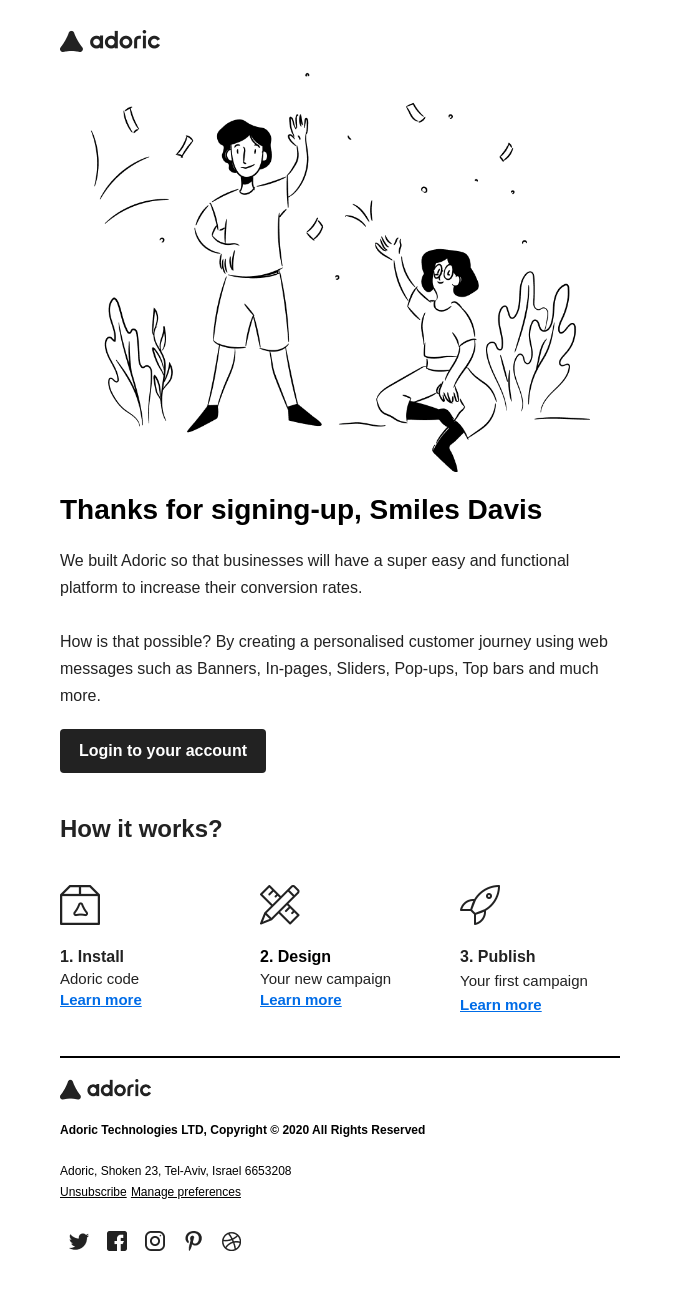 Onboarding emails help new customers to understand the value of the product or service being offered.
It could be an email educating them on the key benefits of the product or a welcome offer that entices them to spend their money. This is usually through a discount or voucher to use.
Transactional Emails
Transactional emails are messages the business needs to send in order to facilitate a transaction. With that being said, they don't need the customer's permission to do so.
They are indeed still crucial for marketing purposes because they encompass a lot of information that the customer needs. Otherwise, they will suspect something is wrong.
If you're looking for further resources to help utilize email triggers, these five types of trigger emails for nurturing customers are an excellent place to start.
This guide by Emma is good for helping you set up trigger emails along with some examples. Things are certainly moving forward when it comes to email marketing, and perhaps the appeal of automating your emails is making marketing a lot more cost-effective and straightforward.
After all, the saying 'time is money is very much true!
Author's Bio
Yash Chawlani is a Digital Marketing Specialist who has gained significant experience working for Industry regulars. He specializes in SEO and Social Media and helps brands and businesses out there with his top-notch content strategies. You can connect with him on LinkedIn.