WordPress is super comfortable and SEO-friendly to use. No wonder so many website creators choose it for business and sales:
Understanding the importance of proper optimization for higher rankings, traffic, and conversion, they want to organize content in the best way possible.
Two problems:
Most WordPress SEO guides are too technical to master fast.
Google changes algorithms so often (500-600 times per year, with a record of 4,500 times in 2020!) that we can't keep up with all the updates to optimize everything according to the new rules.
Anything you can do here?
Stick to the proven and consistent on-page factors Google uses to "read" your content and rank it accordingly.
In this article, you'll learn the basics behind on-page SEO in 2023 and the seven hidden SEO tactics for optimizing your WordPress content to rank it higher.
First things first:
What is On-Page SEO?
On-page SEO is a series of practices to optimize your web page content for search engines and users. With off-page and technical SEO, it influences your website's visibility, rankings, and traffic.
While technical and off-page SEO is about optimizing the entire website and signals happening off of it (backlinks or brand mentions), on-page SEO tactics focus on separate pages, not the whole website.
You know the common on-page SEO practices already, don't you? It's about optimizing title tags, URLs, internal links, and content for a particular keyword. They all work, but:
Everyone optimizes their pages like that, while only a few show up in SERPs.
You can expand beyond those standard practices for a page to rank higher. You need some advanced (hidden) on-page SEO tricks that will help take your content to the next level. In 2023, content optimization is not only about keywords but user experience, search intent, bounce rate/dwell time, and CTR.
Below are practices that will help you optimize page content accordingly.
7 On-Page SEO Tricks to Boost Your Content
Boost your web page visibility, rankings, and organic traffic with the following on-page SEO practices:
1 — Choose a proper target keyword
How do you choose a target keyword for a particular page?
Most go to free or paid keyword tools and check a keyword's search volume, potential traffic, and keyword difficulty — all are critical factors influencing the decision. But there's another factor to consider if you want your page to engage and bring better results:
Search intent.
Search intent is the reason behind a user's query, i.e., what they expect to see in your content after typing a search term.
Did they look for research on the topic or want to compare products and purchase anything?
When your content satisfies users' search intent, they'll stay on the page longer and interact with it. It will influence behavioral factors (dwell time and bounce rate) and signal to Google whether your page is relevant to the given search term, valuable enough, and worth ranking higher.
What are the types of search intent?
Informational. A user comes to find and read the information on something: Words like "what," "how," "ways," "tips," etc. in keywords and content titles are indicators of such intent.
Navigational. A user looks for a specific page by typing brand or author names in Google Search.
Commercial. A user comes to search engines to do research before making a purchase. Words like "top" or "best" are indicators of commercial intent.
Transactional. A user comes to buy something. Words like "buy," "register," "download," etc. reveal such intent.
Depending on the search intent behind your target keyword, it's critical to write and optimize your content accordingly. The easiest way to understand the intent is to type your target keyword in Google and see the SERPs results: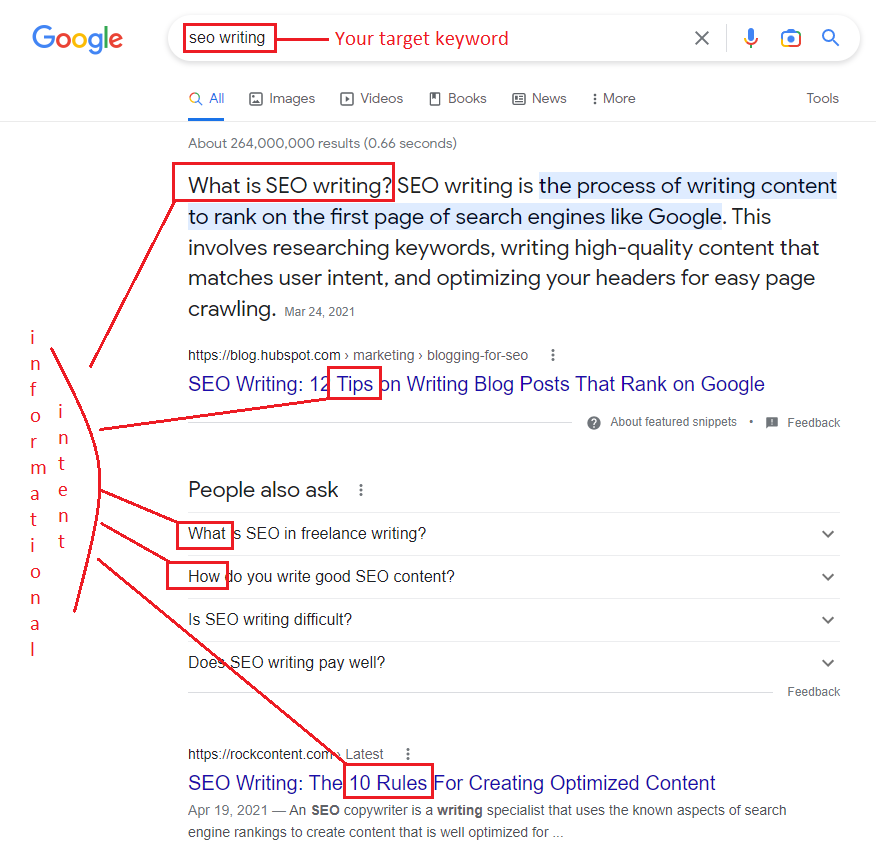 Check word indicators
See what content types prevail — and structure your page accordingly: Is it a "what" content asset, a listicle, a how-to article, or anything else?
Consider the "People Also Ask" section: What content types do you see there?
2 — Place your target keyword like a boss
Keyword frequency and proper placement are never-ending debates among SEO specialists. Some insist on placing a target keyword in titles and once throughout the text to avoid stuffing, while others aren't afraid to use it as often as possible.
Here's the truth:
It's okay to place your keyword a few times throughout the content for Google to understand that your page is about that topic indeed.
What are those few times? Where to place a target keyword to satisfy Google, avoid keyword stuffing, and leverage your SEO for growth?
URL (Also, make it short to rank higher and get more clicks.)
SEO title and description
H1
Within the first 100 words of your text (Google puts more weight on terms placed on the page top.)
One time in H2 or H3
Within the last paragraph of your text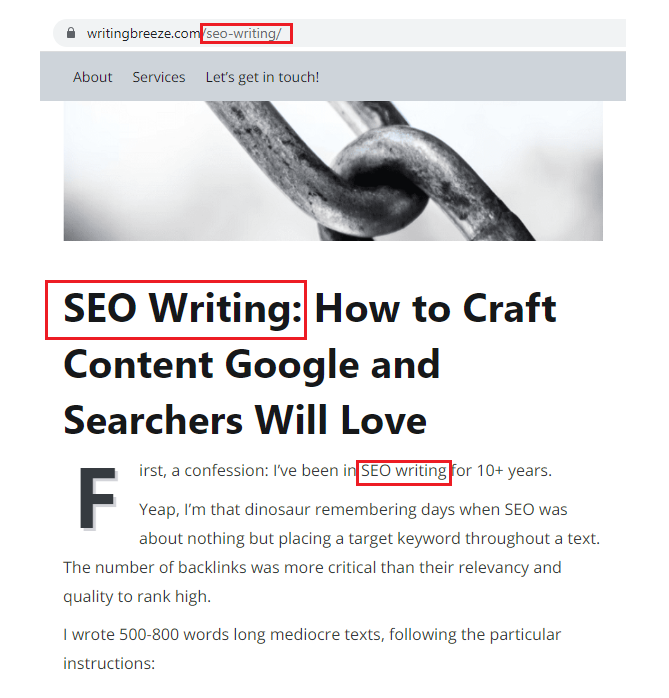 3 — Consider alternative keyword types
Ten years ago, it was enough to place product-defining and short-term keywords throughout the content for Google to rank your page high.
Today, this trick doesn't work:
Google is AI-powered now, so it doesn't care about the number of keywords you place. Semantic search helps engines understand the context and generate the most accurate SERP results.
For Google to "read" your content as needed, do your best to incorporate and mix "hidden" keywords" in it:
Niche keywords. You know them as LSI (Latent Semantic Indexing), closely related terms you add to content for Google to understand the topic and context. Use tools like LSI Graph to find the most relevant LSI for your piece, or go to Google, enter your target keyword, and check the "Related Searches" section: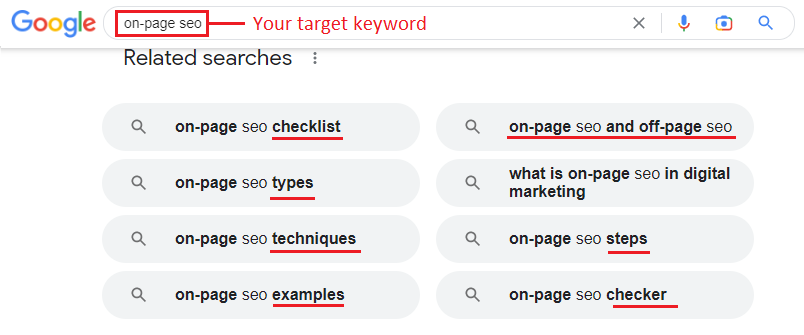 User-generated keywords. Voice search is on the rise, and searchers often use long queries to get answers to their questions. Consider questions from your keyword research tools, or go to topical forums or Q&A websites (remember Reddit) and "People Also Ask" to see questions users want to learn on your topic. If applicable, you can create a FAQ section on your page to provide answers to those long-tail queries.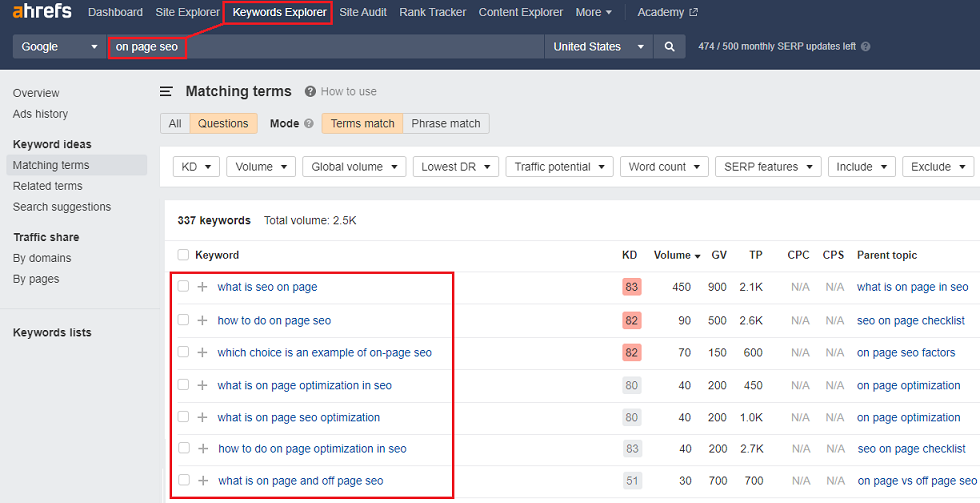 Vertical keywords. They come from related niches and can help you attract a broader audience. Consider Sean Si's explanation of these keywords' phenomenon and use competitive (and your business partners') analysis to define them.
4 — Follow E-E-A-T guidelines
In 2023, on-page SEO is not about mere keywords but content quality. And Google gives us clear guidelines for what high-quality content means:
It follows E-E-A-T.

Your content comes from experienced writers who know what they are talking about.
You place content on an expert source that is authoritative enough and has some reputation in the niche.
Your content is original, comprehensive, and valuable for users; it's trustworthy and brings something new: fresh insights, case studies, practical strategies, etc.
How does Google know if your page follows E-E-A-T guidelines and is worth high rankings?
Behavioral factors. It considers dwell time, bounce rate, and other details (internal link clicks, scrolling, content shares, etc.) to understand how users interact with your page. For Google, it's clear that users will stay longer and be more active with a page sharing relevant and valuable information satisfying their search intent.
It will rank such pages higher.
To make your content more valuable, pay attention to its depth and usability:
Invite expert writers with first-hand experience to craft it.
Structure it with usability and readability in mind (more on it below).
Add actionable details (tips, steps, screenshots, instructions) so users can practice it.
Share updated information; support it with facts, data, stats, expert quotes, and other evidence.
5 — Format content to avoid usability blunders
Your content usability and readability influence its overall rankings, either. It determines the signals Google gets to measure how users interact with your webpage and rank it accordingly. These signals include dwell time, bounce rate, page speed, content formatting, and visualizations.
The good news is that you can influence these on-page usability signals:
Structure and format your content according to the rules of web writing to engage the audience and motivate them to stay on your page longer.
That's what you can do:
Craft short paragraphs and consider white space between them for easier scanning.
Use bullet points.
Add subheads; use H2 and H3 tags for them.
Consider visual elements: mix text blocks with images, videos, screenshots, interactive elements, etc., to grab attention and engage readers.
Format for better readability: Add blocks with definitions or summaries, design some info as quotes to share on Twitter, craft a table of contents if your page content is long (2,500+ words), format subheads as listicles if applicable, etc.
Pay attention to your webpage typography: proper alignment, font size, and color-contrast ratio — all matter for user experience.
Last but not least:
Remember about internal backlinks. Make it a habit to interlink at least three blog posts of your website: It will boost pageviews, increase dwell time, and improve the overall SEO score of your page.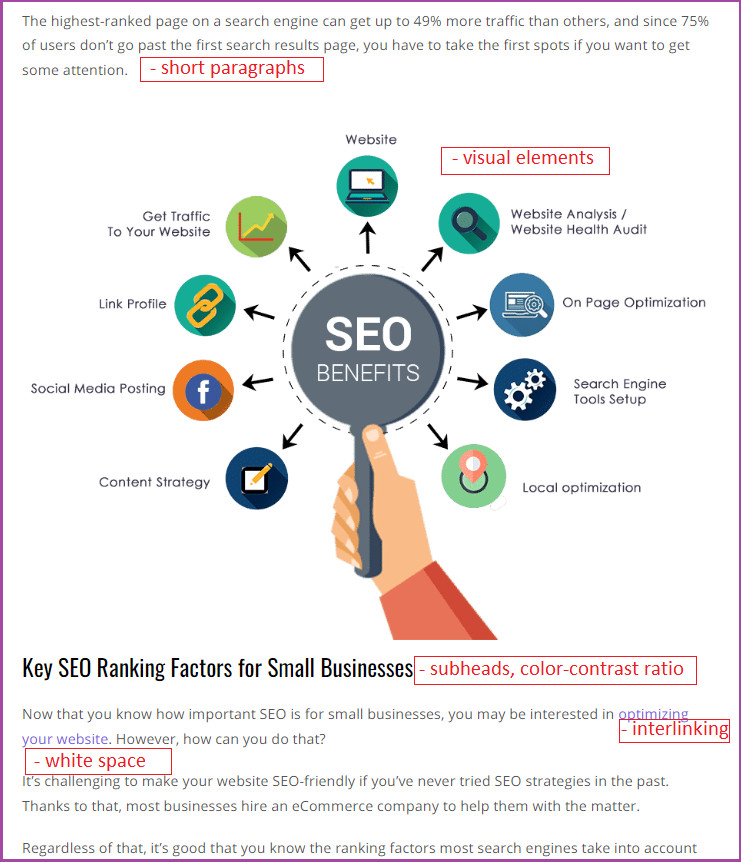 6 — Optimize for Featured Snippets
Also known as Position Zero or Answer Box, a featured snippet is a short answer a user gets to their query with no need to click and visit a page.
It looks like this: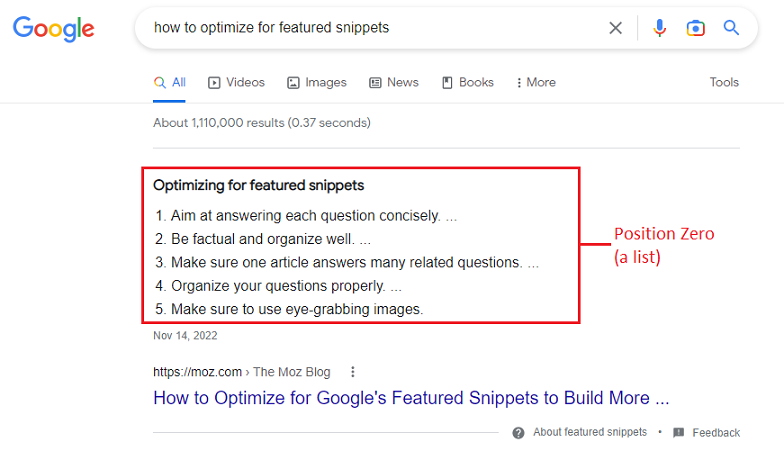 Featured snippets include your page title and URL, encouraging users to visit and learn more about the topic they searched for. Given the snippet is above SERPs, getting there can make a huge difference in your CTR and traffic.
And guess what?
By optimizing your content accordingly, you can increase a page's chances of getting there.
The rules to follow:
Ensure your page is in Google SERP's top 10 for your target keyword.
Check what snippet type is there now: a paragraph, a list, a table, or a video.
Optimize your page accordingly: add definitions, structure it as a step-by-step guide, add text fields and other content blocks with FAQs or numbered lists, etc.
7 — Use custom images
Forget about generic visuals from stock image collections: Pages with unique, custom visuals outrank those using stock photos.
Why?
Custom images are one more signal for search engines that your content is original and provides something new or valuable to users. While other websites republish the same stock pics over and over again, do your best to design original visuals for your WordPress content.
Infographics, screenshots, mind maps, stats, graphs, and others — you can create them in free graphic design tools like Canva or VistaCreate. Kill two birds with one stone:
Original visuals encourage shares with backlinks to the source. (You'll boost a backlink profile this way.)
Custom images are another chance to get into featured snippets. Like this: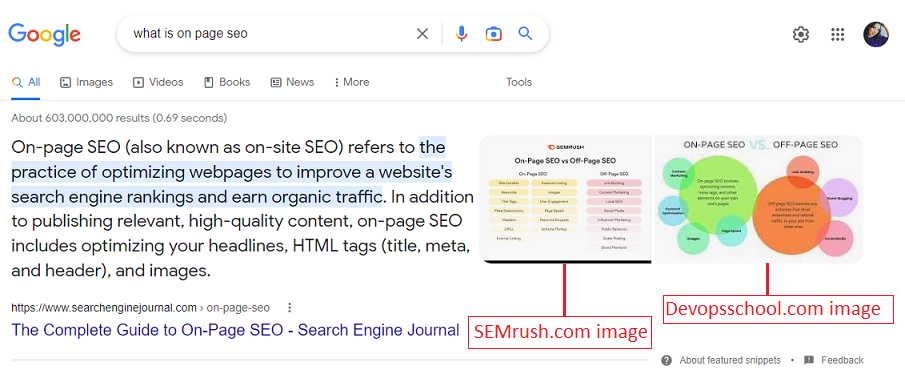 As you see, the info snippet comes from one website, while the images are from others!
For your custom images to work, optimize them like a boss: name them accordingly (use keywords in filenames, dashes between words, and be concise) and use descriptive alt texts when placing the images in your WordPress admin panel.
It will give Google clues about your image contexts.
Wrapping Up
Search engines become smarter and more innovative every year, making content creators count every detail. And while standard on-page SEO practices still work, we need to take a step further and implement some advanced tactics to outperform competitors.
Let's make the most out of content pages:
Target proper keywords, considering the search intent behind them.
Properly place keywords in content: prevent stuffing by adding alternative keyword types.
Ensure your content meets the E-E-A-T guidelines and is high-quality, providing value.
Format it for better UX, optimize for featured snippets, and avoid usability blunders.
Pay attention to the visual elements: Design custom images and optimize them for Google to understand the context.
When comprehensive and valuable, satisfying user search intent, and formatted for better user experience, your WordPress content has a 100% chance to win Google's SERPs. Do not underestimate on-page SEO — and you'll see positive results.
Author's Bio: Lesley is a professional copywriter and guest contributor, currently blogging at EasyEssay, a platform helping students and authors with writing solutions. Specializing in data research, web text writing, and content promotion, she is in love with words, non-fiction literature, and jazz.