After you create your Instagram profile and make it to your taste, the next step is to cash in on all the hard work.
To monetize those hard-earned likes and comments, you need to pay attention to a range of tasks you need to complete.
First of all, it takes time and patience to build such a complex business, and what you need is a constant influx of ideas and tricks.
Maintaining attention and being relevant is actually a lot harder than it seems, so get to work as soon as possible.
Here are 5 easy steps to monetize your Instagram account, so try them out and keep up with an ever-expanding online business world!
1. Keep track of your followers' engagement constantly 
In order to engage your followers, you need to create content that will maintain their attention and solve their problems in a quick and fun way.
Usually, your followers would like to benefit from visiting your Instagram profile, and you need to give them something valuable every time that will make them come back for more.
You will do this not only by tracking the number of your followers, but by tracking their likes, comments, and shares of your posts.
If you want to check all the most basic conditions for increasing the influence, the number of loyal followers, and more in the easiest way possible, pay attention to the following items:
Plan and organize giveaways
Giveaways are a great way to drive traffic and increase engagement.
One way to keep your followers engaged is by doing promotions. By giving away something for free, like this curated list from SnackNation, people will be more likely to follow you and check out what you're all about!
You have to be short, precise, and simple, but at the same time, you also have to add a touch of something special that will set you apart. 
State the purpose of your profile and give your followers a reason to trust you. Solve their problems. 
To increase the number of your followers, even more, offer them the option to follow you or send you a message in DM. 
Harness the potential of hashtags
It is very important how you use the hashtags and how many of them you use in each picture. 
An average of four hashtags per image sounds solid. You shouldn't overdo it, but you also shouldn't be too obvious and use common hashtags because the goal is to make people search for your content more. Try to be creative.
You can use certain tools to help you get relevant hashtags for your profile, but not all of them are equally effective, so be careful.
Do your best when it comes to posts
It is not only important to upload pictures every day, but it is much more important to what the quality of those pictures is. 
Don't bore your followers with similar, repeating captions and your profile story that is unrelated and irrelevant to them. Offer them quality and honesty when it comes to your products.
Also, use stories and IGTV to increase engagement, or add some videos into your content.  
The more you post, the higher the chances that the engagement will increase are. However, pay attention to the above-mentioned items and create a balance. 
Also, be in constant contact with your visitors, whether through messaging or through the comment section, because it is the only way to build trust and quality relationships. They need to feel that you care for them.
2. Share the link to your online store on your Instagram profile
We have already mentioned the bio on your Instagram profile and how important it is.
If you have an online business, in addition to being informative and witty, your bio should include a link to your online store as it is very useful and allows you to get the most out of your Instagram profile.
The popular call to action "Link in Bio" is usually used for this purpose, which helps your followers to switch directly from the Instagram app to your online store and thus inform more about your products. 

Source: Funneloverload
At the same time, you can work on your Instagram account and increase conversions on your website with the help of certain tools.  
One of the best tools that you can use to increase conversions is the Poptin tool. 
With it, you can:
Create highly-engaging pop-ups to grab the attention of your visitors

Build embedded forms to make your website even more user-friendly

Send automatic emails to your subscribers to grow your loyal customer base
Pop-ups, forms, and automatic emails can serve as a reminder to visitors to follow you on your business Instagram account.
By sharing a link to your online website store on your Instagram profile and using these attention-grabbing tools, you increase revenue in just a few clicks. 
3. Sell affiliate products and start earning right away
Affiliate marketing involves promoting the products of other brands on your profile for a certain fee.
The point is that you need to share custom links with your followers through your content and then you get a percentage earned from each purchase that happens that way, which is beneficial for everyone.
You only need to sign up, and you are ready to go.
If you decide to start an affiliate marketing program, do the following:
Opt for one of the great affiliate networks that will provide you with everything from the best tracking technology to the commission structure that is most suitable for you. 

Carefully choose influencers whom you will be able to partner with.

Use reporting that your affiliate network has given you and track everything that happens to your links, how many clicks they have collected, and how much revenue they have brought you.
Primarily, it is important to choose brands for affiliate partners that are in the same niche as your products and that you generally make sense together.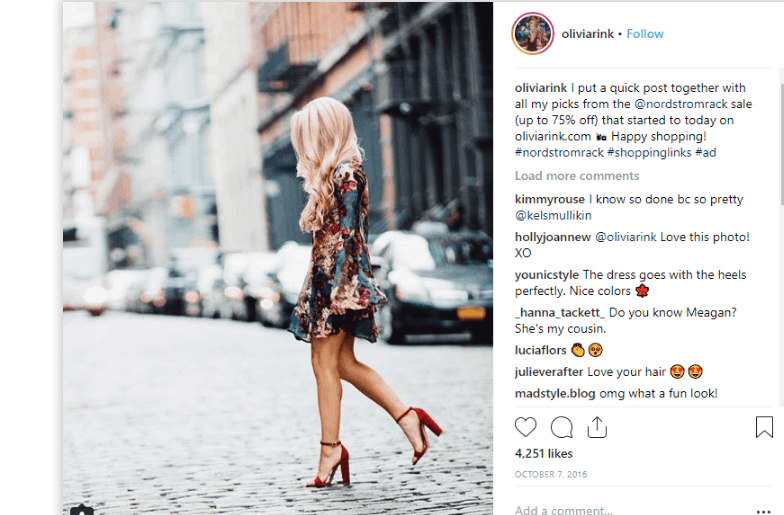 Source: Instagram
This way, your followers get the whole picture and can relate more.
4. Create sponsored posts to get the full potential of being an influencer
What distinguishes sponsorship from affiliate partnership is the fact that you get money per post or series of posts and not a percentage of earnings.
If you are an influencer, get in touch with brands you might mention in your posts to help them spread brand awareness. 
Sponsored posts usually consist of mentioning their product and your own brief impression of it. 
It is important that this product fits into what you emphasize on your own Instagram profile and that it blends with your profile. 
Today there is a feature called "Paid partnership with" on Instagram that you can use to tag your partner which makes it all even easier.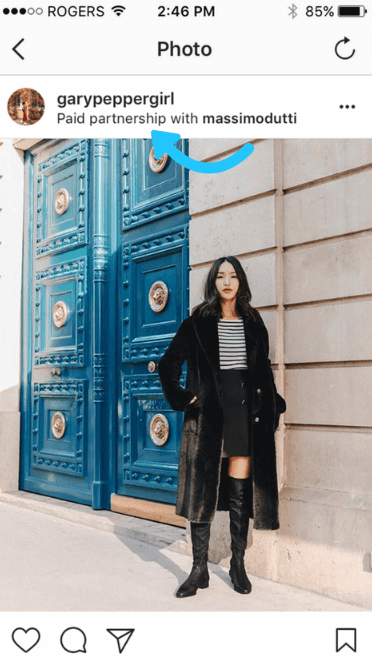 Source: Huublagram 
How much money you will be able to earn and how many popular brands to attract for this type of cooperation mostly depends on your number of followers and how well you and 'your story' are generally popular among people.
5. Use the benefits of product placement videos by posting Instagram stories or via IGTV
Product placement videos usually work by having a certain brand pay you to advertise their product as part of a video.
This business tactic is extremely popular today as the concept of the video has become so easy-to-apply and almost always available.
It can be a video where you explain how a particular product is used, like a short tutorial, and if you want to record a longer video, then the best option is to use IGTV.
It is important that this advertisement feels natural to your audience and not to annoy them but to make them really want to have that product and even feel grateful to you for introducing them to it.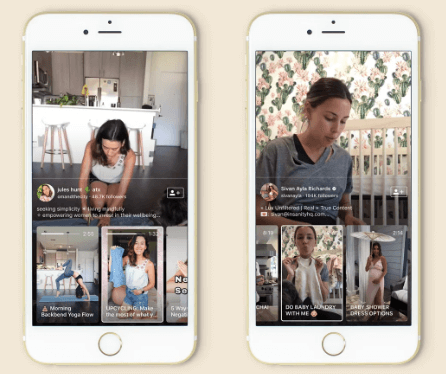 Source: Planoly
How much money you will earn from these videos you can calculate according to their CPM, that is, their cost per 1.000 views. 
To Sum Up
Statistics say that more than 500 million users regularly use Instagram on a daily basis, so it's the right platform to experiment with different types of content and tactics to earn some money. 
For people who are engaged in online business, it is especially important to cash in every segment of it, including everything that brings a well-thought-out Instagram profile.
In addition to advertising other people's products, you can, of course, advertise your own and it's best to do it wherever possible on the Internet.
To further increase visitor-to-customer conversions, use the Poptin tool and its various features, and make your website more engaging.
Follow these 5 easy steps to monetize your Instagram account and increase your earnings to the maximum!