Nowadays, eCommerce is already a new trend for doing business because of the new technology in the market.
In 2019, the sales of eCommerce already reached about $29 trillion, and it is expected to grow. While the support system of your business is online, it is essential to consider other sales channels as well.
If you're using Commerce Cloud as your eCommerce platform, you can improve your retail experience with Commerce Cloud pop ups which can be very useful in attaining more profits for your business.
Online store popups are said to be very important in boosting conversions. Keep in mind that no matter what type of niche or industry you serve, the use of website popups will give you exceptional benefits to your brand vision.
The advantages of launching website popups might be clear to you now, especially if you have prior knowledge about the significance of these crucial elements for the success of eCommerce stores in the Commerce Cloud.
Well, to give you an idea about this topic, it is advisable to keep in touch with the succeeding discussions. This article will enlighten your mind about the Salesforce Commerce Cloud together with the significance of the website popups.
What is Salesforce Commerce Cloud?
Salesforce Commerce Cloud is also known as Demandware. It is a type of cloud-based service to unify the method of businesses involving consumers over any device or channel.
In late 2016, Commerce Cloud processed around $16 billion of stock merchandise, delivering some sorts of experiences in almost 53 countries, and even touching around 300 million shoppers in the world.
While the Demandware technology motivates Commerce Cloud, it is strongly connected to other kinds of Customer Success Platform clouds. These include marketing, sales, service clouds, and the recent artificial intelligence platform – the Salesforce Einstein.
The objective is to allow stores and consumers to provide a seamless experience and customer service. Commerce Cloud has the following principles:
Uniform, an omnichannel journey of customers
Retailers must be policy-wise and technology-wise to serve their customers whether they are doing their business by just using mobile devices, on social media, in stores, or on customer websites.
Customers must purchase products online and even return in-store and file some related issues on different social media platforms. Furthermore, you should expect that these pieces of information are visible to any service representative.
Customer data integration
Companies are also expected to assimilate data from various forms of touchpoints and channels. Nowadays, data integration also incorporates Einstein.
Because of its capabilities, Einstein may serve up shopping suggestions to any online shopper depending on prevailing behavior – even the shopper is not logged in as an existing customer or the company.
Seamless and positive experience to the customers
It aims to aggregate the data wherein the customers will have a better experience as they return items, shop, raise concerns, and so on. Its ultimate objective is top to give the consumers a positive and engaging consumer experience.
With these things that were mentioned above, your business will be recognized by many people. Thus, all your customers will be guided accordingly in response to your offered products and services.
As you connect your customers using this platform, you can eventually expect positive results from them. You may also boost your online presence by creating effective Commerce Cloud pop ups in your chosen platform. However, you need to explore and understand first how these popups affect your online business.
Why are Pop Ups Effective?
One of the most crucial aspects of a website experience is the capability to capture the visitors' interest and attention. The average customer has short attention spans and requires to be engaged well to shoot action.
And one of the most effective ways to do this on the page is with the use of Commerce Cloud pop ups.
While some businesses may use popups to capture the customer's emails, savvy marketers found effective and creative uses for Commerce Cloud pop ups in driving desired actions.
Website popups are said to be effective because of the following reasons:
It increases loyalty and sales with promotions on free shipping.

It converts new potential visitors with some discounts.

This also increases the sizes of orders with the threshold offers.

It offers gifts with purchase.

This reduces bounce rates and converts visitors or customers with some exit-intent popup offers.

It boosts up PPC ROI and lead generation with contests.

It builds up your email lists with the gated content.

This helps you to drive on-site engagement with a holiday-themed promotion.

It even collects consumers' information with multiple field forms.
These are just a few of the reasons why Commerce Cloud pop ups are said to be effective in online business. In the world of e-commerce, we should also understand how these popups affect our business as a whole.
The Best Tools to Create Salesforce Commerce Cloud Pop Ups: Poptin
Poptin is one of the best tools you can use to create Salesforce Commerce Cloud pop ups. Generally, Poptin is a prime capture platform that is free of charge.
This is mainly used by online marketers, bloggers, portals, digital agencies, and different types of e-commerce websites.
The first purpose of this is to look for ways to generate more sales & leads, get a higher number of subscribers, reduce cart abandonment, or even enhance visitors' engagement.
This platform makes some interactions with the visitors and tries to convert them into subscribers, sales, and leads.
The whole system converts a high number of visitors into leads and gets them to subscribe to the newsletter, enhancing their engagement. Moreover, it uses exit-intent technology and recovers visitors who are about to abandon the website.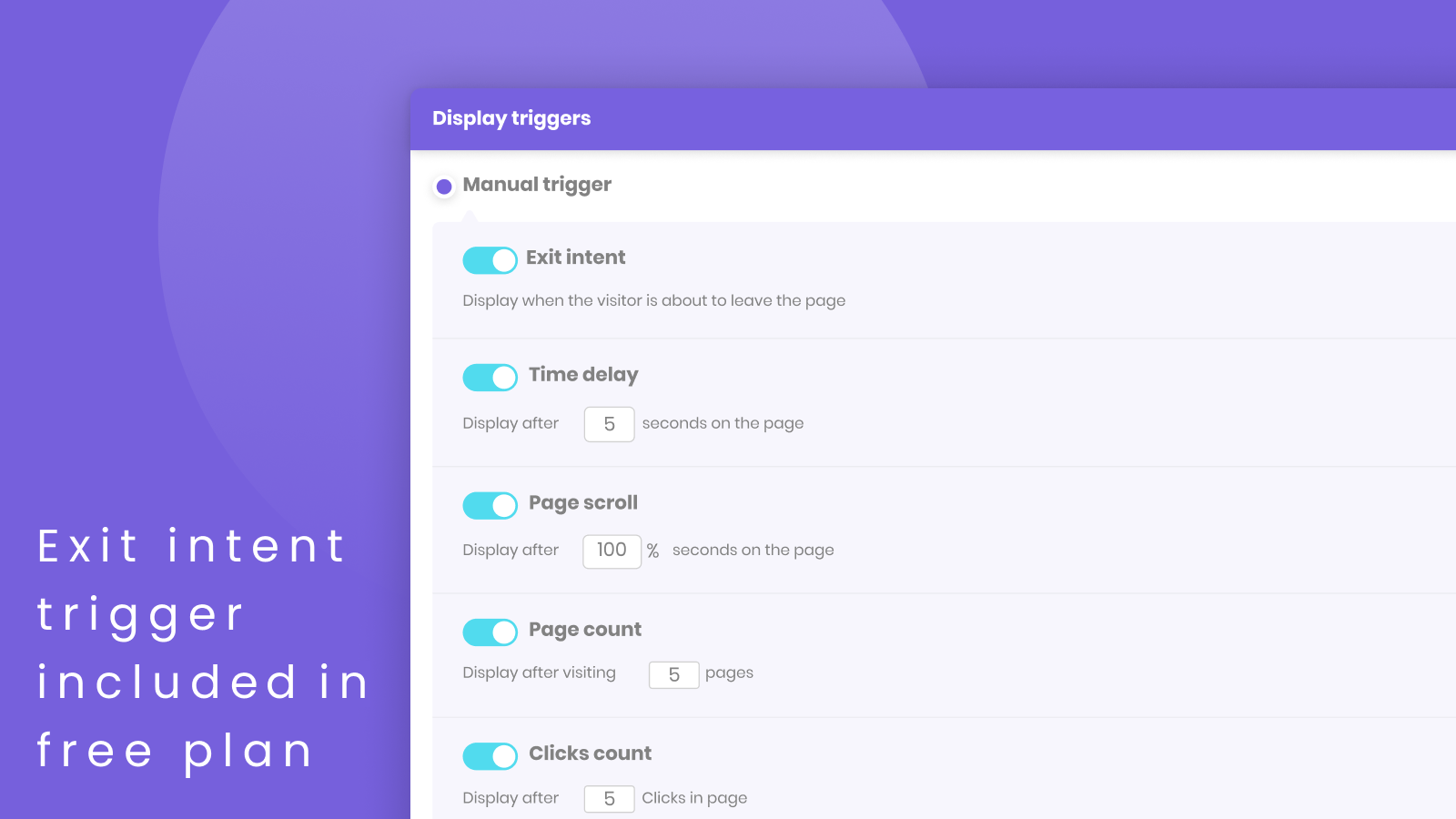 Poptin is one of the best tools in creating Salesforce Commerce Cloud pop ups as it offers a wide variety of mobile overlays and web templates, chat, push, surveys, notifications, or even embedded widgets in the web page.
Any user can do it by himself or just let the machine learning algorithm and Poptin's predictive do everything.
How to Install Poptin on your Commerce Cloud Website
Just an important note, make sure you're subscribed to Salesforce's Enterprise, Performance, and Unlimited Editions to be able to add custom codes. This feature is available for purchase.
Under the Developer Edition, this feature is also up for grabs but with certain limitations.
Let's dive in!
Login to your Poptin account. If you don't have one yet,

sign up now with Poptin for FREE

.

Click

Settings

at the top right corner of your Poptin dashboard. Find the

"Code for Installation."

A pop-up window appears. Click

"Any website"

and

copy the code

below.

Now that you have the JavaScript snippet, go to your Salesforce Commerce Cloud dashboard.

In the Scripts section of the Properties pane, click

Configure

in the Edit Body Scripts section.

Enter the code in the

Edit JavaScript Code

dialog box. Don't add

script

tags as they're already included.

Click Save and Close to add the code to the bottom of the page body.
That's it! Poptin is now installed on your Commerce Cloud account. You can start converting more visitors into leads, subscribers, and sales through engaging pop-ups and embedded forms.
Benefits of Connecting Poptin with Commerce Cloud
Connecting Poptin with Commerce Cloud provides great benefits and advantages to business owners.
If you also have a business online and you'd like to use Poptin for your e-commerce, then you can surely experience positive impacts on your business. Some of the good things and benefits that you can get out of this are the following:
Increase the visitor's engagement
Using Poptin, you can even conduct surveys and have got some sort of information and feedback from them. Aside from those things, you can also offer them other content items that they may be interested in.
Get a higher number of email subscribers
This can also help you improve your subscription rates several times.
Capture more sales and leads
This can serve the visitors with relevant offers depending on their behavior and this may somehow increase conversion rates.
Reduce the abandonment of shopping cart
If a potential consumer plans to ditch their cart for shopping, then you can pop them an offer. In this way, they may not refuse your offer, and they may also increase the number of their orders.
With the advent of this Poptin to your online business, you can have the chance to generate more leads, sales, and income as well. So, make sure to showcase the right message for your customers at the right time.
With smart pop-ups, capture a higher number of leads that can be used by your business. However, always bear in mind to create a friendly popup so that you can capture the interests and attention of the visitors on your page.
Learn the essence of this platform and you will definitely attain the bottom line of your business online.
Want to start creating Commerce Cloud pop ups? Sign up now with Poptin for FREE!