If email conversions are your goal, then Mailigen is one of the top choices. Many people use it, and it focuses on email automation to save time and offer better results.
However, some people find that it's lacking with certain features, and it can get pricey when you've got more subscribers. Therefore, it doesn't scale well as you grow. If that is an issue for you, it might help to use Mailigen alternatives for your email marketing software.
We've come up with seven other Mailigen alternatives for you, and they all focus on conversions. The best way to do that is through email automation and easy-to-use software. Check them out below:
Mailigen alternatives to consider
1. Klaviyo
Klaviyo is called a hybrid email marketing software because you can also use it as a real-time engagement engine. With its impressive integration list, users can create full-on eCommerce platforms and focus on marketing with one centralized hub.
Features
With Klaviyo, you can listen to your customers and drive the growth you need. By collecting and storing the information they provide, it's easier to gain insight into what they want from you.
We also like that you have many integrations available. That means you can use third-party apps through Klaviyo, to get everything you want from one location. Plus, it's easy to personalize forms and emails to provide a better experience.

Analytics are also prevalent here. You can segment lists to organize contacts based on certain factors. Plus, there are plenty of reporting tools to see the success of your email marketing campaign. With that, automation, data science, and social advertising are all included.
Pros:
Robust email marketing tools

Easy to use

Powerful integrations
Cons:
Few customer support options

Rigid templates; not as easy to customize as some other Mailigen alternatives

Needs better workflows for advanced email automation
Pricing
The pricing for Klaviyo is based on how many contacts you have. Regardless of the number, you get all of the features available, including email and chat support.
There is a forever-free account for up to 250 contacts. 
From there, the price rises as you grow your clientele.

Who is this for?
We feel that Klaviyo works well for online businesses of all kinds, such as service providers and retailers. However, anyone who requires marketing automation can use it.
2. Mailerlite
Those who don't care about the frills and want a solid email marketing software tool may prefer Mailerlite. It's ideal for those who want to get going fast. However, it does require approval before you can use it, which can eat away at your time.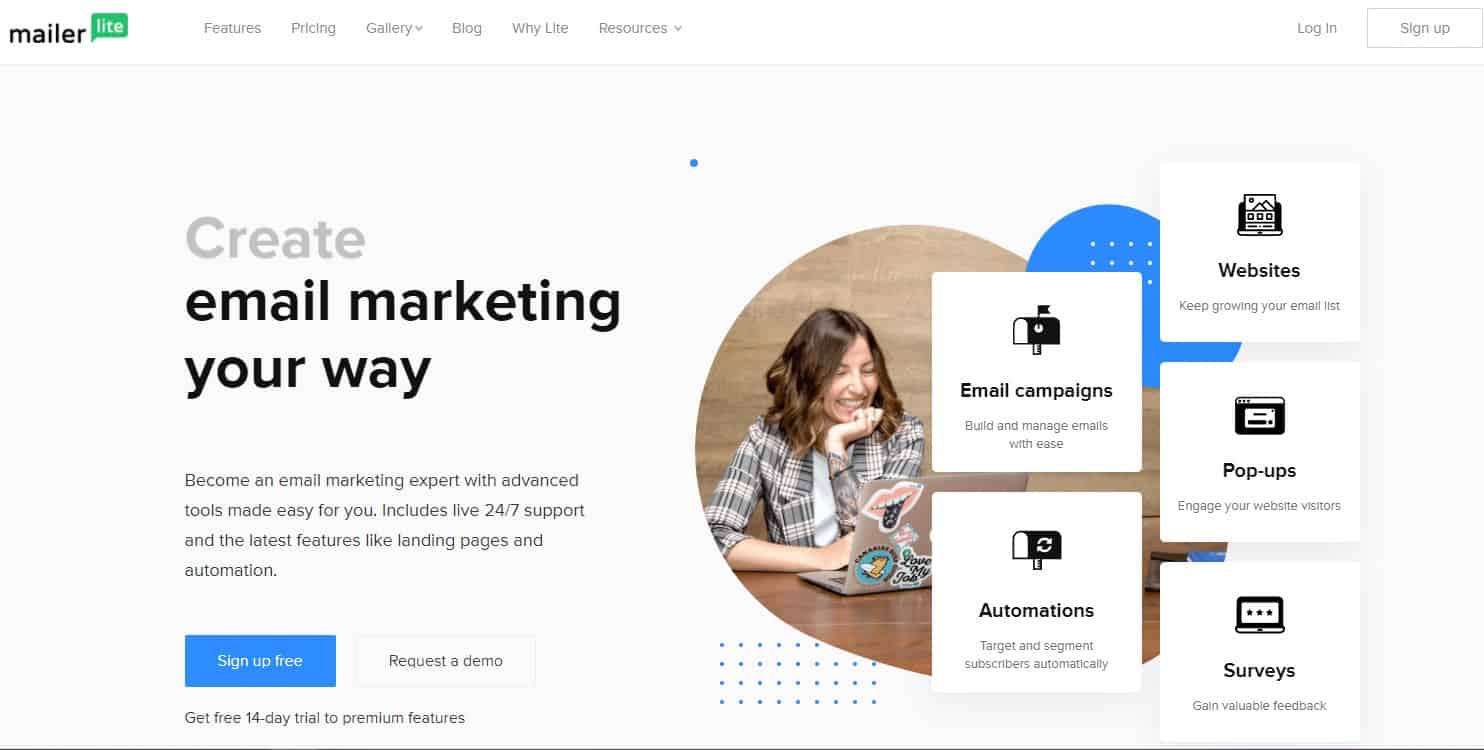 Features
There are various features to enjoy about Mailerlite, but we like how easy it is to create email marketing campaigns. You can have regular ones, A/B split versions to test different emails and auto-resent options. That way, resend messages if people didn't open them initially.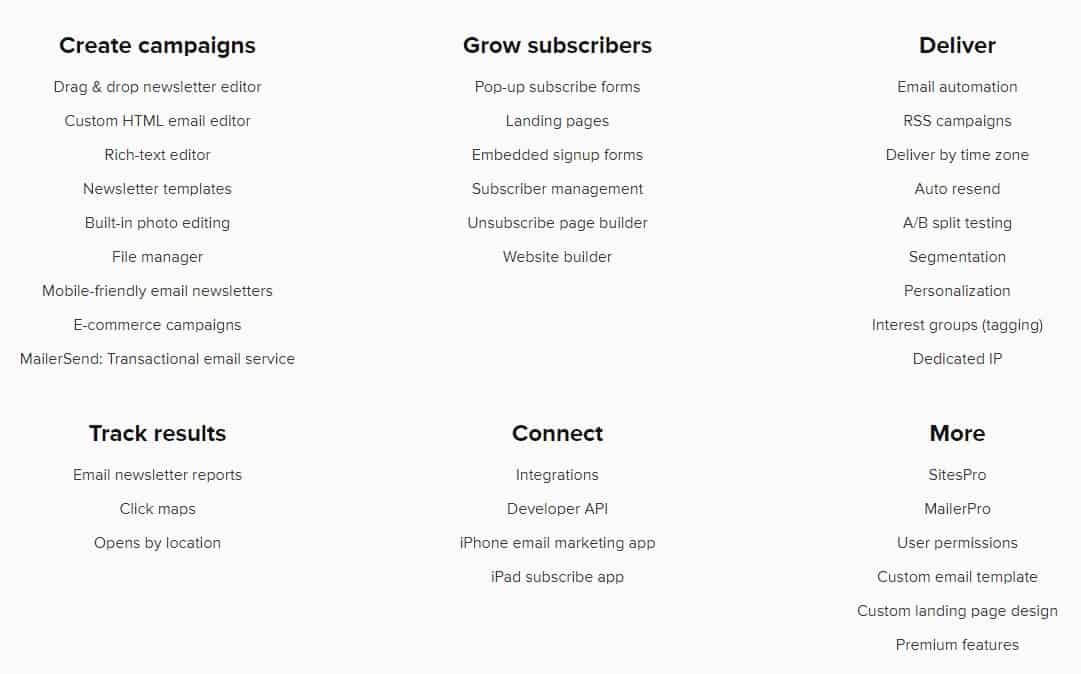 The one caveat here is that the free plan doesn't include templates. However, you have access to the drag-and-drop editor, so you can easily create your own within minutes.
It's also easy to create segments for your subscribers. That way, you only send emails to a particular group, though you can send subscriber-wide emails as needed. We also have to give Mailerlite props for its analytics feature!
Pros:
Well-organized navigation

One-sentence explanations of features

Granular segmentation
Cons:
Confusing approval process where other Mailigen alternatives don't require this

No email templates

Dated interface
Pricing
The prices for Mailerlite focus solely on how many subscribers you have. Therefore, you get all the features, even if you're using the free version right now!

Who is this for?
We feel that Mailerlite is a great tool for those who are new to email marketing. With the step-by-step approach, you always know what you're doing next.
3. SendX
SendX isn't a multi-faceted email marketing tool. You don't get tons of promotional channels and CRM functionality because it's only focused on email marketing and automation. In a sense, it's a SaaS option built for efficiency that's easy to use.
Features
There are many things to like about SendX. For example, you can send unlimited emails, regardless of your plan. You're only charged for the subscribers, and there are no hidden fees.
The goal for SendX is better deliverability. Therefore, your email campaigns are optimized based on over 30 parameters. These include time zones, domain names, past open behaviors, and more.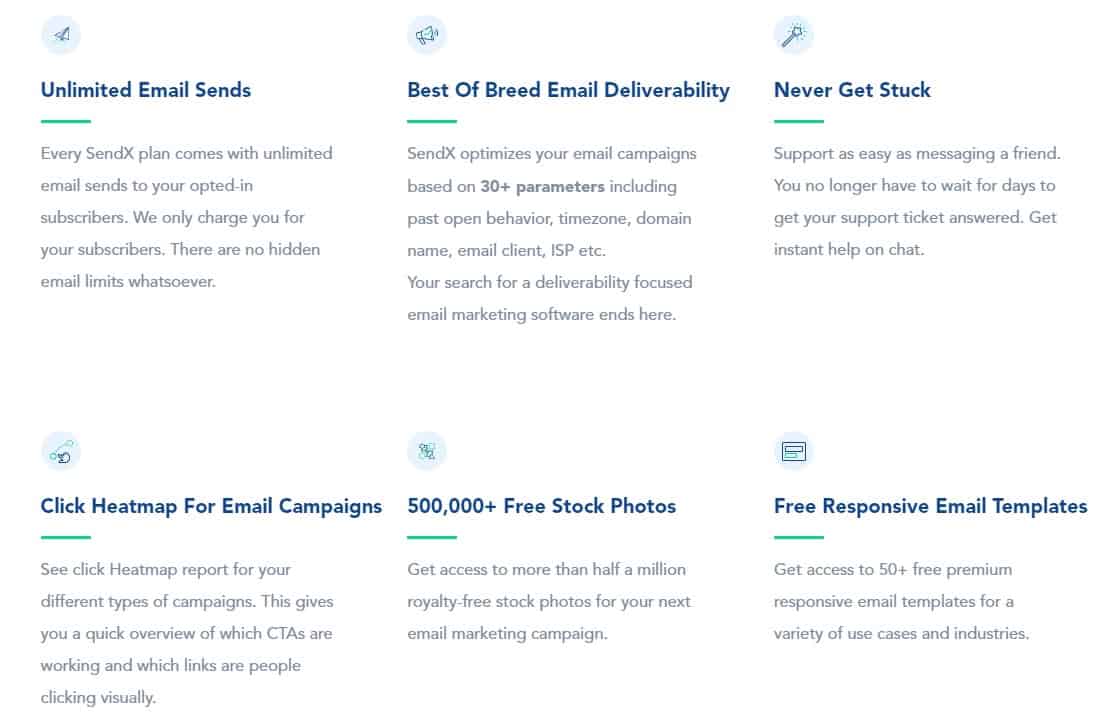 You're never stuck on what to do next, either. Support is easy and fast. Therefore, you get instant chat help whenever you need it. With that, you also have access to free email templates and tons of free stock photos. That makes your content pop!
With a Clip Heatmap on your email marketing campaigns, you can go further than ever before. See that report for different campaign types. That way, you know which calls to action are working and which links people click on.
Pros:
Great deliverability functionality

Over 50 templates with 500,000 stock photos

24/7 chat and phone support
Cons:
No funnel functionality

No CRM

Can only have 15,000 subscribers
Pricing
Prices for SendX go by the number of subscribers you have, and every feature is included.

Who is this for?
We feel that SendX is a great email marketing software for SMBs, course creators, bloggers, and digital marketers. However, it's simple and should be used that way.
4. Campaign Monitor
Campaign Monitor offers a solid feature range that's suitable for almost everyone. With an organized interface and robust functionality, you're sure to enjoy using it every day for your email marketing needs.
Features
With Campaign Monitor, you have various exciting features with many standout elements. These include tracking and personalizing transactional emails and a guided creator for autoresponders. 
To start with, though, the email monitor offers different email templates for any purpose. You also have a drag-and-drop editor to add elements and change the design. 

Subscriber management is also fairly decent. You can import them from elsewhere, customize the signup process, and so much more. 
Pros:
Organized navigation

Guidance for autoresponder creation

Transactional emails
Cons:
No live chat

No landing page builder

Only basic segmentation options
Pricing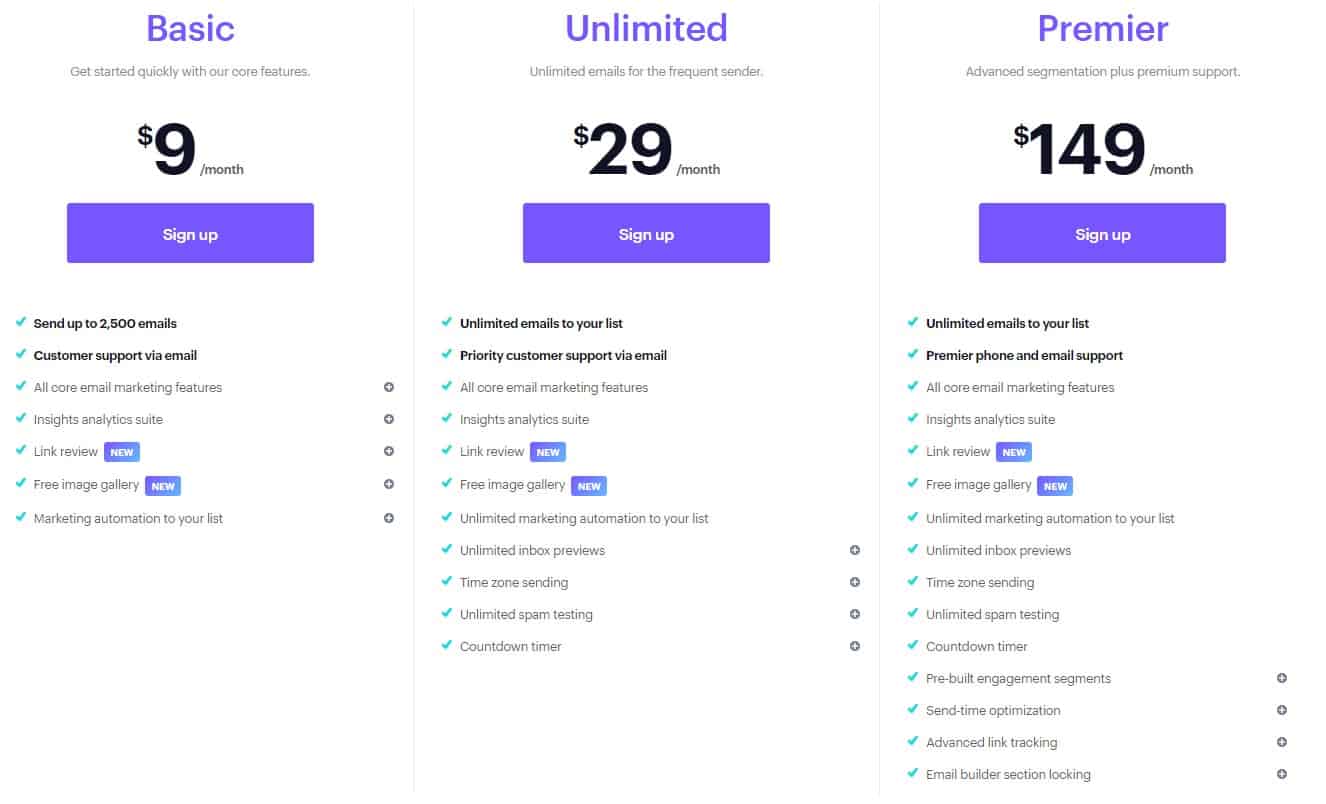 The prices for Campaign Monitor are fairly straightforward. Basic is $9 a month for 2,500 emails and email support. You also get the core features, insights analytics, free images, and a few other things.
Unlimited is next at $29 a month for unlimited emails. Here, you get the same benefits as Basic with a few more perks. These include spam testing, time zone sending, inbox previews, and a few other things.
From there, Premier is last at $149 a month for unlimited emails. Again, you get all the perks of Unlimited with a few extras like advanced link tracking and pre-built engagement segments.
Who is this for?
We feel that Campaign Monitor is ideal for all types of marketers, even if they've never used email marketing software. 
5. Sendblaster
Sendblaster is an Italy-based software company created by eDisplay and offers an excellent email marketing software solution. While other Mailigen alternatives are cloud-based, this one is downloaded straight to your computer.

Features
With SendBlaster, you get a layout editor, making it easy to create a new message. Choose your headers, footers, and other things and have something ready to go in minutes.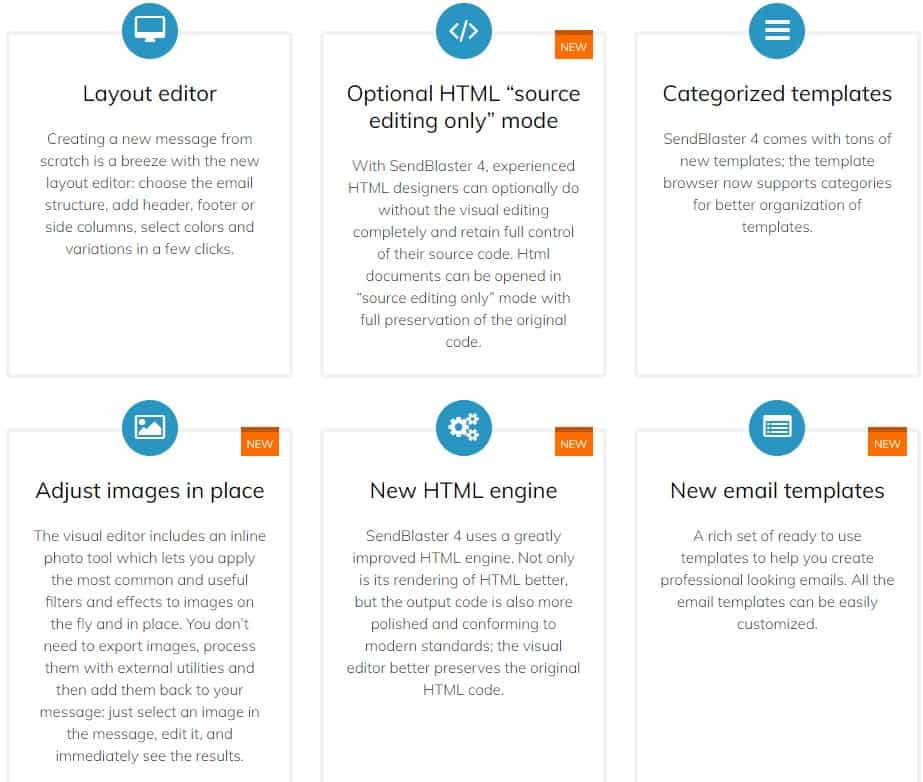 There's also HTML mode, where you can handle all of your source codes yourself. In fact, it's possible to open HTML documents with this mode and preserve the original codes.
It's also easy to categorize templates, and you have many available to use. If that weren't enough, you can change images, move content around, and so much more.
Pros:
Can create campaigns in a different editor and import to SendBlaster

Automatically processes Bounce Backs and unsubscribes email addresses

Is downloaded to your computer
Cons:
May not like downloading software and having to open it each time you create an email

Can be slow to start, depending on the operating system you use

Must pay for any updates as they become available
Pricing
Since SendBlaster is downloaded to your computer, you must purchase a license for each workstation that might need it.
For one license, it costs $129. However, you do get discounts for buying more than one. You can also upgrade your download to prevent license key loss and other issues.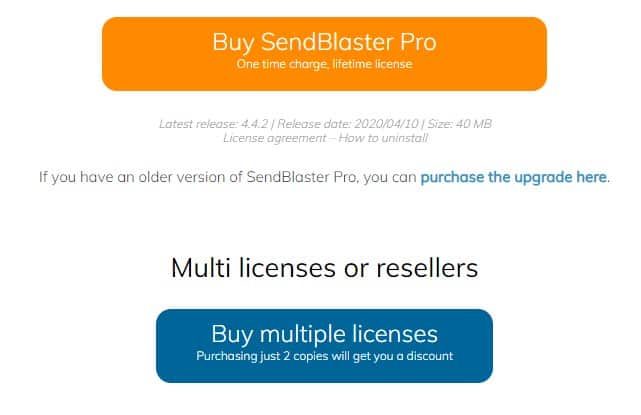 Who is this for?
We feel that SendBlaster is ideal for SMBs throughout the world. Whether you are into eCommerce or a creative, you can easily use this software.
6. MailGun
Mailgun works differently than other Mailigen alternatives on the list. In fact, it's not email marketing software; instead, you get an API to create whatever you need to do.
An API gives applications and website the ability to send emails like a regular email marketing platform.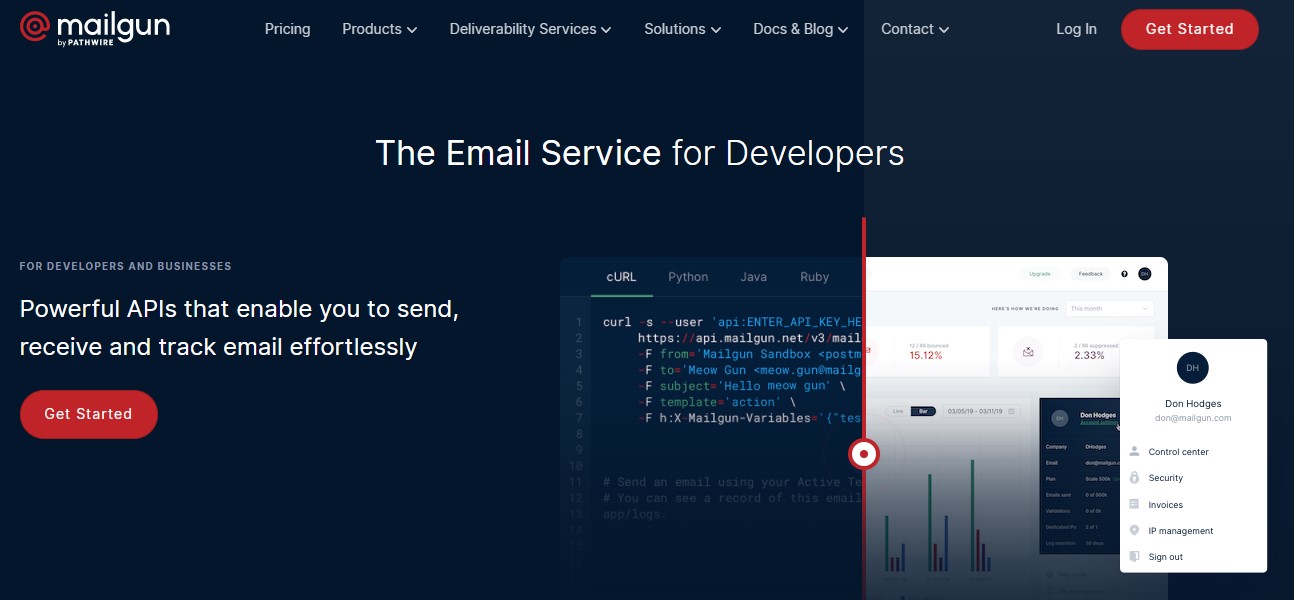 Features
Mailgun does offer transactional emails, but you get no email automation. Instead, you have to develop the software yourself so that it does what you want. Those with skill can send emails, monitor performances, and optimize them for more engagement.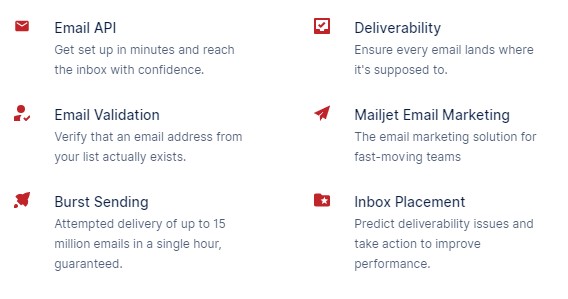 Transactional emails are automated and triggered. In effect, they're sent to a customer after an action is done on a website or app. For example, if a customer creates an account, you send them a welcome email. 
The thing with Mailgun is that you have to know programming languages, such as PHP, Ruby, or Java, to get it to work.
Pros:
Email validations included

Predictions of how well emails might do

Burst sending functionality
Cons:
Very hard to set up if you're not a programmer/developer

Doesn't contain email marketing features

Must create your own email automation and other options
Pricing
The Flex plan is free and gives you 5,000 emails a month for a full three months. From there, you just pay for what you require. It includes basic features.
Foundation is $35 a month for 50,000 emails. Here, you get Webhooks, SMTP relay, and email APIs. There are many other perks, too.
Growth costs $80 a month for 100,000 emails. There are more message and log retention time-frames, and you get address validations and placement tests.
Scale is last at $90 a month for 100,000 emails. It offers live phone and chat support, but you also have more validations and other perks.
Who is this for?
We feel that Mailgun is only suitable for developers, as you have to know coding and programming languages to do anything. It's for a specific niche of people, but it is good at what it does.
7. Activetrail
Activetrail is a comprehensive SMS and email marketing software solution. It offers a platform for companies to create, plan, and deploy campaigns over many channels. Email automation is easier and more manageable with this tool.
Features
With Activetrail, you have mobile responsive templates, marketing automation, and a landing page builder. You also have access to SMS messages, a survey tool, and many other optimization tools.
Autoresponders are prevalent, as are detailed analytics and reports. In fact, you get just about everything you could need from email marketing software.
Pros:
Easy to navigate and affordable

Many integrations offered

Great testing and optimization features
Cons:
No 24/7 support

No help for APIs and bugs

Doesn't offer eCommerce workflows without using an API
Pricing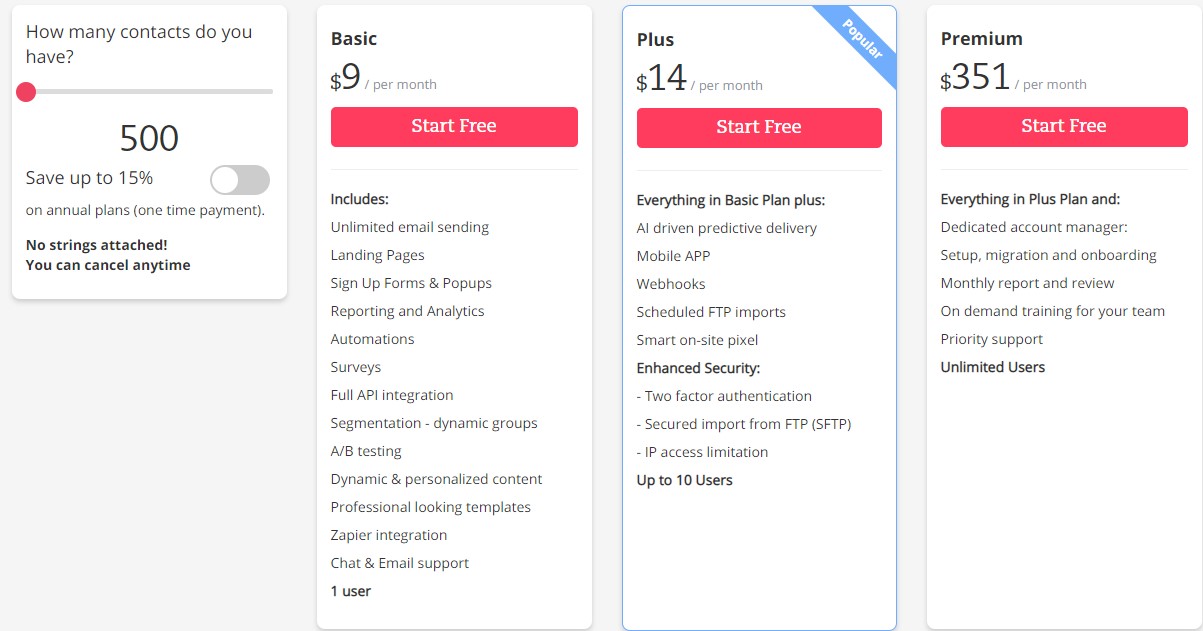 With ActiveTrail, you have three pricing plans, all with 500 contacts. Basic is $9 a month with unlimited emails, landing pages, pop-ups, signup forms, and more.
Plus is $14 a month and includes everything from Basic. With that, you get 10 users, enhanced security features, and much more. Lastly, Premium is $351 a month for unlimited users, priority support, and other advantages.
Who is this for?
We feel that Activetrail is solid for what it does and is great for various marketing professionals. However, if you need transactional or eCommerce marketing and can't program, this isn't the option for you.
Conclusion
With many Mailigen alternatives out there, it's easy to see better conversions. Our list has something for everyone, even if you're a programmer or beginner.
Now that you've read about each email marketing software solution, it's time to decide what's best for you. Most of these email marketing software options offer free trials or plans to get you started. Pick one and try it out today!