Companies send emails to help them get more business. There are many ways to get leads, and newsletter signups and email lead generation are two great options. However, there are many email marketing software choices out there, and it's important to pick the right one.
MailGun is one of many email marketing tools, but it's actually an SMTP and API service. That way, you can reach the people on your list without getting stuck in the spam folder. You have tons of options, including transactional emails and the rest.
However, it's an API, so you may have problems using it effectively if you don't know how to code. Therefore, these MailGun alternatives below might be better for you. Let's learn more about them and help you pick the right email marketing software for your business.
1. Constant Contact
Constant Contact is a great email marketing software. It offers tons of functionality and is easy to use. Plus, you get set up fast, and it provides a tailored approach for your needs.
Features
This email marketing solution helps you grow your business and reach people every day. It is ideal for e-commerce needs, and you can set up your online store and begin selling goods quickly.
It also offers options to add marketing tools to your website. That way, your business is found online. Social media marketing is also available with Instagram and Facebook integration to draw leads to your site.

Pros:
Community support available

Advanced contact management features

Intuitive user interface
Cons:
No segmentation options

Basic landing page builders

No 24/7 support
Pricing
Constant Contact offers two email marketing software solutions. The first is called Email, and it is $20 a month. With it, you can have three users, e-commerce marketing, tracking, reporting, and various templates.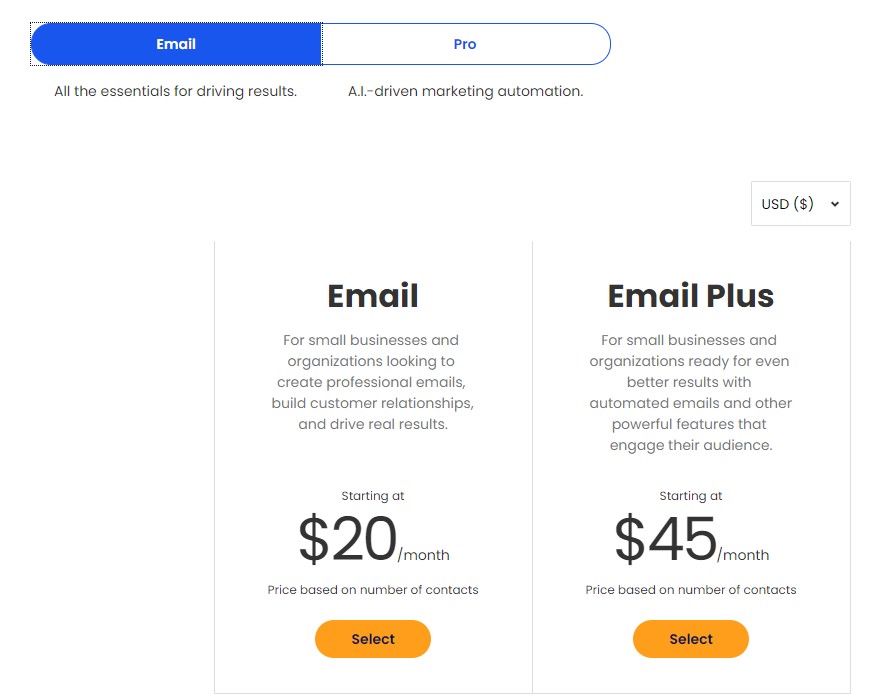 The next plan is Email Plus, and it's $40 a month. You can have up to 10 users, all the features from Email, and many more. These include RSVP options, polls, a free consultation, and coupons.
There's also a Pro solution that focuses on AI for marketing automation. It's $195 a month for 2,500 contacts. With it, you get AI optimization and automations, smart segments, and subscription preferences. These are just a few of the perks, though!
Who Is This For?
Though Constant Contact offers many advanced features, it might not be suitable for large companies because there's little segmentation. Also, it's not as cheap as some of the other MailGun alternatives, so it might be better for medium-sized companies with a bigger budget.
Good read: Constant Contact Alternatives with the Lowest Rates
2. Email Octopus
Email Octopus is a great MailGun alternative because you can easily design and launch email campaigns. It's run through the Amazon SES, and it's a powerful solution for many.

Features
There are plenty of things to like about Email Octopus. The powerful automation helps you engage with customers from the beginning. Plus, you can connect with its API and create campaigns based on specific behaviors. 
You've got 15 templates available, but there are unlimited customization capabilities. With the HTML feature, you can add custom codes to the emails you send.
In fact, there are more than 500 integrations available, so you can add and use them instantly. For example, Shopify and Amazon are top of the list!
Pros:
Great send rates

Easy to create a campaign

Free plan
Cons:
Few templates available

Integrations need work

No live training on usage
Pricing
Email Octopus is a great choice for everyone. The Starter plan is free and allows you to send 10,000 emails and have 2,500 subscribers. Though it comes with Email Octopus branding and you can only keep the reports for 30 days, it's excellent for beginners.
When you're ready to do more, Pro is $20 a month. With it, you get 50,000 emails and 5,000 subscribers. Pricing goes up with your business. However, you have full control over the design. Plus, reports are available forever, and you have priority support.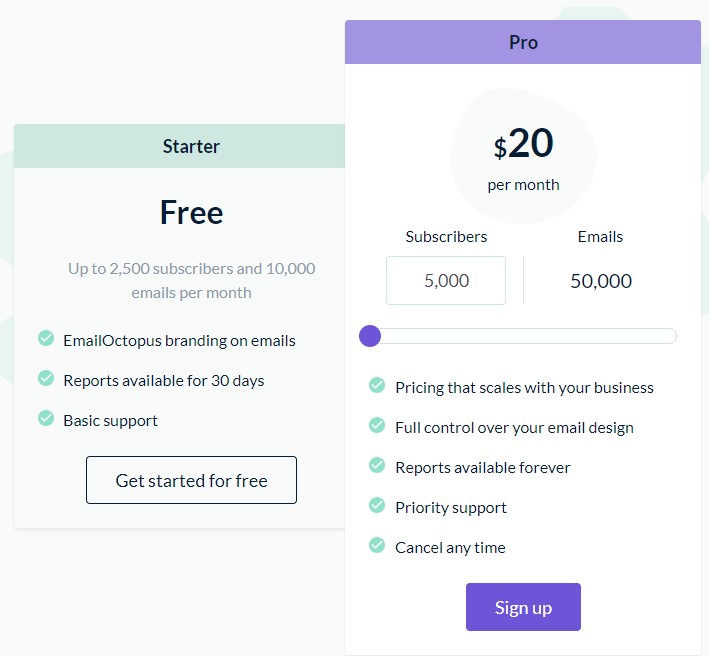 Who Is This For?
In general, Email Octopus is considered best for small companies that want to blast inboxes and get noticed. However, it might not be ideal for heavy hitters that want to send 250,000 emails or more a month because pricing can go too high without adding much value.
Good read: Grow Your Business Fast with These Email Octopus Alternatives
3. Moosend
Moosend is a great email marketing software that helps you execute your email marketing campaigns. It's similarly-priced to other options, but there are a few drawbacks.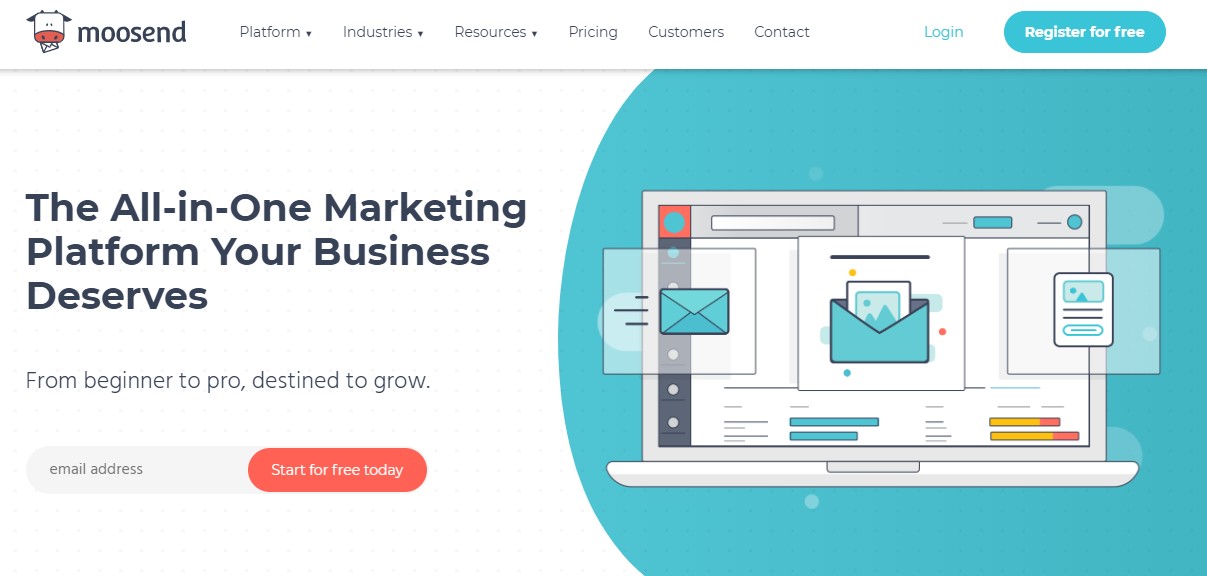 Features
When you choose Moosend, you can make it easier to create campaigns. The editor is easy to use, and you can make different options. Plus, A/B testing is included.
Marketing automation is essential for email marketing tools. With it, you can create automated workflows and get rid of repetitive tasks. That way, it's faster and easier to handle everything you do.
Pros:
Robust automation workflows

Forever free plan

Create unlimited segments and data fields
Cons:
Only offers 70 email templates

Limited support with a free plan

Few third-party integrations when compared to other MailGun alternatives
Pricing
Moosend is another great choice for MailGun alternatives. The forever-free plan gives you the core features at no cost to you. You don't have to input a credit card number, and you get reporting, analytics, unlimited emails, and subscription/signup forms.
Pro is only $10 a month and includes space for five team members. You also get an SMTP service, transactional emails, landing pages, and phone support.
Enterprise is the last choice, and it's customized based on your needs. With it, you can have 10 members, an SLA, custom reporting, and onboarding with migration services.
Who Is This For?
Primarily, Moosend focuses on SMBs to execute their marketing campaigns. Those who require automation and a free plan are sure to enjoy it. However, large companies may find it a bit limiting.
Good read: Moosend Alternatives in 2021: The 7 Best Competitors
4. Mailjet
Mailjet is considered a midmarket email marketing solution. It provides enough functionality to be viable, but it doesn't stand apart from the crowd. Ultimately, it's a go-to for many because they have no complex needs.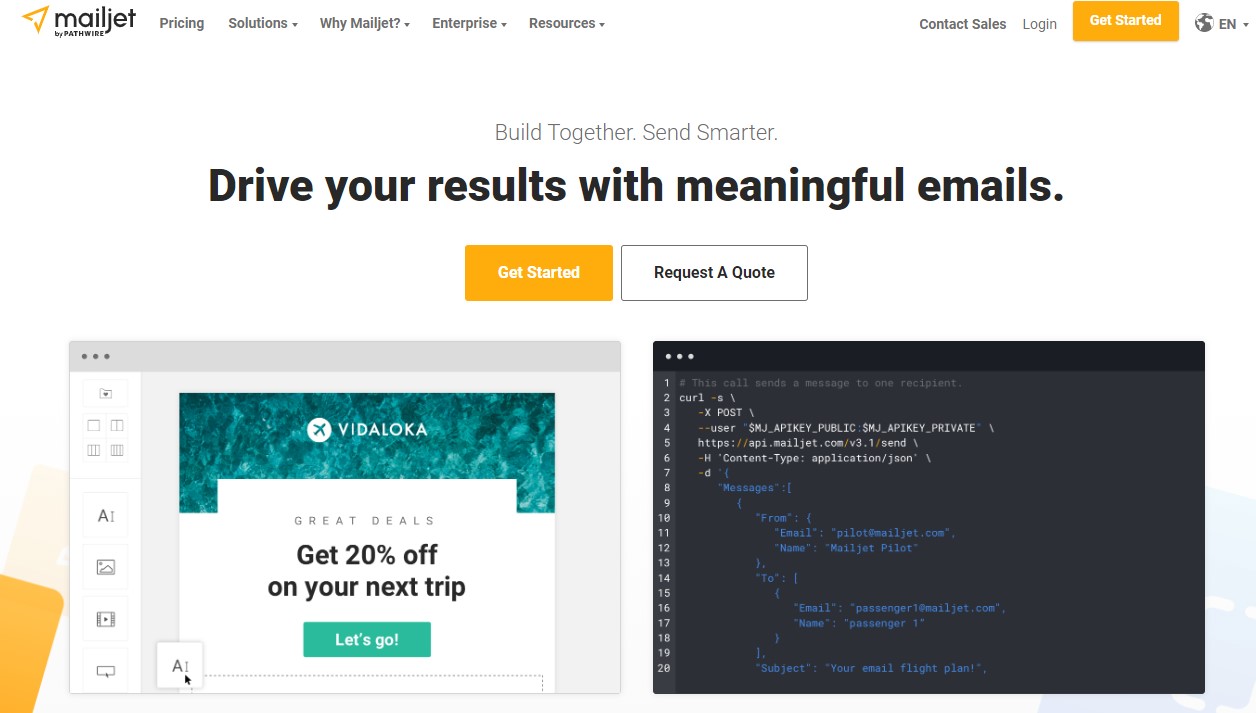 Features
When you choose Mailjet, you get an email builder that helps you focus on responsiveness. It's simple to use and creates emails in a few minutes.
Plus, there are contact management capabilities. You can grow your audience, manage them, and even segment them into specific lists.
Analytics are also available. That way, you can monitor the performances of each campaign and optimize everything. If it's not working, make a few changes and go from there!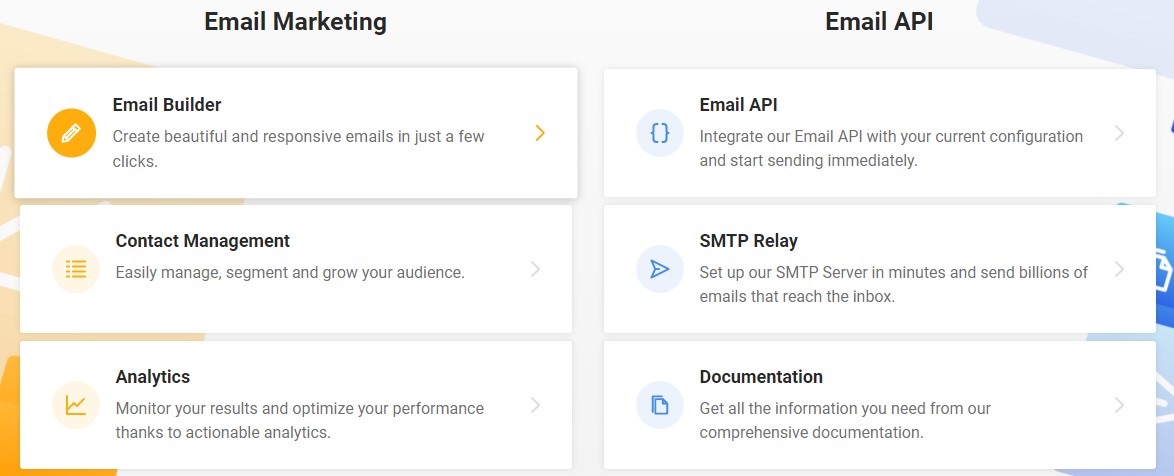 Pros:
Helpful setup guide

Collaborative email editing

Transactional email templates
Cons:
Few segmentation options

No live chat or phone support

Limited autoresponder functionality
Pricing
With Mailjet, you can choose the forever-free plan. It gives you 6,000 emails a month at 200 per day. You can have unlimited contacts, advanced statistics, and access to the email editor.
Basic is only $9.65 a month for 30,000 emails each month (and no sending limit per day). You get the free plan features, and the Mailjet logo is removed from your emails. Online support is also available.
Premium costs $20.95 a month for 30,000 emails and no sending limit. With it, you get the Basic features, segmentation, marketing automation, A/B testing, and much more.

Enterprise is also available for a custom price based on your needs. You get all the features available. This includes deliverability assistance, SLA, migration services, a dedicated account manager, and much more.
Who Is This For?
In general, Mailjet is ideal for those who need some advanced functionality without requiring tons of features. SMBs are sure to appreciate the low costs and capabilities it provides.
Good read: Mailjet Alternatives That Will Take Your Email Marketing to the Next Level
5. Reach Mail
Reach Mail is a great email marketing software option that has an excellent platform. You have detailed reports, great deliverability capabilities, and various templates to use.
Features
Ultimately, Reach Mail offers amazing email deliverability and great customer support. You can use the templates available or build emails from scratch. Plus, there are tons of drag-and-drop elements on the screen, so you can get done quicker.
It's easy to import existing email lists. That way, you don't have to do as much cleanup and organizing. Get your emails to the right people without a fuss!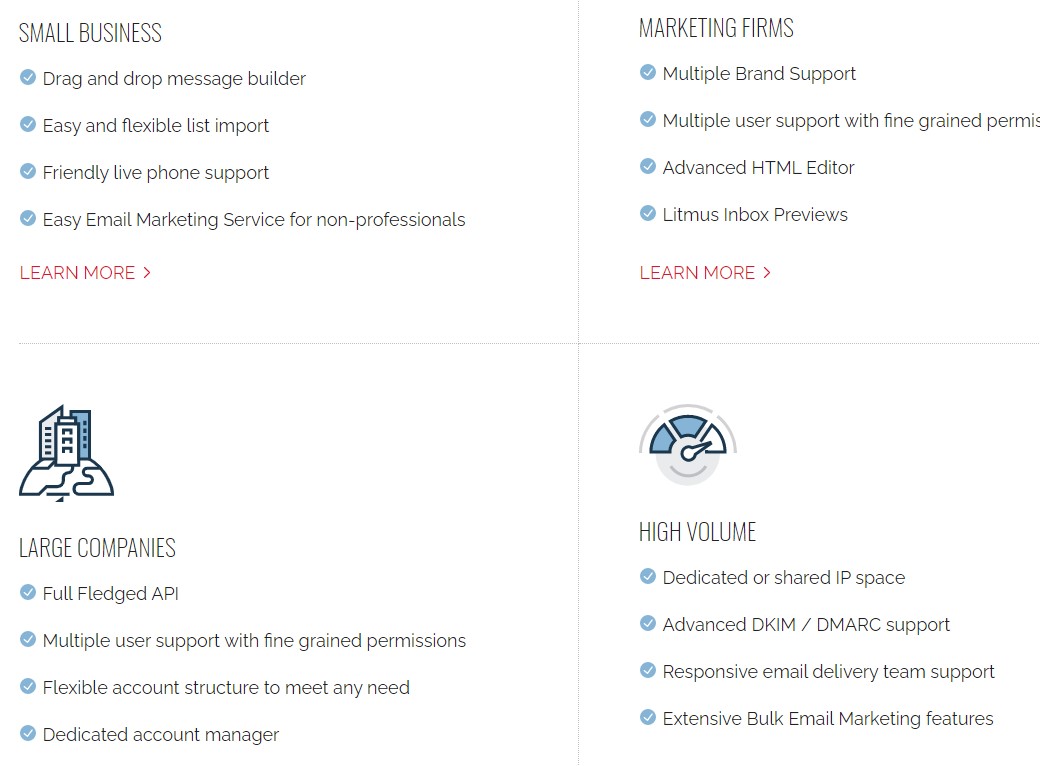 Pros:
SPAM compliance included

Powerful reporting options

Great newsletter templates
Cons:
No way to insert margins

Constrained layouts

No tutorials for beginners
Pricing
Reach Mail offers a forever-free plan. You can have 2,500 contacts and send 7,500 emails a month. You can have one signup form, one user, and 'email hygiene.'
The Basic plan allows 5,000 contacts and 12,000 emails a month for $9. You can have three signup forms, three users, 100 email hygiene credits, basic automation, and a dedicated IP.
Pro allows you to have 5,000 contacts and send 25,000 emails a month for $29. With it, you can have unlimited users and signup forms. There are 1,000 email hygiene credits, unlimited auto messages, and advanced automation.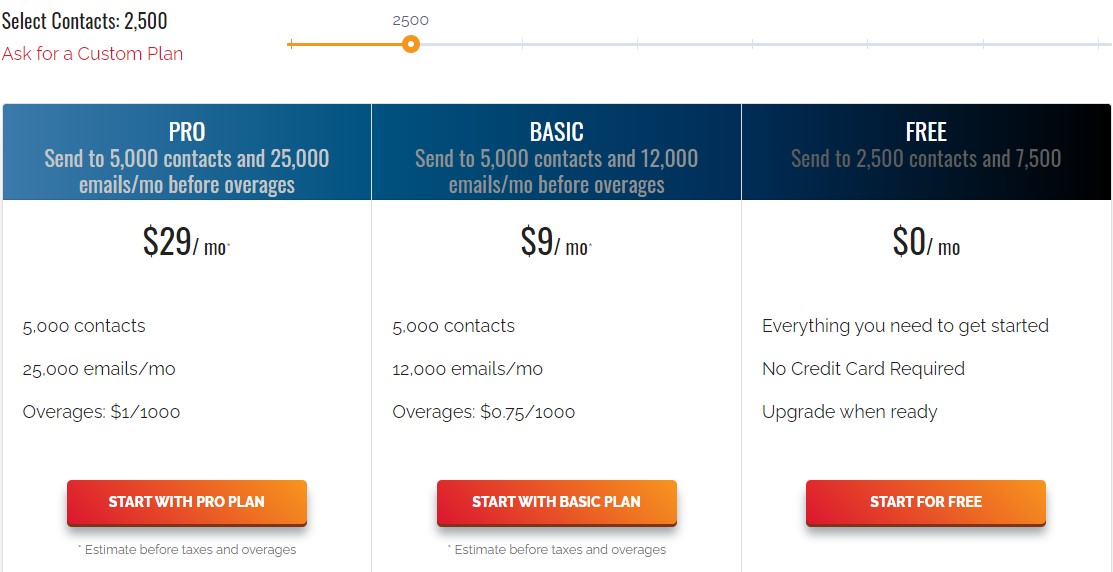 Who Is This For?
We feel that Reach Mail is suitable for almost any business. Whether you're a creative or e-commerce store owner, you can create emails quickly and track their progress.
6. SendX
SendX is a feature-rich, affordable, and intuitive email marketing software solution. When you add in the live support features and simple user interface, you're going to get the results you want with less time.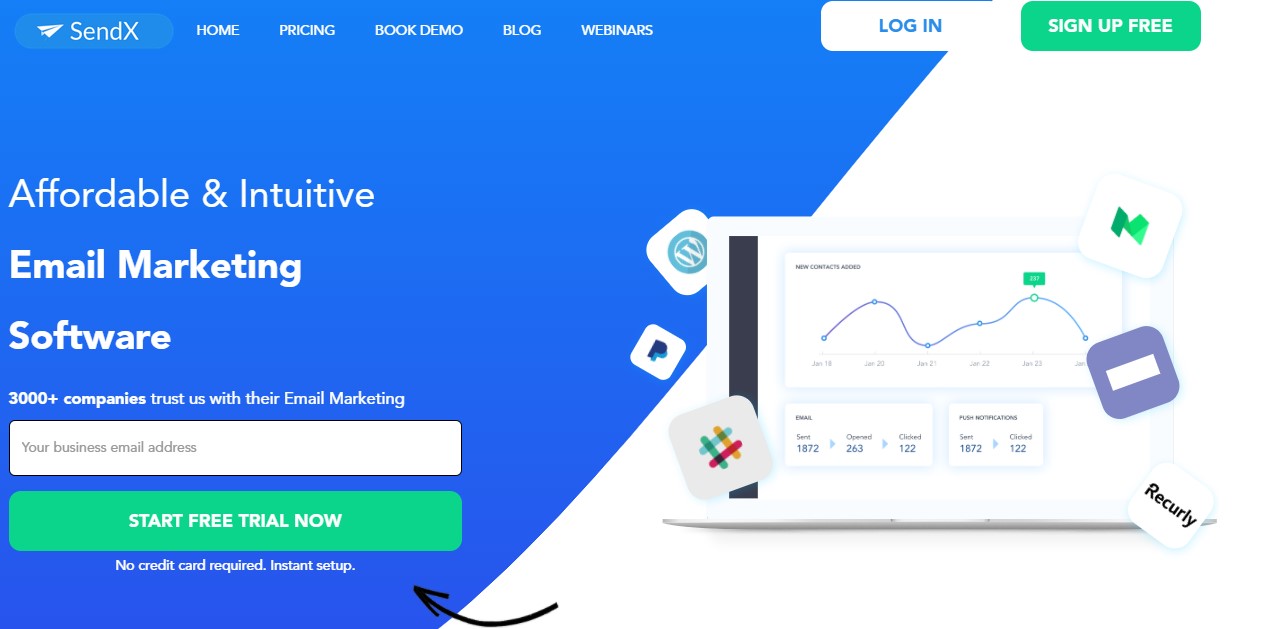 Features
When you choose SendX, you can easily create emails and campaigns. It offers a drag-and-drop editor to start building quickly. Plus, there are many email templates to speed up even more.
There's also a special feature to boost open and conversion rates. The 1-Click Resend is helpful to everyone. This smart send feature helps you optimize the campaign by sending your emails based on behaviors. They can include emails opened, links clicked, deliverability by time zone, and so much more.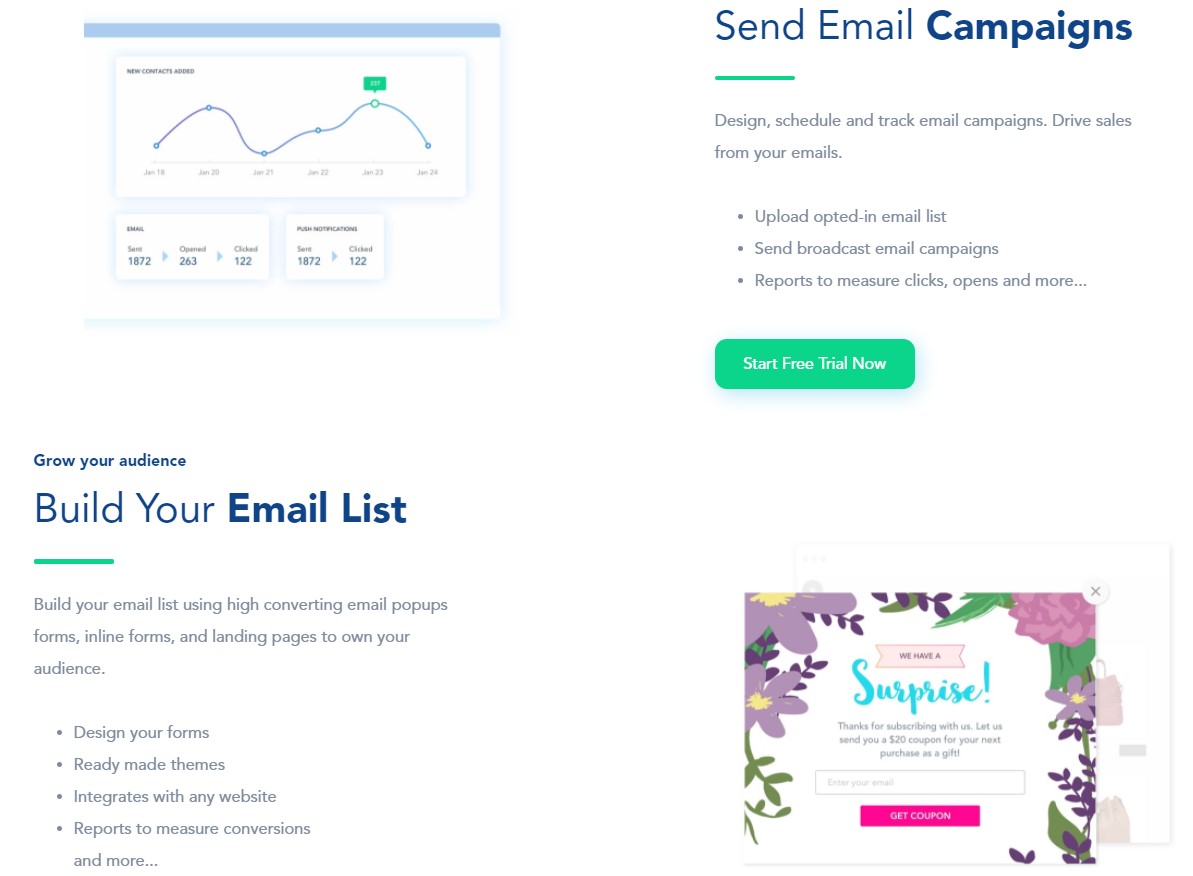 Pros:
Live chat available 24/7

Knowledge base included

Smooth migration
Cons:
Limited trial period

More needs to be done for report extraction services
Pricing
With SendX, the pricing is a bit different than with other MailGun alternatives. You are charged based on how many subscribers you have. All the features available are included with your tier level.
Pricing is:
$9.99 for 1,000 subscribers

$19.99 for 2,500 subscribers

$39.99 for 5,000 subscribers

$59.99 for 10,000 subscribers

$79.99 for 15,000 subscribers

Who Is This For?
Ultimately, SendX is great for all types of digital marketers. It can help SMBs, big companies, and anyone else. Plus, its prices are competitive, and it has tons of great features.
7. ActiveTrail
ActiveTrail is one of many intuitive email marketing solutions. You can send automatic emails, online surveys, SMS, and much more. We find that it's very comprehensive and comes in 20 languages.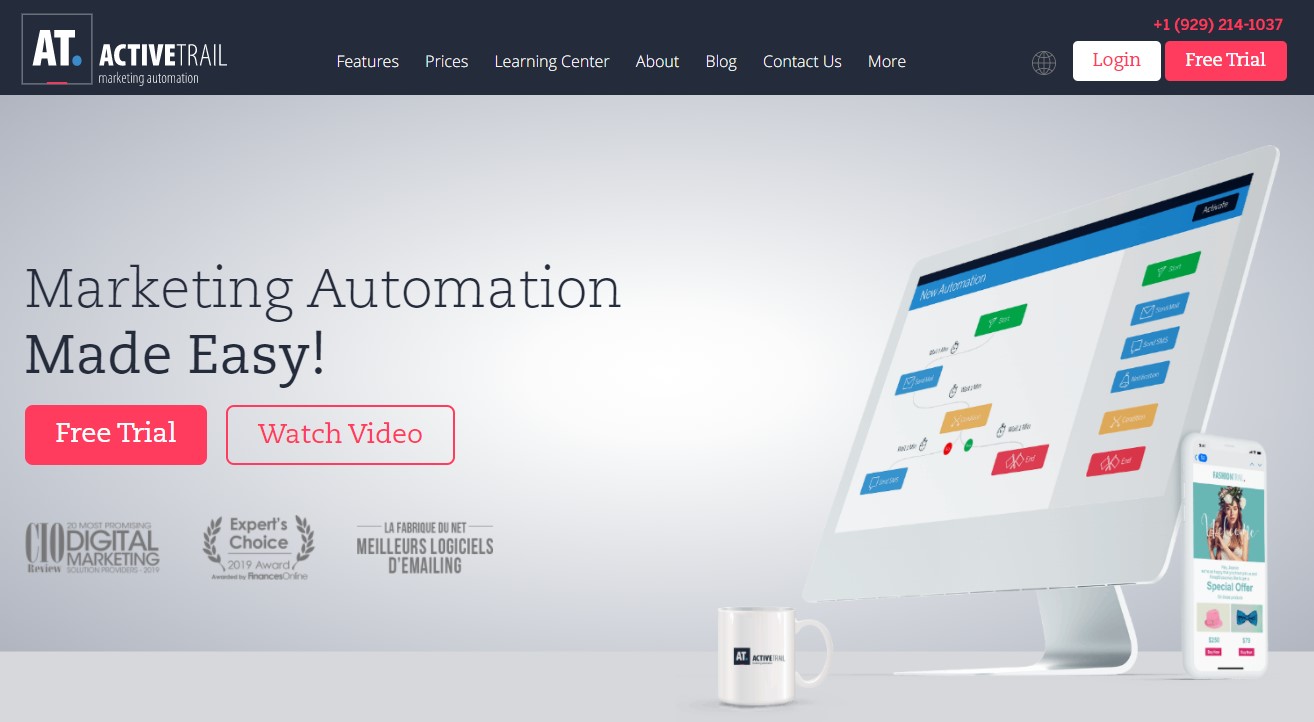 Features
You're going to appreciate the CRM or contacts section. It isn't a dedicated CRM, but it does allow you to view/edit groups, build signup forms, view contact history, and more.
It also offers various apps and integrations so that you can connect all of your tools. With the API, which is similar to MailGun, you can do even more, but you don't have to use it.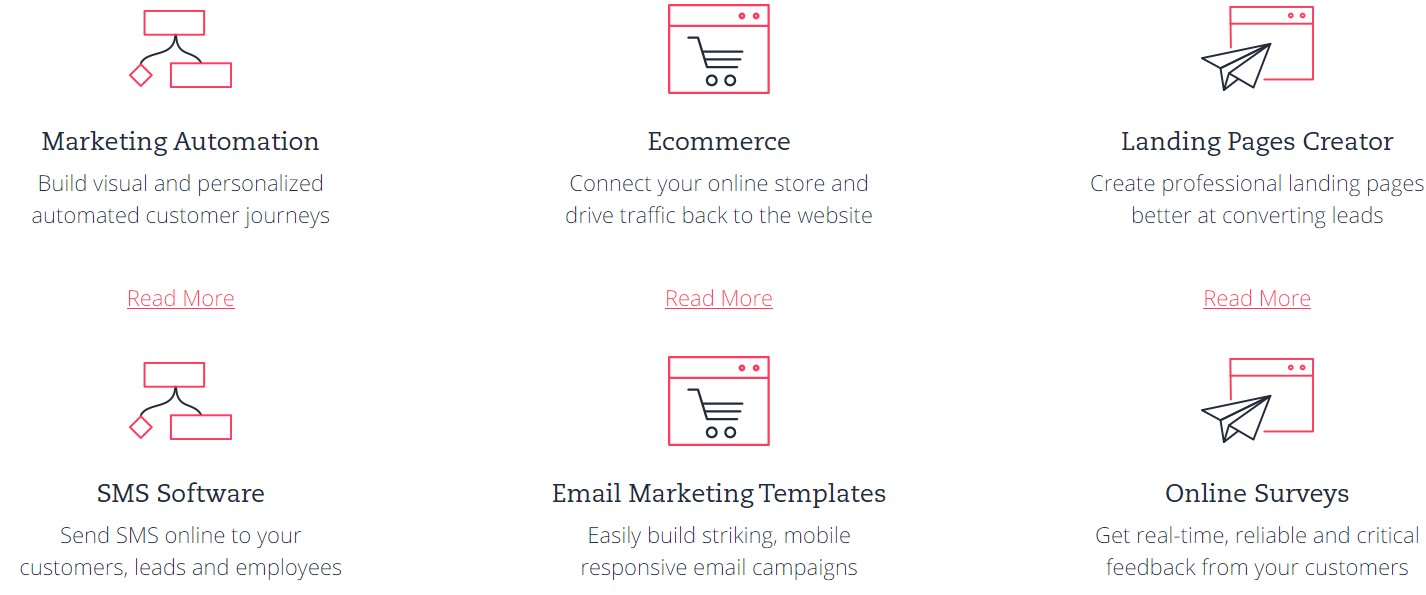 Pros:
Easy to navigate

Affordable

Relevant integrations available

Many optimizations and testing features
Cons:
Must use API for e-commerce workflows

No support to connect outside APIs and fix bugs

No 24/7 support
Pricing
With ActiveTrail, you have three plans available. Basic is $9 a month for 500 contacts. With it, you get unlimited emails, signup forms, landing pages, popups, automations, and much more.
Plus is next at $14 a month. You get everything from Basic. However, you can have 10 users, AI predictions on delivery, Webhooks, a mobile app, and enhanced security.
Premium is $351 a month for 500 contacts. You get every feature available. These include unlimited users, priority support, migration, help with setup, and a dedicated account manager.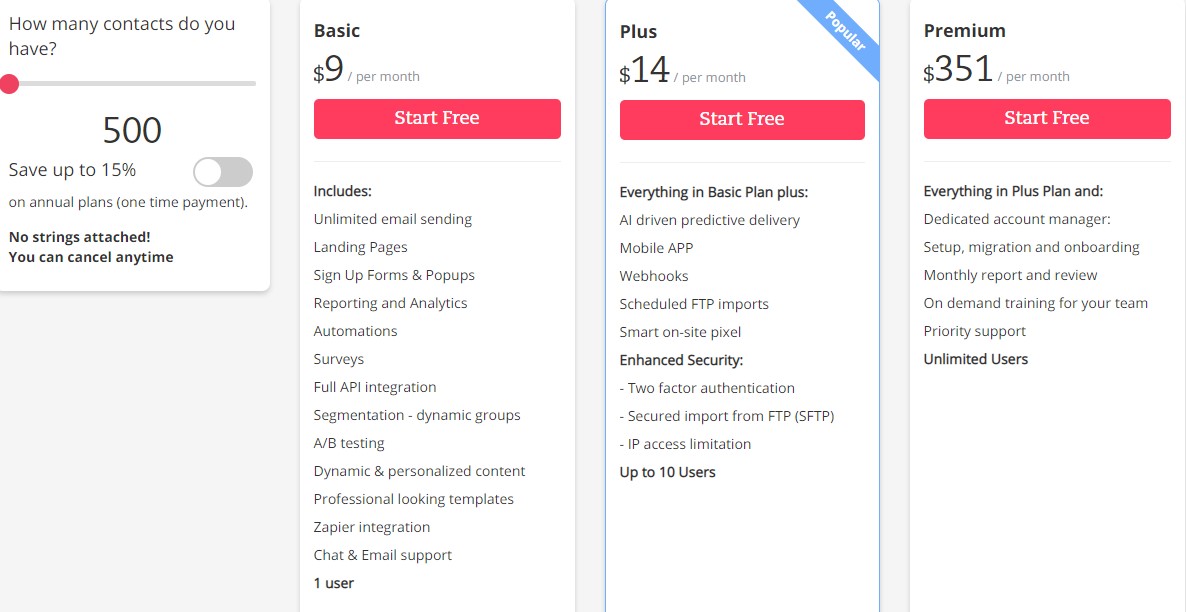 Who Is This For?
We feel that ActiveTrail is most suitable for SMBs with a heavy focus on e-commerce and powerful automation requirements.
Conclusion
Having the right email marketing software is essential. You learned that MailGun might not be the best choice because it's just an API and doesn't help you create or automate email sending. 
We also talked about the top MailGun alternatives to help you decide. Now that you've compared each one and learned more about it, you can choose the right email marketing solution for your business.
Take advantage of trial periods and forever-free plans to help you make the right choice. Whether you're a creative, small business owner, or part of a large corporation, you can find email marketing software to meet your needs.