India's eCommerce world has increased greatly in popularity over the past few years, and many business owners have done their best to make the most out of Indian holidays to maximize their eCommerce sales.
Some of the most popular Indian holidays where business owners have boosted store conversions include Diwali, Durga Puja, Holi, or Navratri. One of the best ways to boost conversions is through website pop-ups.
According to The New Indian Express, India's eCommerce sector is expected to get to USD 55 billion in sales in 2021 with up to 190 million shoppers. 2021 is a great opportunity for both eCommerce owners and clients to make the most out of holiday sales.
Read more if you want to find about how to increase your website's sales with popups during these Indian holidays!
Indian Holiday Pop Up Ideas
The "Happy Diwali" Buy1Get1 Promo
Diwali is one of the most important festivals in India, and it's celebrated with a beautiful showcase of lights throughout the territory. While the festival only lasts for five days, you can use the opportunity to promote some of your holiday sales on your website.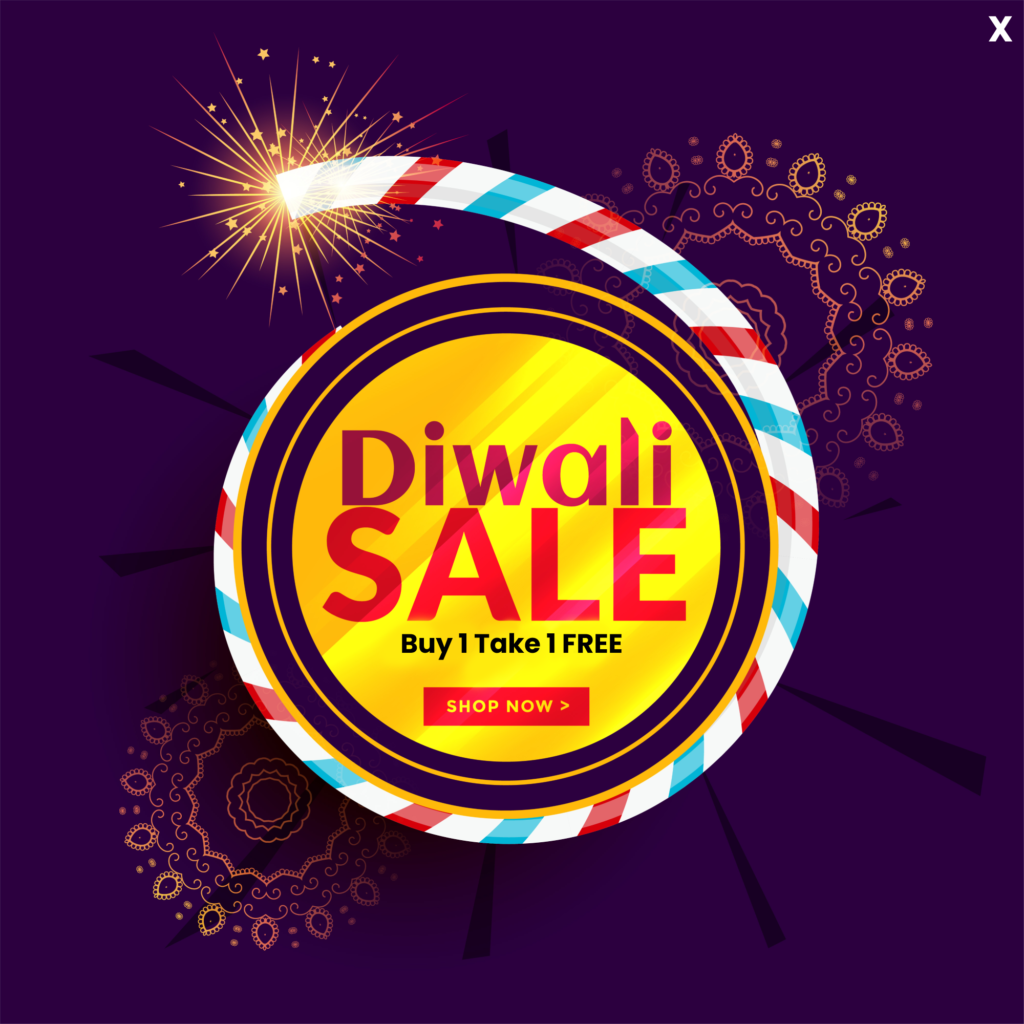 In essence, you may use holiday greetings, important facts about Diwali, and other elements related to the festival. The best thing about a website popup is that you're free to get creative with it since there are many options to choose from.
Holi Holiday Video Pop Up
Also known as the "Festival of Love" and "Festival of Colors," Holi also offers an excellent opportunity for you to showcase your website pop ups or email pop ups. Here, you can use a video popup that highlights some of the key aspects of the Holi festival.
Additionally, you may use the same video to collect your clients' email addresses and send them a free Holi gift; that way, you get people to subscribe to your email newsletter, and they also receive something in return.
Trivia Pop Ups for Gandhi Day
Gandhi's day is on October 2nd, and there, people celebrate the birth anniversary of Mahatma Gandhi. One of the best things you can do here is to create a poll or a quiz about Gandhi.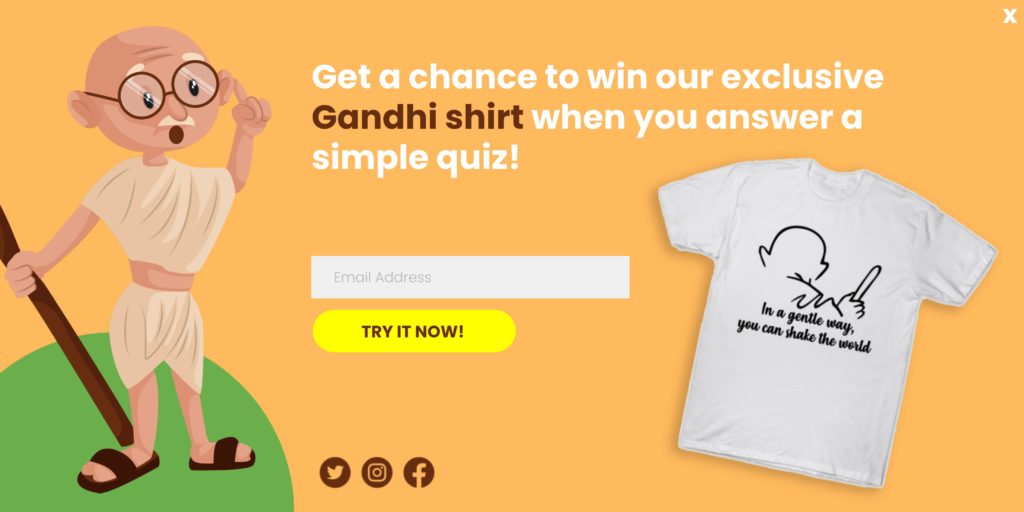 You may offer a reward for those who get all the questions in the quiz right; these rewards can be discounts. More often than not, creating a sense of urgency for your clients by adding countdown pop ups also helps in conversions.
Another approach is to promote your holiday merchandise to gain more brand awareness and traction.
Independence Day Top/Bottom Ads
Some business owners prefer not to interrupt their clients' browsing experience, and that's normal. In these cases, you may create top/bottom bars where you showcase limited sales for holidays. Moreover, you can add an exclusive button to take people to your "Sales" page.
India's Independence Day is annually on August 15th. Once the date is closer, you may start including these popups to boost store conversions and interactions.
Early Email Signups
Finally, you may make things easier for you and create an email pop up so that your potential clients can get a notification once any holiday sales begin. In essence, these people are going to be the first to know about any sales you're having on a coming holiday, which is excellent for them.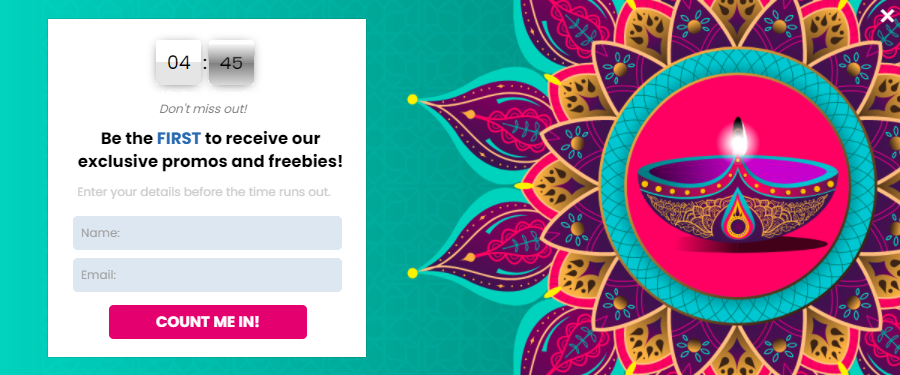 You can program these popups to appear when any user visits the page or searches for your "Sales" page.
How to Create Your Holiday Pop Ups with Poptin
Poptin is one of the best platforms where you can create your pop ups for Indian holidays. The best part about Poptin is that making any popup type is fairly easy, and you may get them ready in a couple of minutes.
Once you create an account at Poptin, all you have to do is to go on the "Dashboard" choose a pop up template that fits your needs and fill out all the information you want to appear on the pop-up.
You can integrate Poptin with other services you're currently using to manage your store's pop ups and conversion statistics, so make sure to get creative with the service.
Wrap Up
Indian holidays are excellent events for you to boost your store's conversions through popups. In essence, you may use Poptin for any of the following:
Website pop ups and forms
Email popups
Countdown popups
And more!
All you have to do to begin is choose which pop-up type feels most appropriate for the event and work from there.
What's Next?
If you want to make the most out of your eCommerce tools, you may also create some engaging elements for your website, such as the following:
Newsletters
Social Media posts
Event countdowns
Stylish home page designs
On the other hand, if you're looking to create engaging pop ups for your website, Poptin has always proven to be one of the best choices out there. Make sure to create your Indian holiday pop ups for free with Poptin here!