When maintaining an online business and a particular marketing strategy of the same, a measure of the overall profitability of email marketing is crucial.
Email marketing is a complex task that aims to promote products or services sold by a particular brand but also to maintain relationships with the customers and spread brand awareness.
So, no wonder it is given such importance.
Return on investment (ROI) is essential to track because when online marketers, for example, invest in something, they also want to be aware of how much it has paid off in terms of the overall success of their business.
Today, there are certain tools intended for this purpose, so you no longer have to think about that and waste your time.
If you want to know where you stand in terms of business, take advantage of these 4 best email marketing tools to track ROI, and do it right away!
Poptin is primarily a tool whose main goal is the greater and better conversion of visitors into customers.
As such, it offers many interesting forms for your website such as engaging pop-ups, embedded forms, and an amazing autoresponder to help you send automatic messages to your subscribers and increase sales.
By using its autoresponder, you can create beautifully designed email templates and you can do it easily, with minimal effort.
You can also use the library and take one of the different "Thank You" or "Welcome" forms that they offer to engage your customers.
If you want to customize your email, with the help of its user-friendly editor, you can add or remove images, links, change fonts, colours, and make it completely appropriate and in line with your brand.
Using useful metrics, you can accurately observe the behaviour of your subscribers and always know how many of them opened your email, what is their reaction, whether they took any action like clicking on a link, and more.
By personalizing your emails, you automatically boost the open rate, and as everything is automated, the whole process of increasing the number of customers is much faster.
First, you need to pay attention to the following:
How many people are opening your emails

How many people are reading your email content

How many people are clicking on your email content
When it comes to ROI, these factors are very important because they allow you to more easily calculate how much each segment of the conversion is worth.
By personalizing the emails themselves and using first names, you are simultaneously working on strengthening relationships with your customers and thus creating a loyal base.
Offered features:
Intuitive editor

Great customization options

Templates library

Important metrics

Automatization

Personalization

High ROI
Pricing: Poptin is a tool that offers both monthly and annual subscriptions. It also offers a free plan, but you can later upgrade on some of the paid plans, for example, the Basic plan costs $19 per month and other plans with various features can be seen in the table below.

2. MailChimp
The second email marketing tool that we are going to mention is MailChimp.
Primarily, MailChimp can help you create beautiful emails that you can brand and stand out as a true professional in a large number of competitors.
If you decide to invest in email marketing, this app is a good choice as it offers a lot of useful features.
You can use their pre-made templates and drag and drop builder to create amazing and engaging emails for your email campaigns.
Source: MailChimp
With its user-friendly drag and drop builder, you can upload images, links to files, add text, edit styles, and rearrange any relevant content element to make your email look as you envisioned it.
This builder also has its own content library which means that you can store all your files in one place and use them whenever you want.
Also, you can select a particular template from the templates MailChimp offers that you want to use according to your business goal.
Whether you want to promote your products, share details about sales or some event, or send a newsletter to your subscribers to let them know about the latest news about your brand, these emails are the right tool for that.
When it comes to ROI, with this app, you will be able to:
See the value of your email campaigns

See the value of your online marketing campaigns for your business
It allows you to increase your open rates with their automated emails and track your customers through their whole customer journey and lead them, step by step.
Analytics enables you to see which tactics should be left and which should be changed when it comes to your email campaigns.
This built-in tool helps you better understand your audience and their needs by monitoring their activities, tracking open rates, clicks, and similar.
With detailed reports, you can monitor ROI, that is, find out which customer opened your email, read it, made a purchase, checked what they bought, and, of course, how much money you earned by using that particular email campaign.
Offered features:
Drag and drop builder

Customization options

Content library

Templates

Automatization

Responsiveness

Personalization

ROI monitoring
Pricing: This app offers a free plan but besides that, there are a few paid packages that you can choose from starting at $9.99 per month.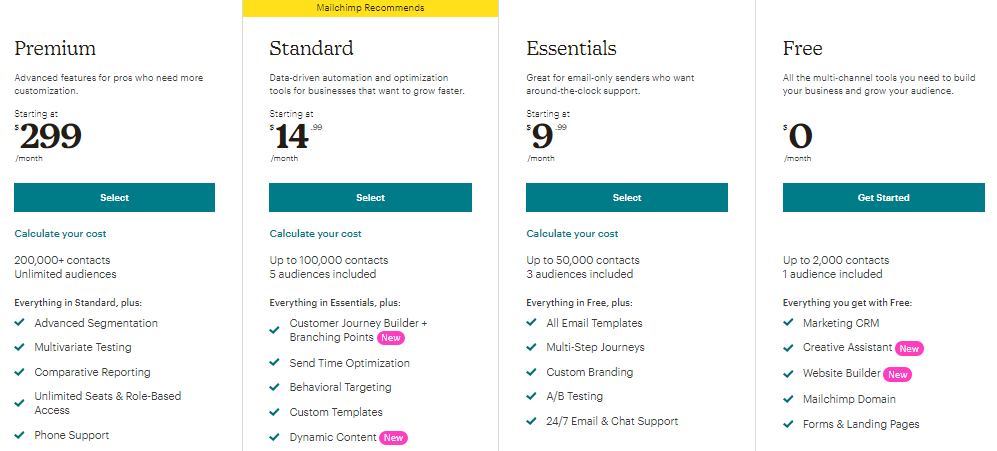 3. Omnisend
Omnisend is another app that deals with email marketing and automatization of processes in order to help you increase your conversion rates more efficiently.
It is intended for both small and medium businesses but it can help anyone who wants to increase engagement and create highly-efficient email campaigns.
Omnisend helps you save time with pre-built templates, subject lines, and more, so you can start with your work immediately and automate every segment of the process.
You can use friendly emails to welcome your subscribers, reach out to those who intended to leave a shopping cart without making a purchase, create order confirmation emails, or recommend similar products.
A/B testing helps you learn what kind of email strategies work best and which type of design, for example, best suits your customers' sensibility.
With its drag and drop content editor, you will be able to create and edit beautiful emails for your campaigns.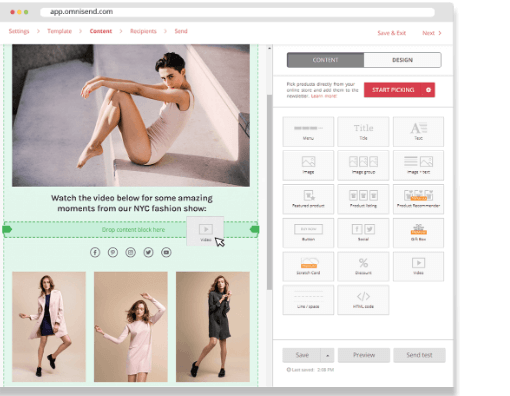 You can send newsletters to your subscribers and use this drag and drop editor to customize your emails according to your needs by adding images, menus, or edit design settings and you can do it all without any coding skills.
Also, you can add coupon codes to increase sales and provide your customers with some added value.
By using advanced reporting, you can see which are your best performing emails and thus continue using them to your advance.
With its ability to provide the multi-channel customer journey option, Omnisend allows you to track all the purchases which allow you to then compare the revenue of your campaigns.
This enables you to keep track of your ROI which is also shown right on the dashboard.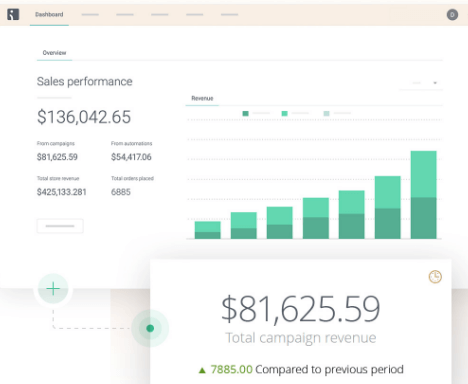 Offered features:
Content editor

Ready-made templates

Customization

Comprehensive reports

Insights

ROI tracking
Pricing: There is a free plan, but you can also upgrade to some of the paid packages if you want to be able to use some additional features.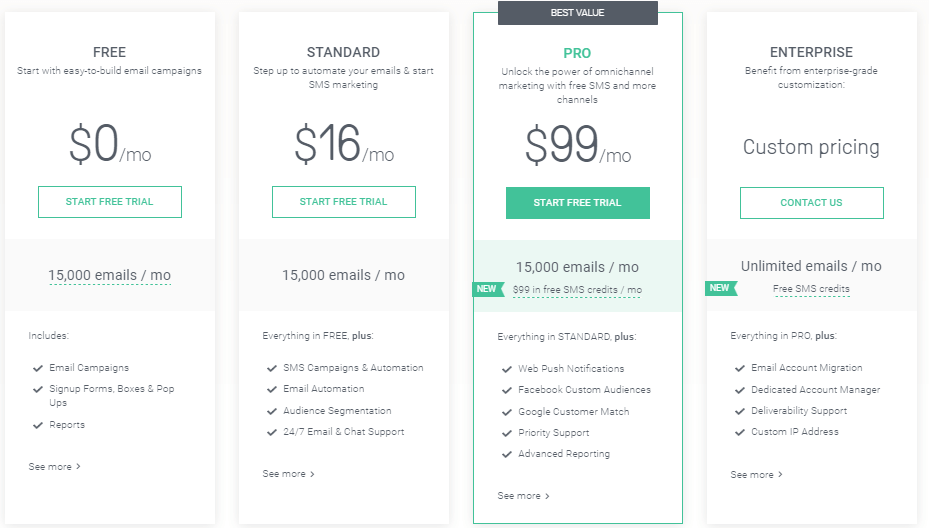 4. SendPulse
SendPulse is an app that has a very popular and efficient email marketing feature.
Based on the trigger and behavioural-tracking options, you can set your email campaigns and send your emails automatically at the right moment for your customers.
Without any coding skill, you will be able to create amazing emails by using a simple but effective drag and drop editor.
To customize your responsive emails, you can add or remove certain elements like images, videos, text, and change fonts, sizes, colours according to your brand style.
You can also use very attractive templates from the templates library and save some time.
Include trigger emails to remind your customers that they didn't complete their purchase or to ask them to share their experiences with you which strengthens your relationship and thus affects the growth of sales.
You can improve your results by using reports and in-depth analytics, and A/B testing to test and compare your emails to see which version is the best.
This app offers the option to analyze your subscribers' activities and keep track of the open rate and click rate, which is especially important for your ROI.
Source: SendPulse
You will be able to see the number of:
Opens

Clicks

Unsubscribed visitors

Errors noted
Besides that, there are various statistics and visual graphs to help you monitor your subscribers' activities and thus increase your chances of getting more sales in future.
Offered features:
Drag and drop editor

Customization options

Templates library

Personalization

Statistics

Analytics

A/B testing

ROI tracking
Pricing: There is a monthly subscription for email pricing that is free and it includes 1-500 subscribers. After that, you can upgrade to more and more subscribers and if you want to use some additional options, costs start from $6.4.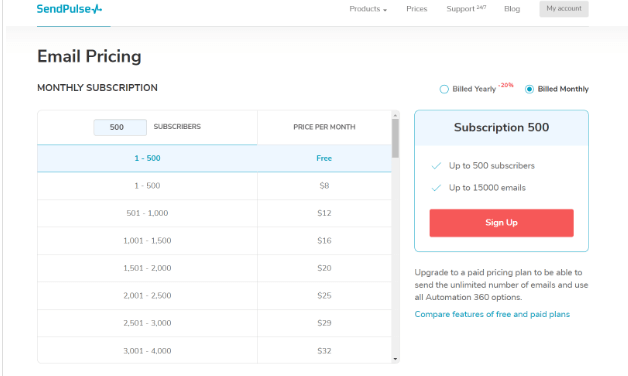 5. Retainful
Retainful is a simple-to-use Email marketing automation tool built to help you engage with your customers throughout their journey.
Send the right emails at the right time automatically. It is like having someone else do the work for you while you can focus on your core business.
If you are looking to switch from tedious manual email marketing to automation then Retainful is the one you need to save time and increase sales.
You can take control of your customer's journey completely. Build personalized email paths using our Customer journey builder and offer customized experiences based on the actions they perform in your store.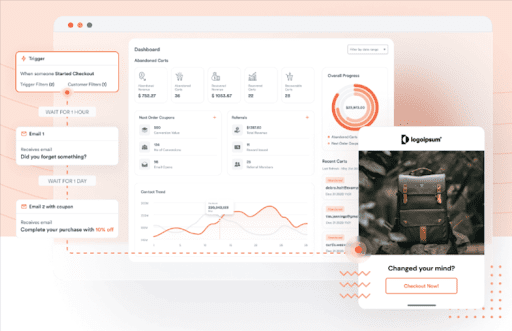 You don't need to start from scratch. The main goal of Retainful is to save time, so we have included pre-built automation workflows to help you get started with automation within minutes. 
You can use Pre-built automation templates to build your automation campaign and launch it to send automated emails. With Retainful, you can automatically send,
Abandoned Cart emails

Order Follow up emails

Thank you emails

Win back emails

Welcome emails
There are pre-built workflows available for all these email automation. If you still want to edit pre-built workflows, you can easily do it using the Customer journey builder.
You can visualize your customer's journey and build personalized conversion paths using our Customer journey builder. Trigger rules, Customer rules & Exit conditions are available to initiate & terminate your automation.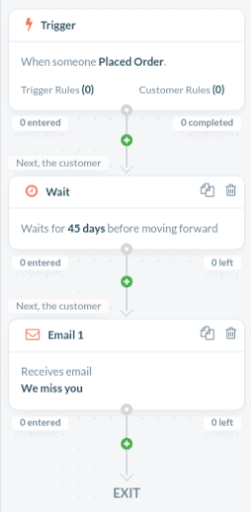 Send customers in different email paths using path splits available in the Customer journey builder. This will help you to avoid sending the same emails to customers.
Retainful comes with a simple Drag & Drop email editor that lets you customize every aspect of your email. Customize your emails to make them look convincing and increase your conversions.
You don't need any coding knowledge to edit emails using the Drag & Drop email editor. You can also personalize your emails using shortcodes to increase email open rates.
But the most exciting thing about Retainful is the Dynamic coupon codes. Generate dynamic coupons and include them in your automated emails and drive repeated sales in your store.
You can offer Fixed amount, Percentage & Free shipping discounts via coupons. This is the easiest way to retain customers, make sure you don't miss it out.
Features
Customer journey builder

Pre-built automation workflow templates

Drag & Drop email editor

Dynamic coupon codes

Customization & Personalization

Real-time analytics

Pre-built email templates

Email metrics

Referral rewards

Next order coupons
Pricing
The free version is available. You can purchase the paid versions if you want to unlock all the features of Retainful.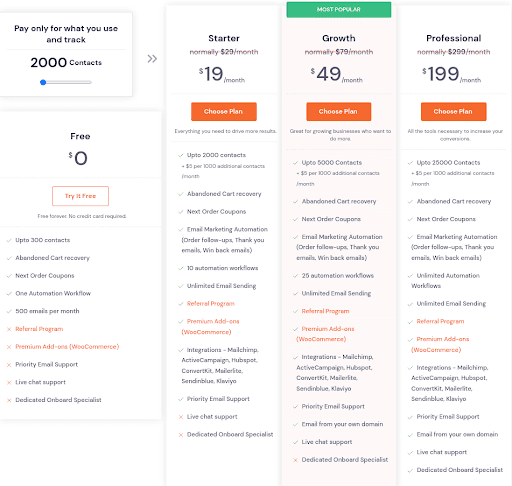 The Bottom Line
To know exactly how your online business is progressing and whether it is progressing at all, it is important to follow all the statistics related to your customers' behaviour.
It can often happen that you are not sure about your success and what your customers think about your brand, so it is best to use certain tools that allow you to find out everything that is relevant.
Email marketing has proven to be essential because customers need constant attention. When you build an email list, it brings you a higher ROI, which is a key item for any business.
One of the tools that offer many different features for creating efficient email campaigns is Poptin autoresponder. It allows you to create beautiful, responsive emails for your email campaigns and to do it effortlessly.
Today, there are numerous email marketing tools that can help you boost your sales, so try out some of these 4 best email marketing tools to track ROI and see for yourself!