Email marketing is highly popular for all businesses, and Automizely might be one you've come across when searching. This eCommerce-focused company considers automation tools for those in the online retail business and offers various features. They include shipping software, tracking solutions, and many more.
However, you may find that this email marketing software isn't for you. Though it's relatively inexpensive, it might not have some of the email marketing tools you require. Therefore, here is a list of Automizely alternatives to help with your email automation needs:
Omnisend launched in 2014 in Lithuania and was originally called Soundest. In that short period of time, it's come a long way to help over 50,000 eCommerce brands. This email marketing software specializes in eCommerce, which makes it one of the top Automizely alternatives.
Features
Since it positions itself as an eCommerce platform for email marketing, Omnisend caters to online stores of all sizes. It offers various in-built templates to help you create a personalized email.
With that, you have tons of email automation features to send email and segment subscribers into lists. Plus, the platform integrates with Facebook Messenger and various SMS marketing campaigns.

Pros:
Centered on eCommerce needs

Offers forever-free plan

Includes tons of automation

Provides sales tracking for push notifications, SMS, and email
Cons:
No advanced tracking available

Deliverability concerns

Few integrations

No multi-language feature
Pricing
The forever-free account from Omniend allows for 15,000 emails a month. With it, you receive sales and performance reports, signup forms, email campaigns, customer analytics, and segmentation.
Standard is next at $16 for 15,000 emails a month. You get more perks, such as A/B testing, international SMS, pre-built workflows, and 24/7 support.
If you need more, Pro is $99 a month for 15,000 emails and free SMS credits. More features are unlocked, including audience sync for Google and Facebook, advanced reporting, web push notifications, and more.
Enterprise is a custom plan based on your needs and comes with unlimited SMS credits and emails. Along with that, you get deliverability support, a custom IP address, and help with migration.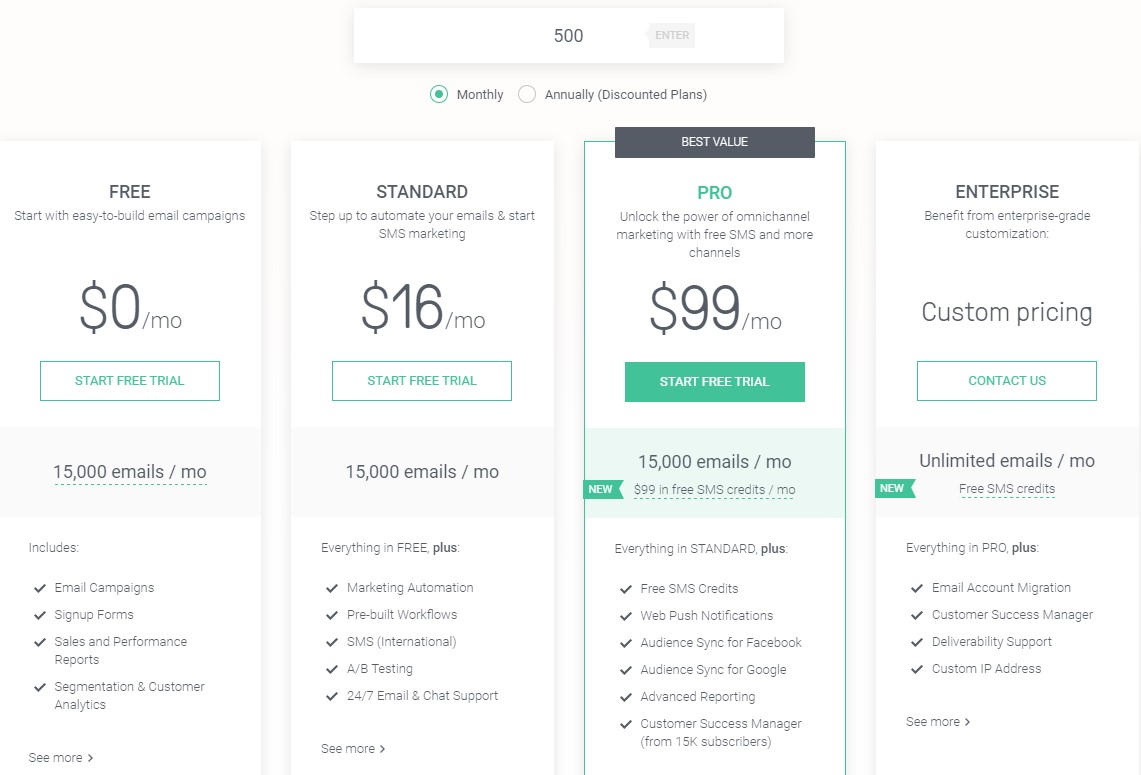 Who Is This For?
Those who have an online store and are serious about email automation are sure to appreciate Omnisend. However, if you need advanced tracking capabilities, it might not be suitable.
Good read: Omnisend Alternatives: 4 Advanced Email Marketing Platforms
2. Emma
Emma is considered a loose acronym to stand for "Email Marketing", but it also sets itself apart from the other email marketing software options. It provides an atypical focus to email marketing with support staff to walk you through everything.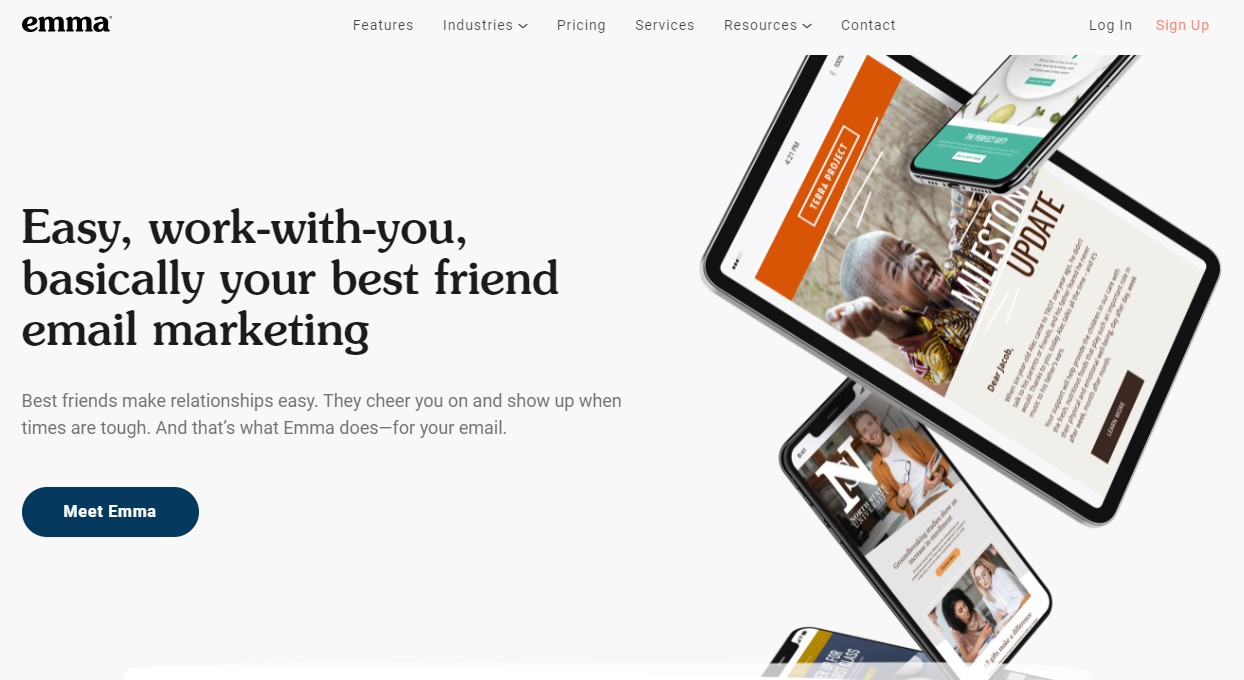 Features
With Emma, email automation is the highlight with list segmentation, trigger messages, and branching logic. The latter helps you deliver a relevant message based on specific actions and clicks.
A/B testing is also available, which gives you two versions of the email with a few minor differences. This helps you track performances to see what your clients like better. With that, you can create landing pages and have access to analytics.
Pros:
Many customized features included

Various auto-responders

Simple and clean interface
Cons:
Can be pricier than other Automizely alternatives

Must have or pay for 2,500 subscribers automatically

Requires yearly contract
Pricing
Every plan on Emma requires you to sign an annual contract, locking you into that price. Pro starts us off at $89 each month for 10,000 contacts. With it, you get integrations, real-time reports, and various other email automation tools. 
Plus is next at $159 each month for 10,000 contacts and provides everything from Pro. With that, you also receive inbox previews, landing pages, and custom automation for up to 25 users and five role types.
Emma HQ is the last choice at $279 each month for 10,000 contacts. You get everything from Plus but can have six role types and unlimited users. With that, there's an approvals dashboard, manager, and many other perks.
Who Is This For?
We feel that Emma is best-suited for mid-sized eCommerce companies. It's pricier and not ideal for small businesses, and it doesn't have enough features to help large ones.
Good read: 5 Best Emma Alternatives To Save You Money and Time
3. MailGun
Mailgun isn't like other email marketing tools, as it's an SMTP email service for software developers. It lets you send out bulk email campaigns fast to boost engagement within them.
Features
Since Mailgun is designed for software developers, it's not perfect and doesn't necessarily focus on email marketing or email automation. However, you can use it in conjunction with other Automizely alternatives to get the best of both worlds.
In a sense, this transactional email service creates a powerful API that helps anyone receive, send, and track emails. This includes real-time validations, burst-sending, and much more.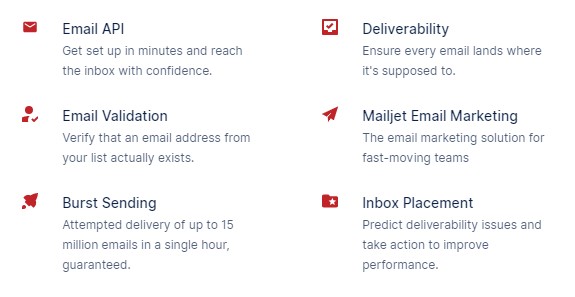 Pros:
Email validation tools

Burst sending feature

Predictions on email performance
Cons:
Not email marketing software

Hard to set up for non-developers

No free plan and limited support
Pricing
With Mailgun, you get four plans. Flex is free and offers 5,000 emails a month for a total of three months. Then, you pay for what you require. You get the basic features.
Foundation is $35 a month for 50,000 emails. You receive many of the same features as Flex, but with 24/7 ticket support, one-day message retention, and email validations.
Growth is $80 a month for 100,000 emails. Here, you get the same perks as Foundation with instant chat support, more retention days, and more validations.
Scale costs $90 a month for 100,000 emails and comes with every feature available. These include live phone support, detailed documentation, longer log retention, and much more.
Who Is This For?
We feel that Mailgun is best suited for information technology professionals and developers who want to create their own customized email marketing software.
4. ReachMail
ReachMail is an email marketing software that focuses on email automation. You get great deliverability with customer support. Since it's cloud-based, you can use it on any platform.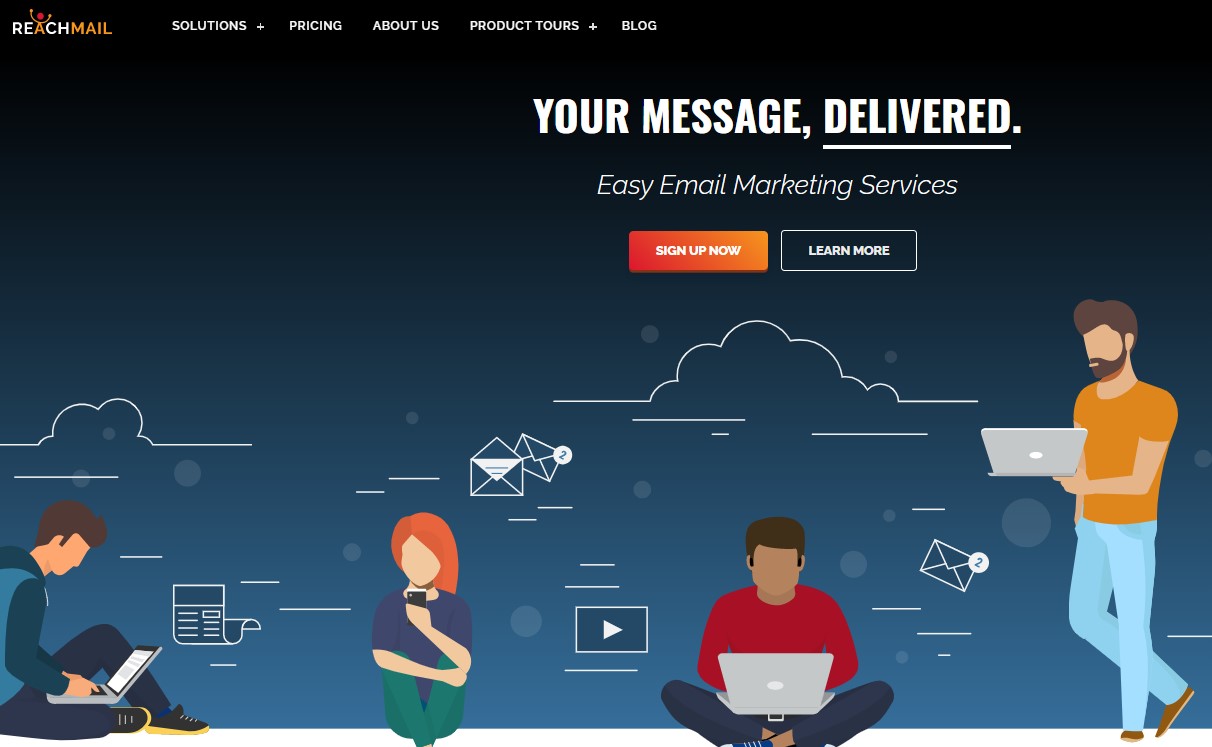 Features
When you choose ReachMail, you can build emails from scratch or use the various templates. Drag-and-drop properties are also available, making the process faster.
If you've already been using something else, you can import your lists from other Automizely alternatives. With that, there's less organizing and clean-up required, allowing you to get going faster.
You're sure to appreciate the auto-responders, API, survey capabilities, and all the rest.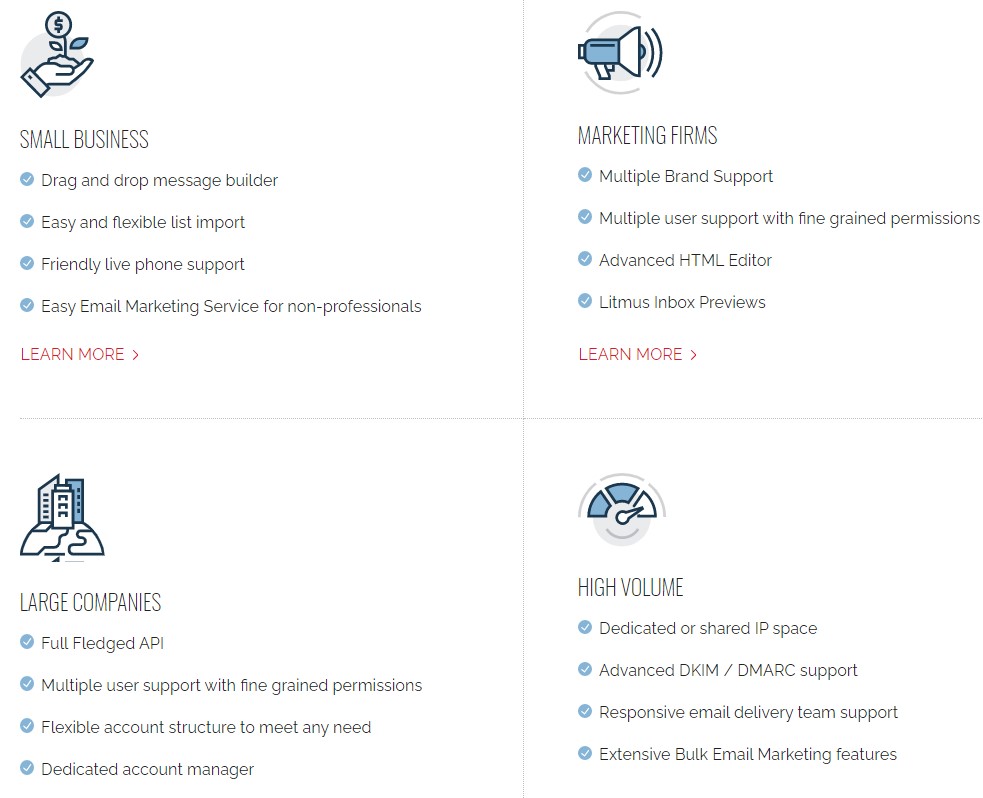 Pros:
Excellent template options

User-friendly for beginners

Offers more subscribers than other Automizely alternatives
Cons:
Can be challenging to format text

Requires a slight learning curve
Pricing
With ReachMail, there are four separate plans. The email marketing version has a forever-free account where you can send 7,500 emails to 2,500 contacts a month. There's one signup form, one user, and email hygiene.
The Basic plan costs $9 a month for 12,000 emails to 5,000 contacts. You get 100 email hygiene credits, three signup forms, and three users.
Pro costs $29 a month for 25,000 emails to 5,000 contacts. Here, you have unlimited users and signup forms with 1,000 free email hygiene credits.
Email Relay is also available, where you can purchase extra emails.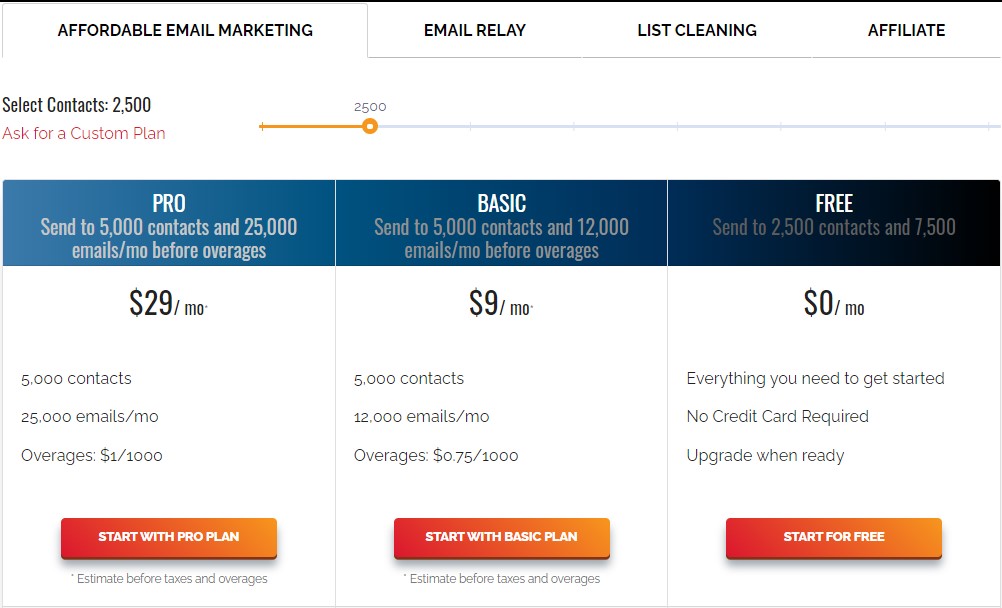 Who Is This For?
We believe ReachMail is ideal for small and medium-sized companies that require email automation for a low, fair price.
5. Mailpoet
MailPoet is considered a full-service email marketing tool for WordPress. Called a plugin, it helps you design signup forms, collect subscribers, manage them, and send promotional emails. Plus, it integrates with WooCommerce and other eCommerce companies.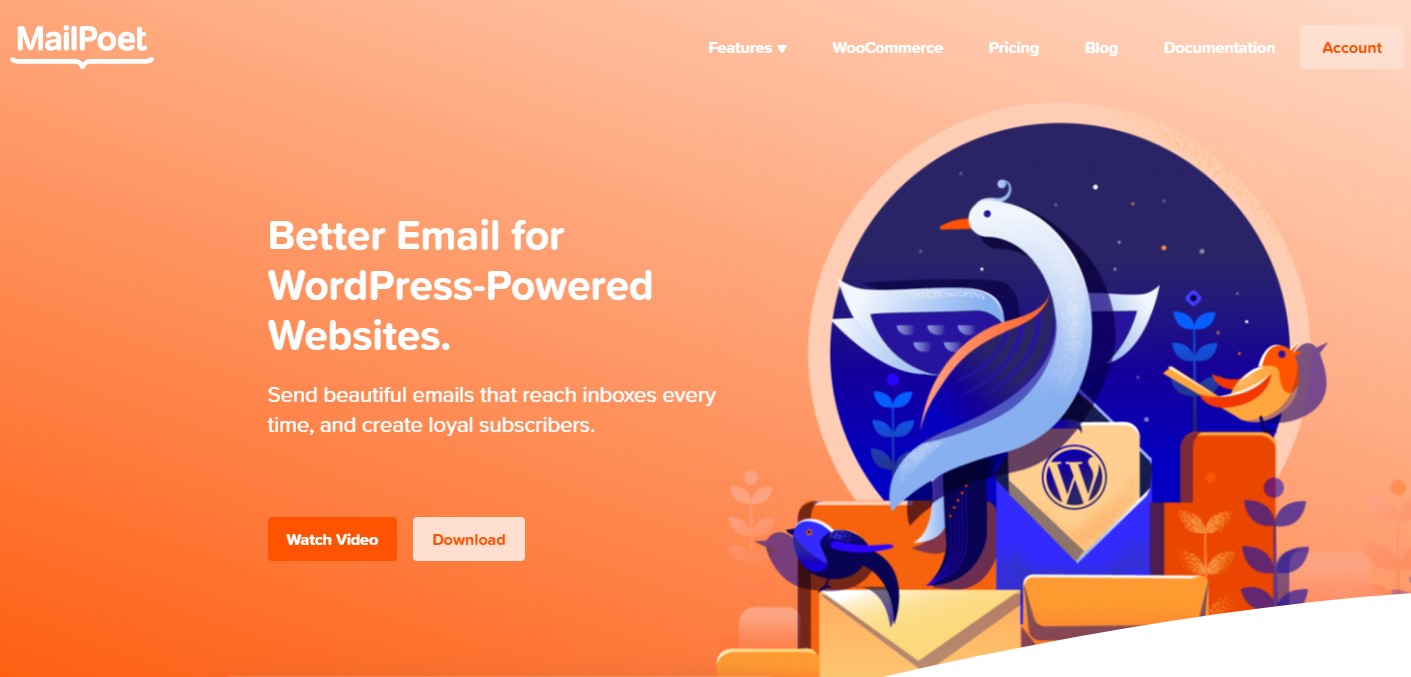 Features
You're sure to appreciate the integrated drag-and-drop feature. While most email marketing software tools offer it, they're not integrated with WordPress. This one is, so there's less work for you.
Though it focuses on deliverability, it doesn't ignore the fact that you need automation. That means you can use your eCommerce store and integrate with WordPress to send welcome emails for new signups, abandoned cart emails, and much more.

Pros:
Various integrations offered

SMTP built-in for SMS sending

Great analytics
Cons:
Only for WordPress users

No landing pages

No custom audiences
Pricing
When you choose MailPoet, there is a forever free plan for up to 1,000 subscribers.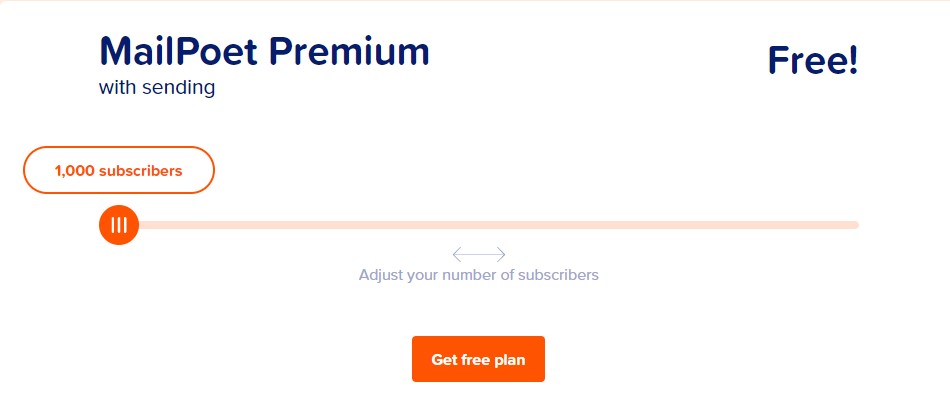 The price rises based on the number of people you have on your list. Therefore, at 1,250 subscribers, it costs $15, and at 1,500 subscribers it goes to $20 a month.
Who Is This For?
We feel that MailPoet is suitable for anyone operating a WordPress site. Though this isn't necessarily eCommerce-related, it can be done.
Good read: 6 Mailpoet Alternatives For A More Competitive Email Marketing
6. Moosend
Moosend is an email marketing software that businesses can use to execute various marketing campaigns. Founded in 2013 by Yannis Psarras, it's suitable for many different types of companies.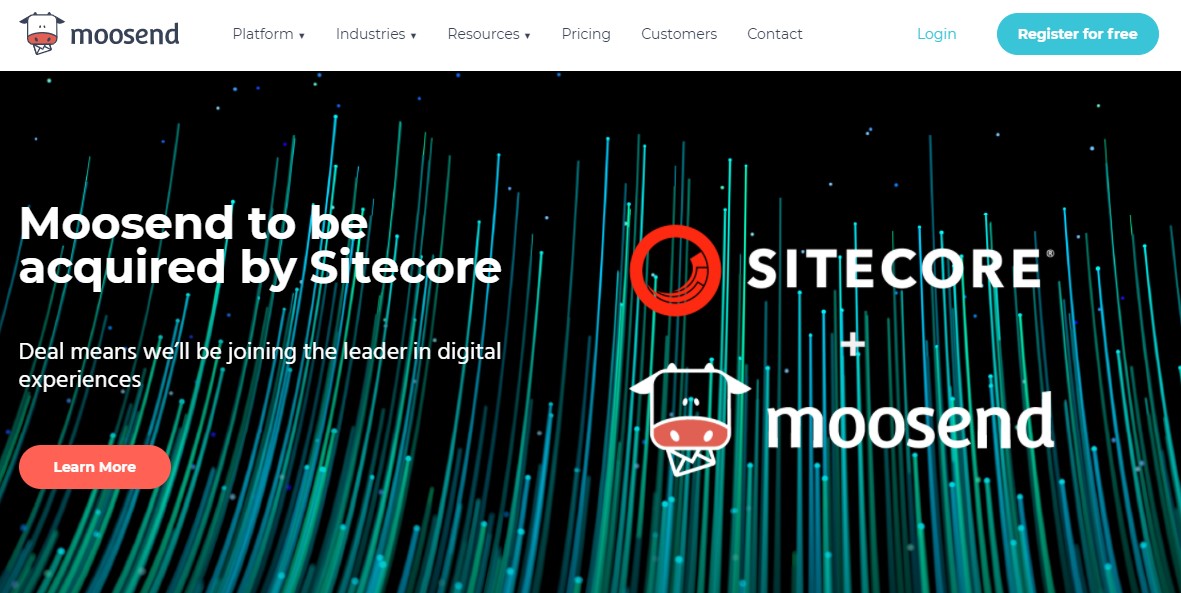 Features
There are many features to enjoy from Moosend, but the top ones include email automation, marketing, analytics, and lead generation. While the templates look great, we wish there were more of them. Still, you can customize any of them to create something unique.
You also get newsletter templates and email series for specific needs, such as product launches, Black Friday sales, and whatever else you might need. With that, landing pages are included so you can build pages for product announcements, webinar registrations, and much more!
Pros:
Robust automation workflows

Great free plan with many features

Create unlimited data fields/segments
Cons:
Only offers 70 templates

Limited customer support for free plan

Doesn't offer great third-party integrations as other Automizely alternatives
Pricing
With Moosend, you get a forever-free plan. It includes reporting, analytics, unlimited emails, and subscription/signup forms.
Next, you've got Pro, which is $10 a month for five team members, unlimited emails, and an SMTP service. There are also landing pages, phone support, and transactional emails.
Enterprise is the last option with a custom price based on your needs. Still, you can include custom reports, an SLA, 10 team members, and have access to an account manager.
Who Is This For?
We feel that Moosend is ideal for small companies and individual entrepreneurs. However, if you think you might need support, the free plan might not be suitable.
Good read: Moosend Alternatives: The 7 Best Competitors
7. Drip
Many email marketing tools call themselves "drip campaign" makers, but only one offers this based solely on the name. Drip isn't like other email marketing software products. Instead, it's built solely for small businesses and marketers. If email automation is your thing, this is the tool for you!
Features
Ultimately, Drip is a CRM that focuses on email automation. However, everything is designed especially for eCommerce companies.
Drip divides the features into customer data, optimization, personalization, and engagement. Within those divisions, email automation is the highlight. Therefore, you can have different segments to engage with customers where they are in the buying process. This also requires personalization.
With that, optimization ensures that you're sending the email at the right moment. It all plays together to become a well-oiled emailing machine. Plus, you're sure to appreciate the pre-built workflows that help you get going fast. However, you can create your own if necessary.
Pros:
Feature-rich and focuses on eCommerce

Various integrations

Free trial with no credit card

Robust CRM features
Cons:
Can be pricey for low-volume senders

No phone support
Pricing
The prices are solely based on how many people you have on your contact list. If you have 500 or less, you pay $19 a month. For 501 to 2,000 contacts, you spend $29 a month.
Every plan comes with a 14-day trial period to see if you like it. Plus, you can add SMS texting at $0.015 per send. For 1,000 texts, this is $15 a month.
Who Is This For?
We feel that Drip is ideal for companies that have high traffic levels, need more advanced marketing options, and have various segments (audiences) for your traffic.
Conclusion
We realize how hard email marketing can be. You want something that has it all, where you can create an email and send it without fuss. However, it also has to wow the crowd so that they take action.
Any of these seven Automizely alternatives could be right for you. Consider the pros and cons, prices, and who we recommend each one for. That way, you've got a basis for deciding and can pick the best email marketing software for your company.