Every company benefits from sending emails, but it's so hard to keep everything straight. In a sense, you need a tool that automates the process and makes it easier to create a personalized email campaign.
There are many email marketing solutions out there, and Mailpoet seems to be quite popular. Let's learn about it and why you may want to consider Mailpoet alternatives instead.
What Does Mailpoet Provide?
Mailpoet is a plugin for WordPress, so it's a great tool, but only if you use that website. While many people prefer WordPress, others want to use something different.
With Mailpoet, you can create signup forms that fit with the theme, collect subscribers in the database, automate various aspects of email marketing, and study analytics. 
Why People Switch from Mailpoet?
Ultimately, Mailpoet alternatives are available because not everyone uses WordPress. Though you can use it separately, it gets a little muddled, and you end up having multiple CRMs just to keep everything straight.
Therefore, if you don't host your website on WordPress and don't want to start, consider these six Mailpoet alternatives instead.
6 Mailpoet Alternatives
1. SendGrid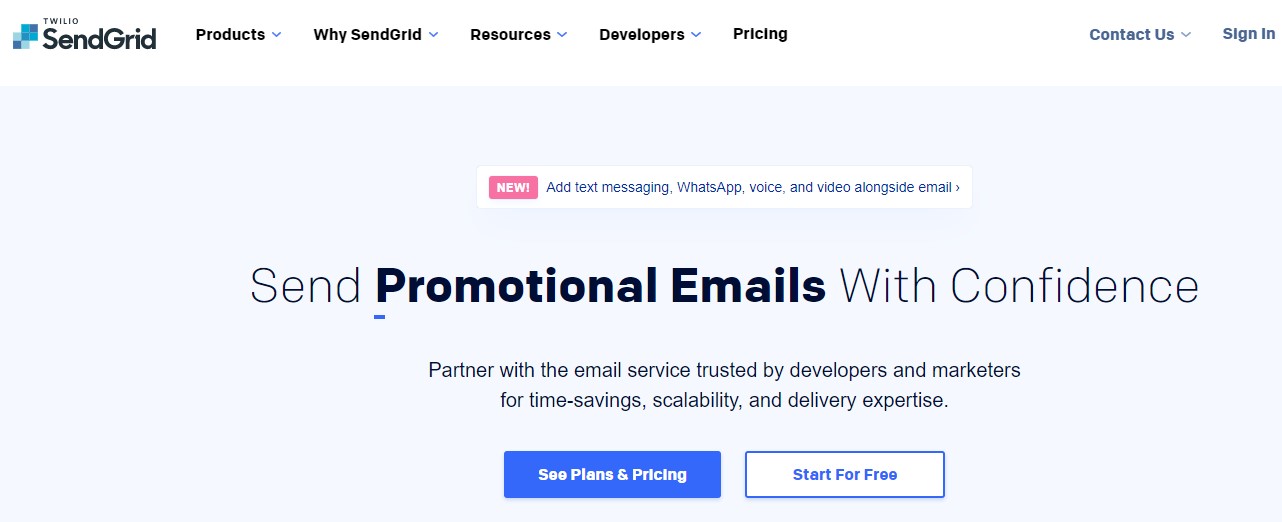 If you're interested in Mailpoet alternatives, SendGrid may be what you need. It has the personalization and analytical features you want, and the email editor is great.
However, advanced segmentation isn't available as with other email marketing tools. Those who want something easy to use are sure to appreciate it.
Features
With SendGrid, you focus more on deliverability, and there's a great email editor with plenty of templates. Automations are limited, but you do get a Welcome series and can customize your own automations with basic triggers.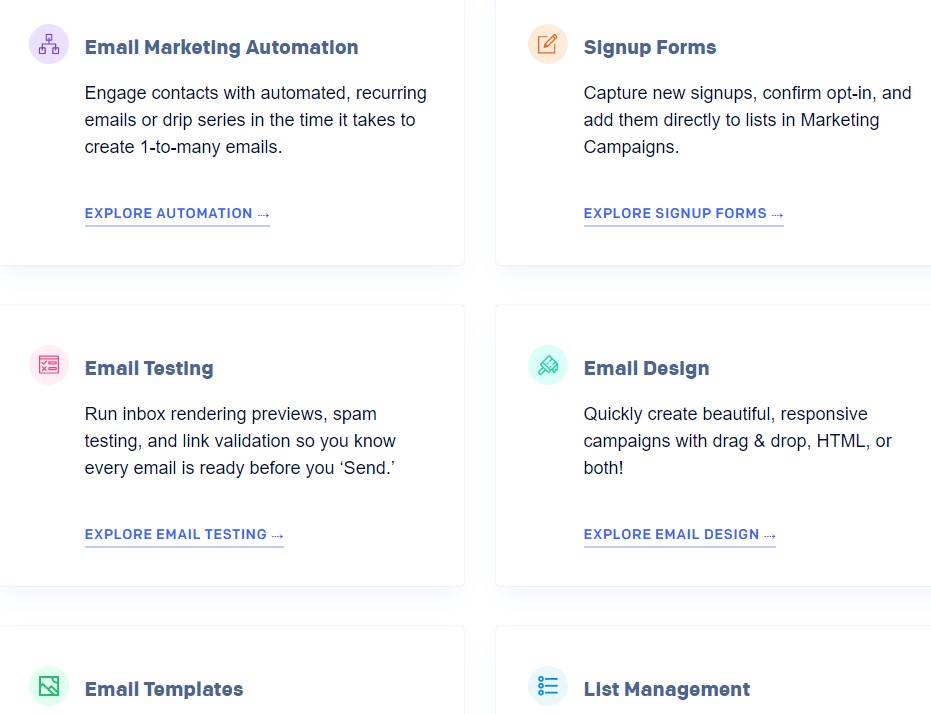 While there are plenty of existing templates, you can customize them to your liking. Plus, you can build a newsletter, code emails from scratch, and design your email the way you want it to look. 
However, analytics is where it's at. You can track the metrics through spam reports, clicks, opens, unsubscribes, and much more. It's possible to go deeper and track your messages by the email provider, location, and device. This is going to help you tremendously.
Pros:
Personalize individual emails

Advanced email deliverability

Detailed analytics
Cons:
Few segmentation options

Only basic autoresponders
Pricing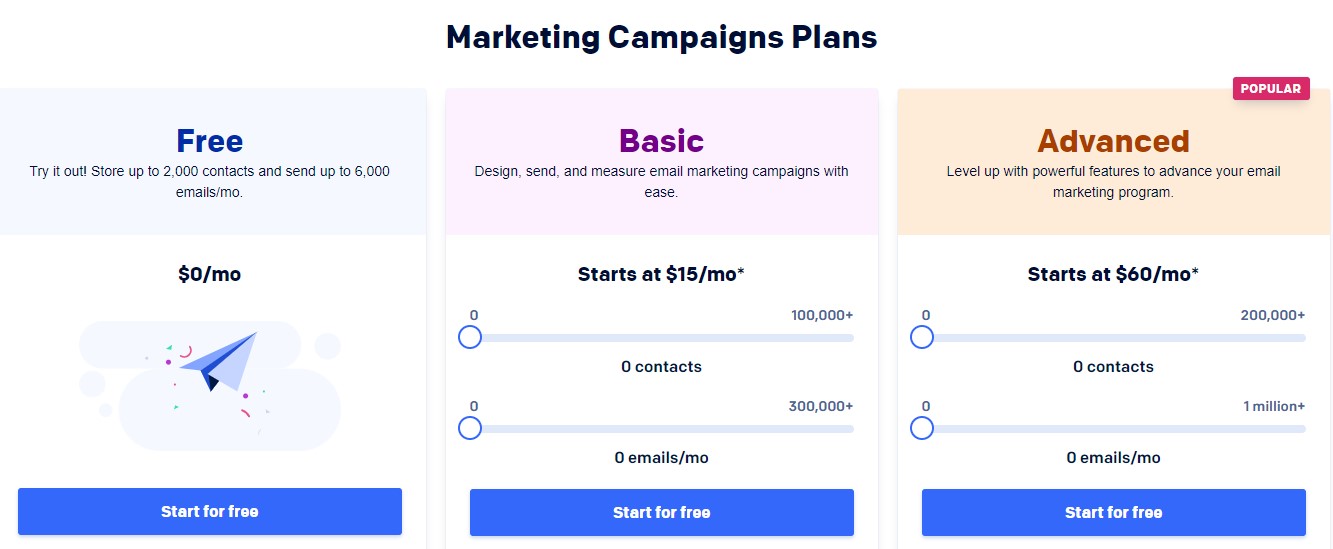 There is a forever-free plan with SendGrid, and you can send 6,000 emails a month and have 2,000 contacts. With it, you get segmentation, one teammate, ticket support, automation, and one signup form. There are also three email testing credits to use.
Basic is next at $15 a month for 7,000 contacts and 15,000 emails per month. You get everything from the forever-free plan, including 10 email testing credits, but automation isn't included.
The Advanced plan is $60 a month for 15,000 contacts and 45,000 emails a month. Here, you get all the features, including 1,000 teammates, a dedicated IP, automation, 15 signup forms, and 60 email testing credits.
Who Is It For?
Ultimately, SendGrid is ideal for marketers who care about deliverability rates and don't want to end up in spam. There are plenty of integrations and separate API service. Still, it might not be an overall marketing solution and can't help with tailored or complex campaigns.
2. Moosend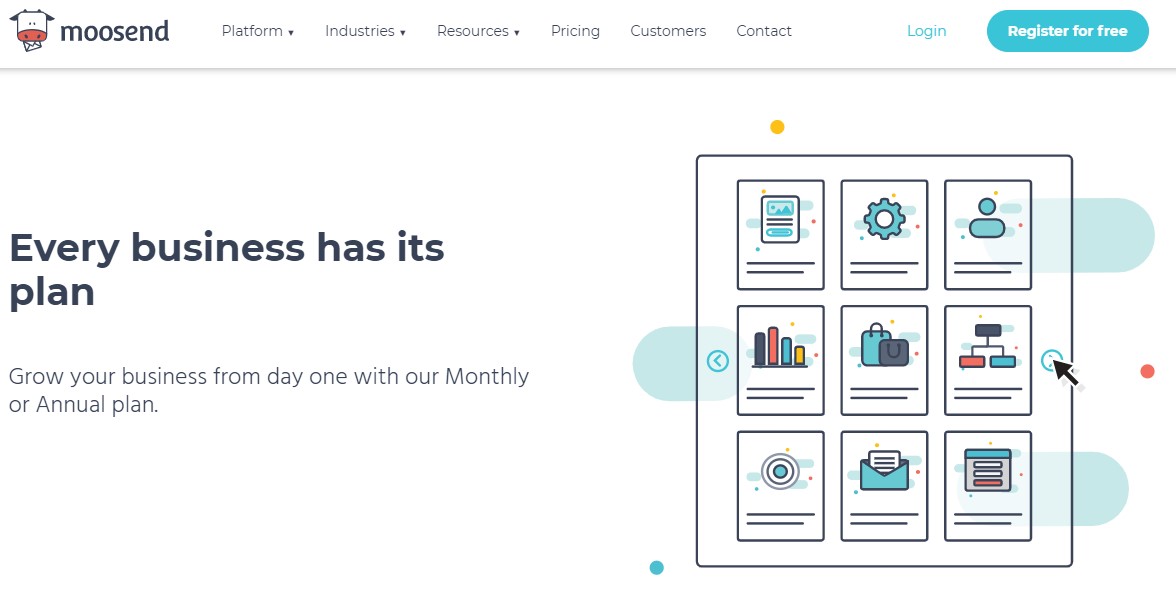 Moosend is a marketing automation software option that features many integrations, benefits, and tools.
It was founded in 2011 and has helped thousands of businesses engage with subscribers through email to grow their businesses.
Features
With tons of features, this could be one of the best Mailpoet alternatives. You get automation tools to determine which events trigger an email sent. There are pre-built automation templates out there, too.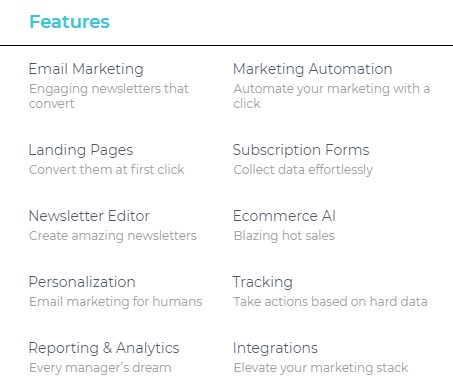 Email segmentation is available, so you can build lists with custom forms to capture visitor data. You can customize each field, too.
Pros:
Integrations with Mailchimp and WordPress

Less expensive than others

Great support
Cons:
Landing page builder only available on paid plans

No native SMS messaging
Pricing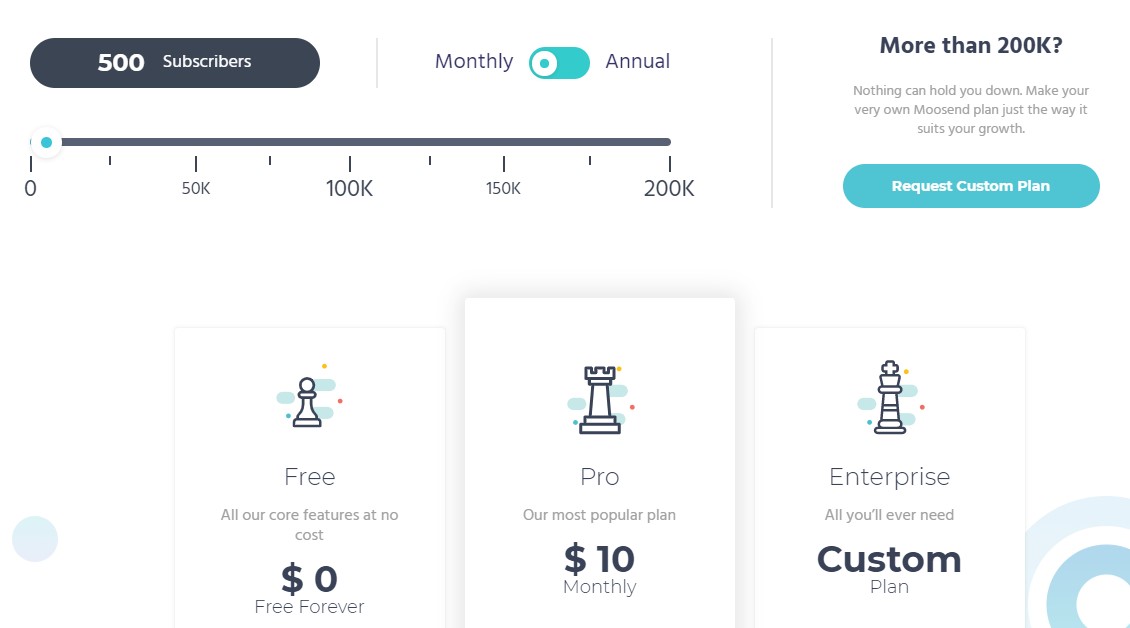 There is a forever-free plan with Moosend. Here, you get the core features with 500 contacts for free. You can send unlimited emails, have basic analytics and reporting features, and subscription/signup forms.
Next, there's Pro. It's the most popular and is $10 for 500 contacts. You can have five team members, an SMTP service, phone support, landing pages, and transactional emails. However, custom reporting isn't included.
Enterprise is the last option, and it's a customized plan to meet your needs. You can have 10 team members, get SAML and SSO, an account manager, custom reporting, on-boarding, and an SLA.
Who Is It For?
When searching for Mailpoet alternatives, Moosend might be ideal for SMBs and those who are more established. Since it comes with many tools and integrations, it can grow with the company.
3. GetResponse
GetResponse is quite easy to use, and it offers powerful features. You get a customizable interface that makes everything effortless once you've got it set up.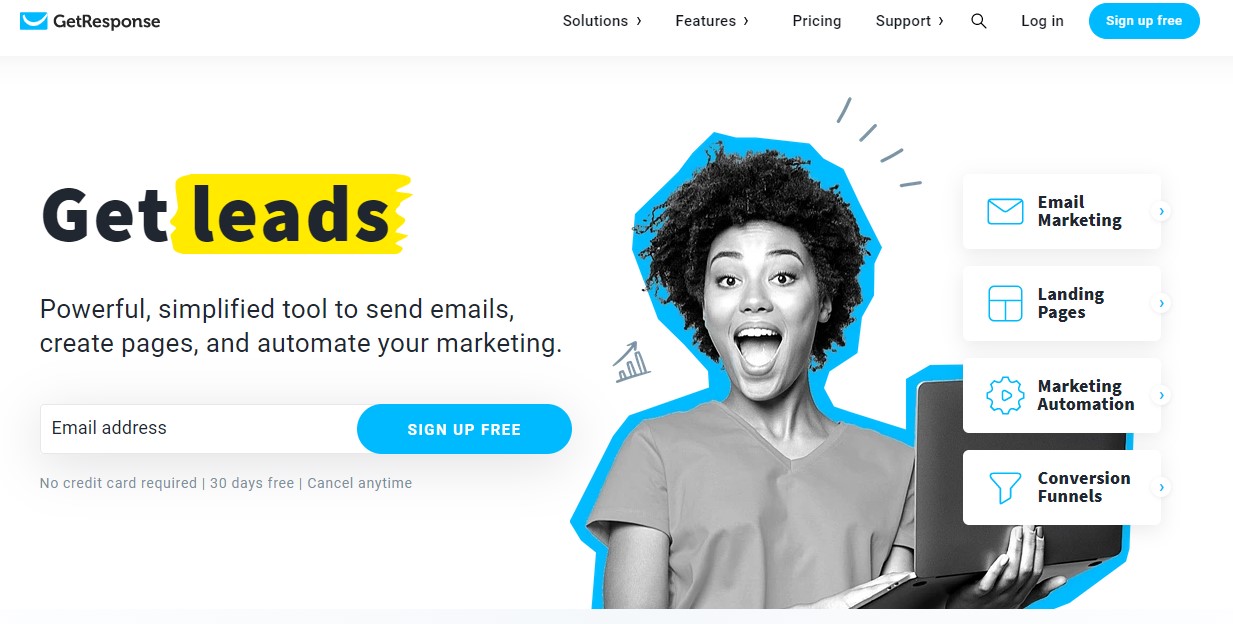 However, the funnel-based approach it takes might not be ideal for everyone, especially those who prefer traditional marketing software.
Features
GetResponse isn't just for email marketing. You also get a CRM, webinar marketing, social media marketing, and e-commerce functionality with lead generation.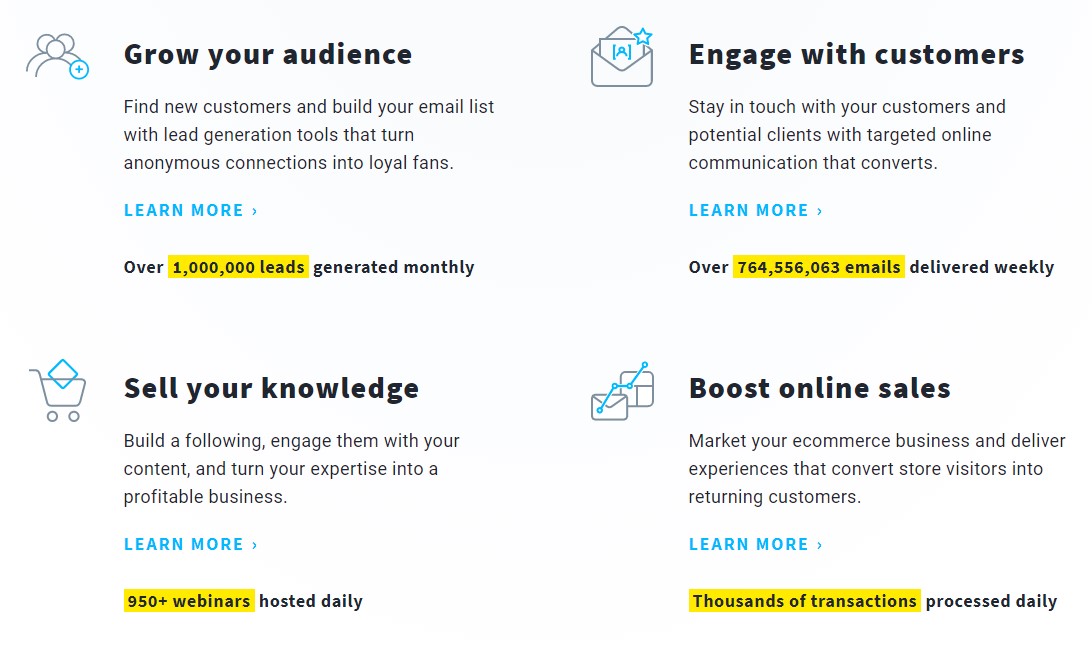 We like that the system walks you through the process, so you learn as you go. This gets you going faster and can help you change the recipients, subject line, and much more.
Pros:
Free courses on email marketing

Ability to create funnels

Sleek interface
Cons:
Can take a while to learn all the features

Limited customization for email templates
Pricing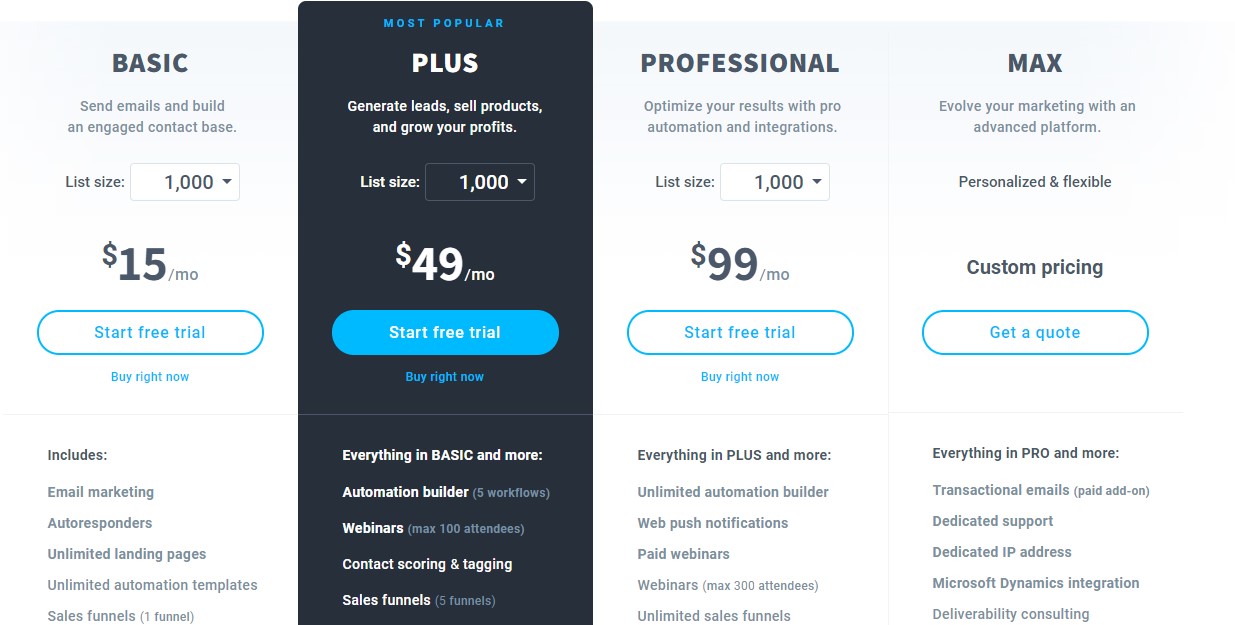 The Basic plan offers a list size of 1,000 and is $15 a month. With it, you get autoresponders, email marketing, one sales funnel, and unlimited templates and landing pages. 
With Plus, you spend $49 for a list size of 1,000. You get everything from Basic, plus five workflows, webinars, five funnels, and three users, among other things.
Next is Professional, which costs $99 for a list size of 1,000. With it, you get everything from Plus, and unlimited sales funnels, paid webinars, automation builder, and so much more.
Last, you've got Max, which features custom pricing and is based on your specific needs. With it, you get everything possible, such as SSO, deliverability consulting, dedicated IP address, and transactional emails for a small extra fee.
Who Is It For?
You're going to find that GetResponse guides you through the steps, so it's suitable for beginners and those with more experience. As one of the best Mailpoet alternatives, you're going to spend a little time familiarizing yourself with it and customizing it, and then you're good to go.
4. AWeber
AWeber is actually a very well-known email marketing tool out there. It's easy to use, solid, and affordable, so it works for almost everyone.
Plus, you can get it going fast, though there aren't many standout features to consider, especially when compared to other competitors.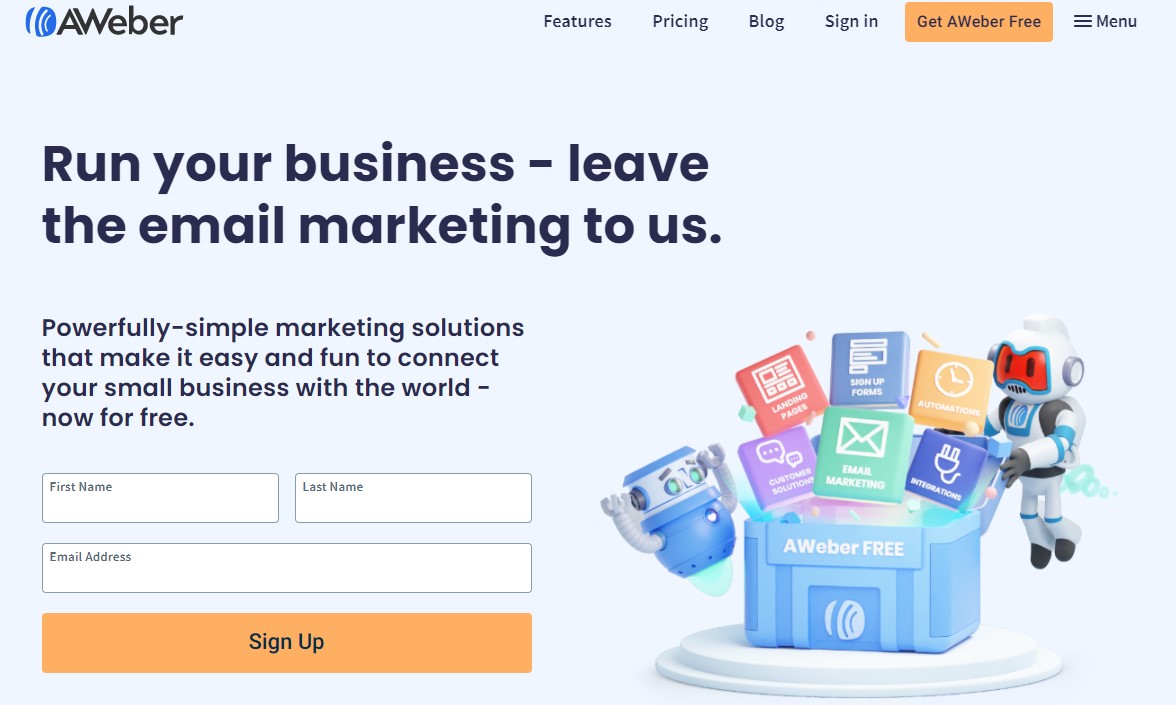 Features
You're going to like the smart design, which is an AI-powered template builder. It creates great branded emails automatically and in seconds. There is also the free template library to help you get started.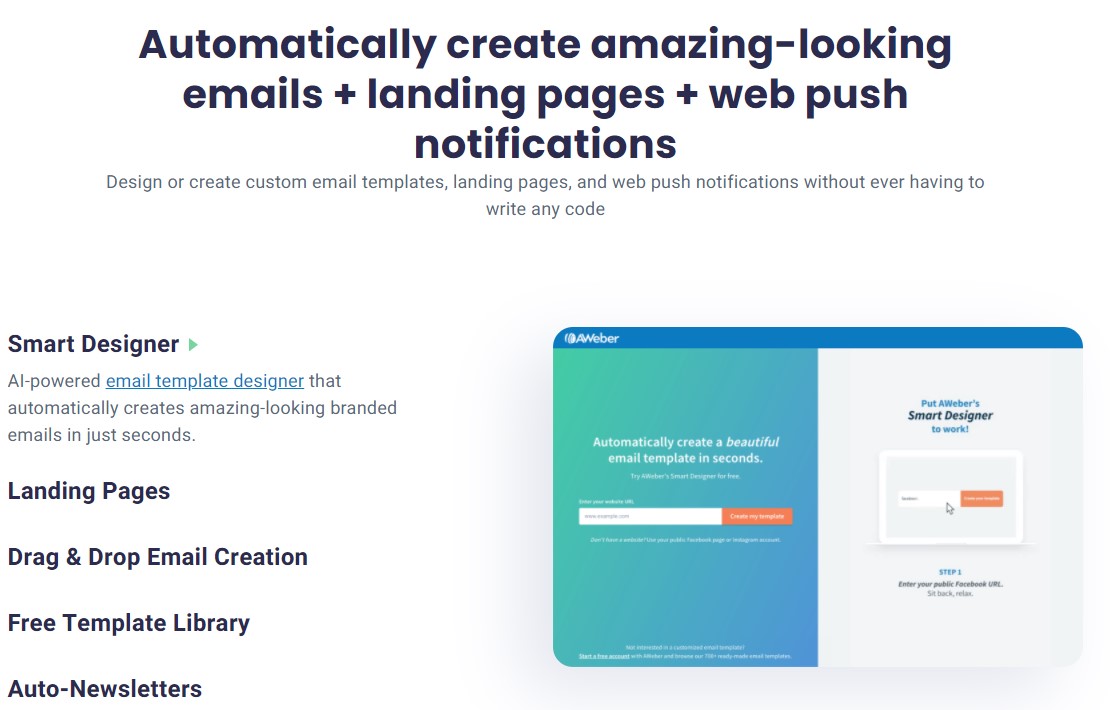 Auto-newsletters are available, which can broadcast your best posts from your blogs. Getting free publicity is a great thing!
Pros:
Advanced analytics

Contact management features

Automation builder included
Cons:
No email preview

Difficult navigation

Basic email builders
Pricing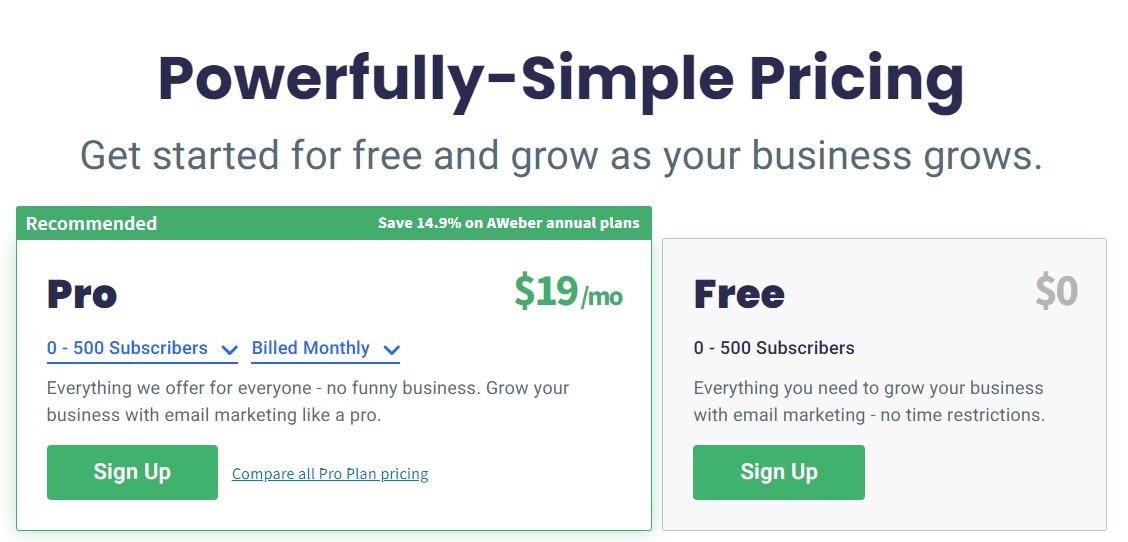 Where Mailpoet alternatives are concerned, the pricing structure for AWeber is straightforward. There is a forever-free plan for up to 500 subscribers. You get one list, 3,000 emails a month, and things like AMP emails, templates, drag-and-drop functionality, and dynamic content.
With Pro, you spend $19 a month for up to 500 subscribers and get unlimited lists, and email sends. You have access to everything from the Free version, but you also get behavioral automation, email split testing, and the AWeber branding is removed.
Who Is It For?
AWeber is ideal for anyone and everyone. While navigation can be confusing, it's easy to use, and inexperienced marketers are sure to like it. Since there are advanced features, it works well for those who need to create targeted campaigns.
5. Benchmark Email

Do you want great Mailpoet alternatives? If so, then you may want to consider Benchmark Email. It's well-designed and intuitive enough to meet all of your needs. Plus, there are complex features that are made easy with the guided approach.
Features
Everyone likes Benchmark Email because it offers great email creation functionality. There's also a great contact management system, but the segmentation does lack a bit.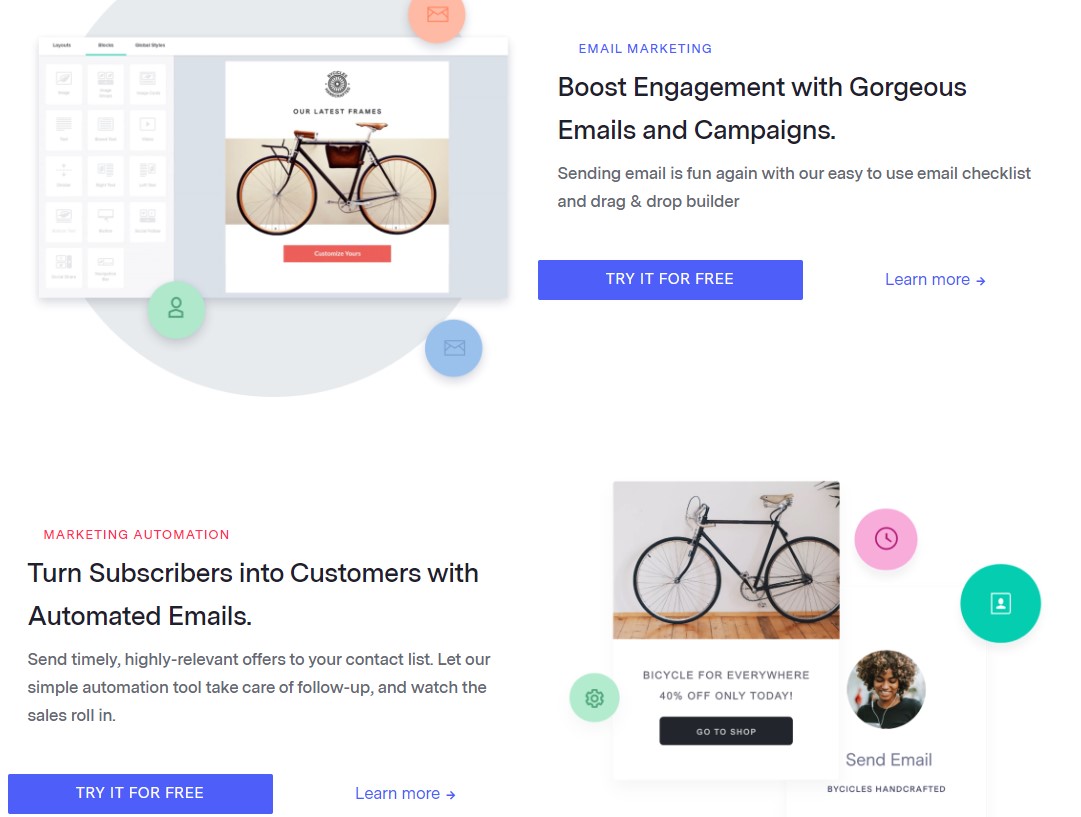 Each page is one step for creating your email. It takes the guesswork out of the entire process, so you can learn as you go. Plus, you can use the autoresponder templates or build your own. Even here, there are steps to help you through the process, so it's all easy and straightforward.
Pros:
Live chat support

Well-organized navigation

Intuitive interface
Cons:
Basic landing pages

Few features on the free plan
Pricing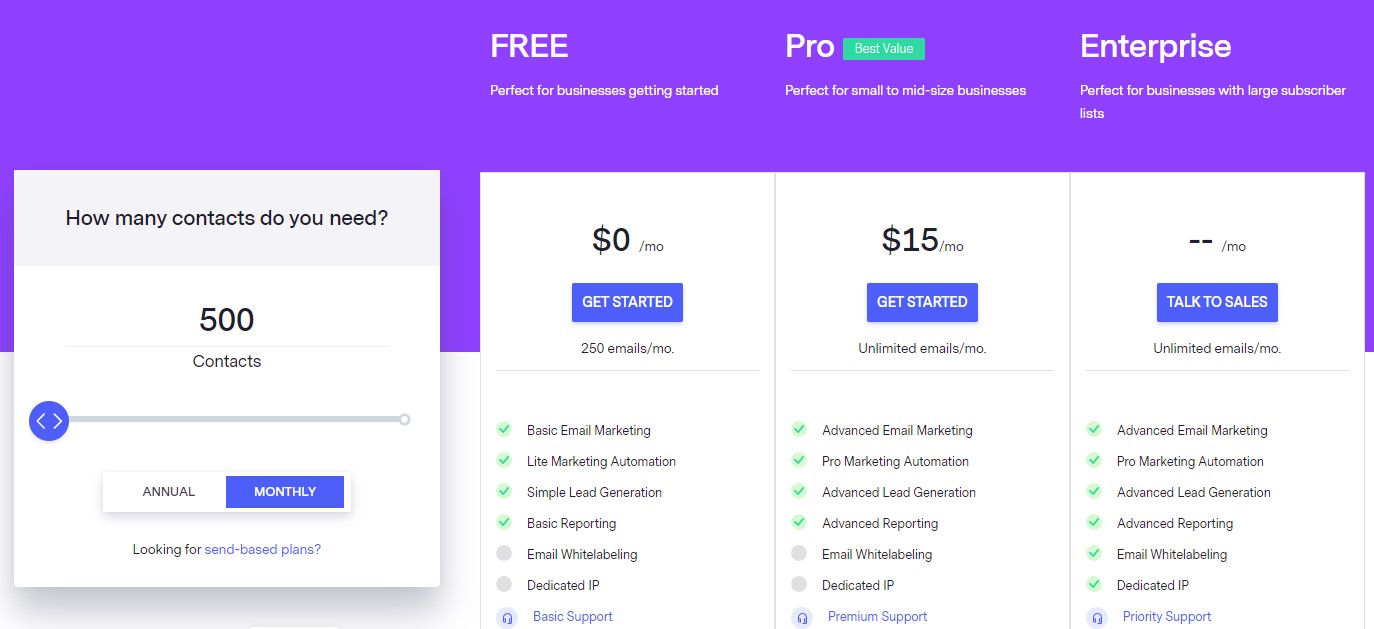 The Forever-Free plan allows you to have 500 contacts and send 250 emails a month. With it, you get basic reporting, simple lead generation, and basic email marketing.
At the Pro level, you pay $15 a month for unlimited email sends. You also get advanced reporting and lead generation, as well as pro-marketing automation.
With Enterprise, you can get unlimited email sends a month, and the price varies based on your needs. Here, you get a dedicated IP, email white-labeling, and advanced reporting.
Who Is It For?
Benchmark Email makes complex tasks easy, so it works well for inexperienced marketers. We like the strong features available, so if you've got a decent budget, it's going to be suitable for all types of businesses.
6. Mad Mimi
With so many Mailpoet alternatives, you shouldn't neglect Mad Mimi. This cloud-based solution helps you design custom emails, focus on list management, and offers analytics and tracking.
Features
The features seem to be limitless. There's an email editor that's straightforward and easy to use. However, there aren't traditional templates. Instead, you've got to pick the message you want to send and then customize it yourself. Still, you get helpful tips and access to stock images.
Autoresponders are also available, but it can be difficult to figure out at first. There isn't any A/B split testing, but Mad Mimi offers a tool that mimics most of that functionality. With the Compare button, you can check statistics between two campaigns to compare them.
There are also many add-on features, but they're free. Since they're included, you just have to enable them. Consider the RSS to format and create email-friendly blog updates. You can also get Google Analytics, add social links, and so much more.
Pros:
Great list management

Easy to use

Clean interface
Cons:
Few templates

Limited integrations
Pricing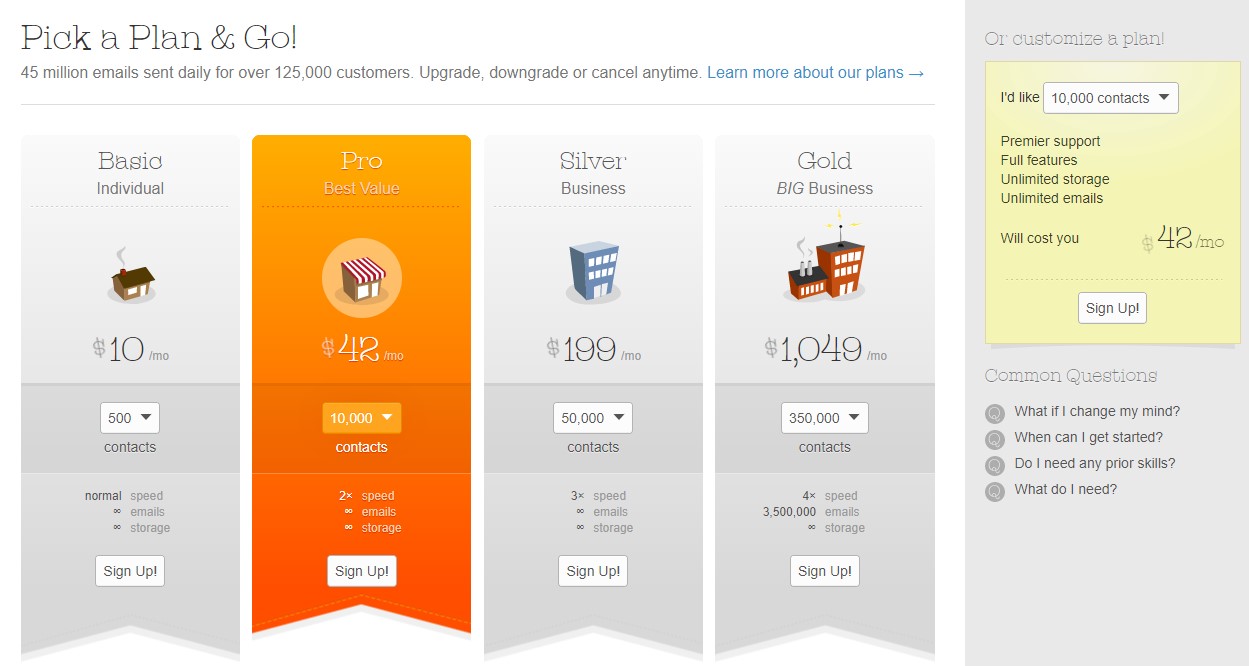 There are four plans available, and the Basic one is $10 a month for 500 contacts. You get all the features, unlimited storage and emails, and they send at a normal speed.
Next, you've got Pro, which is $42 a month for 10,000 contacts. Emails send two times faster. Silver is the third option, and it costs $199 a month for 50,000 contacts. The emails send about three times faster here.
Gold is the last option, and it's $1,049 for 350,000 contacts. You can send up to 3,500,000, and they send at four times the regular speed.
Who Is It For?
With the lost cost, Mad Mimi is suitable for SMBs and startups. However, it can grow with you, so it can also be ideal for large enterprises. 
Conclusion
With so many Mailpoet alternatives out there, it's no wonder that you're confused. However, if you don't use WordPress, you may find Mailpoet isn't a great choice for you. Now, there are six other options available. 
Those who want a lot of greatness without the price should consider Mad Mimi. We like the fun design and the clean interface. Otherwise, you may wish to use GetResponse because it's more well-known than some of the others.
Regardless of the choice you make, you can now create amazing emails without spending too much. There's an opportunity for everyone, even if you're new to email marketing. 
If you want to know more about email marketing, we've got a good lineup of resources for you: