As a business owner or creative, you know the easiest way to reach your target audience is by sending an email. However, you don't want it to look simple and boring because it's not going to get the clicks you want. For one, you want the recipient to open it, but then you want them to do something about it (take action).
Email marketing tools are the best way to achieve your goals. They help you create emails that look great and can sometimes help with deliverability concerns. Though Robly has great things going for it, these Robly alternatives could be even better.
What Does Robly Provide?
Robly is an automation and email marketing tool that's cloud-based. It's user-friendly and is designed to boost conversion rates. Plus, it features AI to ensure that you send emails at the right moment to your target audience.
Why People Switch from Robly
Since Robly is such a great tool, you may wonder why you might try something different. The Robly alternatives mentioned below are either quite similar or much better. Robly doesn't offer much for support, and it isn't the easiest to use. Though it does have inexpensive plans, they're pretty lean on features and functionality. Because email marketing tools should have everything, consider one of these Robly alternatives instead:
1. MailChimp
MailChimp is by far the most sought-after email marketing solution because it's been around for years. However, that doesn't necessarily mean it's the best. Let's take a longer look at it to see how it compares to other email marketing tools on the market.
Features
Though MailChimp focuses heavily on email marketing, the standout features are contact management and reporting. We like the strong email editor because it helps you create your email campaign quickly. Plus, there are basic layouts and ways to target certain campaign needs. You can also code from scratch if you want.
MailChimp works like a CRM system, and you can use it that way. This means everything is in a centralized hub, and you don't have to use two different email marketing tools to get what you need. Plus, automations are great when compared to the other Robly alternatives on the list.
Good read: MailChimp Alternatives: Getting Your Email Marketing to the Next Level
Pros:
Advanced analytics and reporting

In-app tips to make things go smoothly

Autoresponder templates
Cons:
Little support at lower-priced tiers

Expensive when compared to other Robly alternatives

Navigational issues at times
Pricing
With MailChimp, you do get a forever-free plan for one audience and up to 2,000 contacts. You have access to the creative assistant, marketing CRM, website builder, and various landing pages and forms.
The Essentials plan is next at $9.99 a month for three audiences and 50,000 contacts. You get all the Free benefits, but there's also A/B testing, multi-step journeys, and tons of email templates. Custom branding is also available.
Standard is just $14.99 a month for five audiences and 100,000 contacts. Here, you get the perks from Essentials, but there's also dynamic content, custom templates, behavioral targeting, send-time optimization, and more.
Premium is the last option, and it's $299 a month for unlimited audiences and over 200,000 contacts. You get advanced segmentation, unlimited 'seats,' multivariate testing, and comparative reporting.
Who Is This For?
MailChimp is designed for all types of marketers, and you don't need a ton of experience to use it. 
2. ConvertKit
Those who need basic emails are sure to appreciate ConvertKit. This email marketing solution offers great segmentation, contact management, and form building capabilities, and it could be just what you need.
Features
The features of ConvertKit are quite extensive. Email marketing is the top option, and it's easy to find the right audience and grow your company. You also get an email designer, though it's quite basic.
Still, you have plenty of integrations and can create helpful forms. These include sign-up forms, landing pages, and more. If that weren't enough, e-commerce tools help you sell digital products, and there are many automations available.
Pros:
Landing page builder and reports

Easy automations
Cons:
Basic email editing

No email templates
Pricing

There is a forever-free version of ConvertKit. It's suitable for 1,000 subscribers and gives you access to email broadcasts. You also get email support, unlimited forms/landing pages, and can sell digital products.
The Creator plan is $29 a month for 1,000 subscribers, and you get many of the same benefits as with the Free option. However, you also get free migration and automated sequences and funnels.
Creator Pro is the last option at $59 a month for 1,000 subscribers. You get the same features as with Creator, but you also have subscriber scoring, advanced reports, Facebook custom audiences, and more.
Who Is This For?
ConvertKit has an extremely basic email editor, so it's aimed primarily at e-commerce marketers and bloggers. It's not ideal for those who need to target many audiences at once.
3. Constant Contact
Every now and then, you come into email marketing tools that effortlessly blend usability and functionality. Constant Contact is one of them. You get going quickly, and it's got a great many features to enjoy.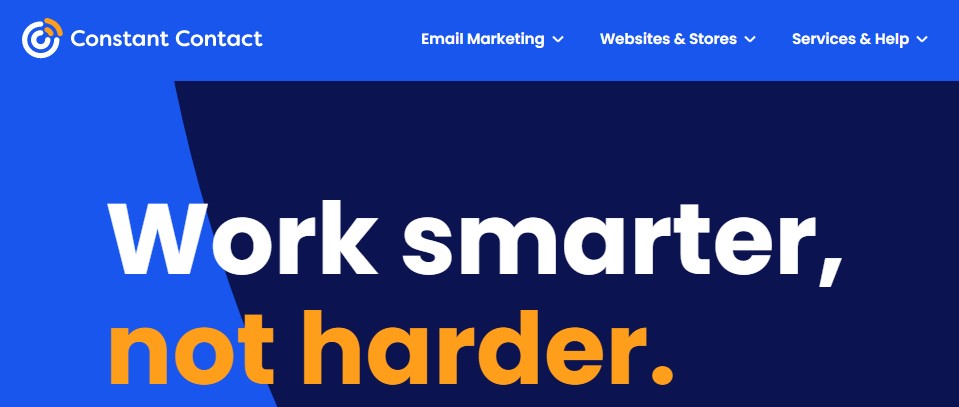 Features
With Constant Contact, it's easy to create branded emails. Just add your website URL, and it takes all the information from there. Plus, there's a drag-and-drop editor and various templates to get you started.
The dynamic content feature helps you show different content to various contacts based on the criteria you prefer. That can include purchase history, age, location, and more. 
Contact management is also available. You can upload your list or add them manually. If you're using a different email marketing tool, it makes it a smoother transition to Constant Contact.
Pros:
Advanced contact management

Intuitive user interface

Community support
Cons:
Basic landing pages

Few segmentation options

No 24/7 support
Pricing
The Email plan is $20 a month based on the number of contacts you've got. With it, you get unlimited sending, customized templates, tracking and reporting, and much more.
You've also got the Email Plus plan at $45 a month. You get everything from the Email plan, but you also get to customize pop-ups. There's also the automated behavioral and welcome series, RSVPs, polls, surveys, and many other extras.
Who Is This For?
Though Constant Contact offers many advanced features, it's simple to use. Therefore, you don't need a ton of email marketing experience to get started. However, it might be more ideal for companies with big budgets.
4. GetResponse
As far as Robly alternatives go, GetResponse is a powerful email marketing tool that offers advanced segmentation. It's designed for e-commerce, but creatives can also use it. Still, the funnel-based approach it takes isn't suitable for everyone.
Features
The features you get with GetResponse are plentiful. Depending on the price tier you choose, you get sales funnels and lead funnels to help you generate leads and convert them into paying customers.
You also get a helpful email creation tool with autoresponders. Email analytics is also available, so you can track the progress of your emails. If that weren't enough, you get marketing automation and webinars to help boost your conversions and sales.
Pros:
Amazing user interface

Free marketing courses

Create marketing funnels
Cons:
Takes a while to get organized

Limited customization options for email templates

Hard to navigate
Pricing
The Basic plan is $15 a month for 1,000 contacts. With it, you get unlimited automation templates and landing pages, one sales funnel, autoresponders, and unlimited lead funnels.
Next, you have Plus at $49 a month for 1,000 contacts. Here, you get five automation workflows, webinars for 100 attendees, five sales funnels, and can have three users for collaboration purposes.
Professional is the next option at $99 a month for 1,000 contacts. You get the same features as with Plus, but there are paid webinars that house 300 attendees, web push notifications, unlimited automations, and unlimited funnels.
Max is the last choice with a custom price based on contacts and needs. You get all the features from Pro, as well as transactional emails (for a separate fee), dedicated IP address, dedicated support, and SSO.
Who Is This For?
GetResponse helps guide you through all the steps to create your campaign. Therefore, it's suitable for beginners. Plus, it works well for corporations that need to develop complex emails.
5. SendBlaster
Most email marketing tools are in the cloud, but if you want to manage your mailing lists through software, then SendBlaster might be the best choice for you. It is possible to use bulk email software and achieve your goals.
Features
With SendBlaster, you get an easy-to-use interface. Open the software anytime to see quick tips. Plus, navigation is easy with everything at the top. You can import and export, find duplicate contacts, compose new messages, and choose when to send the message.
There are helpful analytical tools, which means you can see how well each campaign is doing. If that weren't enough, it only takes a few minutes to get started on your new email. You can import the contact list from CSV files, Excel, Access, or Outlook. 
Pros:
Basic and easy to use

Flexible and makes you self-sufficient
Cons:
Slows down the computer

Must download software

Have to pay for updates and extras
Pricing
Ultimately, SendBlaster is different than other Robly alternatives listed here. You must download the software to your computer, so the price is based on how many licenses you get. For one computer, it's $129 a month, and that doesn't include any specials, such as the drag-and-drop feature and various email templates.
For two licenses, you get a 20 percent discount and pay $206. It goes up from there to $271 for three licenses, $361 for four licenses, and so on.
Who Is This For?
SendBlaster works well for those who want an email marketing tool downloaded to the computer. However, it gets pricey when you have more than one license.
6. Cakemail
Cakemail is an email marketing solution that lets you send emails when and how you want. Plus, it helps with deliverability so that you know your customers are getting the emails you're sending.
Features
You can simply the sending process with Cakemail. It's easy to use, affordable and helps you engage with your contacts. You can easily import and manage the subscribers you have.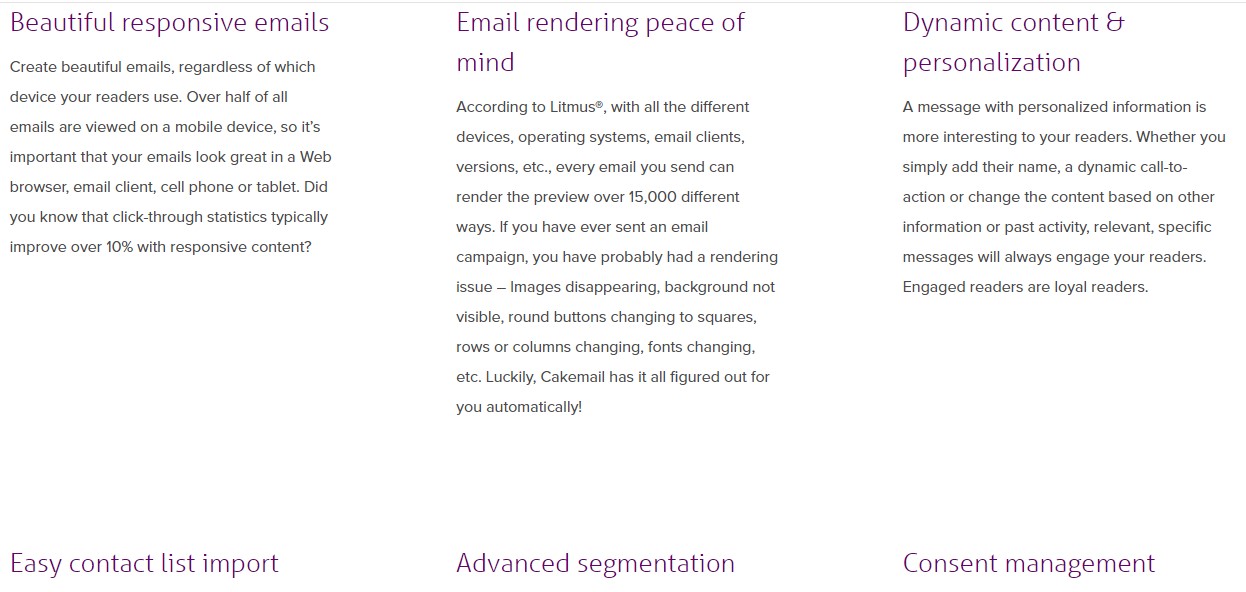 Plus, it's easy to add customized content to your emails. If that weren't enough, you can create targeted campaigns. There are various metrics to gauge how successful the campaign has been, and you can make changes as needed.
Pros:
Easy to use

Free trial available

Create fantastic newsletters

Templates available
Cons:
Few training options

Limited language choices

Costs a bit more
Pricing
Typically, we feel that Cakemail offers a great value when compared to other email marketing tools. You have unlimited sends and can transfer contacts. Plus, you can use templates and customize them to meet your needs. 
The pricing structure is based on how many contacts you have. Pay $8 a month for 500, and jump up to $12 a month for 1,000 contacts. From there, you can spend $24 a month for 2,500 contacts or $39 a month for 5,000. It rises to $59 a month for 10,000 contacts, and you're going to pay $119 a month for 25,000 subscribers.
Who Is This For?
Cakemail is primarily focused on helping small and start-up companies create compelling emails that convert leads to buyers. However, it also works well for creatives, such as bloggers.
7. Vision6
Vision6 is primarily designed for Australians and offers database management, email marketing, and SMS solutions. However, it's also suitable for American companies and others.
Features
There are plenty of things to like about Vision6. You have contact management options, as well as drip campaigns and a spam checker.

If that weren't enough, you can schedule emails to send later, have tons of templates, and can focus on send-time optimization.
Pros:
Easy to use interface

Includes a mobile app

Offers various templates and segmentation options
Cons:
No API and little customization

Only offers email support
Pricing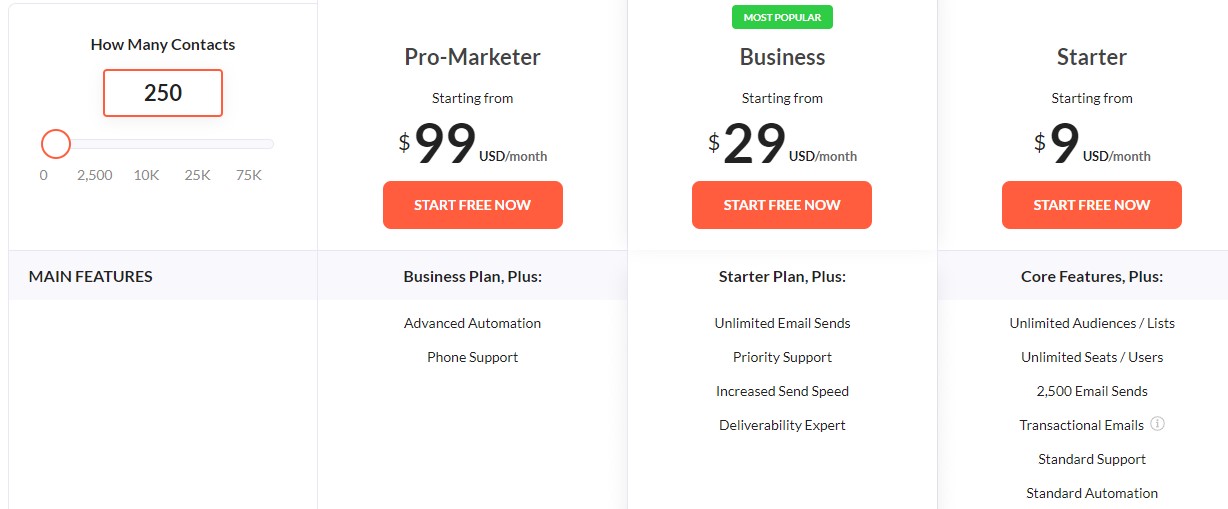 The Starter plan is $9 a month for 250 contacts. With it, you get 2,500 emails, unlimited audiences, and unlimited seats. Standard automations are also available.
Business is next at $29 a month for 250 contacts. You get everything from Starter, but you also have an increased send speed, priority support, and unlimited email sending.
Pro-Marketer is the last option at $99 for 250 contacts. You get all the perks from Business, as well as advanced automations and phone support.
Who Is This For?
Vision6 is primarily designed for SMBs, but individuals and freelancers can also see the benefits of using it.
Conclusion
These seven email marketing tools could be the best Robly alternatives out there. However, it's up to you to read through the reviews and determine the right option. Still, everything is provided to you, so it's easier to get to the bottom of things.
Most of these Robly alternatives offer a free plan or free trial. Use that to your advantage to learn more about each one and decide which one is best for you.