There are more than 24 million eCommerce sites worldwide. In the age of social distancing, many businesses are also making an online transition.
However, more eCommerce companies mean more competition. Hence, businesses must be able to use effective marketing tactics to stay ahead of the competition despite a cutthroat marketplace.
In this article, I'm going to walk you through practical tips that will help eCommerce entrepreneurs succeed beyond their wildest dreams. It will also include online marketing tools to help brands remain relevant and engage users.
Let's get started.
1. Build a referral marketing program
Recall the last time you bought from a new eCommerce site. We bet the recommendations of friends or family influenced your purchase. Since they're the ones you trust the most, you're easily persuaded by their words.
In fact, a study found that shoppers are 50x more likely to buy a product if it's recommended by their loved ones. What's more, customers gained through word-of-mouth are likely to spend 200% more than the average customer and make twice as many referrals themselves.
While word-of-mouth marketing happens organically, online businesses can encourage customers to refer their brand through a referral program. This works by incentivizing current customers or brand advocates through freebies, prizes, and discounts.
Brand advocates already have experience with using your product. Thus, they are effective brand ambassadors for your business.
For example, Driftaway – a coffee subscription service – lets customers earn 200 Driftaway points (worth $20) for every friend that signs up. Meanwhile, friends also receive a free kit as an incentive to sign-up for their service.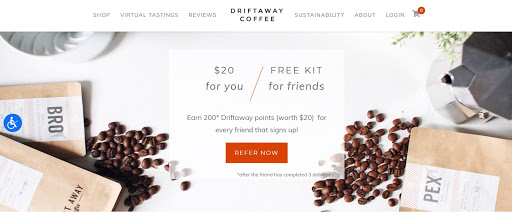 How to build your own referral program? Apps like ReferralCandy let online entrepreneurs start their own referral program, within minutes. After you create an account and choose incentives, the app can automate the referral process.
2. Provide customers with useful content, not promotions
Besides promoting your new products, provide consumers with relevant content. Most customers will interact with your business through emails, blog posts, social media posts, and other promotions. However, they'll only pay attention to marketing content that is useful to them.
For starters, you must determine the information your target audience needs.
According to Clearvoice.com, here are some questions to consider:
What does my target audience do online and what content do they read?

Which are the best and worst-performing content types on your website?

Which types of content or topics are you missing?

How will content be distributed and promoted?

Do you have the budget and resources necessary to create content?
Next, create actionable blog posts, ebooks, white papers, and case studies for your website. While in-depth content may attract your readers, adding visual content like images and videos will improve their understanding of your content.
Not only that, but creating a YouTube channel for your brand can expand your reach far beyond Google alone, and it can also become a lucrative part of your business if you understand how to make money with it.
Backlinko founder Brian Dean creates long and in-depth blog posts on digital marketing. Besides having jam-packed content, his posts have a lot of visuals and images to get his point across.
For example, his blog post on "21 Actionable SEO Techniques That Work GREAT" gained 13k social shares, 1,118 comments, and backlinks from 857 domains.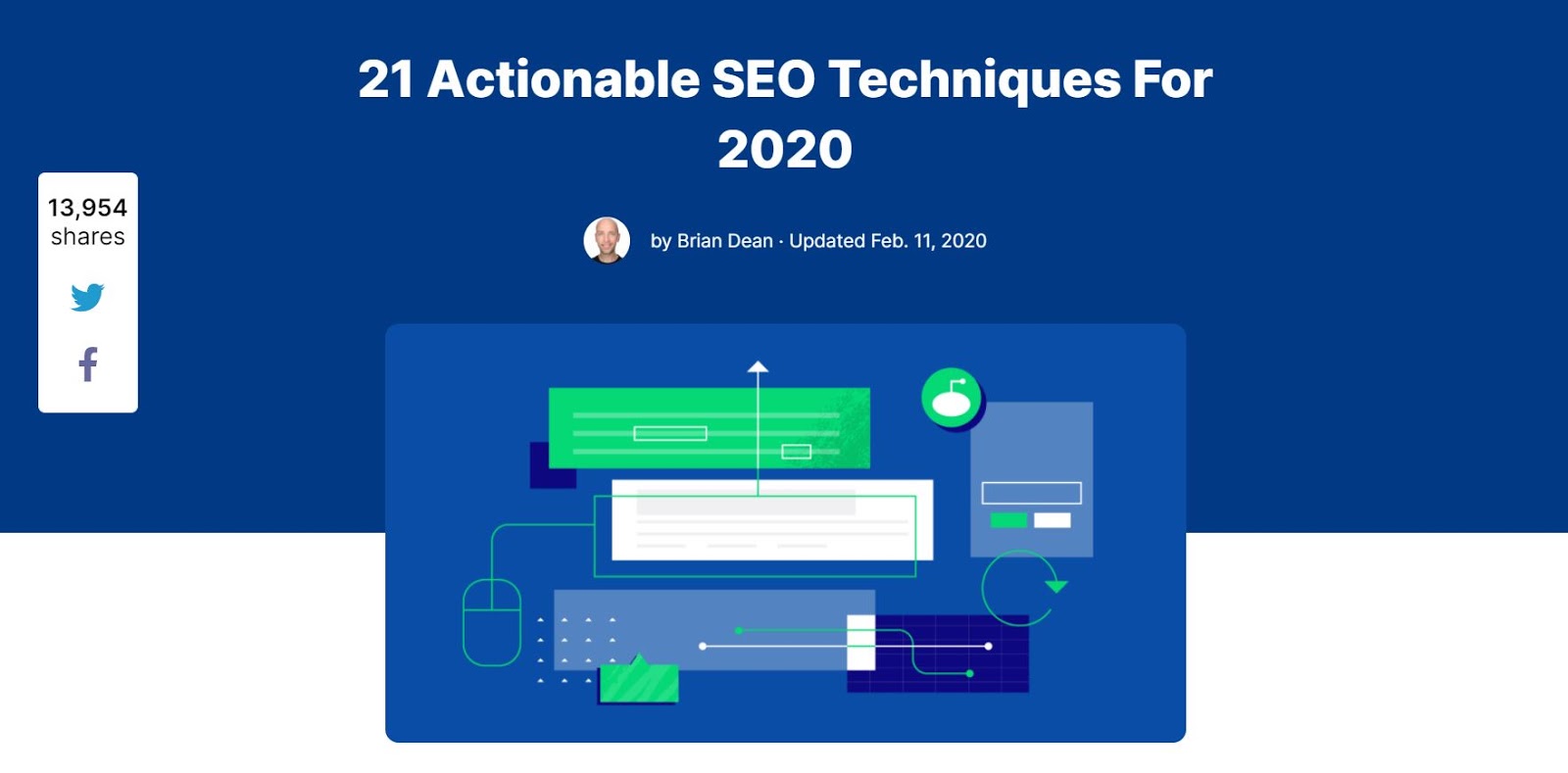 You can also offer email newsletters and promotions to get in touch with customers regularly and stay top of mind. We recommend Omnisend to create newsletters, segment users, and automate emails.
However, the contents of these messages must be relevant, otherwise, people will unsubscribe.
For example, Playstation's newsletters include downloadable content, new games, and other interesting tips for gamers.
Moreover, they include stats like total gameplay hours and trophies earned at the top of the newsletter. These numbers gamify the experience and encourage visitors to play more so they can bump up their stats.
3. Show customers that your brand is more than just a product
Most eCommerce stores show off their great products with superb features. But to stand out, prove that your brand is more than just a product.
You must show customers that you care through responsive customer service.
Customer service is an important factor in determining loyalty to a brand. In fact, 69% of American customers claim they would spend more money with companies that provide better customer service.
To live up to customer's expectations, your contact details must be easily accessible to consumers. Ideally, you must give them the opportunity to contact your brand through their preferred channel. Divide your sales teams into customer service representatives for email, social media, and live chat. 
A live chat widget lets you respond to customers in real-time. The messenger-style service provides a convenient way for customers to ask questions or request advice from your sales reps.
With top-notch software—like Tidio for live chat—sales reps can reply to customers in seconds from a single dashboard. They can also use AI solutions to identify and act on customer queries to take the load off your customer service representatives.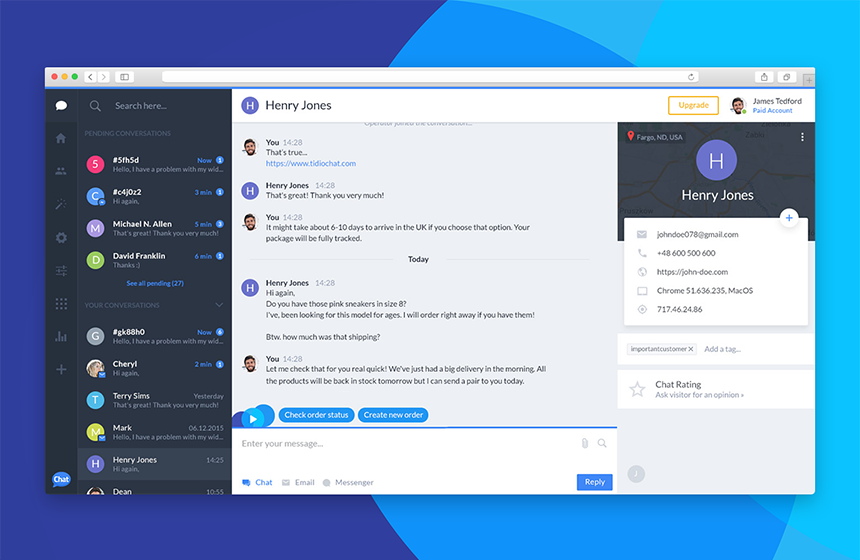 Another tip is to use chatbots to respond to customers on social media.
For example, LEGO launched a Facebook Messenger bot named Ralph. This convenient bot helps shoppers discover gift ideas and suggestions for their loved ones during the season of giving.
The best part? Once customers interact with Ralph, the chatbot can easily guide them along the sales process.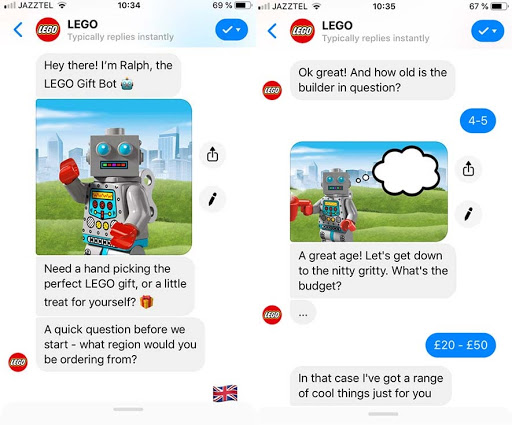 By the end of the campaign, the company generated a 3.4X return on ad spend because shoppers loved to receive personalized gift suggestions.
4. Build a community around your brand
To improve customer retention, eCommerce brands must build a relatable community for their customers.
Having said that, you'll want to create social media accounts that resonate with your audience's interests and values. Go beyond picturesque product photos and feature behind-the-scenes looks and user-generated content.
Brands like Glossier have managed to gain success by building a loyal social media community. The brand targeted millennial women and poured a lot of money into technology and data analytics to identify the posts and products that their target users will love.
The result is an Instagram community with more than 2.3 million followers.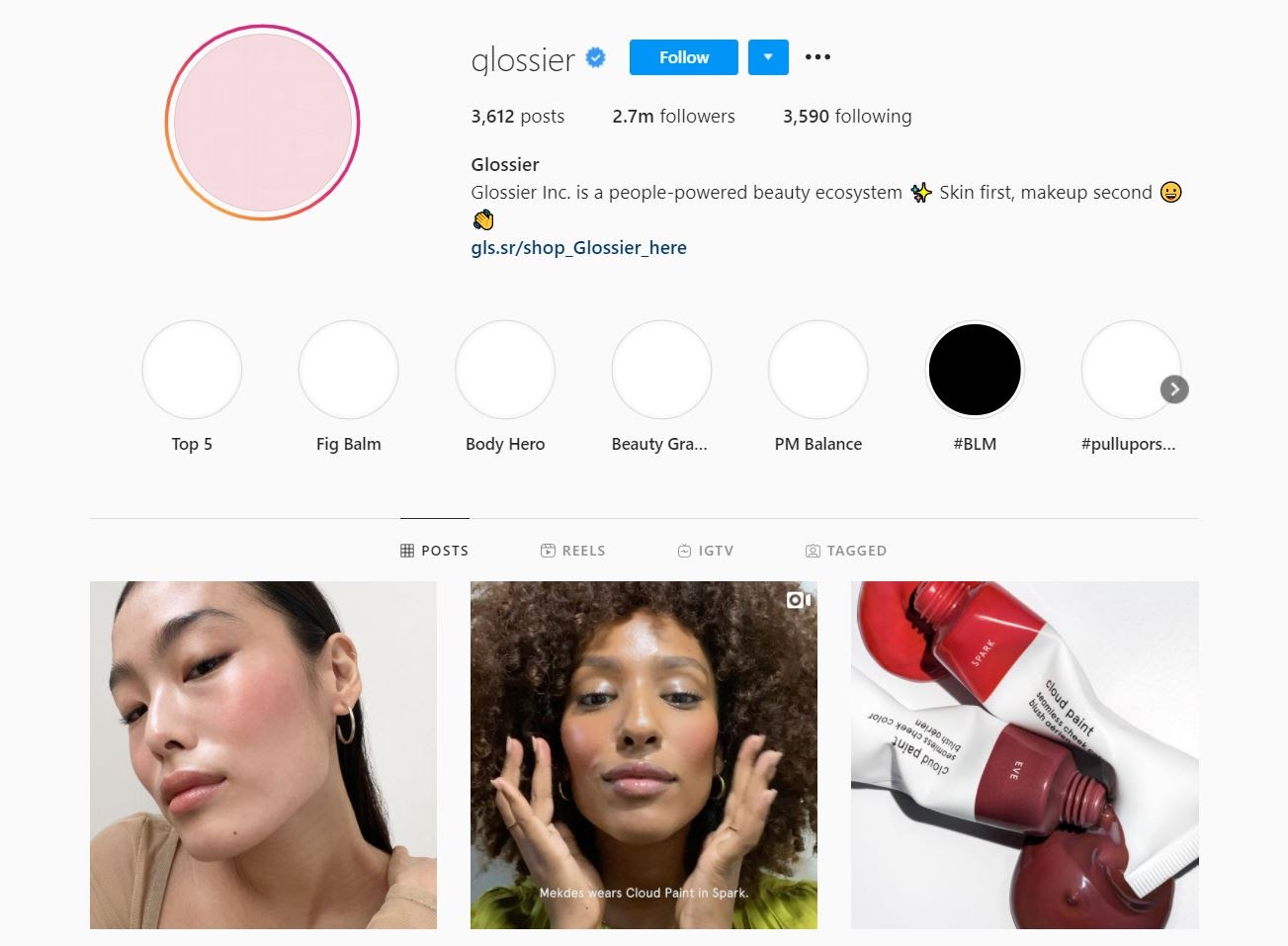 Glossier's community engagement is so strong that it was the backbone of their expansion into the UK and European markets. The US-based team flew to the UK and took engaged followers out to lunch to foster even more engagement in the lead-up to the brand launching internationally.
The company also goes the extra mile by responding to each message and comment on their Instagram posts. This simple gesture fosters engagement because shoppers are more likely to communicate if they know that they're being heard.
Furthermore, Glossier also creates open threads to jumpstart conversations. For example, in their latest thread, "What's everyone reading?"—the writer describes the current reads she loves, and encourages readers to do the same.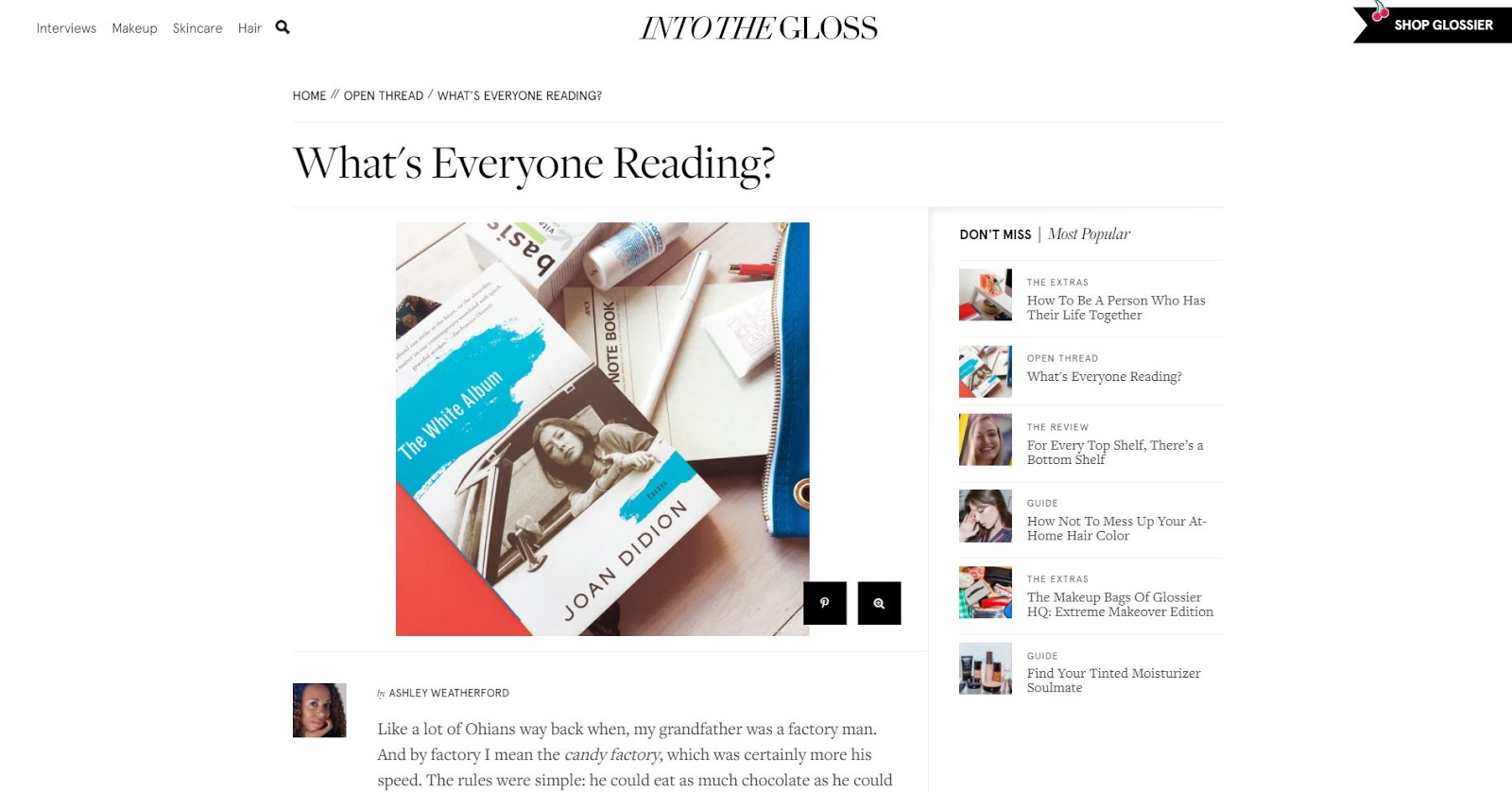 The result is 128 comments with several replies and conversations.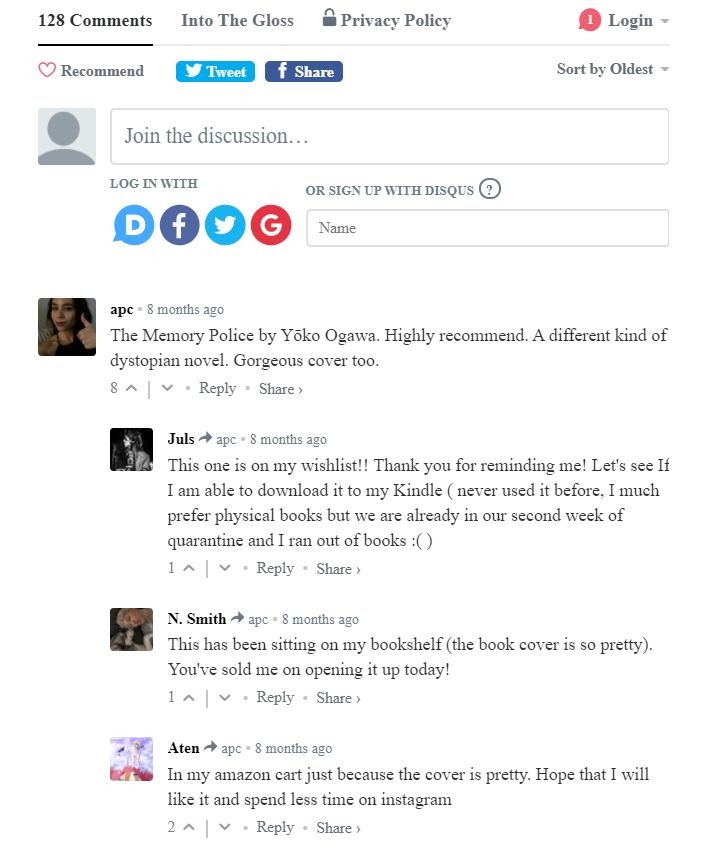 In the foreseeable future, brands that make an active effort to interact with their users will eventually gain more followers and shoppers. Due to these circumstances, brands must focus on building engagement and inspiring conversations among current customers.
5. Show pop-ups at the right moment
Pop-ups might seem annoying, but they can get the job done.
If done effectively, a pop-up can help you gain more conversions and snag more quality leads.
In fact, Backlinko founder Brian Dean reports that exit-intent popups added 50,000 people to their subscriber list!
How to replicate these astounding results? You can use an eye-catching pop-up to encourage site visitors to start their free trial or to subscribe to your blog. Just like referral marketing, most pop-ups need to offer a good incentive to make customers opt-in.
Tools like Sprout Social use pop-ups to offer a free trial to their social media management solution. They sweeten the deal by promoting their features like social analytics and scheduling messages.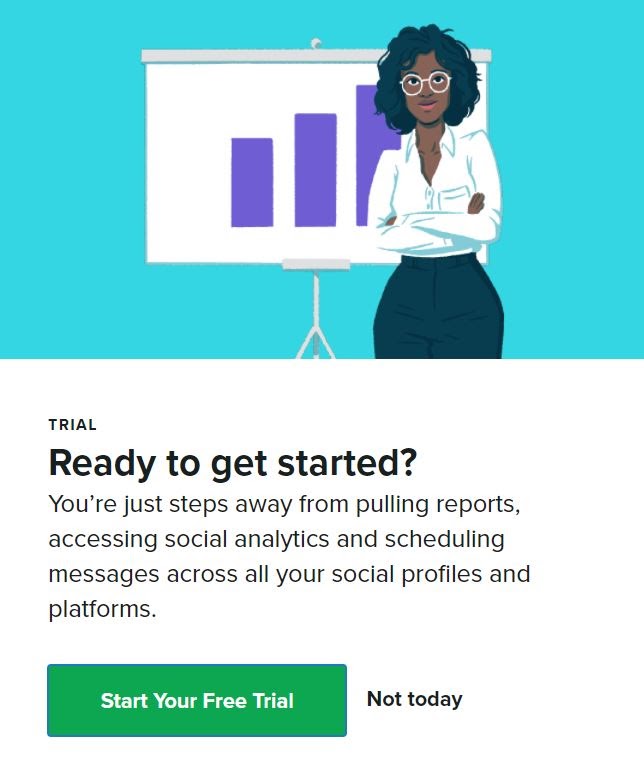 Before customers leave your website, you can also use exit-intent popups. As its name suggests, these pop-ups work by identifying exit triggers, like scrolling behavior or mouse movement, which indicate users are about to leave the website.
As a last resort, an exit-intent popup can offer a sweet deal to encourage customers to stay on your website or complete their offer.
For example, Shapescale offers a 10% off discount to shoppers that return to their abandoned cart and complete their offer. Plus, they have a 15-minute countdown timer to incite a sense of urgency and motivate customers to complete the checkout process.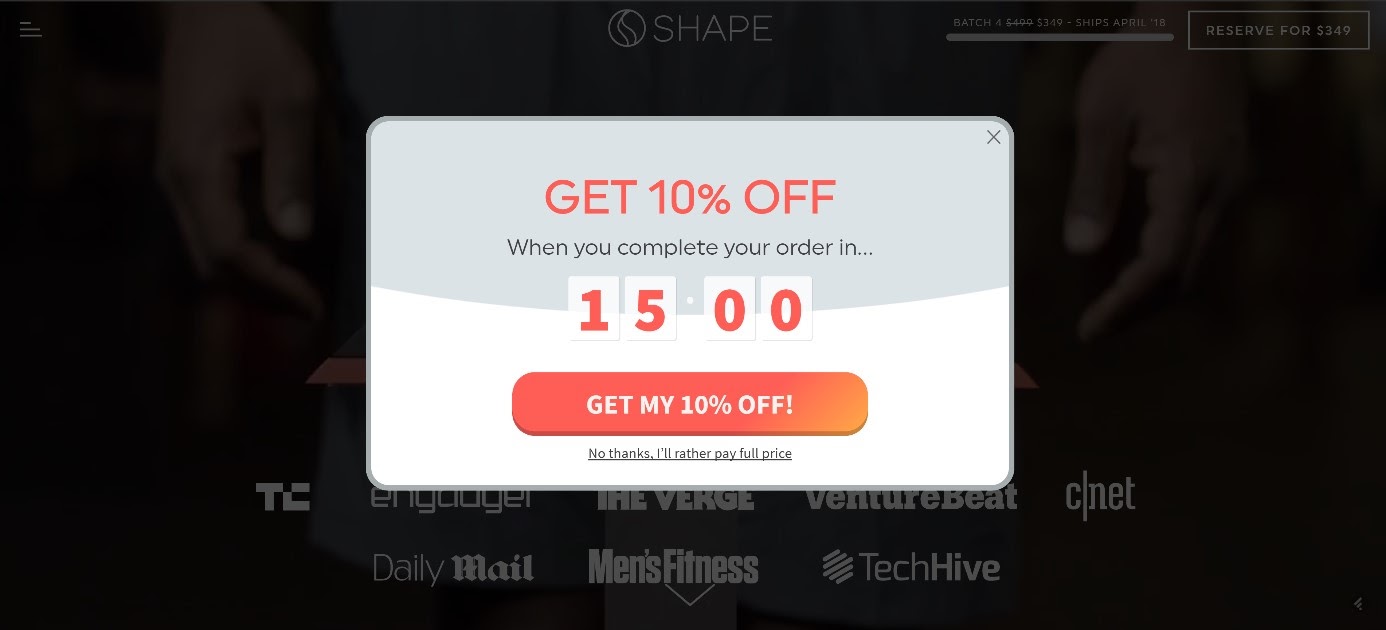 You can use tools like Poptin to create smart and engaging pop-ups to improve your conversion rate and grow your customer base. No coding experience required!
Wrapping Up
There is no quick solution to getting ahead of your competition. However, with these marketing techniques, business owners can engage with users and encourage them to consider what they have to offer. These tools are very effective for startups and small businesses looking for marketing tools and techniques to boost their conversion rates.
Furthermore, monitor your results for referral marketing, email marketing, and pop-ups. Tracking your current analytics results will help you understand the strategies that work best for your business.
By implementing these marketing strategies consistently, you'll be able to run your business smoothly in spite of the competition.
Author's Bio:
Monique Danao is a writer for ReferralCandy and Candybar.